It might seem strange to say, but pricing is almost an art form. There are lots of books on the subject, though it's a rabbit hole that's hard to get out of. For most people, implementing one of the raft of available pricing table plugins can take you much of the way, without deep knowledge on the science behind the concept.
It's no surprise that WordPress offers a number of plugins to help you add a pricing table to your website. The best solutions let you tweak almost every aspect of your tables to ensure they meet your requirements. What's more, there will be a plugin for you at a price point to suit (naturally).
As such, this post will compare five stellar pricing table plugins. We'll tell you what's unique about each plugin we feature, and by the end of the post, you'll know which one will suit your needs best.
What a Pricing Table Is (And Why They Can Net You More Income)
You'll have seen pricing tables all over the internet, especially on business websites. In fact, the majority of eCommerce businesses use pricing tables to showcase their offerings. Some can get complex depending on the product line: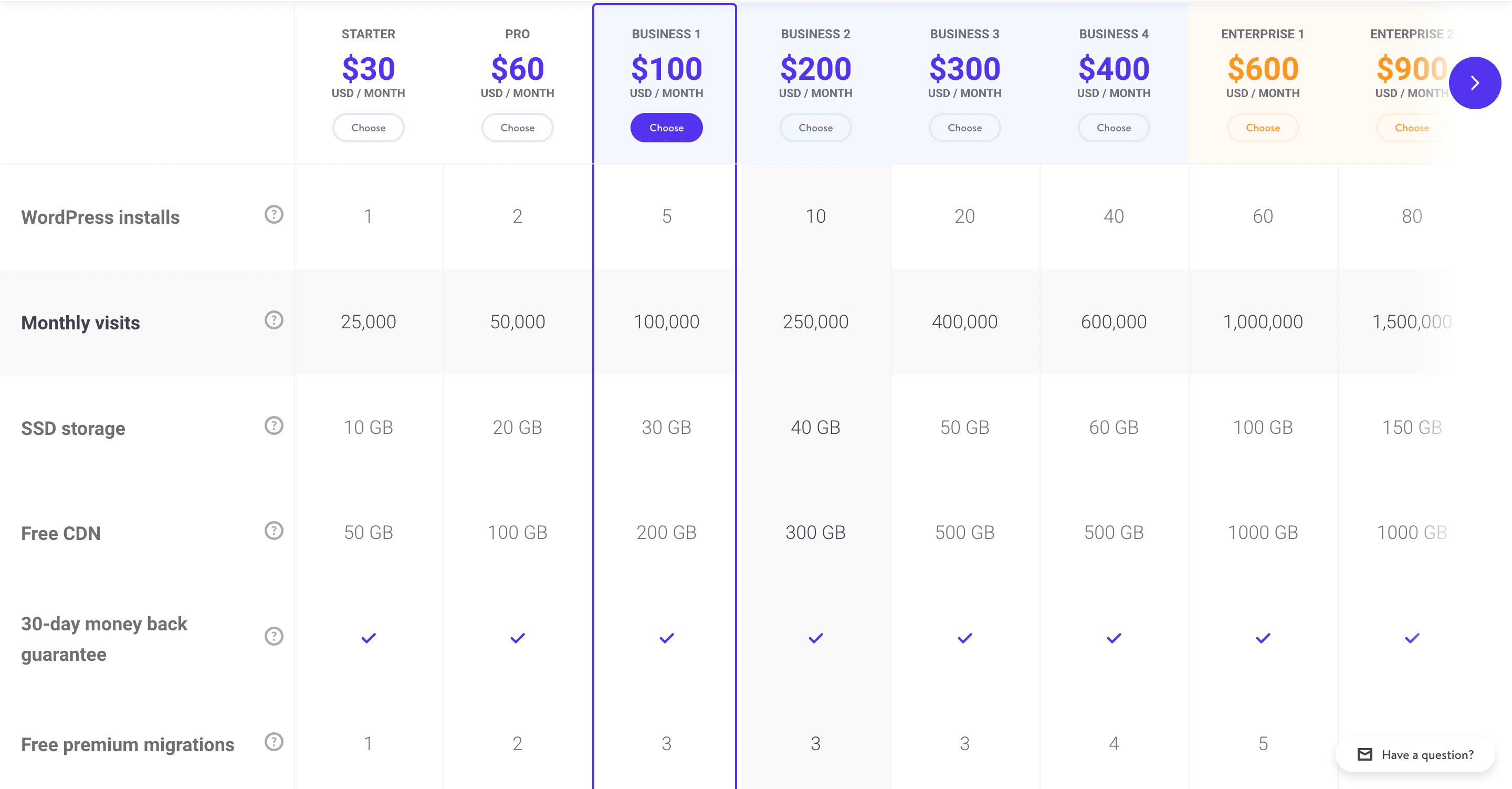 Though, for the unaware, let's explain what a pricing table is. It's a collection of the various tiers and prices for your entire product line. The idea is to make it simple for the customer to see what's on offer, and make a decision. You'll often find the following elements in place:
Clear pricing, sometimes with a toggle between monthly and yearly costs.
A simple comparison of features included in a plan.
A Call To Action (CTA) for each tier, so the customer has a clear course of action.
There's more to a pricing table than a simple comparison though. Customization is important when designing a pricing table, as color theory and other factors play a part. The best solutions give you heavy customization options. Some will even pull double duty as a team profile viewer.
Regardless, there are a few aspects and elements to look for when choosing a pricing table plugin, and we'll look at these next.
What to Look for When Comparing Pricing Table Plugins
Earlier, we outlined some of the key elements of a pricing table plugin. On the positive side, there is a lot of choice available. Though, the downside of this is decision paralysis. Lots of pricing table plugins come with the same core features, so it's the small factors that will help you make the right decision.
We can go further here to discuss how you can compare the plugins you've chosen. Here are a few questions to ask yourself:
Does the price suit my budget?
Can a free solution meet my needs both now and in the future?
Am I able to use the pricing table plugin with my favorite page builder?
Can I customize the CTA to my own requirements – often using an on-brand color scheme?
Are there templates and demos to help me get up and running fast, or provide inspiration?
These are fundamental questions that will give you some pointers on which solutions to consider. Of course, you may have specific needs that your chosen plugin has to meet. Only you can decide on the priority of each of your requirements.
5 Top-Drawer Pricing Table Plugins Compared
Next, let's get into the solutions we've picked as leading pricing table plugins. Each will have a unique element that sets it apart from the rest. Here's a quick summary:
Each of our chosen pricing table plugins could fit the bill. As such, feel free to jump around to check out any that looks like suiting your needs. Though, we encourage you to look at the other solutions too – they could offer something you hadn't considered before.
Our first inclusion on this list is Responsive Pricing Table. It's simple plugin that does an admiral job of helping you add pricing tables to your website. It's based around shortcodes, and comes with a wealth of customization options to help you design great-looking pricing tables.

You're able to set a number of essential fields and options for a unique pricing table, such as colors, prices, descriptions, and more. There's no practical limit to the number of features you can list for each tier, and you're also able to use custom CSS to style your pricing tables if you have that skill.
What's more, you can make the following changes to any pricing table you create:
You're able to remove or change the currency sign.
Fonts can be based on your site-wide choices, or custom for the pricing table. There are also size presets to help you nail your layout.
You're able to highlight any plan as a 'recommended' option. This is good if you have a specific tier that will suit a majority of customers.
The most remarkable aspect of Responsive Pricing Table is that it's free. While there is a premium version of the plugin, the $19 price gives you a way to toggle between monthly and yearly billing, and some extra layouts. In other words, it's not an essential purchase. Responsive Pricing Table is a full-featured plugin that can deliver results.
The WordPress Responsive CSS3 (WRC) Pricing Tables plugin is another free plugin, but this time with a more extensive premium offering if you need it. As a free solution, it's feature-packed and ready to use out of the box.

As the name gives away, it's a plugin based on the current CSS3 standard, which means it will work on almost all site configurations. It lets you display single or multiple pricing tiers, and you have a lot of scope for changing the order and layout of your pricing table.
There are three versions of WRC Pricing Tables to choose from:
The difference is subtle, and for the low price, we'd skip over the Standard version to unlock all of the plugin's features. The premium versions give you more templates, integration with payment gateways, various responsive options, and even embedded video features: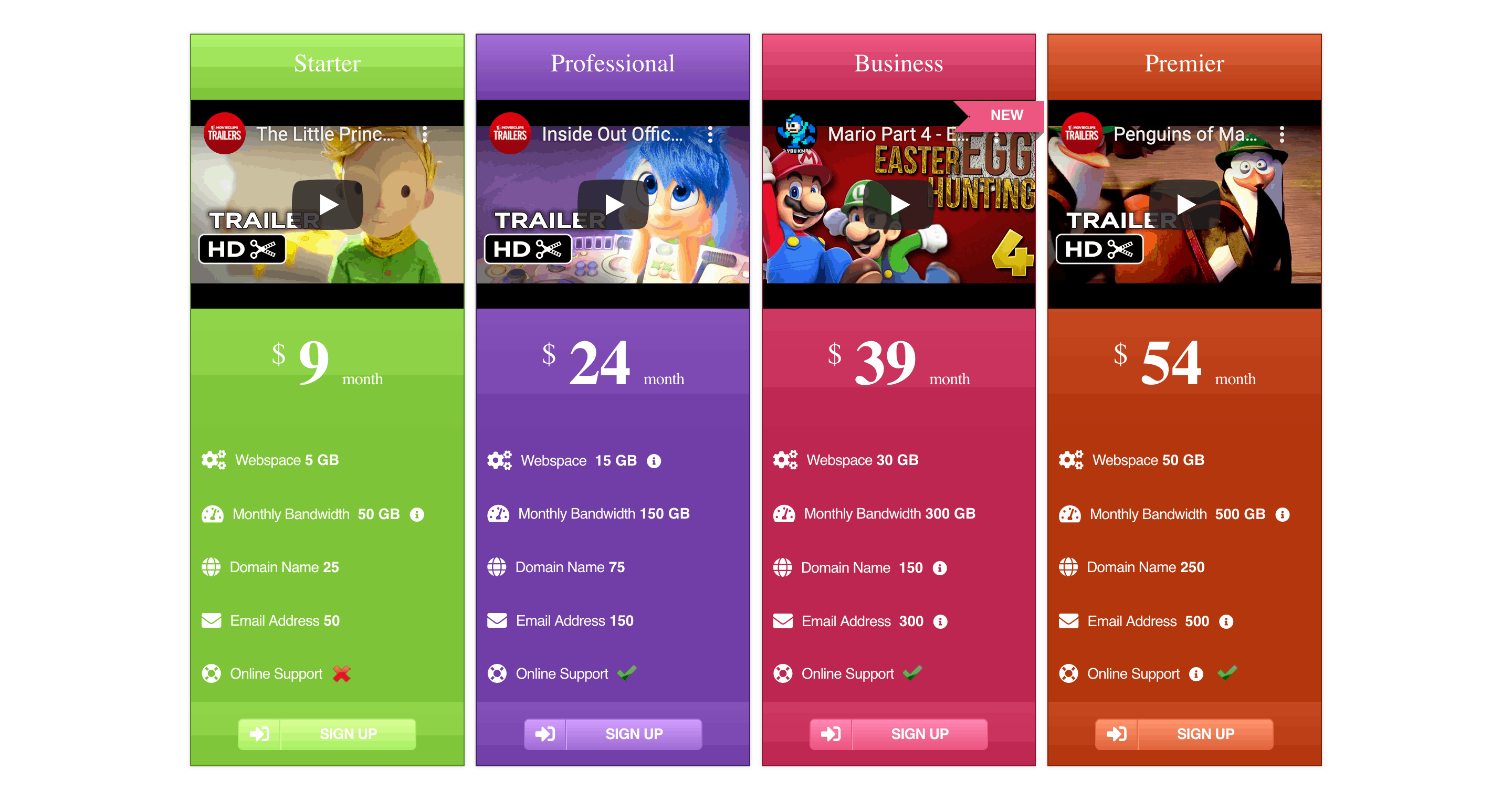 On the whole, WRC Pricing Tables is a well-stocked plugin and for $15, it's a steal. Even so, the free version might have enough to hold you (although the upgrade path is welcome).
3. Go Pricing
Truth be told, we could include ARPrice, Elfsights's Pricing Table, and many other fully-premium plugins here. Instead, we're going for Go Pricing.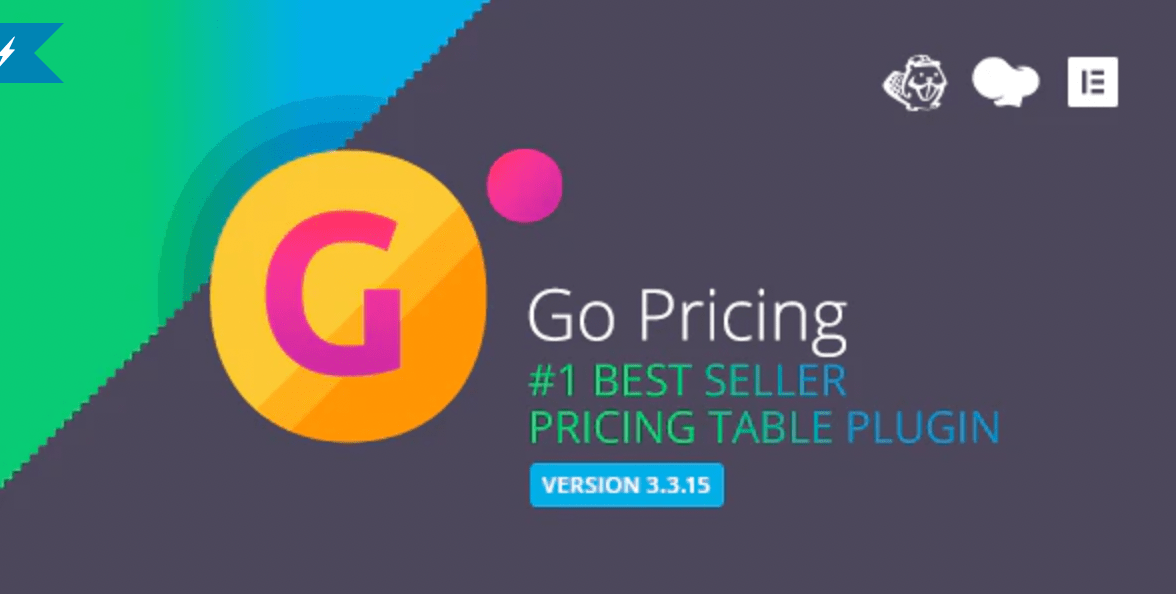 There are a few reasons this is our preferred option for a premium pricing table plugin:
It's been on the market since 2013, and gets regular updates.
The price is dirt cheap, and immense value (more of which later).
User ratings and reviews are some of the best in comparison to other similar products.
The plugin has features aplenty.
You're able to use one of over 250 demo pricing tables to start with, before breaking out the advanced editor. This lets you alter almost every aspect of your pricing tables from a dedicated admin panel. It's a great-looking and clean User Interface (UI) that Divi Builder or Elementor users will feel comfortable with.
Speaking of which, Go Pricing is also compatible with page builders such as Beaver Builder, WPBakery Page Builder, and Elementor.
There are also a number of included animations, to help you give a spark to number counters. What's more, if you have the skills, you can apply CSS to any practical element of your pricing table.
For a $27 one-time, single-site cost, you get a powerful and full-featured pricing table plugin in Go Pricing. If your site leans heavy on pricing tables, and you need the most functionality and editing scope, this is going to be high on your list.
4. WP Table Builder
Given the uptick in site owners using the Block Editor, it makes sense that other themes and plugins follow suit in creating a user-friendly solution for whatever its niche is. WP Table Builder is no exception. It uses drag-and-drop functionality to make a creating complex design and layout a straightforward process:

Once you install the plugin, there will be a dedicated admin panel within WordPress. From here, you can begin to build your pricing table using the various elements. A great aspect of WP Table Builder is how you can import and export pricing tables using CSV or XML files. This makes transferring your creations to other a snap. If you're a TablePress user, you can also import that format to your site.
While the free version of WP Table Builder offers lots of functionality, there is also a premium version. A single site license is around $40 per year, and comes with the following additions:
Priority support and updates.
The ability to add icons, and combine it with text.
Extra elements, such as circle ratings, ribbons, and styled lists.
Advanced functionality to order and sort table rows and columns.
In our opinion, the premium plugin is good value. It's expensive when you compare it to other premium plugins such as Go Pricing, but its integration with WordPress is good. As such, if WP Table Builder helps you achieve your goals through its intuitive interface, it will be worth the cost.
5. Pricing Table Widget for Elementor
Although the Block Editor is improving all the time, lots of site owners still like to use a favorite page builder plugin. If you're an Elementor user – and we've covered why you should be before – Pricing Table Widget for Elementor is a nailed-on plugin.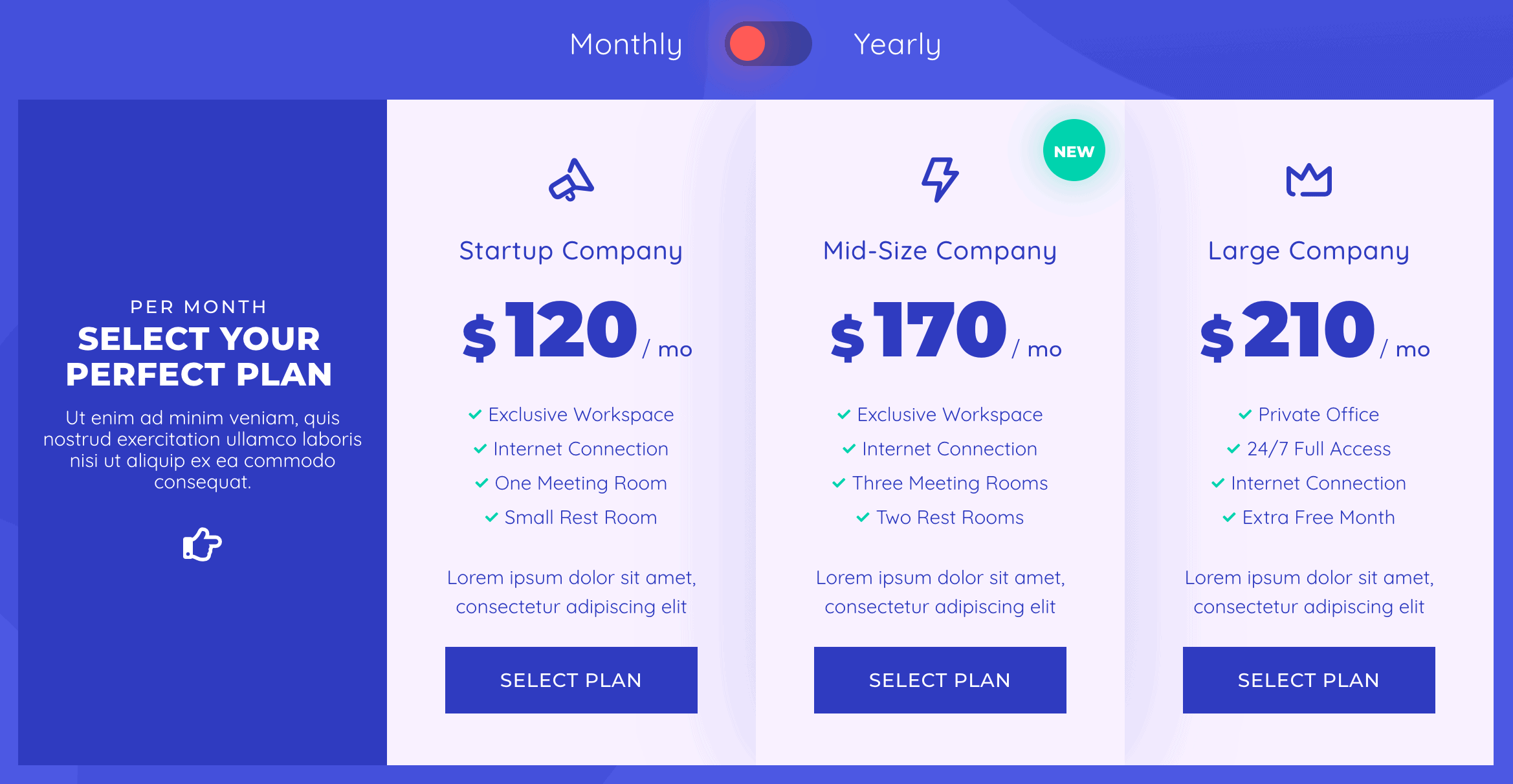 The Pricing Table Widget is part of a whole host of add-ons for Elementor. This means there's value in the bundle, but there could also be some redundant widgets.
Keeping on topic, Pricing Table Widget has tight integration with Elementor (naturally). You're able to use the additional options combined with the page builder editor to create your pricing tables, with a bunch of features in the box. For example, you can harness the creative power of Lottie animations and add them to your pricing tables: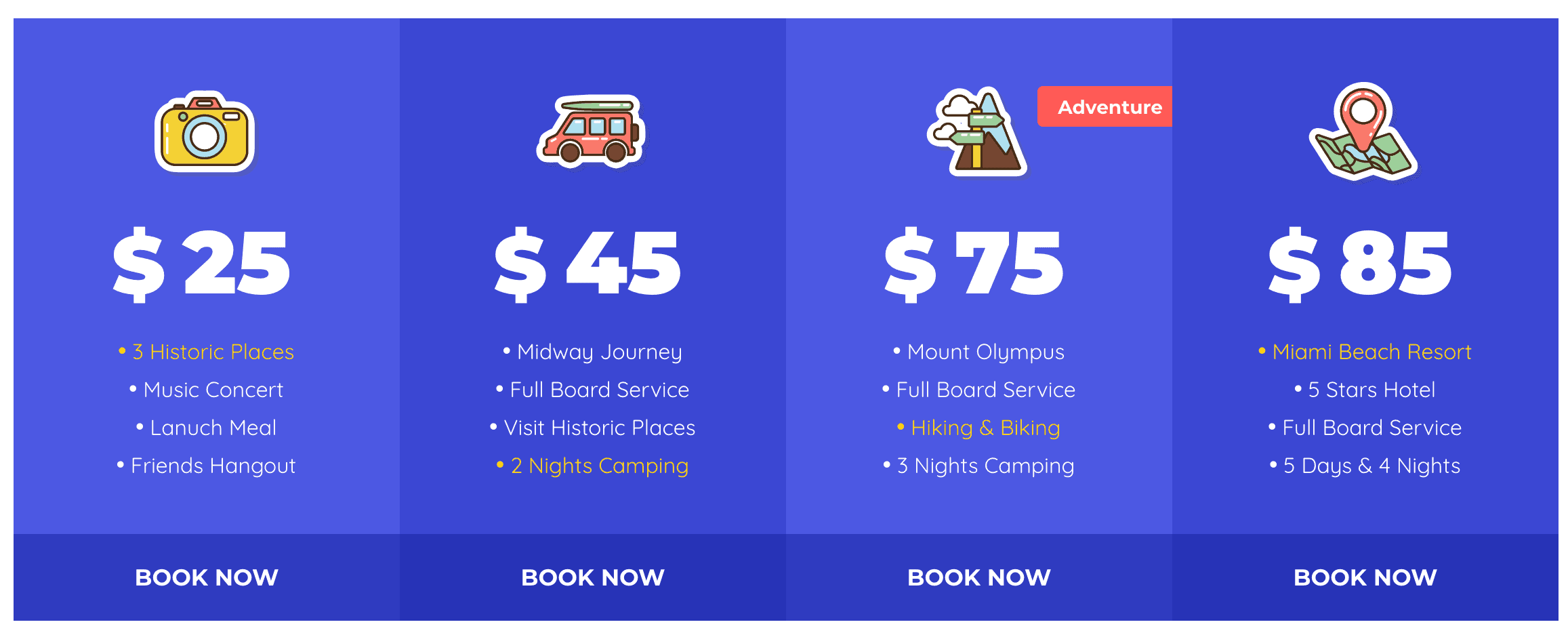 The Pricing Table Widget for Elementor can be yours for free, although a premium subscription nets you a bunch of other widgets and features. If you're an Elementor user, this is a first-ballot choice for creating stellar pricing tables using the page builder.
In Summary
Finding ways for customers to get to the right pricing tier for them is a tough balancing act. You don't want to cajole them into spending money they don't have, while at the same time maximizing your own income. A pricing table can work wonders. It lets the customer almost 'self-serve' when it comes to the plan they choose. What's more, you can use deft customization to help present the best-value tier.
In this post, we've looked at five great pricing table plugins, with unique features. Here's a quick recap:
Do any of these pricing table plugins convince you, and if so, which one are you going to opt for? Let us know in the comments section below!