You already know that when a visitor arrives on your website, time is your most precious asset. That means you need to convey the most important information as quickly and efficiently as possible.
Obviously, if you're selling a product or service, one of the first things a visitor is likely to do is look to compare your pricing and features to that of your competitors. If you leave them with a feeling of doubt or require them to spend an unreasonable amount drawing their own conclusions, you risk losing the sale.
The easiest ways to convey your pricing and key benefits is by using a WordPress pricing table plugin. There are plenty to choose from but which one is the best?
In this post, we're going to take a look at a few of the most popular options for premium pricing table plugins at prices that start at just $5. Each one is capable of conveying the critical information you visitors are most likely to be in search of and in the process, helping you land more sales.
1. Kento Pricing Tables Pro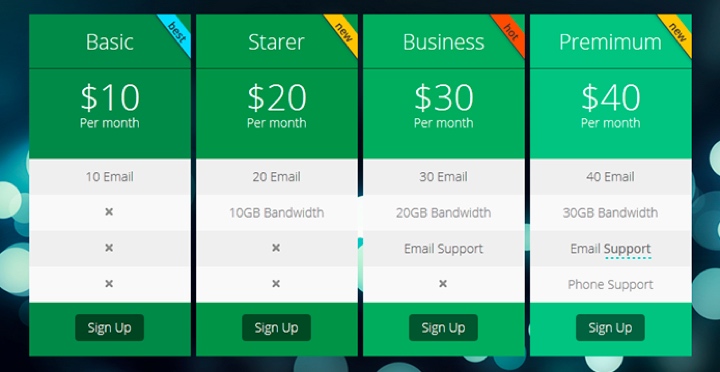 Kento Themes initially released their Kento Pricing Table Plugin back in January of 2014 so this is definitely a well-refined plugin. There is a free version available in the WordPress plugin repository and although it doesn't include all the pro features, it will allow you to get started. If you're thinking the pro version might break the bank, you'd be wrong.
At only $5, it's very affordable making it tough to go wrong either way.
Kento Pricing Tables Pro provides the ability to create highly customized pricing tables that are made strictly with CSS3 and HTML so they're fast and reliable. Not only can you generate an unlimited number of rows and columns, you also have extensive control of a wide variety of other elements including:
Selecting and labeling a featured price column
The ability to set custom colors and height for the header, price, features and call-to-action
Optional gradients and background images
Corner radius can be adjusted for columns
Blank fields can be hidden
Customize individual column colors
Not everybody likes to spend their time customizing and if that includes you, Kento includes 5 pre-made themes that will have you up and running in just a few minutes. Adding tables to your post and pages requires a simple shortcode. If you're in search of a value packed and super-affordable pricing table plugin, Kento's should be on your short-list.
2. CSS3 Vertical Web Pricing Tables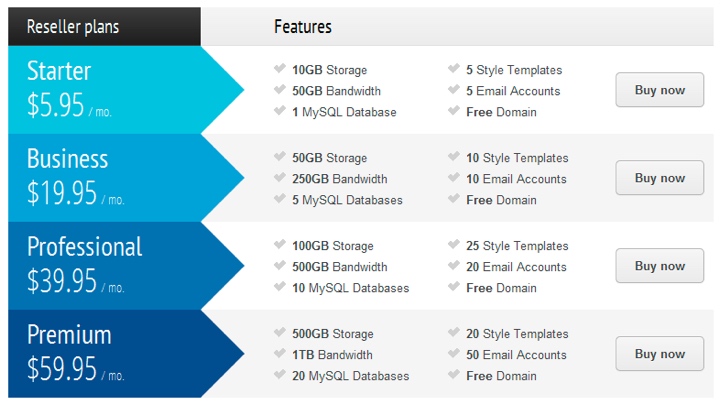 Sometimes a column based layout just doesn't work well for the information you are trying to convey. If that's the situation you're facing then this plugin might be the solution you're looking for. CSS3 Vertical Web Pricing Tables are displayed in vertically stacked rows instead of the more common horizontally placed columns. A regular, single site license for is available from CodeCanyon for $16.
Like some of the other plugins, CSS3 Vertical Web Pricing Tables relies on pure CSS and HTML. You can create an unlimited number of tables for display on your website and although the plugin only comes with 10 predefined color skins, the PSD source files are also included. A few additional features:
Unique hover states with CSS3 animations help your pricing tables stand out
Customizable width
Unlimited features can be added to each row
HTML can be customized for individual tables
Easy to use shortcodes
Although this plugin is easy to use, beginners might find the admin panel frustrating unless they have some knowledge of basic CSS and HTML — something required for anything beyond the most simple of changes.
Even formatting text will require the use of header styling tags. And despite the fact that the pricing tables look great, in reviewing the changelog it does not appear any new features have been added since late 2013.
3. Easy Pricing Tables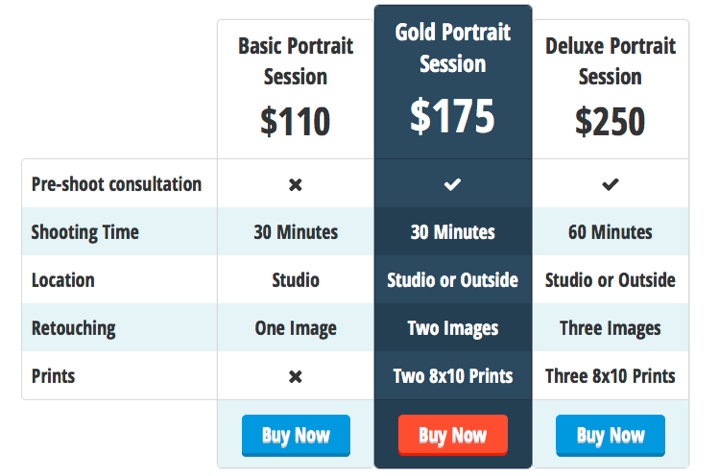 Easy Pricing Tables from Fatcat Apps is a plugin that deserves a second look. When reviewing inexpensive plugins, it's not uncommon to run across websites and demos that aren't working properly or see lousy screen captures and low-resolution tutorial videos. None of those things are a problem when you visit the Fatcat Apps website — it's something that stood out.
From a feature perspective, Easy Pricing Tables has lots to offer including 10 premade designs — each one of which is unique. In addition to the included designs, this plugin offers a ton of additional features including:
Quick installation and setup mean you can have your first table ready in minutes
Easy customization of each table element requires no HTML or CSS knowledge
All tables are responsive so they look good across multiple device types
Tooltips can be added to your pricing tables to eliminate clutter
Hover effects, 300+ icons, hiding empty rows and custom CSS are all available
Easy Pricing Tables has a flexible pricing structure designed to meet your individual requirements. Personal plans start at $29/year for a single website, Business plans run $49/year for up to 5 sites and their Agency plan is $99/year for unlimited sites. As with all fatcat apps plugins, a 60-day money back guarantee is provided.
Both the business and agency plan include two add-ons: A pricing toggle that lets customers cycle between monthly/annual pricing and a Google Analytics add-on. If you looking to take just the basics for a test drive, there's a free version available as well although many of the key features have been removed.
4. Pure CSS Responsive Pricing Tables for WordPress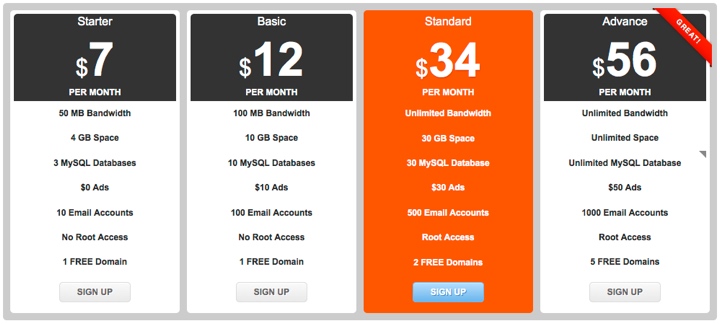 This is a plugin that promotes unlimited pricing tables, unlimited color combinations and unlimited styles. While unlimited options is great, it's also important that accessing those options is relatively easy. Luckily the Pure CSS Responsive Pricing Tables Plugin seems to find the right balance. At $18 for regular CodeCanyon license, it's not the cheapest option but for the price, it has a lot to offer.
When first looking at the demo and screenshots, some of the styling appears a little dated — especially the buttons. However, it's important to note that the styling of each button is completely customizable from within the admin panel as is every other element. A few other important features worth noting include:
All pricing tables are 100% responsive
Google fonts are supported
Tooltips, ribbons and buttons are CSS3
Pricing columns are drag and drop
Comes packaged with 10 customizable themes
PayPal integration is included
All CSS3 & HTML without Javascript
Tables are easily integrated into pages and post with shortcodes and although the most recent update was almost 12 months ago as of the time writing this post, the plugin continues to maintain a strong 4-star buyer rating and the developer appears to respond promptly to customer inquiries.
5. Plugmatter Pricing Table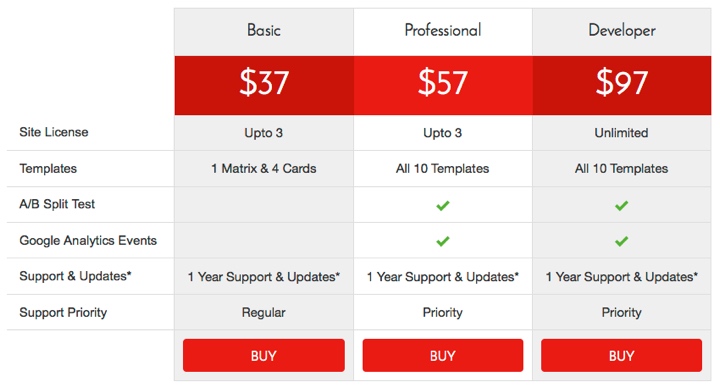 This plugin is the second on our list to inspire confidence from the moment you land on their website. Plugmatter Pricing Table has a pricing structure that is very similar to Easy Pricing Tables. A basic license is $37 for up to 3 sites and 1 year of support and updates.
The professional and Developer plans are $57 and $97 respectively and offer either 3 or unlimited sites. Features unique to the top two plans include the ability to perform A/B split tests and trigger Google Analytics events as well as priority support.
The Plugin Matter Pricing table comes with 10 customizable templates, most of which look great right out of the box. One feature unique to this plugin is the WYSIWYG editor that features drag and drop columns and the ability to customize each specific text element. Just a few of the other features of note include:
The ability to use a text editor in each individual cell
Customize elements like width, margin and column spacing
Google Font support
23 unique button designs are included from retro to flat
All tables are fully responsive
10 Alternative check and cross icons are included
You can add custom CSS if you want ultimate control
Like all of the other plugins covered in this roundup, Pluginmatter relies on simple shortcodes for implementation. And finally, if you're unhappy with the plugin after purchase, they offer a 30-day money back guarantee.
Selecting The Best WordPress Pricing Table Plugin
One questions that everyone seems to ask is "which pricing table plugin is the best?"
Well, in general, I don't think any particular plugin is necessarily the best. Each one has its own individual strengths and weaknesses. Some of the inexpensive pricing table plugins like the one from Kento will work just fine for many applications.
However, if you're willing to spend a few dollars more, things get a little more complicated. At $18, there is very little wrong with a plugin like Pure CSS Responsive Pricing Tables. But personally, I've never had much luck with returns when dealing with CodeCanyon.
This leaves me with a choice: Save a few dollars in exchange for a less flexible return policy and likely less-responsive support or spend a little extra to get a lot more.
For that reason, if I had to put my money where my mouth was, I'd purchase either the Plugmatter Pricing Table with it's WYSIWYG editor and 30-day guarantee or Easy Pricing Tables from Fatcat Apps with their feature rich plugin and 60-day guarantee.
Either of those two options offers a risk-free proposition as well as great looking and easy to create pricing tables. You may also want to see our expert pick on essential WordPress plugins for 2016.
There are more pricing table plugins on the market that we haven't covered here. If you've got a favorite, please share in the comments below.