Are you looking to start a podcast? If so, choosing the right podcast host is one of the first steps you'll need to take. There are a lot of options out there, but we've narrowed it down to just the best of the best.
It's impossible to recommend one as the best for every podcaster, because your needs may be different than someone else's. After the description of all of the hosts, you'll see our recommendations for different scenarios. With the details found here, you'll be able to make an informed decision.
🎧 Best Podcast Hosting Platforms
Read on to learn more about each of the top choices and what makes them unique.
1. Buzzsprout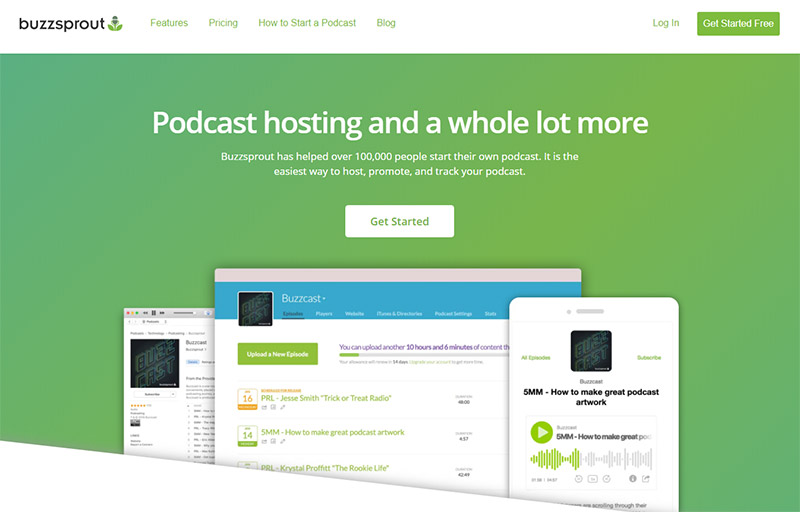 Buzzsprout has been in the industry for a long time (founded in 2009) and is a solid option for any podcaster. While Buzzsprout has advanced capabilities, the simple and well-designed interface also makes it simple for beginners.
With Buzzsprout, your episodes will be automatically submitted to the top podcast directories.
If you have your own website, you can easily embed your podcast episodes (including a WordPress plugin). Your visitors will be able to access your episodes through the beautiful and user-friendly interface. And if you don't have your own site, you can use one created by Buzzsprout. You can even use your own domain for the Buzzprout website if you'd like.
Just some of the features offered by Buzzsprout include:
Magic mastering (additional fee) automatically optimizes the quality of your audio files.
Chapter markers that allow listeners to skip to certain segments of your episodes.
Integrated transcription options to get text versions of your episodes.
Affiliate marketplace to monetize your podcast with affiliate offers.
Advanced podcast statistics to see how your podcast is performing.
Unlimited team member logins so you can outsource to a VA or have others working on the same podcast.
Manage multiple podcasts from the same account.
Buzzsprout offers a free plan, but it comes with some significant limitations. You can only upload 2 hours of audio per month and episodes are only hosted for 90 days. After 90 days, your audio files will be deleted. While the free plan could be an option for getting started, having your episodes hosted for only 90 days is not ideal.
Paid plans start at $12 per month, which allows you to upload 3 hours of audio per month. Episodes are hosted indefinitely with any of the paid plans.
2. Podbean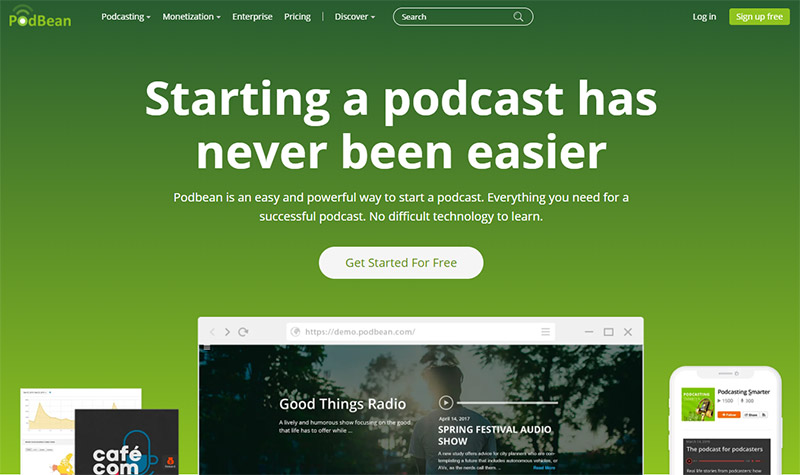 Podbean is another popular podcast hosting service. Like Buzzsprout, Podbean will also submit your episodes to the leading directories and provide you with a website if you don't have your own. The Podbean websites can be customized to suit your needs.
You'll also be able to use an embeddable player to intergrade your podcast with your existing website or blog.
Podbean offers a free plan that allows you to upload up to five hours of audio. Of course, most podcasts will reach this five hour limit pretty quickly, so you can think of this plan as a free trial so you can use Podbean before making a decision to purchase.
Unlike Buzzsprout, Podbean does not restrict the amount of audio you can upload on paid plans. All of their paid plans come with no limits on storage space or bandwidth. Instead, Podbean uses different pricing tiers to determine the features that will be accessible to you.
While the features will vary depending on the plan that you choose, here are some of the features available through Podbean:
Support for video podcasts.
Ad marketplace to help you monetize your podcast.
PodAds, technology to dynamically insert your own ads into episodes.
Premium sales to sell your audio or video.
Patron program, which allows you to make certain content available only to paying members.
Email integration to send your new content to your email list.
Live streaming to reach your audience in real-time.
Visual statistics to check on the performance of your podcast.
The paid plans for Podbean start at $9 per month (if billed annually). This plan does not include video capabilities or some of the monetization features.
3. Blubrry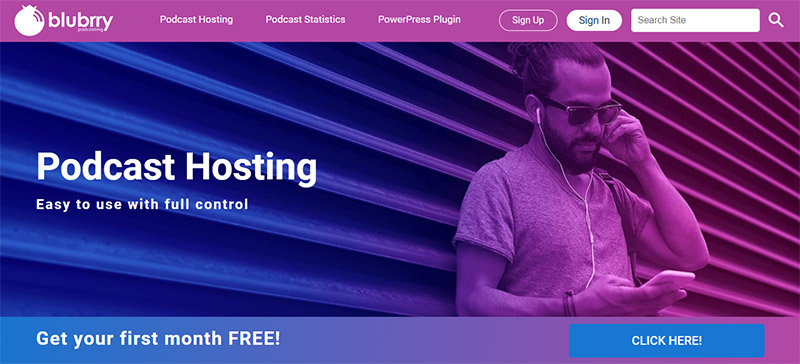 While Blubrry isn't as feature-rich as some of it's competitors, it does stand out in two key ways:
Blubrry offers support by phone, as well as by email. If you want to speak to a human on the phone, that's possible with Blubrry.
Their PowerPress plugin makes it easy to integrate your podcast into a WordPress-powered website.
With the help of the PowerPress plugin, you can easily and conveniently manage your podcast right from your WordPress dashboard. In addition to PowerPress, Blubrry even includes a free WordPress-powered website in its plans, in case you don't already have your own site.
Other features include:
Powerful statistics to track your progress.
Unlimited bandwidth is included with every plan.
Custom embedded player for putting the podcast on your site.
Free file migration if you're moving from another provider.
Blubrry does not offer a free plan. However, you can get the first month free as a way to try it out. Plans start at $12 per month, which includes 100 MB of storage.
4. Transistor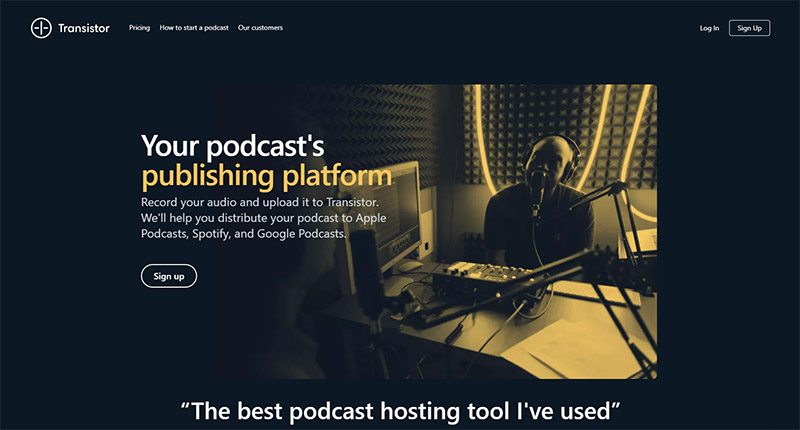 Transistor's interface is well-designed and user-friendly. One of the ways that they stand out is by allowing you to host multiple podcasts as well as both public and private podcasts from the same account. This opens up a lot of possibilities and could save you some money depending on what you're trying to do.
The other features of Transistor include:
Distribute your podcasts to all of the major directories.
Embeddable player to use on your own website.
Create your own website with Transistor if you don't already have one.
Detailed analytics to see how you're doing.
The most significant drawback of Transistor is the fact that their plans place a limit on the number of times your episodes can be downloaded per month. There are no limits as to what you can upload, but the download limits could force you to upgrade as your show grows.
Transistor does not offer a free plan, but you can get a 14-day free trial on any of their paid plans. Pricing starts at $19 per month for the Starter plan, which allows up to 15,000 downloads per month.
5. Fusebox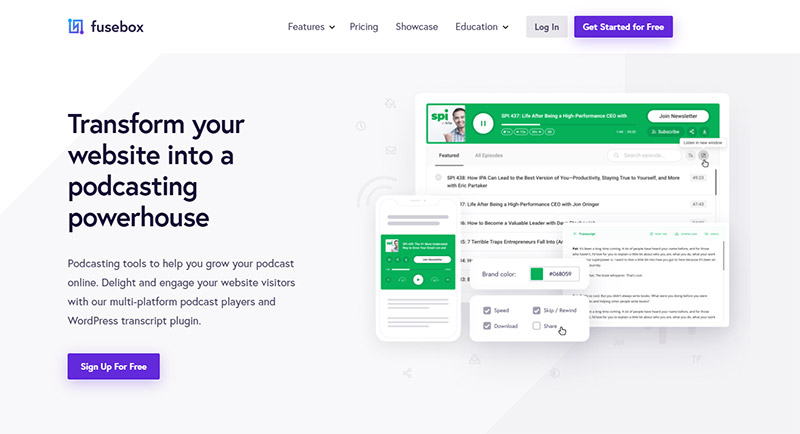 Fusebox is different than the other options here. It's intended for podcasters who have their own website or blog, and Fuse integrates nicely with all of the popular platforms like WordPress, Squarespace, Wix, Webflow, and others. If you're not using one of those platforms, you can use Fusebox with any HTML5 website.
The features and appeal of Fusebox is also focused on the player. Users have access to three different players that they can use and customize to match their site.
Features include:
Email capture to help you grow your email list.
Unlimited shows so you can add as many shows as you want.
Download buttons that make it easy for listeners to take your show anywhere.
Integrated transcription options to use Rev and Temi to get text versions of your episodes.
Fusebox was developed by Pat Flynn of Smart Passive Income.
There is a limited free plan available, which allows up to 10,000 monthly views. The Pro plan costs $15.83 per month if paid annually. There are no higher-priced plans available since Fusebox is not actually hosting your podcast and all features are included in the Pro plan.
6. Captivate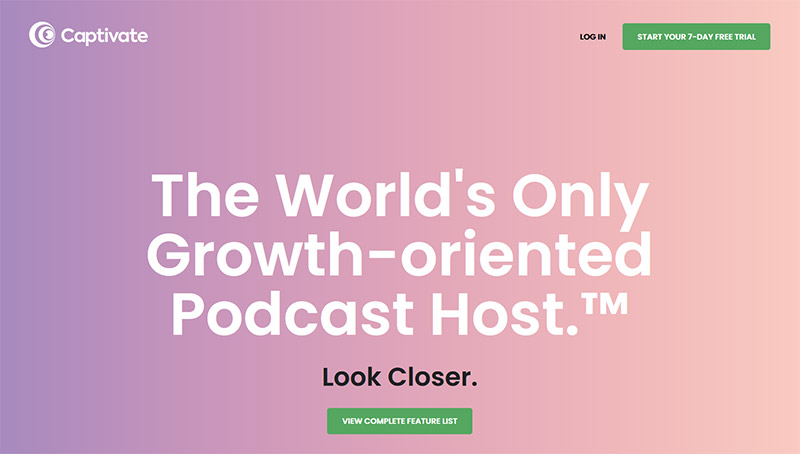 Captivate is focused on helping you to grow your podcast, and that is evident by their tagline: "The world's only growth-oriented podcast host."
Since Captivate's primary concern is helping you to grow your podcast, you'll find an interesting set of features that includes:
Calls to action built in to the podcast player.
Thoughtful podcast marketing with auto-generated links to Overcast, Pocket Casts, and others.
Podcast sponsorship PDFs that help you to monetize your show.
Easy WordPress integration to display your podcast on your own site.
Advanced analytics that are easy to understand.
Beautiful and customizable website for your podcast.
Private podcasting included with each plan.
Like Transistor, Captivate puts download limits on their plans. The features are the same on every plan, the only factor that determines the plan you need is how many times your listeners download your episodes per month.
The entry-level plan is $17 per month if paid yearly and it allows up to 12,000 downloads per month. There is no free plan available, but each paid plan comes with a 7-day free trial.
7. Castos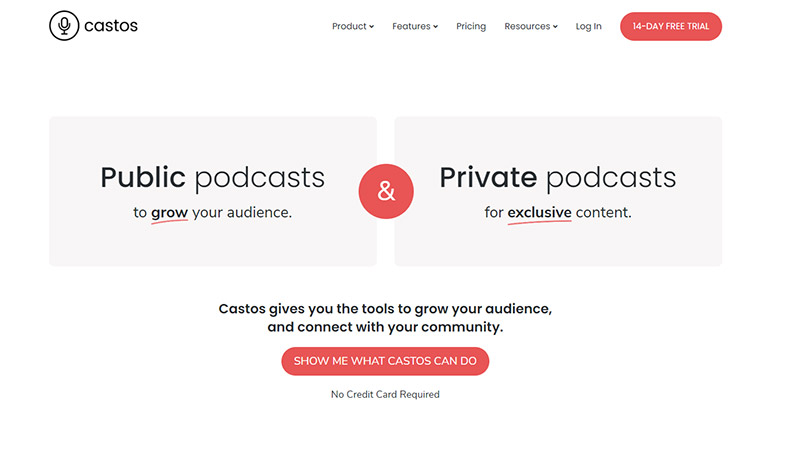 Like Blubrry, Castos is another excellent option for WordPress users. Their Seriously Simple Podcasting plugin makes it a breeze to manage your podcast right from the WordPress dashboard.
There are also many other features to like, including:
Public and private podcasts.
Unlimited uploads and downloads on every plan.
Integrated transcription options to convert your audio content into text.
Automatic distribution to major directories.
Integrated publishing to YouTube turns your audio files into video for greater reach (limited to certain plans).
Video hosting (limited to certain plans).
Advanced analytics (limited to certain plans).
Overall, Castos has a lot to offer. The starting price is slightly higher than some of their competitors, but the features included with the plan make up for the higher price. The Starter plan is $15.83 per month if paid annually.
Castos does not offer a free plan, but each paid plan starts with a 14-day free trial.
❓ Which Is The Best Podcasting Hosting Service?
All of the options covered in this article are good, but in order to determine which one is best, you'll need to think about your specific needs. To help, here are some recommendations.
🙂 Best for Beginners – Buzzsprout
If you're creating your first podcast, you'll love Buzzsprout's ease of use. And thankfully, you won't be sacrificing features either, as Buzzsprout has all of the essentials you'll need as your show grows. The free plan, even though it is very limited, also helps to make Buzzsprout the most beginner-friendly podcast host.
💰 Best for Monetizing Your Podcast – Podbean
Podbean includes a few different features that help you to sell ads and make money through sponsorships and affiliate programs (not all features are available with every plan). If you're focused on making money with your show, Podbean is an excellent option.
💻 Best for WordPress Users – Blubrry and Castos
If you have an existing WordPress-powered website or blog and you're looking to add a podcast to it, you may want to start your search with Blubrry and Castos. Both have awesome plugins that make it easy to manage the podcast from your WordPress dashboard.
🔥 Best for Growth – Captivate
If you want to reach as many people as possible, you'll probably love some of the features that Captivate offers. The calls to action that are available right from the player can help you to grow your audience quickly and reach more people.
🎙️ The Equipment You Need to Start a Podcast
There is a lot of gear you can use to record and produce your podcast, but thankfully, very little is essential.
1. Microphone
Technically, you could start your podcast with the microphone built in to a laptop, but since audio quality is so important, the first piece of equipment you should buy is a good microphone. You might be surprised at how much of a difference a good mic will make.
Of course, microphones come in a wide range of prices. When you're first getting started, you'll probably want to keep the cost down, so my top recommendation is the ATR2100 from Audio-Technica. This mic is used by a lot of podcasters and will give you quality audio without breaking the bank.
If you're able and willing to spend more, the Rode Podcaster Dynamic Microphone is a good choice.
Both of these microphones will connect directly to your computer via USB, so they're extremely easy to use.
2. Mic Stand
The ATR2100 comes with a mini stand, but it's not very practical since it is so small and not adjustable. While it's not completely necessary, especially when you're first getting started, a stand will be very useful.
You could go with a tabletop stand or a boom arm that swivels and adjusts easily. It's just a matter of preference to decide which one is better for you.
3. Pop Filter or Windscreen
While not 100% necessary, a pop filter or windscreen will help to cut down on plosives like popping P's that blast the microphone. They'll help to improve the quality of your audio for listeners.
4. Mixer
A mixer will give you lots of control over the audio that is being recorded. Although it's not necessary, a mixer will help if you're obsessed with the quality of your audio.
5. Headphones
Headphones can also help to improve the quality of your sound. If you're having a conversation with a guest on your podcast and you're not using headphones, the sound from your computer's speakers may be picked up by your mic. You can eliminate this by using headphones.
6. Editing Software
Most likely, you'll want to edit your audio files to improve the quality. While there are plenty of options, Audacity is free open-source software that gives you everything you need.
🚀 How to Promote Your Podcast
Once you've started a podcast, the next step is to promote it in order to get some listeners.
1. Get It Listed
Most of the leading podcast hosts include a feature that will automatically submit your podcast to the leading directories, but if you're not using one of those services, you should manually submit to directories like:
2. Have Your Own Website
While it's possible to have a podcast without having your own website, your website or blog will make it much easier to get visibility and attract new listeners.
Integrating a podcast with a blog is ideal because you can create a unique blog post for each podcast episode. You can either write a summary of the show or use a transcription service to create a word-for-word text version of the episode. Either option will help to improve the search engine optimization of your site.
If you don't have a site already, most of the podcast hosting services covered in this article will provide you with a site, or you could start your own as a self-hosted WordPress website.
👉 See our guide How to Start a WordPress Blog for step-by-step instructions.
3. Grow an Email List
With an email list, you'll be able to reach out to your subscribers at any time. You can send them an email with a link to each new podcast episode, or send a weekly or monthly roundup if you want to send fewer emails.
Both ConvertKit and MailerLite offer free plans that allow you to start building your list at no cost.
4. Appear as a Guest on Other Podcasts
A great way to grow your audience is to be interviewed by another podcaster that shares a similar target audience. If a listener loves a similar podcast, they may be interested in checking yours out as well.
Many podcasts rely on guest interviews for content, so there's a constant need to find interesting guests. You can reach out to podcasts and pitch yourself, or use a service like PodcastGuests. You can subscribe to their email list for free to get notifications of shows that are looking for guests.
Optionally, you can pay to be listed in their directory of podcast guests so podcasters can find you. Pricing starts at $10 per month.
5. Interview Other Podcasters
Likewise, you can also interview other podcasters from your niche on your show. Most people will share a link to a podcast they've been featured on, so your guests may help you to spread the word.
Some podcasters also exchange interviews so you could have someone else on your show and they could have you on their show. This is an easy way to reach new listeners.
❗Conclusion
Podcasting, like blogging, is a great way to reach a targeted audience. You could use a podcast as a way of extending an existing business, or you could use the podcast itself as its own business. Either way, there are plenty of opportunities to reach listeners and make money.
The best podcast hosting platforms covered in this article will help you to grow your podcast while minimizing the technical details that you need to manage.