In this post you're going to learn about the different ways in which your blog content is been stolen without attribution for the benefit of others and which plugins you can use to stop it.
The unfortunate truth of being a blogger and content publisher is that there are a select group of people that constantly rip off our content, display it as their own and give us no attribution for our hard work.
Before I go any further I want to be clear; I'm not talking about syndication here which is not a problem in my eyes providing attribution is provided along with a link back to the source.
I'm talking blatant content theft where individuals scrape RSS feeds for new content and then publish it without attribution and publish it on their own properties (sometimes even spinning it into something that looks like a 5 year old wrote it).
WordPress Plugins to help Prevent Content Theft
Below you will find 5 powerful WordPress plugins that will help you put an end to this.
1. WordPress SEO by Yoast
You might be thinking, what? An SEO plugin; how is that going to help? Well it can help you a lot!

Part of the problem with content theft is that auto blogging plugins are reposting content without attribution. The thing to remember about these plugins is that they are not being checked by a person, it's all on auto. It's sad to say really because this type of behavior really won't help them with Google's recent updates but it still happens.
WordPress SEO by Yoast has an RSS menu which allows you to insert content directly to above and below every post in your RSS feed.
The content can be whatever you like but there is specific code available that will allow you to add an attribution link to your RSS feed so that when your post is republished it provides a link to the original on your website so that search engines and readers will know who the original author is.
2. Copyright Notice
While Feed Delay and WordPress SEO by Yoast weren't specifically designed to help stop copyright/content theft this plugin was designed specifically for the job.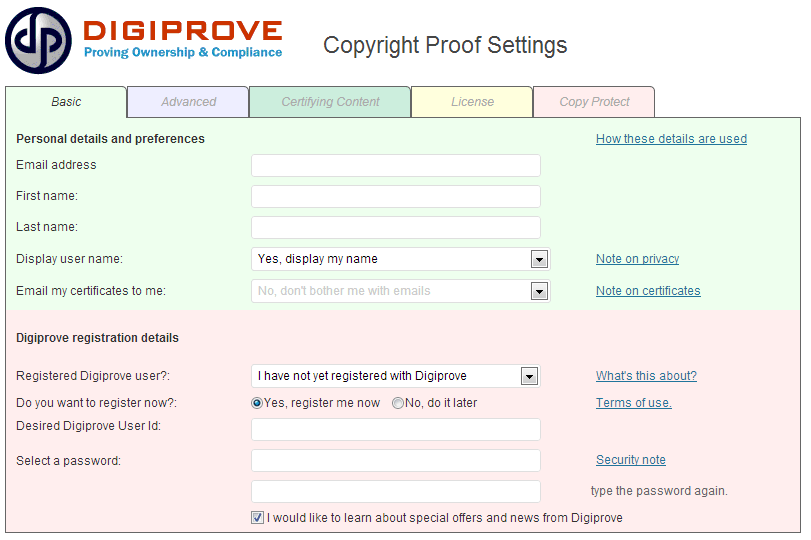 Copyright Notice provides you with a digitally signed and time stamped content certificate that is placed below each post on your website which can go a long way to helping prove ownership.
There are a lot of customizable options here so it's a very functional plugin and you can also customize the colors of the copyright notice box so that it fits with the rest of your website.
3. WP Content Copy Protection
This plugin is the swiss army knife of copy protection plugins but there are still a few features it doesn't have so it would work well with either Feed Delay or Copyright Notice.

Some of the features include; ability to disable right click on mouse, disable image drag and drop, disable various keyboard commands.
Personally, I don't have any issues with people copying snippets of content or using right click options and as a user that sort of thing can get a bit tedious but the main feature that stands out to is the disabling of image drag and drop function.
It's usually far too easy for another blogger to drag and drop your image into their visual editor and include it in a post and some may do this without thinking and not have any bad intentions at all.
The problem is when someone drags and drops an image into their live editor it isn't uploaded to your own website and it results in stealing bandwidth which can become a huge problem for the site owner that originally posted the image.
4. Tynt Insight for WordPress
This plugin doesn't actually prevent content theft but I wanted to include it because it can give you a lot of insights into what content is actually being copied from your website, whether it be text or images.

There's also some other cool features because you can choose to add a "read more" link back to the page the content was copied from. You can also add a creative commons license, Twitter username and/or a link to your Facebook page.
If you're comfortable with editing your theme files you can setup this system by using a snippet of code.
5. Feed delay
Right now you probably have a few bots subscribed to your RSS feed that scrape it for content; if you run a large content heavy website then chances are that you will have more than a few.
Larger sites that get their content indexed within a very short period of time won't usually experience much of a problem but if your site doesn't have its content indexed so quickly then this could be a problem for you.
Here is what could happen: you publish a post and a bot scrapes your feed and auto blogs your content without no attribution link and somehow manages to get the post indexed before you do then search engines will see your post as the duplicate and chances are you will never be able to rank that post above the content thief's blog.
This is a horrible thing to happen and happens to some bloggers without them realizing it.
Feed delay is a great solution for this, you can set it to delay posts from being added to your RSS feed for a set amount of time and you can tweak this amount of time so that you can guarantee that your post will be indexed first.
I must warn you, this plugin hasn't been updated in over 2 years now but I run this on a lot of websites without any problems.
Summary
Be careful out there because there are a number of people that are lazy and like to take other peoples content. If you use 1 or maybe more of the plugins above then you will be able to more effectively protect your content but try to not go so far that you affect the usability of your website.
We hope this post helped you tackle the content theft problem on your site. You may also want to see our post on top 7 SEO Tools & WordPress Plugins For Maximum Visibility.
Have you had any issues with content theft recently or have you been using any of the above plugins or any others to protect your content? Let us know in the comments.