If you are looking for a way to import RSS feeds from other websites into your WordPress site then the WP RSS Aggregator plugin is just what you are looking for.
The core plugin allows you to add RSS feeds to your site, and then publish a list of links to those feed items. You can even style the list with a bit of CSS. This is great for automatically creating weekly news roundups which feature posts from a list of your chosen sources.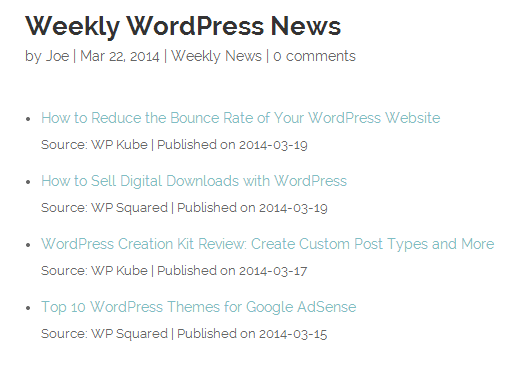 However, by making use of the optional add-ons for this plugin, you can do a lot more. You can import the post from the original sources, including post content, images and videos, into a WordPress post or any other custom post type.
This allows you to re-publish content from other sites, simply by entering the address of the RSS feed for the source site. With the Feed to Post add-on you get lots of options for determining which posts get imported into your site and how they are organized, displayed and managed once they reach your site.
In this WP RSS Aggregator review we will be taking a look at the core plugin and the Feed to Post add-on.
Features of WP RSS Aggregator
This plugin has been developed by Jean Galea who also runs the popular WP Mayor WordPress resource site. The WP RSS Aggregator plugin is free and is available from the WordPress plugin directory, while the optional add-ons are available as premium extensions.
Once installed, the plugin allows you to define one or more RSS feeds from external sites, and then display the posts from those feeds on your blog.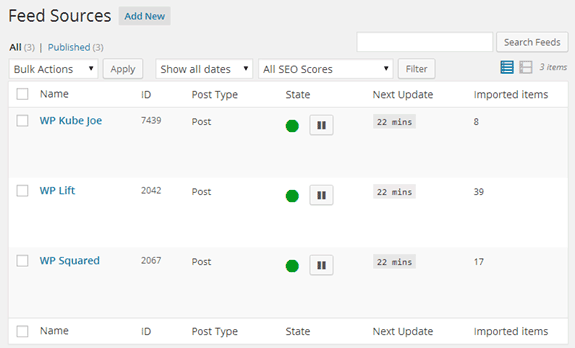 The free version of the plugin simply lets you list the posts from the feeds on a page or post on your site. The plugin will list the post titles, which themselves are links back to the original article on the source site.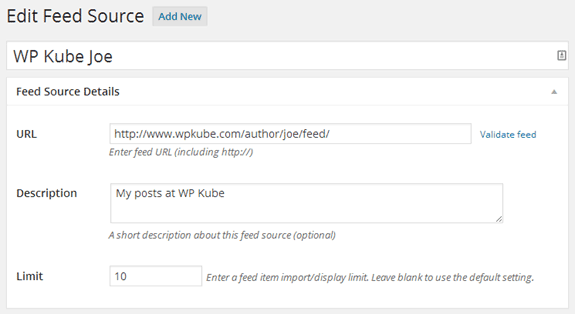 As you can add multiple feeds to your site, the posts from each of those feeds can be merged to create one list of the most recent posts from those sources. This makes publishing a roundup of news from a range of sources very easy and a quick way to add a useful feature to your site. However if necessary you can opt to just display the latest posts from one of your sources.
When it comes to actually inserting the list of feed items into your posts or pages, the plugin adds a button to the WordPress post editor which allows you to easily generate the shortcode which will display the content from your feeds.
When inserting the shortcode it is possible to select which feeds the posts will be pulled from. Alternatively it can be added to the theme files to hardcode it into your WordPress template.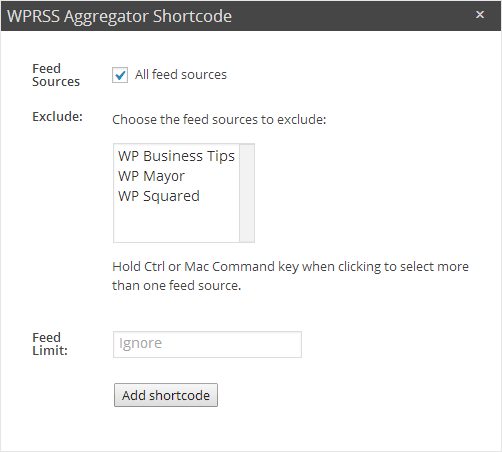 When the post or page is viewed, readers of your site will see the latest posts from the feeds you added. The list is updated each time the page is loaded ensuring it's always up to date, or as close as your settings allow it to be.
Another way to make use of this plugin is to use it to display a list of the latest posts you've written on other blogs. For example, if you are a freelance blogger, it's an excellent way to add a dynamic list of recent posts to your portfolio.
By using your author feed on the blogs you write for, you can use WP RSS Aggregator to pull in the post titles of your most recent articles that have been published on a range of sources. It's something I've recently added to my site and you can see it an action as part of my portfolio.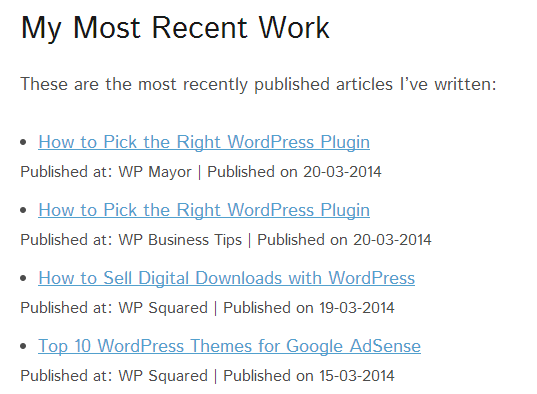 WP RSS Aggregator Settings
The settings for the core plugin just cover one page but give you some good options for configuring how the list of feed items are presented. The settings allow you to configure the plugin in the following ways:
Limit feed items by age
Set the feed processing interval
Show the source of the feed item
Edit the text preceding the source
Set the feed item titles as links
Show the date of publication
Set the total number of feed items to display
The settings page is well designed and makes use of the native WordPress UI, ensuring it integrates seamlessly with the rest of the WordPress admin area.
WP RSS Aggregator Extensions
There are a number of extensions, or add-ons, available for the core WP RSS Aggregator plugin. These allow you to expand the features and functionality of this plugin in order to make it even more powerful. The add-ons are available individually or as part of the newly launched bundle deals.
Feed to Post Extension
If you want to actually publish content from other sites on your site, and not just publish links to those articles, then the Feed to Post extension for WP RSS Aggregator is for you.
With this extension installed on your site feed items can be imported into your site, with each feed item being used to create a new WordPress post on your site. This is great for auto-blogging as you can simply enter an RSS feed from a site and WordPress will automatically grab that content and publish it on your blog.
The Feed to Post add-on also supports custom post types, allowing you to choose which custom post type imported content is published as. This gives you plenty of options for how the imported content is managed and presented.
Also during the setup process you can select a user account to publish the imported posts under as well as setting whether the imported content should be auto-published, set as a draft, or marked as pending review. This gives you the option of letting your site grow on auto-pilot or giving you the opportunity to moderate and review any imported posts before they are published on your site.
As part of the recent update, this add-on can now also import the full post content into your site, even if the feed author has set it to only display an excerpt. The add-on can also now import videos from sites like YouTube and Vimeo along with the regular post content.
There are plenty of features and settings for the Feed to Post extension, giving you lots of control over how the posts are imported into your site. Some of the highlights amongst the features include:
Import images from the source post and set a featured image
Embed and import videos from the source, including those from YouTube and Vimeo
Set the post status (draft, pending, published, etc.)
Custom link back to the source of the content
Force full content import (not just excerpt)
Create extraction rules to exclude post content
Plus many more
Working through the settings for each feed you will be importing content from is very easy, thanks to the clear labeling of the fields, and the use of the WordPress native UI for the appearance of the settings page.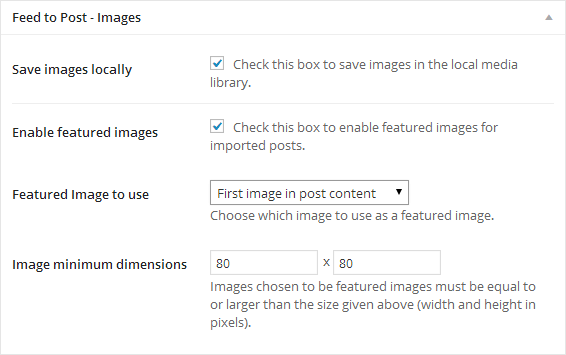 In the recently released version 2.5 there were some new features added to this extension. One notable addition is the ability to create extraction rules. This allows you to define HTML element that will be stripped out of posts as they are imported.

This could be things like newsletter opt in forms, or social share buttons, which you probably wouldn't want published on your site. By entering the CSS selector for the HTML element, you can choose to have it extracted or excluded from the content before it is added to your site.
Upon activation, this extension makes the Excerpts & Thumbnails and Categories add-ons redundant and automatically deactivates them for you as their features are included in this add-on.
The Feed to Post add-on is available for $67 for use on a single site, or it can be purchased as part of the Advanced Feeds Bundle.
Conclusion
Both the free WP RSS Aggregator plugin and the premium Feed to Post extension are really well designed and easy to use. The settings are kept to a minimum and are well presented and documented, making setting up the plugin and add-ons a very straightforward process.
Whether you want to display a list of your most recent posts from around the web, or add an auto-updating list of the latest news items from a number of sources to your site, then you can't go writing with the WP RSS Aggregator plugin.
For those seeking an auto-blogging or content importing solution then the recently updated Feed to Post add-on will be of great interest. With many options for determining how the content is organised and managed when it arrives at your site, as well as it being very easy to add RSS feeds from the sites you want to import content from, this extension is very well implemented.
It would be nice if there was a widget included with the plugin which allowed you to display a list of feed items in your sidebar, however, this could probably be achieved by inserting the shortcode into your theme's template files.
As it is though, the WP RSS Aggregator plugin comes highly recommended. Whether you want to display a list of news items, recent blog posts, or job listings from a number of sources all in one place on your site, this is the plugin for you.
We hope you found our tutorial useful. Don't forget to see our list of best WordPress plugins (as voted by 40 experts) for other essential plugins.