No matter what niche you are in, one thing you need to focus most on is building an engaging email list. This will not only help you get more targeted traffic, but it will also help you build trust with your audience.
If you want to run a successful business online, building an email list is the way to go.
Email list is the key. An engaging email list of subscribers can easily out-perform the results from social media sites like Facebook or Twitter.
The easiest way to go about this is to make it super easy for your readers to subscribe to your email list. This means adding opt-in forms in key locations of your website including sidebar and below content area. There is a good number of free and premium plugins available in the market, that makes it easy to add opt-in forms on your WordPress powered website.
In this post, I will share some of the best list building plugins that can help you get more email subscribers.
Top Mailing List WordPress Plugins
1. Optin Monster

With a long list of features, OptinMonster tops this list building plugins' roundup. It is a revolutionary plugin. Name a thing that you could do to create a list and make more people to signup, and OptinMonster can do it for you.
With OptinMonster, you can ask people to join your mailing lists through different ways.
You can add a form within or below your content or within your sidebar. You can also create unblockable popups and slide-in optin boxes. The plugin is fully compatible with all the leading email marketing services including GetResponse (which is what we use here at WPKube), MailChimp, Aweber, among others. This plugin is fully responsive so you can be assured that users won't feel annoyed when viewing your site on smartphone or tablet.
The plugin comes packed with the powerful exit intent trigger, which detects visitor behavior and prompts them with a targeted campaign at the precise moment they are about to leave your site.
There are over a dozen of sites that have reported 300% increase in their subscriber base with the use of this plugin.
2. WP Subscribe Pro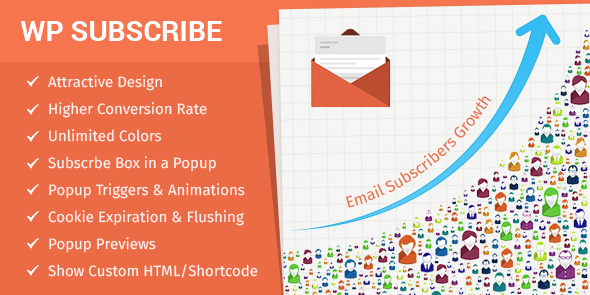 Created by MyThemesShop, this plugin provides all the useful features you will need for building an effective email list for your site.
What's extraordinary about this plugin is that it lets you perform acute targeting, and easily integrates with FeedBurner and GetResponse. It lets you add custom optin form above or below the content area (completely separate from main popup box). This plugin costs only $19 and comes with features like Exit intent trigger, built-in widget support to display the optin form in sidebar or footer, popup animations, and cookie expiration, and is fully compatible with popular caching plugins (W3 Total Cache & WP Super Cache),
Price: $19
3. Optin Skin

Optin Skin is a powerful list building plugin for WordPress. Optin Skin comes with 18 templates (skins). You can customize those skins or create a new one (requires basic knowledge of HTML and CSS) to match your blog design. There's a $97 flat fee for unlimited sites license – it includes lifetime updates and support, which is pretty decent for its features. Optin Skin supports split testing, so you can test the theme, and see how it is converting. Also, an impression is only counted if the user reaches or scrolls through the point where your form is visible. You can analyse each skin's performance through Optin Skin's settings page.
You can also add catchy social media buttons in your optin form – this can be a useful feature for boosting your social following. The plugin also adds a special fade effect, so it can capture users attention towards your opt-in form.
4. PopUp Domination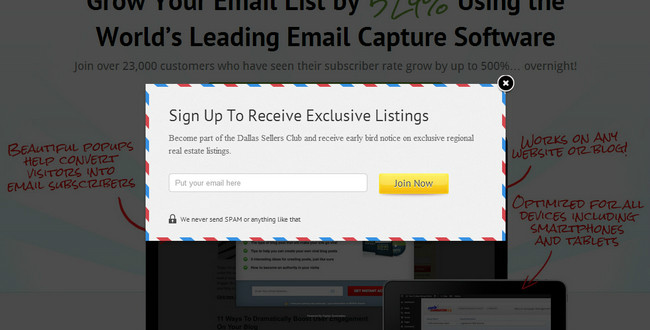 PopUp Domination promises that if you don't see a 100% raise in your email subscribers, you'll get a 100% refund.
This plugin comes packed with lots of powerful features. It supports A/B testing so you can try out various popups and continue with the ones that perform the best. You also get access to powerful analytics to understand the response for your different popups. You can set targeted popups on specific pages and categories.  This helps in building targeted lists.
Popup Domination also lets you force subscription. If there's content on your website that you want to make available exclusively to your subscribers, you can set up a forced popup on it.
This plugin has worked for thousands of people and almost all have reported immediate results.
With targeted offers, split testing, powerful analytics, and impactful themes, Popup Domination is a good catch at $47.
5. Optin Architect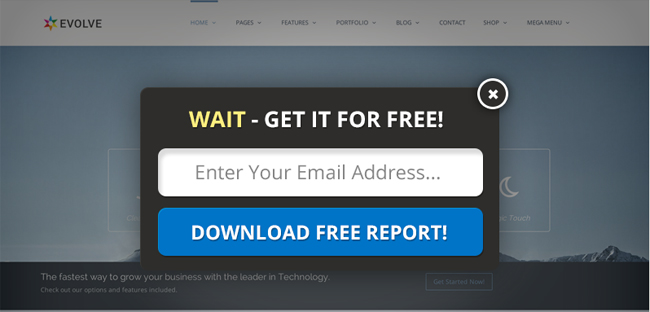 Optin Architect comes across as another power-packed list building WordPress plugin.
It comes equipped with several ready-to-use templates and powerful analytics. Popups based on the exit intent technology is another great feature. Also, Optin Architect works with all the leading autoresponder services.
Additional features include – Exit intent technology, detailed analytics, new optin form designs,
6. SumoMe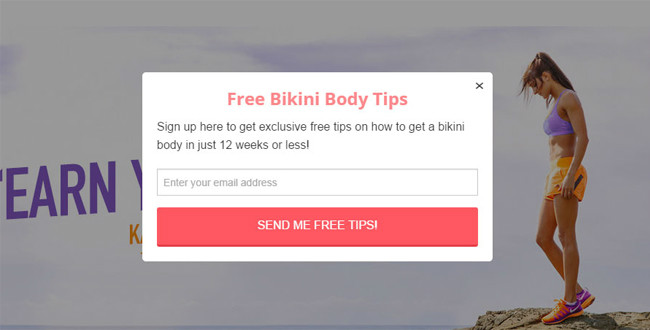 SumoMe List Builder is a free list builder app from AppSumo. However there are some restrictions. At the time of writing this post, SumoMe only supports MailChimp, Aweber, Campaign Monitor, and Constant Contact. So if you're using any other service, then you can rule out this plugin.
Sumome has a very premium feel about it. You can create elegant lightbox popups that drive subscribers. You can also set Sumome to show a popup when the users are about to leave your site (exit intent technology). You will find many other premium optin popup plugins that rave about this feature. But Sumome offers it for free and is very easy to setup.
7. Ninja Popups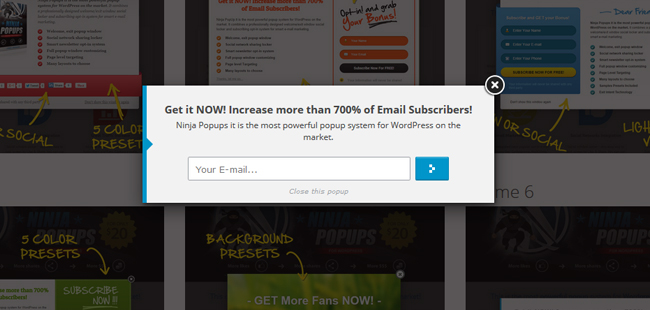 Ninja Popups is another great solution for showing well designed popups on your site. After OptinMonster, this is my second-best choice for popup plugins. Ninja popups not only helps to increase the newsletter subscribers, but also the social count using its built-in social locker plugin.
This plugin also has a addon plugin, which allows you to display the same popup design in widgets and posts using a shortcode. Some of the key features of this plugin are – highly customizable, page level targeting, close button, statistics, and social network locker.
It currently supports Aweber, GetResponse, iContact, Mailchimp, Campaign Monitor, and Mymal. Other auto-responders can be added manually using the optin form.
8. Optin Forms

People who hate popup plugins should love Optin Forms. This plugin places optin forms quietly below, on top of or within your post. Optin Forms works with all the popular autoresponder services. It comes with three good looking templates. You can redo the style and add your own custom message.
The installation instructions are spot-on. You can install and set it up within minutes. You can download it directly from the WordPress.org repository. It also comes with a live preview option has been included to show you how the form looks as you customize it.
You can add the optin form in-between the content area too, using a simple shortcode.
9. Optin Feature Box Plugin

Adding optin form below the header is an incredible way to build your list.
But there is no easy to do that, not unless you have a good knowledge of HTML, CSS, and how WordPress works in general.
The Feature Box plugin from Plugmatter makes it easy to add optin form below the header area. It comes with an easy to use interface and supports a/b testing.
The plugin comes with several elegant and responsive templates that you can choose from.
With Optin Feature Box Plugin, you can showcase different subscription boxes on different posts/pages. This is a very effective strategy for creating highly targeted email campaigns.
The idea behind this plugin is simple and it's definitely worth trying for those who find popups annoying.
10. Ninja Kick Subscription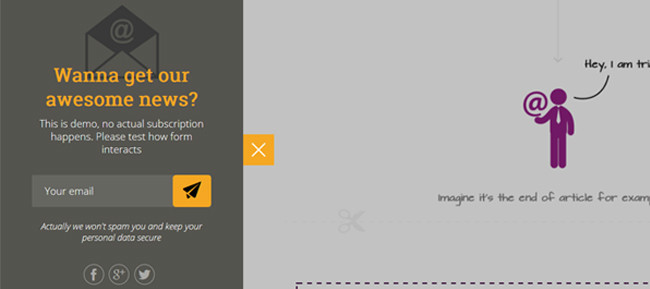 Ninja Kick is another excellent list building plugin that adds a sliding optin form on your site.
The plugin comes with 4 well designed templates that you use on your site. You can then customize those templates to suit your needs by changing colors, background, logo, and text. It comes with a responsive layout, and gives you an option to enable the optin form for mobile users.
You can also use this plugin for providing bonus / extra content (content upgrades), by placing a button or link in your post, so when a visitor clicks it will open an optin form.
Ninja Kick currently supports Mailchimp, GetResponse, Aweber, Constant Contact, iContact, and BenchMark Email.
If you're investing in a premium list building plugin, then consider the ones that allow split testing. Because there's no sure way to know which method works best than testing out different variations.
That's it for the best list building plugins. If you have any questions about how to install / configure any of these plugins on your site, feel free to drop a line in the comments section below.
Do you use any of the plugins mentioned above on your WordPress site? What do you think about popups and other list building plugins? Please share your thoughts in the comments below.