It's no longer enough to rely on Google to provide your website visitors. Social media has become an incredibly powerful force for driving website traffic in recent years and has been overtaking search referrals for several years already.
It's important to make your content highly shareable if you want to take advantage of social media. The most important step to achieve this is of course to create great content, but there are also a few other tricks you can take advantage of to encourage more shares.
Web users are tiring of clickbait headlines and try hard "viral" content so it's time to get back to basics: reading experience.
Facebook Instant Articles is a Facebook feature that was launched in 2015 to make web articles load faster for Facebook users and provide a better experience than reading articles on the publisher website.
While Instant Articles aren't currently getting any special treatment in Facebook feeds, it's possible they may make this leap in the future, following Google's lead of prioritizing mobile-friendly content. For now, Instant Articles are a highly user-friendly form of content that may mean more likes, comments and shares for you and a better experience for your readers.
What are Facebook Instant Articles?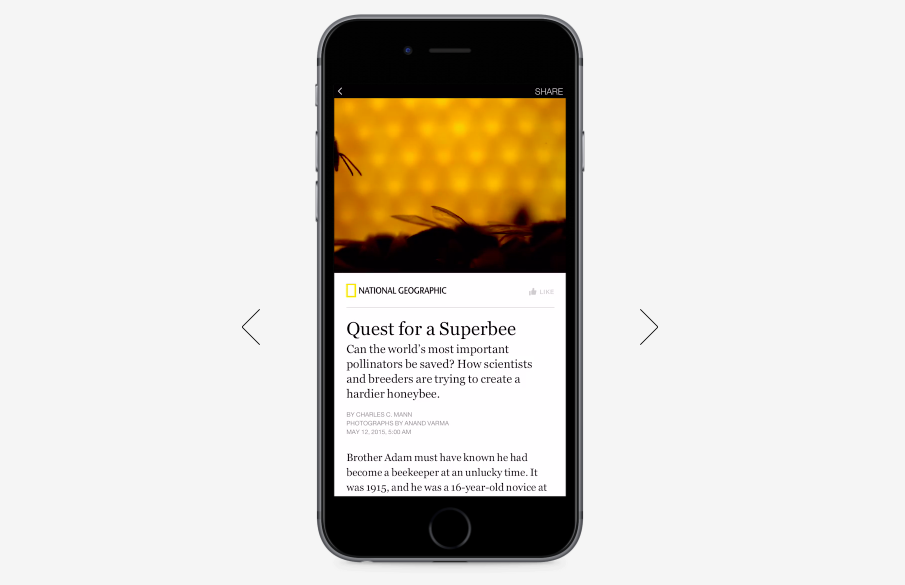 The Instant Articles feature hosts content in Facebook itself so that rather than sending users to an external site when they click on an article they want to read, it opens right within the Facebook app.
This is much faster than waiting to be redirected to another website and waiting for the page to load, not to mention the warning from Facebook that you're about to visit an external site, which slows things down even more, as well as being very off-putting.
As well as being fast, Instant Articles are optimized for the reading experience. There are no distracting sidebars or menus, a focus on readability in terms of fonts and layouts, and high res images, movies, and interactive maps can be inserted alongside the text.
Facebook claims some impressive statistics about Instant Articles:
Load 10 x faster than normal web content
Read 20% more than other content
Shared 30% more than other mobile web articles
Readers are 70% less likely to abandon the article.
Sounds good right?
But hang on a second – don't you want to get people to visit your site, rather than just staying in the Facebook app?
Maybe, but maybe not. Facebook have worked hard with major content producers such as Buzzfeed to provide an attractive solution that makes up for missing out on some website hits.
Facebook allows full monetization of content via native video and carousel ads (highly targeted and proven to be successful) can be integrated right into the content. Publishers can also keep 100% of the revenue that is generated from their own display ads.
There's a suit of analytical tools for tracking and measuring engagement in real-time and your own analytics tools can be integrated too.
Facebook instant articles aren't intended to replace the content on your own site, but rather to complement it. As it's free to sign up, it's worth at least a trial period if you're a blogger and publish a lot of newsworthy or shareable articles.
How to Create Instant Articles from Your WordPress Site
Facebook designed Instant Articles to be easy to create from your existing content, so there's no need to download additional software or figure out a new online tool.
Facebook will parse the HTML and RSS of your website articles to convert them into Instant Articles. You can insert rich media and features by adding Facebook-specific tags.
However, it's important to note that most WordPress shortcodes and custom content types will not automatically be translated across to the Instant Article version. You'll need to create some additional rules for this content to be exported across successfully, which may take quite a bit of time and experimentation.
Install the Instant Articles plugin for WordPress
Before you get started with Instant Articles, make sure you have at least 5 articles on your site.
Go to Plugins > Add New, search for "instant articles" and install the official plugin (By Automatic, Dekode, Facebook). After the plugin has installed, activate it.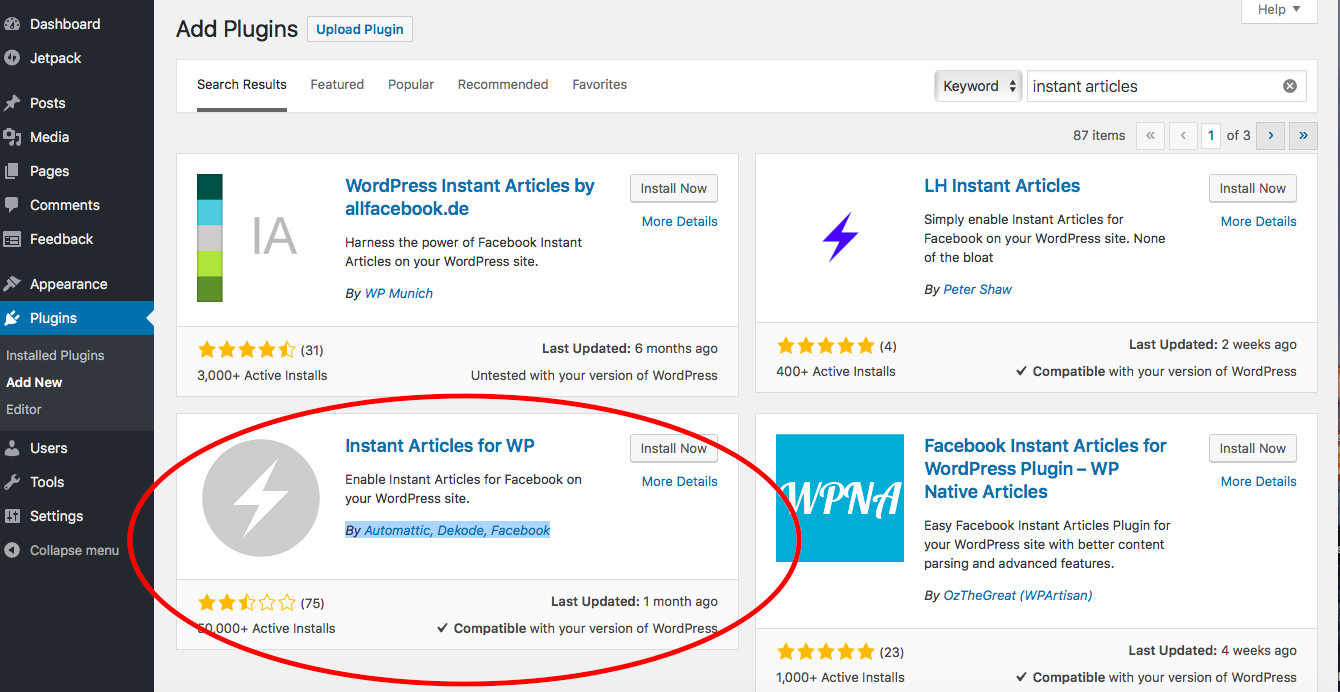 You can now go over to Facebook and sign up as an Instant Articles creator. Leave your website open on another tab on the Instant Articles setting page.
Sign up for Instant Articles
You'll need a few things before you can sign up as an Instant Articles publisher you must have a Facebook Page that you have admin access to. If you want to monetize your content, you'll need to adhere to the Facebook Content Guidelines, and have an 'established presence' for at least one month. Facebook isn't specific about exactly what this means but it's safe to assume you'll need to post regularly to your page and have a decent follower count.
Visit instantarticles.fb.com and click the "Sign up" button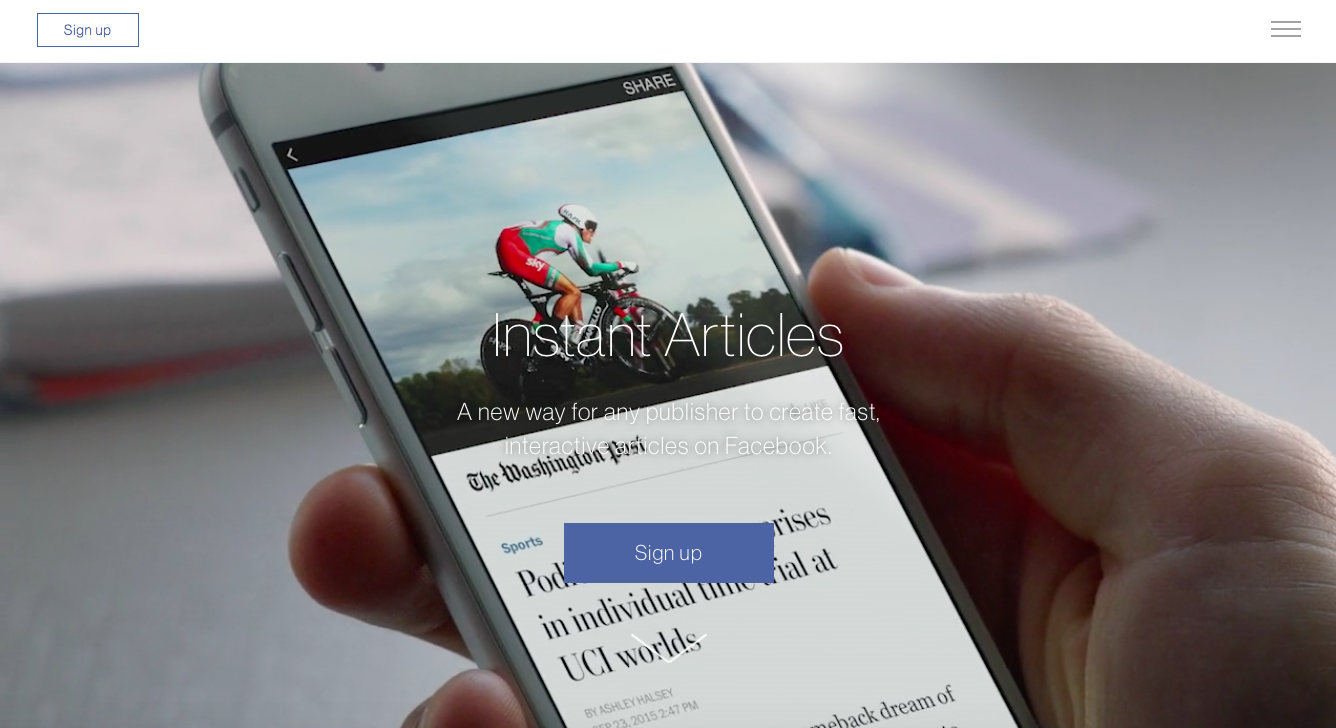 Choose the Facebook Page you want to use for Instant Articles
You'll then be taken to the Instant Articles publishing tools page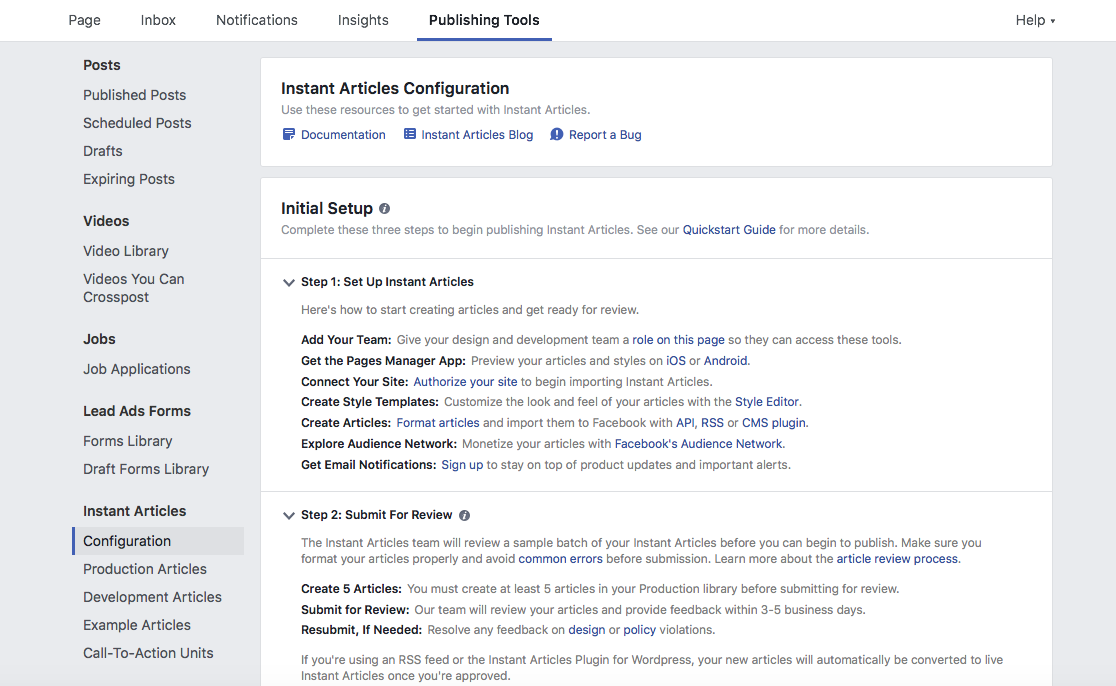 Authorize your site so that Facebook can import articles – click on the link in "Step 1"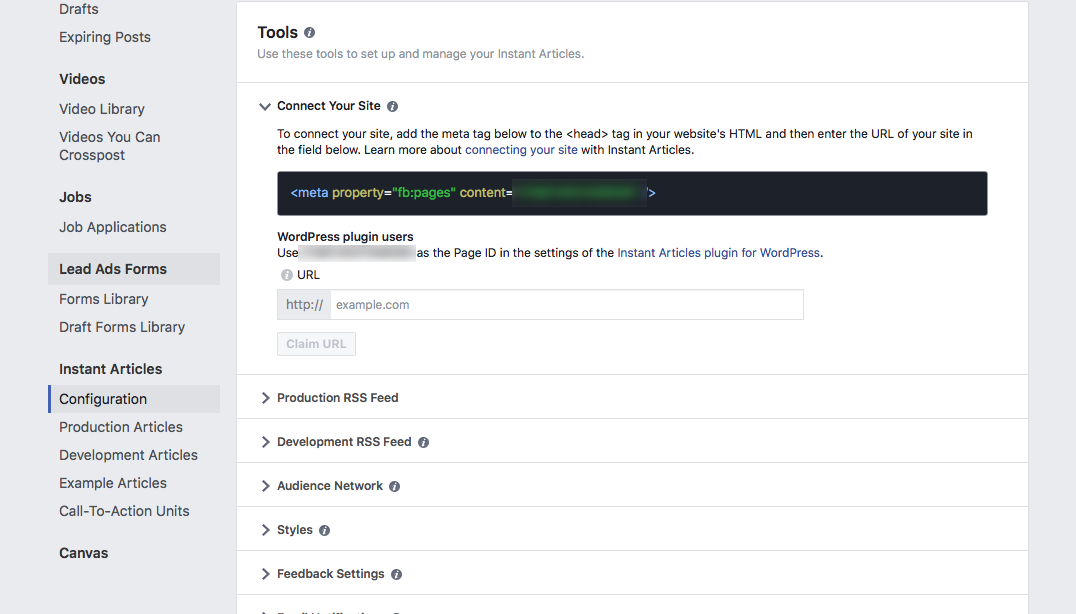 You'll be given a code to paste into your plugin Page ID setting so go back to your WordPress dashboard and copy and paste it in. Click the button at the bottom of the page to save your changes.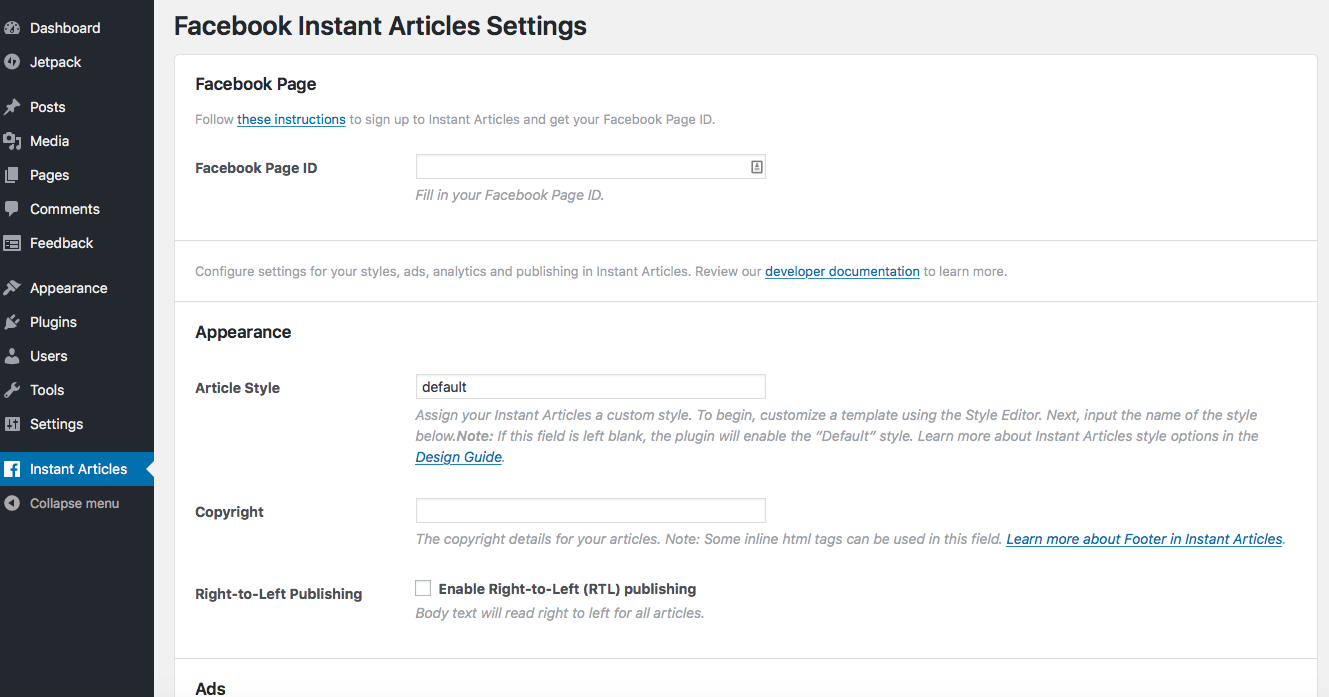 After saving your Page ID in the plugin settings, go back to the Facebook publishing tools page and enter your website URL. Press the "claim URL" button. After a few minutes you should get a message saying that your URL has been successfully claimed.

On installing the Instant Articles plugin, it will have created an Instant Articles feed for your site. This will be located at http://www.yoursite.com/feed/instant-articles, you can paste this into your Facebook settings page under "Production RSS Feed"
You'll need at least 5 articles in your Production Library before you can submit them for review. While the RSS feed will automatically import any new articles you create, you can import existing ones by going into each one in WordPress and clicking the update button. You can check on the articles that have been imported by clicking "Production Articles" in the menu on Facebook.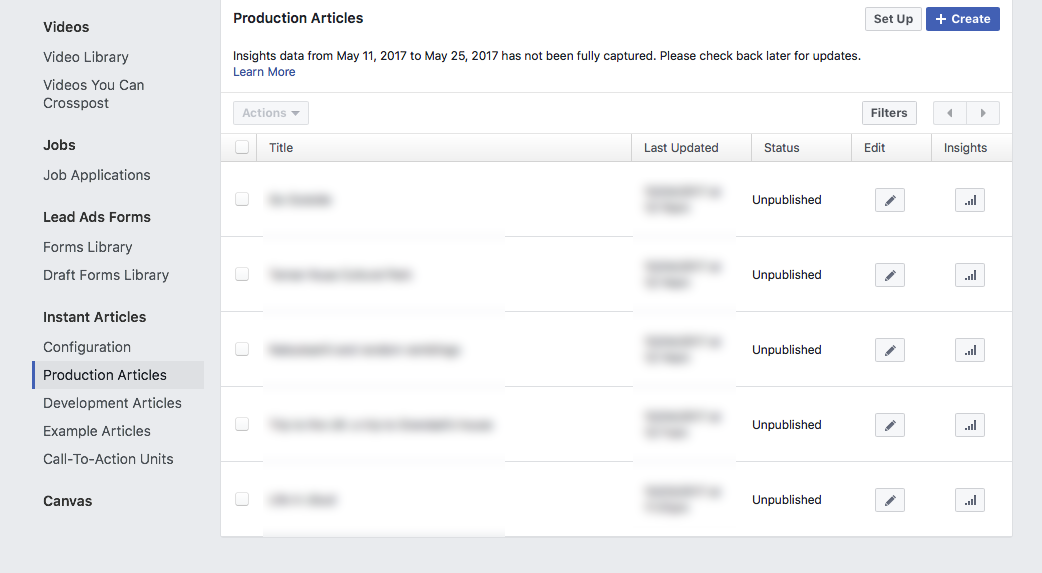 In Instant Articles Configuration on Facebook, scroll down to Styles and click on "default" to edit the default style. You can also create new styles. You'll be taken to an editor where you can make changes and preview how your articles will look in the Facebook app.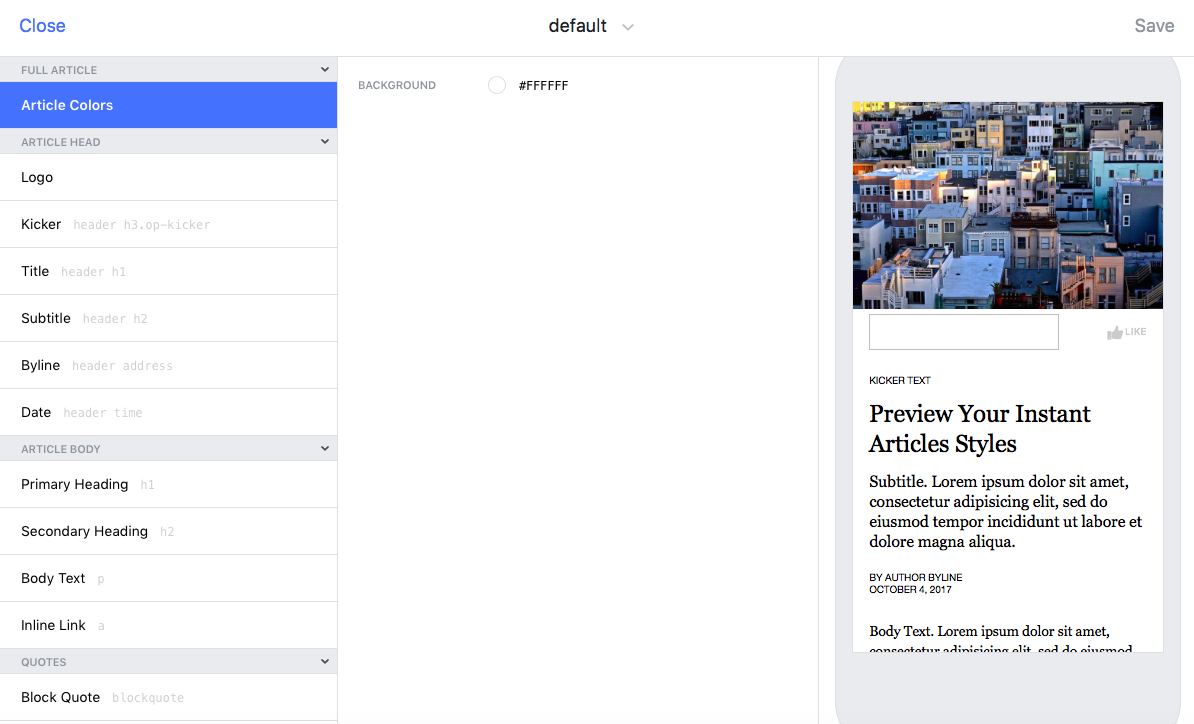 You can completely customize the style here including colors and text styles, but the most important part is to upload a logo. Facebook won't let you submit Instant Articles without a logo. Your logo must be a transparent PNG and should be 690 x 132 pixels and will be displayed under the feature image of your article. After uploading the logo you'll be able to see it in the preview.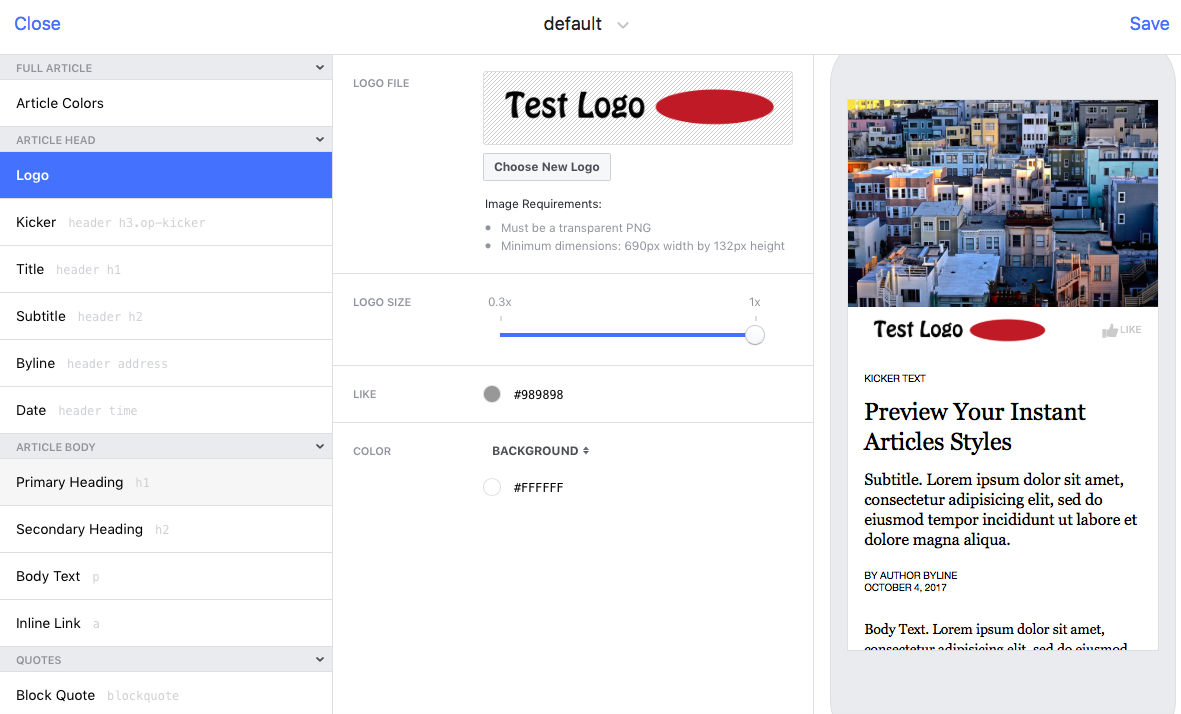 When you're finished editing the style, click the Save link in the top right corner and close the editor. To preview your articles before publishing them, install the Facebook Pages Manager app on your iPhone or Android Phone. Sign into your Facebook account to pull in your account information.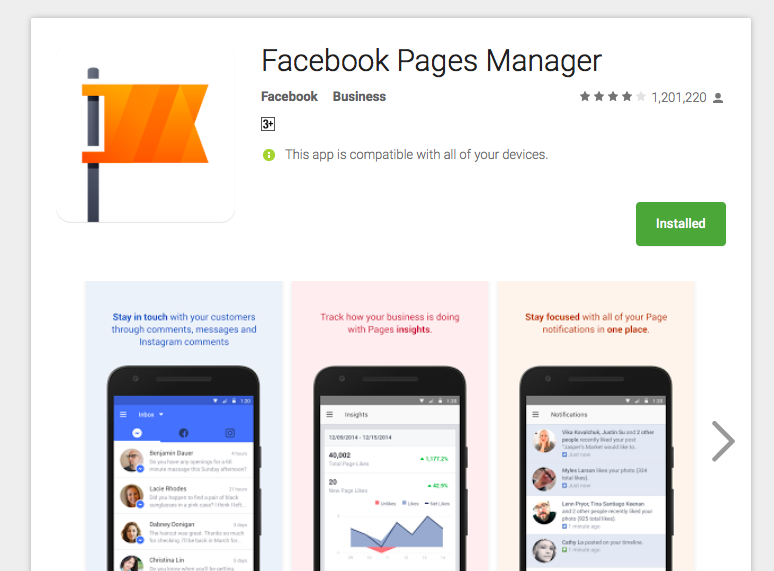 Click on the "…" option in the menu at the bottom of the screen and scroll down to find the Instant Articles link.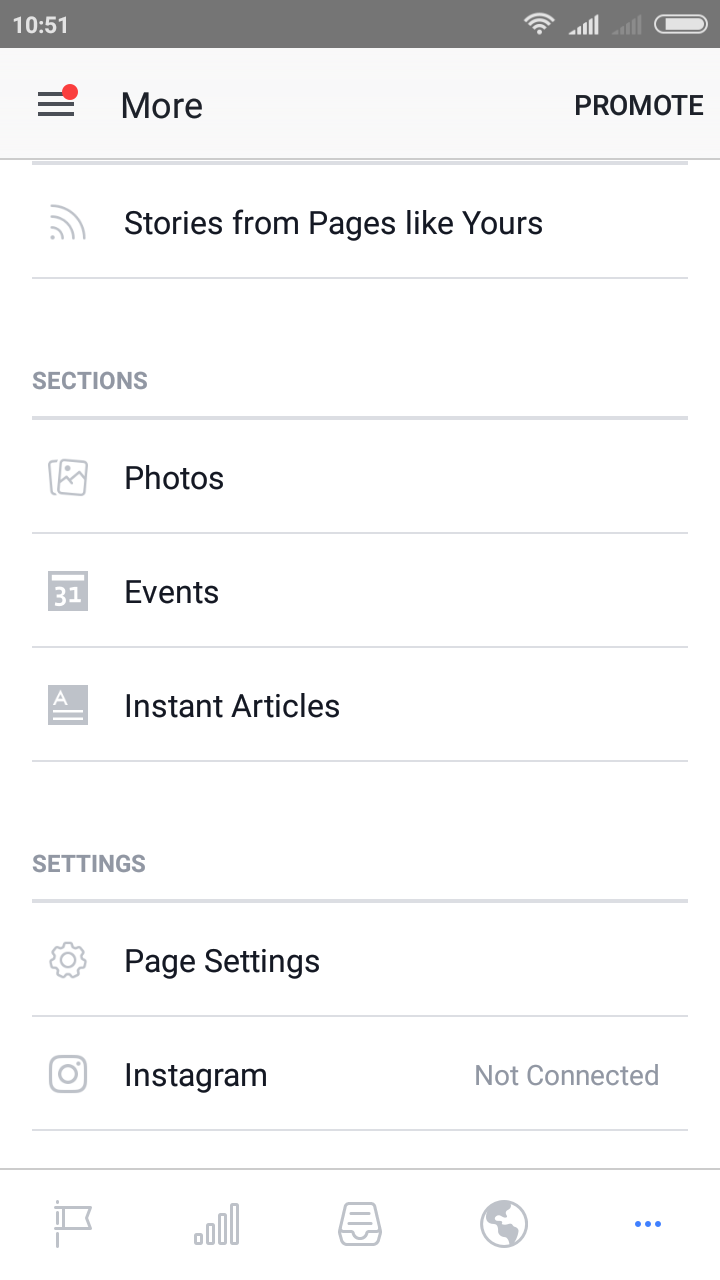 You'll see your list of Instant Articles under the "Production" tab and you can click each one to review. You can also click over to the "Examples" tab for some ideas and helpful tips on Instant Article Creation.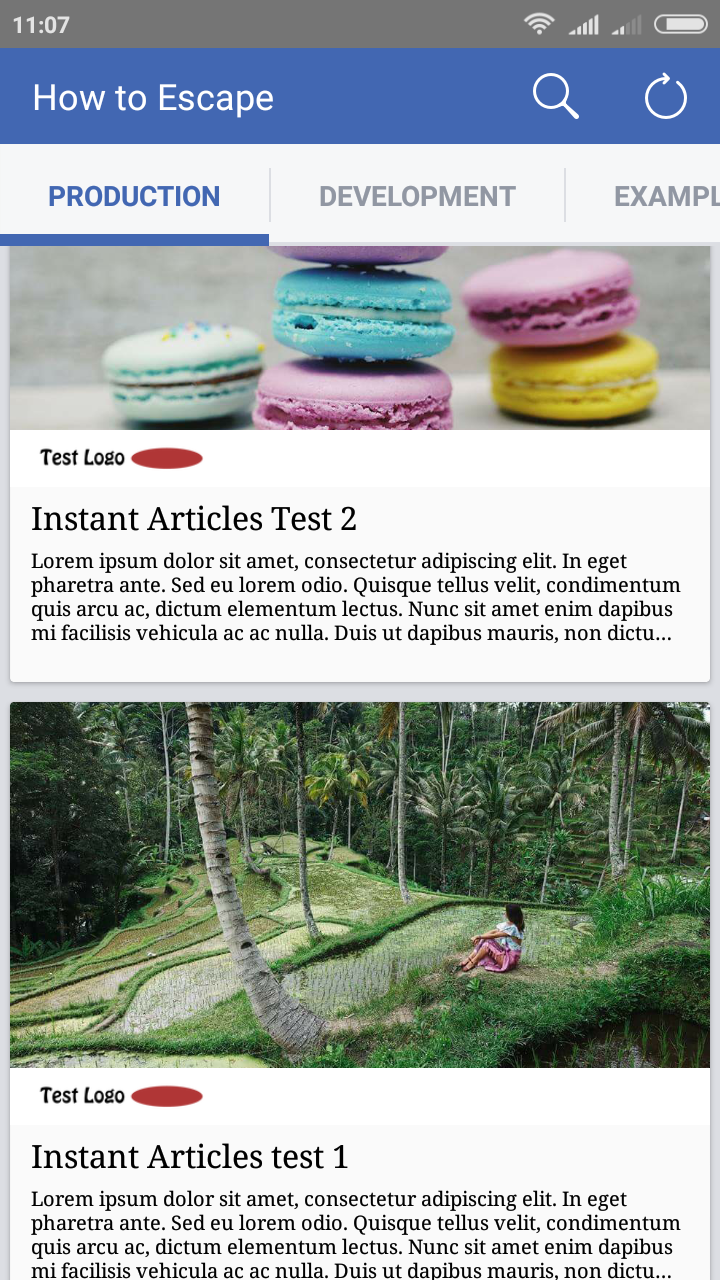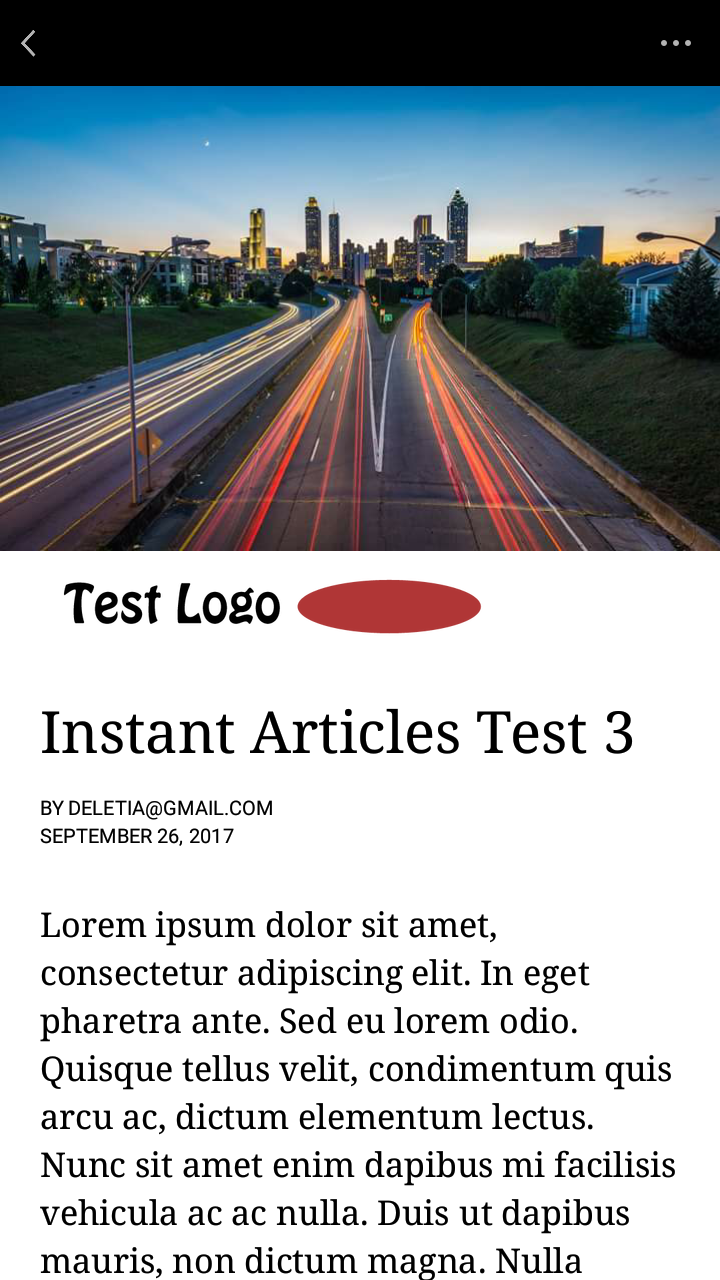 If you're happy with how your articles look, you can go back to the Configuration page on Facebook and click the "Submit for Review" button. Facebook will review the quality of your Instant Articles and provide feedback within 3-5 days. Once you're approved, you can start publishing Instant Articles to your Facebook Page right away.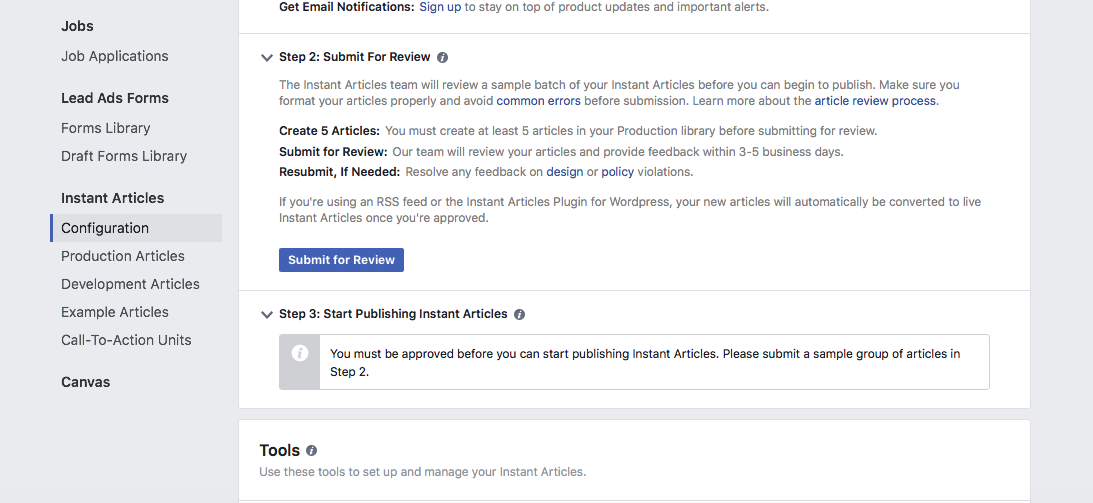 Instant Articles for WP Plugin Settings
The WordPress plugin includes several settings that you can adjust once you've got signed up with Instant Articles. These settings include:
Style – choose one of the templates you've created in the style editor in Facebook
Copyright – add your copyright information to the article
Right to Left Publishing – for articles published in Arabic and other RTL languages
Ads – Insert your Facebook Audience network ads or custom code for your own ads.
Analytics – enable any 3rd-party analytics plugins or embed code from Google Analytics and other services
Development mode – useful to activate when you're getting started with Instant Articles as you can publish articles to Facebook in "draft mode" rather than going live directly. However you should leave this mode deactivated until your first articles have been reviewed and approved by Facebook.
Custom transformer rules – if you have any shortcodes or custom tags in your content, you can define how they should be transformed into custom articles here. Read more at the Facebook Instant Articles SDK.
Transformation warnings – if Facebook is unable to transform any of your content properly, you'll get a warning so you can fix the issue and the content won't be available as an Instant Article immediately. You can override warnings automatically for all articles with this setting
Likes – enable the Facebook like functionality on images and videos within the content automatically
Comments – enable comment functionality on images and videos
AMP markup generation – convert articles to Google AMP format (accelerated mobile pages), which is essentially Google's version of Instant Articles. You can ignore this section if you don't know what it is.
Instant Articles Advanced Features
Once you've got your Instant Article account set up and got to grips with the basics, you can start exploring some of the more advanced functionality provided by Facebook. This includes:
Adding interactive features such as autoplay video, tap to expand images, 3D maps, geotagging, and slideshows
Adding call to action units for email sign ups, app installs, or page likes
Monetizing your articles with Facebook Audience Network ads or direct sold ads
Using the analytics tools provided by Facebook to measure audience engagement.
You'll find full details on how to do all this including code samples and templates you can use for styling on the Facebook for Developers website.
Summing Up
Facebook Instant Articles is a fun feature to experiment with if you're a blogger or produce an online magazine or other type of content that would translate well to the format.
It's easy to get started with Instant Articles if your content is already published on your WordPress site and if you want to take advantage of this Facebook feature, you can simply use the plugin to convert your articles automatically, without any extra work needed.
If you're interested in using Facebook marketing with your WordPress site, you might also want to check out how to use the Facebook Retargeting Pixel and some WordPress plugins for automating social media marketing.
Have you tried out Instant Articles on your Facebook Page? Any tips, tricks, or comments to share? Let us know your thoughts in the comments.