Considering using Pagely to host your WordPress site?
With plans starting at $299 per month, Pagely isn't for casual webmasters (nor is that who Pagely markets itself to).
Instead, Pagely is managed WordPress hosting for serious businesses and webmasters where reliability, flexibility, and support are paramount.
But does it deliver, and is it worth the price? In my Pagely review, I aim to find out.
In general, Pagely offers high-performance and a focus on security that mission-critical webmasters should love.
Keep reading to see my full Pagely review. I'll start with a quick introduction to what makes Pagely unique. Then, I'll get into a more hands-on look at the pros and cons of hosting with Pagely.
A Quick Introduction To Pagely And Its Features
Launched all the way back in 2009, Pagely is one of, if not the, oldest managed WordPress hosts.
Rather than going downmarket to reach casual users like we've seen with managed other hosts, Pagely has consistently gone "up channel", differentiating itself with service, features, and performance rather than low prices.
That's why if you read old Pagely reviews, you might see lower prices quoted. Pagely used to be more of a mass-market host before moving towards more serious users.
What Pagely Offers
Pagely's hosting stack is built on Amazon Web Services (AWS). On that stack, and along with the expected availability of tech like PHP 7 and HTTP/2, Pagely adds a set of "Press" named services:
PressDNS – premium DNS powered by AWS Route 53.
PressCache – "a global WordPress acceleration system available for use by our clients. It works much like a CDN, but specifically designed to cache and serve WordPress page output."
PressArmor – Pagely's security architecture, including a web application firewall, malware scanning, user separation, and network edge rulesets.
PressThumb – on-demand image optimization and thumbnail creation.
PressFormance – performance monitoring analytics and assessments.
Beyond that, you get 13 different data centers to choose from, white-glove site migrations, and tons of developer-friendly tools, including WP-CLI.
Testing Pagely's Performance On A Live Site
If you're paying $299 per month, you probably want your WordPress site to load fast. So does WordPress load fast on Pagely?
Let's go to the data…
For my WordPress reviews, I always set up the same WordPress test site using Elementor so that I can compare numbers back-and-forth.
Here's how Pagely did…
First, I ran my test site through Pingdom Tools, where it loaded in 1.04s from a San Jose, CA test server:

Then, I put it through GTmetrix, where it loaded in a similarly stellar 1.2s from a Vancouver, Canada test server:

And finally, I wanted to see how it could perform under scale, so I put it through a Load Impact test with 50 concurrent visitors: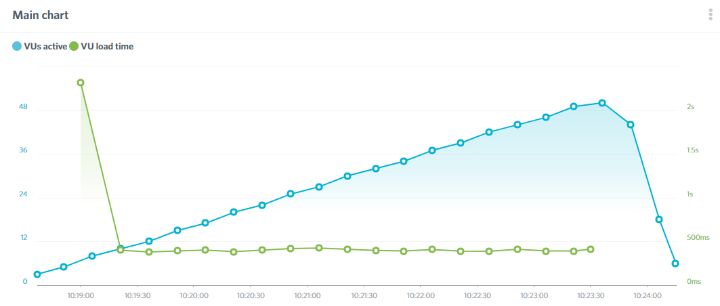 As you can see, with the exception of that single spike at the beginning, my test site's load times (green) were rock-steady as the number of visitors increased (blue).
All in all? Steadily around 1 second page loads, which is right where you want to be. No issues so far…
Six Things You'll Like About Pagely Hosting
I'll cover a couple cons in the next section, but let's start with the good stuff (beyond the performance you saw above!).
1. The New Custom Atomic Dashboard Is Great
To help you manage your site, Pagely gives you their "Atomic Dashboard" (yeah, you don't have to use cPanel when you pay $299 per month!).
Pagely's old dashboard looked a bit dated (you'll see a screenshot of it below), but the new Atomic Dashboard looks great.
It's got an all new design that, beyond just plain looking better aesthetically, also makes it easier to find important functionality.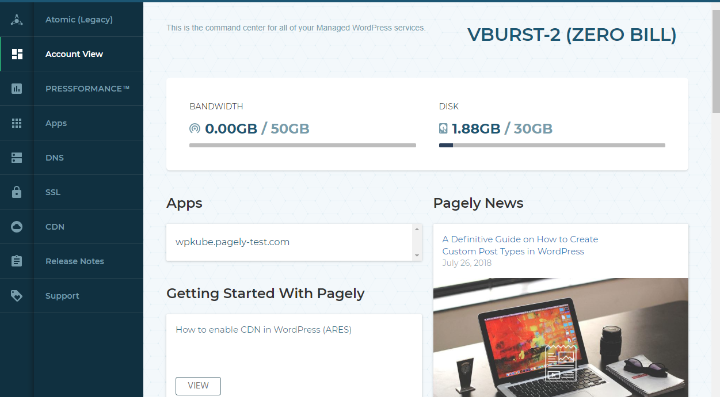 You'll see more shots from this dashboard as I get into specific features.
2. All Those "Press" Features Make Running A Website A Lot Simpler
I told you about all the "Press" features above, so I'll keep this section short. But Pagely has done a great job at making your life easier with all those features, and they've also eliminated the need to search for external services/plugins in quite a few areas.
With Pagely, you don't have to:
Pay for a premium DNS service because you already get AWS Route 53 DNS.
Use an image optimization plugin because you have dynamic image optimization with PressThumb.
Focus as much on security because you have PressArmor and other security features.
Worry about a caching plugin because you get server-level caching with PressCache.
Pay for a CDN because you already get PressCDN
And another helpful feature is that you can manage many of those features right from your Atomic Dashboard. For example, here's what it looks like to manage DNS records from Atomic: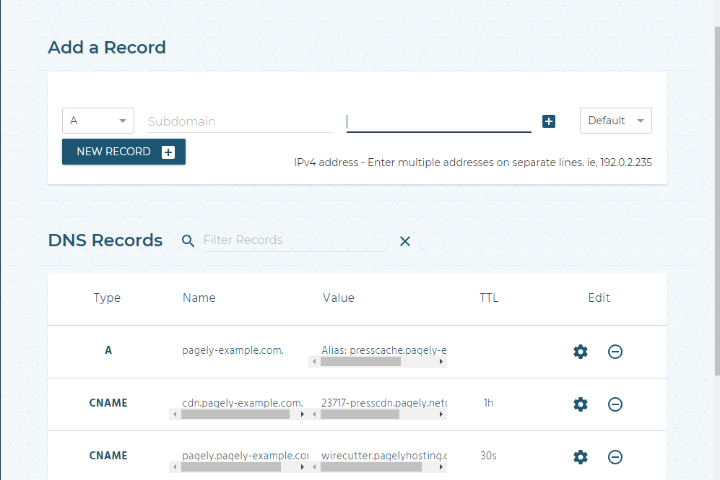 If you're considering paying $299 per month for a host, that convenience and hands-off approach is what you're looking for, right?
3. Automatic Offsite Backups With 14 Day Retention
Pagely automatically backs up your WordPress site every day. These backups are stored on AWS and saved for 14 days, which is fairly standard for the managed WordPress hosting industry.
You can also download any of these backups from the Atomic Dashboard: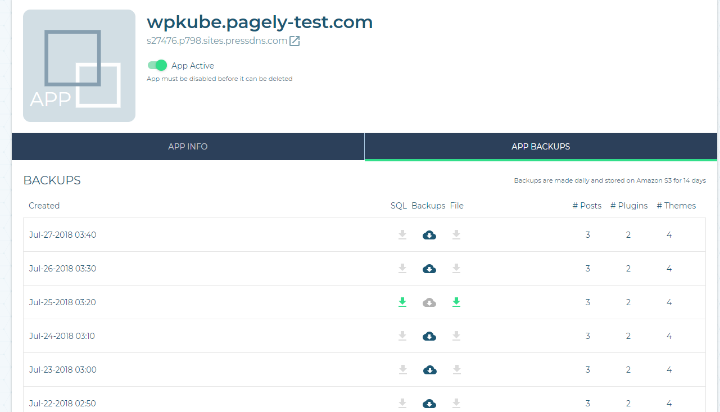 4. Flexible Site Staging And Sync Commands
Staging sites make it easy to test changes before you push them to your live site. Pagely's staging isn't quite as simple as the one-click staging that some other managed WordPress hosts offer, but the benefit you get is flexibility.
Using the Pagely sync command or Cloning Tool, you can quickly clone your live site, test changes, and then push updates back to live when needed using your own workflows.
The only downside is that it does require some technical knowledge to get up and running.
5. A Focus On Security, Plus Free Hack Restoration
Pagely has a great reputation for security. To my knowledge, Pagely has never had a single security incident (which is not the case for every managed WordPress host).
Beyond the basic PressArmor features I outlined above, Pagely details its entire security model on this page.
And, on the off chance that something does happen to your site, Pagely will "clean and restore the client's site to pristine condition, free of charge."
6. No Artificial Monthly Visit Limits Like Other Managed WordPress Hosts
One thing I dislike about most WordPress hosts are those artificial monthly visitor limits.
While it makes billing simpler, it's not as accurate a measure of your actual usage (that is, all visits are not equal – why is someone who bounces right away treated the same as someone who consumes lots of content?).
Pagely has no artificial visit caps on your plan – as long as your bandwidth allows it, you can keep serving up your site. And if you ever hit your plan's bandwidth limit, you can just pay for more bandwidth rather than having to move up to a new plan tier.
What Are The Downsides Of Pagely, Then?
Well, the obvious one is price…
Pagely's cheapest VPS plan starts at $299 per month, and VPS plans range up to $2,249 per month. And if you want one of the enterprise plans, you're starting at $2,500 per month.
While we've seen managed WordPress hosts like Kinsta move down-market, Pagely seems to be committed to staying upmarket.
That's totally fine – it just means casual webmasters will never be able to enjoy all the features above.
Beyond that, I think that price should come with more accessible support during off hours.
For VPS customers, Pagely offers two support methods:
There's no phone support – but I don't have any issue with that because it's fairly standard and I find live chat to be more reliable anyway.
But…live chat is only available from 9am – 5pm MST AZ on Wednesday and Thursday. Ticket support is available 24/7, though.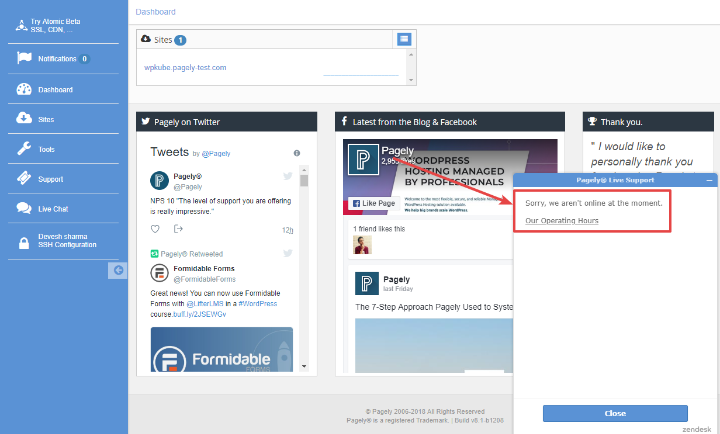 Note – I believe that Enterprise customers get access to a dedicated Slack channel, on top of the other support methods.
Pagely Review: Some Final Thoughts…
To match its high price, Pagely does a great job building in tons of features to make managing your site easier.
Premium DNS, a global CDN, image optimization, security…it's all done for you.
Is that worth $299 per worth? Well, probably not for a blog with pictures of your cat.
But if you're running, say, a mission-critical WooCommerce store, then it might well be.
If you're interested in learning more, you can chat with sales and request a proposal (Matt's pretty friendly!).