Nexcess review: Nexcess is a well known and respected hosting company that's been on the market for almost 20 years. However, up until recently, it hasn't been that popular among WordPress website owners.
This all changed after Nexcess and Liquid Web joined forces back in 2019 to make their efforts in the hosting space more focused. That is how Nexcess became both companies' prime focus for managed WordPress, WooCommerce, and Magento hosting.
In this Nexcess hosting review, we'll focus on the WordPress hosting offering of the company and examine things like:
Nexcess review: What is Nexcess?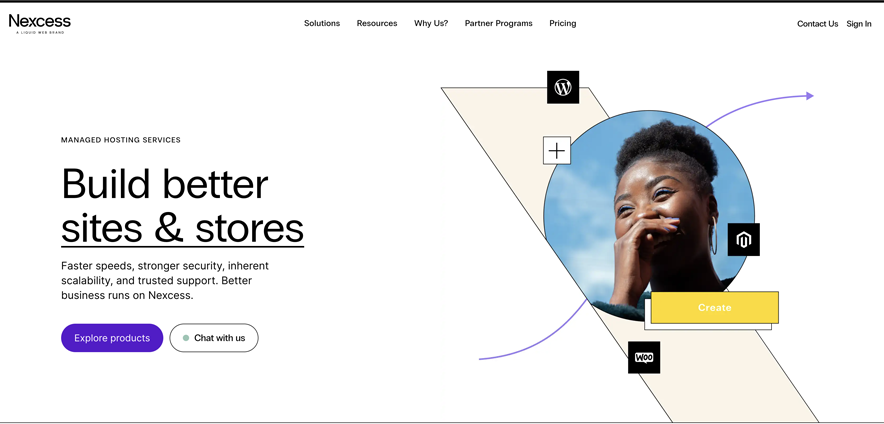 As mentioned in the intro of this Nexcess review, Nexcess is quite old (by web standards) for a hosting company. With near 20 years of experience, they won users over with their reliability and performance in what was previously their main niche – cloud and enterprise hosting.
In 2019, Nexcess joined forces with Liquid Web – a popular host for web applications, managed hosting solutions and cloud services. Despite the merger, the companies decided to still operate largely separate, while focusing on their own goals and sub-niches within the hosting industry.
That is how Nexcess became one of the more interesting choices for anyone looking for WordPress, WooCommerce, and Magento hosting.
One of the things that sets them apart in this crowded space are their quite attractive prices, paired with good performance and powerful servers that can handle significant load. And, of course, this is managed hosting that we're talking about here, which comes with its own perks – more on those in a minute.
ℹ️ In this review, we're going to focus on the WordPress hosting leg of the Nexcess portfolio.
Nexcess review: Features and pricing ⚙️💵
Before the merger, Nexcess wasn't the most affordable choice for those looking to host a simple WordPress site. However, that has changed significantly since. Currently, you can get started at a very reasonable price point of $13.30 / mo. This is basically half of what you'd pay with WP Engine, and the server parameters and performance are on par.
Here's the current pricing table of Nexcess hosting: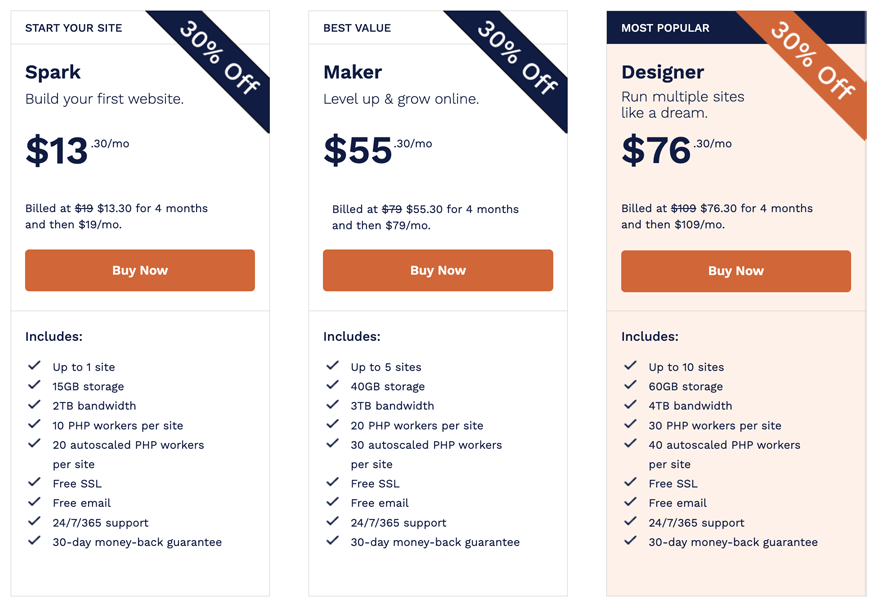 Okay, so if you're doing the math here, the entry-level price of $190 / year doesn't come down to the aforementioned $13.30 / mo. That promo price is a discount that gets applied on your first three months of hosting with Nexcess. Then after that period, the price rises slightly so that, in total, your first year of hosting with Nexcess is going to be $190.
But of course, that's just the first tier, and Nexcess has a lot more to offer than just that. As you can see in the image above, their plans are very scalable and can handle even up to 250 sites on a single hosting plan.
What's also important to notice in this Nexcess review is the allowed bandwidth on that entry-level plan. Those 2TB are going to be more than enough for basically any new WordPress site imaginable, unless you're expecting to get mentioned by Elon Musk in his next market-changing tweet.
That said, these server metrics are only the tip of the iceberg, and Nexcess has even more to offer in the realm of WordPress-specific features, security, and performance.
To begin with, Nexcess doesn't limit your access to any of these advanced features depending on your hosting plan tier – they are all available on all tiers.
Just to get the obvious stuff out of the way, all managed WordPress hosts these days offer automatic updates of WordPress core and all the plugins you have on the site, so that's pretty standard in the industry and Nexcess has these features as well.
Above that, you get a functional visual regression testing tool. This sort of testing method allows you to focus not on the differences that can be seen in the code directly, but on what's happening on the front-end of the site – visually. In other words, the module looks for actual visual differences on the page vs the previous version – prior to the changes you've made.
To make development easier, Nexcess also gives you access to one-click staging sites. Doing active development on a live site is never a good idea, and there's probably no easier way of breaking something quick. Staging sites let you solve that problem. In this model, you can make a mirrored copy of the current version of your site – save that as staging – and then do your development on that staging site. If everything works correctly, you can copy the changes over to the live site, problem free.
One more thing that's surprisingly not common with most managed WordPress hosts is email hosting. Companies like WP Engine and Kinsta, just to name two, won't host your email inbox alongside your website. This means that you'll have to buy a separate hosting setup for your emails if you decide to host your site with WP Engine or Kinsta. Nexcess goes for a more practical approach here and simply throws in email hosting as well (with unlimited email accounts).
Then, there's the topic of security. It just so happens that WordPress is the most popular platform not only among website owners but also among hackers. It's estimated that every minute, there's around 90,000 attacks on WordPress sites worldwide (according to Wordfence).
Needless to say, if you're thinking of joining the WordPress ecosystem, you must take your website's security seriously! So, here's how Nexcess can help:
For starters, you get a free SSL certificate included and daily backups of your site – this lets you restore the site to its previously working version in case any serious attack happens.
Apart from that, you also get iThemes Security Pro included free of charge. iThemes Security is a popular security plugin for WordPress. The value of the Pro version is $80+ / year. Nexcess will also monitor your site for malware to make sure nothing fishy is going on under your nose.
Now onto performance. Something that's worth mentioning first in this Nexcess review is that Nexcess owns their data centers and servers. They're not relying on Google Cloud or Amazon like many of the other managed or cloud hosting companies. This is a good thing, since they can react much quicker in case of any problems – all that because there's no additional layer of having to deal with infrastructure that's managed by a third-party company.
Apart from that, Nexcess machines are compatible with PHP 7 and 8, you get Nexcess' own CDN included, and there's multi-layered caching. Nexcess will also help you optimize any image that you use on your site by compressing it on upload and then using lazy loading when displaying the image to your visitors.
Last but not least, there's the Plugin Performance Monitor. This is Nexcess' own solution that monitors your site and looks for anything that might be causing lowered performance. Chiefly, it's looking for any changes to your plugin stack that might be slowing the site down.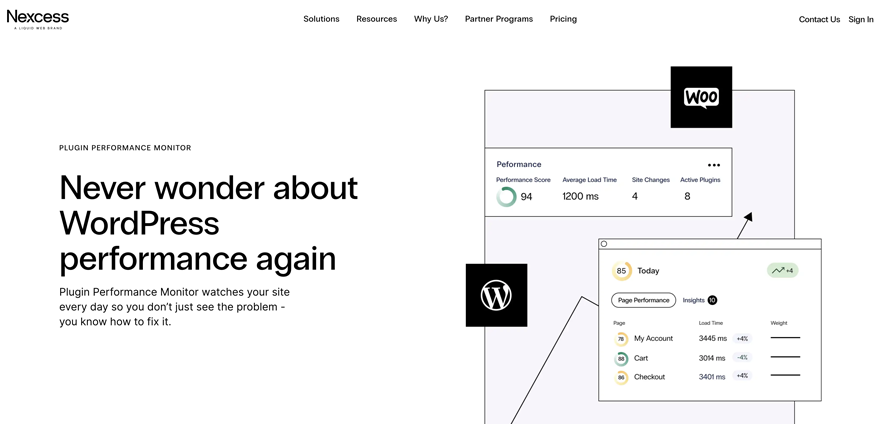 Overall, the features that you get from Nexcess are very impressive, especially when compared with other popular managed WordPress hosts on the market. What stands out in particular are the visual regression tools, the plugin performance monitor, and the included email hosting (as straightforward as this might sound).
We can safely say that Nexcess has all you'd expect from a managed WordPress hosting company of today.
How easy to use is Nexcess? 👐
Getting started with Nexcess is similar to how things work with most of the other hosting platforms you'll stumble upon.
However, what's also apparent is that Nexcess is more geared towards savvy users who are not afraid of admin dashboards and going through a couple of settings pages before having their website fully ready to rock.
Don't get me wrong, it's not that anything is particularly hard with Nexcess interfaces, but the focus is more on giving you complete control over your hosting setup vs making it beginner-friendly (which would require hiding some of the options and features).
The main dashboard at Nexcess shows you the current state of your account more than the hosting setup itself. What you'll see here are things like your next invoice, any currently opened support tickets you might have requested, various knowledge base links, and blog articles.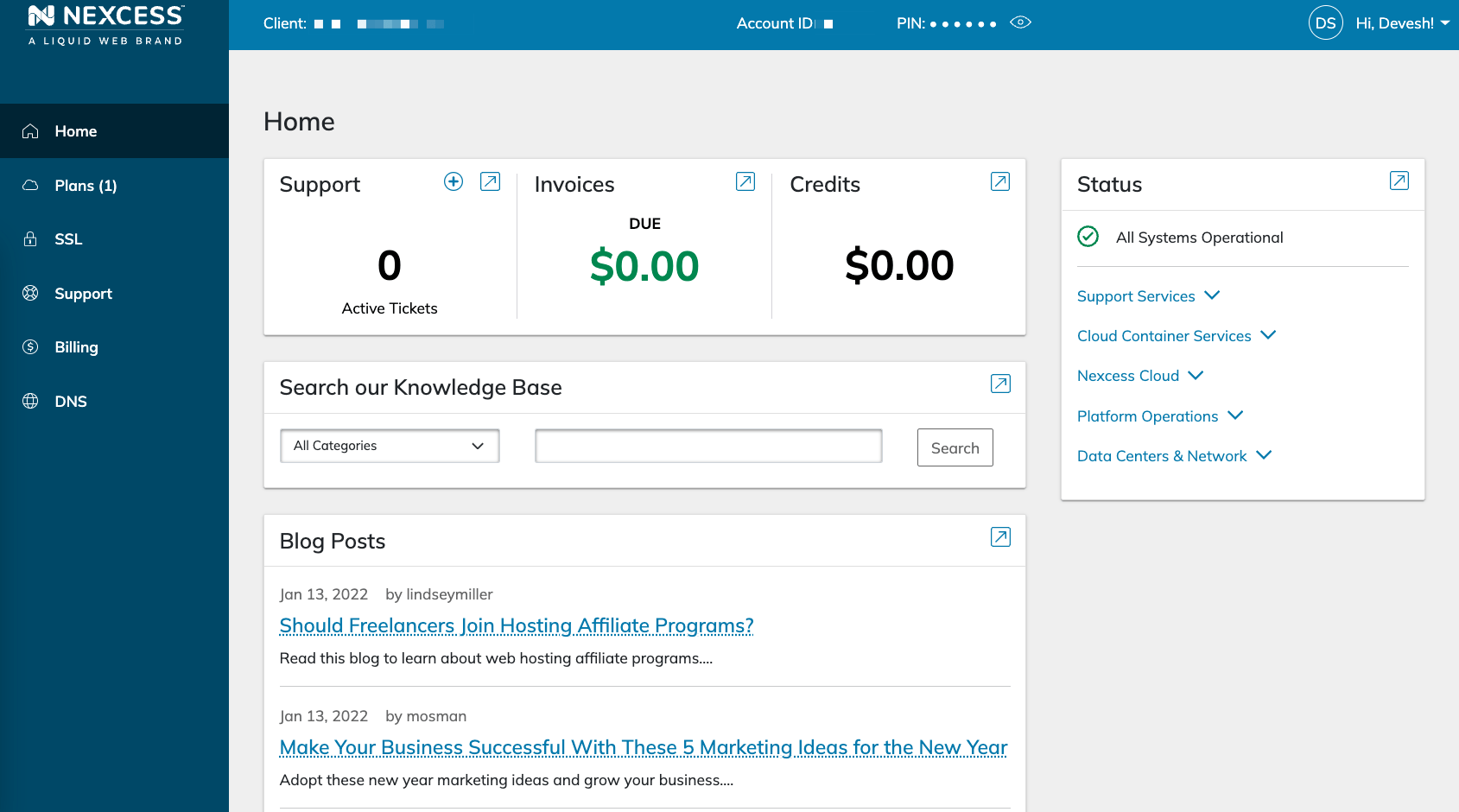 Then, if you want to configure your hosting setup, you can go to Plans from the left sidebar menu. You can have more than one plan on your account, and you'll see them all in this panel.

This is also where you can create new plans – aka. buy additional hosting setups. Just click on Create Plan, and you'll be redirected to the in-dashboard purchase sequence.
To manage your current plan and the sites you have on it, click on the plan's name from the main listing.
In this space, you can add new sites by clicking on Add Site or manage the existing ones by clicking on the site's domain. This will finally take you to the site's main dashboard and show you all the customization options available plus the site's current metrics and performance data.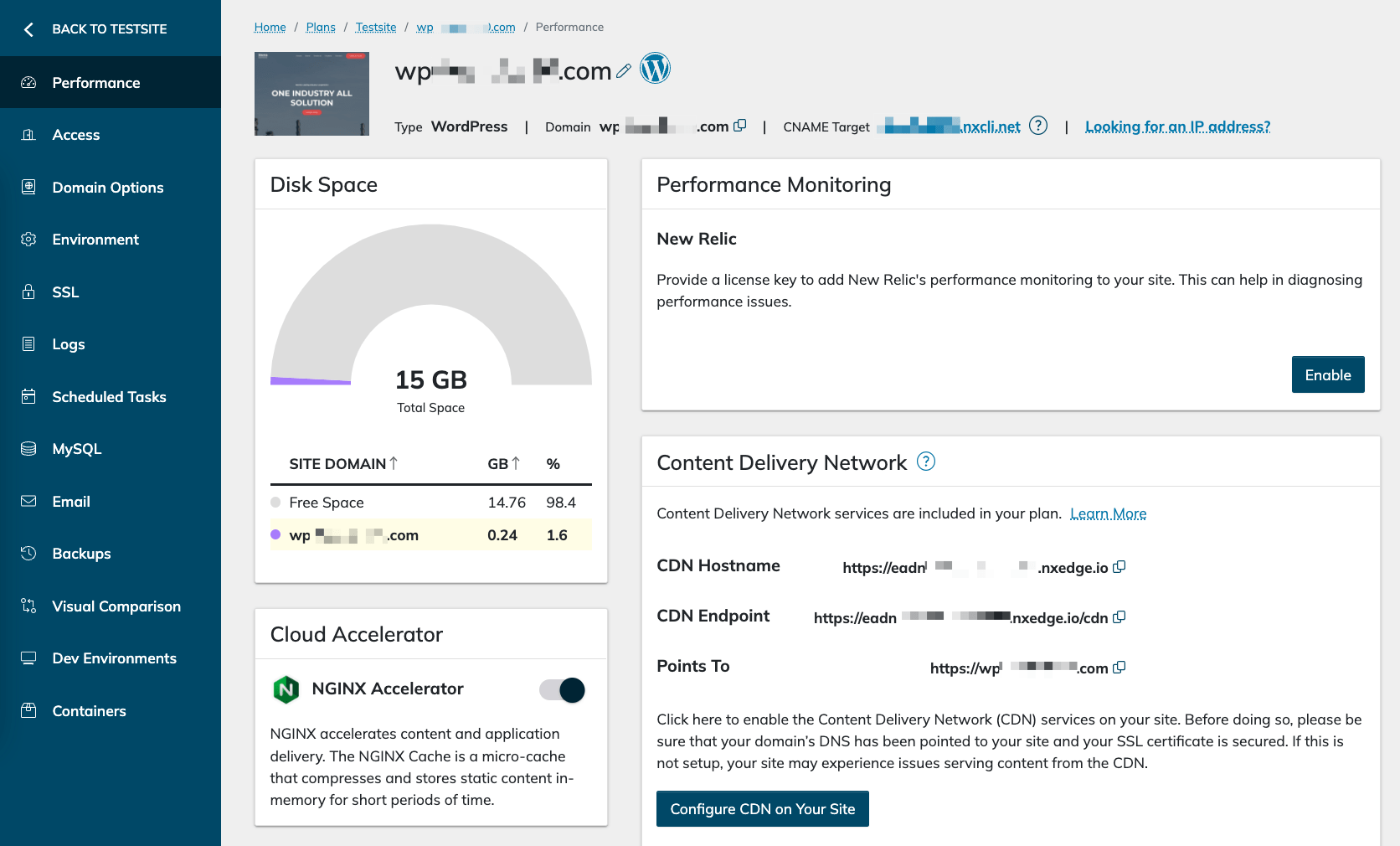 There's a lot of things that you can see here. Let's just go over some of the most important ones for the purpose of this Nexcess review:
Disk Space and Bandwidth. Gives you a clear presentation of how much of the server's resources you've used up this month and how much of it is left.
Content Delivery Network. Lets you configure your site's connection with Nexcess' CDN. You can enable or disable if needed (for instance, when developing the site).
Cloud Accelerator and Cloud Auto Scaling. The Cloud Accelerator is a NGINX server optimization mechanism that helps with content delivery. The Auto Scaling feature lets your site instantly handle more concurrent users whenever needed – when experiencing a sudden spike in traffic.
Then, there's the menu in the left sidebar that lets you configure individual aspects of your setup:
Access. This is where you can see all the info relating to FTP connections, SSH, home directory address, your SSL, and more.
Domain Options. Offers an easy way of changing the master domain to a different one and also configuring additional pointer domains.
Environment. Gives you info about your current WordPress application status, your admin user account, plugin and core update settings, plus your current PHP version, Redis version, and other details.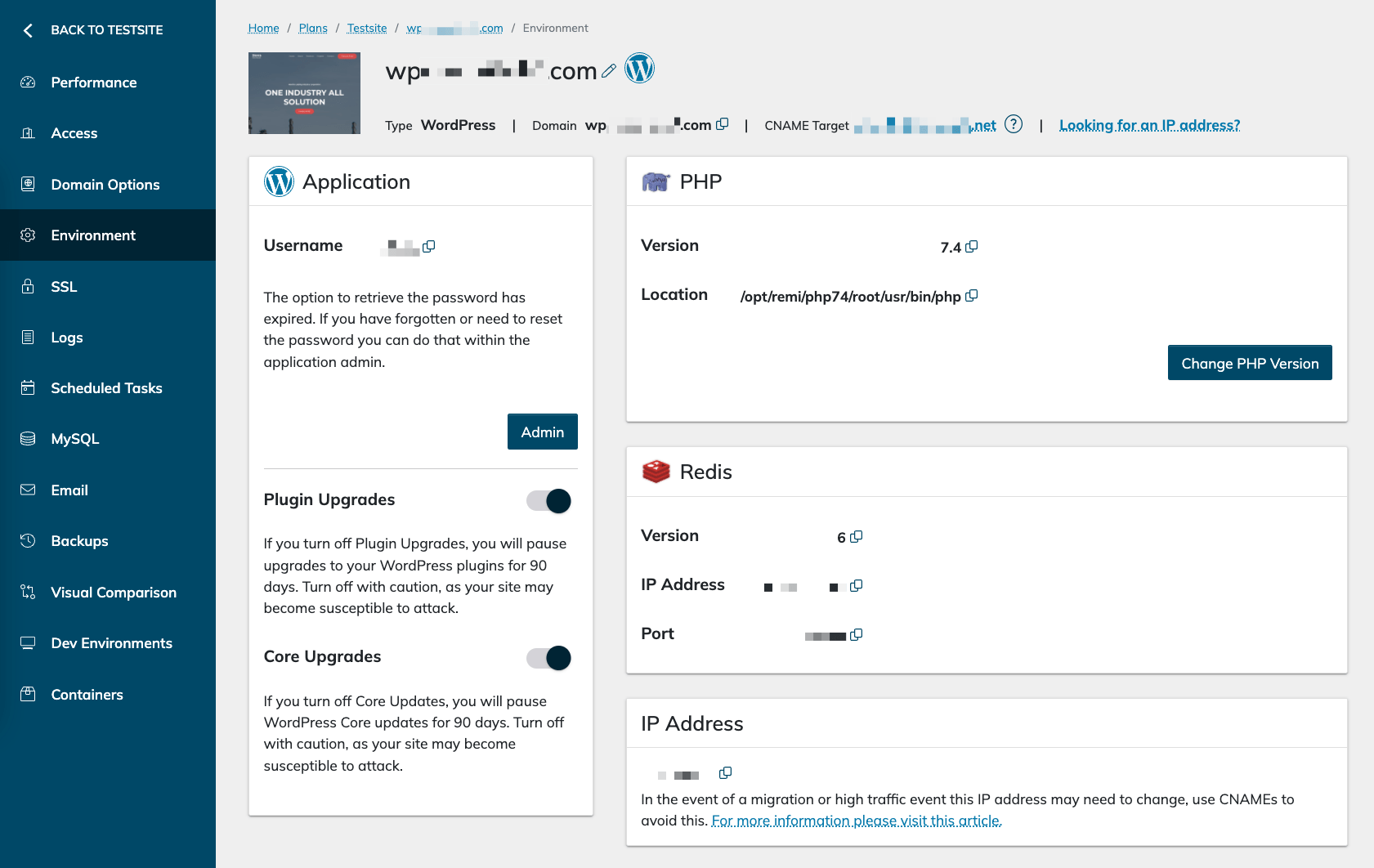 SSL. You can check the status of your SSL certificate here, its expiration date, plus you can issue a new certificate or refresh the current one.
MySQL. Gives you direct access to your site's database. Can be quite useful for advanced builds and customizations.
Email. This is where you can manage the aforementioned email hosting that's included in your plan.
Backups. This is a list of all your recent backups, plus options to trigger an update by hand. You can also restore from any of the backups.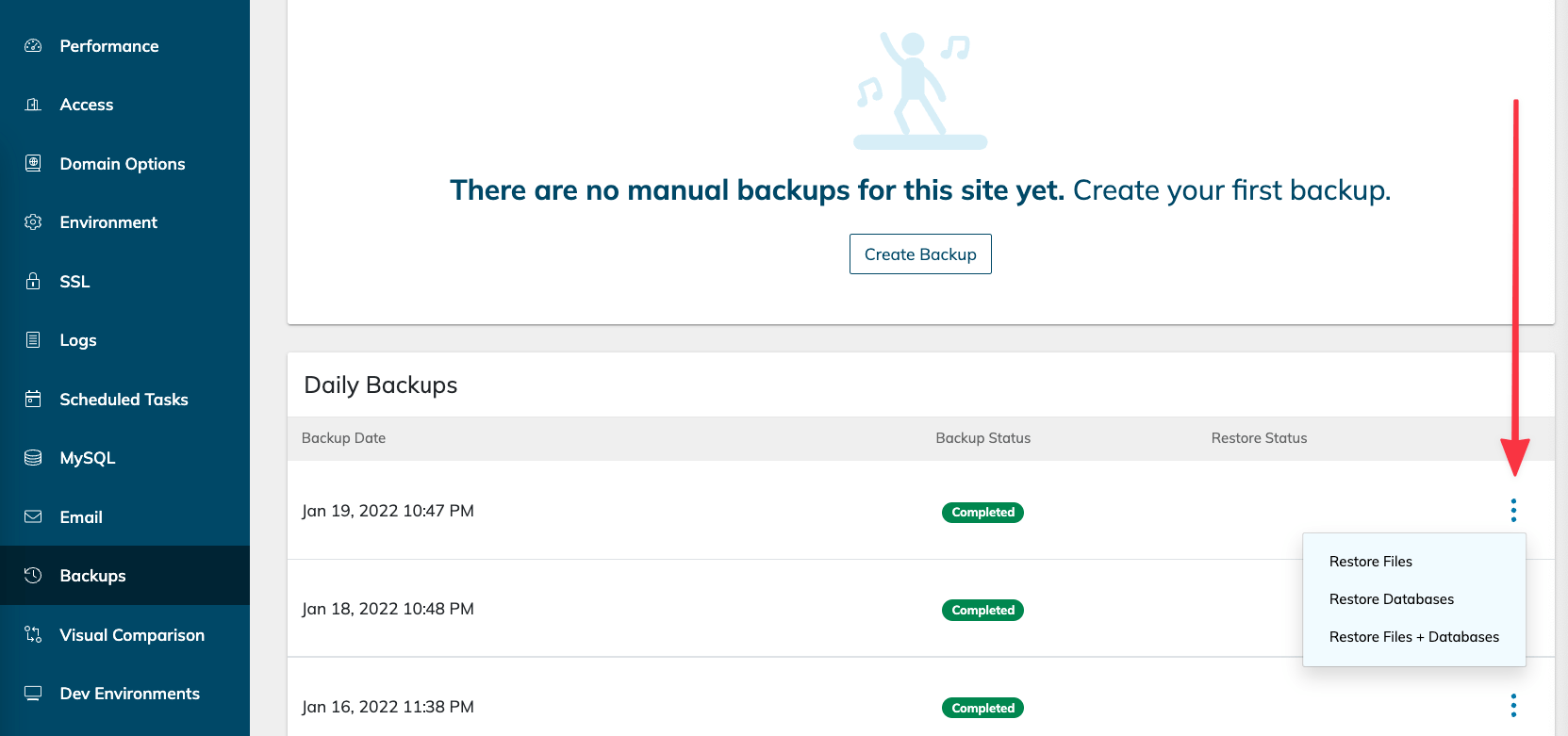 Visual Comparison. This is Nexcess' visual regression testing tool. How it works in practice is that Nexcess creates a copy of your live site before upgrading anything on it. They take screenshots before and after the update. Lastly, if a change was detected, Nexcess holds back the update and lets you know.
Dev Environments. This is where you can launch a staging site.
Containers. This is where you can enable solutions like Elasticsearch, RabbitMQ, and Solr if you need them for development.
As you can see, these tools are pretty advanced, and they give you a really wide scope of tune-ups or optimizations you can perform on your site. On the one hand, this is not going to be the easiest to interact with if you're not comfortable with servers, but on the other, it's the whole package of everything a website admin might ever need.
Nexcess performance and load times 🏎️
Okay, so we've talked a lot about how Nexcess delivers on the features and WordPress-optimization side of things, but what about the actual performance of their setup?
Well, let's find that out! Here's what we did in our Nexcess review to test the performance of their servers:
we bought Nexcess' entry-level hosting plan,
we chose "US Midwest Southfield, MI" as our data center location,
we set up a demo site with example content and images, and installed a couple of popular plugins to resemble a living WordPress website.
Next, we ran a couple of rounds of testing for loading times from multiple locations around the globe. Here are the results when averaged out:
| Location | Loading Time | TTFB | First Paint | Interactive |
| --- | --- | --- | --- | --- |
| N. Virginia | 0.71 s | 267 ms | 0.88 s | 0.91 s |
| California | 0.79 s | 339 ms | 0.89 s | 0.82 s |
| Canada | 0.79 s | 345 ms | 1.16 s | 1.09 s |
| Frankfurt | 1.37 s | 546 ms | 1.11 s | 1.23 s |
| Paris | 1.40 s | 545 ms | 1.31 s | 1.20 s |
| Mumbai | 2.67 s | 989 ms | 1.92 s | 1.93 s |
| Seoul | 2.16 s | 846 ms | 1.54 s | 1.73 s |
As you can see, the results are great when measuring near the data center location (from locations in North America). The numbers from Europe are still good, but the load times from Asia could be better.
That being said, our test setup didn't have the CDN enabled during testing. We wanted to check what the raw performance of Nexcess servers is prior to enabling content delivery. With the CDN working, you should expect to see sub-1-second loading times from all locations.
Nexcess customer support 🚑
Nexcess gives their customers a couple of different channels through which they can get help with their setups if needed.
First off, there's an extensive knowledge base available that covers the most commonly asked questions, and also offers detailed guides on how to get started, how to manage your site, how to get a grasp on the control panel tools, and more.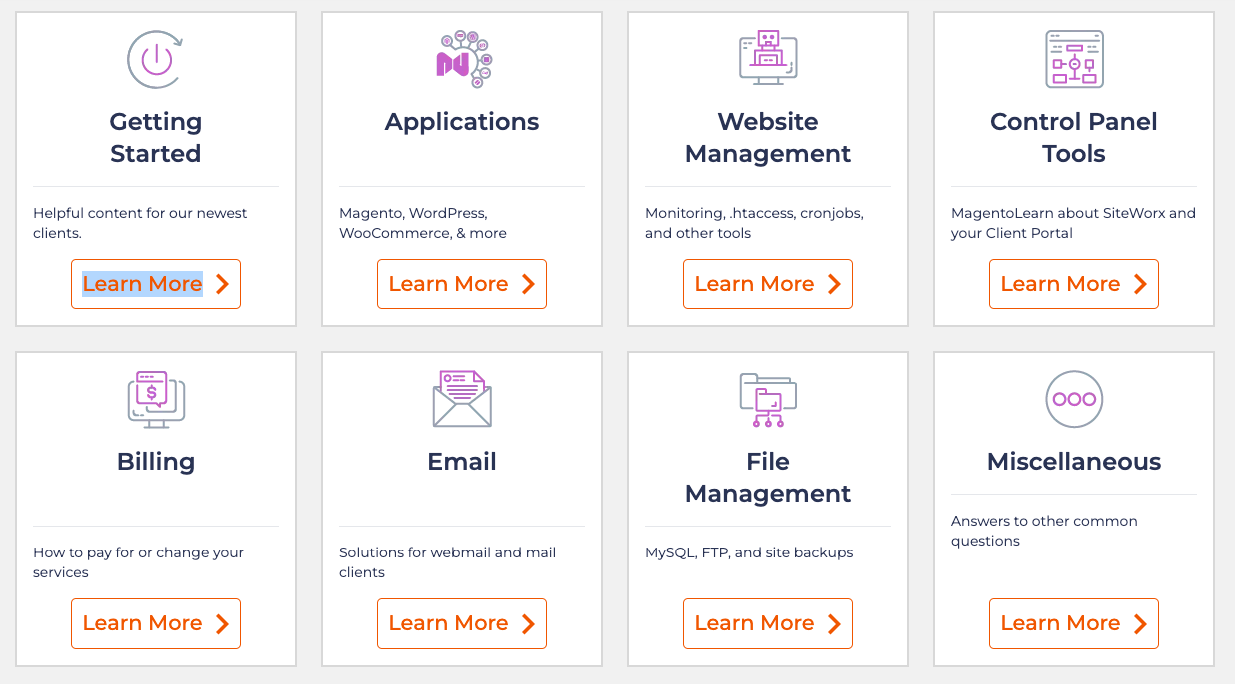 Then, if you need some direct assistance, you can reach out to Nexcess' support team, which is available 24/7/365. You can request a support chat straight from your user panel.

Additionally, you can create a support ticket via email or call them over the phone. Nexcess has dedicated support numbers for the Americas, Australia, and the United Kingdom (Europe).

Multiple support options are invaluable if you ever find yourself facing a serious issue with your site and need assistance fast. In short, Nexcess has got you covered in this department!
Pros and cons of Nexcess 👍👎
As we've found out in this Nexcess review, they do a lot of things right:
Nexcess has one of the most affordable managed WordPress hosting setups on the market.
It gives you a visual regression testing tool which is the only such solution that's bundled in with hosting on the market.
It has built-in tools for performance monitoring and making sure that your plugin stack is not slowing your site down.
The entry-level plan is more than capable of handling any new WordPress website, plus there are built-in tools for automatic scaling.
There's email hosting included! Nexcess is probably the only popular managed WordPress hosting platform that does this.
You get automatic backups with one-click restore.
There are multiple options for technical support and you can get help 24/7.
When it comes to any apparent flaws, we really had to dig deep. To be honest, there's nothing wrong with the platform as it is, so we're quite nitpicking here. If we were to name anything, it would have to be:
The dashboard is not particularly beginner friendly. It's more geared towards savvy users who know how to deal with such panels.
One thing Nexcess doesn't bundle in with your hosting plan is a free domain name. They give you access to an integrated domain registration tool, though, where you can buy domains at market prices.
Nexcess review conclusion: Who should use it? 💪
Nexcess proves to be a great option for anyone who wants to move to a reliable managed WordPress hosting setup without losing their shirt in the process. The low price of ~$15.83 / mo is basically half of what you'd pay with WP Engine or Kinsta, and you still get all the features you'd expect, great performance, and even email hosting included.
⭐⭐⭐ Overall, Nexcess is the right solution for young WordPress sites or sites on the rise that need to be ready for possible spikes in traffic while also having access to top-of-the-line performance features and optimizations.
What do you think of Nexcess as a managed WordPress host? Are you willing to give them a try with your next WordPress project?