Monster multipurpose themes are all the rage these days. If you've looked for a new WordPress theme some time in the past few years, you've probably come across names like X, Avada, Divi…and Monstroid.
TemplateMonster released the original Monstroid theme back in 2015. It had some great features, but also some shortcomings that badly needed to be addressed.
To fix those holes, TemplateMonster recently released a new version – Monstroid 2. In my Monstroid 2 review, I'll be going hands on with the theme. I'll review it both as its own, standalone theme, as well as how it's evolved from the original Monstroid release.
Overall, I think Monstroid 2 fixes the glaring issues from the original Monstroid theme and offers a great multi-purpose, "mega theme" experience.
Let's dig in…
Monstroid 2 Feature List
Before I go hands on with Monstroid 2, I want to give you a quick preview of all the features you can expect with this mega-theme:
9 pre-built website styles that you can easily import
7 different header styles and easy customization beyond those 7 built-in styles
4 different blog styles – including single list, grid, and masonry
Huge number of included plugins and support
Uses the WordPress Customizer for real time theme customizations
Fully supports WooCommerce
Includes the Power page builder
Built with Twitter Bootstrap
Tons of included fonts and easy color customization
Page-level layout/header control
Built on the Cherry 5 Framework
Ok, now that you know some of what's coming, let's get hands on with Monstroid 2…
Monstroid 2 Installation Process
One of the things Daryn dinged the original Monstroid for was its installation process. So as I started the Monstroid 2 install process, I was eager to see if TemplateMonster had done anything to simplify the installation.
I uploaded the theme, clicked Activate with some trepidation, and…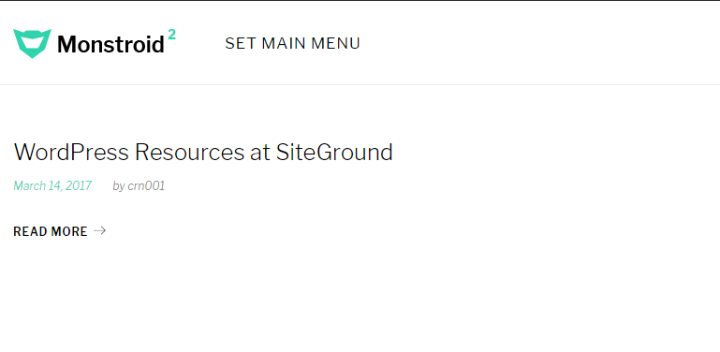 We're already up and running…kinda! That was easy so far.
But wait – Monstroid 2 does recommend installing the TM Wizard plugin, so I guess we're not done quite yet (the previous screenshot is more to illustrate a point about licensing in Monstroid 2). Let's give that an install and see what happens: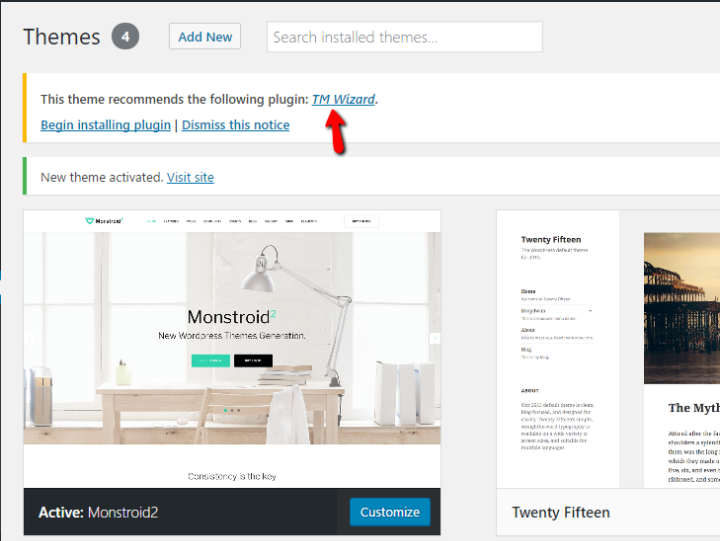 Once the wizard is installed and activated, it asks you to run another install to "select skin, install plugins and import demo data":

Thankfully, my system information is ok: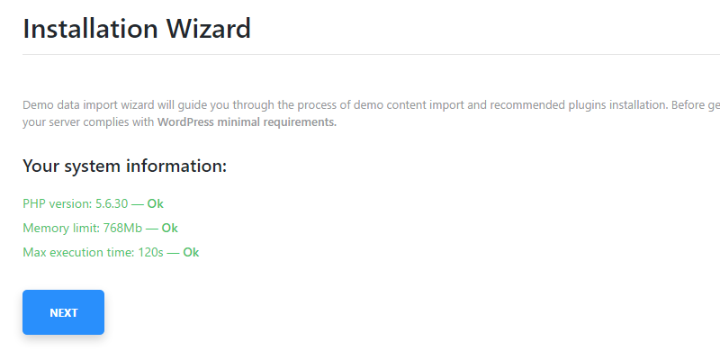 Next, it's time to select my skin. I'll stick with the default, though there are 14 different skins, with a good variety of design styles. You can also view demos for all of the skins, as well as the impressive list of recommended plugins (I see what Daryn was talking about, now!).
Some of the available skins include:
Construction
Fashion
Corporate
Furniture (eCommerce store)
IronMass (Fitness)
Lawyer
Modern
Loan (Financial)
Resto (Restaurant)
As well as a few other skins which don't have a defined "niche".
If you're a developer, the large variety of skins gives you a ton of value because you can use one theme to handle a number of different types of clients.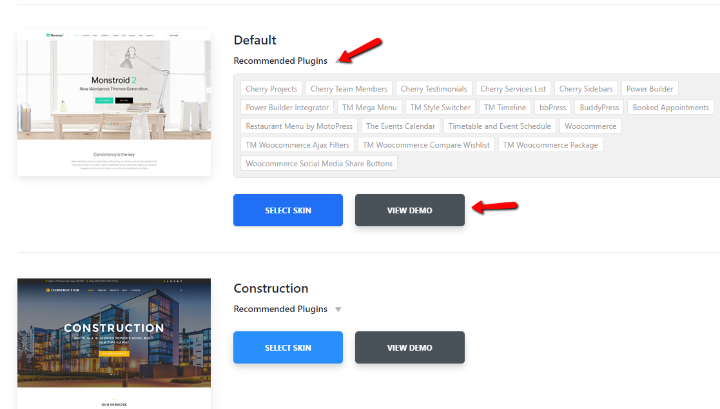 Next, you can choose which demo data to import. I'm going to choose the Lite Install for the minimal amount of demo data: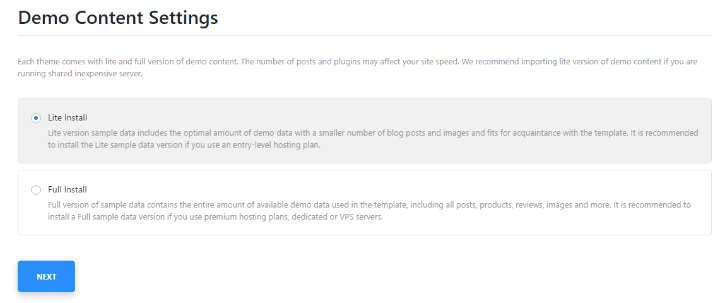 Time to Pick Plugins…
On the next page, it's plugin time. Monstroid 2 recommends 14 different plugins, with 3 of them being required. For the purposes of this review, I'll install all of the recommended plugins. In real life, I probably would not do that, though.
Due note that you're only required to install 3 of these plugins in order to use Monstroid 2. All of the rest are 100% optional: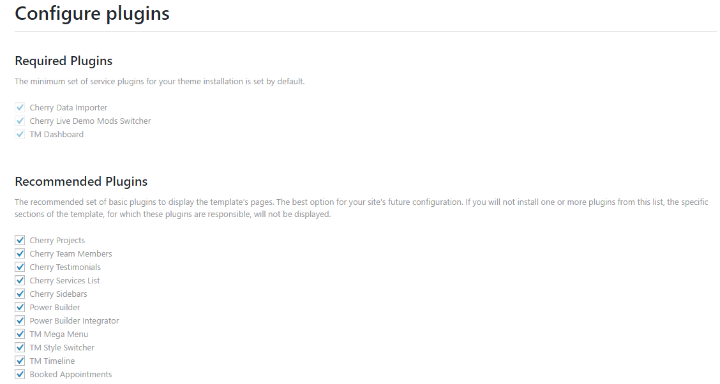 Once those were all installed, the last step is to import demo content. I'll choose the option to replace my existing content because I'm on a fresh WordPress install: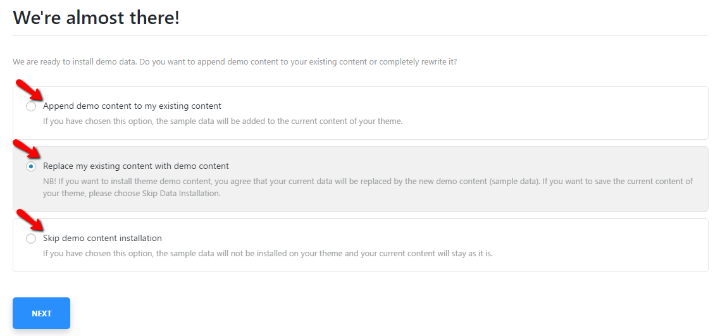 Now I just need to wait a couple of minutes while Monstroid 2 imports the 171 demo posts…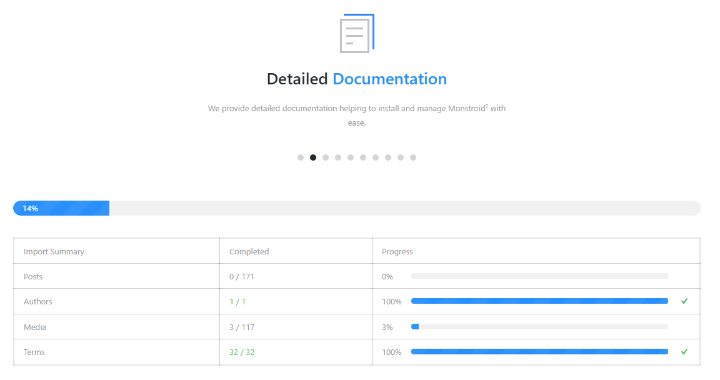 And that's it! I'm all done.
I was happy to see that they removed the annoying licensing issues that Daryn encountered. That's because TemplateMonster moved to GPL Licensing with Monstroid 2. A massive improvement, in my opinion. It leads to a much more user friendly experience and better fits the spirit of the WordPress ecosystem.
All in all, the import process is simple. Yes, there is a lot to import. But the wizard makes that easy to do, even if you're a total beginner.
Customizing the Monstroid 2 Theme
Theme customization is another area in which Monstroid 2 offers a massive improvement over the original Monstroid.
Gone is the overwhelming Cherry options panel present in Monstroid 1. Now, you can preview all the changes you make in real time – that's because Monstroid 2 uses the official WordPress Customizer for pretty much all of its settings.
As you can see below, you do have quite a few options for customizing Monstroid 2: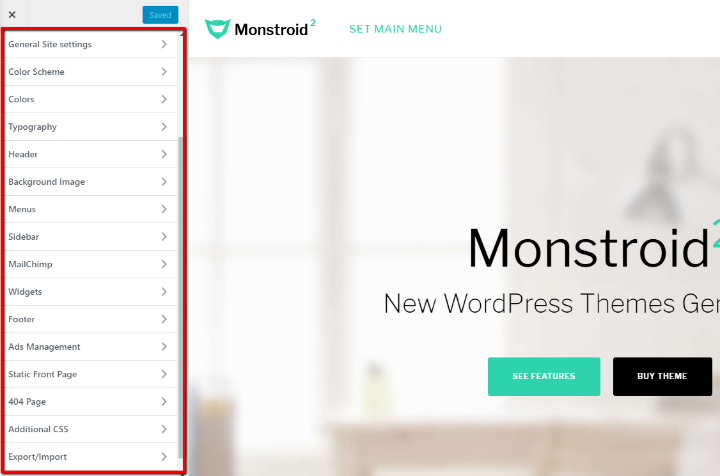 Going into every single settings page would probably bore you to death, so I'm just going to focus on the highlights for this review.
General Site Settings
In addition to setting your logo and social links, the main purpose of General Site Settings is to choose your page layout.
You can choose layouts for your:
Header
Content
Footer
Sidebar
For the first three, your options are either full-width or boxed: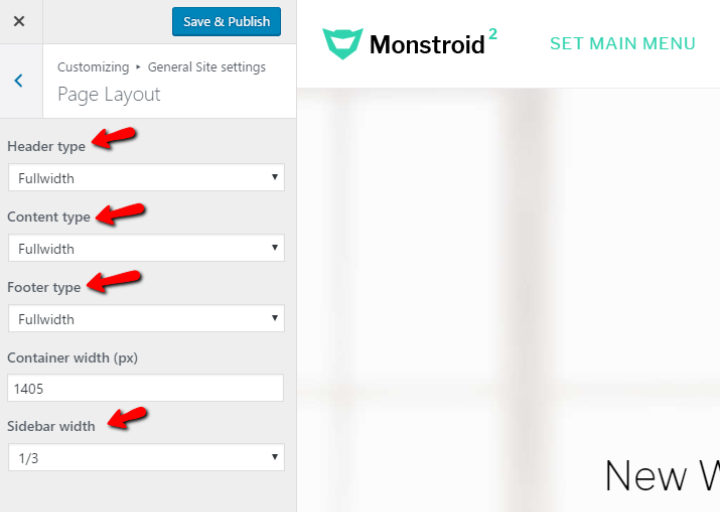 Color Scheme, Colors, and Typography
In the Color Scheme settings, you can pick the colors used on your site, down to the individual header elements. You also have the option to pick an "inverted" color style that you can quickly enable or disable: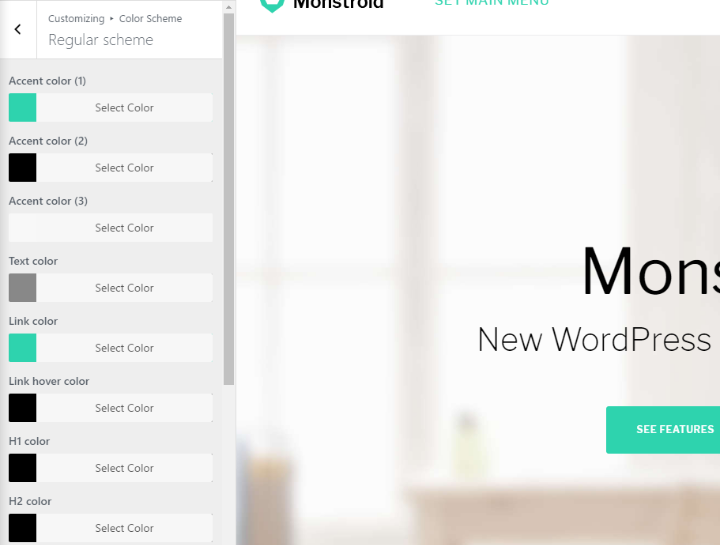 You can also choose your background color in the Colors settings.
And in the Typography settings you can, you guessed it, set the fonts and font sizes used for a variety of elements.
Monstroid 2 has a huge selection of fonts including my personal favorites of Montserrat and Roboto: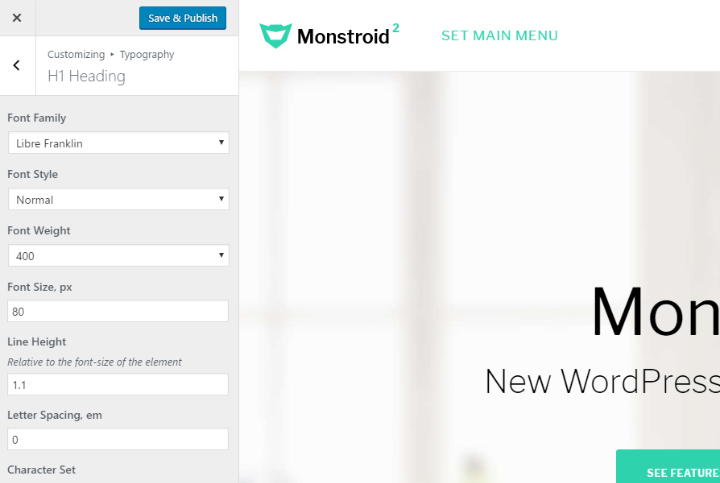 Customizing Your Header
Header customizations are always a hot topic with any WordPress theme. Monstroid 2 gives you 7 different base header styles, which you can then further customize as needed.
For example, switching to header style 7 gives me a centered logo with a hamburger menu:

You can also add backgrounds, overlays, choose whether to fix the header or have it move on scroll, and more.
It's also easy to add a top panel if you want more menu space: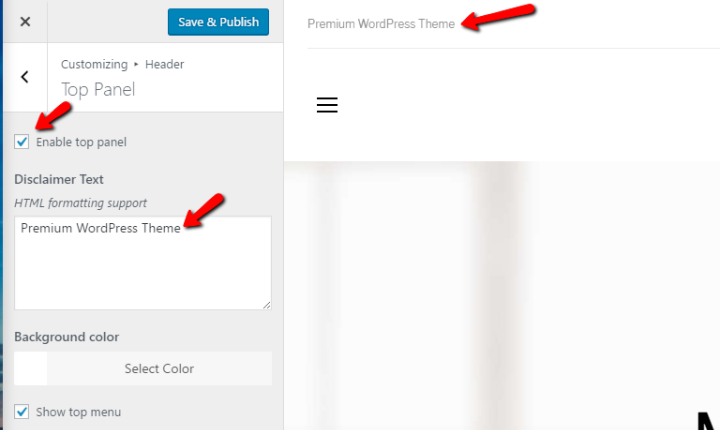 You can also configure even more functionality regarding header elements and menu items. Between the 7 base header styles and all of the additional options, you have heaps of control over your header with Monstroid 2
Other Highlights of the Customizer Options
Nested in some of the other options areas, you also have the ability to:
Set a background image
Hook up with MailChimp using an API key
Choose your sidebar position
Select from a few different footer styles
Easily insert advertisements into 4 pre-defined areas
Customize your 404 page
Switch styles between the different demos included with Monstroid 2
And lots of other smaller changes.
I never used Monstroid 1, but compared to the customization process Daryn described, Monstroid 2 offers massive improvements. Thanks to the WordPress Customizer, it's easy to know what each settings item does…because you can preview it live!
The settings are divided logically and I had no problem finding the things I wanted to change.
Monstroid 2 Page Builder and Single-Post Settings
Monstroid 2 also gives you detailed control over each post/page's layout and includes the Power builder for page building.
Let's take a look at the former, first.
Monstroid 2 Single-Post Settings
When you create a new post or page, you'll get a new Page Settings meta box that lets you configure a huge number of settings on a per-page basis: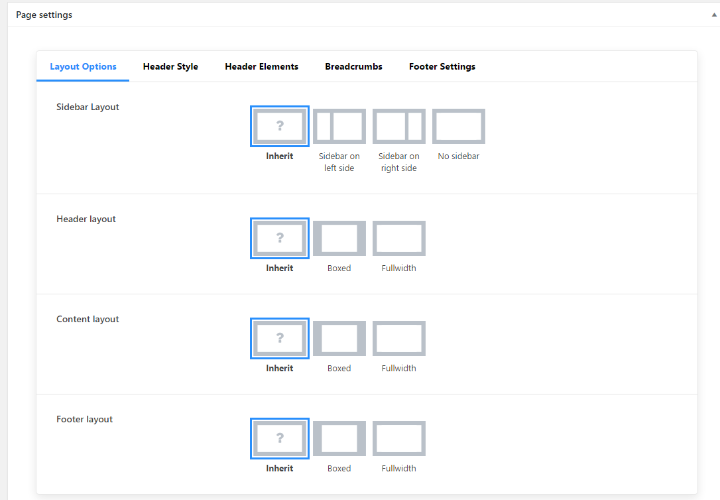 All those content and header layouts from the WordPress Customizer? Yeah, you can configure them for each individual post or page.
Of course, you don't have to. If you want to use the default options, you can just ignore the meta box and publish as normal. But having that level of control is definitely nice.
If you installed the included Cherry Sidebars plugin, Monstroid 2 also lets you choose which sidebar to use on a per post/page basis, which again allows for some nifty customizations. You can customize your sidebar to the actual content displayed on the page: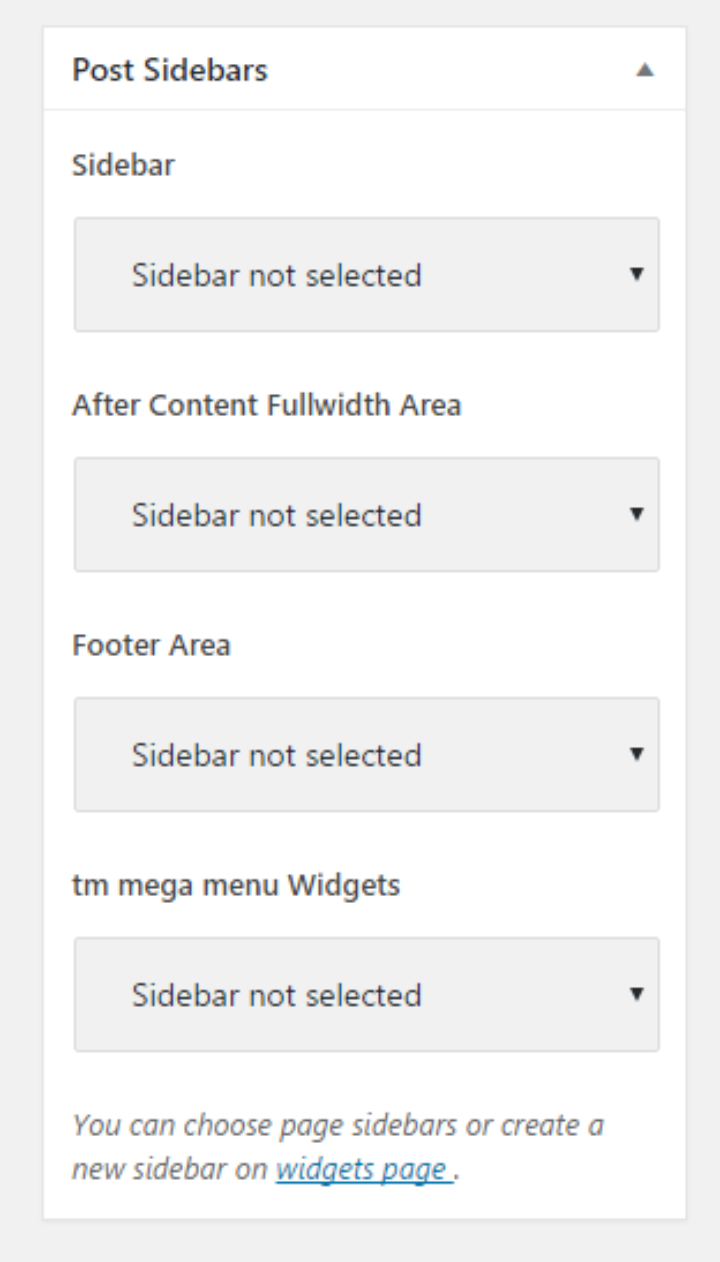 Monstroid 2 Page Builder and Shortcodes
Monstroid 2 includes two different ways to add additional formatting to your posts/pages:
Cherry shortcodes
The Power builder
For example, Cherry Shortcodes lets you quickly add a grid from the Cherry Projects custom post type: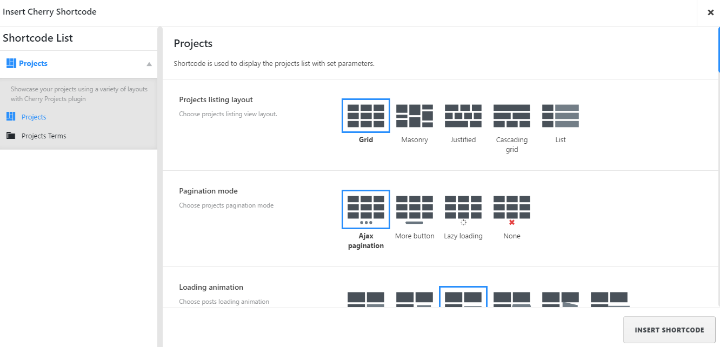 Or, you can use the Power builder to build pages: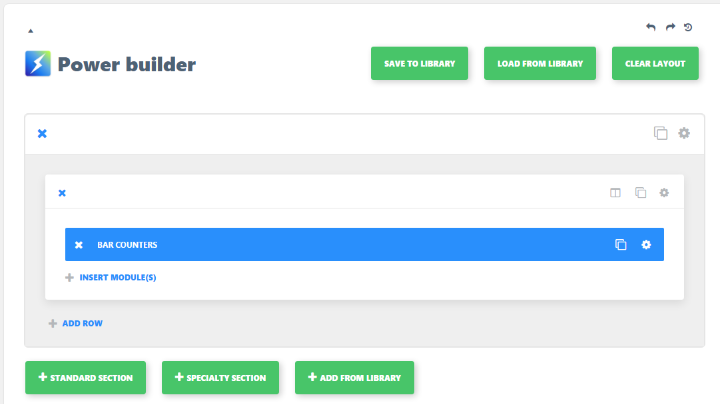 Due note that the Power builder only offers backend editing. Most quality page builders offer visual front-end page building, nowadays, so I think Monstroid falters a bit here. Of course, you could always just opt to use one of those other page builders instead.
Monstroid 2 Custom Post Types/Plugins
If you import all of the demo content and install the recommended plugins, Monstroid 2 sets you up with a huge number of custom post types and other added features. Seriously, look at my sidebar with just the demo content: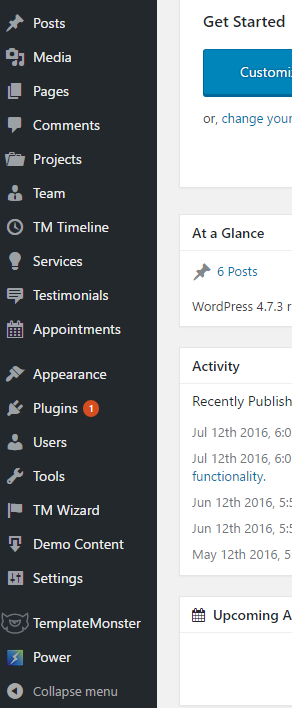 If you're running a business, these built-in custom post types/plugins offer functionality for:
Showcasing projects
Listing services that you offer
Listing team members
Including testimonials
Setting up appointments
Not everyone will need all of these features, but it's nice that they're there if you do because it saves you the time and effort of having to set them up from scratch.
You also get a ton of added value from these plugins. For example, the Booked Appointments plugin alone is $49 on Code Canyon. That's already more than half of what it costs to purchase Monstroid 2.
Monstroid 2 Support and Pricing
With your purchase, you get 24/7 support. I had to chat with live support a few times to fix an issue with downloading the theme and they were always responsive. I'm in Vietnam (so in a weird time zone), and I still got instant responses. So they're definitely accurate with live support being available 24/7.
As for pricing, Monstroid 2 runs $75 for a 100% GPL license that you can use on unlimited sites. Yes, a little bit more than most WordPress themes, but it's also far more versatile than most WordPress themes.
Wrapping Things Up
As I mentioned, I never used the original Monstroid. But I did read a lot of reviews so I could better comprehend how things have changed. And I can say this:
TemplateMonster seems to have listened to many of the common criticisms leveled against the original Monstroid. In response, they:
Moved to a more user friendly and comprehensible GPL licensing system
Integrated theme customization into the official WordPress Customizer, which makes it much easier to use.
Added additional premade designs
I think that's great because it shows that TemplateMonster listens to its customers and is committed to creating a quality product.
If you're looking for a powerful multipurpose theme that looks beautiful out of the box, I think Monstroid 2 is an excellent option.
If you want to learn even more, you can also check out Daryn's review of Monstroid 1, as well as our overview of the Cherry Framework.