A few months back, we reviewed Oxygen 2.0, a flexible design tool that helps you build your entire WordPress theme with a visual, drag-and-drop editor.
It's different from your run-of-the-mill page builder because it has a much deeper focus on dynamic content and templating.
The original Oxygen 2.0 release was in June 2018. Since then, the Oxygen team has been hard at work on new features, culminating in the recent release of Oxygen 2.1.
In this post, I'll share all of the new features that are available with Oxygen 2.1, as well as a quick refresher on how Oxygen works in general in case you're not already familiar.
Here's a quick summary of the biggest new features in Oxygen 2.1:
Integrations for two popular custom content plugins – Advanced Custom Fields and Toolset.
New overlay and sticky header options in the header builder.
Enhancements to the slider functionality, including full-screen slider functionality.
Global colors for easier/faster style changes.
Role manager to help control what access your clients have to Oxygen.
Post type manager to hide the Oxygen meta box from certain post types.
Shortcode wrapper element that lets you wrap content built with Oxygen with a shortcode. For example, a membership site could use this to wrap Oxygen content in a content restriction shortcode.
Easy gradient backgrounds for your Oxygen designs.
A Quick Refresher On What Oxygen Is And How It Works
If you aren't already familiar with Oxygen, I recommend checking out our Oxygen 2.0 review first, as that post will get you up-to-date with all the core functionality in Oxygen.
But here's a quick refresher in a few paragraphs if you don't want to check out that full review.
Oxygen brands itself as the "most flexible and powerful visual site builder for WordPress", and that's a pretty good summary of what it does.
It comes with a powerful templating system that lets you build your entire theme, including:
Header
Content
Footer
Etc.
You can then choose where to apply templates and have templates inherit design from other templates: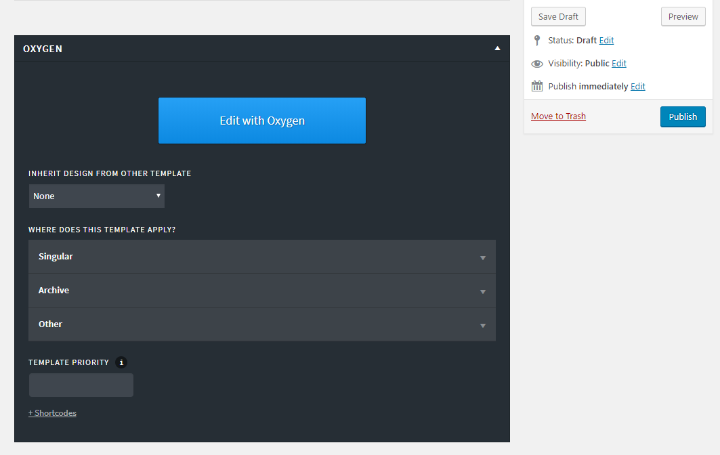 To build both your templates or individual pieces of content, Oxygen gives you a visual, drag-and-drop editor.
Again, a few of the most unique things about this editor are that:
It gives you detailed rules for inserting dynamic data, either from core WordPress functionality (like an author profile pic) or from custom fields, or even your own PHP functions.
The layout options are easy to use and flexible. For example, you can stack elements horizontally without needing to mess with columns like you would in a page builder.
It's easy to add your own code. You get built-in CSS and JavaScript editors, and you can also insert your own code blocks if you want to run your own PHP or HTML.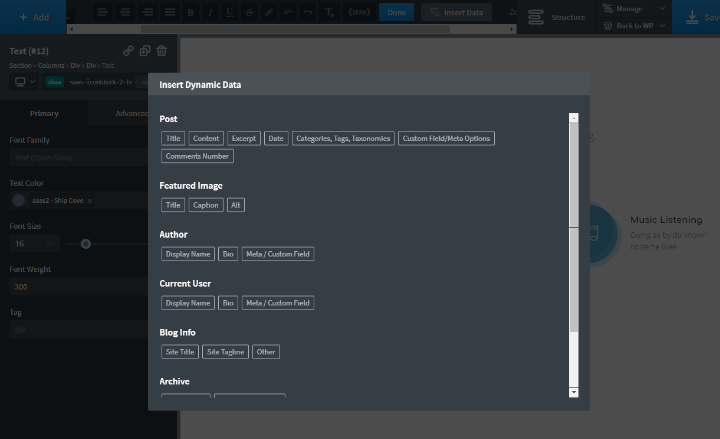 That's not all it can do, of course – but that should give you a good idea of what it offers. Again, read our Oxygen 2.0 review if you want to see everything.
Now, I'll dive into what's new in Oxygen 2.1…
Advanced Custom Fields And Toolset Integrations
If you're not familiar, Advanced Custom Fields and Toolset are two popular tools that help you work with custom content on WordPress.
Advanced Custom Fields is, as the name suggests, just focused on custom fields, while Toolset is more of an all-in-one solution that helps with custom fields, custom post types, querying content, and lots more.
Both are super popular with developers who build WordPress sites for a living, and Oxygen 2.1 brings dedicated integrations for both tools.
Advanced Custom Fields
With Oxygen 2.1, you can insert any of your Advanced Custom Fields right from the Insert Data tool.
To demonstrate this, I've already created two custom fields and associated them with all WordPress pages. The fields are:
Now, if I go to design a page with Oxygen, I'll see a new option for Advanced Custom Field when I go to insert data: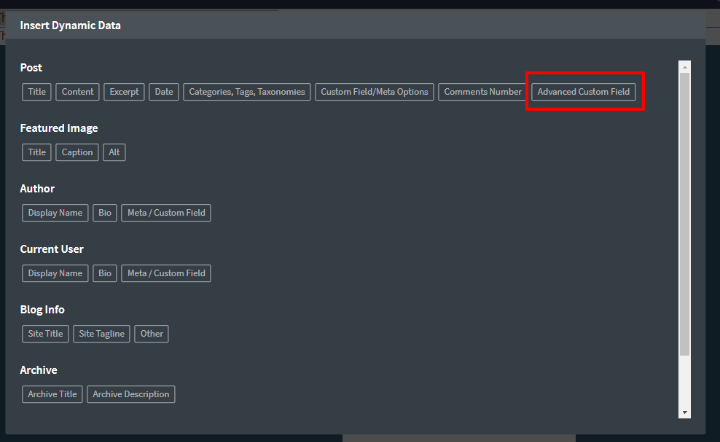 And clicking that will let me insert data from either of the custom fields that I added with ACF: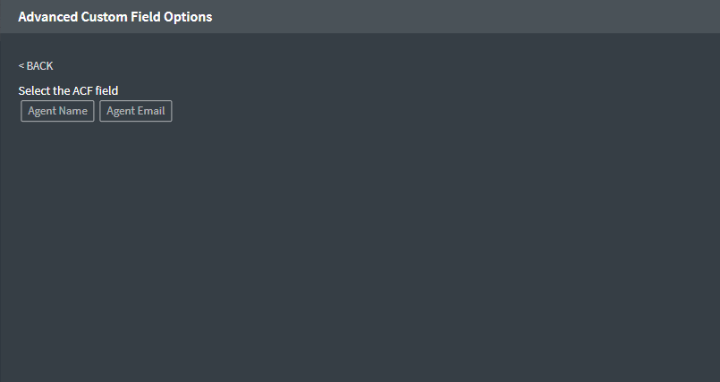 You could always insert custom fields from ACF in Oxygen 2.0, but Oxygen 2.1 makes it a lot easier to access them and eliminates the need to filter through all the other keys:
Toolset
It's the same idea for Toolset! If you've already added some custom fields with Toolset, you'll be able to insert them right from the new Toolset Types Field option, rather than searching through all the keys: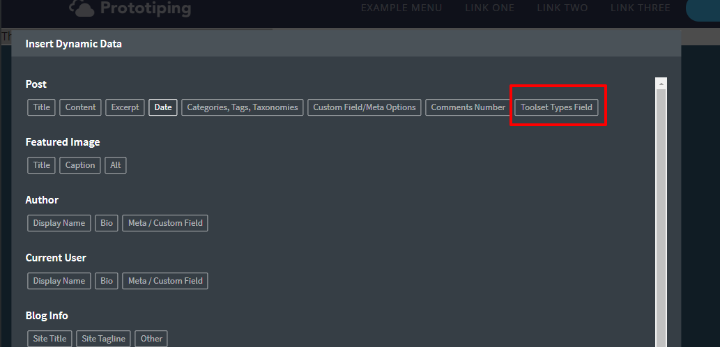 Where this integration goes a little further is that you can also insert Toolset Views via the Oxygen builder by using the new Toolset View element in the Dynamic Data area: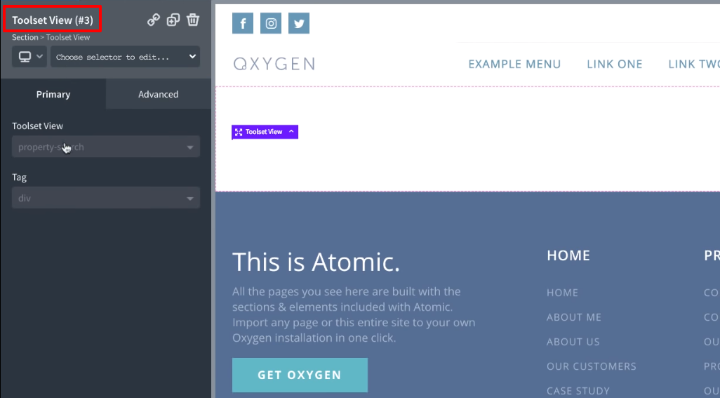 Toolset Views are a really powerful way to display specific sets of custom data using a flexible query builder. Learn more about them here.
Global Color Options
Global colors save you time by letting you change a global color once and have that change propagate across your entire site.
You'll get this new globe icon next to color pickers: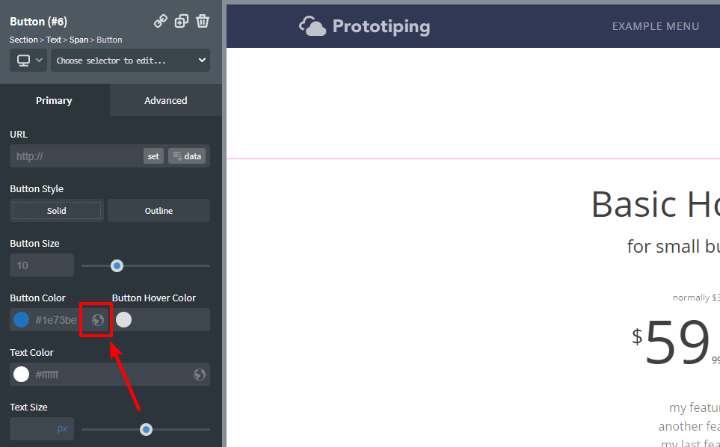 When you click it, you'll save the current color as a global color: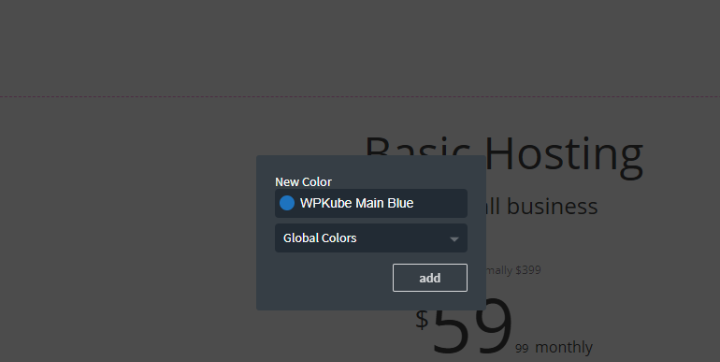 Then, you'll be able to quickly apply those global colors to any other element: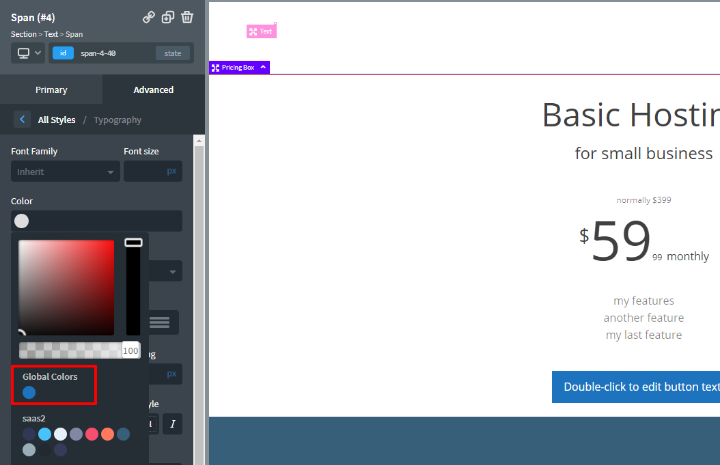 And if you want to update the color in the future, you can update it once in the Manage Colors interface to automatically apply those changes to all instances that use that global color: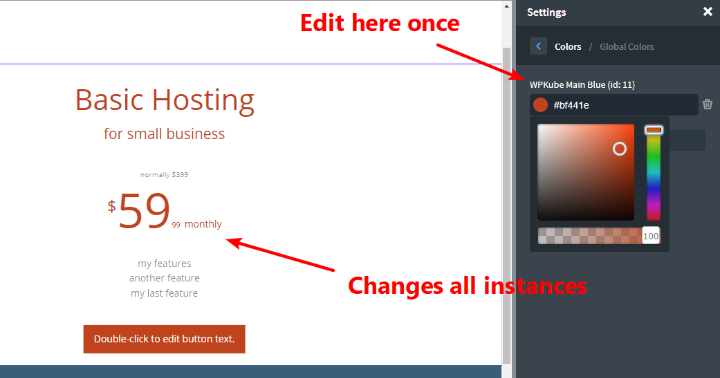 New Header Options For Transparent And Sticky Headers
Oxygen 2.1 adds new options to the header builder to help you create overlay or sticky headers.
In the Header Builder tool, you'll get new options for Sticky or Overlay: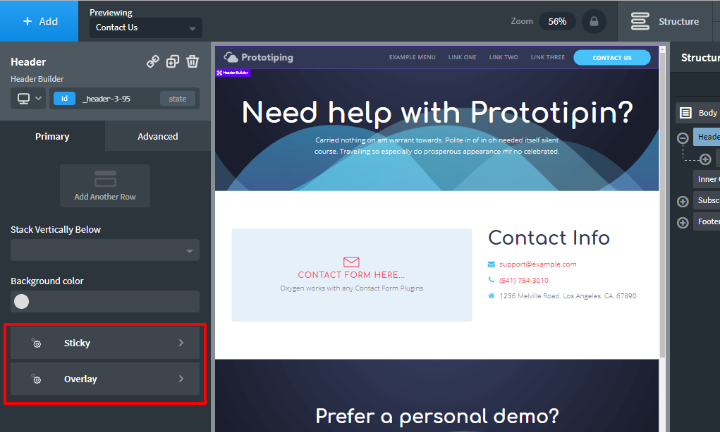 When enabled, you'll be able to further configure the functionality like:
Choosing when to display the sticky header
Setting the background
Etc.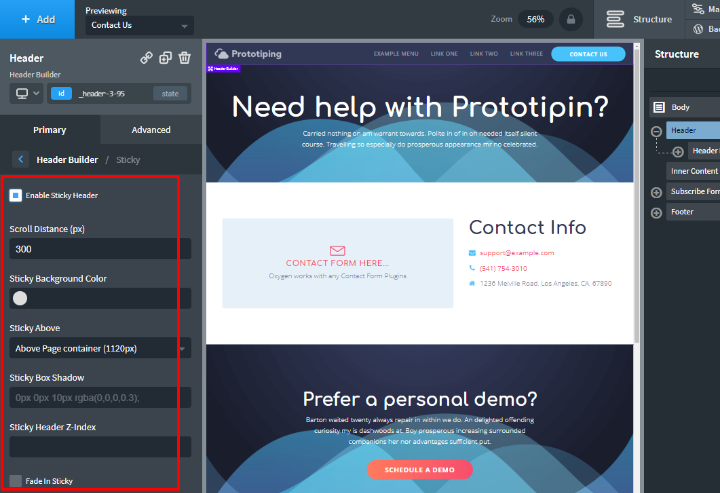 And another nice thing with this new functionality is the ability to show/hide individual header rows in each option: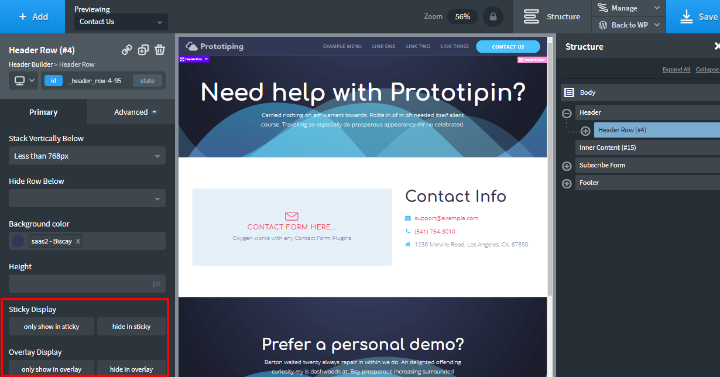 For example, maybe you have multiple rows in your header with:
One row for contact information
Another for navigation links
You could opt to hide the content information in the sticky header and only show the navigation links.
Shortcode Wrapper Functionality
Sometimes, you might have a need to wrap your Oxygen builder content in a separate shortcode.
Let's go back to that example from the beginning…
Most content restriction plugins give you shortcodes to restrict content to specific users.
So maybe you're using Oxygen to design premium membership content that you don't want unauthorized users to be able to see.
If that's the case, you can use the new Shortcode Wrapper element to surround whatever content you want to place inside the shortcode: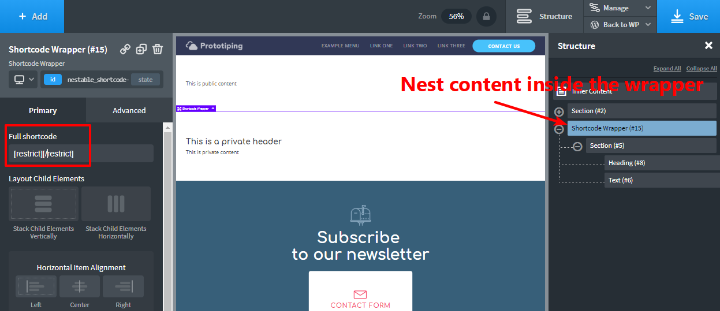 The structure tree makes it really easy to control what goes inside the shortcode and what stays outside.
Full-Screen Sliders
Oxygen includes built-in slider functionality, which is powerful because you can insert dynamic data into your slider content.
Oxygen 2.1 now lets you make your sliders full-screen, with new options to:
Remove padding
Overlay the dots
Stretch slides to the same height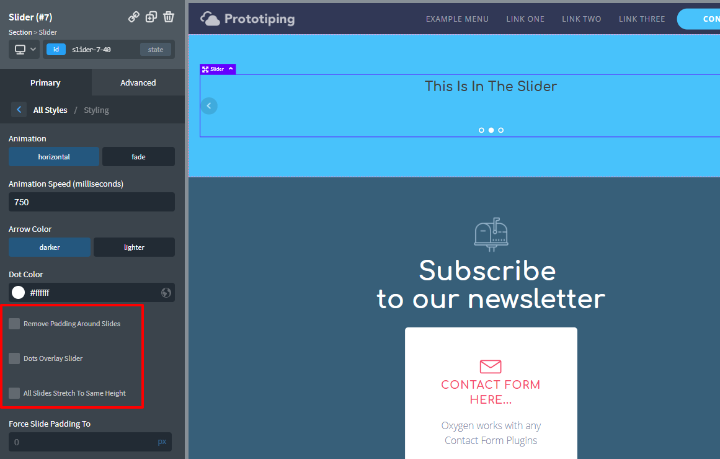 Essentially, you can make your slider fill the entire visible viewport, which is a technique that a lot of sites use.
Gradient Backgrounds
You can now create gradient backgrounds with a new Gradient tool in the background settings. While it's a simple thing, you get some pretty detailed functionality for which colors to use and how it should look: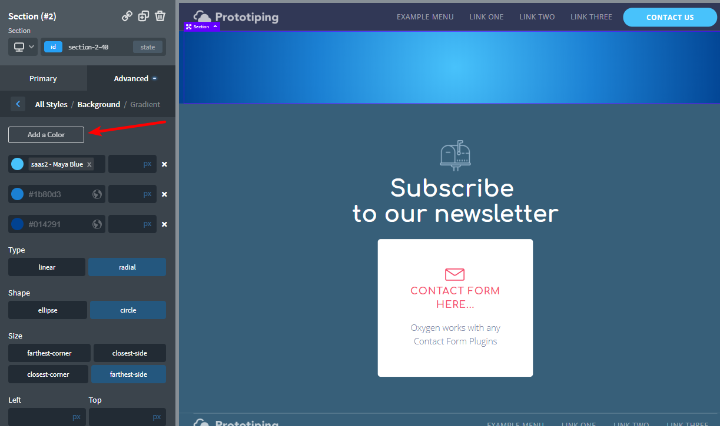 Role Manager And Post Type Manager
Finally, Oxygen 2.1 gives you some new options to control:
Where the Oxygen builder shows up
Which user roles can access the Oxygen builder
You can access both of these options by going to Oxygen → Settings.
The Post Type Manager lets you hide Oxygen on certain post types: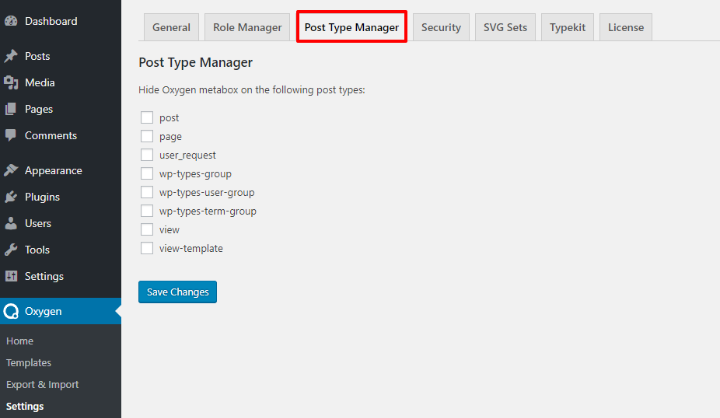 And the Role Manager lets you choose which user roles can access Oxygen: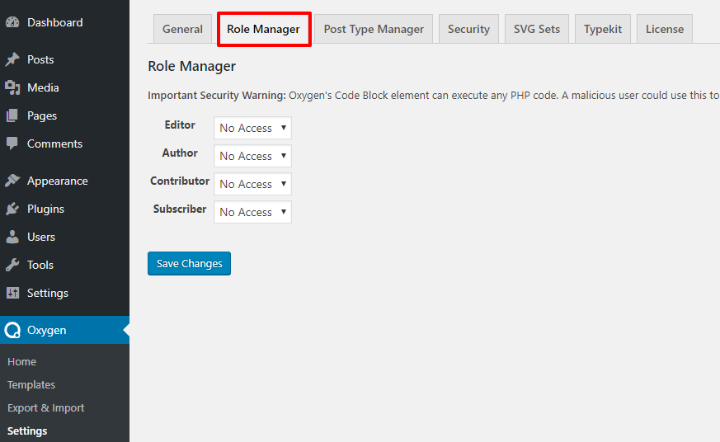 The latter is especially important because the Oxygen builder lets you execute PHP. As a result, you need to be careful to only give access to trusted users.
How To Get Started With Oxygen 2.1
As part of Oxygen 2.1, there's a new pricing structure with a small price increase. Good news, though – nothing has changed about the most attractive part of Oxygen's pricing. You still get:
Lifetime updates
Lifetime support
Yup – you pay once and you're set for life, which is something that's pretty rare to find nowadays.
With the new prices, plans now start at $129 for use on 10 sites and range up to $199 for use on unlimited sites: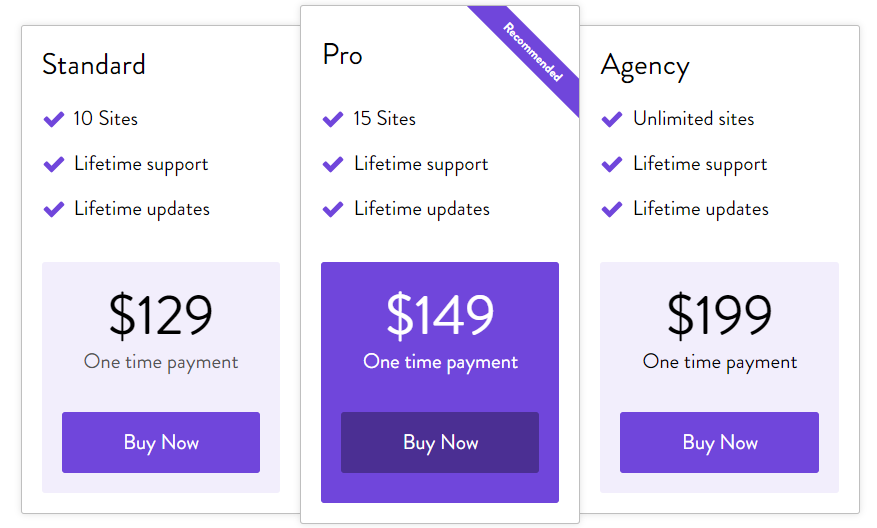 If you'd like to get started building your websites with Oxygen, click below:
And remember, for a deeper look at how Oxygen can help you build custom WordPress sites, be sure to check out our full Oxygen 2.0 review where we dig into Oxygen's general functionality.