Have you ever encountered a knowledge base that was an absolute joy to use? It answered your questions, helped you get the most from the product, and eliminated the need to create a ticket.
Some companies have those knowledge bases. And some…don't. I think we all like the former companies more than the latter.
KnowAll is a theme from HeroThemes that helps you join the list of companies with great support knowledge bases.
In general, I think that KnowAll is a great option for businesses that are looking to make a standalone knowledge base. It has a powerful feature set that includes tons of features to create great content and optimize your knowledge base.
It is more expensive than other WordPress knowledge base themes or plugins, but I think the extra money is worth it for serious businesses.
Keep reading our hands-on KnowAll review and I'll help you decide if the value is there for your specific situation.
Overview of KnowAll Theme Features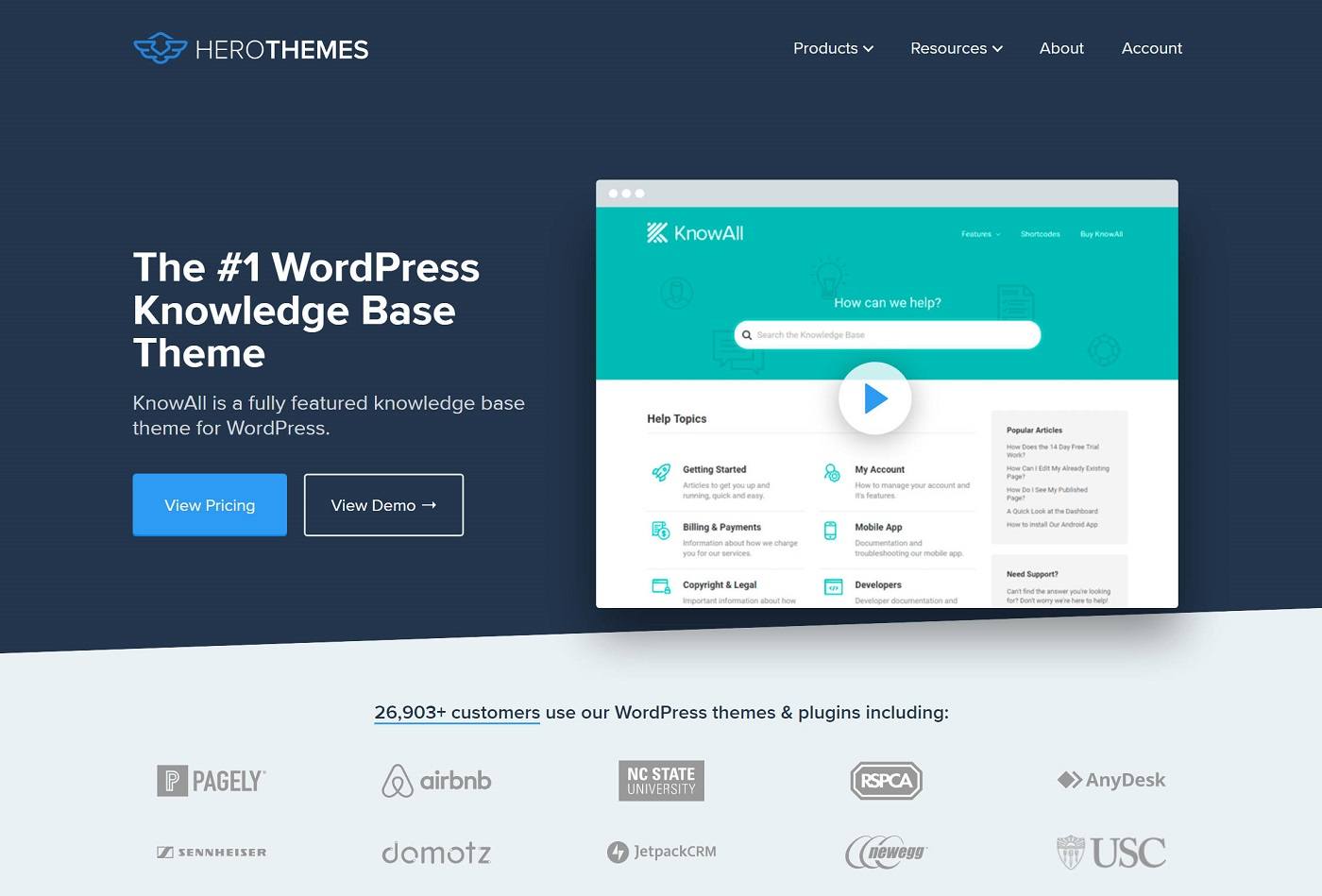 KnowAll is a WordPress theme that sets you up with a fully-functioning knowledge base. That means you get:
Knowledge base articles with shortcode builder for styling
Categories and subcategories
Search widget with auto-complete
User feedback on how helpful your articles are
Detailed analytics on article usefulness, search terms, and how often readers still need live support
Transfer customers to live support and track which articles result in live support requests
Dedicated blocks and shortcodes to help format your knowledge base articles
Dedicated widgets for a table of contents, search, and more
Add attachments to knowledge base articles
Make all or parts of your knowledge base private (that is, for logged-in users only).
Lots of smaller features.
If you want to see KnowAll in action, you can check out the demo. In the next sections, I'll also go hands-on and take you through every feature of the KnowAll theme.
How KnowAll Works With Heroic Knowledge Base
KnowAll is a WordPress theme. That means it will completely control the design of your site.
To provide the actual knowledge base functionality, though, KnowAll comes bundled with the developer's Heroic Knowledge Base plugin.
Here's the part you need to understand:
You can also just purchase the standalone Heroic Knowledge Base plugin, which would get you access to all the same knowledge base functionality.
With the standalone plugin, though, you can use it with your current theme, which lets you add your knowledge base as part of your site.
So when it comes to KnowAll vs Heroic Knowledge Base, which one should you use?
Here's my recommendation:
If you're creating a standalone knowledge base on a separate subdomain and in a separate WordPress install – e.g. docs.yoursite.com – then I think KnowAll is the better option. KnowAll lets you ensure your entire design is optimized for a knowledge base, and you can still link back to your main site.
If you want to add your knowledge base as a subfolder on your existing WordPress install and keep the same header/footer and such – e.g. yoursite.com/docs – then you'll probably be better off with Heroic Knowledge Base.
Either way, you'll get the exact same knowledge base functionality because KnowAll literally bundles in the same plugin.
If you want to learn more about the plugin, I recommend reading our full Heroic Knowledge Base review.
Why KnowAll Is Great for WordPress Knowledge Bases
Creating a knowledge base is a pretty in-demand feature nowadays since pretty much every business could benefit from a knowledge base. That means there are lots of WordPress knowledge base themes and plugins.
So – why does KnowAll stand out? Why use KnowAll when all of those other options exist?
Well, there are a lot of small benefits to using KnowAll, but I see two main advantages that it has over a lot of the other WordPress knowledge base themes and plugins.
I go into these in more detail in our Heroic Knowledge Base review, but here's the quick rundown.
1. Excellent Frontend User Experience
Simply put, KnowAll creates an awesome frontend experience for your customers.
First, you get a ton of options in the native WordPress Customizer to tweak the design and layout of your knowledge base. You won't need to do much work, though, because the out-of-the-box design looks great: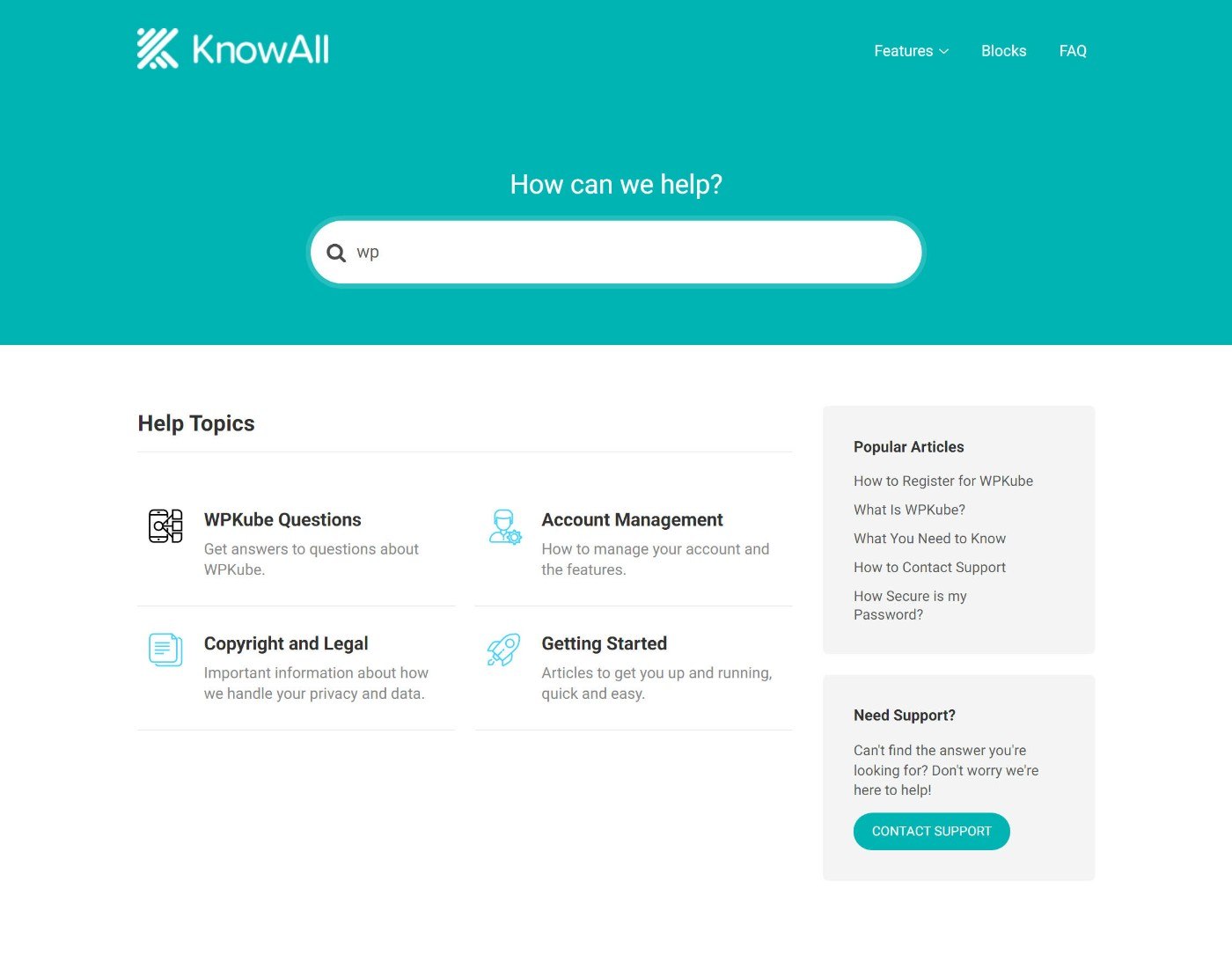 Beyond that, your visitors benefit from lots of thoughtful features to help them quickly find the solutions to their problems.
As soon as they start typing in the search box, they'll get instant search suggestions to help them find the right article: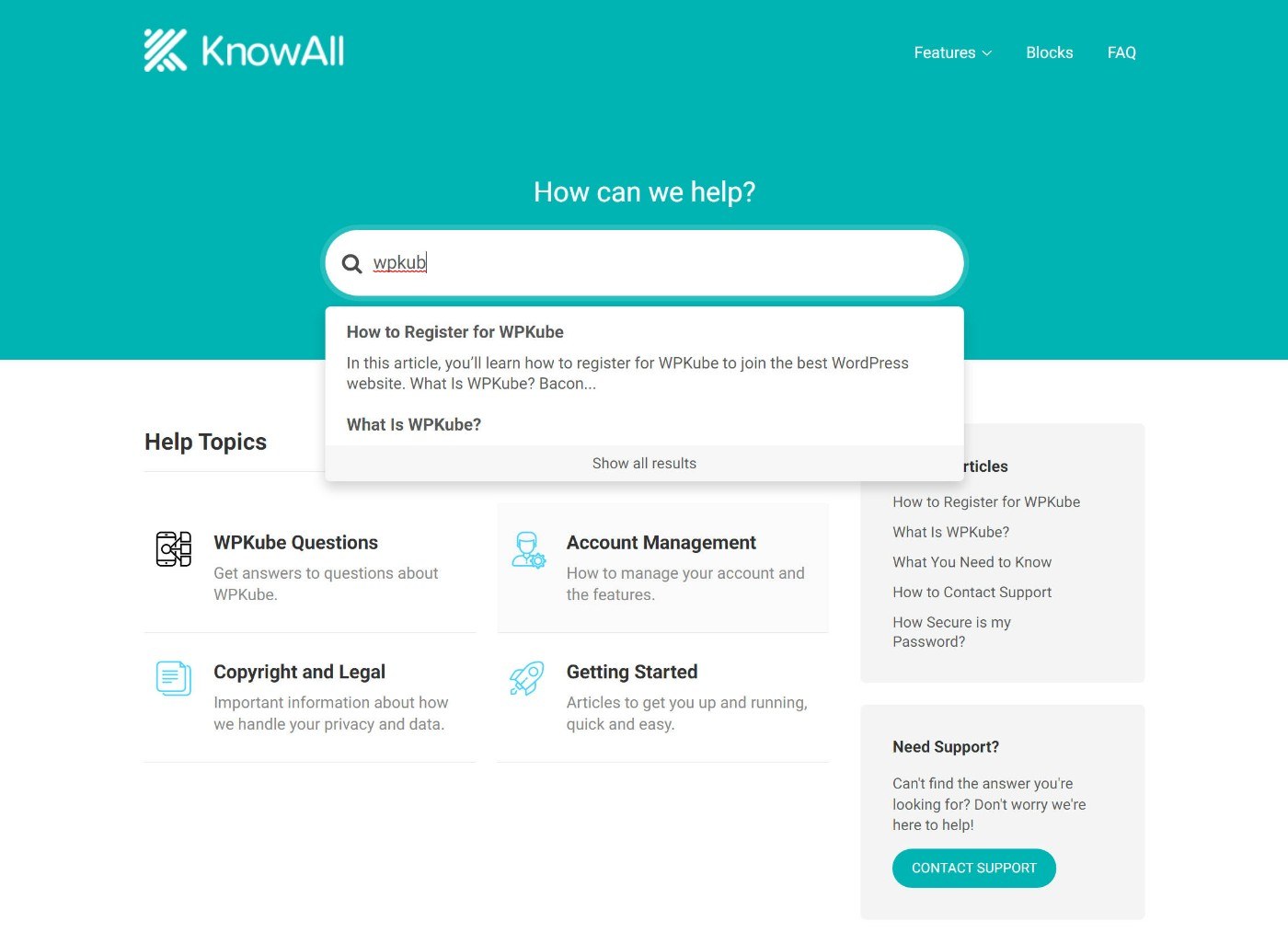 On the article, they'll get an automatic table of contents. You can also use KnowAll's built-in blocks to improve the formatting of your knowledge base articles with callouts or other details: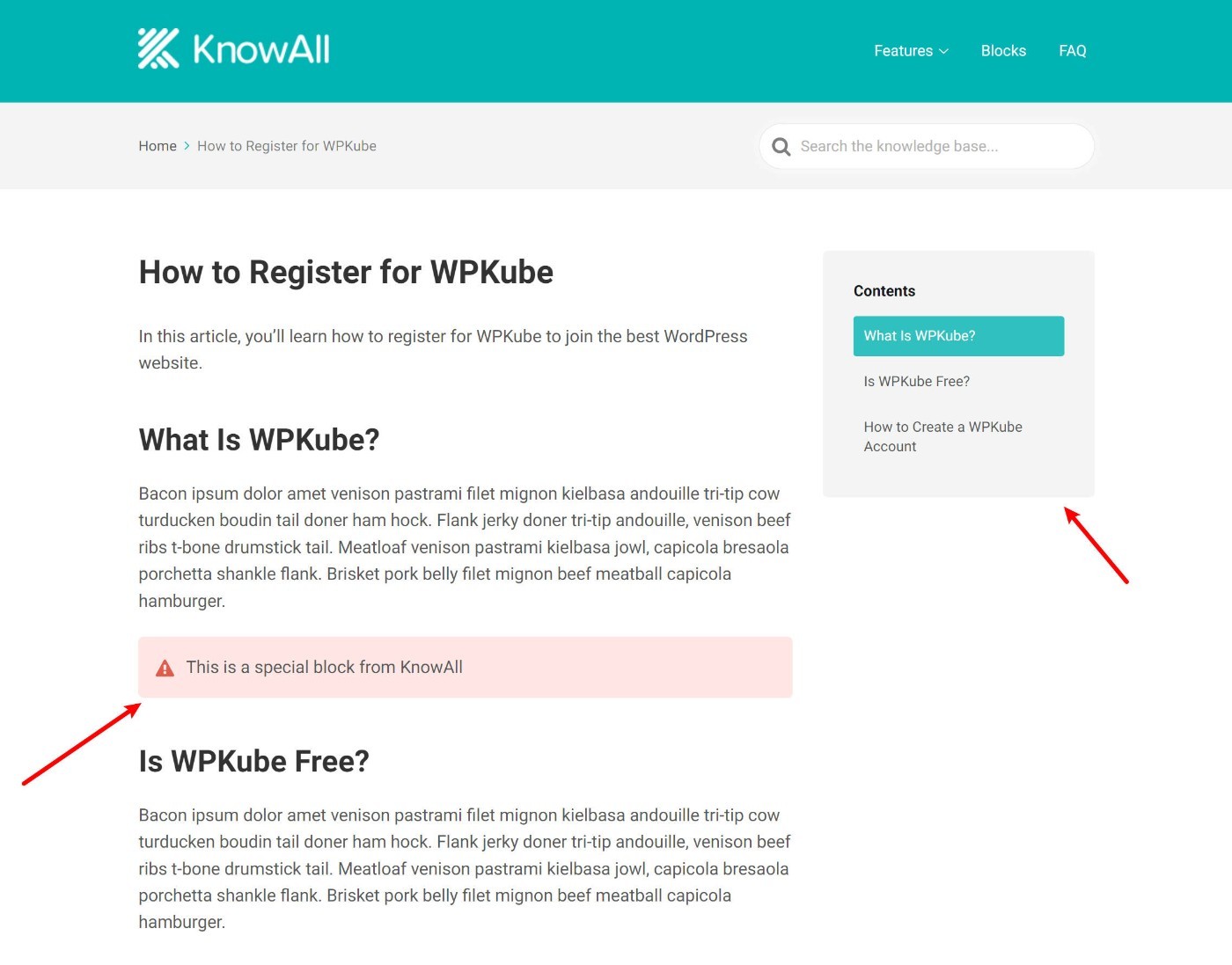 Overall, the frontend user experience for your customers just feels very polished and professional.
2. Actionable Data and Analytics to Improve Your Knowledge Base
The second thing that KnowAll (and Heroic Knowledge Base) does really well is giving you access to useful data that you can use to improve and optimize your knowledge base.
First, you get some helpful baseline data to track details such as article view counts. You could always view these in Google Analytics, but it's handy to be able to see them from your WordPress dashboard.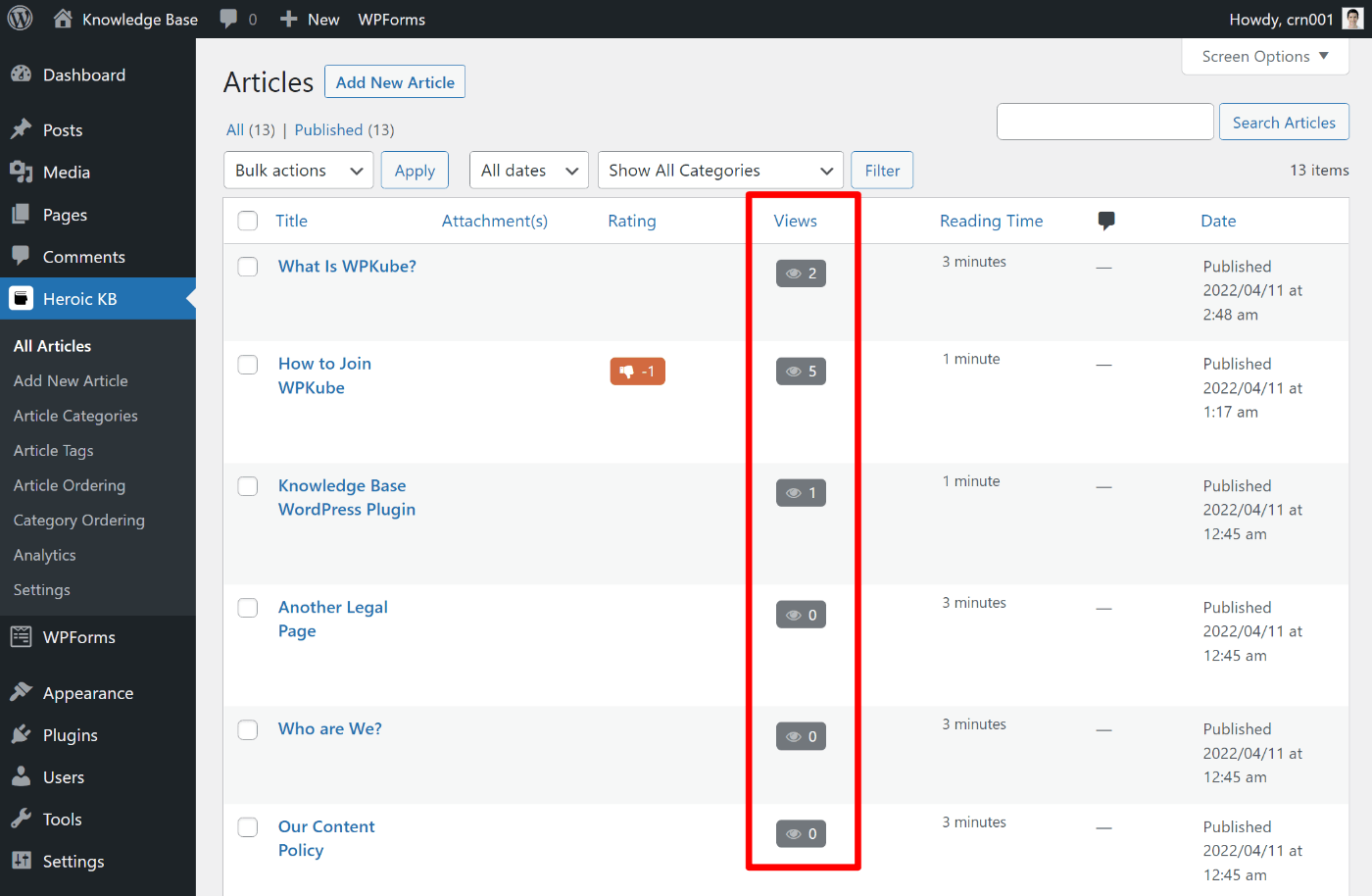 That's just scratching the surface, though, because KnowAll gives you three more types of really useful data:
Article helpfulness feedback – visitors can mark articles as helpful or unhelpful and also leave optional feedback. You can then view all this data for your entire knowledge base so that you can see which articles are working well and which you need to improve.
Search analytics – you can track which topics visitors are searching for. More importantly, KnowAll will also highlight search terms that return zero results. If you see a lot of searches that aren't returning results, you might need to create new articles for those topics.
Human support transfer analytics – you can track which articles result in inquiries to your human support channels. If one article generates more queries than other articles, you might be able to improve that article and reduce the human support requests (which saves you time and money).
Article feedback data:
Search analytics: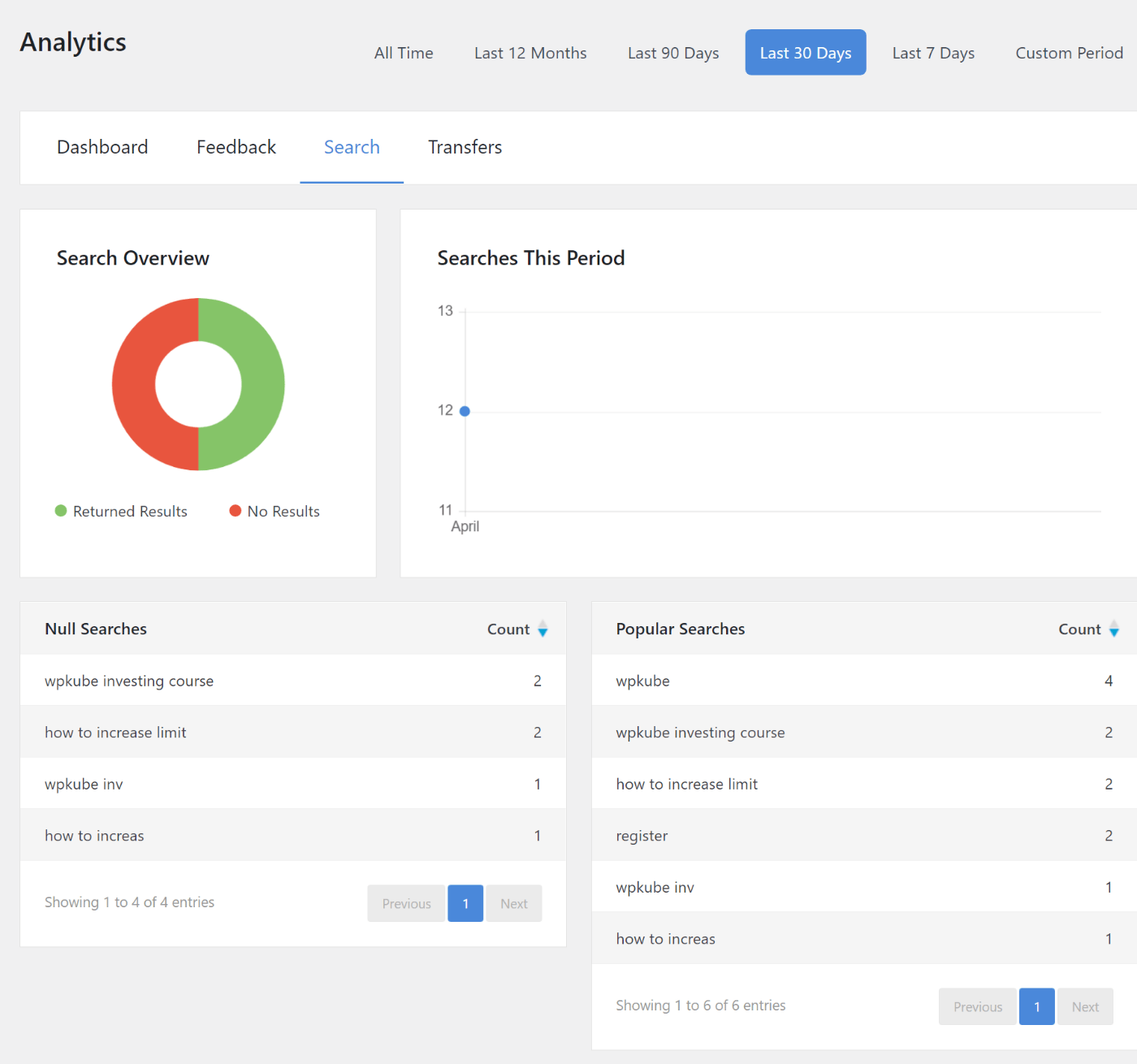 Transfer analytics: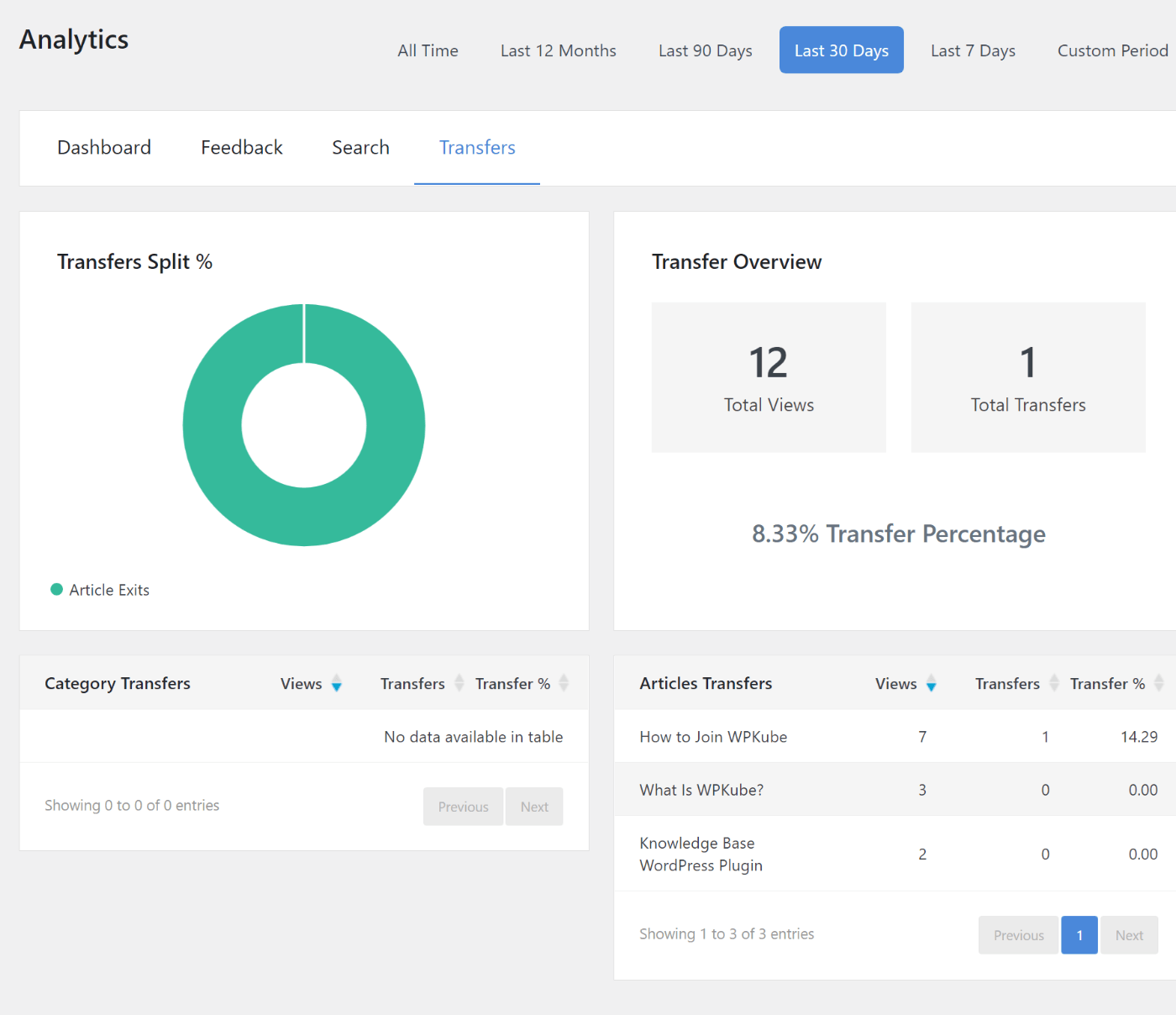 How to Create a WordPress Knowledge Base With KnowAll
Next, let's look at what it's like to create a WordPress knowledge base with the KnowAll theme.
Installing the Plugin
Let's start at the beginning – installation.
KnowAll has one of the nicest setup wizards I've encountered. It's well designed with proper UX standards. For example, the progress bar at the top lets you know exactly how much of the setup you have left: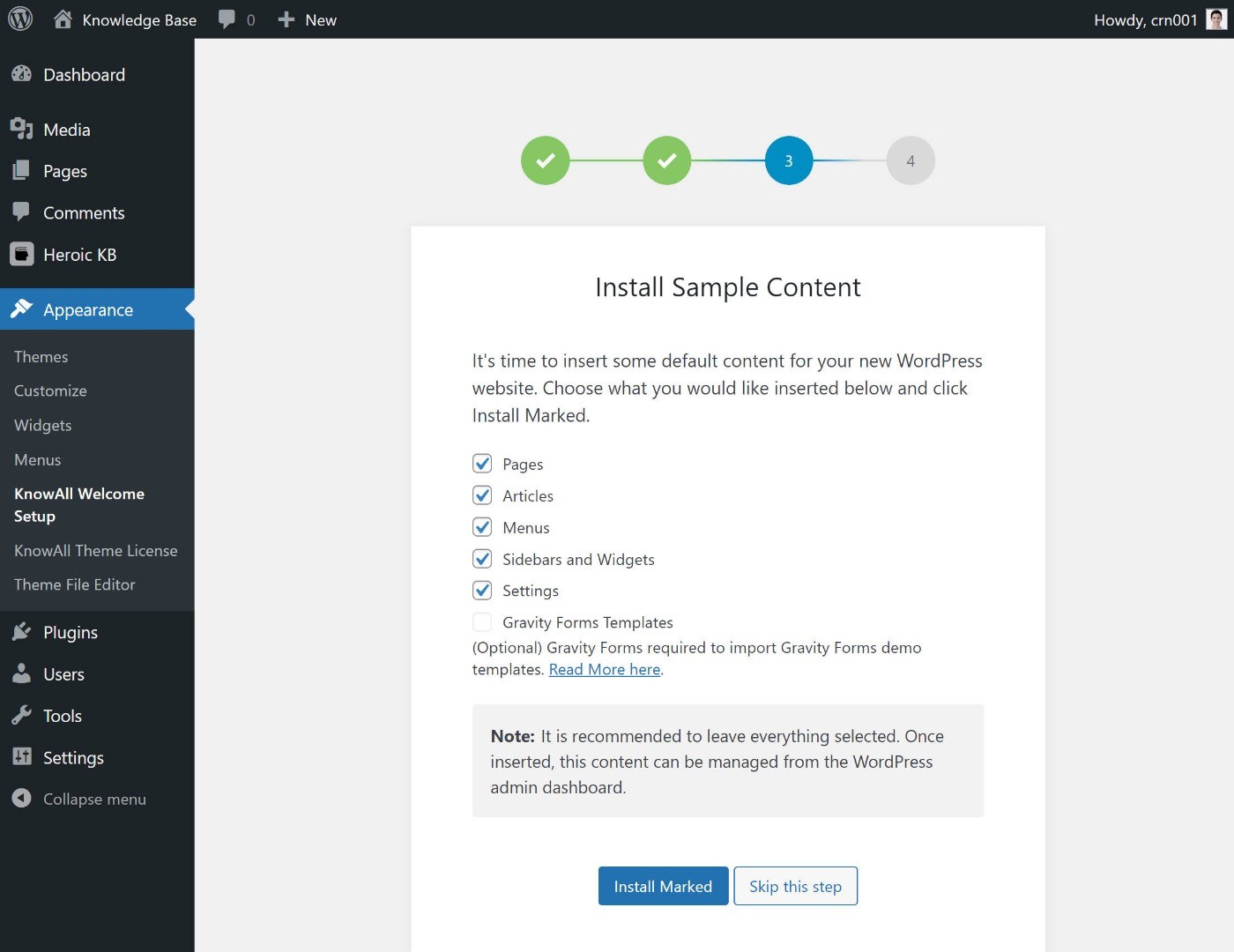 After installing the required plugins, I decided to import all of the provided demo content. And with that content, my theme actually looked exactly like the demo.
KnowAll starts strong by avoiding the disappointing situation where a theme looks nothing like the beautiful demo that convinced you to buy the theme. Kudos for that.
Configuring the Knowledge Base Functionality
To configure the knowledge base functionality, you'll use the settings in the Heroic Knowledge Base plugin.
If you want to see these in more detail, I recommend reading our dedicated Heroic Knowledge Base review. Again, it's almost exactly the same no matter if you're using the KnowAll theme or the standalone Heroic Knowledge Base plugin.
The only differences are in some of the style/design options, which you'll get a little more control over with KnowAll because you can use the native WordPress theme customizer.
To begin, you can go to Heroic KB > Settings.
Below, you'll see that some of the settings are disabled because you'll configure them in the Customizer (more on that next):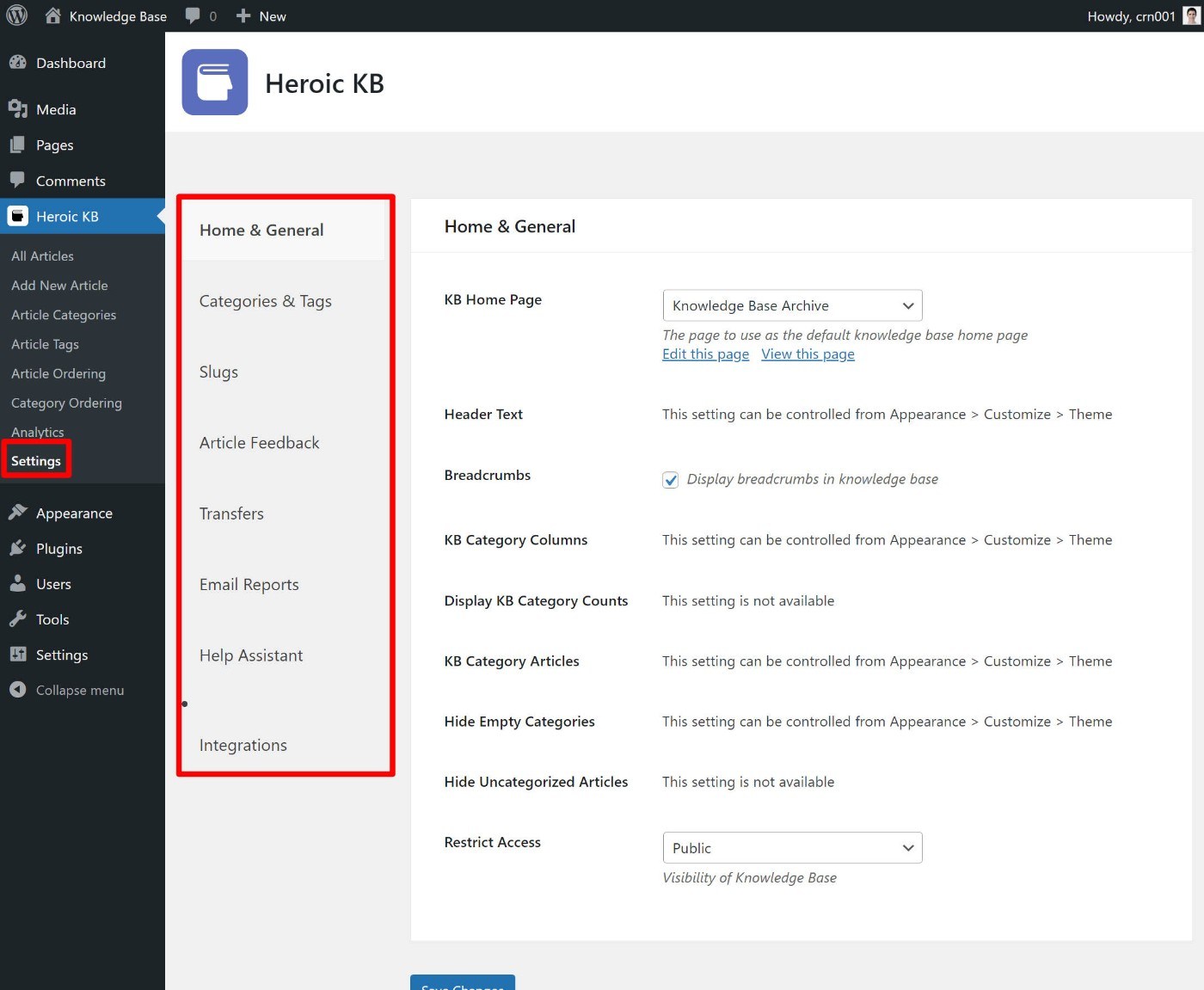 Here's a quick rundown of the different settings areas:
Categories & Tags – configure the sort options and how many articles to display under a category.
Slugs – customize URL slugs for articles, categories, and tags. You can use these to improve SEO and usability.
Article Feedback – configure the ability for visitors to leave ratings and feedback on an article (or disable it if you don't want it).
Transfers – add the URL for your human support channels. KnowAll will then track which articles result in the most human support queries.
Email Reports – receive automatic email reports about your knowledge base.
Help Assistant – enable and configure the instant answers widget.
Integrations – set up integrations with Help Scout, Slack, and/or Gravity Forms.
Styling the KnowAll Theme
Again, KnowAll is a WordPress theme, so you can configure the design of your knowledge base much like other themes.
KnowAll uses the WordPress Customizer for style tweaks. I'm a huge fan of using the Customizer over custom theme options menus, so this is a big plus for me. Let's be honest, WYSIWYG styling is always better than "save + refresh".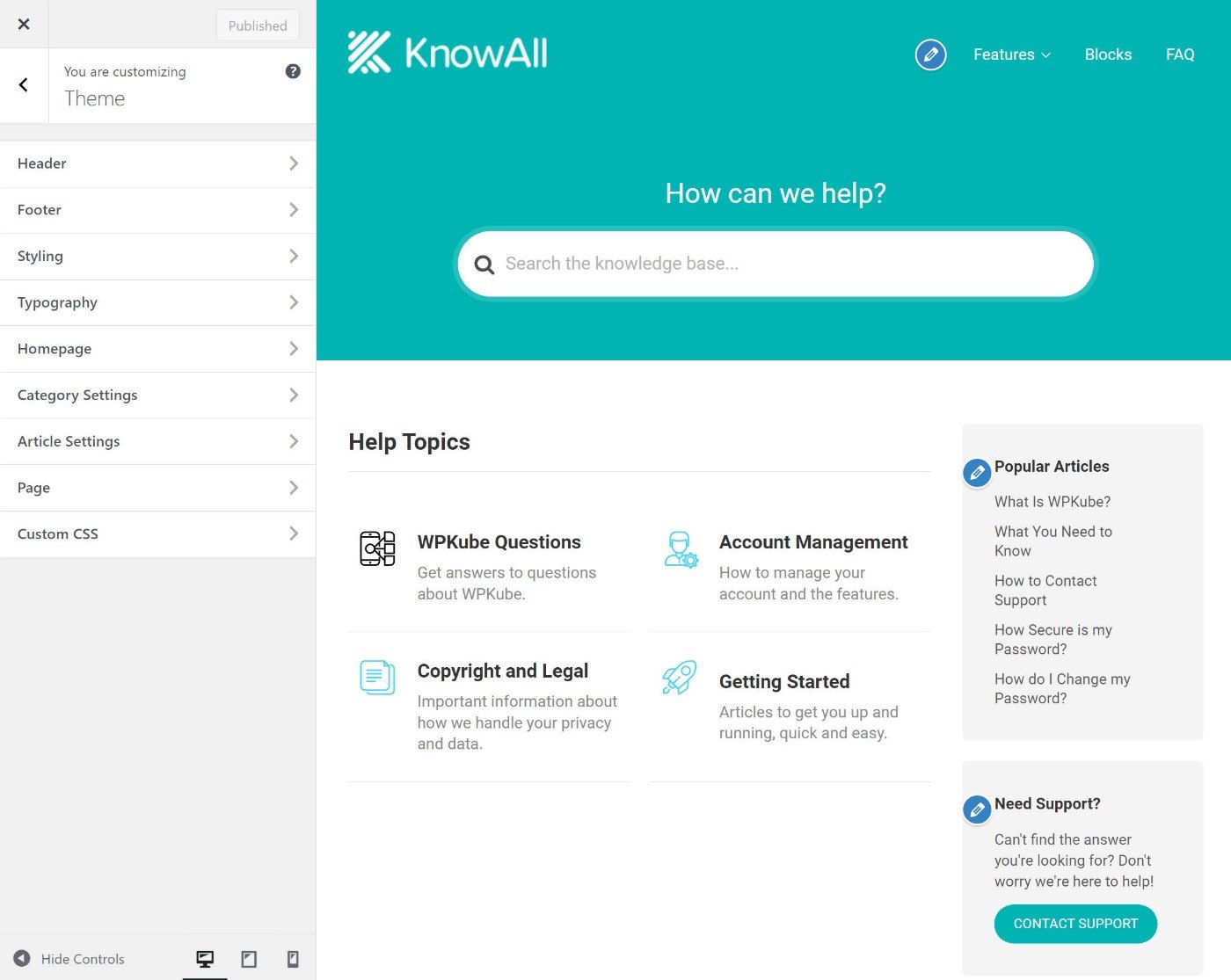 Getting into every single detail that you can customize would take a whole post of its own. But, suffice it to say, you have a great deal of control over how your knowledge base looks and functions.
Let's just look at one settings panel in the customizer. Say you want to customize how your articles function. You can:
Change the layout
Enable/disable a sticky sidebar
Show/hide related articles
Automatically expand the article attachments
Show/hide the author bio
Show "last modified" date
Enable comments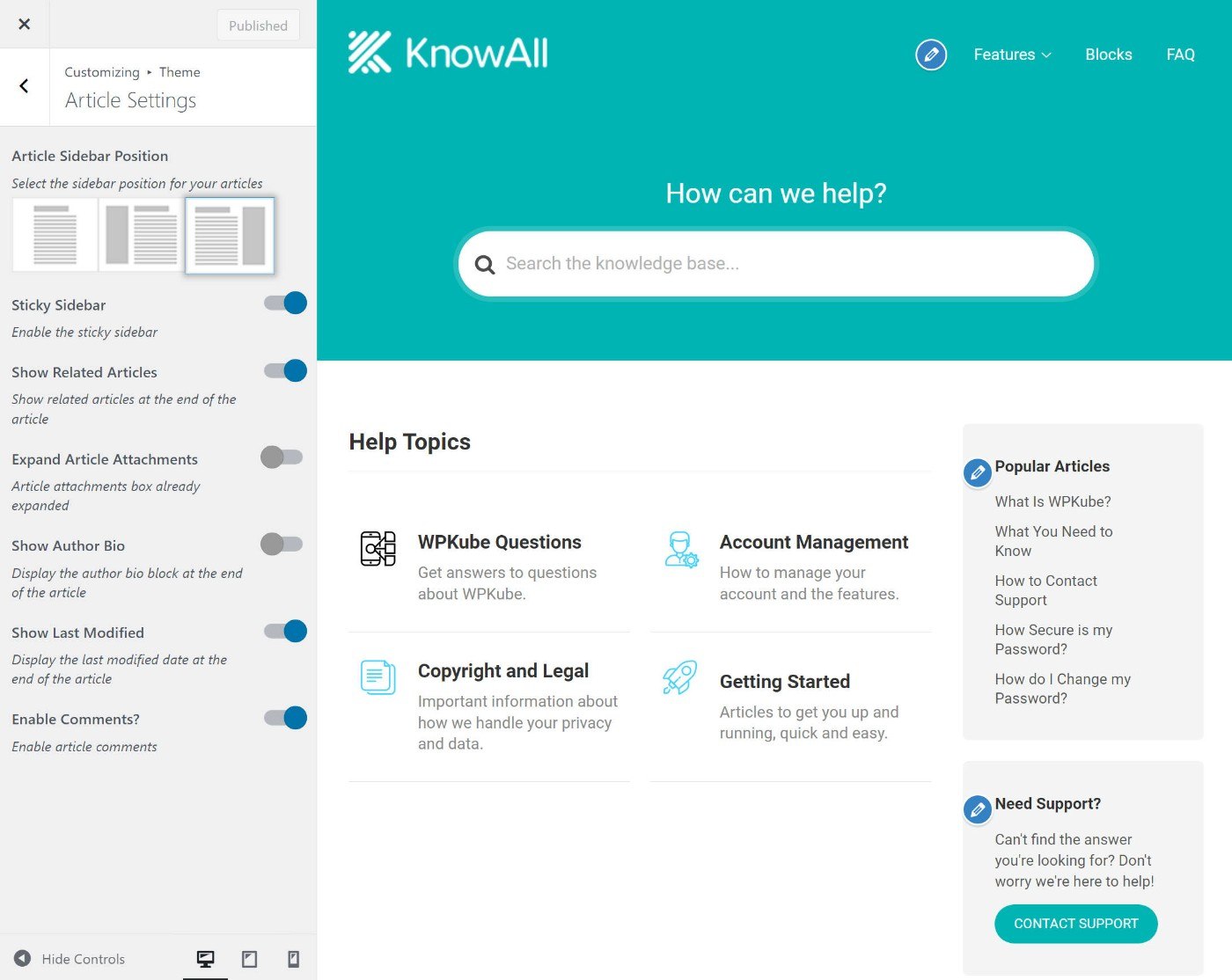 The interface is similar for other aspects of your site. For example, if you go to the Homepage settings, you'll be able to fully customize the layout of the homepage: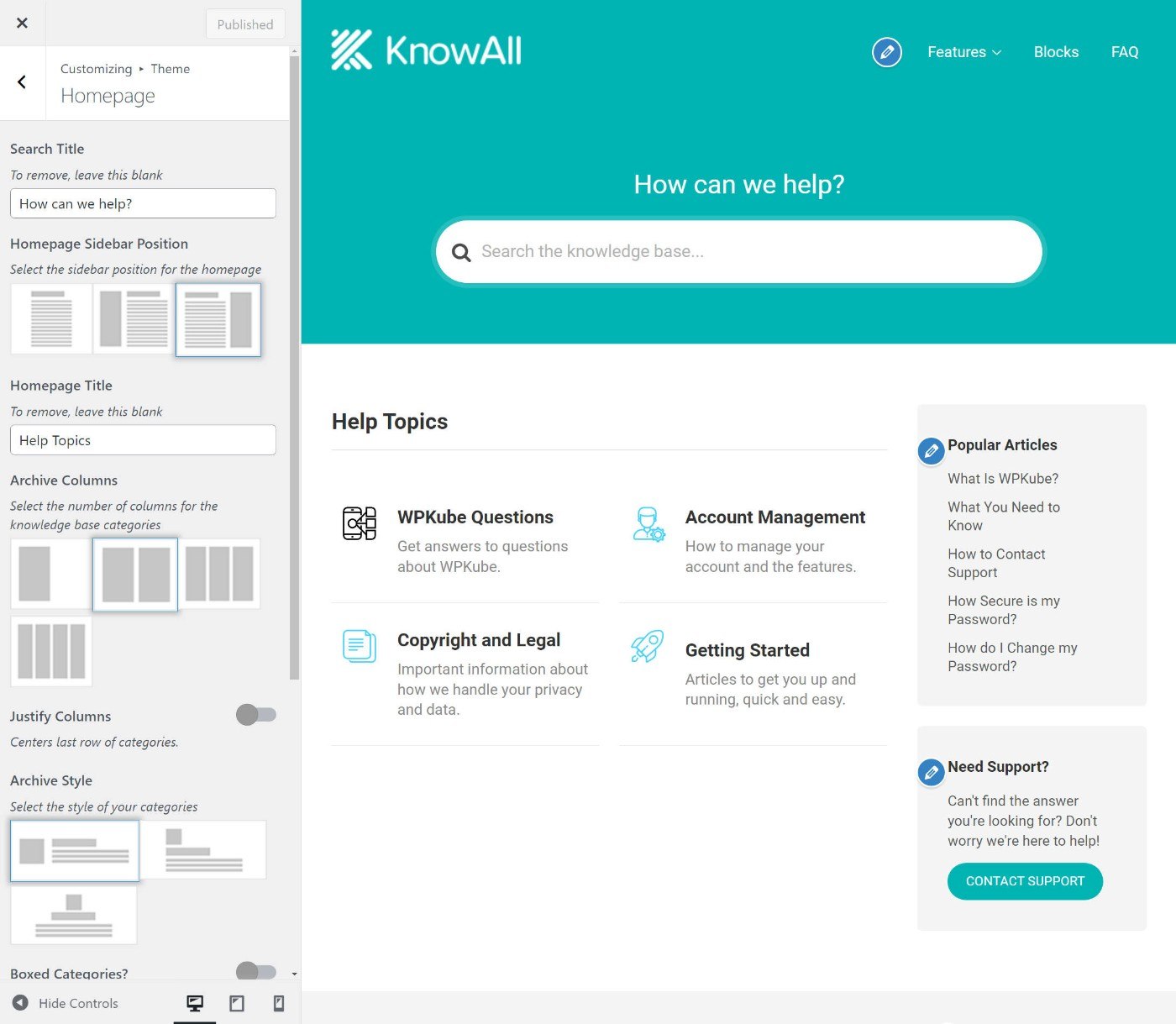 And you can, of course, also customize colors, fonts, and logos. For example, you could change the colors to match the branding of the rest of your site.
Using the KnowAll Widgets
KnowAll also comes with a number of blocks and widgets. You can use these widgets to build separate sidebars for your homepage, category page, and article pages: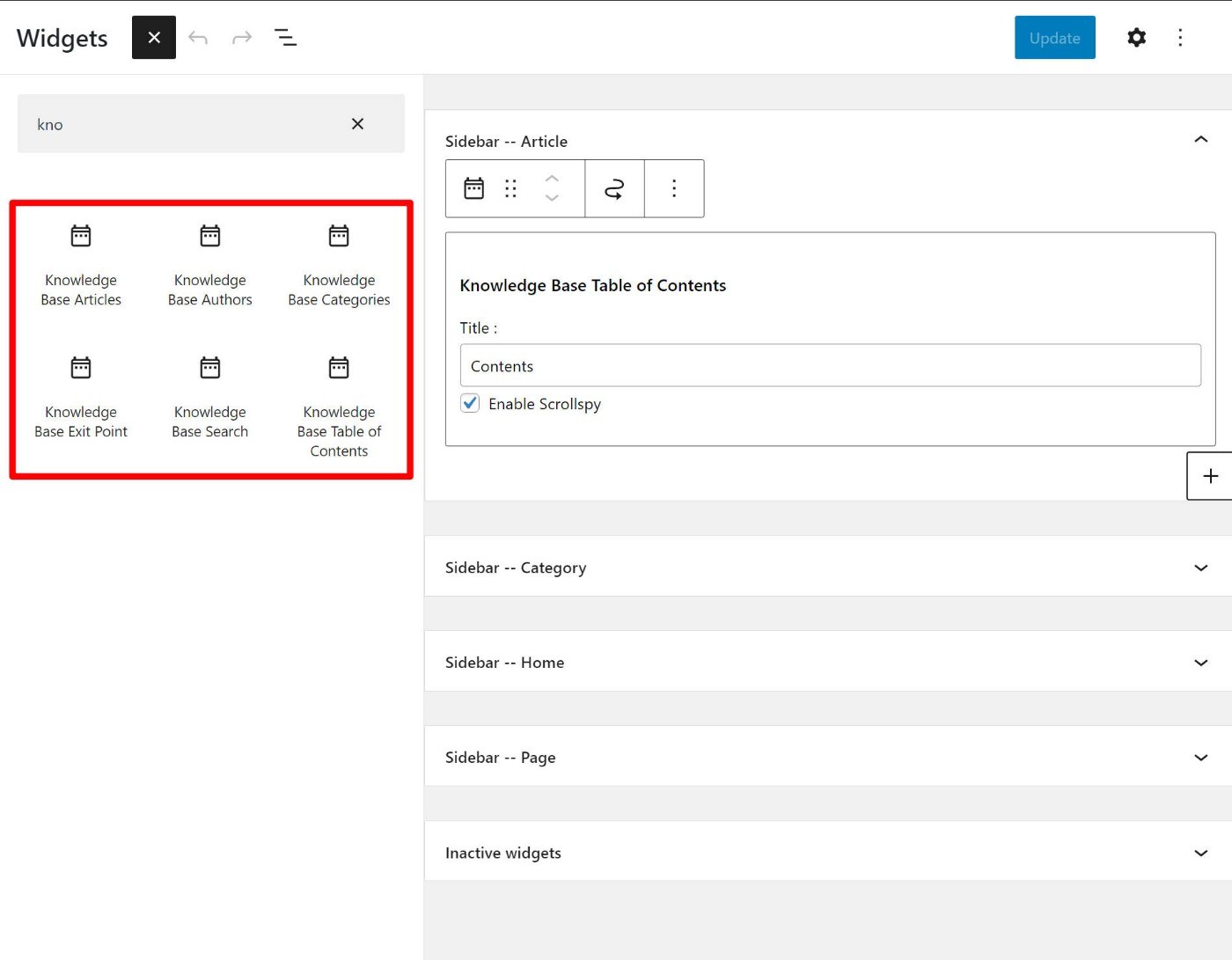 For example, the Table of Contents widget lets you add a table of contents to every article. This lets visitors quickly jump to the relevant part of the article.
Adding Articles
Before you start adding articles, you might want to set up categories and tags, which you can do by going to Heroic KB > Article Categories or Article Tags.
KnowAll/Heroic Knowledge Base uses the native WordPress taxonomy system, so it works just like adding blog categories or tags.
One nice detail, though, is that you can choose to make certain categories private so that only logged-in visitors can view articles in those categories: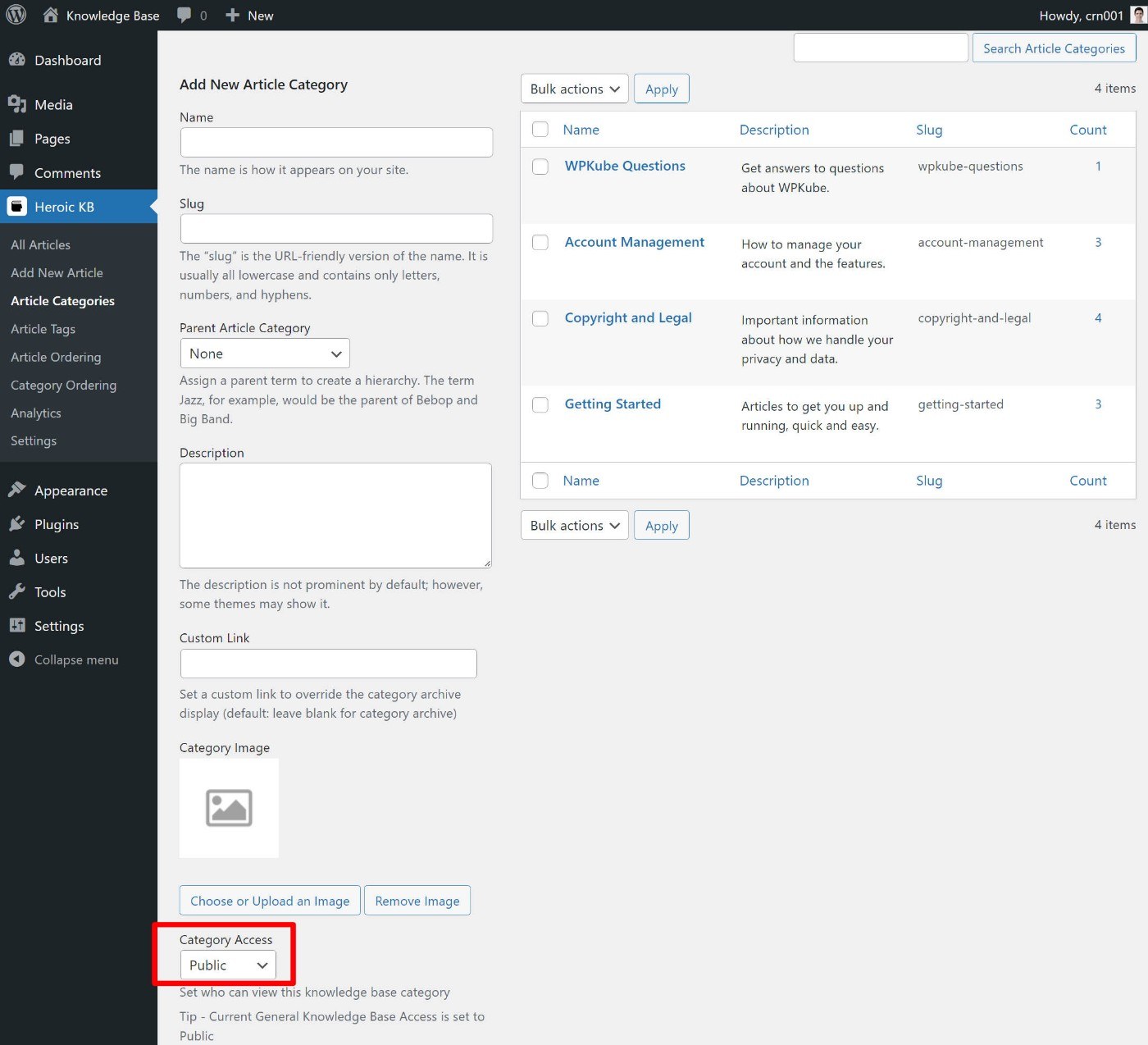 You can also make your entire knowledge base private, if preferred.
You also get a separate interface to order your article categories using drag and drop (as well as your articles themselves once you've added some).
Then, you can go to Heroic KB > Add New Article to add a new article.
For the regular content, you can use the native WordPress editor just as if you were creating a blog post. You can also include images and videos as needed.
One really nice detail, though, is that KnowAll includes some of its own blocks that you can use for things like:
Callout messages
Toggles
Tabs
Accordion
Zoomable images
Specially formatted lists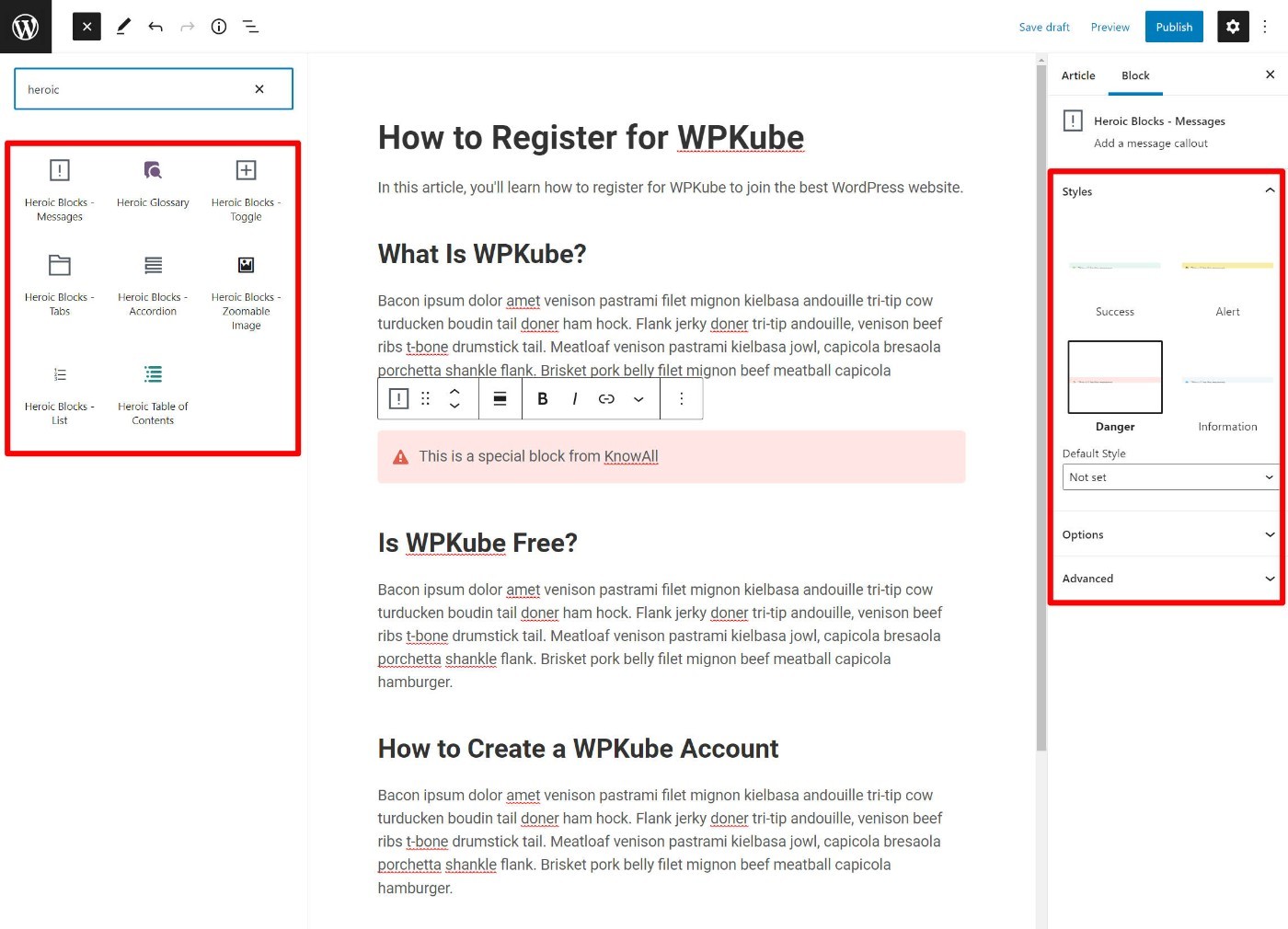 These blocks are really handy for creating more user-friendly knowledge base articles.
Below the text editor, you'll also get some new boxes:
You can upload file attachments.
Once you publish the article, you'll be able to view article feedback in this interface (as well as the dedicated analytics area).
You can also see some basic article stats in the sidebar: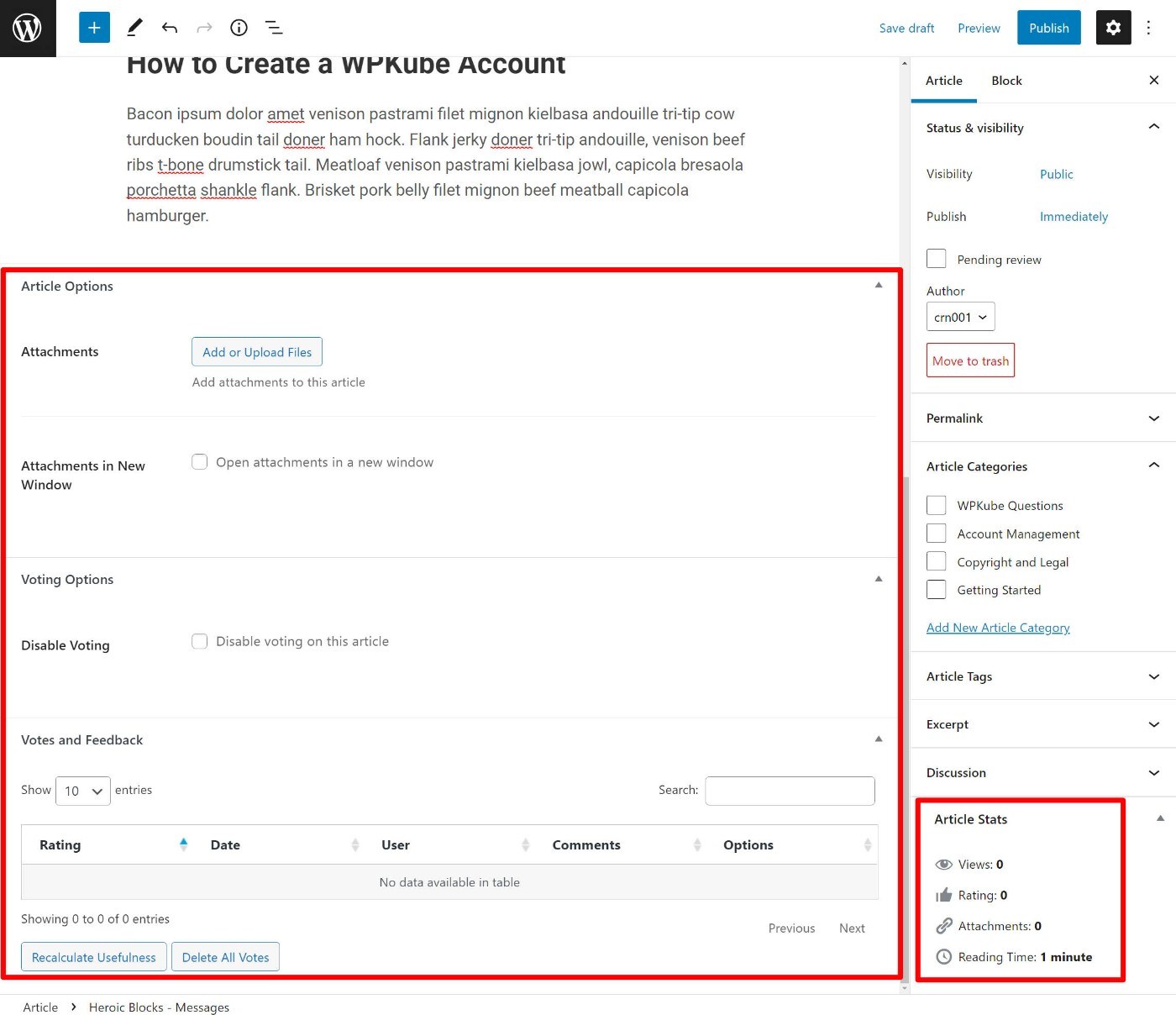 You can also access the dedicated analytics area for your entire knowledge base by going to Heroic KB > Analytics.
How Much Does KnowAll Cost?
KnowAll has three different pricing options. Each plan gives you access to different features and allows use on a different number of sites.
Here are the KnowAll theme prices: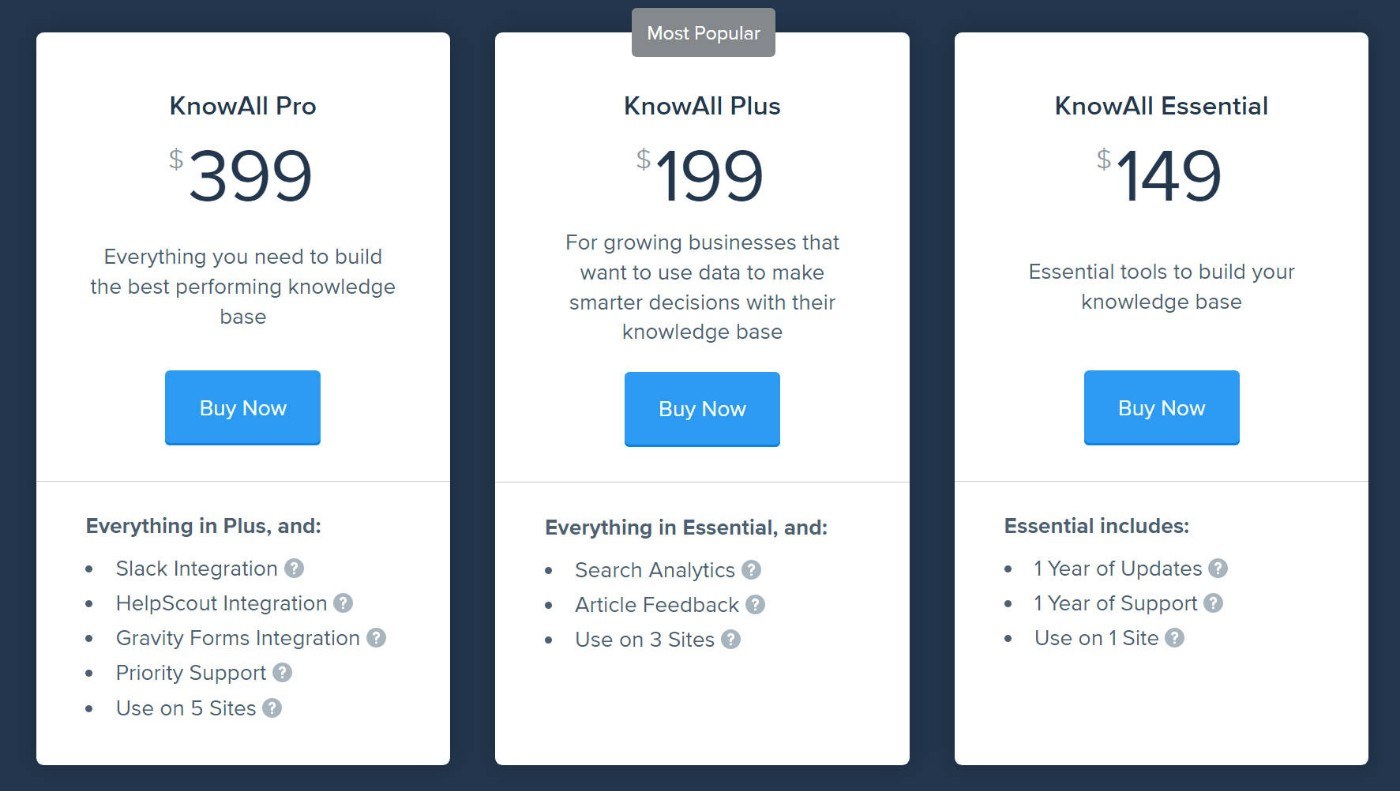 I think most people should go with the $199 KnowAll Plus option. I don't really recommend the cheapest $149 KnowAll Essential license as you're sacrificing some of the best features (search analytics and article feedback) just to save $50.
However, most people don't need the $399 KnowAll Pro license unless you specifically want those integrations and/or you need to use it on more than three sites.
At $199, KnowAll is undoubtedly a bit more expensive than most other WordPress knowledge base themes and plugins. However, I still think it offers excellent value for businesses because of how polished it is.
KnowAll (and HeroThemes in general) is really competing more against SaaS knowledge base solutions like Document360, rather than other WordPress plugins.
If you compare spending $199 for KnowAll vs paying $119 per month for Document360, then KnowAll looks pretty dang cheap, right?
If you're just creating a knowledge base for your hobby project and you won't use KnowAll's analytics and feedback features to improve your documentation, then yeah, KnowAll is a bit expensive for your use case. You'll probably be fine with one of those free options.
But if you're running an actual business where an unoptimized knowledge base has real "costs" in the form of higher churn and/or higher human support burden, then I think it's definitely worth the money to pay for KnowAll.
KnowAll Review: Pros and Cons
As we near the end of our KnowAll theme review, let's recap some of the pros and cons of using KnowAll to build a WordPress knowledge base.
Pros:
The frontend user experience is excellent. Your customers will be able to quickly find what they're looking for thanks to the optimized design, live search suggestions, automatic table of contents, and so on.
The design looks good out of the box. Because KnowAll is a theme, it's able to ensure a cohesive, great-looking design as soon as you activate it.
Very easy to set up. The backend interface is well-designed and you don't need any technical knowledge to set everything up.
Tons of analytics to improve your knowledge base. KnowAll gives you tons of actionable data, such as article usefulness ratings, search analytics (including missing searches), human support transfer analytics, etc.
Thoughtful features. You get a bunch of small-but-useful features, such as dedicated blocks for things like callout sections or accordion tabs.
Cons:
A bit more expensive. In exchange for all those great features, KnowAll costs a little bit more than most other WordPress knowledge base themes. I think it still offers good value, but you can find free or cheaper options if you're on a tight budget (though you'll probably make some sacrifices in terms of features and user experience).
Can't integrate with your existing site. If you want your knowledge base to keep the exact same design as the rest of your site, you might not like that KnowAll is a theme. Instead, use the developer's Heroic Knowledge Base plugin.
KnowAll FAQs
To finish out our KnowAll review, let's go over a few common questions you might have.
Is there a free version of KnowAll?
No – the KnowAll theme only comes in a premium version.
Is KnowAll a theme or a plugin?
KnowAll is a WordPress theme. If you want a standalone WordPress knowledge base plugin, you should use the developer's Heroic Knowledge Base plugin instead.
Will KnowAll work with my existing WordPress site?
Because KnowAll is a WordPress theme, I recommend creating a separate WordPress install for your knowledge base instead of installing it on your existing site.

If you were to install it on your existing site, your entire site would have to use the KnowAll design, which probably isn't optimal.

Again, if you're in this situation, just use the Heroic Knowledge Base plugin instead.
Should You Use KnowAll for Your WordPress Knowledge Base?
Looking solely at the knowledge base functionality, I think KnowAll can stand toe-to-toe with the big guys like ZenDesk and Groove. You'll still need some type of live support channel (maybe a help desk plugin or a live chat plugin!), but that's easy to integrate with KnowAll thanks to the transfer feature.
You have everything else you need. You can create articles, add helpful styling with the dedicated blocks (or shortcodes if you're using the Classic editor), and divvy up articles into as many categories and subcategories as needed. And if you need to keep some areas private, you can easily restrict content on a per-category basis.
Once you get your knowledge base set up, it's easy to analyze and improve things using KnowAll's analytics. You'll be able to see which articles need fine-tuning, as well as what topics you need to add based on search analytics.
The only thing to remember is that KnowAll is a theme. Depending on your needs, you may want to go with the Heroic Knowledge Base plugin instead to access all of the same features but in a standalone plugin. If so, check out our review of HeroThemes' Heroic Knowledge Base plugin.
If you're happy to use a standalone theme, KnowAll is the best I've seen. I've tested a few free options and none of them come close to the functionality you get with KnowAll. I haven't tested the other premium options, but KnowAll is my current bar to beat.
Do you still have any questions about KnowAll or our KnowAll theme review? Let us know in the comments.