Imagine a world where you, as a consumer, still had to dial a helpline and wait around listening to corny music while the rest of your life wasted away. Think about how frustrating it is to speak with a person reading from a script, who might actually provide you more help if they just had a chance to look at an email and speak with others on their team to provide the best solution possible.
Well, luckily customer support is not completely run through phone lines anymore, giving you a chance to choose how you want to contact companies, while providing the company an organized method for handling emails and live chats.
Now, put yourself in the position you're actually in–as a website owner, looking to give out the best customer support possible. Wouldn't it be nice to offer top quality support without having to worry about a clunky queue system or having to sit in front of one or two computers to access the customer support emails?
This is what the WPHelpDesk plugin is trying to achieve, so let's take a look at how it performs with an in-depth WPHelpDesk plugin review.
It's Quite Affordable for Managing a Large Support Team
The overall idea behind the WPHelpDesk plugin is to provide email-based customer support for organized teams. To start, many competitors are out there, such as the WP Support Plus Responsive Ticket System and the Casengo Live Chat Support plugin.
Since the market is filled with customer support plugin options, I always turn to pricing to see if a plugin stands out. The WPHelpDesk Plugin plans are presented as follows:
Small Business – $97 One Time Payment
Enterprise – $199 One Time Payment
Developer – $429 One Time Payment
All the plans provide features like unlimited support agents, unlimited tickets and regular updates, but they differ with the number of sites you can use the plugin on.
For example, the Small Business plan lets you use it on one site, the Enterprise plan on five sites and the Developer plan on any of your own sites and your client sites. As stated before, pricing is a huge factor in a saturated market, so based on some of my comparisons, WPHelpDesk provides some of the best features on the market, so the $97 starting price is fairly reasonable.
I will say that the pro version of WP Support Plus Responsive Ticket System gives WPHelpDesk a run for its money in terms of features, and the one time fee is only $19. What makes WPHelpDesk standout? The dashboard interface is more intuitive and the filtering and custom fields features are more powerful.
Configuring Your Email Support System
The first step is to configure your email support system with items like incoming and outgoing emails, email templates and your ticket list.
The Config tab on the left hand side of the dashboard is nicely placed, and just about everything you need for setting up and managing your ticket system is consolidated right under the handy HelpDesk tab in the dashboard. You have the opportunity to assign a default agent, making it easier to respond quickly to customers and designate with an immediate middle man.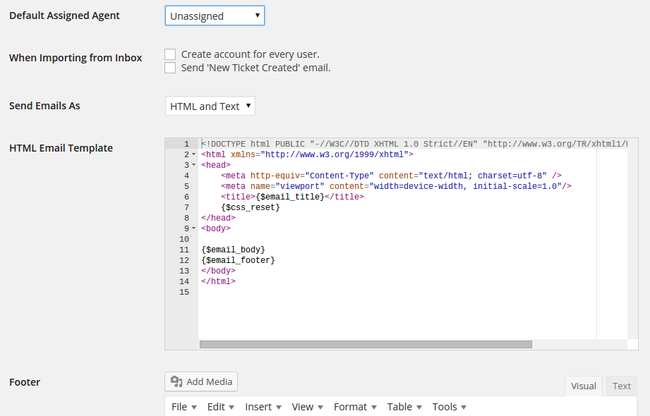 Other Config fields include tools for selecting text or HTML emails, modifying the code in the HTML email and creating a standard footer for items like contact information. The HTML code is obviously no good for beginners, but I find this rather handy for those who want the ultimate customization.
The incoming mail configuration has a wonderful tool for immediately linking your Gmail account. If you aren't using Gmail, the process stinks, since it requires you to configure the emails with your IMAP or POP3 credentials, and anyone who has experience with this knows that it never quite works the way you want it to.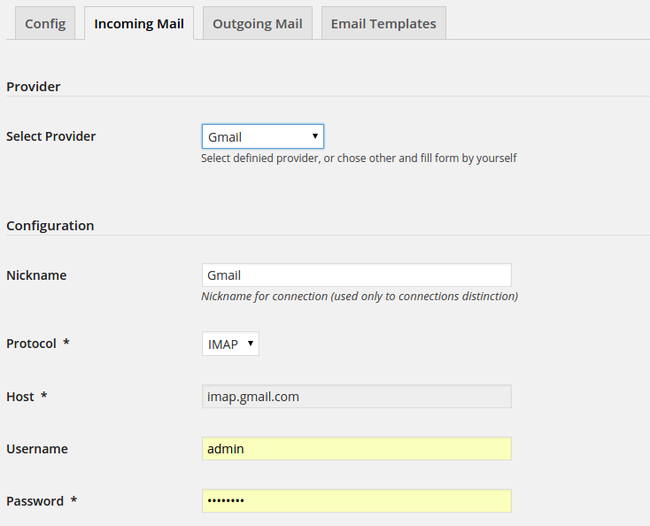 Regardless, Gmail works just fine, and you should, in theory, be able to configure other email accounts. The outgoing mail configuration only requires you to punch in an email address and From Name, so that works well.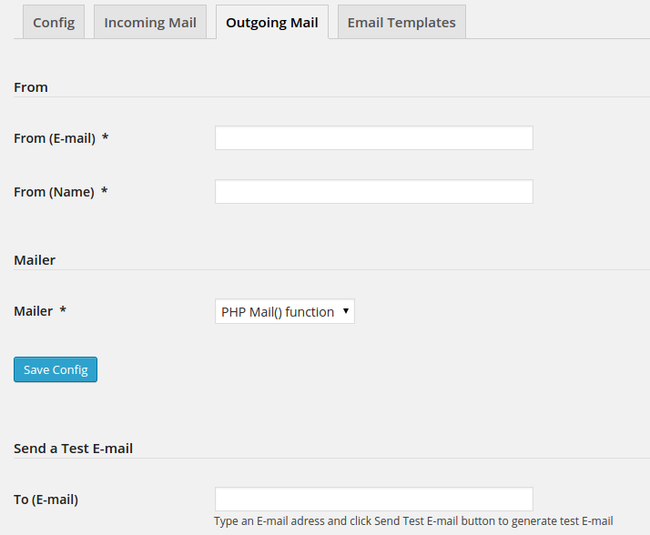 Email Templates Are Ideal for a Speedy Design Process
The email templates are one of the best areas in the WPHelpDesk system, since the interface is extremely simple, and it only requires an initial setup. After that, you can check back in for changes on occasion, but you shouldn't have to worry about it in the future.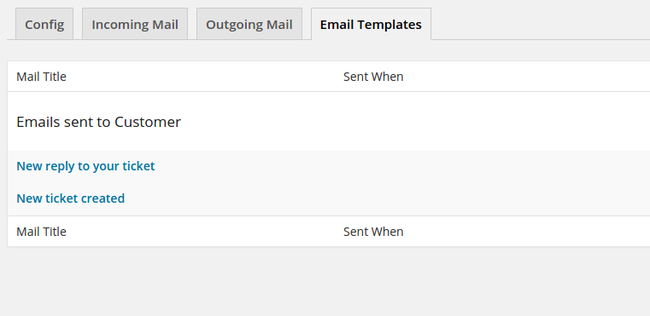 Two templates are included in the WPHelpDesk system. One is for new replies to a customer's ticket, and the other is a notification for when a new ticket is created. Choose who you want the email to come from, feel free to BCC someone on the email and even select between an HTML or plain text email. Both of the templates look rather similar, but you can go in there and design whatever you want.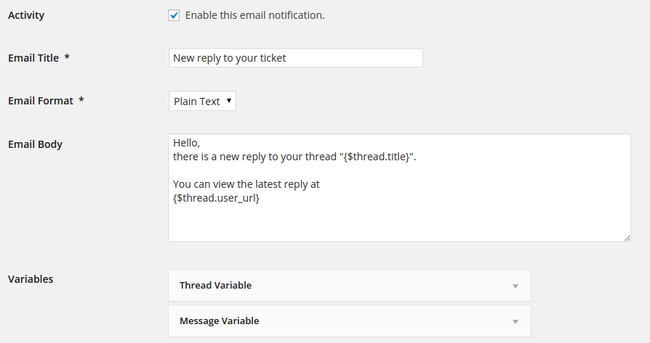 Once again, if you plan on creating a simple email, it's a quick and painless process for anyone. However, if you want a stylish email with graphics, links and HTML stylings, the beginners out there are most likely out of luck. The plugin does not include any professionally designed templates to choose from, and it's not a drag and drop editor for helping out even the least experienced webmasters.
Customization and Shortcodes
The WPHelpDesk interface works similar to a forum, in that customers submit questions on the frontend and other people can reply and view the discussion, further creating somewhat of a community and revealing questions and solutions to everyone and not just a single person.
How does a customer submit a ticket to your team? This is one of the areas I like most about WPHelpDesk, because it comes with a series of shortcodes for copying and pasting them anywhere on your website. For example, a Submit Ticket shortcode can be placed on your homepage, then the customers see a nice little form for typing in their message and submitting it to your team.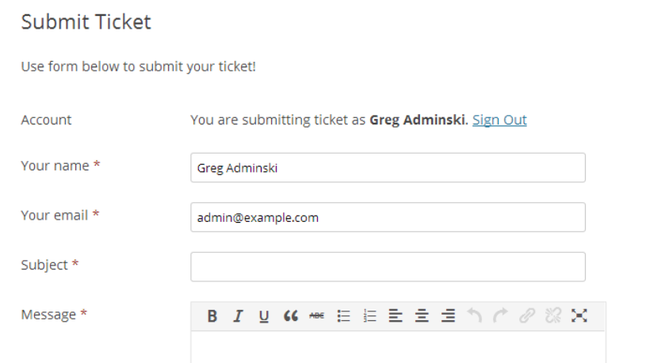 Another shortcode is available for displaying a list of all the tickets that have been submitted through the system, allowing for quick viewing and searching on your frontend. Not to mention, the plugin provides the capability to integrate with other form plugins like Gravity Forms.
Custom fields present a nice feature for streamlining the support process. For example, you can have customers choose which departments they want to send a ticket to or even specify what their problem is all about.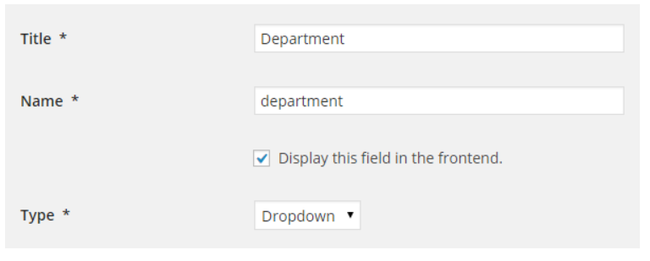 Accept and Reply to Tickets with Ease
All of the tickets that come into the plugin are displayed in a clean list on the WordPress dashboard. Each of these "posts" can be converted into an official ticket, logged and even transferred to different people on your team for personalized support.

Replying to tickets is nothing more than a simple module in the dashboard. You select the ticket and punch in your reply. The one thing I would like to see is the ability to reply to the tickets with mobile devices, but I guess you could login to WordPress from your device if needed.
Strong Support from the Folks at WPHelpDesk
What about support for you? When you buy the WPHelpDesk plugin you receive priority support. Not to mention, the one year of regular updates keeps your system fresh.  The WPHelpDesk team offers a detailed document with all the troubleshooting and setup tips you need.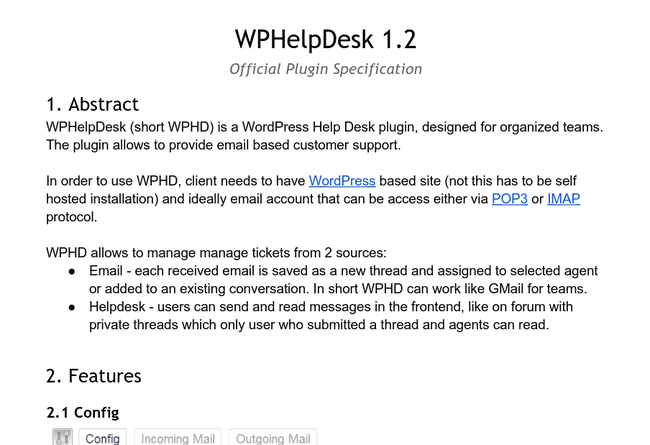 You can also send the company an email, which receives a reply within 24 hours. I also enjoy the company blog, which highlights recent releases, tips and thoughts on upcoming features.
Conclusion
Handling tickets and sending out automated messages is quite easy with the WPHelpDesk plugin. Even beginners can create an email queue within a few minutes, but remember that beginner-friendly design elements are limited if you plan on going further than the standard plain text email.
Regardless, WPHelpDesk is a solid choice for all companies with dedicated support teams. The one-time price makes it easier on your wallet, since you never have to worry about monthly fees. That said, leave us a comment in the section below if you have any questions about this WPHelpDesk plugin review.