Despite the decision to remove post formats from the WordPress core for version 3.6, this popular feature of WP will still be available as a plugin. This is similar to the way the link manager was treated in the release of version 3.5.
This means that if you've yet to embrace post formats and are curious to know more about them, you needn't worry as they will still be available for the foreseeable future for self-hosted WordPress users.
What are Post Formats?
If you are using a theme that supports post formats, it is possible to change the way a post is formatted or displayed, depending on which format is chosen at the time of publishing.
On the 'edit post' page, there is the option to select a post format when working on a post. At the moment these options can be found in a rather discrete menu box that you would be forgiven for having not noticed, or at least not taking much interest in.
To find out more about what type of content the options have been designed for, please visit the Codex Post Formats page.
Post formats can allow your WordPress blog to mimic the features found on popular social networks such as the status updates of Facebook, the image posting of sites like Tumblr, and the format of video pages on YouTube.
For example, some post formats, such as the quote and status options, do away with displaying the traditional blog post title. This means the quote itself, or the status, which can be used for doing a Facebook-style status update, is the only text from the post shown on the page.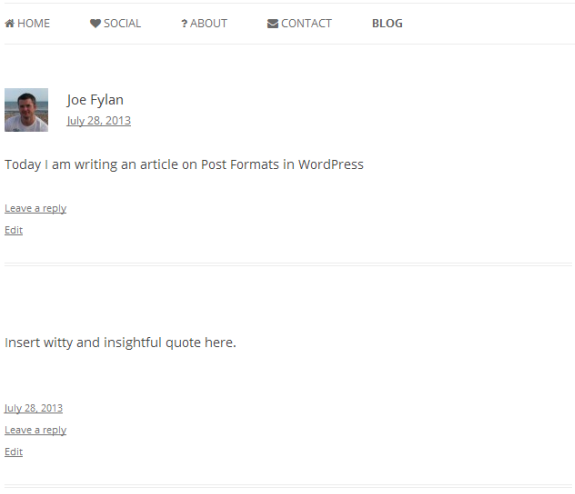 In future versions of WordPress, the post formats options are expected to be given more prominence and moved front and center on the 'edit post' page. This indicates that despite their removal from the WordPress core, their use is being encouraged and promoted from up on high.
Depending on your choice of WordPress theme, and the post format you select when creating a post, your content will be displayed to your readers in a range of different formats. These formats have been designed to display that content in the most appropriate way.
Examples of Creative uses of Post Formats
While the current default WordPress theme twenty twelve does support post formats and changes things slightly for each of the different formats available, it's not the best example of a creative use for this WordPress feature.
Here are some examples of post formats being used in different ways: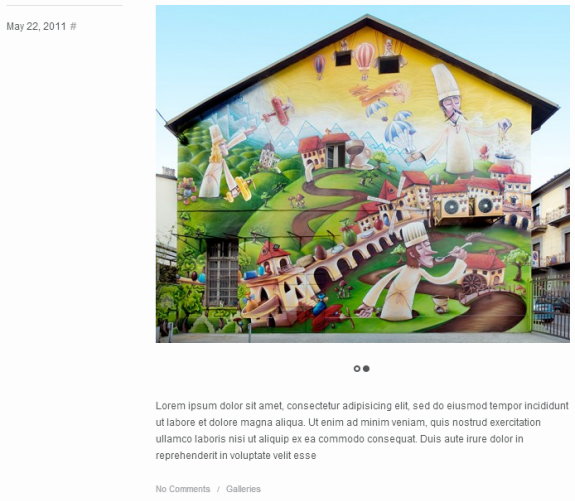 Image format from Garnish Theme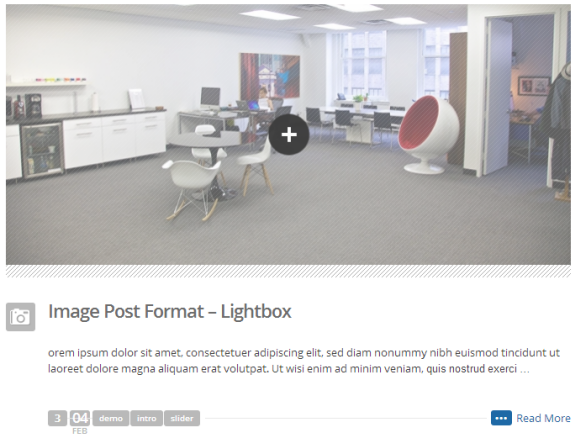 Image format from Lotus Theme

Audio format from Garnish Theme

Link format from Angular Theme

Link format from Lotus Theme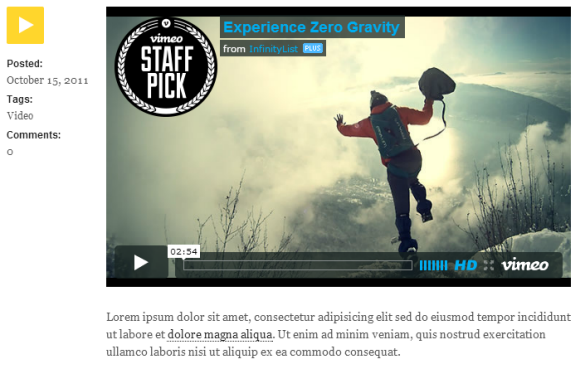 Video format from Scope Theme

Quote format from Propulsion Theme
Post Formats for Theme Designers
If you are a theme designer, now has never been a better time to start including support for post formats. Users are likely to begin expecting support for post formats in the themes they use. This is due to the enhanced visibility of this feature, for those who install the plugin at least, where the buttons will be displayed prominently above the post editor.
With a lot of commercial WordPress themes out there not doing much with post formats at the moment, getting on board with the his feature and doing something exciting with them could be a great way to help your designs stand out from the crowd.
Plugins for Working with Post Formats
While most of the work done with post formats is done at theme level, there are a couple of plugins out there for making life easier when working with this feature.
Set Aside
Although this plugin hasn't been updated for some time, it does provide a service which might be useful to some. It allows you to change the post format for all posts in a particular category. This is useful if you switch from a theme that supports post formats from one which does not, or vice versa. With this plugin you can quickly go back to the default post format or change to a different one without having to edit the posts individually.
Find out more about this plugin
WP Post Formats
Another plugin that hasn't been updated in a while, WP Post Formats allows you to edit the way your post formats have been designed. This makes it easy to modify the existing post formats and those included in the theme you are using.
With this post format plugin for WordPress you can easily add or remove elements to the post formats including things like the title and where it is positioned, post thumbnails the author name, and many more. Having the ability to do this is an ideal way to get the look you want for your posts.
Find out more about this plugin
Conclusion
As you can see, post formats are here to stay. They are a great way to help the different types of content you post on your WordPress site be presented in the best possible way.
Hopefully with their increased attention, more and more theme designers will continue to do interesting and exciting things with them to further push forward the number of ways WordPress can be used to display a range of different types of content.
If you've seen any good examples of post formats in action please post a comment below.