With WordPress anyone can build a website — quite literally. The platform is beginner-friendly, powerful and makes the process really easy.
However, building a website and building a successful website are very different things. While anyone can now do the first part, not everyone is up for part two.
What is a successful website?
Simply put, a website that achieves it's goal, be it generating traffic, profits, newsletter sign ups or awareness.
Yet, the more important question is how do you arrive there? How do you grow from simple website to online success?
One discipline that is obsessed with this question is growth hacking.
Growth hacking has allowed a number of well-known companies and startups to reach high levels of success, among them Twitter, Dropbox and Airbnb.
If it works for them, why not for you and your website?
That's exactly what this blog post is about. Below you will learn what growth hacking is, how growth hacking tactics can be applied to websites and the tools that WordPress puts at our disposal to do so.
Ready to dive in? Then let's go.
What Exactly is Growth Hacking?
On the most basic level growth hacking describes a marketing approach that uses innovative techniques in order to achieve sustainable and scalable growth, mostly for web entities.
The term growth hacker was first coined by Sean Ellis in 2010. By then, he had already achieved incredible growth results for a number of Internet companies, among them Dropbox.
In the very same article Ellis also describes the characteristics and skills that make someone a growth hacker.
Growth Hackers Are Focused on Growth (Surprise!)
A growth hacker is a person whose true north is growth. Everything they do is scrutinized by its potential impact on scalable growth. – Sean Ellis
Growth hacking has only one success metric: growth. All it cares about is moving the needle forward, be it in terms of users, revenue or whatever your metric might be.
Every decision, strategy, tactic, method and tool only is chosen only with this objective in mind — to create scalable and repeatable growth.
What's interesting, however, is that growth hacking has no constraints on how this goal is achieved. Business development and number crunching are just as much part of the growth hacking toolbox as viral videos and guerilla marketing.
All that matters is whether the numbers are moving in the right direction. In that, growth hacking differs from classic marketing which has a limited set of tools and communication channels.
Growth Hacking is Often User and Product Driven
Another characteristic of this discipline is that there is no distinct line between product and marketing.
In fact, the product is the first step of marketing. Without something worthwhile to sell, growth hacking essentially falls flat. The discipline is all about distribution and getting things into the hands of users.
To do so, the product often becomes part of the marketing machine. Instead of relying on buying ad space and the likes, growth hackers try to help the merchandise market itself and be part of its own distribution.
Great examples for this are Dropbox' offer of free additional space for user who successfully invite others to join or Airbnb's offer to post ads on Craigslist with the click of a button.
The latter allowed the company to mine Craiglist's user base (which was much larger than their own at the time) and helped their own users get more exposure for their ads. Win win.
Growth Hackers Have a Diverse Set of Skills
Because methods for growing are so non-linear, growth hackers need to have a wide skill set and diverse range of knowledge.
Their job involves working across multiple disciplines such as data analysis, product development and marketing.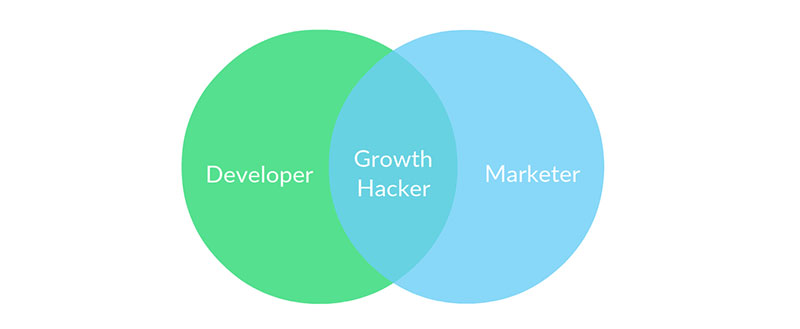 For that reason, many people involved in this discipline are hybrids between coder and marketer. They use creativity, analytical thinking, social metrics and technology alike, run A/B tests and use landing pages and other non-traditional marketing tools to achieve their goal.
For that reason, growth hacking is also not a cookie cutter recipe but a process that will be different for every product.
Hackers by Nature
The more attentive among you will have noticed the word "hacking" in growth hacking.
It originates from the fact that growth hackers are not concerned with following norms or an established process but instead try to figure out how to "hack the system" and short circuit modern communication channels.
Since this profession is coming from the world of startups, much of their work is also concentrated on low cost and innovation.
Plus, many growth hackers are also coders, though this isn't strictly necessary.
Growth Hacking For Websites
Now that we know more about the nature of growth hacking and what growth hackers do, how can we apply this to our websites?
If you've been paying attention, you will have noticed that growth hacking comes down to a few principles:
Focus on Data — Knowing what works, tracking results to uncover relationships and causation in order to make informed decisions, make success repeatable and allow predictions about the future.
Emphasis on Creativity and Experimentation — Pushing the envelope and trying out new things, being curious and thinking outside the box.
Product Driven — Concentrating on building something valuable first before getting it into the hands of people, making the product (i.e. website) part of the distribution process.
Interdisciplinary Thinking — Not being constrained by one communication channel, having a multi-faceted approach to marketing, being a jack of many trades (like many website owners already are).
Concentrated on Low Cost — Using innovation and creativity to make up for budget, employing existing tools in non-standard ways to create traction.
To apply these principles to our websites, we have a number of tools at our disposal including (but not limited to):
Content management systems
Web design
Content marketing
SEO
Social media
Email marketing
A/B testing
Viral marketing
As you can see, these are things that bloggers and website owners already make use of on a regular basis. It's also the reason why WordPress is the perfect tool for aspiring growth hackers.
Why WordPress is the Perfect Growth Hacking Tool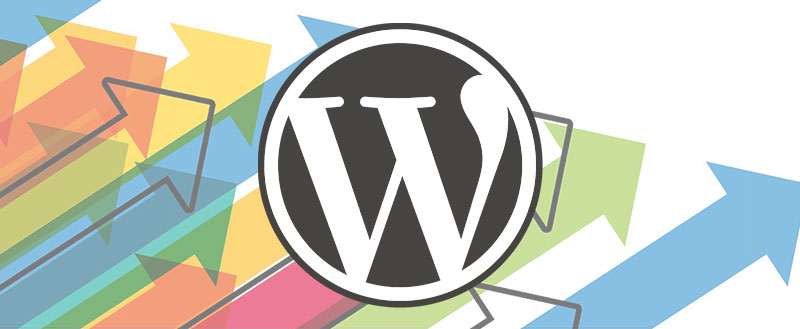 The WordPress platform is a great choice for those wanting to growth hack their way to the top.
First of all, it offers lots of control and flexibility. In fact, one of the main reasons for the success of WordPress is that it enables you to build basically any website you want, be it a blog, forum, online shop or something else.
In addition to that, WordPress provides plenty of opportunities for experimentation and hacking.
You can run different marketing campaigns, A/B test the crap out of every site element and modify almost anything you want to increase conversions, improve the user experience and more.
Plus, WordPress is very search engine friendly out of the box and has lots of additional options in that area. No wonder Google loves WordPress.
That extends to mobile search, which has surpassed that of desktop machines in many places of the world. Masses of available responsive themes allow you to take advantage of this traffic source.
Last but not least, thousands of plugins let you optimize and tweak your site in many different ways, making growth hacking and WordPress a match made in heaven.
To make it easier to start hacking your own site, from here on out I will list a number of WordPress plugins that are especially suitable for doing so.
WordPress Growth Hacking Plugins
Below you will find some concrete plugin ideas that will help you integrate growth hacking principles into your WordPress website.
All-in-One Solutions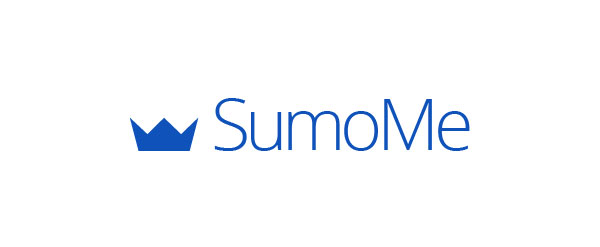 While all plugins on this list are helpful, one of them deserves special mention as an almost complete growth hacking solution.
The plugin suite SumoMe contains tools for lead generation, sharing, analytics and more all rolled into one attractive package.
While its basic functionality is free, you will need to purchase a premium license for more advanced things like A/B testing. Still, highly recommended!
You can find a detailed article on SumoMe here.
Analytics
As mentioned earlier, growth hacking relies heavily on data. Therefore, the first order of the day is to make sure you collect relevant information. Plugin options for that include:
Social Media
Facebook, Twitter, Pinterest, LinkedIn and other platforms have millions of users, making social media an important piece of your growth hacking strategy, especially if you plan on producing viral content.
The following plugins will help you make that happen:
Jetpack Sharing — I already mentioned Jetpack further above and Sharing is another one of its modules. The plugin enables you to easily add social sharing buttons for many platforms to your site. You can also add your own networks as well as customize button location and style.
Ultimate Social Media Icons — Another solution for adding sharing buttons that comes with 16 different designs and loads of options. Customize button function, turn them sticky so they stay on screen, use pop-ups and more.
Image Sharer — Part of the aforementioned SumoMe plugin suite. Image Sharer is specially made for sharing visuals on different platforms. When activated, share buttons will appear on images when visitors hover over them. Good stuff!
A/B Testing
While analytics can give you data on the status quo, they can not provide you with alternatives that might work better. That's where A/B testing comes in.
By trying different variants of website elements you can improve conversions and other growth markers. WordPress has several solutions to offer for this.
Nelio A/B Testing — One of the most well-known conversion optimization plugins. Test anything on your site from headlines to widgets. Includes heatmaps and is compatible with WooCommerce. What more do you want?
Simple Page Tester — If you just want to try out different page versions, this plugin has got your back. Run split tests for pages without changing any code and quickly figure out which one is performing better.
Title Experiments Free — Finally, if all you want to optimize are your post titles, this is the plugin for you. Put in multiple titles for the same post, see which one gets the most clicks, pick the winner and rest easy knowing you went with the best possible option.
List Building
You have probably heard the saying "the money is in the list". That's because email remains one of the most important online marketing channels and list building is one of the best ways to grow your website. These plugins will help you do so:
Those are my personal picks but you can find more mailing list plugins right here on WPKube.
Content Promotion
In our day and age, content creation one of the most important factors for marketing success. Few growth hackers will be able to do without it.
However, content promotion just as important and these plugins make it a little easier:
SEO
As I said before, WordPress is very search engine friendly from the get-go. However, that doesn't mean there isn't room for improvement and the following plugins will help your site play nice with Google:
Yoast SEO — The SEO solution by team Yoast is probably the plugin I recommend most often. For good reason. Not only does it automatically optimize many aspects of your site for search engines, it also offers a lot of help for creating optimized content. Also check the alternative All-in-One SEO Pack.
Broken Link Checker — Having dead links on your site is bad for your bounce rate and user experience. This plugin helps you find them. Be careful though, some people complain about performance problems so maybe only activate the plugin once in a while and not continuously.
Caching — Caching is important for site speed and thus user experience and search rankings. The most popular free solutions in this area are W3 Total Cache and WP Super Cache. Both have their pros and cons so you need to decide which one is right for you. A popular premium solution is WP Rocket (our review).
User Engagement
Site growth is all about users and keeping them engaged to keep them around. Here are the tools to do so:
Postmatic — One of my favorite plugins of the last year. It sends blog comments directly to your email inbox and lets you answer from there, too. That makes staying on top of the discussion much easier and eliminates many signup steps.
Contact Form 7 — Of course, giving visitors a way to get in contact with you directly is one of the most important ways to engage with them. Luckily, Contact Form 7 makes creating contact forms a breeze and is free, too.
E-Commerce
Your website itself does not have to be your main product. Sometimes it might just be a vehicle to sling your actual merchandise.
In order to growth hack your profits, the following e-commerce solutions will be your best friends:
WooCommerce — The most popular WordPress solution for building online shops and for good reason. Stable, sophisticated, and free! At least for the basic functionality. Some functions require paid addons. WooCommerce is also highly supported by other plugins.
Easy Digital Downloads — If you are selling virtual products only, this is the plugin for you. The people behind it are known for their quality and the solution comes with multiple payment gateways out of the box. Again, the basic version is free with premium addons available.
Ready to Growth Hack Your WordPress Website?
Growth hacking is an established discipline for growing companies and startups. Its sole purpose is to move the needle forward and it is characterized by a certain mindset, creativity, the use of many disciplines and a focus on both product and users.
For site owners, the principles of growth hacking are also applicable for building successful websites and WordPress is the perfect companion platform to do so.
Its flexibility, the ability to modify any aspect of the website and the abundance of available tools make it a prime candidate for growth hacking traffic and users.
The plugins listed in this article are only the beginning and there are more tools out there. If you have any others to add, please feel free to do so in the comments below.
Aside from that, I wish you all the best in growing your site.
How do you apply growth hacking in WordPress sites? Do you have additional resources or plugins to add? Let us know in the comment section!