Video games are addicting.
The typical American gamer spends an average of 13 hours per week. With 168 hours in a week, 56 spent sleeping, 11.6% of a gamers hours wake are used playing games.
What if you could leverage the principles of games and apply them to your blog?

Gamification, when used correctly, can do that, and more. The key to using gamification marketing correctly is to know the motivation behind your visitors actions. By knowing what drives and desires your users have, you can provide what they are looking for to inspire them to engage further with your blog.
Top Gamification Plugins
By knowing what drives and desires your users have, you can provide what they are looking for to inspire them to engage further with your blog.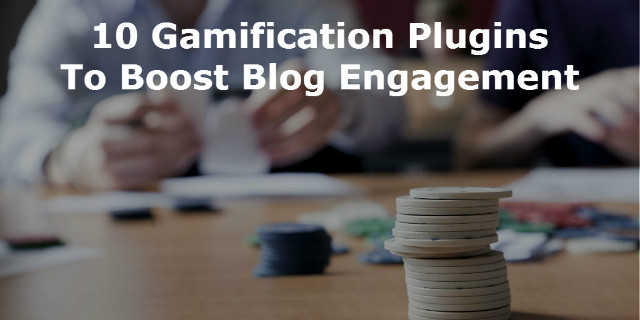 In order to understand this process, I will go over the four phases your visitors go through and suggest 10 WordPress plugins to help increase engagement on your site.
Discovery Phase
The Discovery Phase is essential, for it is the reason WHY people even want to start, or at least investigate a product or service. – Yukai Chou on The Discovery Phase
In the discovery phase, a new reader has just learned about your website. They have a strong curiosity and often heavily influenced by social cues from others.
They are wanting something of great meaning or purpose, and you can provide that to them with your blog. To help acquaint them with your site, consider using one of these three tools:
Sequential Tool Tips is a fairly straightforward plugin. By offering step-by-step instructions, a user can quickly navigate around your website at their convenience.
The up-side of this plugin is that it is not intrusive and moves very seamlessly throughout your website.
One downside is that when a tip goes below the screen, the scroll bar does not follow the tips.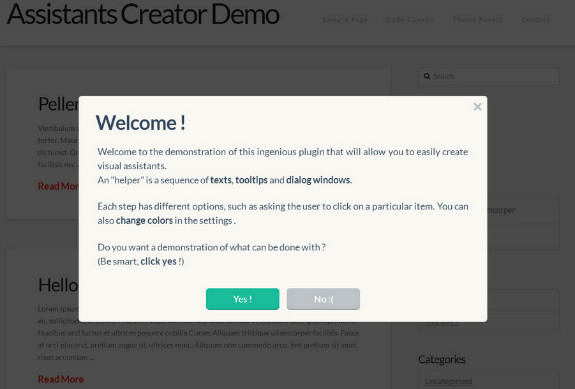 The WordPress Flat Visual Assistant does much of what I wish Sequential Tool Tips would do.
With this beautiful plug-in, the new visitor is given the option of exploring your site or not. As you input each step, the site dims aside from what you want your visitor to focus on.
Additionally, the site scrolls around to draw attention to things you may want the user to see below the fold.
Check out a preview here ($18)
Ever wanted your own personal assistant without paying them an hourly fee? With the WordPress A.I. Assistant, you can for just $24!
Though normally geared towards an eCommerce store, your personal assistant can help your new user get answers to their questions in seconds, all linking to your articles.
Imagine this: A new user comes to your site, wanting to know the best Pinterest tools and tips.
The assistant asks, "What would you like to learn today?" In your menu, they see "social media" and select that. Your assistant lists out all social sites, and they choose "Pinterest." After selecting Pinterest, your assistant takes them to the article "Best Pinterest Tools and Tips from 10 Experts." See the potential?
Check out a preview here ($24)
Onboarding
Onboarding starts as soon as the user signs up, and ends when the users have mastered the fundamental skills needed to play the game. ~Yukai Chou on Onboarding
In the second stage of gamification, the user has a high desire to develop their skills and feel empowered to reach their first "win."
Have you ever come to a new site and several spent hours reading non-stop? It's because the blog has given you the WordPress Resources to feel smart.
In order to keep giving them great information and feel smart, you will want to get their email.
4. Create Opt-In Boxes With LeadPages and Boost Conversions 28%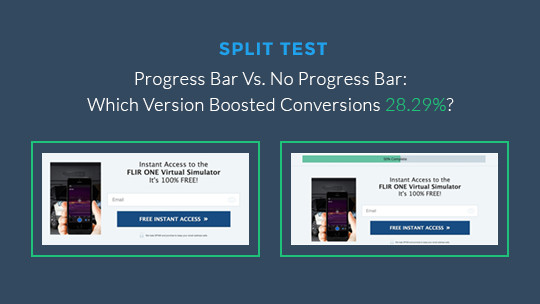 What better way to collect emails that than through a gamified lead box?
LeadPages has become one of the most popular lead generation tools on the Internet. One way they have gamified their tool is by including a progress bar. By doing so, they were able to increase leads by 28%.
Check out a preview here (Starting at $25/mo)
If you want to give your readers an incentive to connect you to a new audience, use giveaways. Seriously, who doesn't love free goodies?
By offering a prize (or prizes) that is highly relevant and valuable to your audience, you can Grow Your Email List 3,418%.
Giveaways are not often associated with gamification, but is definitely part of the gamification marketer's tool belt.
Check out a preview here (30% off coupon)
Scaffolding
Scaffolding starts once a player has learned the basic tools and rules to play the game and has achieved the 'First Major Win-State.' ~Yukai Chou on Scaffolding
Now your visitors have become very familiar with your website. Social triggers no longer are as much of a factor as they trust you more as a person.
As these users keep coming back to your site, you need to be giving them a reason to do so.
6. Challenge Your Readers and Increase Social Shares With WP Pro Quiz
As a user becomes more-and-more familiar with your website, one of the best things you can do is test their knowledge.
According to KISSmetrics, quizzes are the most engaging type of content on Facebook. In fact, Buzzfeed has had several quizzes rack up over 7 figures in social shares.
Why is this? It feeds our ego and strengthens our identity. Upon completion of the quiz, there is a feeling of victory, giving us a reason to share it on the web. In sharing the quiz, it provides social proof of our accomplishment while simultaneously challenging others to compete.
Awesome, no?
Check out the full plugin functionality list here (Free)
When your visitors have completed something challenging, it is the perfect time to get them to share!
With the Multi Events Social Pop plugin, you have access to 7 different ways for a social popup to open in your browser:
OnPageLoad popup appears once your user opens a page in their browser.
OnClickExternalLink popup shows when a user clicks any external link on your article.
OnCopyContent popup is a neat feature that pops up when a user copies any part of your page into the clipboard.
OnScrollDown popup can be set so that a social share box appears when a user scrolls down to a particular point in your article.
OnIdle popup appears after a set period of inactivity on your website.
OnContextMenu popup can be used whenever the visitor right clicks with their mouse button.
OnClick popup appears once user clicks on a link with a specific HTML attribute.
Check out a preview here ($17)
If your content includes videos, the GoViral Facebook Share is a great plugin to use instead. This tool automatically prompts visitors to Top Social Media plugins after a YouTube video finishes playing.
Although it comes at a higher price tag, it can be well worth the investment if your site is driven by receiving more eyeballs. They claim to have helped some site owners earn $10,000/day on ad revenue alone.
Check out a preview here ($369)
Mastery (AKA "The Endgame")
The Endgame is all about how you retain your veterans and obtain more longevity in your experience. ~Yukai Chou on the Endgame
In the final phase of gamification, your site's visitors believe they have done "everything." They begin to ask themselves why they should stick around vs. finding something new and exciting on another site.
To help keep them around, you will want to provide these veterans unlimited creativity, unpredictability to pique their curiosity, and giving them a sense of ownership.
9. Create Your Personal Community With Spot.im
As humans, we desire to belong and be part of something bigger than ourselves. Why not give your visitors that feeling on your website?
One way you can do this is by using Spot.im. Through this app, you can have continuous conversations with your tribe, well after the initial blog comments end.
Check out a preview here (Free)
Another way to give your users a purpose for coming back is by creating a mentorship program. Experienced veterans can help teach new visitors, giving them a way to give back while helping the new user acquaint more with your site.
The WP Meeting Virtual Room plugin can provide just the opportunity to do this. With this tool, you can create your own private meeting with up to 8 other users.
This can be very useful to find out what your audience wants to read or even buy from you. Another option is for this to become an exclusive, paid membership area.
As a cool bonus, because your members create their own avatar and able to give you input, they begin to have a greater sense of ownership in your blog.
Check out a preview here ($24)
Over to you
As I mentioned before, gamification is understanding the visitors desires. By giving them what they want, you can increase blog engagement.
Remember: These are tools to help you become more efficient and productive. In the end, you still need to be present to fully engage your audience. You may also want to see our article on best WordPress plugins (as voted by 40 authority bloggers).
What plugins do you use to engage readers on your blog? After leaving me a comment below, be sure to share this article with another WordPress blogger you know who would benefit from increasing their blog engagement.
Image Credit