Quizzes are fun. They are trendy. And they are where it's at if you are looking to get more traffic, social shares, and email subscribers.
And, the right quiz may even make you famous.
Have you ever wondered why you are so familiar with the website Buzzfeed?
I mean, chances are you are not googling "Buzzfeed" every morning to get your daily dose of viral quizzes. And yet, you know exactly what I am talking about when I mention their name. In fact, you may even recall the last quiz you took that was created by Buzzfeed and what your (often hilarious) results were.
Though seemingly trivial in this digital world of expert information, the truth is quizzes like the ones Buzzfeed creates daily are shaking up the world of social media like crazy. And as a result, they are seeing a boom in traffic, increased sales, and have even been known to charge double for their coveted advertisements spots because they are so dang popular.  And why are they so popular?
That's simple. They helped you determine which pizza topping you are.
If you are interested in bringing a little Buzzfeed flair to your WordPress website, you are in the right place. Today I am going to show you exactly how to create and launch your own interactive and engaging quiz using the premium plugin Quiz Cat.
What is Quiz Cat?
Quiz Cat is a premium WordPress plugin that helps you take your content out of the crowd and make it stand out.
Since everyone is on the blogging bandwagon these days, it can be difficult to establish yourself as unique. However, with a plugin like Quiz Cat you can easily set yourself apart.
Here are some of the fun things Quiz Cat lets you do:
Generate exciting tests that assess a person's knowledge
Create an engaging personality test that has no right or wrong answers
Boost social shares by offering your readers to share on Facebook, Twitter, and Pinterest with one-click
Build a bigger email list by requiring an email to see results
Integrate with email providers MailChimp, AWeber, GetResponse, and Zapier and segment your quiz takers for better audience targeting
Track user activity and results to make better quizzes
Export quiz data with a single click
Support for two marketing automation providers – Drip & ActiveCampaign
In the end, this easy to use plugin lets you post creative content that is entertaining, informative, exciting, and best of all engaging. It is in this way that your website will become quickly known and experience more traffic, social shares, and leads.
How to Use the Quiz Cat Plugin: A Step-by-Step Guide
Step 1: Installation and Activation
After purchasing the Quiz Cat plugin, simply install and activate the plugin via your WordPress dashboard. Start by navigating to Plugins > Add New. Then upload your Quiz Cat zip file via the Upload Plugin button.  Lastly, select Install Now and activate the plugin.
You will notice that there is a newly created dashboard menu item labeled Quiz Cat once these steps are complete.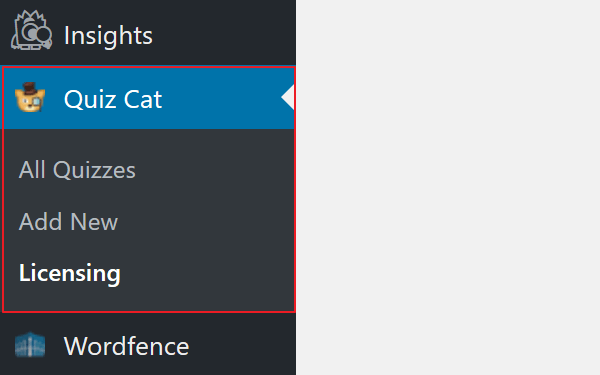 Next, navigate to Licensing to finish the activation process. You should receive a License Key via email once you purchase Quiz Cat that you can now cut and paste into the appropriate section. Once you enter the License Key, click on Activate License.

If your activation is successful, you will notice a green box indicating the license is now Active.
Step 2: Add a New Quiz
Underneath the Quiz Cat dashboard menu, you will notice two more items in addition to the Licensing one – All Quizzes and Add New.
 Start by clicking on Add New to begin creating a quiz for your website.
Here you will see two quiz types to choose from:
Test. Test a visitor's knowledge making sure there is one correct answer per question.
Personality. Determine a person's personality or preference by leaving no right or wrong answers.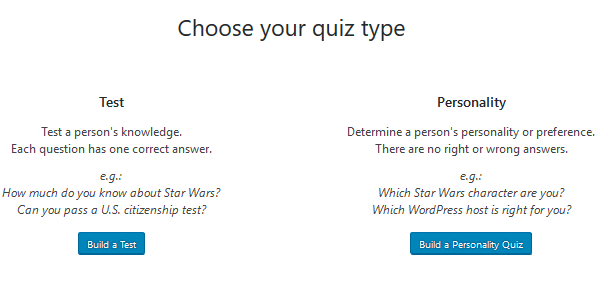 Select the one you would like to create and click on the appropriate button.
Step 3: Create the Quiz for Visitor's to Take
For my tutorial today, I will show you how to create a test quiz.
Once I click on the Build a Test button, I see the screen where all the fun begins.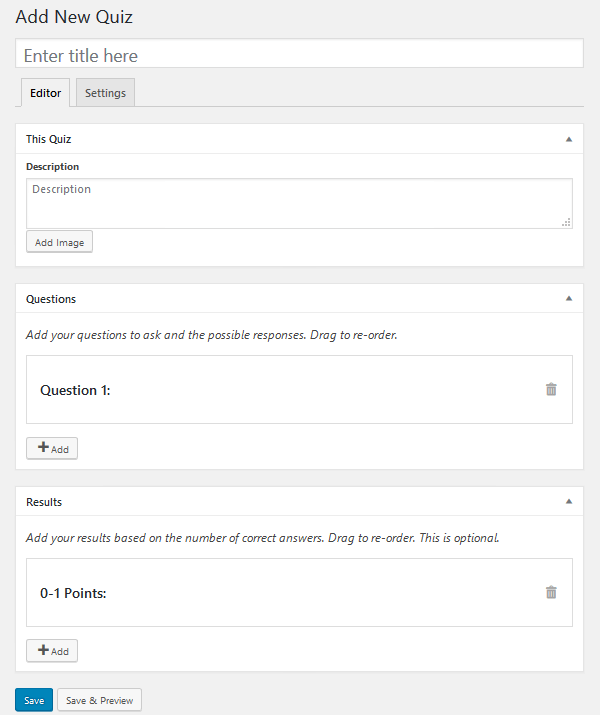 First, title your quiz. Make sure it is catchy and fun. The goal here is to get your site visitors to want to take your quiz. In addition, add any useful information related to your quiz in the Description section. You can also add an image if you want.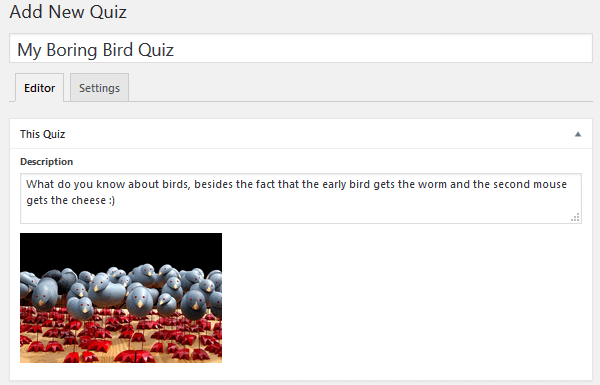 Next, you will create your quiz's individual questions. Here are some things the developers of Quiz Cat want you to know when it comes to creating a test quiz:
When creating questions, make at least one answer wrong
You can have up to 4 quiz answers
The "Correct Answer" is always created first
Quiz answers display in random order when on your website
You can create unlimited quiz questions
Add images to answers or even use images for answers
The first step is to pose a question for your readers to answer. Next, insert the "Correct" answer and add an image if you want to. Lastly, add up to 3 more answers that are incorrect and their corresponding images.

Step 4: Set Up Quiz Results
Quiz Cat offers website owners the ability to configure quiz results for their site visitors once the quiz has been completed. Again, the creators of this awesome plugin have some tips for you:
You can add a title, image, and description to each individual result
You can have as many results as you have questions
If you have less results than questions, Quiz Cat will create averages with point ranges for you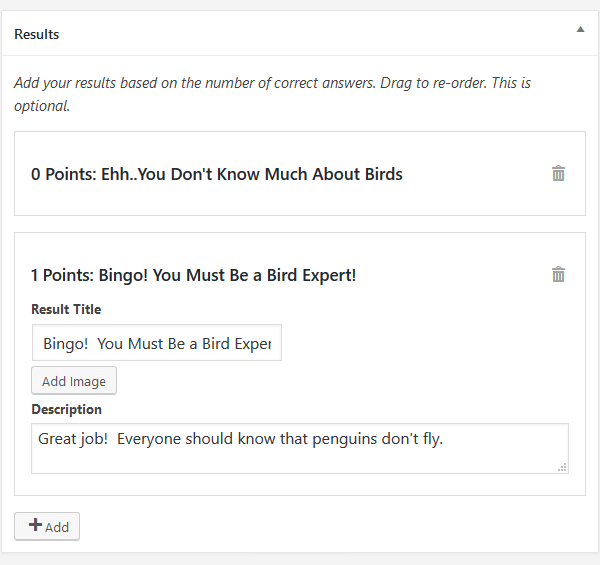 In the case of my boring bird quiz, I only has one question to answer thus there is only one point for getting it correct.
Before moving on to the next step, make sure you preview and save your quiz. This is what a preview of my quiz looks like when displayed on my website: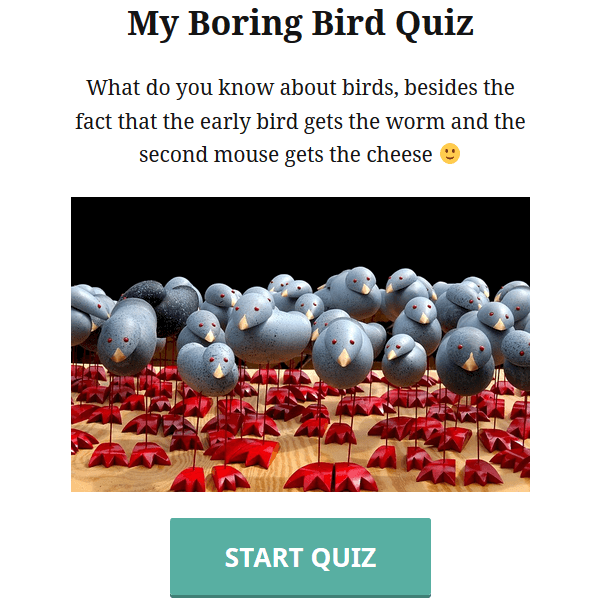 And this is what it look like when I select Start Quiz: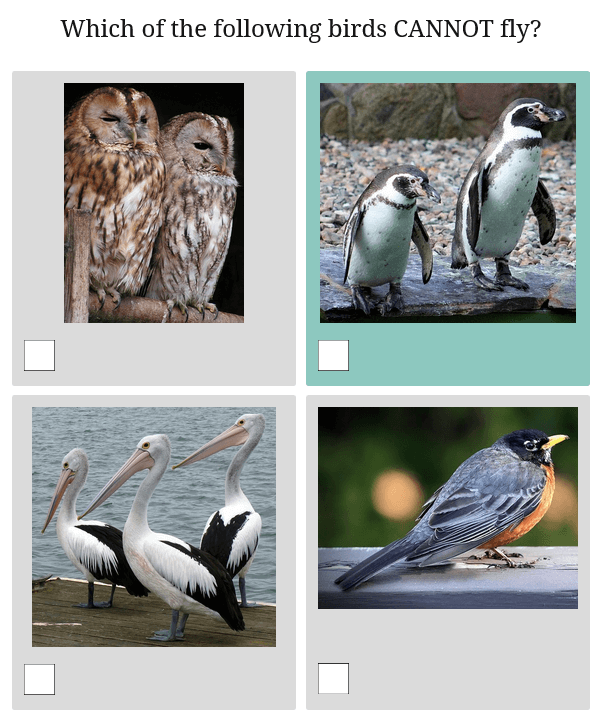 If I select the correct answer this is what I see: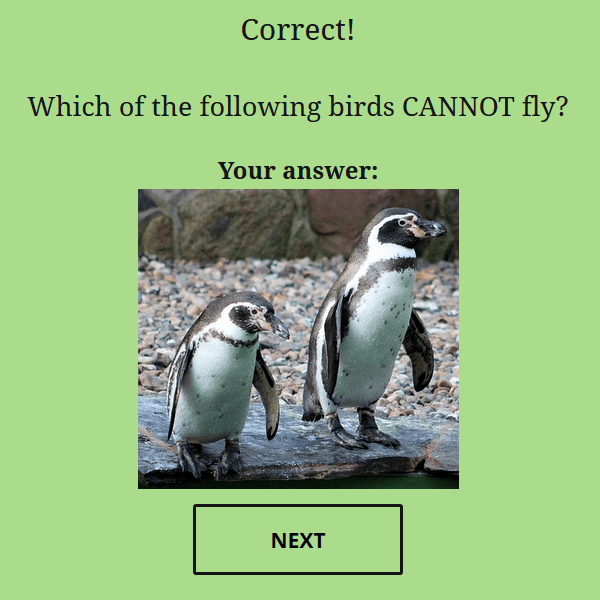 And when I click on Next these are my quiz results: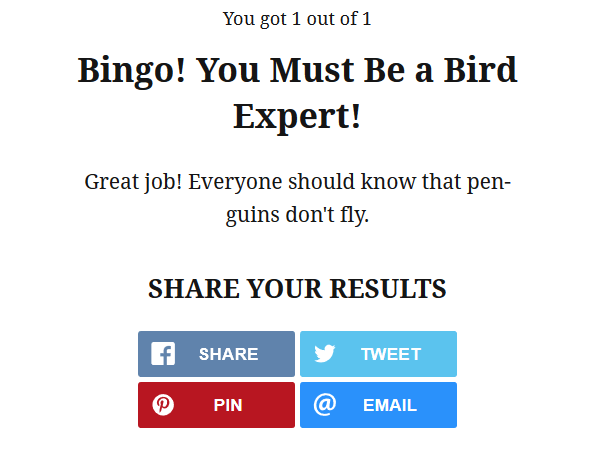 As you can see, Quiz Cat lets you add social share buttons. This encourages those taking your quiz to share it on their social media networks for others to see and try for themselves.
Step 5: Configure Your Quiz Settings
After you have created your (soon to be viral) quiz, it is time to configure the settings and display it on your website.
Start by navigating to the Settings section of the Quiz Cat plugin. Here you will see an area for general settings, social media sharing, and lead capturing.
In the first section, labeled Settings, not only will you access your quiz's shortcode, you can configure the following:
The placement of your quiz's correct answer
Whether to shuffle questions
If you want to show a Restart Quiz button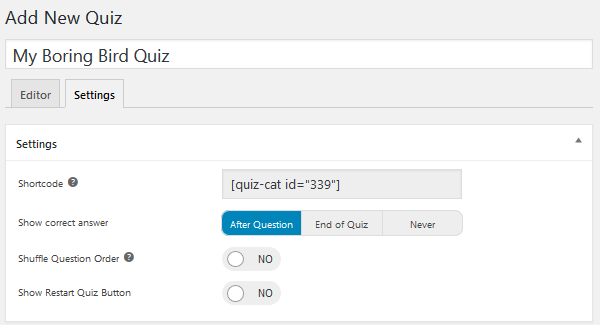 Next, decide whether to enable social sharing buttons and determine which networks to make available to your quiz takers.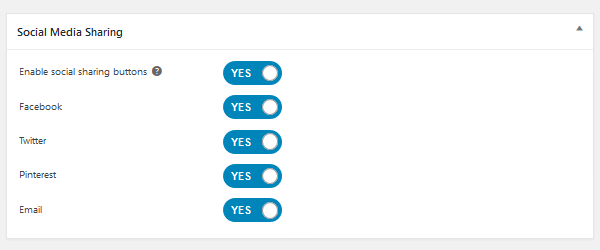 At the very end, there is also a section labeled Lead Capture where you can configure whether you would like to capture your site visitors' emails before allowing them to see their quiz results. This includes things such as:
Enabling lead capturing
Whether to collect display names
If you want a "Skip" link
Headline
Button text
Email provider
API Key for integrating email provider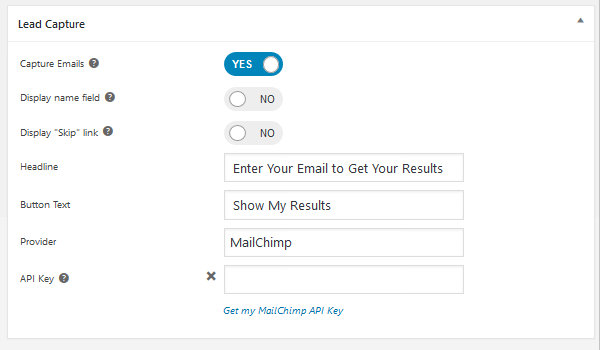 When all of your plugin's settings are configured, simply select Save and embed the shortcode inside any post or page on your WordPress website.
Step 6: Track Your Website's Quizzes
From the WordPress dashboard, navigate to Quiz Cat > All Quizzes to see every quiz you have created, their associated shortcodes, and tracking information such as quiz starts, optins, shares, and the date the quiz was published.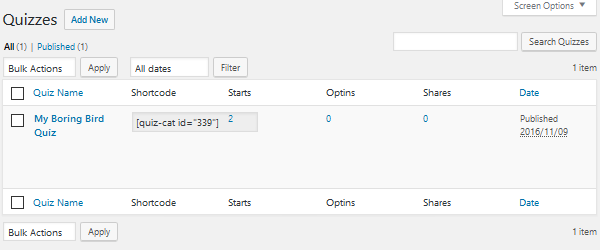 This unique feature allows you to analyze each quiz for effectiveness. This way you know which types of quizzes your site visitors are more apt to click on and complete, which kind encourage the most optins, and how often your quizzes are being shared.
In addition, Quiz Cat just released their newest plugin version that advances your ability to monitor user behavior significantly.  With this new feature, you can now track every answer to every question you present your site visitors.  This will work especially well if you conduct regular surveys to find out what your visitors want in terms of content, products, or services.
Quiz Cat Pricing
Quiz Cat comes in three different plans for your personal website needs:
Personal. Starting at $29, this plan is good for one website, includes email support, implements social share buttons, and allows you to create both test and personality quizzes.
Business. The middle plan, for $49, is good for up to three websites, offers everything the Personal plan does, and includes lead capturing ability, analytics and statistics, and the spreadsheet export (coming soon).
Elite. The highest priced plan, at $99, offers everything the Business plan does, though it is good for an unlimited number of websites.
Each price point is a one-time purchase and comes with 1 calendar year of updates and support. In addition, there is a 60-day money back guarantee for those who decide they no longer wish to use Quiz Cat.
Final Thoughts
In the end, I found Quiz Cat to be extremely easy to use. Everything is straightforward and the user interface is as friendly as can be. In addition, I love the fact that the quiz preview was so interactive. I was able to take my own quiz, answer how I wanted to, and ensure that it was just the way I wanted it.
If you are looking for a fun and unique way to boost site traffic, increase social shares across the board, capture more lead information, and just entertain your loyal visitors, I would recommend using the Quiz Cat plugin. You never know, Quiz Cat might lend you the helping hand needed to become the next viral blogger.
I hope you enjoyed the post. If you did, you may also want to read our post on best SEO tools and WordPress plugins for Maximum Visibility.
Have you ever used Quiz Cat to create an interactive test or personality quiz on your WordPress website? I would love to hear all about it in the comments below!