Putting data into WordPress manually can take up heaps of time. Back in my days as a Content Manager, I knew this only too well. I would spend hours at a time copying and pasting over product listings, uploading images and filling in meta data. It was a real headache and one of the reasons why I stopped that line of work ultimately.
Sure I could have written my own PHP script to import the files over, however I don't mind saying that I'm pretty rubbish at anything to do with code that goes beyond the average CSS. Plus making something like that is complex. It takes lots of knowledge and time – something I didn't really have then.
What I needed was a tool that could take the complexity of the situation and simplify it. Today I'm going to share with you a WordPress plugin that achieves this with ease. I'm just disappointed it wasn't around when I needed it most!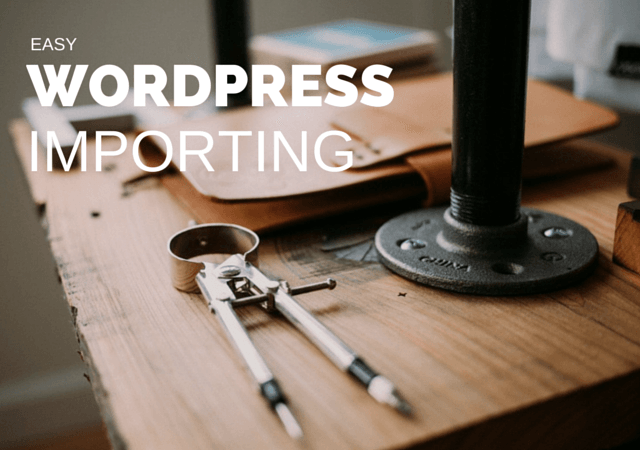 Read on to find out what the WP All Import plugin is, how it can make the process of uploading and organizing your data simpler and how you can save time by using it.
What Is WP All Import?
WP All Import is a plugin created by Soflyy, a team dedicated to creating great products that are simple, elegant, and which solve many common problems users face in their day-to-day use of WordPress.
Soflyy are focused on picking just a few things to work on but carrying out those tasks to the best of their ability. In their opinion too many organizations try their hands at too many things, and as a result do a poor job at all of them. Soflyy want to be different. They want to be the exact opposite of that.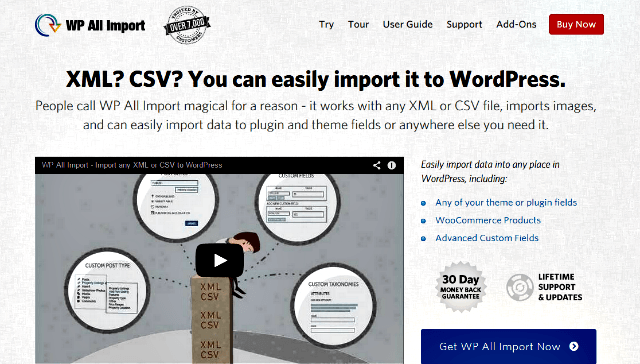 As well as WP All Import, Soflyy's other product is Prosociate, a simple WordPress plugin that makes it easy to earn commissions with Amazon's associate program. However today we're focusing on WP All Import, a plugin that allows you to import any XML and CSV file into WordPress with ease.
Instead of ending up with a mass of data, you then need to organize, WP All Import lets you sort each piece of data into just the right place inside WordPress. It can be as simple as loading a file into WP All Import, dragging and dropping the information from your file into the appropriate place within WordPress and hitting the import button.
Some other features you might find useful include:
Being able to import to any plugin or theme
Import images from anywhere
Perform automatic, schedule import updates
Import new data to existing content
API hooks and PHP execution for developers
There's also four different add-ons you can purchase for WP All Imports. These add further functionality to the existing plugin and support services like WooCommerce for importing product listings and other associated data. I'll dig a little deeper into these later. First, let's look at how to import your first data file.
How To Import An XML Or CSV File Using WP All Import
There are three different ways to import a file into WordPress using this plugin. You can upload a file from your hard drive, download a file from a URL, or use an existing file on your server.
For this tutorial I'll be using a file that's already on my hard drive. The file I'll be using is a simple XML file that contains blog post information. By the end of the tutorial, I will have used the WP All Import plugin to import and publish multiple blog posts onto my website.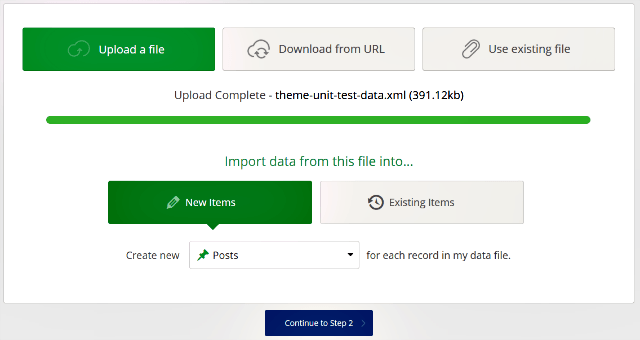 First go to WP All Import –> New Import and click Upload A File. Select the file from your computer and choose where you'd like it imported to. For this tutorial I want to upload some blog posts, therefore I'd select New Posts. Continue to step 2.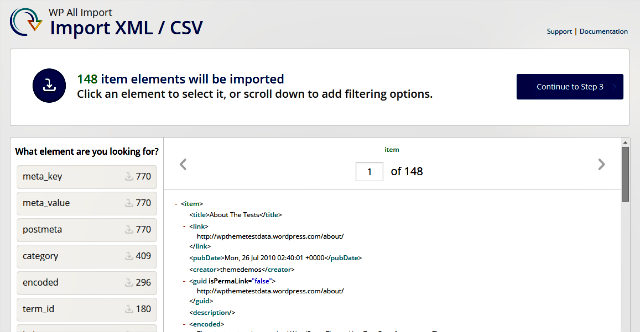 WP All Import should now show you how many elements there are in your file and how many of them will be imported per post. Continue to step 3.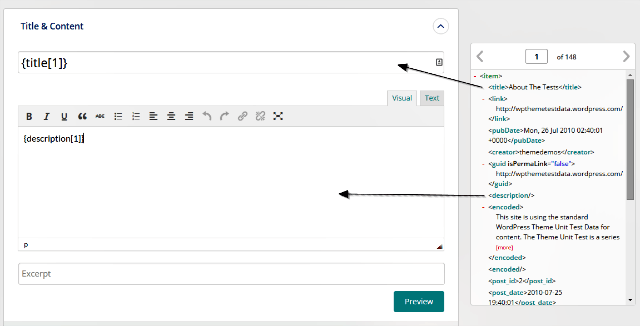 This area determines where the data in your file is mapped to in WordPress. To set the post title, click and drag the title data from your file over to the post title box.
To set the post content, do the same thing. Click and drag over the piece of data that you'd like in your post's content and drop it into the content box. Do the same for you post's categories and tags and then continue to step 4.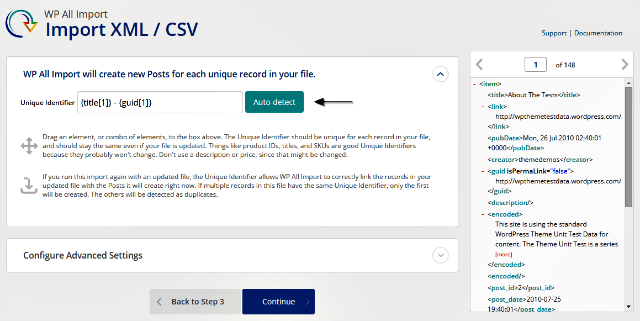 If there are any duplicates in the file you uploaded via WP Import, it will detect these entries and won't create a duplicate copy. Simply click the auto detect button to set the unique content type for each entry (this is usually the title). Click continue.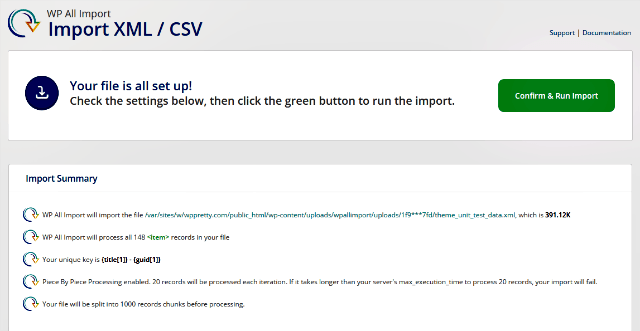 Click confirm and run the import. WP All Import will now create your posts based on your custom settings. Once the import is complete, navigate to Posts in your left WordPress menu and you should see that all of your new posts have been created and published.
Add-Ons for WP All Import
As I mentioned earlier, WP All Import ships with the ability to purchase additional add-ons to boost the functionality of your WordPress website and the importing of your files. These add-ons are:
WooCommerce
Advanced Custom Fields
Link Cloaking
User Import
The WooCommerce add-on lets you import multiple products into your WooCommerce installation. The add-on provides complete support for simple, variable, and affiliate product listings. You're able to import data to all fields offered by WooCommerce as well as being able to  automate recurring stock level synchronization.
This video provides a detailed overview of how the WooCommerce add-on works, as well as the kinds of functionality you can expect from using it.
The Advanced Custom Fields add-on lets you import to data fields created by the Advanced Custom Fields plugin for WordPress. There's support for ACF 4 and ACF 5/Pro , as well as 29 different field types, including relationships, galleries, and fields inside repeaters.
The video above provides a detailed overview of how the Advanced Custom Fields add-on works, as well as the kinds of functionality you can expect from using it.
The Link Cloaking add-on allows you to Automatically cloak all links present during a file import. This is really useful for affiliates who wish to hide the sometimes long and complex URLs that affiliate links have, in order to improve click-throughs. This add-on also works with WooCommerce.
The User Import add-on lets you easily import data from different users on your WordPress website to all available user fields. This includes your user meta data.
WP All Import Pricing
The pricing for WP All Import is what you'd generally expect from a plugin of this size and with this type of functionality. The real benefit here is that all of their plans require a one time payment, meaning there's no ongoing subscriptions to mess around with.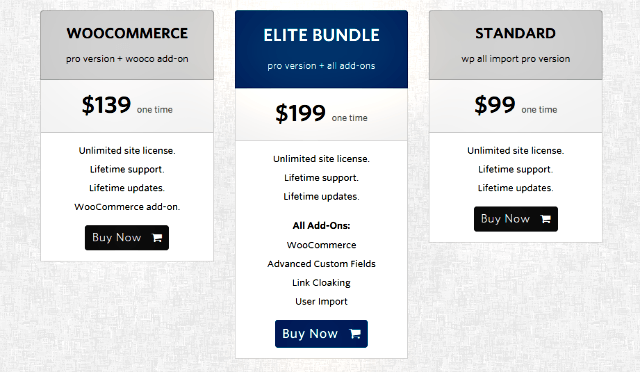 The Standard Bundle includes the WP All Import Pro version. You'll have access to unlimited site licenses, lifetime support and lifetime updates and it will cost a one time fee of $99.
The WooCommerce Bundle includes the pro version of WP All Import, plus the WooCommerce add-on. You'll also have unlimited site licenses, lifetime support and lifetime updates. This costs a one-time fee of $139.
The Elite Bundle is the cream of the crop, encompassing the pro version of WP All Import, plus every single add-on. You'll also receive the standard unlimited site license, lifetime support and lifetime updates. The Elite Bundle costs a one time fee of $199.
You can also choose to mix and match the standard plugin with your choice of add-ons. The WooCommerce and Advanced Custom Fields add-ons cost $69 each, however savings can be made when purchasing multiple add-ons together. The Link Cloaking add-on is a little cheaper at $49, while the User Import add-on comes in at $59.
Support And Documentation
WP All Import provides priority support to users who submit their queries via their online contact form. Since the team are dedicated to helping every one of their customers to the best of their ability, they prefer that users submit support questions in this way however you're also welcome to email them.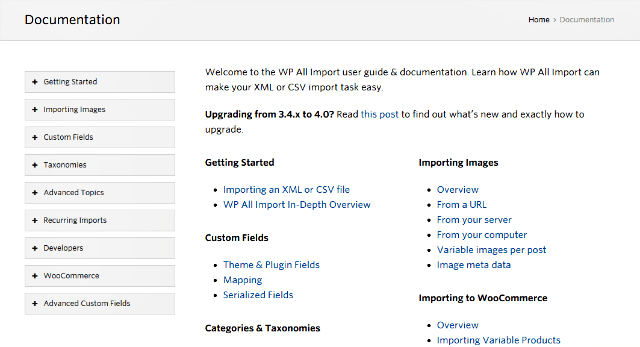 There's also an incredibly detailed documentation area on the WP All Import website. The information here is clear, easy to follow, with step-by-step instructions for just about anything you want to achieve with the plugin. There are also plenty of videos for visual learners to view too.
For further help outside of the scope of the WP All Import team's abilities, there's a list of recommended developers to check out. These developers are all users of the plugin and provide consulting and development services should you require more expertise.
Final Thoughts
As someone who has experienced the agony of manually importing content into WordPress, I can clearly see the benefits of a plugin such as this one. Getting up and running is simple, with very little tweaking needed. There's no coding to learn and no fussy settings to configure before you start importing your data.
While I haven't needed to contact support, the documentation on offer is of good quality and the instructions easy to follow for a user with average WordPress ability. The video guides are particularly helpful, providing a detailed guide for different areas of functionality within the plugin itself.
The price is a little on the high side for someone who'll use the plugin on an occasional basis. If it's going to be something you'll use regularly however, there are plenty of discounts to be had by combining add-on with the standard plugin.
Ultimately I found WP All Import a good, all-round plugin that does exactly what it says it will. As an organization with doing only a few things really well as it's core focus, Soflyy have more than lived up to that lofty expectation with this plugin.