When you work with WordPress, you rarely pay attention to the numbers behind the platform. But when you do, you soon realize that you are part of one huge ecosystem that powers millions of websites on the Internet.
WordPress has been around for almost 20 years. It has grown into a platform that runs all kinds of sites on the Web, from personal blogs to big corporate websites.
Thanks to this big platform, I have gathered plenty of interesting WordPress statistics I want to share with you.
1. General Information
It's essential to understand the big picture of WordPress first. That's why this section gives you the WordPress key figures and other essential information about the platform.
WordPress is the most popular Content Management System (CMS) on the Web. It powers almost 40% of the websites on the Internet. WordPress is an open-source platform.
As a CMS, it has a market share of 63.9%.
WordPress is used on over 75 million websites. This number includes everything from small personal websites to big corporations like Walt Disney, Microsoft, Sony, or The New York Post.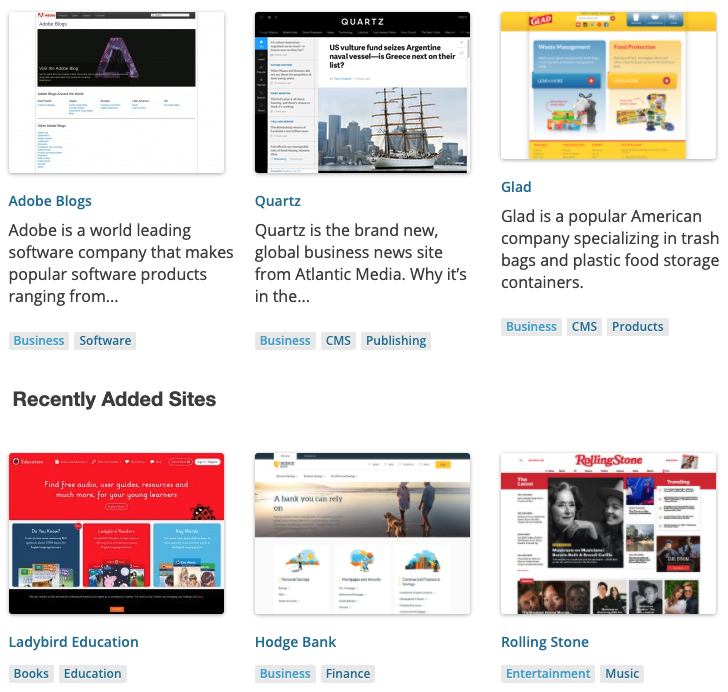 WordPress 5.6 has been downloaded over 2.8 million times. Just look at the real-time counter, but don't get hooked on watching it too long 😉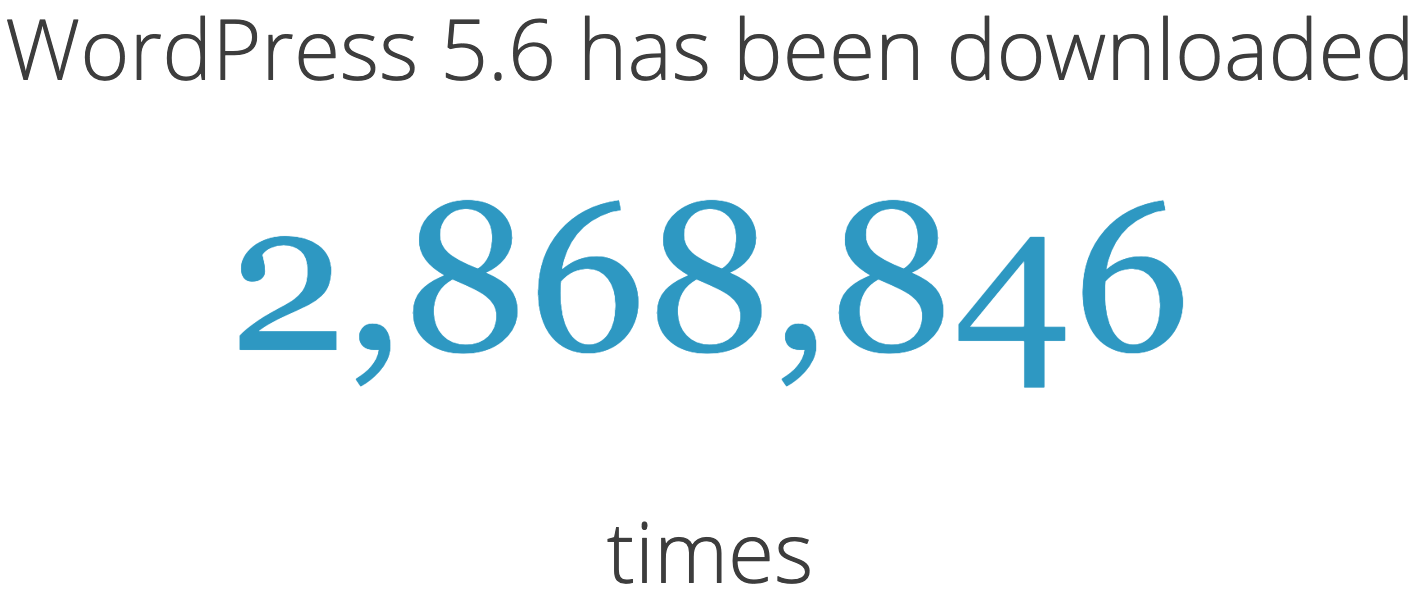 The number of translation projects at WordPress.org is 205 at the time of writing. 49 locales out of 205 have 100% coverage. If you can't find your preferred WordPress language on the translation list, you can always become a contributor.
WordPress is not the only CMS available. While WordPress has taken over 39% of the CMS market, its competitors like Shopify (3.2%), Joomla (2.2%), or Drupal (1.5%) are far behind.

There have been 40 versions of WordPress released to the public. The latest version (which, at the time of writing, is 5.6) saw daylight in early December 2020.

2. Plugins
WordPress is famous for its plugins. These applications extend the functionality of the platform.
The number of plugins for WordPress is huge, and there are also plenty of interesting facts regarding these extensions.
WordPress has over 57,000 plugins. In reality, the figure is higher since I've only included the ones found on the WordPress plugin repository.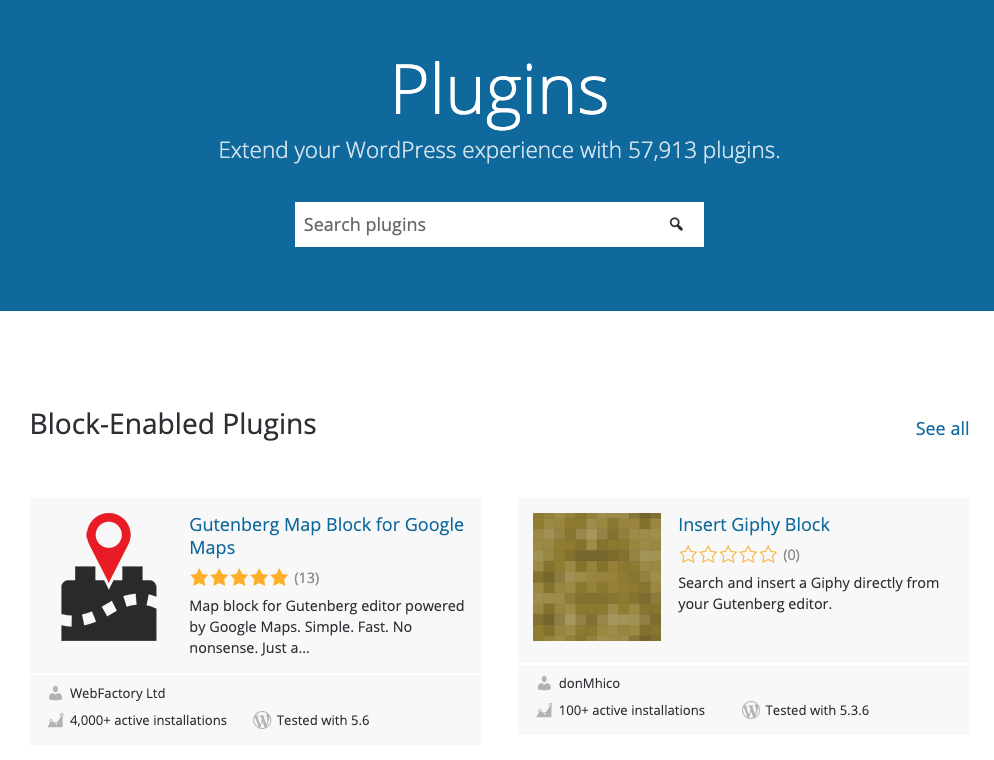 The most popular plugin is Yoast SEO that helps you to optimize website content for search engines.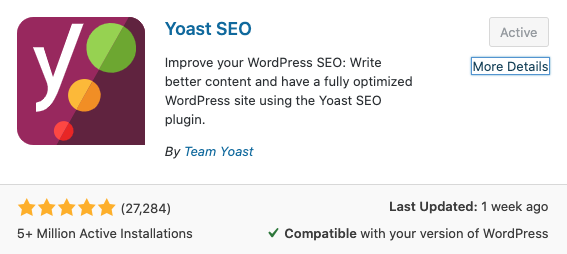 Right now, Yoast SEO has over 288 million downloads and over 5 million active installs. It has over 27,000 reviews with an average rating of five stars.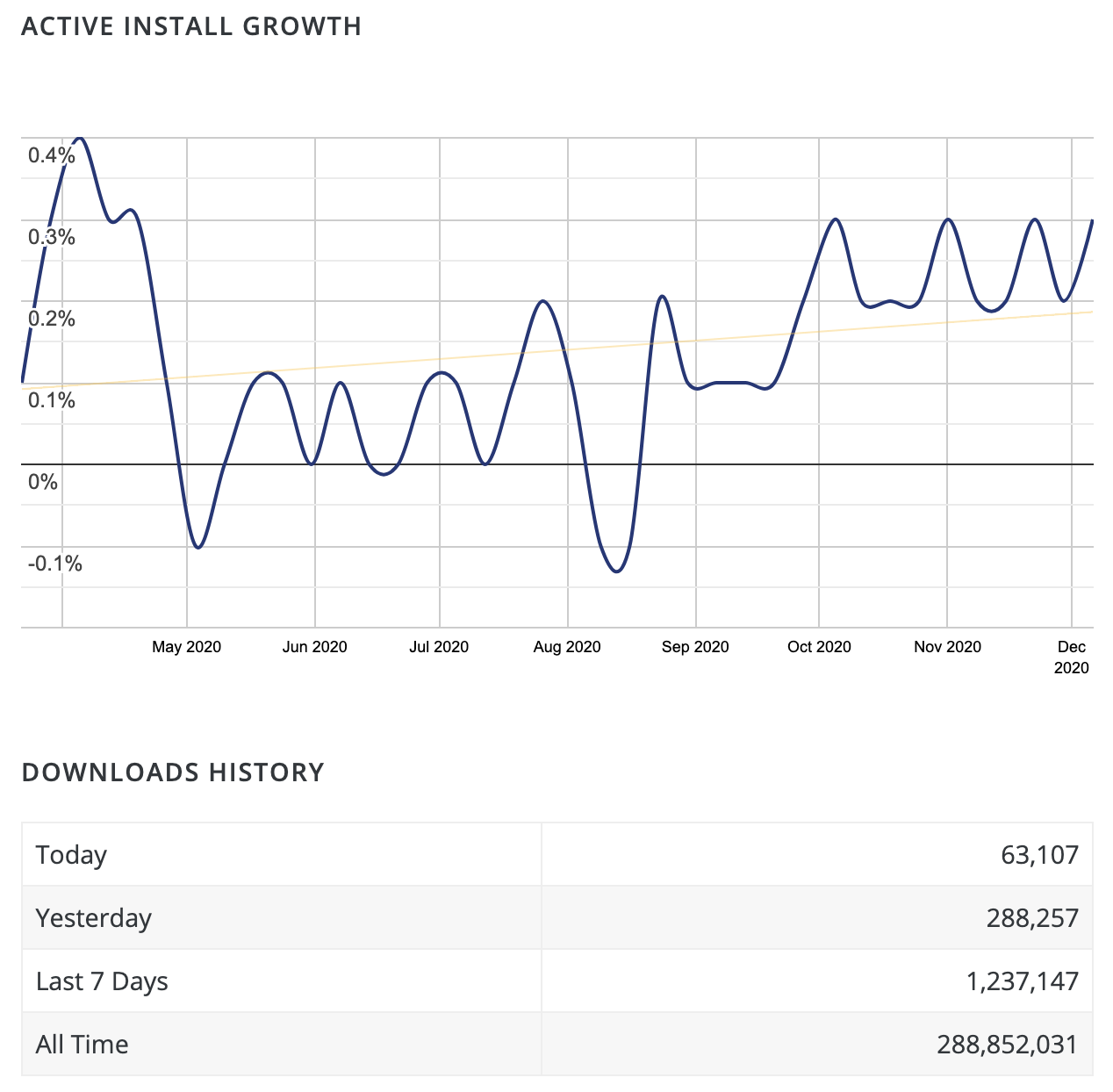 3. Themes
Another well-known WordPress area is its themes. They make the appearance of your website, and there are plenty of templates to choose from.
Let's see what different statistics we can find regarding themes.
The most used WordPress theme, according to BuiltWith, is Divi. Of the top million websites, 8% of them are using Divi. The next popular theme is Twenty Twenty (the default theme that ships with WordPress), and it's active on 4% of the top million websites. The Astra Theme comes third with a market share of 4%.
The WordPress theme repository includes over 8,000 themes.

ThemeForest, one of the biggest premium WordPress theme marketplaces, has a selection of over 11.000 themes.
The theme that shipped with WordPress 1.0 was Classic.
WordPress 5.0 was released on December 6th, 2018. It introduced a new block-based editor named Gutenberg.
4. Community
WordPress has a large and very active community. So if you have any WordPress questions to ask, there is someone to help you.
But how big is the community according to the numbers? Let's see.
WordCamps are local WordPress events. Currently, there are over 1,000 WordCamps on six continents, in 65 countries, and 368 cities.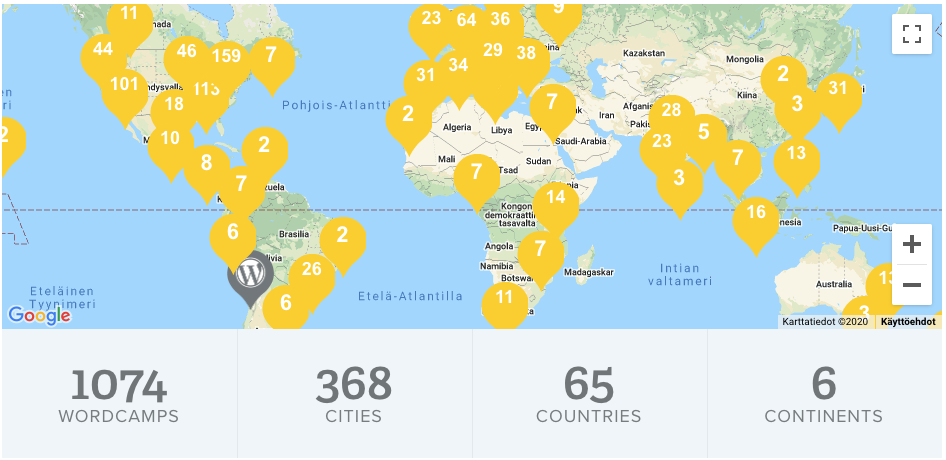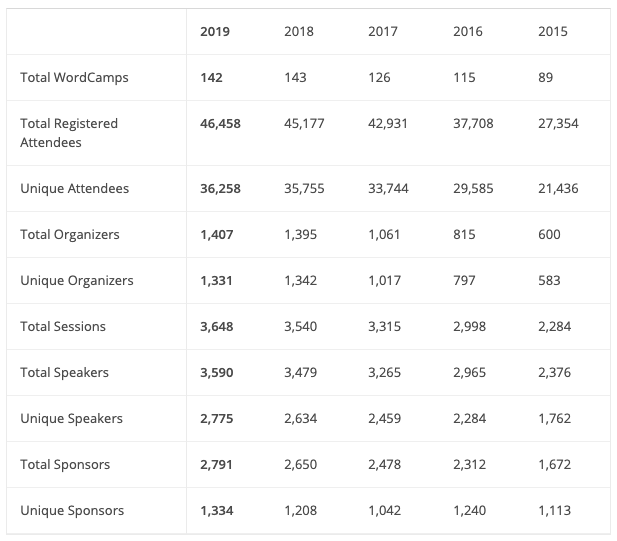 The average number of attendees per WordCamp was about 327 people.
5. Career & Money
Thanks to the large WordPress ecosystem, there is a tremendous demand for WordPress professionals, from theme and plugin development to setting up websites and creating content for websites.
Here are the core figures behind the WordPress economy.

The top-earning WordPress plugin at CodeCanyon is Slider Revolution, with over 413,000 sales, with a price point of $59.
The most expensive premium theme on ThemeForest, Planter, sells for $3,882.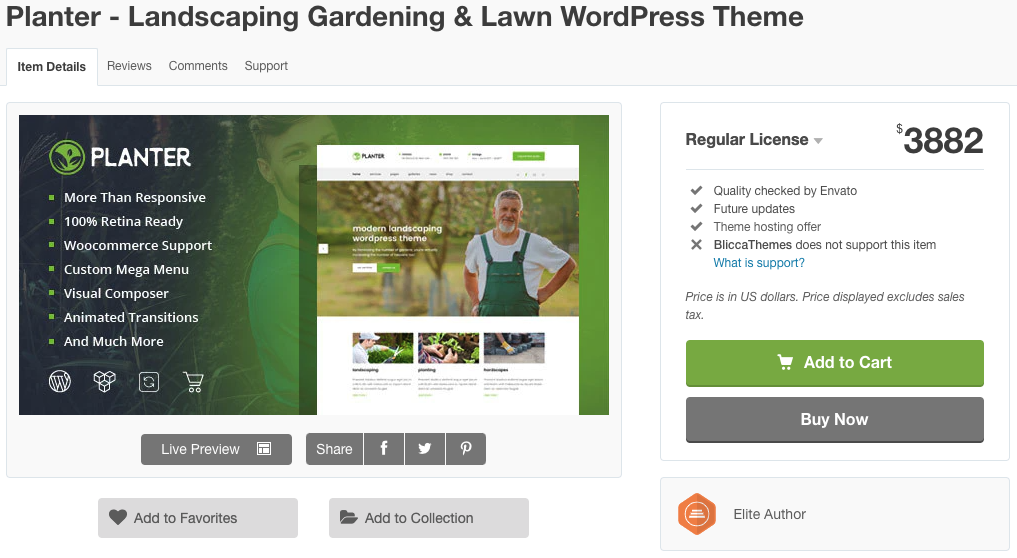 According to PayScale, a WordPress developer makes $53,000 per year on average.
6. WordPress.com
WordPress.com is the hosted version of WordPress, developed by Automattic.
This version of WordPress is popular amongst non-technical people. The platform helps to build a website, even if you don't know the inner workings of WordPress.
Here are some impressive figures regarding WordPress.com.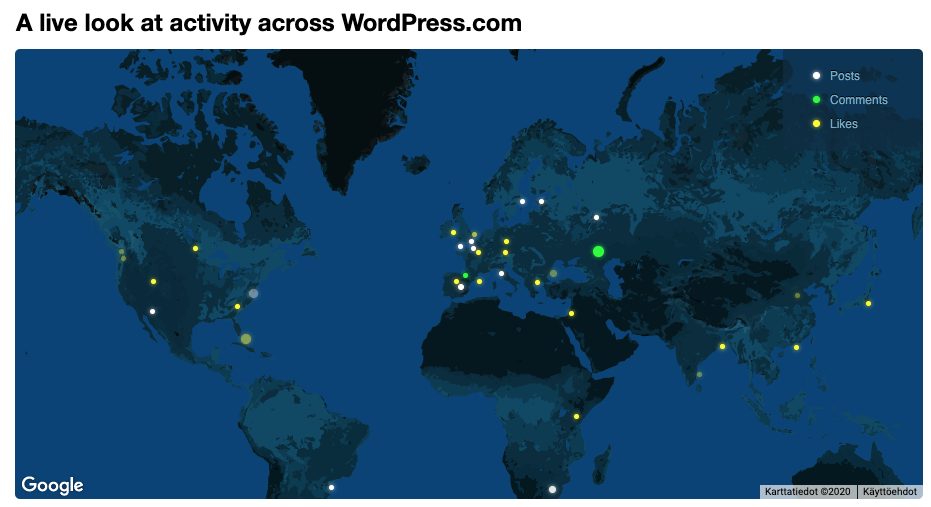 Users create 71% of the content in English.
7. Security
Since WordPress is a popular website platform, it's also a target for attacks and security vulnerabilities.
But what kinds of figures can we see when we talk about WordPress security? Let's find out!
WordFence, a popular security plugin for WordPress, blocked over 3.7 billion attacks in the last 30 days when writing the article.
WordFence also reported that in the last 30-day period, they had blocked over 200,000 malicious IP addresses.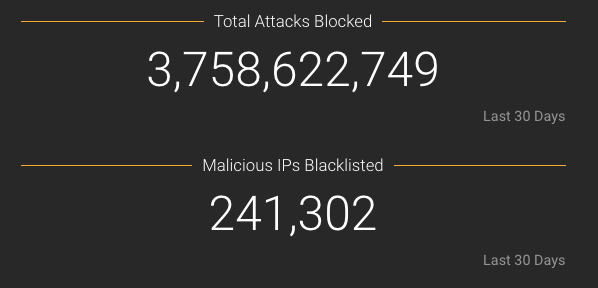 According to WordFence, there were 11,496 attacks ongoing per minute.
14% of people use the latest version of WordPress.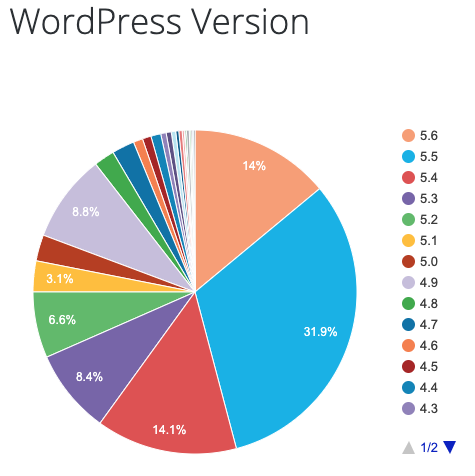 Sucuri, another well-known website security company, reported that 94.23% of infections were on WordPress.
Sucuri also says that in 2019, 49% of WordPress installations were outdated at the time of infection.
One of the most common WordPress exploits was the improper implementation of the update_options() function in the PHP language. This vulnerability affected 54 plugins and millions of websites.
8. Education
Many people want to learn how to use WordPress. That's why there is a thriving market for various online and offline training courses and books. So let's see the key figures and stats in the education field.
In Amazon, the search term "wordpress" returns over 8,000 titles in search results.

The most expensive WordPress book on Amazon sells for $200.
Udemy, an online platform for video training, produces 10,000 results for WordPress.
The bestselling training on Udemy, WordPress for Beginners, has over 16,000 ratings, with an average rating of 4.5 stars. The course has over 70,000 students.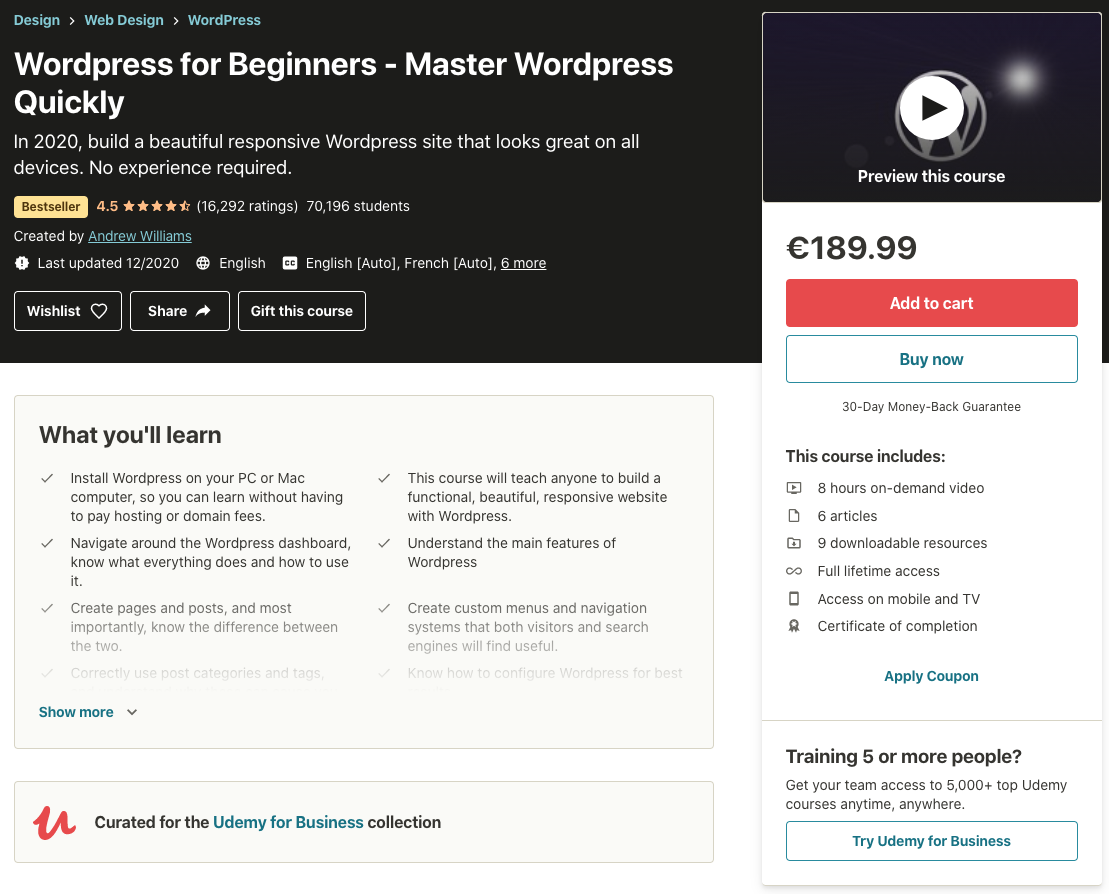 Since 2008, a WordPress video tutorial site WP101 has helped three million beginners learn the ropes of the platform.
9. Other Interesting Facts
This section lists random fun facts related to WordPress.
1,570,000,000. This is the approximate number of results you get from Google when you search for WordPress.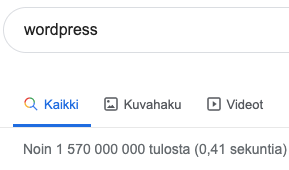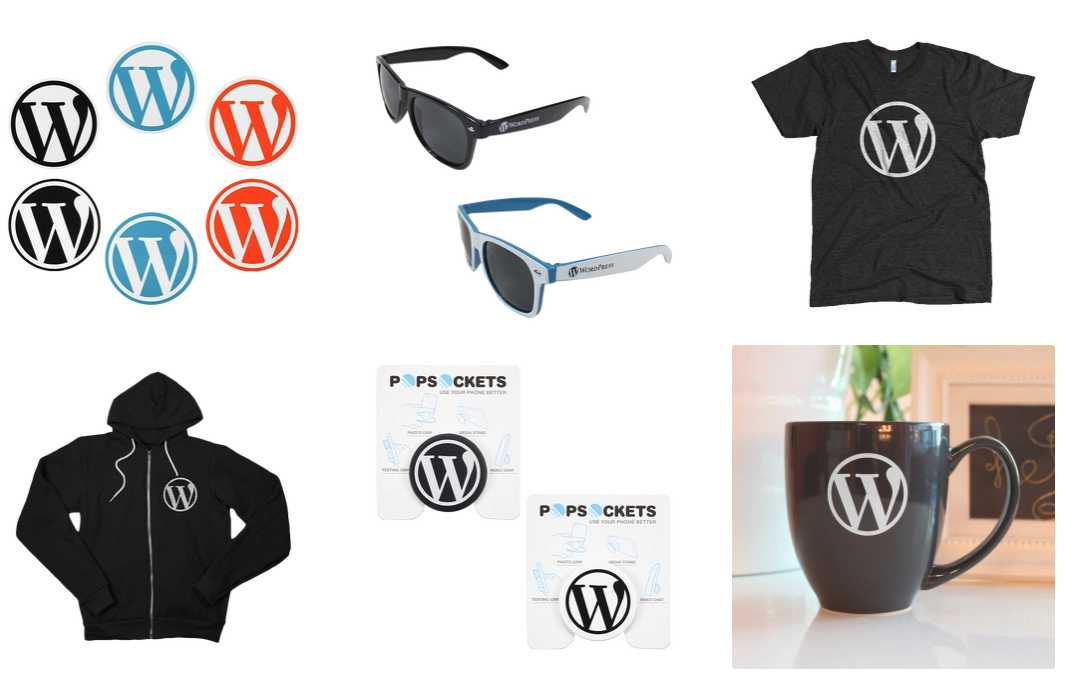 Every WordPress version (except version 0.70) is named after a jazz musician.
Summary
Did you realize that WordPress is this big? I didn't until I saw the numbers myself.
Just keep in mind that these figures are always changing. And when WordPress is in question, you can expect most of the numbers to grow as time goes on.