While WordPress is an incredibly popular content management system (CMS) for powering blogs and business websites, the platform's versatility extends well beyond those basic uses.
Through the use of plugins, WordPress can be used to create many other types of websites as well, including forums. In this article, we'll take a detailed look at the best WordPress forum plugins, including the pros and cons of each. By the end of the article, you'll be able to decide which option is the right fit for your needs.
These plugins can prove to be incredibly useful regardless of whether you want to add forums to an existing website or create a completely new community-oriented website from scratch.
One of the challenges that many website owners face is determining how to keep visitors engaged and coming back for more. If you think about the websites you visit on a regular basis, many of them have an interactive aspect. While providing information to your visitors on a blog or niche website may be helpful for visitors, adding some interaction through forums could go a long way towards developing a true community of users.
Thanks to the help of the plugins covered in this article, you won't need to turn to another content management system or script to add forums to your site. Instead, you can use the same CMS that you know and love, WordPress.
Best Forum WordPress Plugins for 2021
Let's take a look at the best WordPress forum plugin options to help you quickly setup a forum and build a community.
1.

bbPress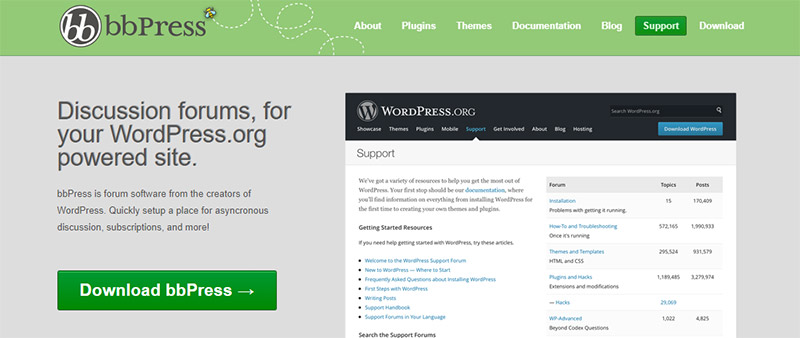 bbPress is the most popular option for adding forums to a WordPress-powered website. One of the main reasons for its popularity is the familiarity with the developers who created it. bbPress is from the creators of WordPress. It uses the WordPress core and the same coding standards, so you can have confidence that it will function smoothly and reliably.
Another reason for its popularity is that it's stood the test of time. The plugin was first released a decade ago in 2011. While many other forum plugins have come and gone, you can be confident that bbPress will keep going strong. That's important if you're considering using it for your website.
Users appreciate the functionality and dependability of bbPress. The admin dashboard will feel very familiar if you're a WordPress user, so the learning curve is minimal.
On top of everything else, bbPress is free.
While bbPress offers all of the functionality you'll need to set up and run forums on your site, it's a bit lacking in terms of visual appeal. However, it does integrate nicely with any WordPress theme.
bbPress is our top recommendation for easily adding feature-rich forums to your WordPress-based website.
Pros:
Created by the people behind WordPress
Use it with confidence (thanks to its long track record)
Includes the functionality you need
Lots of extensions are available to take it further, depending on your needs
Multi-site functionality: manage multiple forums from one dashboard
Free
Cons:
The bbPress core has only the basic functionality, so you may need to install several extensions
The visual appearance is nothing special
2.

BuddyPress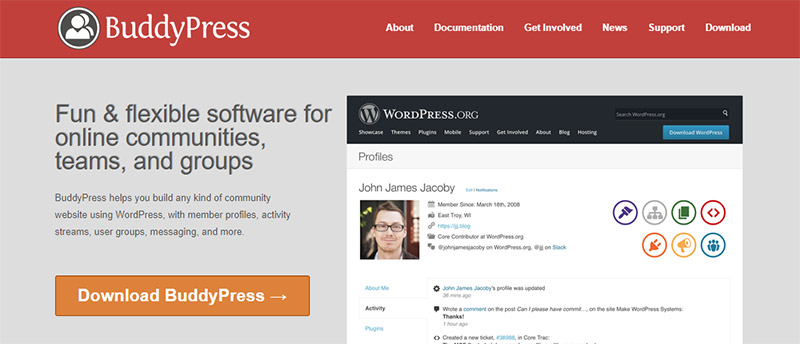 Like bbPress, BuddyPress is another official project of WordPress. Although BuddyPress can be used for forums, it's actually a bit different. You can use BuddyPress to create a feature-rich community or social network. This includes things like profile pages, activity streams, private messages, user groups, friend requests, and more.
Like WordPress and bbPress, BuddyPress is open source and completely free to use. And since it is an official WordPress project, it offers the same consistency and reliability. With a track record that dates back to 2008, you can be confident that it's here for the long-term.
One of the best things about BuddyPress is that it integrates seamlessly with bbPress. You can use the two plugins together to build a site with amazing capabilities for a forum where users can interact and engage with other members of the community. And like bbPress, BuddyPress can also be used with any WordPress theme.
BuddyPress is our top recommendation if you want a social community with features similar to Facebook and other social networks.
Pros:
Created by the people behind WordPress and bbPress
Use it with confidence (thanks to its long track record)
Integrates nicely with bbPress
Free
Cons:
The core functionality is basic and you may want to use other plugins to add specific functions based on your needs.
3.

Simple:Press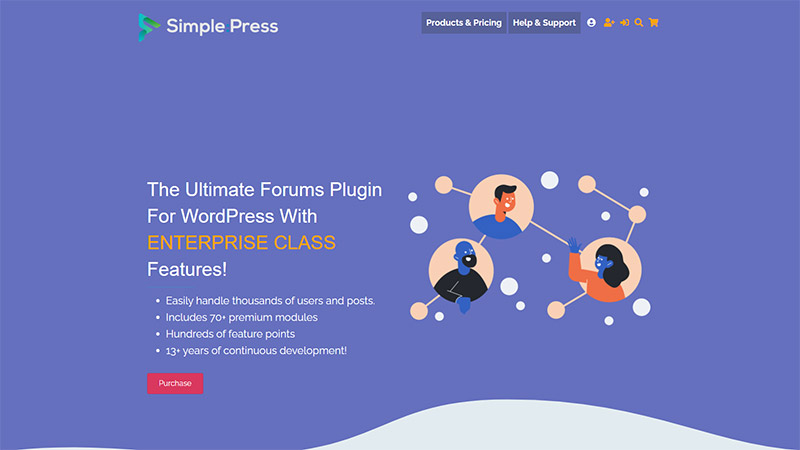 Simple:Press offers both a free version and a premium version. While the free version is limited in functionality and you're likely to outgrow it, you can view the free version as a trial of sorts to see how you like it before paying.
Like bbPress and BuddyPress, Simple:Press has been around for a while. It's been in development for 13 years and has just about every feature you could need, either in the core plugin or one of many extensions that are available.
The free version includes features like sub-forum levels, ranks and badges, powerful user group and permission system, public and private forums, full integration with WordPress registrations and logins, SEO-friendly permalinks, and more. There is also a free importer plugin that you can user to migrate from bbPress or other popular forum options to Simple:Press.
The premium version includes features like a private messaging system, image and media uploader, TinyMCE editor, nested threads and more.
If you purchase one of the plans, you'll get access to more than 70 plugins that add different functionality. You can install the ones you need while not installing those that you don't need.
Simple:Press is our top recommendation for those who need feature-rich forums on a website that will generate revenue (to offset the cost).
Pros:
Free version is available as well as premium version
Premium package offers plenty of features and functionality to run a complete forum
Support is available for customers who purchase a premium plan
Cons:
Most expensive option
Functionality of the free plugin is very basic and you're likely to find that it's missing many of the features that you want or need
4.

Sabai Discuss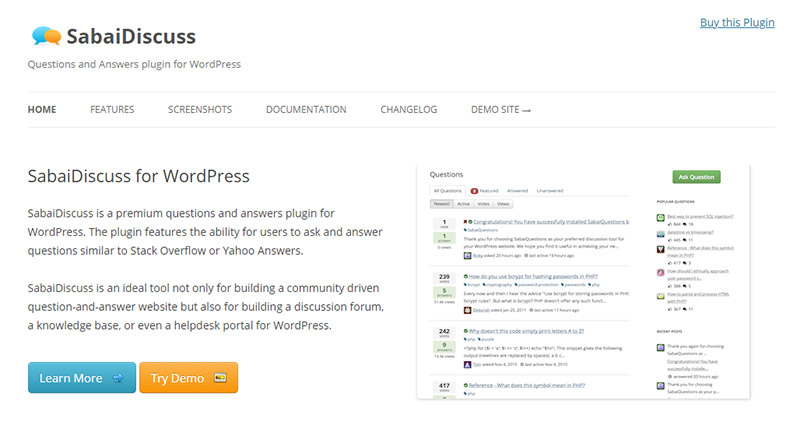 Sabai Discuss is a bit different from the other plugins covered so far, and it's one that you'll definitely want to check out. This is a premium plugin, but the price ($24) is extremely reasonable.
With the help of Sabai Discuss, you can create a question and answer section on your website, similar to Quora or other Q&A sites. Visitors can register and post their questions. Other users can answer and vote up questions and answers. This is a great way to add interactivity to your site and get visitors highly engaged.
Upvotes will determine which questions and answers are shown most prominently, and all of that is handled automatically by the plugin.
Sabai Discuss is the best plugin for question and answer style forums.
Pros:
Excellent execution of the question and answer format
Includes plenty of features
Customer support offered by the developer
Great price
Cons:
Not the best option if you're looking for a traditional forum.
5.

DW Question and Answer Pro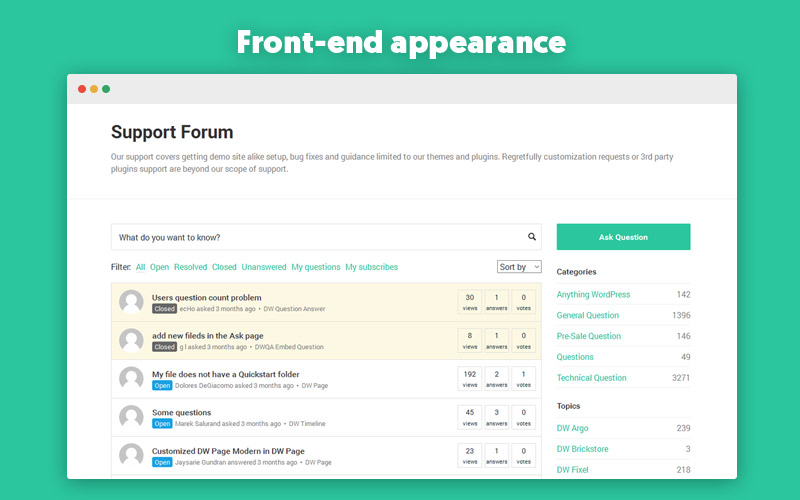 DW Question and Answer Pro is similar to Sabai Discuss. With this plugin, you'll be creating a forum that uses question and answer format, allowing users to vote questions and answers up or down.
The look on the front end is a bit different than Sabai Discuss, so if this is the type of forum you'd like, you should compare the two and see which one is more appealing to you.
We Sabai Discuss ranked slightly higher because it has been ratings from users and the price is a little lower than DW Question and Answer Pro.
Pros:
Excellent option for adding an engaging question and answer component to your website
Customer support is provided by the developer
Integrates with BuddyPress and many other plugins
Cons:
Not as highly rated by users as the similar Sabai Discuss plugin
Not the best option if you're looking for a traditional forum
6.

wpForo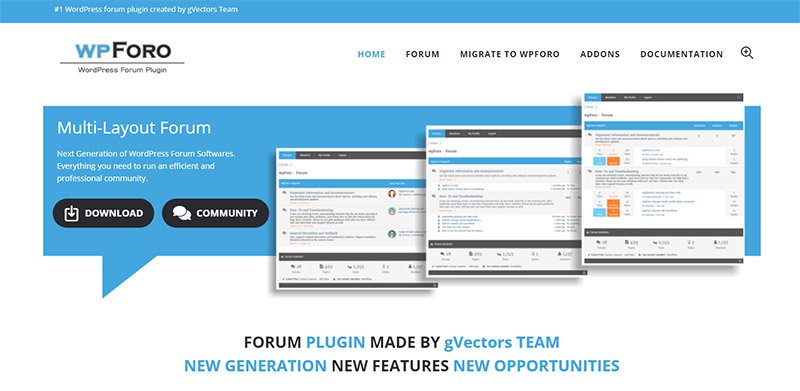 After covering a few premium options, we'll get back to some free plugins, like wpForo. With wpForo, you can create traditional forums or question and answer style communities. It's a very enticing plugin with a nice set of features including multiple layout and color styles.
wpForo includes features like built-in caching, an advanced user profile system, member ratings and badges, BuddyPress integration, and much more.
Like some of the other plugins, wpForo offers additional functionality through the use of extensions or add-ons that must be purchased. There are add-ons for things like private messaging, polls, and ad management.
Pros:
Creates better-looking forums than you'll get with most other plugins
Create question and answer forums in addition to traditional forums
The core plugin is free
Cons:
Functionality of the free core plugin is somewhat limited
7.

Asgaros Forum

Asgaros Forum is another free plugin, but unlike some of the others, it is completely free with no paid upgrades. This lightweight plugin is simple and easy to use. The functionality is pretty basic, but it will give you fully functional forums with a nice look that are also easy to manage.
The installation process is quick and easy and your forums will be set up and ready to go in no time at all. You'll get features like user profiles and member management, notifications and feeds, uploads, polls, statistics, and more.
Asgaros Forum is the best plugin for those who favor simplicity over advanced features.
Pros:
Lightweight and won't bog down your site
Extremely easy to set up and manage
Statistics page to see how your forums are performing
Free (with no add-ons)
Cons:
Functionality is somewhat limited and it may not be the best choice if you want an extremely robust set of features
8.

WP Symposium Pro

WP Symposium Pro can be seen as a BuddyPress alternative. With this plugin you can create a social network or forum with community-oriented features. Those features include profiles, activity walls, friends, and more.
There is a free version of the plugin, or you can opt to pay for add-ons that provide extended functionality. Some of the functionality you can add through extensions include private messages, groups, image and YouTube attachments, and galleries.
Pros:
Create forums with features like major social networks
Free version available
Compatible with other plugins and themes
Cons:
Functionality of the free version is limited
The website is poorly laid out, so it's hard to find some details that you might want, like a link to a demo
9.

CM Answers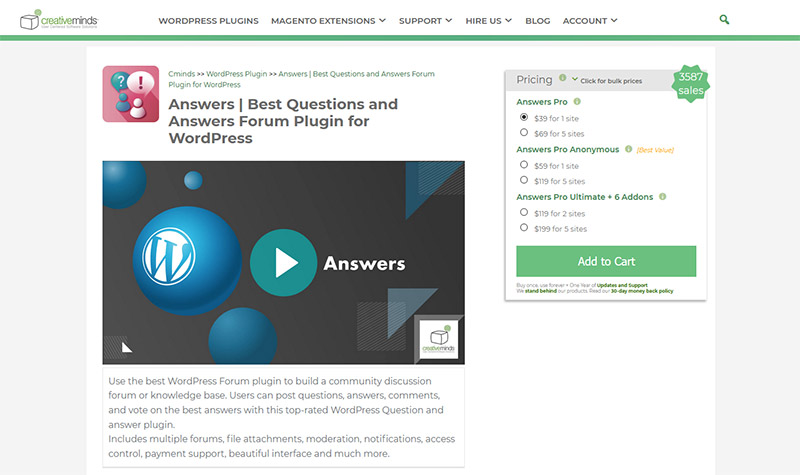 CM Answers is another option for adding question and answer style forums to your site, like Quora or Stack Overflow. A free plugin is available, or you can pay for a premium version that includes additional features. As you would expect, visitors can vote questions and answers up, and votes determine which ones are shown prominently.
There are add-ons available for things like payments, micropayments, anonymous user posting, and more.
Pros:
Allows you to easily create question and answer forums
Free version is available
Cons:
Functionality of the free version is limited
Not as user-friendly as some of the higher-rated options
10.

Forym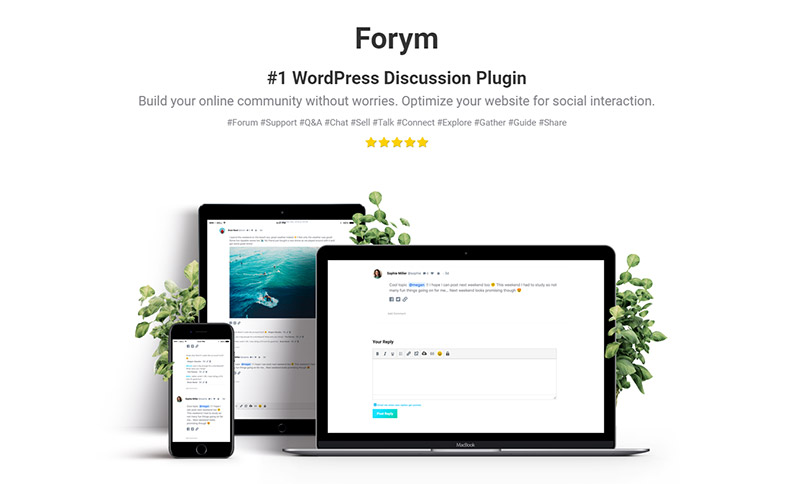 Forym is a premium plugin that is available for just $19. The features and functionality of this plugin are pretty impressive for the low price. It includes a user reputation system, a profanity filter, post templates, a light and dark theme, and more.
While Forym doesn't create question and answer style forums exactly like some of the other plugins, it does offer the functionality to vote answers up or down so the best responses are displayed at the top.
The forums created by Forym are relatively simple in appearance, but attractive. Overall, the look from the front end is better than what you'll find from several of the other plugins.
The plugin would be ranked higher in our list, however, it's held back by less-than-stellar user ratings at CodeCanyon. While there are many excellent reviews, there are also a number of customers that have experienced issues.
Pros:
Creates attractive forums
Includes a nice set of features
Excellent price
Cons:
Below average customer ratings at CodeCanyon
11.

Discussion Board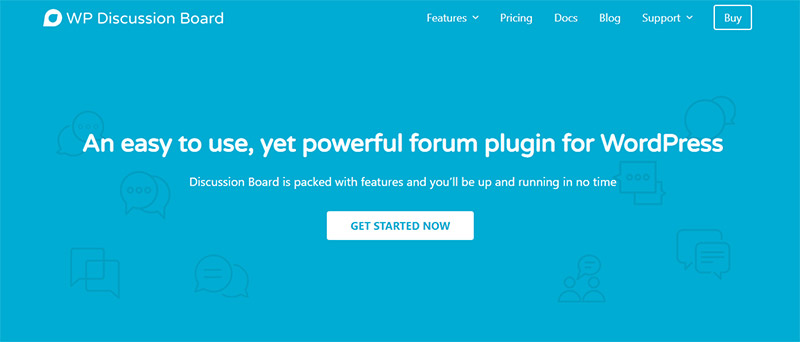 If you're looking to add a simple forum to your site quickly, Discussion Board might be a good option. There is a free version of the plugin available, or you can pay for a premium version with more features.
The plugin can be installed and set up very easily and you'll have a functioning forum in no time. Visitors can register and login through a front end form. Discussion Board makes extensive use of shortcodes, which can be handy for setting up and managing the forums.
The premium version includes user profiles, a WYSIWYG editor, media uploads, advanced permissions, widgets, and more.
Pros:
Very quick and simple to set up
Clean, attractive appearance
Free version is available
Cons:
Features of the free version are limited and you're likely to find that you need to upgrade
How to Choose the Best WordPress Forum Plugin for Your Website
Now that we've looked at the details of the best options, it's time to decide which one is right for you. Here are some questions you should ask yourself.
What Features Do You Need?
As you can see from the details of the plugins on this list, the features can vary significantly from one plugin to the next. Some are great for traditional forums. Others allow you to create question and answer forums. And a few are great for creating social networks. Take some time to think about the type of forum that you want and the features that are most important.
Most of the plugins covered here include multiple versions. In some cases it's a free version and a premium version. In other cases (like bbPress and BuddyPress) it's a core plugin plus optional add-ons. The features and functionality vary significantly from one to the next, so it's important to decide which features are important to you and narrow down your options based on those details.
What's Your Budget?
You don't need to spend anything to get forums on your site, but most of the plugins do offer premium versions or add-ons for extended functionality. Think about your own situation and decide what you would be willing to pay, if anything, for the right plugin.
Will You Need Support?
One of the significant perks of paying for a premium plugin is the customer support that you'll be able to receive. It's possible to get support for a free plugin through the WordPress forum, but you can't always count on getting the help you need. If you're likely to need support of any kind, going with a premium option may be a wise decision.
Can You Count On Continued Development of the Plugin?
If you've been using WordPress for a while, you're probably well aware that many plugins reach the end of their life at some point and the developer stops making updates or providing support. Nothing is more frustrating than building out a key function of your website based on a plugin, only to see that plugin become abandoned by the developer.
bbPress and BuddyPress are popular, in part, because they are backed by WordPress and users have confidence that they'll be around in the future. Check the track record of any plugin or developer that you're considering.
Hosting Your Forums
It's possible to add forums to your website with an inexpensive shared hosting account, like those offered by Bluehost. However, as your site grows, the load on your server can become more burdensome due to the resources used by the forums.
You may find that you need to upgrade to a more powerful hosting account in order to keep your site running smoothly. Our top web hosting recommendations are WP Engine and FlyWheel. You can see more details about managed WordPress hosting here.
Conclusion
Adding a forum to your website could be a great decision that adds a significant boost and allows you to build a true community of users.
Fortunately, adding a forum is easy thanks to these WordPress plugins. Regardless of your budget and your specific needs, you're sure to find something among the plugins covered here.