Are you interested in making the move from WordPress.com to WordPress.org?
WordPress.com is like a watered down version of WordPress.org. Yes, it's weird that they couldn't come up with some more differentiated names for the products, but WordPress.com is typically for people just starting off with their blogs.
It's used by people who want to test the waters and see if blogging or building a website is right for them. If you make the jump to WordPress.org it means you are ready to take your site more seriously with options to customize your themes, add plugins and even perform maintenance and backups for increase performance and security.
We aren't going to outline all the difference between WordPress.com and WordPress.org in this article, but if you really want to do your homework before completing this process, you can check out all the main differences on the WordPress website.
In short, WordPress.org is the self-hosted version of WordPress.com, where you have full customization of your site, whereas WordPress.org is hosted through WordPress, meaning you have to abide by their restrictions.
Let's take a look at how you can quickly move from WordPress.com to WordPress.org.
Am I in the Right Position to Start the Migration?
What is needed to get started?
A domain name from a quality web hosting company (if you already have a domain name we will talk about moving that over below)
A hosting account from the web hosting company you chose above
Direct access to your WordPress.com account, so have the login information ready so we can transfer the files over
Like we talked about before, you have to start by understanding if you actually have a WordPress.com website.
Step 1: Signing Into WordPress.com and Exporting the Data
To start, you want to export all the data from your old WordPress.com page, moving it onto your computer so we can use it later to import into the new WordPress.org site. Login to your old WordPress.com website and find the Tools tab on the left hand side of the dashboard.
Scroll over this button to find the Export option. Click on this.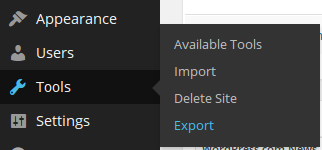 This brings you to a brand new page where it will ask you how you want to export the data. Remember that this exportation process grabs all your posts, comments and images for transfer.
There are two options: Export and Guided Transfer. Since we are making the transfer manually with this tutorial you should click on the Export link to move forward.

The next page asks you what you want to export. Typically, you would want to choose the All Content one, but if you really don't want to bring along something like feedback, you can make a different selection. I would recommend just transferring over everything so you don't miss anything.
Click the Download Export File button to move on.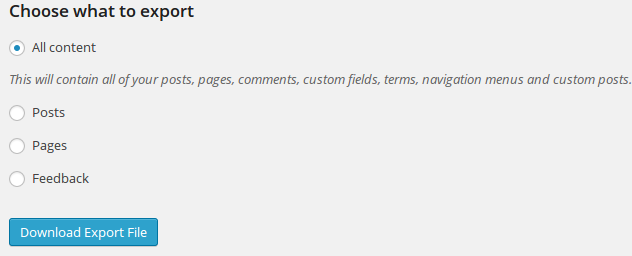 This creates a downloaded file on your computer, which you can move to any file you want so you can access it later.
Step 2: Creating a New WordPress.org Website
Now that you have all the data you need from your old WordPress.com site you can get started creating your new WordPress.org site.
In short, you have to walk through putting the WordPress platform on the hosting account we talked about above. We have a nice guide that walks you through the entire process of installing WordPress in just a few minutes. Walk through that process, then come back to proceed with the migration.
Step 3: Moving Your Exported Data Into the New Site
Now that you have a brand new self-hosted WordPress.org website you can start importing data into it. Luckily, we exported the data from your previous site that can be easily moved onto the new self-hosted site.
Login to the dashboard of your new WordPress.org website. Once in the dashboard go to the Tools tab on the left and click on it. This reveals a few options, one of them being Import. Click on the Import option so that we can place your old data on this site.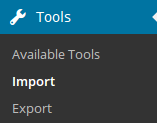 Quite a few options show up, but you only have to worry about WordPress. Scroll down to the very bottom and click on the WordPress link.
This brings you to the WordPress Importer page where you will have to install a plugin so that you can import all your data. Click on the Install Now button to install, then click on the Activate Plugin and Run Importer link that shows up next.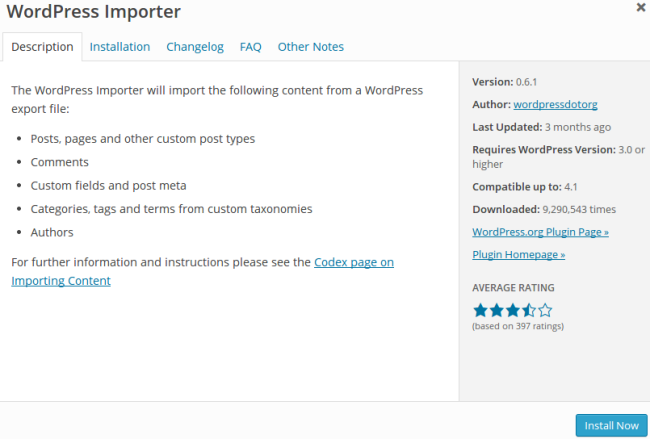 The next page allows you to click on the Choose File button. Find the export file that you saved on your computer from before, and upload the file onto this WordPress Importer plugin. Once the file is completely uploaded you can click on the Upload File and Import button to proceed.

You will then need to decide if you want to assign the content to a new author or select an existing user on your WordPress.org website. It doesn't really matter which one you choose, as long as you assign the content to a username you actually want to use in the future and that person has admin privileges.

You'll also want to check the box where it says Download and Import File Attachments. If you leave this blank then you won't be able to see any of the images you exported from the previous site. Click on the Submit button once this is all ready to go.
There's also the chance that you want to import all the links and the blogroll from your old WordPress.com website. If this is the case you can go to Tools > Import once again. Click on the Blogroll link option and install the separate plugin to walk through the process.
After that, the import process is pretty much the same where you locate the file on your computer and upload it to the new site.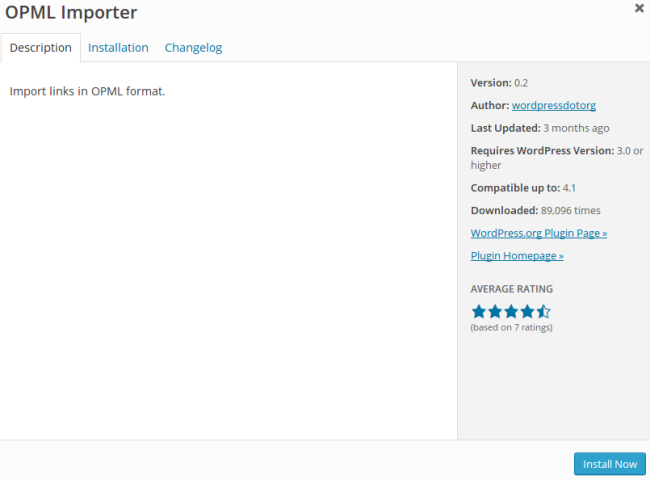 Step 4: Guiding Old Users to Your New Site
To me, there is no reason not to send your old users to the new site, unless of course the old site was just filled with spam users or you had SEO problems where Google penalized you for sketchy SEO practices.
If you have built up a nice following and you don't want to lose any of that SEO prowess, you should simply do nothing during this step. Doing nothing means that your old users can be redirected to the new site and the search engines can still index your site.
You can also send out some emails to your more loyal followers to give them the new site URL if it's a new one.
However, if you really want to make it so that the old users aren't redirected to the new site then you can go to your old WordPress.com website, login to the dashboard and click on the Settings tab on the left.
Navigate to the Reading option and locate the Site Visibility area. Select the I Would Like My Site to Be Private… option.
Once again, I wouldn't recommend this step unless you really think that the old users and SEO practices were not to the best interest for a new site.
Step 5: Truly Maintaining Your SEO and User Base
Unfortunately, if you skipped that previous step it doesn't complete the entire process of redirecting your users and maintaining the SEO from one site to another.
Since WordPress.com doesn't give you access to files like .htaccess, your options are limited for truly maintaining the SEO and sending over your visitors. Why? Because the best way to seamlessly send the users over and keep the SEO is to have a 301 header, which requires access to the .htaccess file.
The only way to redirect your old users is to use an upgrade from WordPress, called Site Redirect. Learn how to activate that upgrade here. If you didn't have a following from the previous site then there really isn't any reason to use this, but if you had a following then you might want to keep this upgrade around for at least a year so your users can figure out that you have a new site.
Like stated before, sending your users an email is typically an easier way to go about this.
Step 6: Update Your URLs
The first time I transferred a WordPress.com site to WordPress.org I nearly pulled my hair out because I completed the entire process, but the tutorial I used didn't tell me how to change the URLs from the website. After the migration you will realize that half of your links are broken because the URLs need to be changed.
There are some manual ways to complete this process, but you might as well just use a plugin. Download the Velvet Blues Update URLs plugin and activate it on your site. Remember you are activating this plugin on your new WordPress.org site.
Go to the Tools tab on the left and click on the Update URLs option.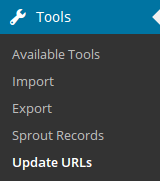 Simply type in the old URL and the new URL and check off the first option called URLs in page context. Click on the Update URLs Now button to move on. All of your URLs should now be updated, unless of course some of your URLs are hardcoded. In that case you have to walk through and change those ones manually.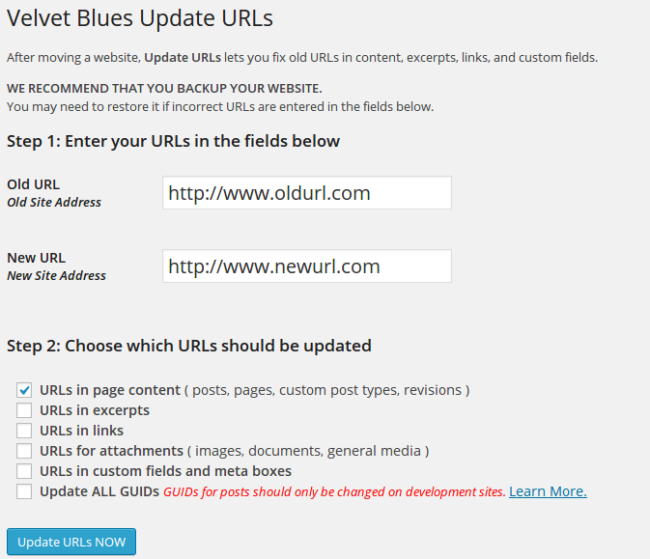 Do You Have Any Questions or Concerns? Check Out Some FAQs Below.
What if I don't want to setup or transfer my own WordPress blog?
Is there a way that someone else could transfer your site from WordPress .com to WordPress.org? We offer a free WordPress blog setup service to anyone who is interested. Please feel free to contact us here if you have any questions.
Does it matter where I previously bought my domain?
No, it doesn't matter. You should be able to transfer over any domain to the new website. For example, if you registered the domain through WordPress.com, you can quickly transfer it over to your new site. The same goes for if you got the domain from somewhere like GoDaddy.
All you have to do is move that domain to the new web host.
Will any of my posts, pages or data be lost during the transfer?
As long as you exported all your posts, pages and data from the previous WordPress.com site it should all still be there.
Will I lose the search engine rankings I previously built up?
If you use the Site Redirect upgrade we previously talked about you won't lose any of your search engine rankings. Switching your URLs and redirecting your previous site helps to keep the SEO that you built up from before. It might not be perfect, but it certainly helps.
Will my site experience downtime?
If you follow all the steps above you will not experience any downtime. Why? Because we are leaving the old site active for the entire process. It isn't until the new site is up and running where we create a redirect from the old site.
What happens to my images when I make the move?
All the images come along as long as you check off the Download and Import File Attachments in Step 3.
Do I have to pay for this process?
Nope. This process is completely free, so it's worth a shot. The only thing you might have to pay for is the Site Redirect Upgrade if you go with this route. Even if you let us migrate your site you don't have to pay a dime.
Do my WordPress subscribers come with me to the new site?
As stated before, the WordPress subscribers don't magically move over to the new site, but you can redirect the old site and even send the users an email if you want them to view the new site instead.
That's it! Let me know in the comments section if you have any questions about how to move from WordPress.com to WordPress.org. If this process seems too intimidating have us migrate or create your WordPress site for free.