WordPress has recently released the 4.2 Beta versions that promise some significant improvements. A few new features are also introduced for the upcoming final release in April. As it is one of the most popular open-source blogging and content management systems, developers, and bloggers are eagerly testing the Beta versions on a staging environment. I encourage you to use the WordPress Beta Tester plugin to carry out your own testing.
Developers are taking mobile devices user experience more seriously. You will be glad to know that the Customizer has been tweaked to perform better on mobiles. Other minor changes include: introduction of the option to dismiss notices from administrator and removal of the ability to swipe the administration menu on touch devices. A significant boost for visually impaired WordPress users is the improvement in code which assigns ARIA landmark roles to elements of the web page. That makes it easier for screen readers to convert the web page output to text-to-speech or Braille. Without this feature, the screen reader users must intuitively discern various elements of the web page themselves. Overall, you will find that the accessibility of the administration menu has been vastly improved. iOS lovers will notice smoother scrolling on their devices.
Another exciting feature plugin under development that may be eventually incorporated into WordPress 4.2 is "Image Flow". Currently, a user may edit images from the media modal. But, editing images this way is frustrating! A more advanced image editor is under development. If you'd like to help with the Image Flow plugin development, read this official WordPress document to find out how you can get involved.
Apart from the background enhancements, check out the major changes that have been made to improve the user-experience on WordPress.
An Emoji is worth many words
WordPress 4.2 includes extensive Emoji support, which includes post slugs. All popular emoticons are available in the new sets. Previously, only rudimentary emoticons were available in WordPress, and the core did not support Emojis. Sometimes, an Emoji can express a person's feelings far better than words can. So, enjoy the new dimension of expression which will be available in WordPress 4.2!
An aspect of this new feature I must mention is the underlying work that was carried out in order to incorporate Emojis. Until now, MySQL databases in WordPress were encoded in UTF-8. However, the encoding support was limited to 3-byte. This limitation created hurdles in supporting Emojis and almost all Asian languages, which are typically 4-byte in nature. In version 5.5, MySQL added 4-byte encoding that paved the way for Emoji and Asian languages support such as Korean, Japanese, and Mandarin Chinese.
WordPress is your canvas!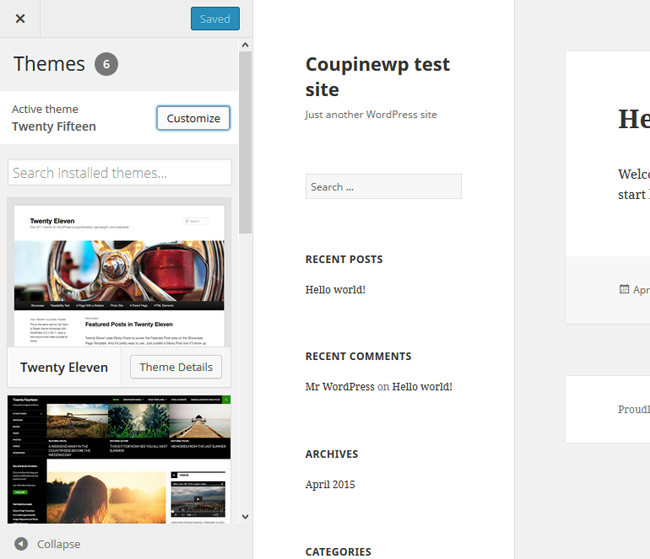 WordPress has had customized theme options since a while now. You may choose from innumerable free themes available online or buy a paid theme for your WordPress site. The 4.2 version brings you further improvements in the installation, browsing, and previewing processes of themes using the Customizer screen. This feature displays a full preview of how the page will appear to a visitor. It allows the user to make sure all visual aspects of the theme are as required, before publishing the theme live.
Installing plugins is a breeze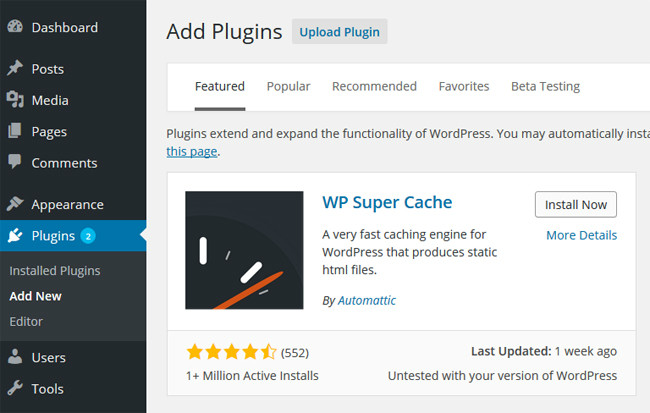 The purpose of an update is to reduce hassle as much as possible. With regards to plugins, WordPress 4.2 does just that. The 'Add Plugins' tab now provides easy installation of plugins along with automatic activation. This cuts one step and two page loads from the plugin installation process. However, some users find this feature over the top as they wish to retain control of the activation aspect of the plugins. If a user only wants to install a plugin and not activate it, then it must be manually deactivated from the "Installed Plugins" screen. Updates of plugins can also be performed easily without the need to refresh the page.
Publish external content faster
Did you come across something while browsing the web that you want to post on your WordPress site? The handy "Press This" tool allows you to clip portions of external web pages, including text, images, and videos. This tool has been modified to make embedding of content easier. "Press This" now has a convenient bookmarklet that is available in the Tools area of the WordPress Dashboard.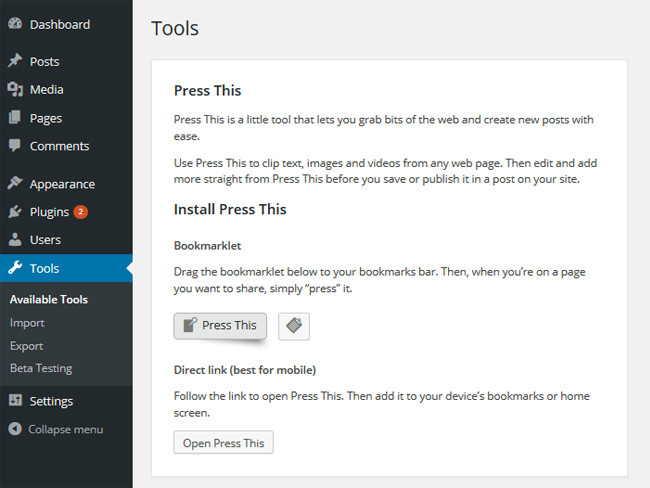 Just drag and drop this bookmarklet in your Bookmarks toolbar in order to make it work. Whenever you want to include a link in a WordPress 4.2 post, just click the "Press This" bookmarklet and it will open a pop-up window, which will contain the page title, an excerpt and an image of that link, allowing you to add your own thoughts to the post. The 'Press This' feature works on all web pages, but on oEmbed web pages such as Twitter, YouTube, Instagram, etc., the embed code is automatically fetched. The "Press This" tool is available for mobile devices as well.
Other Tweaks
The taxonomy structure has been revamped to solve the problem of duplication when updating shared terms across different taxonomies. A new feature in a function will allow screen readers to be able to read responses generated by JavaScript.
Overall impression
The updates and improvements seen in the Beta versions of WordPress 4.2 are definitely indicative of the hard work of the development team. A total of four beta versions have so far been released. The development team has introduced changes that are expected to be well received across the board by developers and users of WordPress. Many issues and bugs pending from previous versions have been resolved. No doubt, the new features will give WordPress users new dimensions of expression and functionality.
The final release is slated for the third week of April. Do let us know your views on the 4.2 version.
Happy posting!