It's always exciting to install WordPress and your favorite theme on a fresh domain, isn't it?
After just a few minutes of setup, you're sat looking at a beautiful, unrestrictive blank canvas that you can mold into any type of website – the only limit is your imagination.
But not every WordPress user wants a blank canvas, however.
This is especially true if you've picked your theme because you liked the theme demo. Straight after installation, your website will look nothing like the demo, unfortunately.
If you're an inexperienced WordPress user, this can be incredibly infuriating. You can spend hours scratching your head, trying to figure out how to get your website resembling the demo you fell in love with — I know the feeling, I've been there myself!
There is a quick solution to this predicament, though, and many theme developers are catching on to it: dummy content.
What is Dummy Content?
A WordPress theme is nothing without content.
As you've probably realized, if you install a theme on a fresh WordPress installation, there is no content – just a single post, page, and comment.
With no content to work with, even the best WordPress theme can look a bit lackluster.
Dummy content is a quick fix to this problem – a better word would be 'demo' content, though.
Dummy content takes the form of a simple XML file. Within this file, however, is loads of demo content that you can use to populate an empty website.
These days, many premium WordPress themes ship with dummy content. When you upload the dummy content file to your website, you are effectively uploading the same posts, pages, images, and settings you saw in the demo.
In other words, the dummy content can make your website look just like the theme demo you fell in love with, in just seconds.
This has a distinct advantage over building your website from scratch: the dummy content shows off all of the theme's premium features with zero configuration on your part. You can then go through and change/delete the characteristics you don't want, and keep the ones you do – this is a serious timesaver.
Once you've decided which to bin and which to keep, you can go about replacing images and rewriting text to make your website your own.
Dummy Content for Developers
But dummy content can take many forms – for example, you could export the content from your existing website to give a new project the basic content it needs. You can upload dummy content to any WordPress install, to quickly give yourself a full collection of posts, pages, and images.
This is especially important for WordPress theme developers – how do you know that your theme works properly if there's no content on your website to test it?
Of course, it's a real chore to add hundreds of complex posts and pages to a blank website — copying and pasting loads of Lorem Ipsom text won't cut it for testing purposes.
Good news, then: Automattic (the people behind WordPress.com) have created a standardized dummy content file for theme developers – the Theme Unit Test. If you want to download the Theme Unit Test, just follow this link.
More than just dummy content, the Theme Unit Test puts your WordPress theme through the full range of functionalities – your theme will have to pass this test if it is to be included in the official WordPress directory. This includes testing:
Posts display correctly
Static front pages
Different WordPress settings
404 pages
Search results pages
Blog posts index pages
Different post formats
WordPress tags and categories
Different layouts, including HTML tags like H1, H2, H3, etc.
In other word, the Theme Unit Test includes a varied set of posts, pages, images, and settings that give your WordPress theme a complete workout.
How to Install Dummy Content
Now you know a little bit about dummy content, it's time to show you how to install it on a WordPress website – don't worry, it's really easy to do.
After logging in to WordPress, navigate to Tools > Import.
This screen will display all of WordPress's tools to help you quickly and easily import a lot of data.
To import dummy content, however, you'll need to select the WordPress option.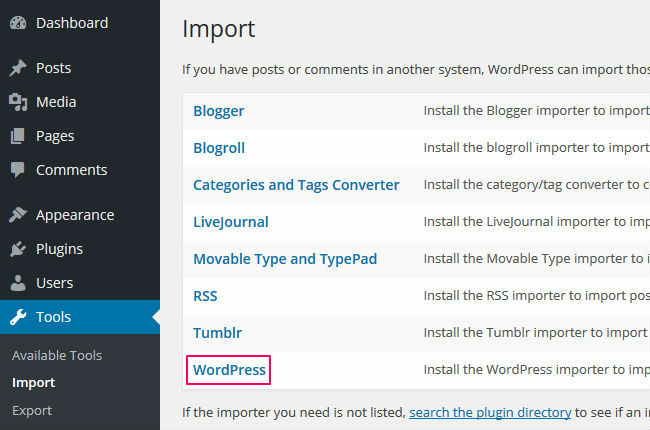 A pop-up window will appear, allowing you to quick-install the WordPress Importer plugin. Just click the Install Now button.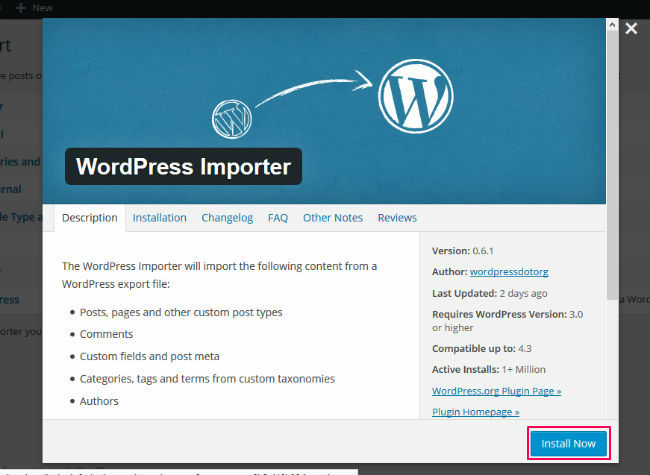 After the plugin is downloaded and installed, next you need to click the Activate Plugin & Run Importer button.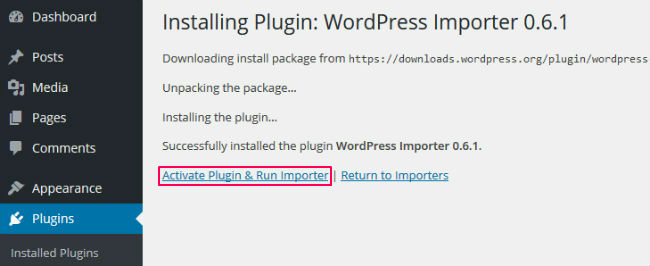 With the plugin installed and activated, you'll be able to upload your dummy content straight away. Just hit the Browse button, then search your hard drive for the relevant dummy content XML file. When you've found and opened it, click the Upload file and import button.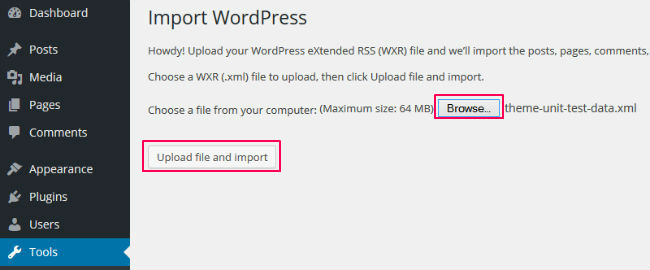 So far, so good.
The final (and perhaps the most complicated) step is to assign an author to the posts and pages. Unless (by some freakish coincidence) your username matches the one from the dummy content, you'll see a screen that looks like this: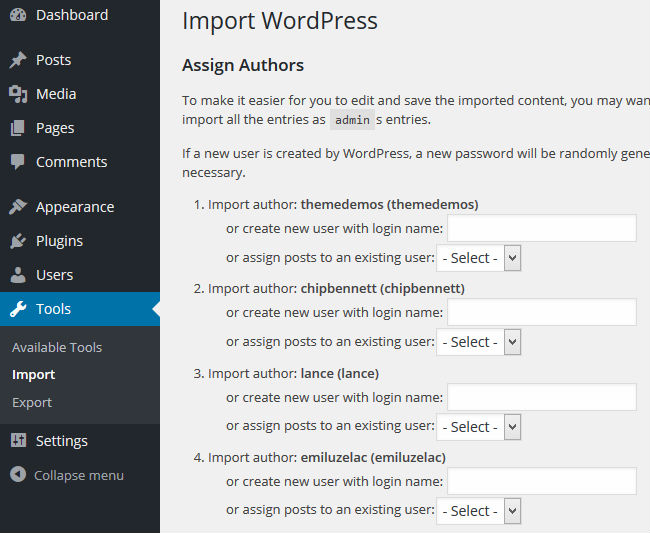 This is because WordPress is trying to assign authorship to users who don't exist on your website. Because every post needs an author, you'll have to re-assign the dummy content posts to an existing WordPress user.
I'd recommend assigning everything to the admin account, simply because the admin has permission to do everything on the site without restriction. Depending on a user's permission levels, some users may not be able to upload content to certain restricted areas.
If you'd prefer to assign them to a new user, though, just type the name of your new user in the box, otherwise, select an existing user from the drop down menu.

At the bottom, make sure you've got the Download and import file attachments box ticked, then click the Submit button.
All done! Now when you try to view your website, you'll be greeted with a website full of demo content.
Final Thoughts
Installing dummy content by using the WordPress Importer is the quickest way to import pages, posts, file attachments, and menu items for a new website.
It allows you to use a top-to-bottom approach, ensuring you utilize all of your theme's features and functionality. After installing the comprehensive dummy content, you can then 'trim the fat', leaving you with only the features you really need – awesome, right?
If you're unfamiliar with how a new theme works – or you're a developer building a new theme – dummy content can save you a lot of time. By having the menu items installed and page structures in place, you can simply rename pages, rewrite content, and add your own images – much quicker than creating content from scratch.
If you're struggling to bring your new idea to life, dummy content could be the ideal helping hand you need to get you started.
Do you have any tips for using dummy content? Share your thoughts in the comments below!