Have you ever wondered what it is that makes a company successful? If you have answered "quality", then I would say that it's just one part of the equation. The other and equally important aspect of a company's success is marketing.
As an aspiring online entrepreneur, your goal must be to master those marketing channels that acts as a catalyst to your company's success. In addition to this, you must be abreast with the latest marking studies, trends, and products.
Online businesses – be it a blog, a forum, a product or a service; must rely on harvesting the various online marketing techniques at their disposal.
There are a lot of players in the email marketing scenario with big names like GetResponse, Aweber, and MailChimp. They've been around for long and have gained the trust of the masses which helped them to dominate (and to a certain extent monopolize) the email marketing business.
Today, I want to introduce you to this brand new email marketing service I came across – SendinBlue. In a nutshell, SendinBlue does email marketing, SMS marketing and transaction emails (i.e. emailing purchase confirmations and forgotten password reminders). All of this is done in an easy-to-use interface with an extremely competitive price tag (you'll shortly find out how – or if you cannot wait, jump to the Free Email Marketing? section)
History Lesson
You can skip this part if you'd like, but I would always like a quick background on the service I'm investigating.
In early 2011, Armand Thiberge (CEO of a web development agency) and Kapil Sharma put together a team of 15 web developers and in 18 months they developed SendinBlue, focusing more on the intuitiveness than the moneymaking side of things.
Launched in September 2012, the company set out to provide the world with "the simplest, most reliable marketing solution for everyone". After using the service for a half hour, I would say that SendinBlue is one of the most intuitive email marketing services I've come across.
In case you're wondering where I got this information from, don't worry – it's all there in SendinBlue's "About" page.
Gorgeous Feature Set

Let's take a moment to discuss some of the most interesting features the SendinBlue team has to offer:
Dedicated IP: This feature allows you to associate an IP address to your newsletters which further improves your brand identity. In a nutshell, this feature allow you to sign your sent emails with your domain name. In essence, the curious reader would find that your domain had sent the email!
Heat Map allows you to effectively track the regions in your email which get clicked the most
Google Analytics integration allows you to closely monitor conversion rates and advanced visitor statistics
Audience Analytics allows you to monitor (in real-time) the actions performed by your visitors (such as email open rates, link click rates in newsletters, etc.
With Test Campaigns you can create a list of a number of test candidates and send them your newsletters. Once you're satisfied with the realtime results, you can go ahead and send the email to your actual list. This essentially creates a control (or test) group for your newsletters.
Apart from this, you get the standard Responsive Drag & Drop Newsletter Builder, Contact Manager and Configurable Autoresponders.
Extensive Documentation: (A resource not to be overlooked) the exhaustive tutorials presented on every topic, makes it very easy for a careful reader to accomplish a lot of tasks in very little time (and possibly without a single support request)
While Labelling Services: Also known as the reseller program, you can use SendinBlue's infrastructure to create your very own email delivery service.
API Integration: SendinBlue's powerful API service allows you to integrate SendinBlue's features in your application, which can be written in a variety of languages including PHP, Python, Node.js, C# and Ruby.
Email Lists: With SendinBlue, you can import multiple contacts from the standard XLS, XLSX, CSV, and TXT files.
Multilingual: SendinBlue supports 5 languages including English, French, Spanish, Portuguese, and Italian. More languages are on their way!
Advanced Statistics: SendinBlue gives you access to some useful data in the Statistics Some examples include – the number of people who opened an email (open rate) or clicked a link (click rate) at least once, permanent delivery failures, number of people who unsubscribed, etc. Such data is very useful for assessing your newsletter's outreach.
Extensive Tutorial Set: SendinBlue houses a library of resources covering topics from "getting started" to "email deliverability"
Free Email Marketing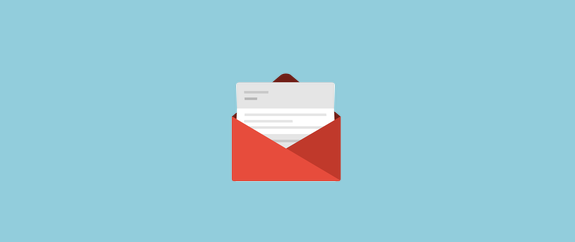 This is one of those features that keeps the good email marketing services, a class apart from the rest. The underlying technique of such a "free" offering is an age-old "try before you buy" principle, which is arguably one of the most successful forms of marketing.
What makes SendinBlue awesome, is the fact that you can sign-up for a free account, without any credit-card information.
What makes is even better is the fact that SendinBlue's free plan is completely free – for life! 9000 emails per month with a limit of 300 emails per day.
Paid plans start at $7.37 USD for 40,000 emails per month.
Branding logo can be removed only from Bronze plan – $39 USD for 60,000 emails per month.
To my knowledge, only MailChimp offers a "free for life" plan, although you're limited to a maximum of 2,000 subscribers and 12,000 emails per month. That's essentially sending 6 emails per month to your subscribers.
In comparison, with SendinBlue, you are allowed to have unlimited subscribers, but you can only send 9000 emails per month, with a restriction of up to 300 emails per day (apologies for being repetitive). Here's what you need to know about the free email marketing services from SendinBlue – you get all the features from the standard set of offerings, other than three things:
Heat Map to track the click rates of your subscribers
Information on subscriber actions – for example you can find out who opened your email, what are the links that were most clicked in your sent emails, etc.
You also get a 2 month trial of the Newsletter Builder tool in both the Free and the Micro Plan
SendinBlue's Branding Logo
Another crucial factor of the "free" plan is the SendinBlue logo. As long as you are using the Free or the Micro plan, you will have the SendinBlue logo attached to all the emails you send your customers.
This is one of those rare cases where even with a paid subscription, you aren't able to remove the service supplier's branding. Personally, I do not hold this against SendinBlue since they are offering an incredibly awesome free service, which would be difficult to replicate for new businesses.
Much like the "Sent from my iPhone" signature, this technique does most of the marketing for SendinBlue.
Creating your First SendinBlue Campaign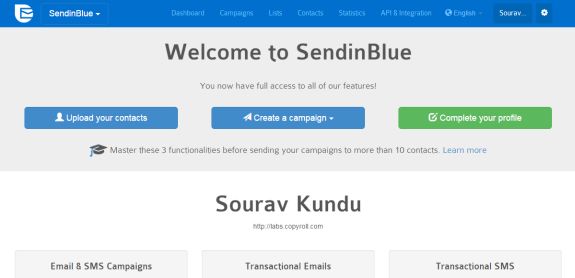 Now that we've established that we can sign-up for a completely free SendinBlue account, let's set one up to create our first campaign.
First, you'll have to create a new account – follow this link.
Once done, you can import a test group of your contacts (just to get things started) and/or complete your pending profile information.
Anti-spam policy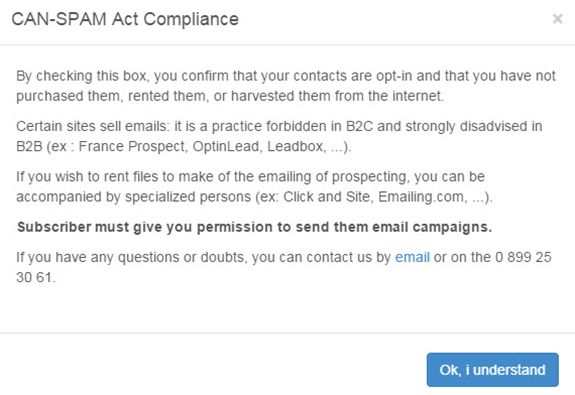 In the Profile page, you will be asked to agree to a strict anti-spam policy, failing to adhere to which will get your account suspended.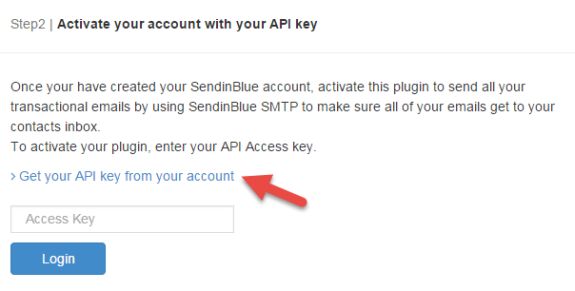 Next, install the SendinBlue WordPress plugin and connect it to your SendinBlue account using the API key.
Copy-paste the API key and click on the Login button.
This connects your WordPress plugin to your SendinBlue account.
Now we're ready to create our first campaign.
Step 1 of 4:
Since the WordPress plugin merely replicates the functionality of the actual SendinBlue web application, I found it much easier to use the actual SendinBlue dashboard.
If you want to do it from your WordPress dashboard, you can find the settings under WP Dashboard > SendinBlue > Campaigns > Create New Campaign.
For the SendinBlue dashboard, select Create a Campaign > Create a Regular Campaign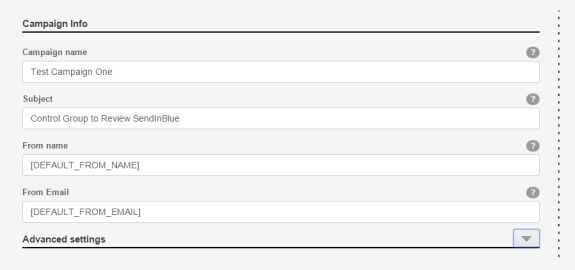 Add your essential campaign details (such as the name, subject, from name, from email, header, footer and so on) and click on "Create Your Email" to proceed to the next step.
Step 2 of 4:

In this step, we use any one of four available tools to design our newsletter.
Drag and Drop Newsletter Builder
WYSIWYG Editor
Direct HTML Code to Newsletter
Responsive Design Newsletter Builder

Once you've designed the newsletter, you can send it to a test group or a singular test email to test it in "realtime". If you're satisfied with the results, proceed to the next step.
Step 3 of 4:
In this step, select the recipient list. You can select one or more, but must limit to the limit of 300 emails per day if you're using the free account.
Step 4 of 4:
Finally, this step will show you a full preview of the email that's going to be sent to your subscribers. Schedule the time of delivery and click the big yellow Schedule button. You can also send your campaign instantly, by clicking on the link right below the schedule button.
However, we would recommend against it, since it is a good practice to send newsletters at fixed hours – maintain a consistent delivery routine.
Integration with WordPress and other Third Party Applications

All email marketing services require a set of plugins with the major Content Management Solutions (CMS) in order to gain a loyal following. SendinBlue is no exception. It has five exclusive plugins for some of the most popular CMS including a custom WordPress plugin. Following is the list of the officially supported CMS in SendinBlue:
WordPress
PrestaShop
Magento
Drupal
The SendinBlue section in your WordPress dashboard will give you access to the same data and content that you have in your SendinBlue account. You can view your credits, contact lists, campaigns, statistics, and more.
A Few Thoughts on SendinBlue's Pricing Strategy:
For any business to thrive, it must establish its brand. Online businesses are no exception. That being said, sporting the logo of your "email delivery guy" isn't the best approach. SendinBlue removes the branding only when you buy the Bronze Plan (or higher), which starts at $39 USD per month. In essence, you'll have to shell out 40 bucks a month for your email delivery.
It is worthwhile to mention that you get a free dedicated IP when you subscribe for a Gold Plan or higher. Take a look at their detailed pricing FAQ for in-depth information.
It can be justly stated that SendinBlue pricing strategy is purely based on "the number of emails sent", rather than "the number of subscribers" you have. When compared to MailChimp, SendinBlue evaluates to be much cheaper in terms of bulk email delivery.
Over to You
SendinBlue looks like a promising service that can give the dominant players in the newsletter industry – a much awaited nudge. With its transparent pricing and free offering, SendinBlue is building up to a large consumer base. Question is – are you ready to give it a try?
If you are still not sure which email marketing software to go with, see our comparison on 6 Email Marketing Platforms Worth Considering.
Let us know in the comments below.