PILE is a WordPress portfolio theme. However, it's not just any old WordPress portfolio theme. It's one that has been built and priced to stand out from the competition and appeal to a different demographic than many of the other portfolio WordPress themes out there.
In this PILE theme review, we'll not only be exploring the features and user experience of this product. We'll also find out more about the rationale behind the decision to increase the price of this theme and examining what you get when you spend $225 on a WordPress theme.
PILE WordPress Theme Features
We'll start this PILE theme review by exploring its best features. This will help you decide if this is the right option for your online portfolio. Once we've covered what this portfolio WordPress theme can do, we'll move on to the user experience. Finally, we'll conclude by discussing the interesting approach to pricing Pixelgrade has taken with the PILE theme.
Stylish Design and Memorable User Interface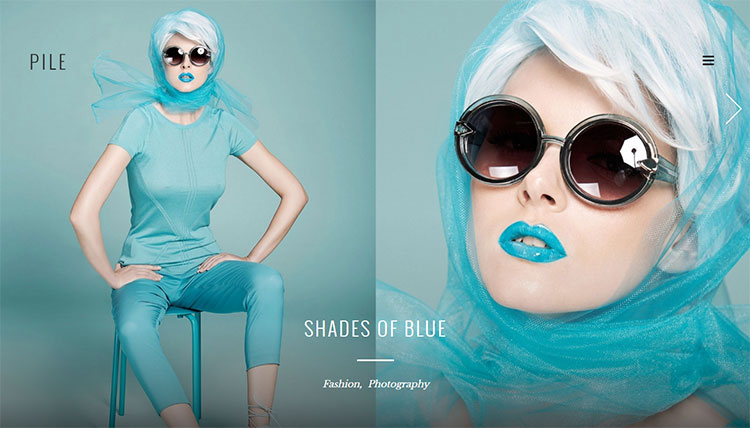 The stylish and attractive design of this theme is one of the best reasons to choose PILE.  As this is a WordPress portfolio theme, if you're considering PILE, the main purpose of your website is likely to be to wow your visitors. Presenting your work in the best possible way will be one of your top priorities. Thankfully, in this regards, PILE doesn't disappoint.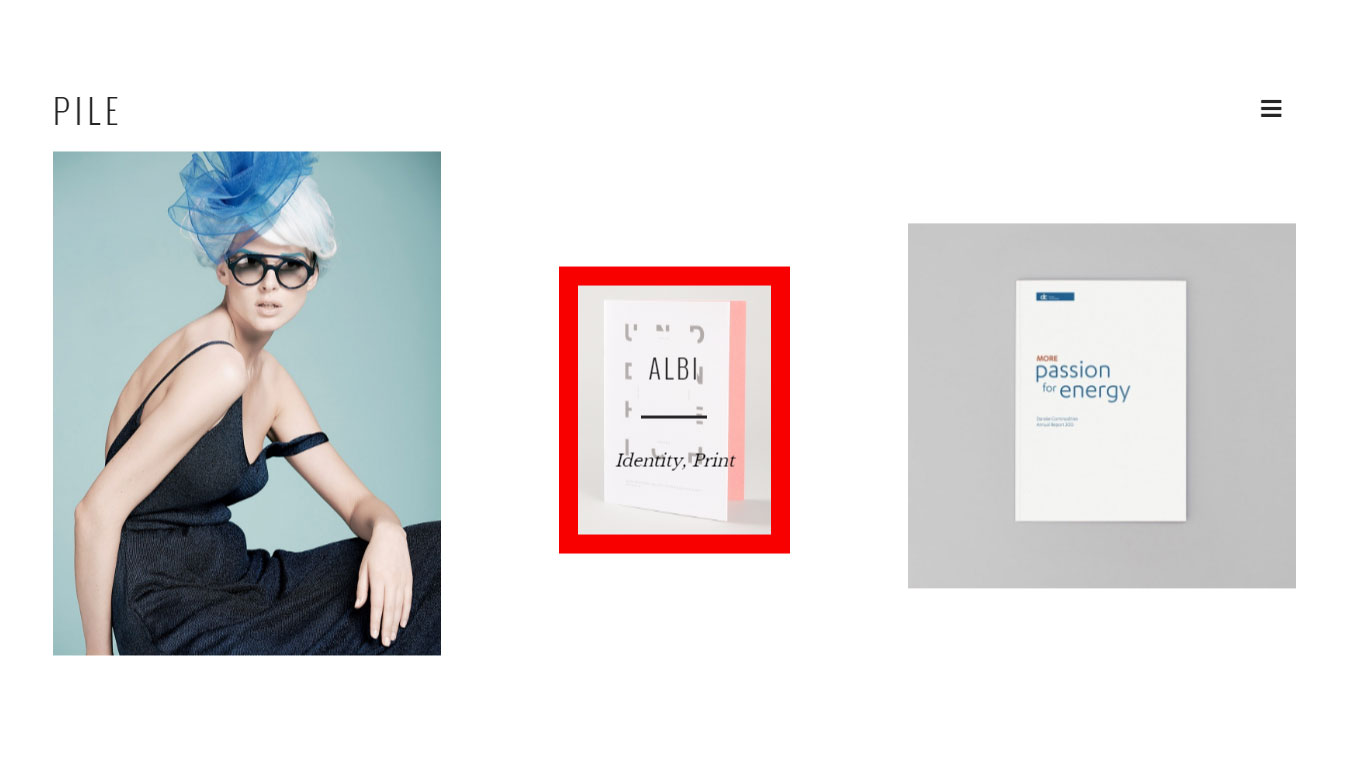 The appearance of this theme isn't only eye-catching and unique. PILE does an excellent job of displaying your portfolio without getting in the way of your content. The full-screen slideshow is perfect for presenting your best portfolio items above the fold on your site's homepage.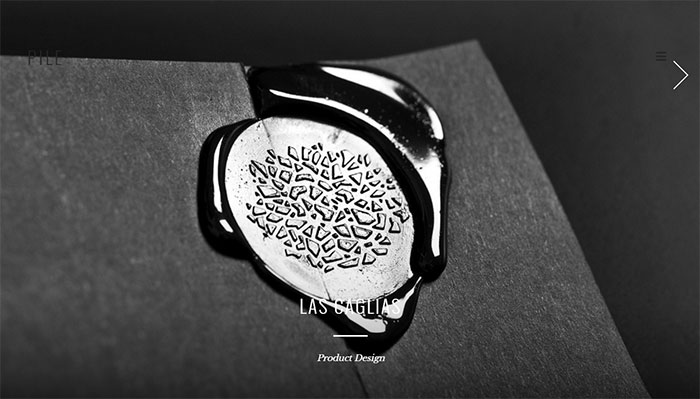 Furthermore, to help your slider stand out from the crowd and catch the attention of your visitors, the PILE slideshow features a unique navigation effect. As your visitors move their cursor around the page, as soon as they hover over the controls of the slider, their cursor changes to an arrow.
This makes it obvious to the user that they can interact with your website in an unconventional way. Browsing through your portfolio is now very easy for your visitors. Transforming the appearance of a cursor might seem like a small issue. However, anything that can help your site stand out in the crowded world of online portfolios should be embraced. This is especially true when it aids the user experience, rather than detracting from it.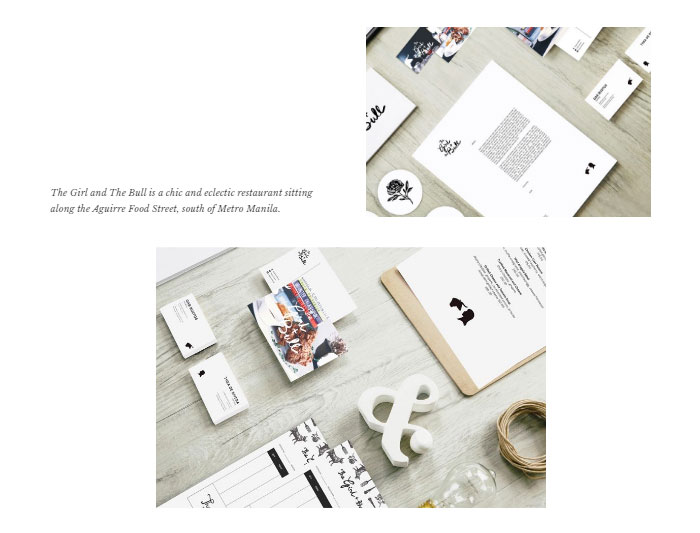 The stylish design and intuitive user interface doesn't end once a user clicks through to an individual portfolio item. Thanks to the PILE inner page templates, your online portfolio will have a consistently high-quality design from the start to the end of each user's journey.
Modern Portfolio Presentation

PILE gives you plenty of options when it comes to publishing your work online. No matter what size and shape your photos, illustrations, graphics, and other content are, they will be able to find a suitable home online with PILE. Publishing collections of work is very straightforward. It's something PILE was created especially to do.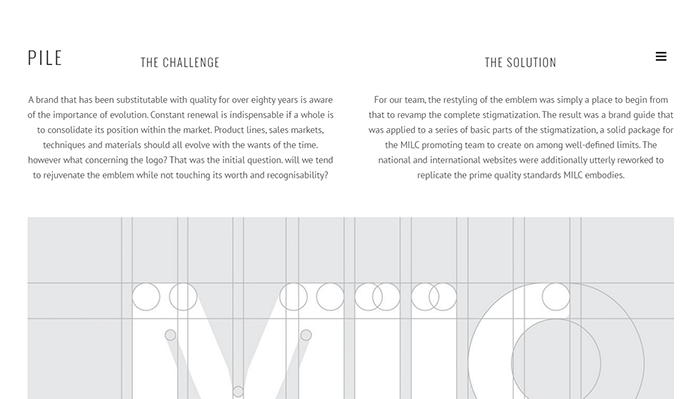 Thankfully, adding text to your portfolio entries to accompany your visual work is very straightforward. This gives you a good opportunity to share the story behind your creations. This applies whether it's work you've completed for clients or projects you've produced for your own satisfaction.

As you construct your portfolio pages, PILE gives you the option of peppering your layouts and designs with additional content, such as testimonials from happy clients. This can be a great way to add social proof to your portfolio.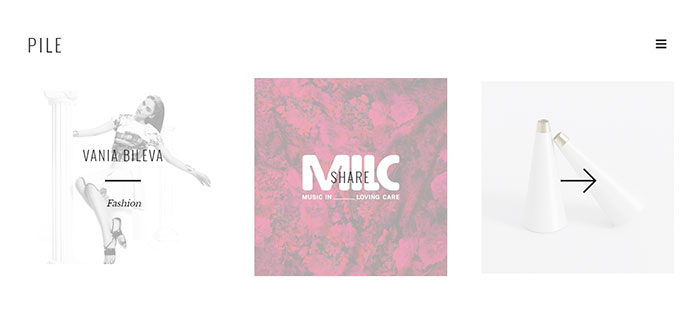 Theme Setup and Demo Content Import Process
So far, we've established that PILE certainly has the looks and features required to build a modern online portfolio. Now it's time to see how easy this theme is to use when it comes to creating your website.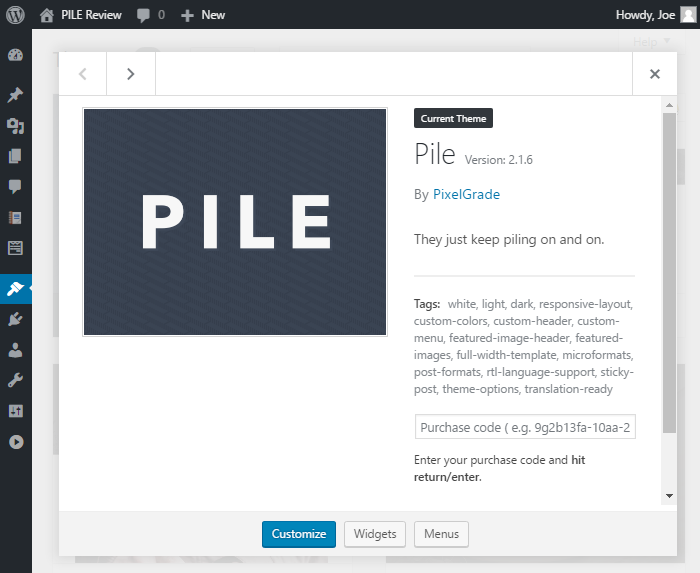 After uploading and activating the theme files on your WordPress website, you're prompted to install and activate the required and recommended plugins. Thankfully, this process only takes a few clicks, making it very easy to add this extra functionality to your WordPress website.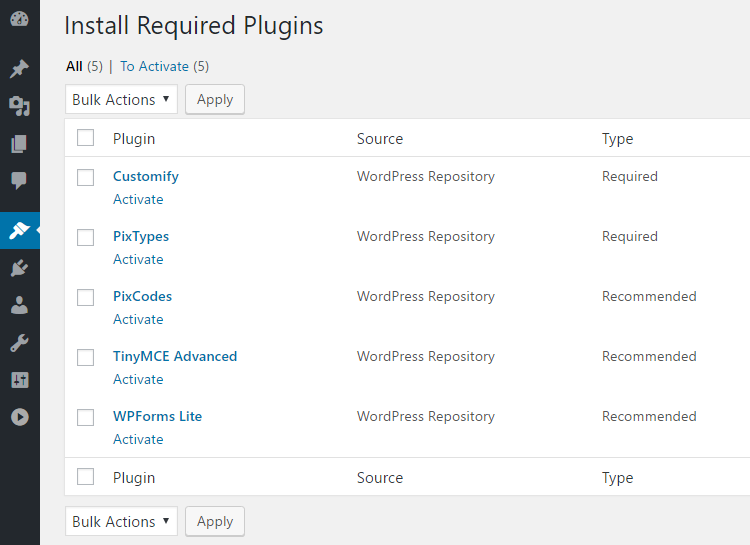 Once the necessary plugins are active on your site, you then have the option of importing the demo content. This gives you a quick and easy way to set up your site and lay the foundations for your online portfolio.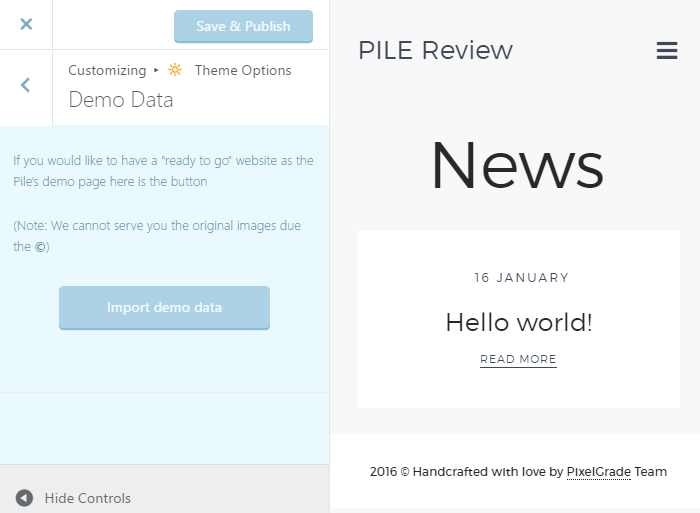 Again, the demo content process is very straightforward. A status message is displayed during the import to let you know what's happening. You also receive a notification when your new site is ready.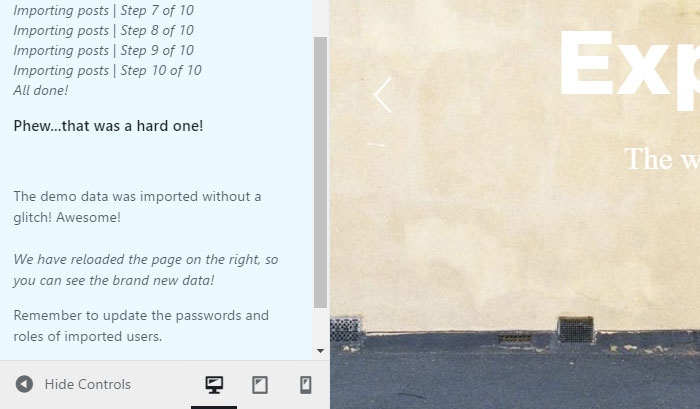 In just a few clicks, your WordPress website will be transformed into a stylish, modern online portfolio. Not only will this help you launch your new online portfolio faster, but also you'll be able to get a better understanding of how the theme works.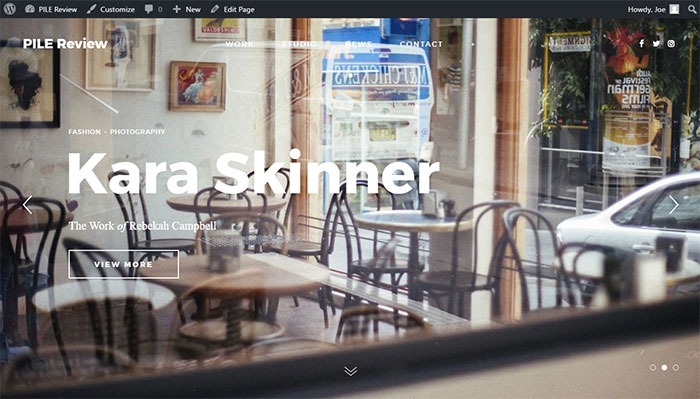 You can now browse the admin area of your WordPress website and examine how the demo content has been organized.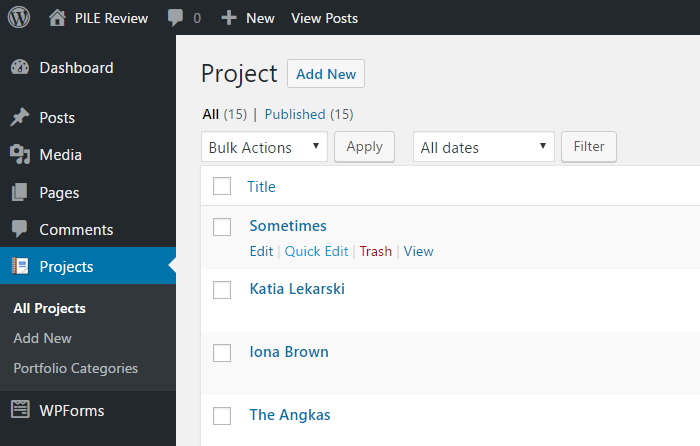 If you're new to PILE and its page builder tool, editing the example portfolio projects and other demo content is an easier way to get started than trying to create your own items from scratch. At least for the first few times you use PILE.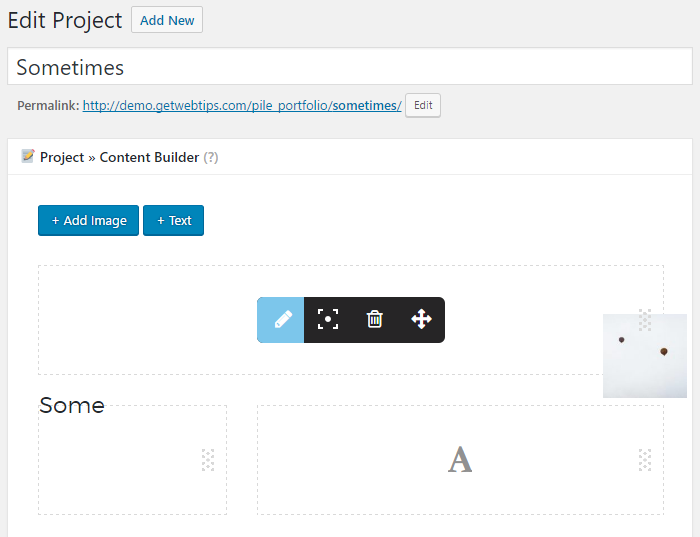 As you can see, this is the type of user experience that will help you launch your online portfolio regardless of your technical abilities and web design skills.
Customizing Your PILE-powered WordPress Website
As well as the page builder tool, PILE also features a great set of theme customization options. These controls are all accessed through the WordPress Customizer tool. Thanks to this, you get to modify your website through an intuitive interface. There's no need to work in a back-end control panel as is the way with some other WordPress themes.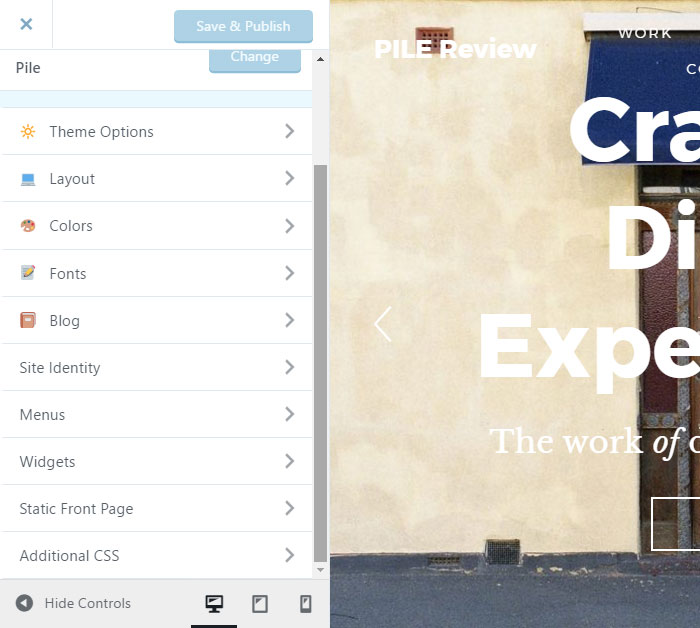 Through the customizer, you can personalize almost every aspect of your website. Changing the fonts of the different text areas on your site is straightforward. Colors for the different sections of your site can easily be modified. Uploading logo images, setting up the site menus, and choosing your widgets is all taken care of through the customizer controls.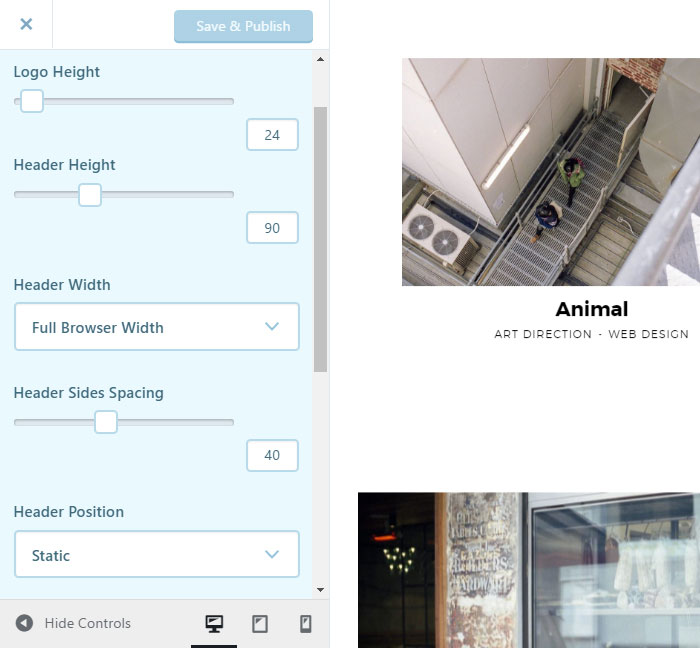 Overall, this makes PILE a very easy theme to use. Whether you simply want to import the demo content and then add your own work to the portfolio, or get more creative and customize your website through a set of intuitive controls, PILE caters to all options.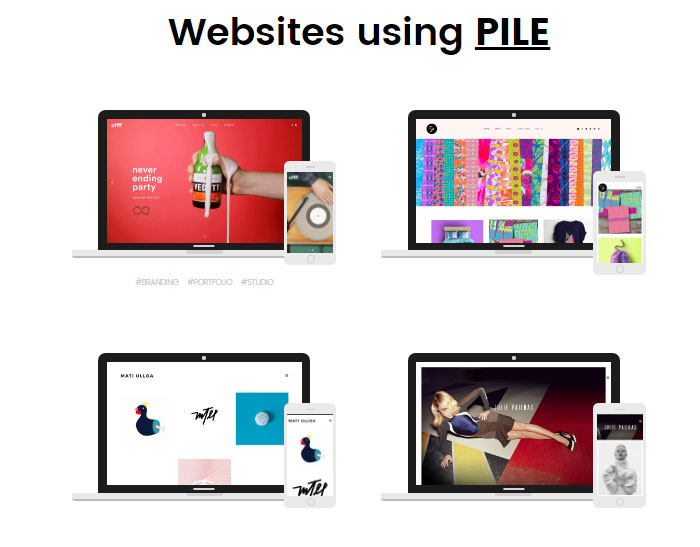 However, don't just take my word for it. Feel free to check out some of the websites that have been created with PILE.
About the PILE $225 Price Tag
As mentioned, PILE has an eye-catching price tag. With PILE, Pixelgrade has bucked the current trend of pricing WordPress themes at around $60. Pixelgrade didn't list PILE with a price that's comparable with the best-selling WordPress themes at ThemeForest and elsewhere. Instead, they've opted for the much higher price of $225. When you can pick up popular and accomplished WordPress portfolio themes like Werkstatt and Kalium for less, this does seem like a bold move.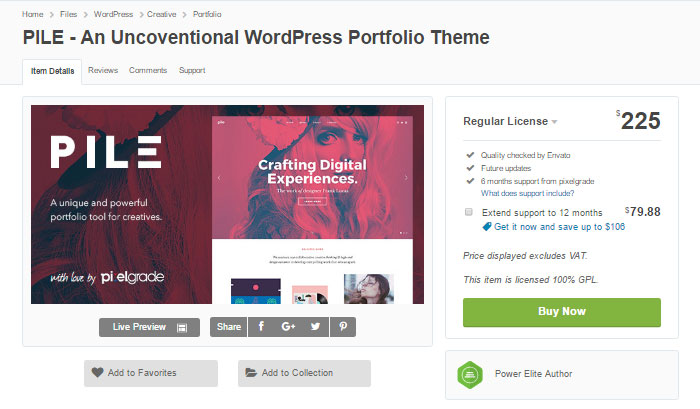 PILE wasn't always this price, though. Since Envato granted its ThemeForest authors the ability to set their own prices for their projects, Pixelgrade decided to experiment with a $225 price tag. However, this increase wasn't just a case of raising the price because they could.
The Pixelgrade team arrived at the new pricing strategy by taking into account how much effort they've invested in producing and supporting this product and their customers as well as how much value this theme offers its users.
Due to the higher-level functionality of this theme, and how much value it can deliver to its users in terms of the end product, a price tag of $225 was decided upon. Another benefit of this relatively high price tag is that it should help keep the number of customers the Pixelgrade team needs to support more manageable, with the option of growing the Customer Happiness department if needed.
In short, the answer to why are Pixelgrade are selling PILE for $225 is that it's all about quality over quantity. Instead of covering their costs by aiming for a high volume of customers, with the risk of overstretching themselves when it comes to delivering product updates and support, the team would rather deliver a high-quality product and service to a smaller number of dedicated patrons.
PILE Pricing Information
So, hopefully, we've shed some light why this theme (currently) costs $225, but what do you get for your money?
Well, apart from all the great features, functionality, support, and user experience outlined above, you also get lifetime access to future updates. This means that when new features are added and improvements are made to PILE, you'll have the option of updating the theme on your website to gain access to them. The $225 price tag also includes six months of support from the Pixelgrade team who are on hand to help with any issues that might arise when using this theme. This period of support can be extended to a further six months for an extra payment of $79. There's also a 30-day, no questions asked, money back guarantee in effect too, giving you a good opportunity to test out PILE for yourself.
You can view the full pricing details of this theme on the PILE page at the ThemeForest marketplace.
PILE Theme Review Final Thoughts
There are thousands of WordPress themes to choose from, especially when it comes to creating an online portfolio. So why choose PILE? Especially when it has a relatively high price tag compared to the other options available.
Well, the first reason you should consider PILE for your online portfolio is its stunning design. This feature alone helps PILE stand out from the competition and become a worthy contender for your project.
However, another important aspect of PILE is that it will help you get a stylish and professional portfolio online in a very short timeframe. Other themes might brag about a quick setup process. However, not all can also offer a high-quality design to match PILE.
If you've been putting off starting or finishing your online portfolio and making it visible to the world, spending $225 on PILE could be the final push you need to launch your site. Sometimes spending a bit more than you're comfortable with can give you that extra incentive to make use of the tools you've purchased to finish the job.
PILE has the right design to help you display your work online and promote your services in style. It might also just help you overcome the last hurdle between where you are now and where you want to be.