Back in 1996, The New York Times released its first online news portal. Do you remember the thrill and excitement of having fresh information that was just one click away? It really got me thinking about the tremendous evolution made from paper print to digital news and of the amazing diversity and speed that powers all of today's world news machinery. What a journey…
But, enough with all of that! Let's get to it!
Today we'll test one of the best-selling news and magazine themes on Themeforest – the Newspaper theme produced by tagDiv. At first glance the product looks flexible and mature. Specially designed for building websites for niches like News, Magazine, Blog, Travel, Tech, Fashion, Health, and others, this theme looks promising from the start.
Let's take a look at how Newspaper behaves by diving into its features, design, functionality, and performance, and let you decide if this theme is one to be used for your next website.
Newspaper at a Glance
I started by taking a look at the Newspaper demo and I must admit at first glance it had the look of a traditional newspaper theme.
On the left side panel of the demo page you have the opportunity to switch to other demos to get a feel for the different styles available. From the main menu, you can access the theme's latest features and try combinations of grids and style.
Installation of Newspaper
The installation of Newspaper is a smooth process, similar to other WordPress themes. Upon activating the theme, you are redirected to a welcome panel which includes links to the support forum, written documentation, and video tutorials.

The welcome page also directs you to a list of plugins that should be used with Newspaper that are all-inclusive with the theme's main files. These  popular WordPress plugins are compatible with Newspaper and can help optimize your website's functionality.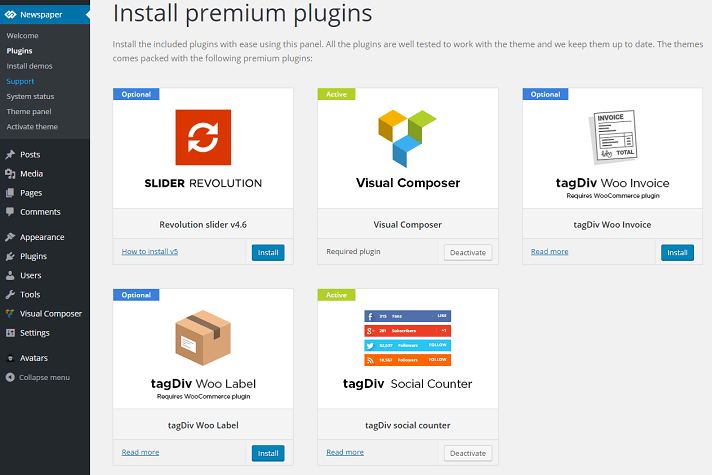 All of Newspaper's settings are gathered in one place with the suggestive name "Theme Panel". For easy accessibility this panel is placed right into your WordPress dashboard area and it allows you to modify all sections of your website with no coding knowledge required.
Newspaper: Design and Functionality
This theme brings nine designs that allow you to transform the look of your website. If you want to see how each one looks before installation, simply check the official demos.
The theme designs are called demos, but they can be installed with or without demo content. Each design is customizable meaning you can change whatever elements you want and keep the ones you like. The included designs are: Newspaper Default (default template), Cars, Travel, Health & Fitness, Tech, Sport, Fashion, Video, and Classic Blog.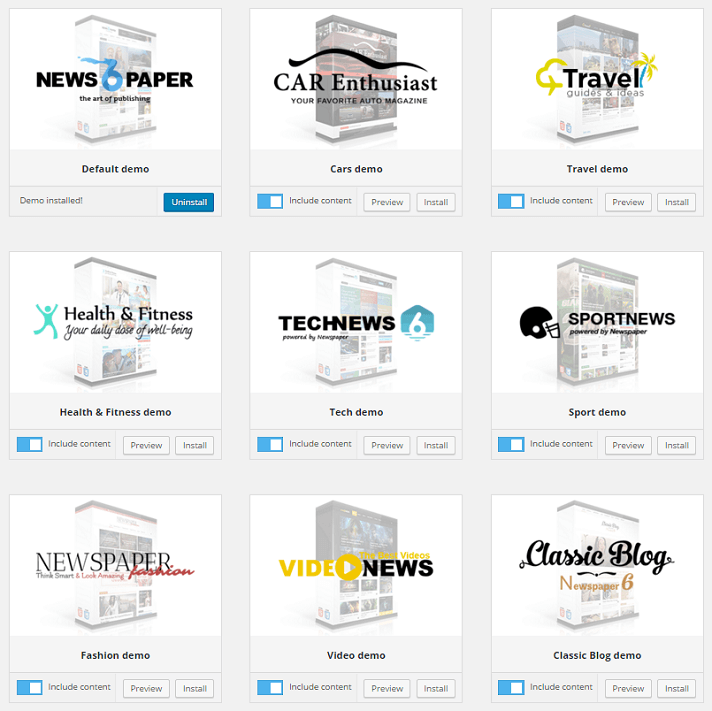 Just note that if you decide to uninstall a particular demo, the theme will delete all of the content including your modified design settings and bring the site back to its previous condition.
From a functional perspective, Newspaper offers users tons of features. Some of the best include:
Smart sidebar that adjusts the column to adapt to any number of widgets and screen sizes
Three menu section: top, main, and bottom and mega menus
Ajax pagination on blocks and on sidebar
Responsive design
Unique article system to avoid duplication on your homepage
Support for video posts (Vimeo, YouTube, and Dailymotion)
A built-in rating system with points, stars, or percentage
WooCommerce compatibility so you can sell digital or physical products right from your website
Clean SEO practices and compatibility with WordPress SEO by Yoast
Support of responsive Google AdSense and custom HTML ads
Login/registration system for members or commenters
Mobile bookmarking ability for your users on the go
Translation into dozens of languages
Live search with Ajax
Sticky menu with 4 options for choosing the behavior on both mobile devices and desktops
Lifetime free updates
Newspaper: A Closer Look
Now that you know a little about Newspaper's design and functionality, let's take a closer look inside the theme.
Headers and Footers and Ads, Oh My!
The team in charge of designing Newspaper understood that a website header makes a first impression on every visitor that comes to your website. That's why they provide 12 header styles to choose from.
There is room for a logo, custom ads, and the chance to orient it in a number of different ways on your website. Also included are 4 top menu bars to add social icons, login/registration options, and 'About' or 'Contact Us' pages.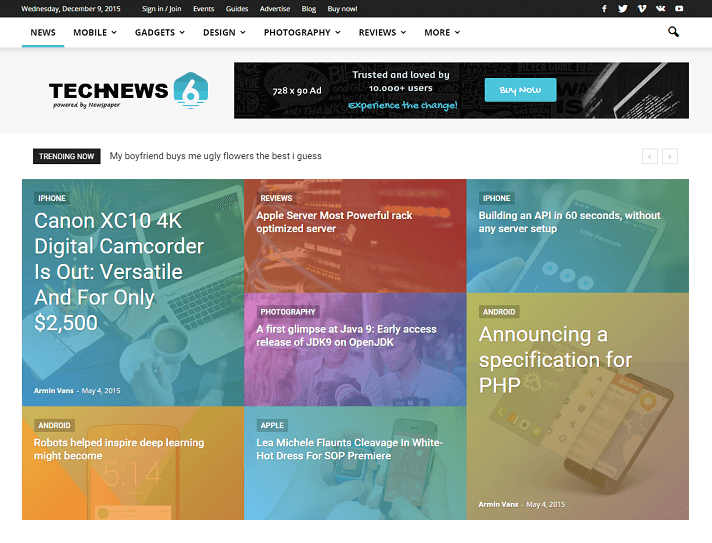 The footer section also has a variety of templates that can be customized using text, widgets, or social icons to maximize the impact your website has on your audience.
Ads can be placed on your website in various places such as in the header, background, at the bottom of posts, in specific post style templates, or in a custom place on the page.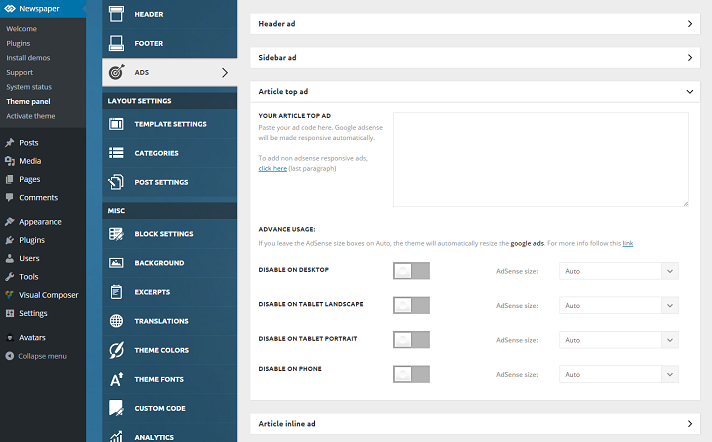 Each ad settings panel contains a place where the ad code is inserted. The theme will then automatically detect if a Google AdSense code is inserted and automatically deliver responsive ads to all website visitors.
Template Settings
This theme's template settings come with breadcrumbs, a smart sidebar, image animations, and a smooth scroll option. Along with the smooth scroll and image loading animation comes the tagDiv custom code for an optimal lazy load effect. You can even choose the loading effect for when the first images begin to appear on the page.
Categories
From the Theme Panel you can customize each category and subcategory as different pages making them unique to your website and attractive to your audience.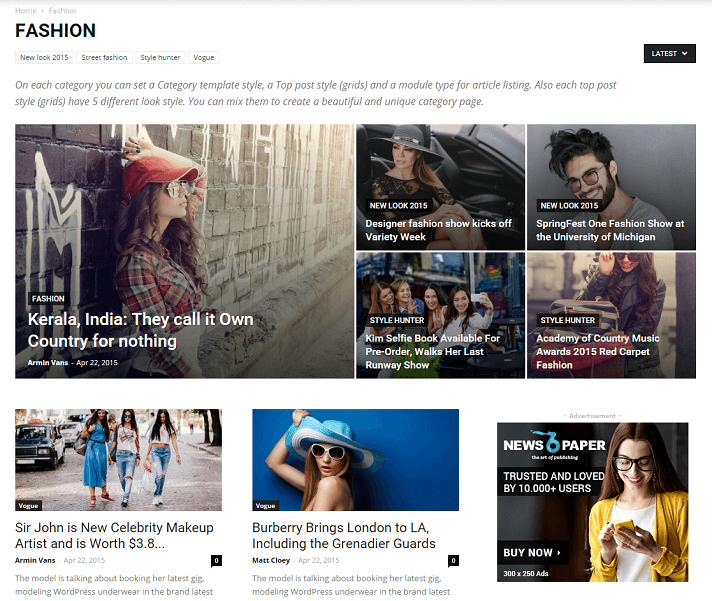 Cool tools to play with while customizing your categories include: page templates, color and background options, customized sidebar, different grid layouts, or styles on the top section of the category.
Post Settings
This theme brings 12 different ways to display your content in posts. You can use a featured image or video for a fashion or sport post, or just catch your reader's attention with a large, bold, and beautiful image.
Editing options include showcasing things such as author names, dates, tags, or next/previous posts. Customize where you want your social sharing buttons to be and even keep track of post views using the Ajax view count option.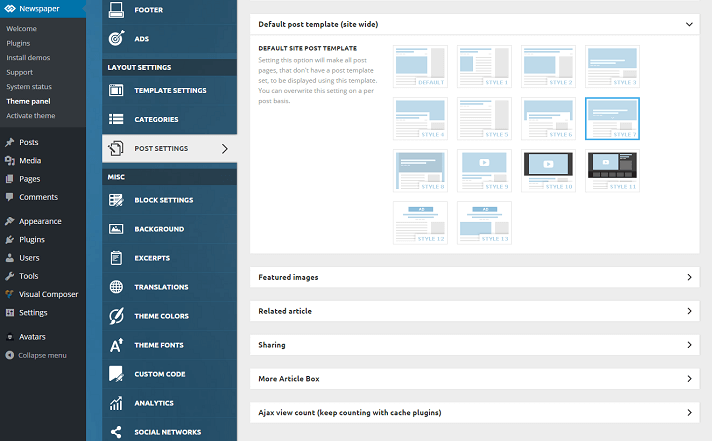 I found that using the TinyMCE WYSIWYG live editor was very helpful in previewing what my website was going to look like after publishing my content.
Fun To Use Tools
There are lots of useful tools and plugins included in this theme making it resourceful and valuable.
Visual Composer
This is a premium drag & drop page builder plugin  that comes free with the theme. With over 60 pre-defined layouts, Visual Composer is SEO friendly, gives the website owner complete control over all elements, and is fully responsive on mobile devices.
Revolution Slider
This is another premium plugin that comes bundled with Newspaper. It helps you create a Slider, Carousel, Hero Scene, or even a whole Front Page using the visual drag & drop editor.
tagDiv's Social Counter
This plugin was custom built by tagDiv to highlight your social profiles. The Social Counter plugin keeps track of your Twitter followers, Facebook fans, YouTube subscribers, Google+ profile followers, and SoundCloud followers.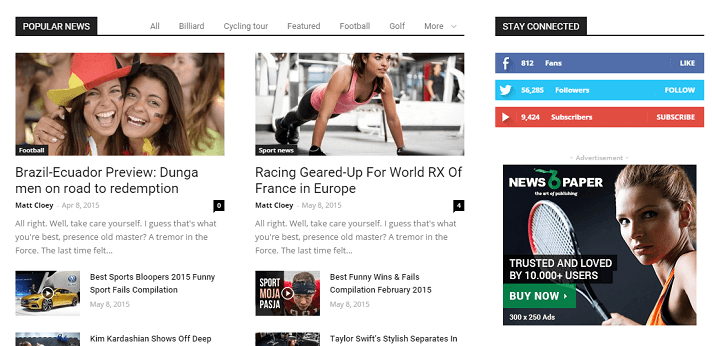 tagDiv's WP Booster API System
Designed for developers , this framework allows you to modify or add new elements (to your child theme). Keep in mind though this advanced tool requires HTML/CSS/PHP knowledge for making modifications.
Drag & Drop Gallery
The tagDiv custom designed gallery is integrated with the lightbox feature so your full-size high quality images can be easily displayed. This gallery also uses descriptions and copyright information at the bottom of each image.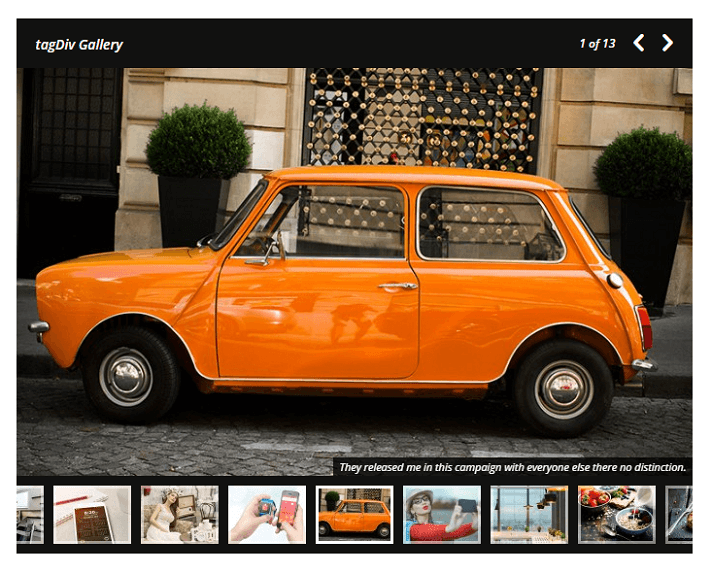 More Features
Just in case you haven't had your fill of features yet (remember, there are quite a lot), here are some more things that come included with Newspaper:
News Ticker – For breaking news or for a creating a countdown to a huge giveaway.
Smart Content Blocks –The smart content blocks are designed to adjust columns to fit your needs. With 21 styled content blocks and 6 modules you get more flexibility.
Font Awesome 4 Menus – You can add icons from the icon library using this plugin, to customize your main and top bar menus.
YouTube, Vimeo, and Dailymotion Video Playlist – Display your cool video content using a custom playlist. Moving from video to video after each one finishes allows a continual stream of your content.
About Performance
These days having a beautifully designed website and cool features is just not enough.  Your website visitors want a top notch experience meaning your website better load fast.
I decided to give Newspaper a test run using the popular online speed test GTmetrix after optimizing it according to the documentation recommendations.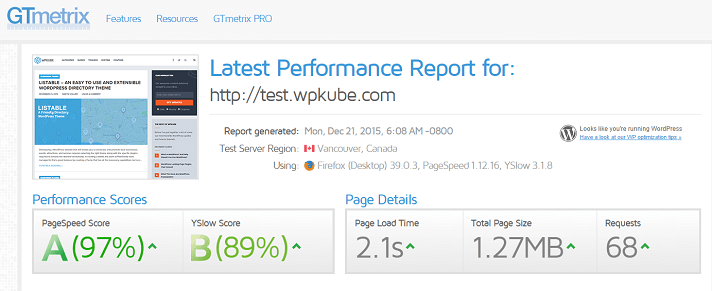 The results speak clearly for themselves.  With all of the blocks loading dynamically and all queries being calling sources through WordPress, the database is not directly accessed each time making this theme fully optimized and super fast.
Whew, We Made It!
Here is a summary of some of Newspaper's best features to better help you decide if this is the right theme for you:
Smooth professional design
Fast loading
Tons of cool features
User-friendly flexible interface
Easy to use
Outstanding theme support: forum support, documentation and tutorials
Free lifetime updates
Mature and stable theme (currently version 6.6)
Possible downsides:

the multitude of available settings can be overwhelming
the speed optimizations require server settings knowledge
missing WooCommerce custom product templates and a live cart
no RTL support
If you are looking for a premium theme to create a newspaper, magazine, or publishing type website I definitely recommend trying Newspaper by tagDiv. At the low price of $59 this theme would certainly be a great addition to your WordPress website.
Have you used the Newspaper theme for your website? I would love to hear your thoughts in the comments below.