Merchandiser by GetBowtied is a minimalist WordPress theme designed to be compatible with WooCommerce. The theme uses a minimalist design that ensures your customer's focus stays on your products as opposed to shops that clutter their storefronts with ads, banner tickers, and other elements.
Its minimalist approach is also intended to improve page speed by using a lightweight design and staying away from bloated code and styles. It was built from the ground up with a framework the developers designed themselves. It was also built to be modular, even shipping with SCSS files.
Here's a quick overview of the eCommerce-related features that come with this theme:
Multiple Catalog Options
Multiple Ways to Display Your Products

Infinite Scrolling
Load More
Pagination

Widgetized Search Bar
Off-Canvas Options

Shopping Cart
Quick-View for Products

Sleek Image Galleries for Products
Installation, Setup & Documentation
The process for Installing this theme is the same as any other theme. All you need to do is download the installable file from ThemeForest, install the ZIP file through the WordPress admin, and activate the theme. Nothing new.
The next step is installing the GetBowtied Tools plugin by pressing the Begin Installing This Plugin button.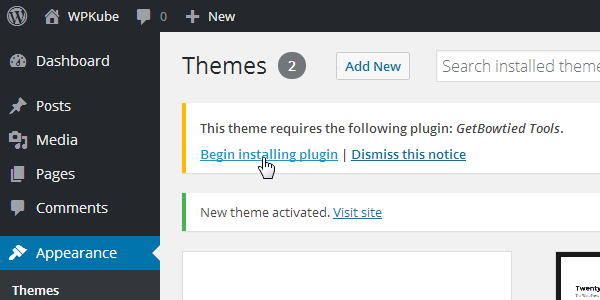 You'll be greeted with the Merchandiser Welcome Page after installing and activating the theme. This page will contain an alert prompting you to enter the activation key you received when you purchased this theme.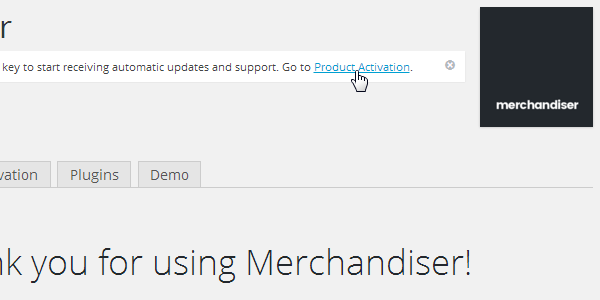 Setting up this theme is simple, as can be seen in the image below. All you need to do is install the additional plugins this theme requires and install the demo content, if you so desire.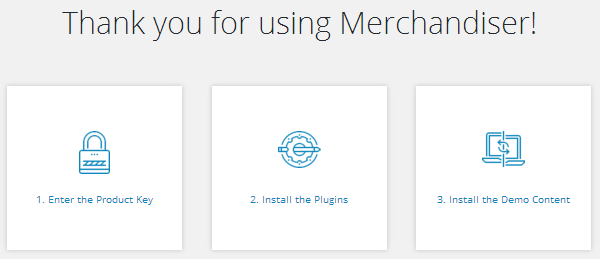 This theme comes with Visual Composer, a premium page builder plugin. You can install it and WooCommerce from the Plugins screen in the Merchandiser admin area.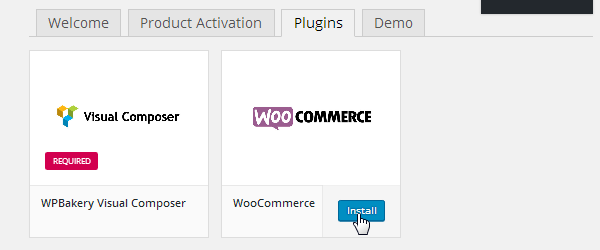 Importing the theme's demo content is optional, but it can save you the trouble of having to design your shop's storefront yourself. When you click over to the Demo tab, you may notice a System Status alert. This lets you see whether or not your server can handle the demo content.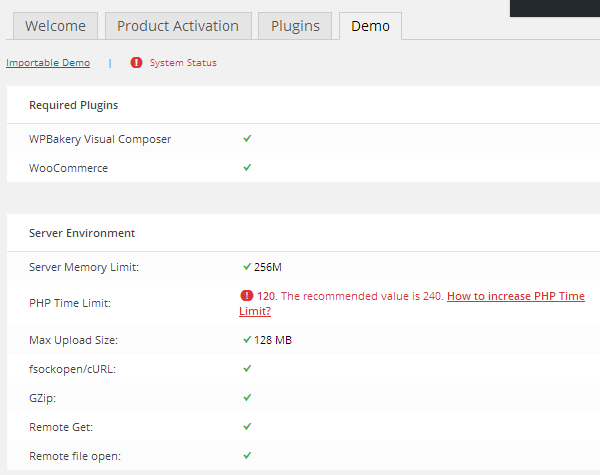 You can also use this tab to preview the demo content before you install it.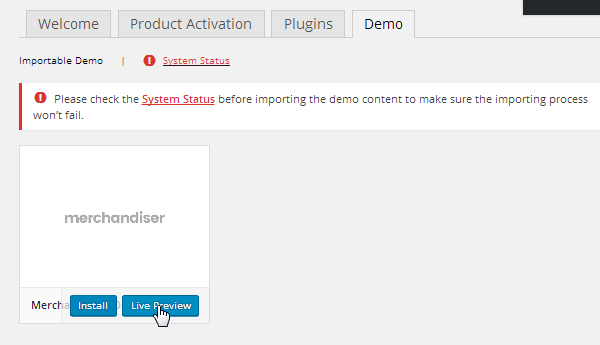 Importing this content will create numerous products and categories inside of WooCommerce, all of which can be edited.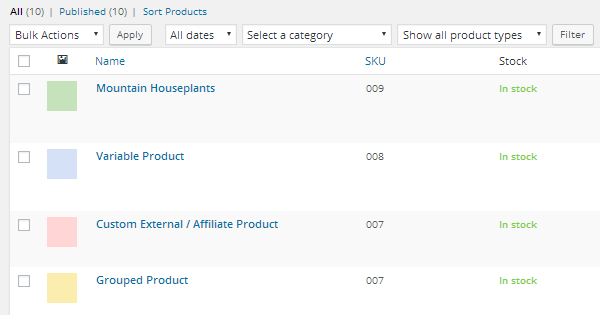 The theme's documentation is very extensive and will help any eCommerce or WooCommerce novice set up their site. Article topics include the process of installing and setting up the theme, how to get started with WooCommerce, and how to set up the front page.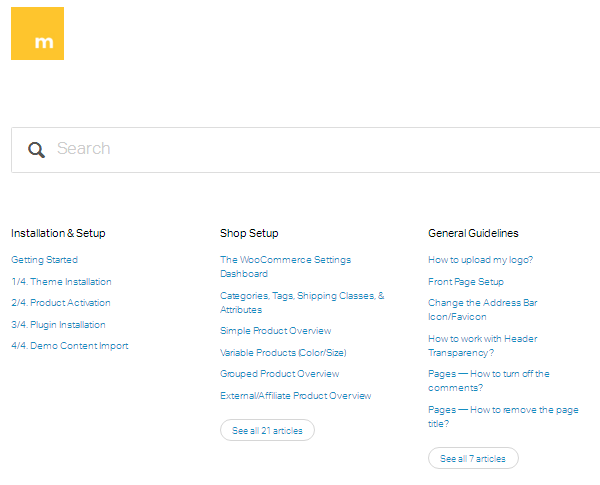 Design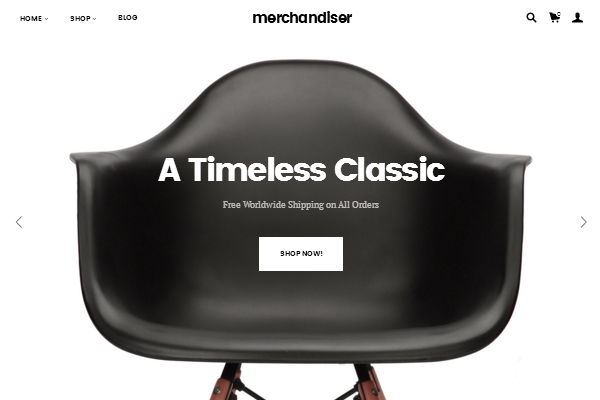 Merchandiser uses a minimalist design, as explained earlier. You can see this as soon as you load up the demo. The image above uses the same design the demo content uses.
Suitable Photography
It's best to use high-quality product images that feature professional lighting when you use this theme. Product images with white backgrounds are even better. This photography style complements the minimalist design this theme uses, putting the focus where it belongs—your products!
The entire page uses the Visual Composer page builder plugin to create sliders, side-by-side images, promos for your products and more. You can even use Visual Composer's settings to control what animation plays when you hover over an image.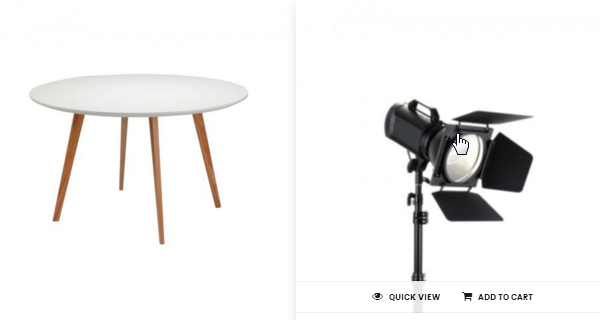 Search Bar
You can also customize the search bar using widgets that come with WooCommerce. Just add your desired widgets to the Search Widget Area field.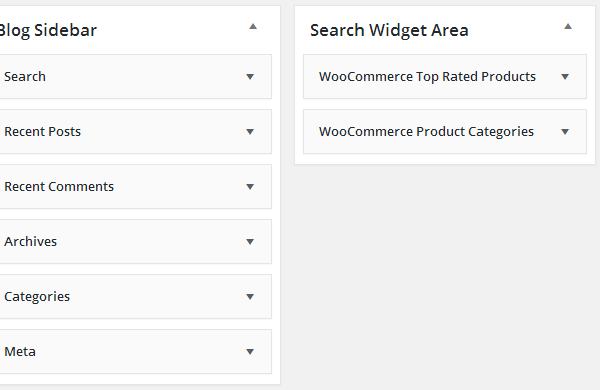 Here is the search bar the live demo uses.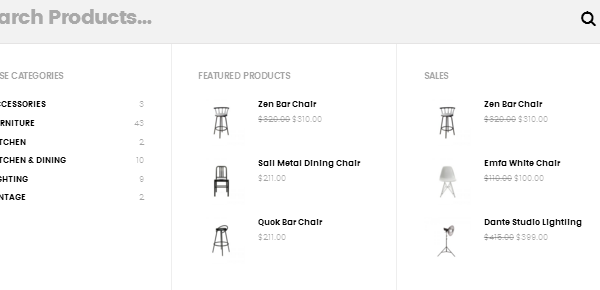 Homepage Styles
This theme comes with a number of different layouts for the homepage, many of which need to be built or accessed through Visual Composer. These can be viewed using the theme's live demo.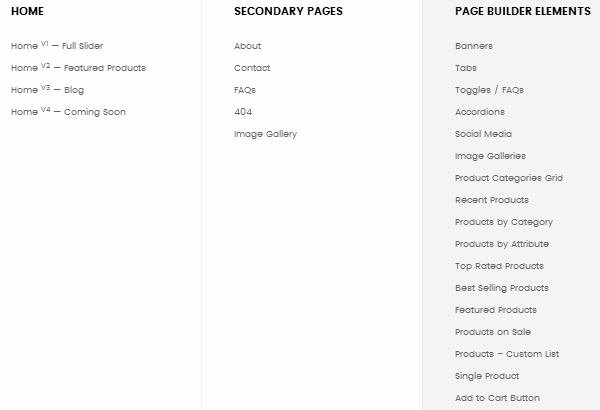 Shop Layouts
You can also choose a number of different layouts for the shop, including a shop with or without a sidebar and various product layouts.

Product Pages
There are many different types of product pages to choose from, including a simple product page, pictured below, and a product page that allows your customers to select custom options, such as color and size.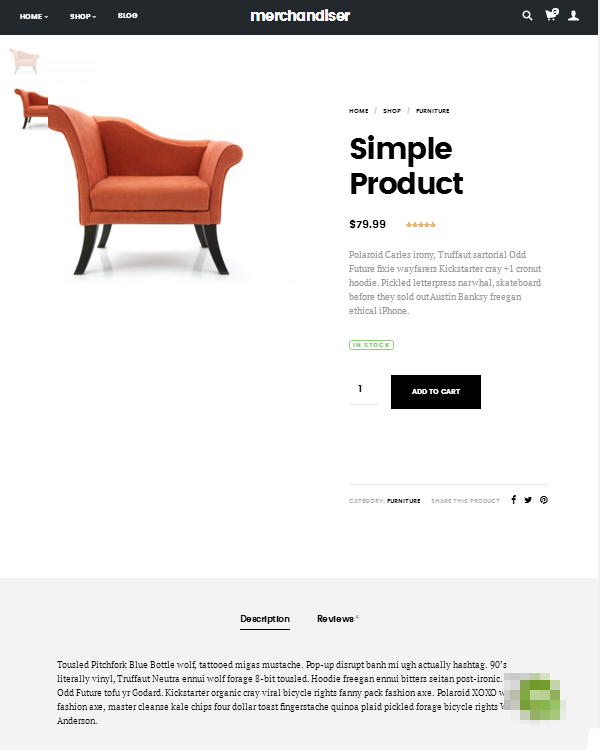 Post & Page Settings
This theme doesn't come with many options for customizing blog posts, apart from the ability to use Visual Composer to construct posts. You can, however, adjust the Header Transparency setting, which affects whether or not your menu exists as an overlay over the rest of your site's design or whether the menu uses a background color.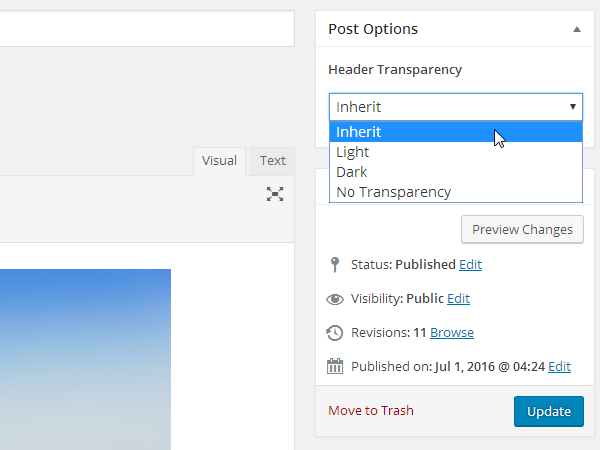 You can do the same with page settings, except this setting allows you to select whether or not your site's title and footer appear: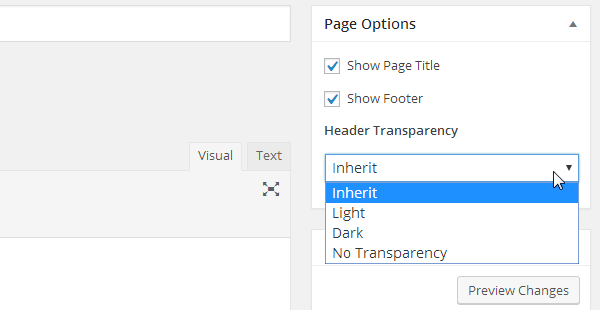 Live Theme Customizer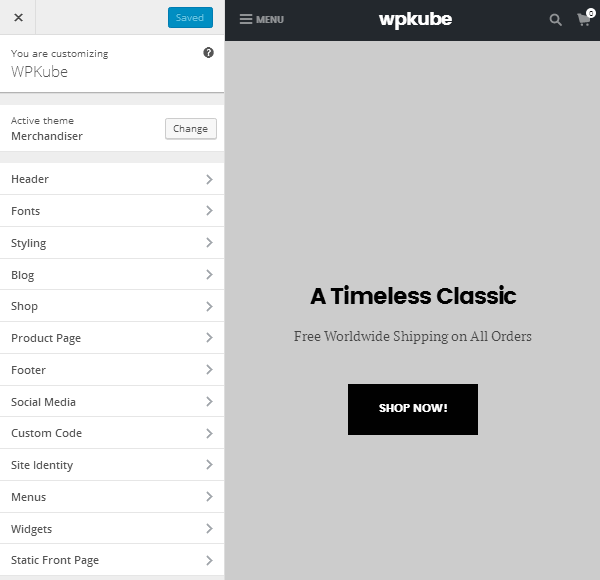 Merchandiser doesn't use a control panel on the backend, but it does include a large amount of customization options in the live theme customizer.
The purpose behind this is to give you an easier way of customizing the overall look of your site. You don't need to mess with code or waste time changing a few settings in the backend and refreshing your site in a new tab to see how it looks.
Changing styles is as simple as clicking a few buttons, and any setting you change will change in real time using the live previewer.
Header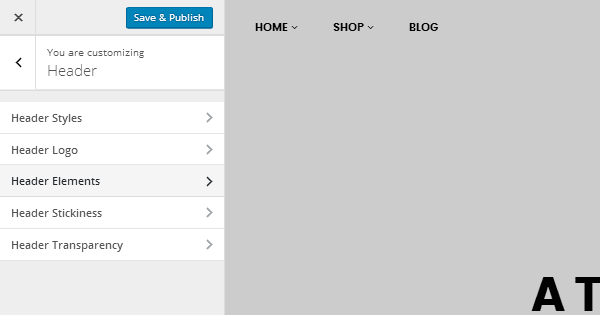 The first thing you can customize is the header, and you can see exactly what you can customize in the image above. The Header Styles section contains a few basic settings when it comes to style, including size, color and overall layout.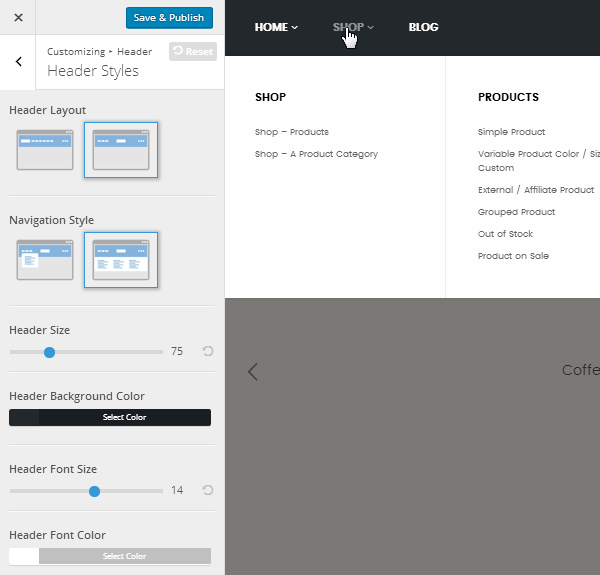 The Header Logo section is fairly self-explanatory. It enables you to upload and adjust the height of a logo for your site to use. You can even choose an alternative logo to use for mobile users.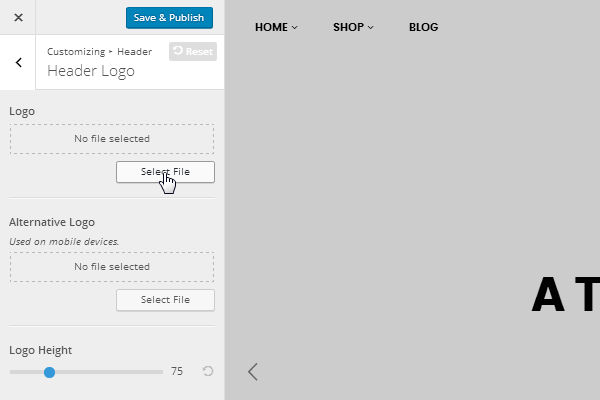 The Header Elements section allows you to select which icons, Search, Cart and User Account, appear in the header. You can even upload your own icons.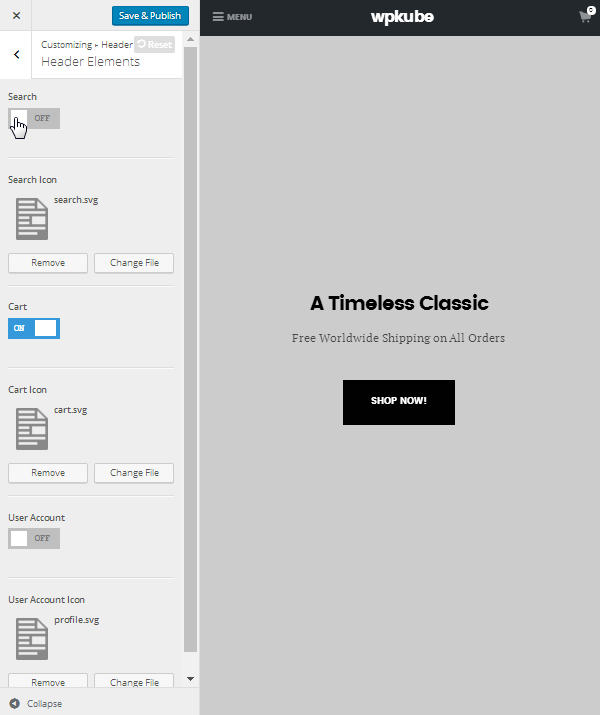 The Header Stickiness section is a simple section that allows you to turn the sticky header on and off.

The Header Transparency section gives you a global option for the transparency of your site's header while also allowing you to choose between a dark and light theme, which colors to use, and whether or not to upload alternative logos.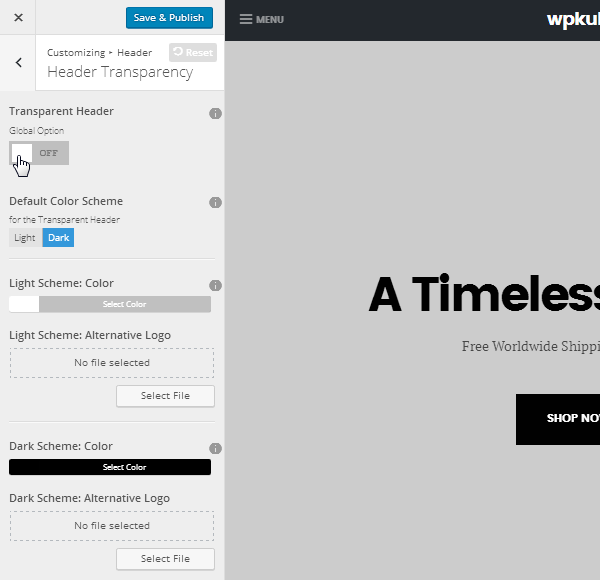 Fonts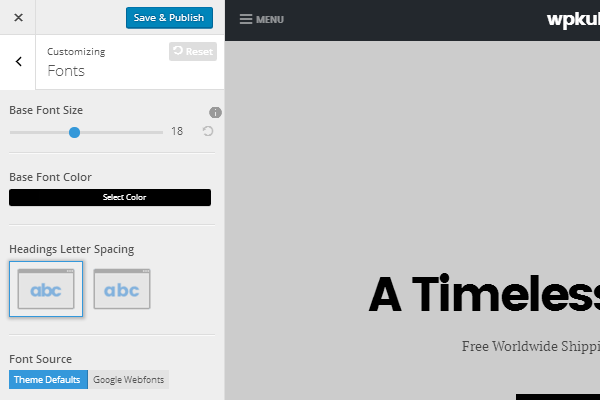 The Fonts section allows you to change font size, color, heading spacing and font for the overall theme. You can even click over to the Google Webfonts tab and configure even more settings.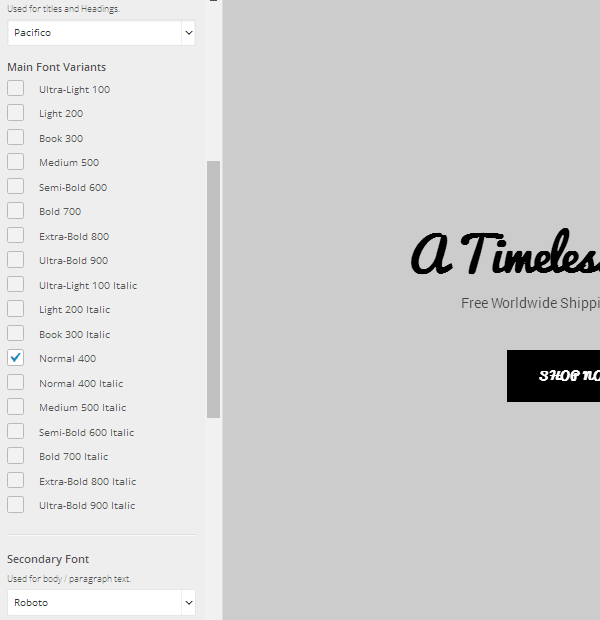 Styling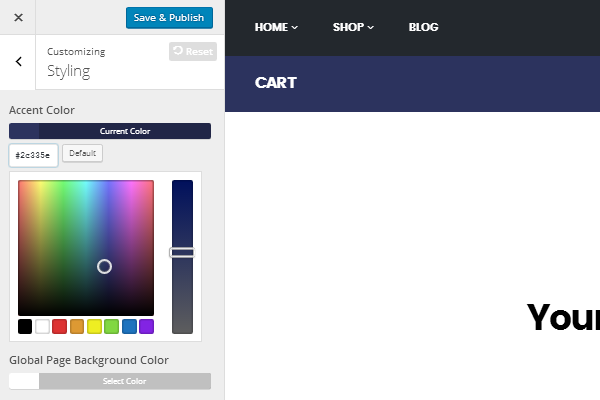 The Styling section is another simple section. It allows you to change the color assigned to Accents, such as the bar that appears under the header on the Shopping Cart page, and the background color for every page on your site.
Blog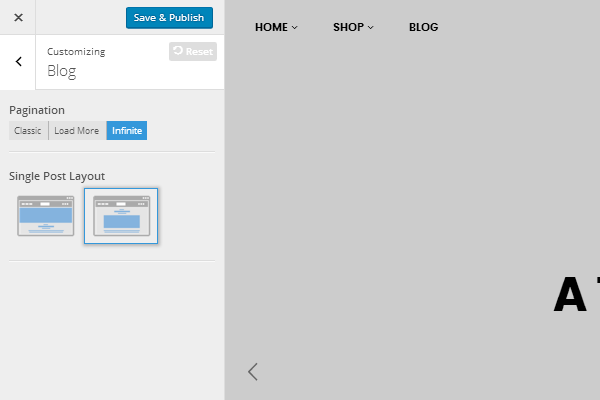 The Blog section is yet another simple section. It allows you to choose a pagination setting for your blog page as well as a layout for individual posts. One uses a fullwidth header while the other one uses a typical header that shares the same width as your post.
Shop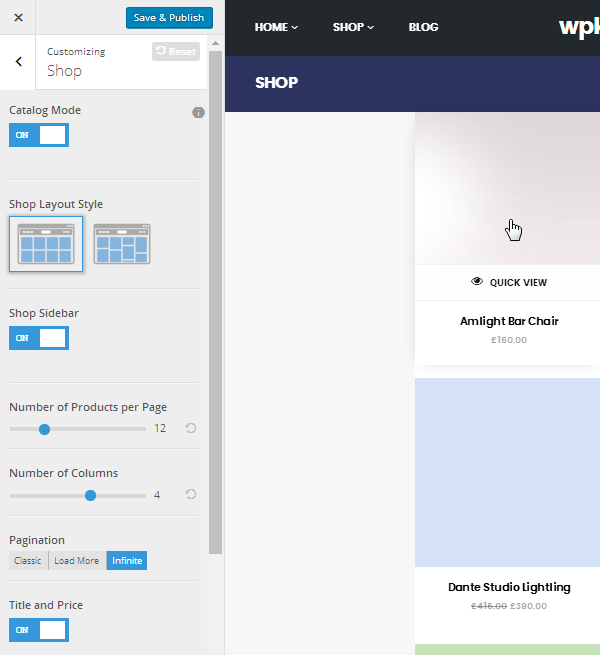 The Shop section is where you can change a few different eCommerce-related settings for your site. The first setting is called Catalog Mode. When you use Catalog Mode, your site will no longer use the Cart and Add to Cart buttons that come with WooCommerce. This allows you to use your site as a catalog where customers browse products without making direct purchases.
You can also change the layout of your products page by selecting a specific layout, deciding whether or not to include a sidebar, deciding how many products to feature per page and how many columns they should be arranged in, as well as deciding what type of pagination to use.
This is also where you can select whether or not to display a second product image when a customer hovers over the original product image.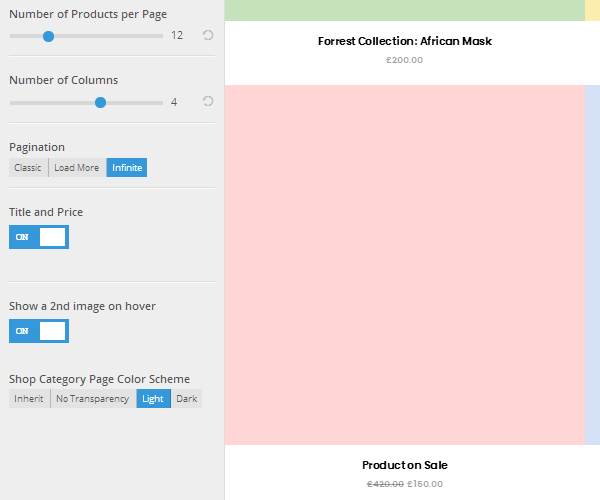 Product Page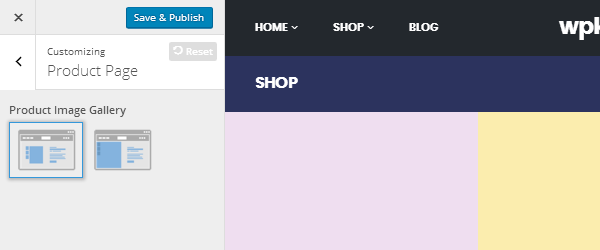 The Product Page section is a little bare. It only lets you change how the image gallery for your product displays.
Footer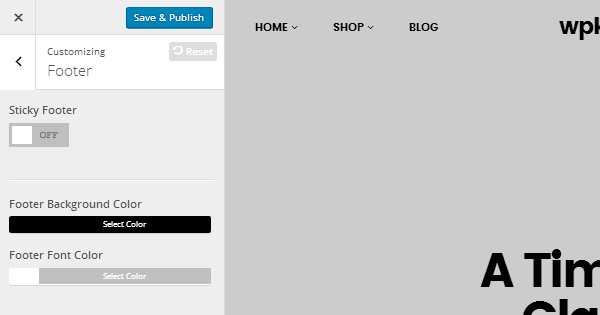 The Footer section is another basic section. It contains an on/off switch for a sticky footer and color options.
Social Media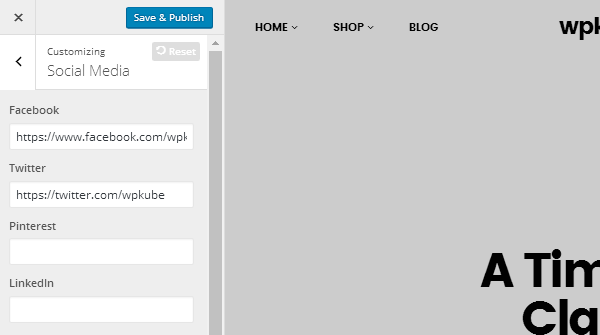 The Social Media section lets you add links to all of the social media platforms your business uses. These icons appear in the footer. You can add links for 17 different social media platforms as well as a link for an RSS feed.
Custom Code
The Custom Code section is where you can add custom CSS and custom JavaScript code using a text editor that displays as an overlay over the live customizer.
The remaining sections feature the same settings that come with every other theme.
Visual Composer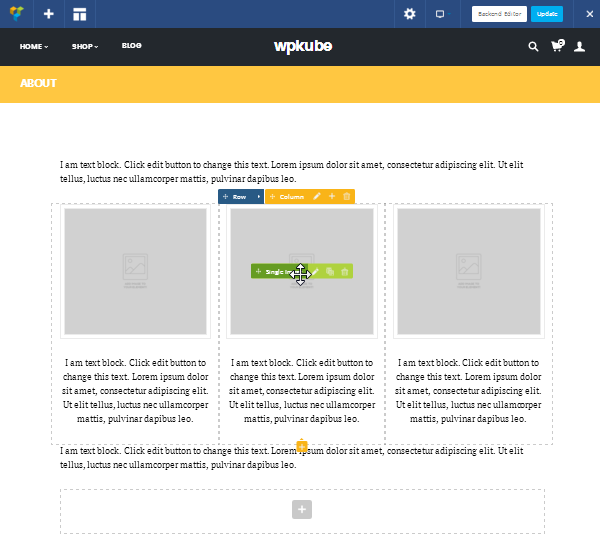 Visual Composer is a page builder plugin by WPBakery. It's the number one best-selling plugin on CodeCanyon, prompting many developers to bundle it in with their themes. This is what Get Bowtied has done with this plugin.
The plugin allows you to build pages using a drag-and-drop interface on the frontend or backend of your site. It comes with several pre-made templates if you don't feel like building your own. The About Page with Features template can be seen in the image above.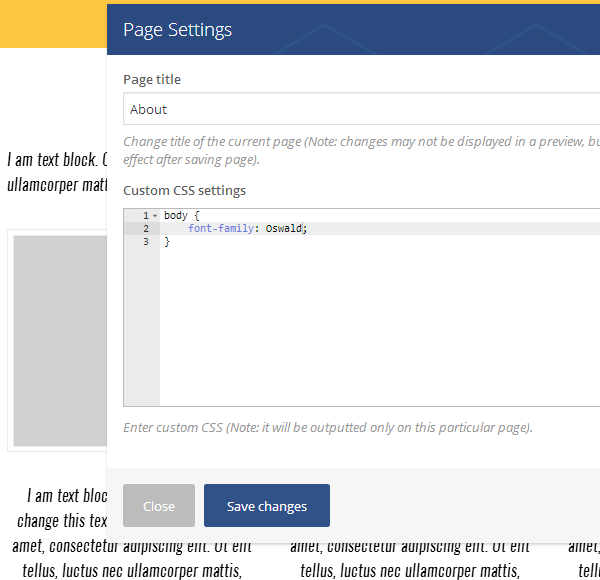 Developers can even add their own custom styles to the editor.
Performance
Merchandiser is a lightweight theme that won't have much of an impact on your site's load time or PageSpeed score. I used simple tools like Pingdom and GTmetrix to test this out using the demo content I installed. These are the results.
Pingdom

GTmetrix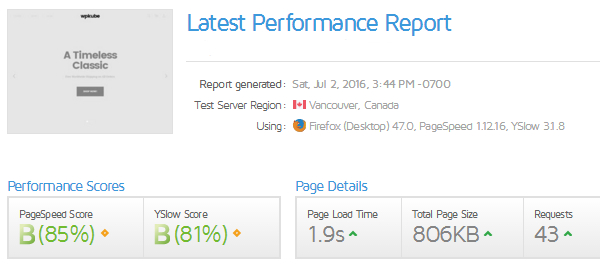 The site is on a shared hosting server with a fresh install of WordPress and no caching plugins, code or CDN. The only warning both of these tests cited is a need to optimize images.
An Overview of Merchandiser's Key Features
Merchandiser is a beautiful WooCommerce theme that's ready to use right out of the box and easy to use afterward. Here's a list of its key features:
Minimalist Style – This theme is bursting with minimalism, from its lightweight code to its basic styles.
Advanced Customization Options in the Live Theme Customizer – This theme offers ease of use with the amount of options available in the live theme customizer. It also adds convenience by making use of the live previewer.
Compatible with WooCommerce – This theme was built with WooCommerce in mind, making its integration with the plugin as seamless as can be.
Visual Composer Included in Price – The premium page builder plugin is bundled with this theme free of charge.
Extended Shop Options – Optimize your site for catalog viewing, change how many products are on a page and more with this theme's extended shop options.
Multiple Browsing Options – Choose how your customers browse your products by selecting infinite scrolling, load more or pagination to display your products.
Widgetized Search – Give your customers more ways to search by adding more widgets to the search bar, such as the Top-Rated Products widget.
Off-Canvas Shopping Cart – This theme features an off-canvas shopping cart, meaning it slides in from the side when you click the shopping cart button.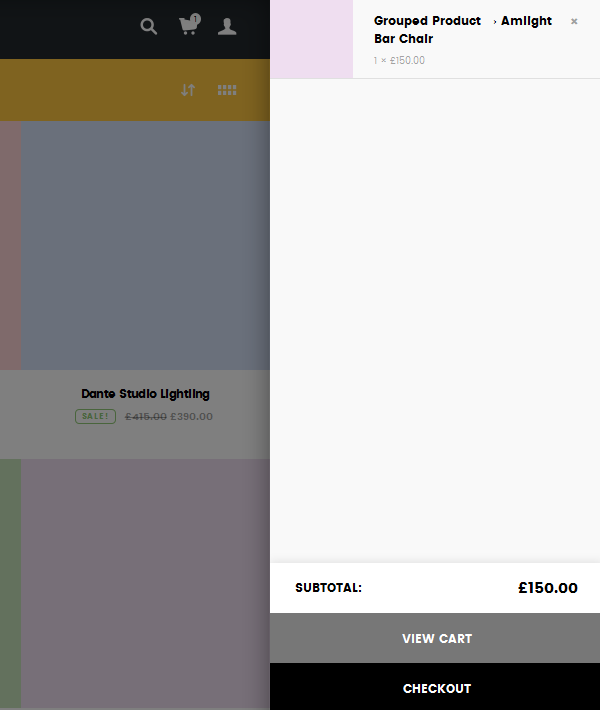 Off-Canvas Quick View – This theme also features an off-canvas style for the Quick View feature.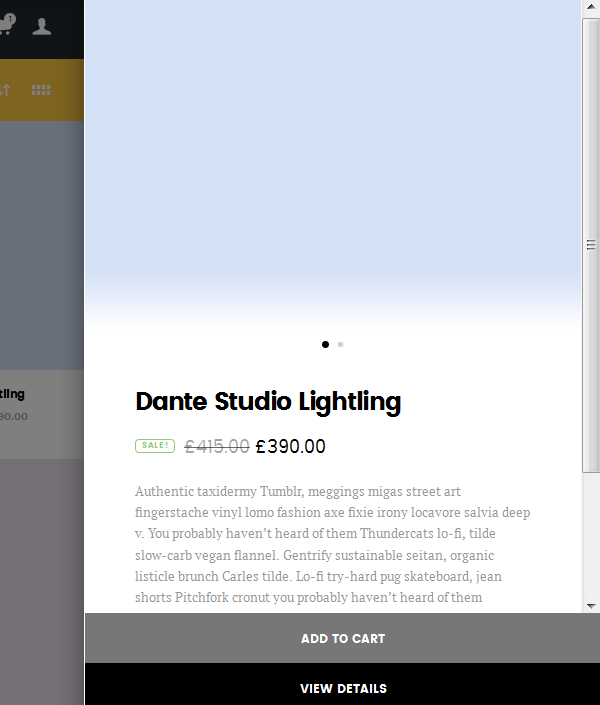 Multiple Image Galleries for Products – Choose between two different image gallery styles to use on product pages.
Final Thoughts
Merchandiser is a beautiful theme capable of enabling anyone, regardless of their experience with web development and WordPress, to build beautiful eCommerce sites that's filled with products and ready for customers from day one.
The theme is available on ThemeForest for $59 as of July 2016 and includes 6 months of support. It also comes with the Visual Composer page builder plugin, which saves you $34. Lastly, you'll have peace of mind knowing this theme has been quality checked by the team at Envato.