Developing a WordPress website that will enable you to showcase and promote local businesses, events, attractions, and services requires selecting the right theme along with the specific plugins required to achieve the desired functionality. In creating Listable, the team at PixelGrade have managed to find a great balance by creating a theme that has all the necessary capabilities, but can also be expanded upon by selecting the right plugins.
Listable allows you to create a directory website that can cover pretty much any geographical area you desire. Whether you're building a hyper-local service directory, a job board, a comprehensive tourism website for a large metropolis, or a global directory targeting world travelers, Listable can meet your needs.
If you're looking for the ideal theme to help you launch your listings website, we're going to take a closer look at exactly what Listable has to offer – from the perspective of both a site owner and a visitor. We're going to dive into some of the specific details and features that should help you decide whether Listable is the right theme for you.
Overview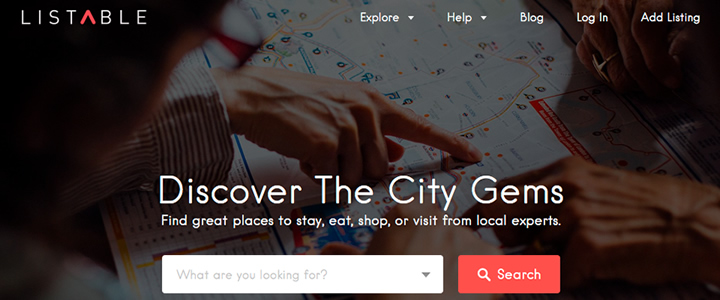 Listable is essentially a directory website, which, unfortunately, sounds really boring. But Listable is far from boring. Even though it's a directory based website at its core, it's chock-full of features that adapt to your needs and they are not only easy to use, but also manage to present your information in a way that is visually appealing. As expected, Listable is responsive and retina ready.
The developer, PixelGrade went as far as having usability tests performed and they made one of the longer test results available for review on their website. Used properly, the feedback from live testing can help improve both the design and overall user experience.
One of the things that makes Listable great is its flexibility. Whether you building a local job directory for a small town or a global tourism site for digital nomads, Listable can meet your needs. The theme uses a simple listing card system which allows you to easily categorize and display the desired information. A listing can represent virtually anything – a place, an attraction, a restaurant, an activity, or even an item or job. Listings can also be configured to charge a fixed or recurring fee (an additional plugin is required for this).
Installation
Installing Listable is a relatively simple process, just use the default installer via the WordPress dashboard. Once activated Listable will notify you if any of the required/recommended plugins is missing or deactivated. The plugins that are required include:
Customify – allows for theme customizations from within the WordPress customizer
PixTypes – manages custom post types and meta descriptions
WP Job Manager – a job listings plugin that allows users to post listings to your site
Category Icon – allows you to add a custom icon to any category, tag or taxonomy
Comments Ratings – Allows you to convert comments into reviews. This plugin also allows for extensive control over labels as well as determine which comments have ratings attached.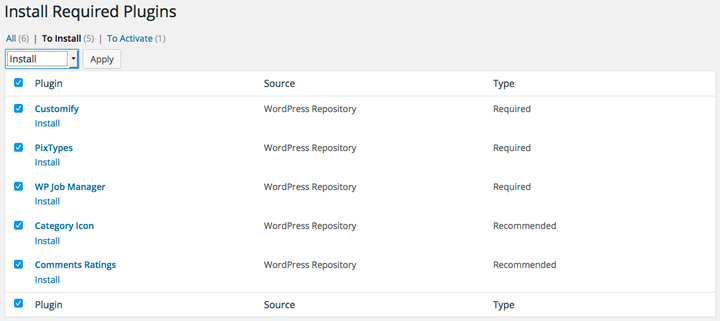 With all of the plugins installed and activated, getting started was simply a case of creating content and a configuring a homepage.
Setting up the Theme
One of the easiest was to find out how user-friendly a theme or plugin might be, is to simply install it and try it out. While some themes or plugins will leave you begging for an instruction manual, others are relatively easy to figure out. Listable falls into the latter category – setup was relatively simple and intuitive.
Easily Customizable Homepage
Listable includes an easily customized homepage template that allows you to control the key layout options including background image, highlight categories & page subtitle. In addition to using the page editor, you can access further functionality through the Customization Panel. Here you find 4 pre-configured (but changeable) sections along with the ability to add additional widgets.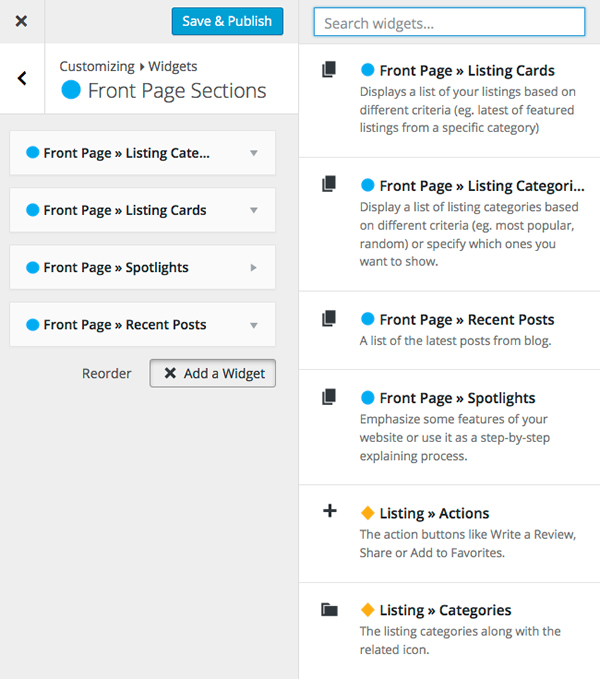 The end result is a homepage that can be configured to display the exact information your visitors demand.
Creating Listings
Listings are at the core of what makes this theme work and there is quite a lot of functionality available, both built-in and optional (I'll cover the optional a little later).
As soon as you go to add your first listing, Listable will walk you through the process using their 7-step PicCare Assistant – although even without the assistant, it's tough to go wrong and is easy to update later on should you make a mistake. Each listing contains specific data that includes the following details:
Your Listing Title
Company Tagline
Location / Address
Business Hours
Phone Number
Website URL
Twitter Account
The Listing Expiry
Gallery Images
The ability to make specific listings sticky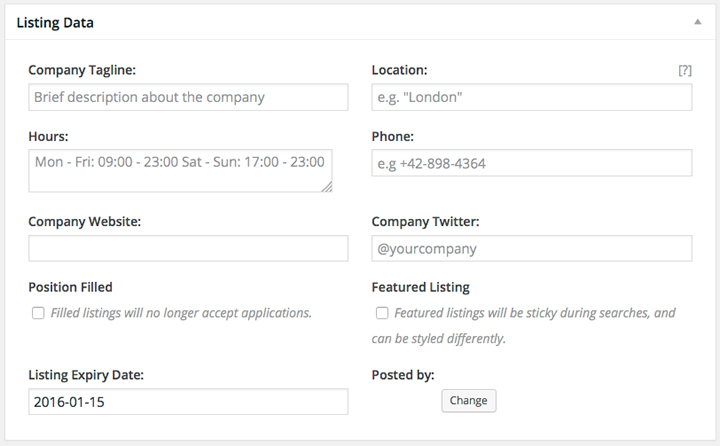 Of course, this is the information which is entered on the back-end, but what the end-user sees is equally flexible. For example, a website visitor might decide to search all available regions in a city for food establishments or for a specific type of job category. Listable allows the end-user to easily filter their searches.

Any specific result can be displayed on the map and can be also be clicked on to reveal more detail. Users as can also click on individual results which allow them to drill down to the finest detail. Listings will contain all the relevant details entered on the back end as well as a photo gallery. In examining what's included with each listing, It's tough to find anything that has been overlooked – information is well organized and even maps are integrated with an easy to find directions link.
Although it's great that you can add listings via the back-end of WordPress, you're probably thinking it'd be nice if business owners or visitors could add their own listings. Listable makes it easy for people to submit their business details or any other type of listing from a submission page. As the owner of the site, you retain full control over how and when that information appears on your website.
Listing Settings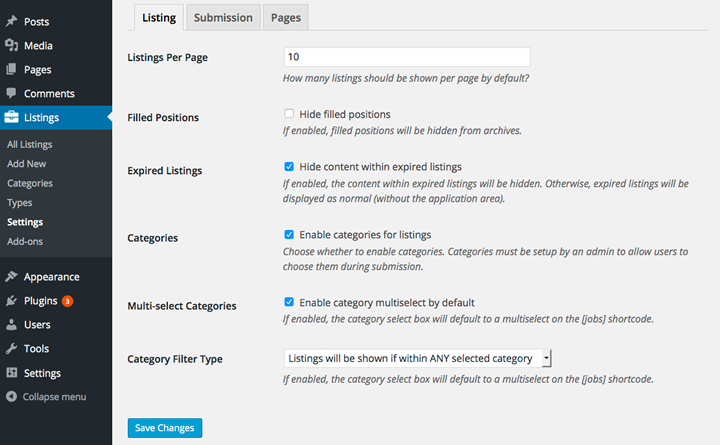 With a few listings created, you'll find yourself ready to start adjusting the settings – Listable provides quite a few useful options. Broken down into three sub-menus including Listing, Submission, and Pages. Some of the options are use specific (such as a job board listing) and others are more general in nature.
The Listing Tab includes:
The maximum number of listings per page
The ability to hide filled employment positions
Hiding content with an expired listing
Allowing users to select categories prior to submitting listings
Allowing users to select multiple categories when creating a listing
The ability to apply category filters
The Submission Tab includes:
Requiring a user to be logged in to submit a listing
Allowing users to create an account to post listings
The ability to auto-generate a username
Automatically apply a new account role
The ability to require moderator approval fro all new listings before they go live
Allowing pending listing to be edited by the creator
The option to add an automatic expiry to all listings
Choosing a default contact method for listing inquiries
The Pages Tab:
The pages tab is where you can select the default pages that use the three pre-configured shortcodes in order to create the following:
The Submit Listing Page
The Listing Dashboard Page
The Job Listings Page
Customizations
Although I've already mentioned the ability to use the customizer to adjust the homepage, it's also worth noting that most of the other elements in the theme can also be changed via the customization panel, including the header, main content, listing cards, footer and more. If the built-in customization options are not quite enough to keep you happy, you can even add your own CSS or select from one of 7 style presets.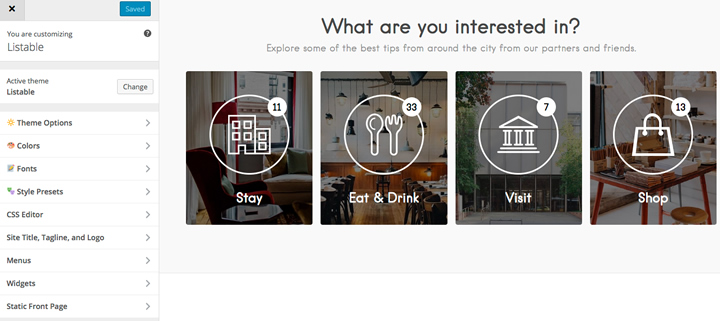 Listable also offers integration with Mapbox in case you feel like Google Maps just isn't good enough. Free plans for Mapbox are good for 50,000 views per month which should be plenty to get you started.
Over 40 Available Add-ons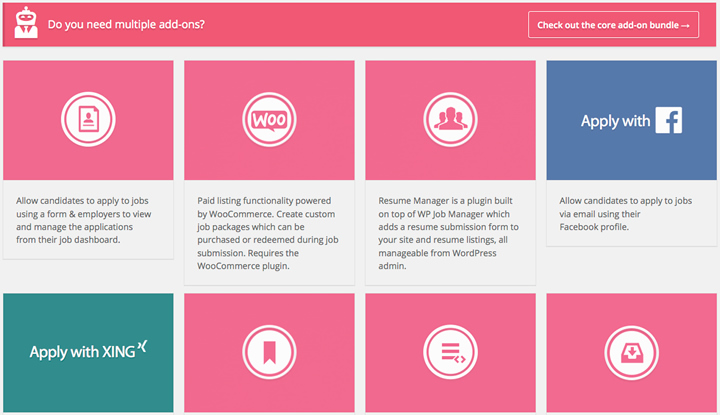 One of the things that make Listable unique is the extensibility available via the use of plugins. In total there are over 40 free and premium options available – too many to list here, but a few of the more important functions include:
Monetization is available through WooCommerce and the appropriate extensions such as Subscriptions and WC Paid Listings. These will allow you to charge for listings, reservations or subscriptions.
Job Listings are heavily supported through a variety of plugins allow for paid listing, resume managers, application deadlines, custom job descriptions as well as integration with careerbuilder and indeed.
The Core Bundle is a pre-packaged group of 13 add-ons that are available at a discounted price from WP Job Manager. If you're planning to use Listable as a job board, this bundle offers huge savings over purchasing the add-ons individually.
Pricing & Support

A regular license for Listable comes in at $64. Keep in mind, though, that some of the desired functionality may only be available through the use of an additional premium or free plugin.
Updates and Support include the standard fare available through Envato – 6 Months directly from the plugin developer along with the option to add 6 more months for $19.20. PixelGrade offers an extensive knowledge base, community forum and ticketed support.
Final Thoughts
Listable from PixelGrade is an easy to use theme, that also happens to look great. It's highly customizable, offers tons of layout options and is compatible with tons of plugins that can help take your site to the next level.
If you're in the process of trying to find a feature rich and extensible WordPress theme for your listing/directory website, Listable should definitely be on your radar. Everything you need to get started is built in and most importantly, it can grow with your site.