For last few months, I have started putting more efforts on social media sites such as Twitter and Facebook to reduce dependency on Google for generating traffic. I have used sites like Twitter and Facebook, extensively to drive traffic to WPKube and build connections with other bloggers.
Last month, I ended up getting more than 5,000 visitors from Twitter, alone. It was mostly due to me being more active on Twitter, responding to comments, and answering any WordPress-related questions, and partly due to timing.
Recent studies, have shown that you will get more retweets and click-through rates, if you tweet around 5pm, and 17% higher engagement, if you tweet on weekends. There are a good number of case studies and research available to prove that better timing does result in more retweets and shares. But still we need to do a lot more research to get definitive answers about what works best.
This is where Bufferapp comes in handy. Buffer allows you to schedule tweets to post at the optimal times, so you don't have to work on weekends.
What is Buffer?
Buffer is a scheduling service that allows you to automatically schedule the social media posts across various social networks. It supports four major social media platforms: Twitter, Facebook, Google+, and Linkdin. The social media app also offers detailed analytics, which you can use to find the optimal posting times for your site. Other features including scheduling report and URL shortening service. You can also connect your own custom domain for shortening URLS, using bit.ly account.
Scheduling posts on Bufferapp sounds good, but how about automatically adding / scheduling your WordPress posts to Bufferapp. In this article, I am going to walk you through a step by step guide on how to schedule your latest posts for social media with Bufferapp.
Step 1: Signup for a Buffer account
First thing you need to do is to signup for a Buffer account. You can signup using various social networks or simple email and password. Once you have completed the signup process, you will be taken to Buffer Dashboard.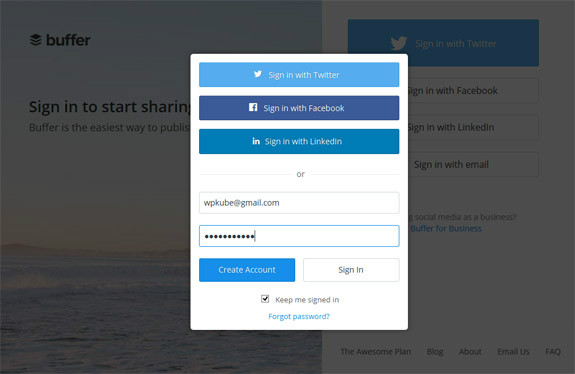 I really like the registration process of buffer, it is pretty straight forward, and you only have to add the email id and password, to create an account.
Step 2: Download and Install the Plugin
Next step, is to download and install the WordPress to Buffer plugin. The plugin can be installed directly from the WordPress dashboard. Under the plugins option of your admin area, click the "Add New" button, and then search for "WP to buffer" plugin. The plugin should be authored by WP Cube. Go ahead, and click the Install now button.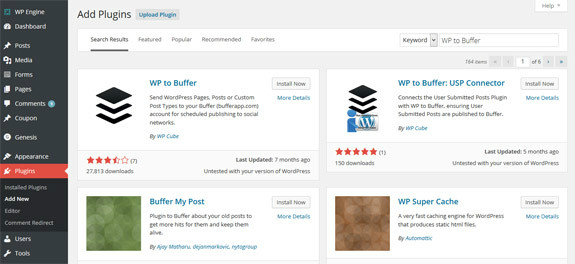 Step 3: Activate the Plugin
Once you activated the plugin, it will add a new admin menu called "WP To Buffer", which will open the settings page. Here, you can connect your WordPress site to your Buffer account.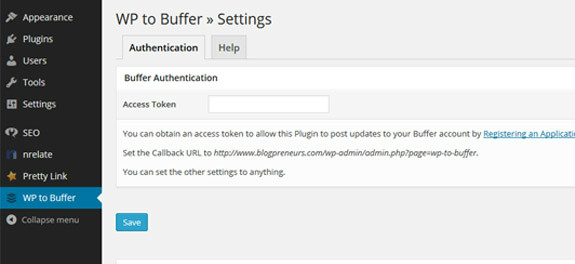 Step 4: Create an Application
To connect your WordPress site to Buffer app you will need to create an app. The plugin will show you a link to create an app. Click that link and fill the information on the page. Below the app link you will find a callback URL which you need to copy and paste in the application page.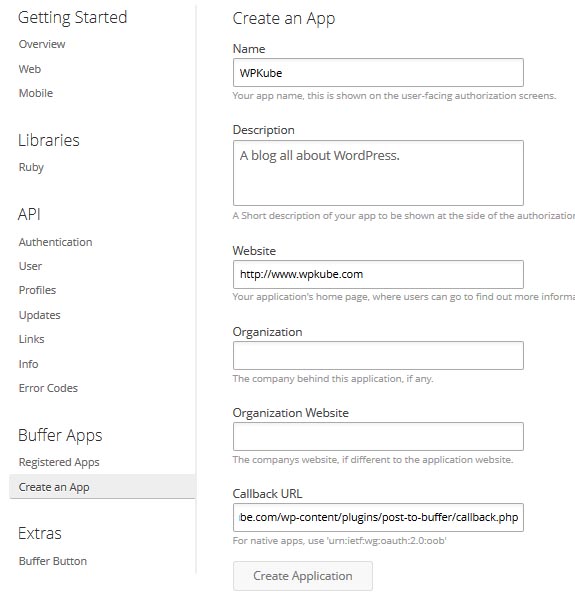 Add a name and description for your app, which could be your site title and description. Next add the site URL in the website field. In the Callback URL field, enter the URL shown in the WP to Buffer plugin settings page (Settings > Buffer).
After adding all the necessary info, click on the "Create Application" button. Buffer will now send you an email with Client ID and a link to access token code. Copy the access token and paste it into your WP to Buffer plugin settings page.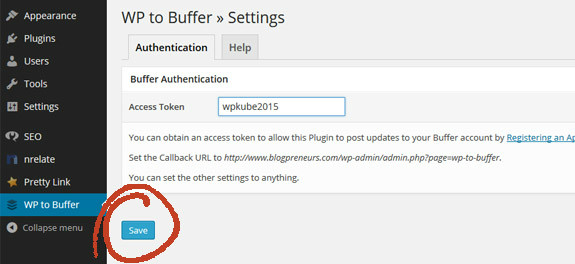 Now click the save button, to complete the setup. After the authentication, it will show a list of all the connected accounts to your Buffer profile. Select the accounts you want to share your articles on and click the save button.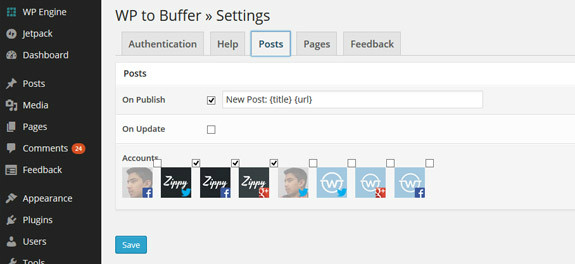 That's all, we hope this article helped you setup automatic schedule for your WordPress posts. Alternatively, you can use Publicize module that comes with JetPack plugin to automatically share your blog posts.
You may also want to see our post on Top 7 SEO Tools and WordPress Plugins For Maximum Visibility. If you have any questions, please let me know in the comments below.