Trying to choose between GiveWP vs Charitable as the fundraising plugin for your organization or website?
These are the two most popular WordPress donation plugins and they share a lot of similarities. Both can help you run full fundraising campaigns, collect payments in a variety of ways, and manage your donations on the backend.
However, there are also some important differences between GiveWP and Charitable that might have you choosing one over the other.
In our hands-on GiveWP vs Charitable comparison, I'll dig into these two plugins to help you choose the right solution for your charity or organization.
If you want a condensed version of my thoughts, I think that GiveWP is the better solution for most organizations. However, it's not clear-cut because Charitable offers some features that GiveWP doesn't and Charitable is also more affordable, so I encourage you to read the full comparison to learn which one is better for you.
GiveWP vs Charitable: Quick Introductions
To kick things off, let's go over some quick introductions to GiveWP and Charitable.

GiveWP was originally launched back in 2015. Since then, it's grown to become the most popular fundraising plugin at WordPress.org, where it's active on over 100,000 sites.
GiveWP recently hit an even more impressive milestone, though – GiveWP users officially raised more than $100 million in 2019 alone. So this is a heavy-duty fundraising plugin that's helping nonprofits collect hundreds of millions of dollars.
GiveWP was recently acquired by Liquid Web in May 2021. This is part of a spate of acquisitions by Liquid Web including Restrict Content Pro, The Events Calendar, and Kadence. However, the full GiveWP team came along for the ride, including the founders, so I wouldn't expect any big changes.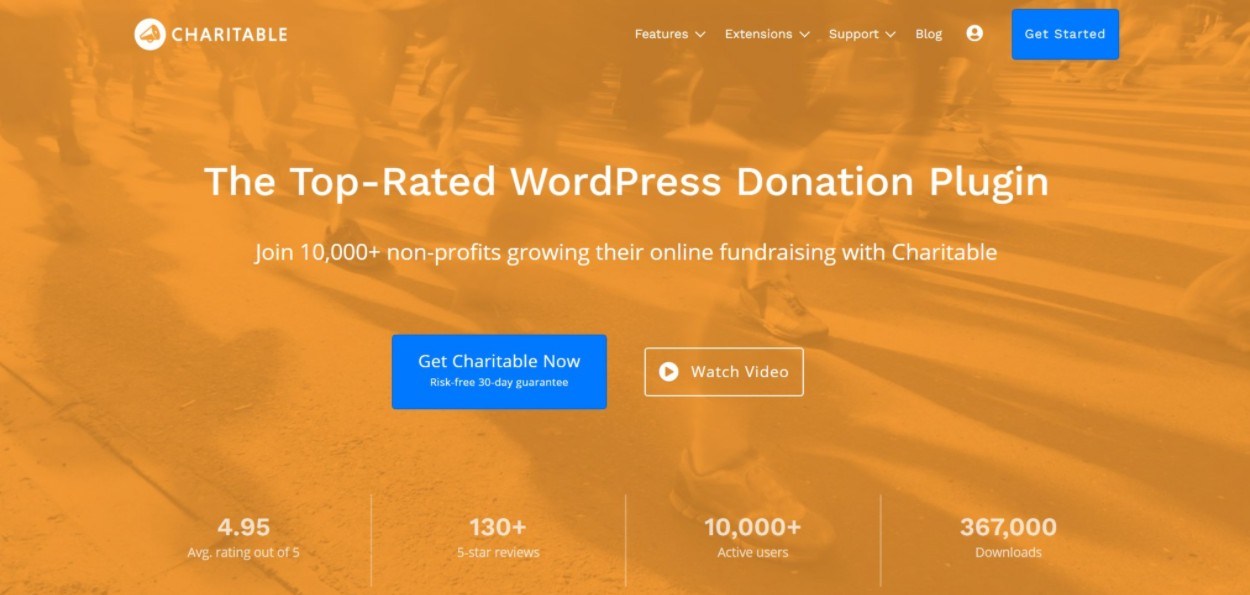 Charitable was also launched back in 2015. It hasn't become quite as popular as GiveWP, but it's still active on over 10,000 sites, which makes it the second-most popular fundraising plugin at WordPress.org.
It also boasts an impressive 4.9-star rating on over 148 reviews. For reference, GiveWP has a 4.7-star rating on 493+ reviews.
So – of the two, GiveWP is the more popular option, but Charitable is definitely no slouch.
Comparing Basic Features
To kick off our more detailed GiveWP vs Charitable comparison, let's quickly run over how they compare in terms of core features. In the next section, I'll take a hands-on look at how some of the key features work:
| | | |
| --- | --- | --- |
| Feature | GiveWP | Charitable |
| Unlimited Fundraising Campaigns | ✔️ | ✔️ |
| One-Time Donations | ✔️ | ✔️ |
| Recurring Donations | ✔️ | ✔️ |
| Custom Donation Amounts | ✔️ | ✔️ |
| Campaign Goals | ✔️ | ✔️ |
| Donation Management Dashboard | ✔️ | ✔️ |
| Donor CRM | ✔️ | ❌ |
| Donor Emails | ✔️ | ✔️ |
| Customizable Donation Form Fields | ✔️ | ✔️❌ (requires code) |
| Credit Card Fee Recovery | ✔️ | ✔️ |
| Donor Receipts | ✔️ | ✔️ |
| Currency Switching | ✔️ | ❌ |
| Detailed Reporting | ✔️ | ❌ |
| Gift Aid | ✔️ | ✔️ |
| Peer-to-Peer Fundraising | ✔️ | ✔️ |
| Tributes/Comments | ✔️ | ✔️ |
| Zapier integration | ✔️ | ❌ |
| Email marketing integrations | ✔️ | ✔️ |
This is by no means a complete list of features in either plugin.
Overall, I would say that they both offer all the core features that you need, but GiveWP offers a deeper feature list in some areas, such as more robust donor management.
The one big exception is peer-to-peer fundraising, which Charitable offers but GiveWP doesn't (though GiveWP is working on it).
How GiveWP and Charitable Work
Next, let's take a quick look at how the interface works with both GiveWP and Charitable.
That is, what is it like to set up a new fundraising campaign with both tools?
GiveWP
When you create a new fundraising form/campaign with GiveWP, you'll first be prompted to choose from one of the templates: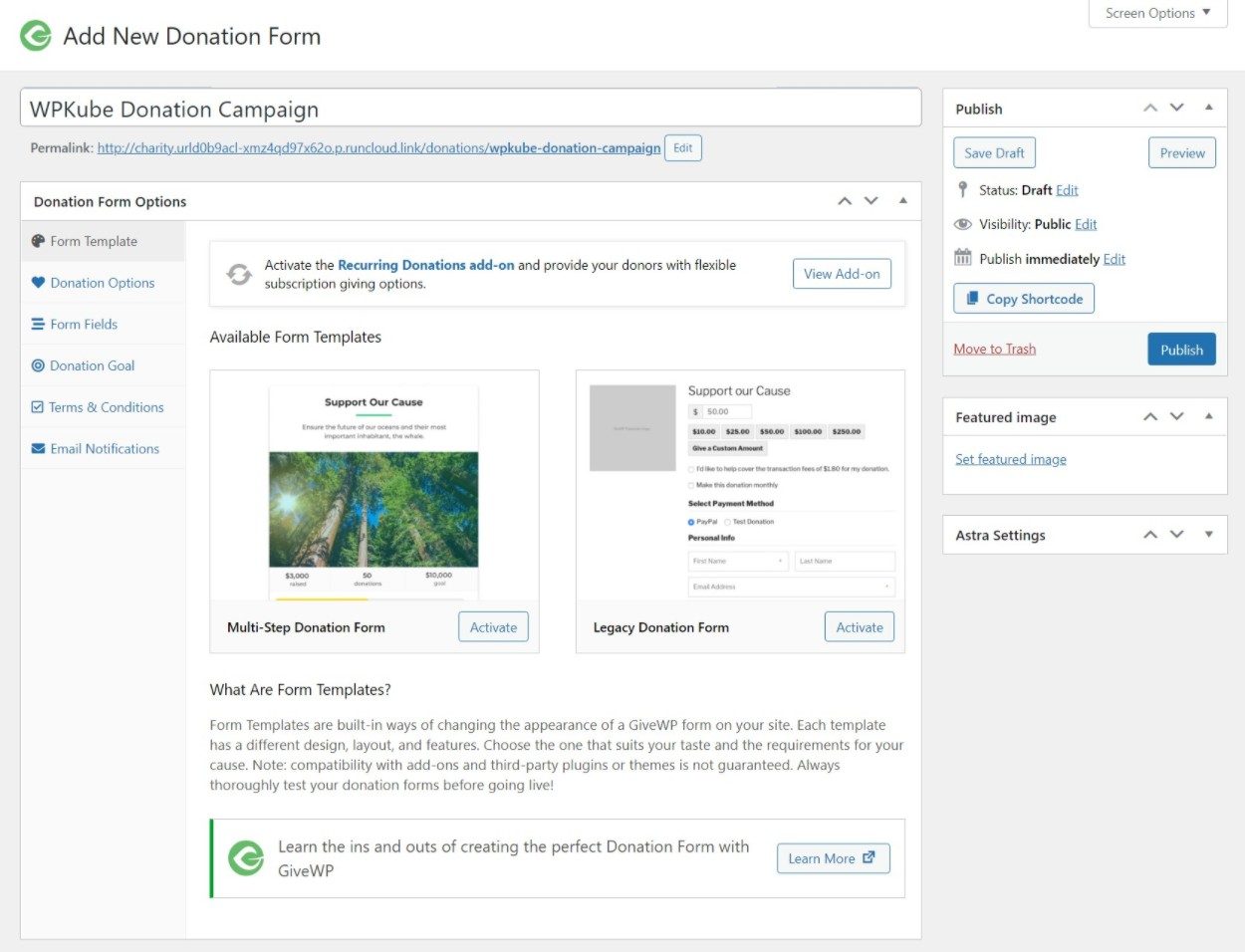 Next, you can set up your donation options/levels.
First, you can choose between the following:
Multi-level donation – add multiple tiers.
Set Donation – have a single donation amount.
You can also let people enter their own custom amounts.
One nice thing is that you can choose a default level, which lets you nudge people towards your preferred donation amount: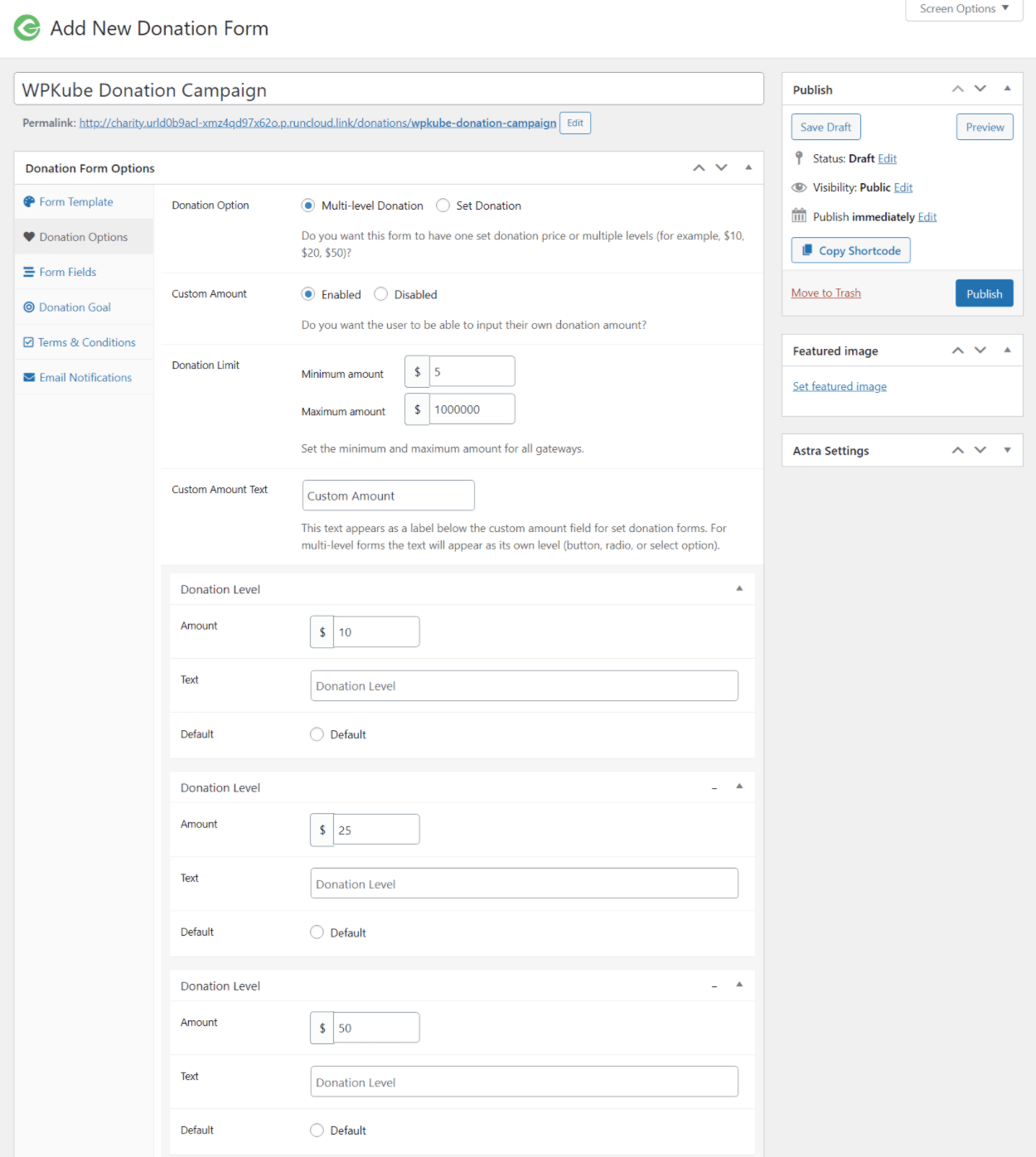 Next, you can configure your form fields, including options to allow anonymous donations, donor comments, etc. You can also choose whether or not to require registration.
With the premium version, you can also set up your own custom fields: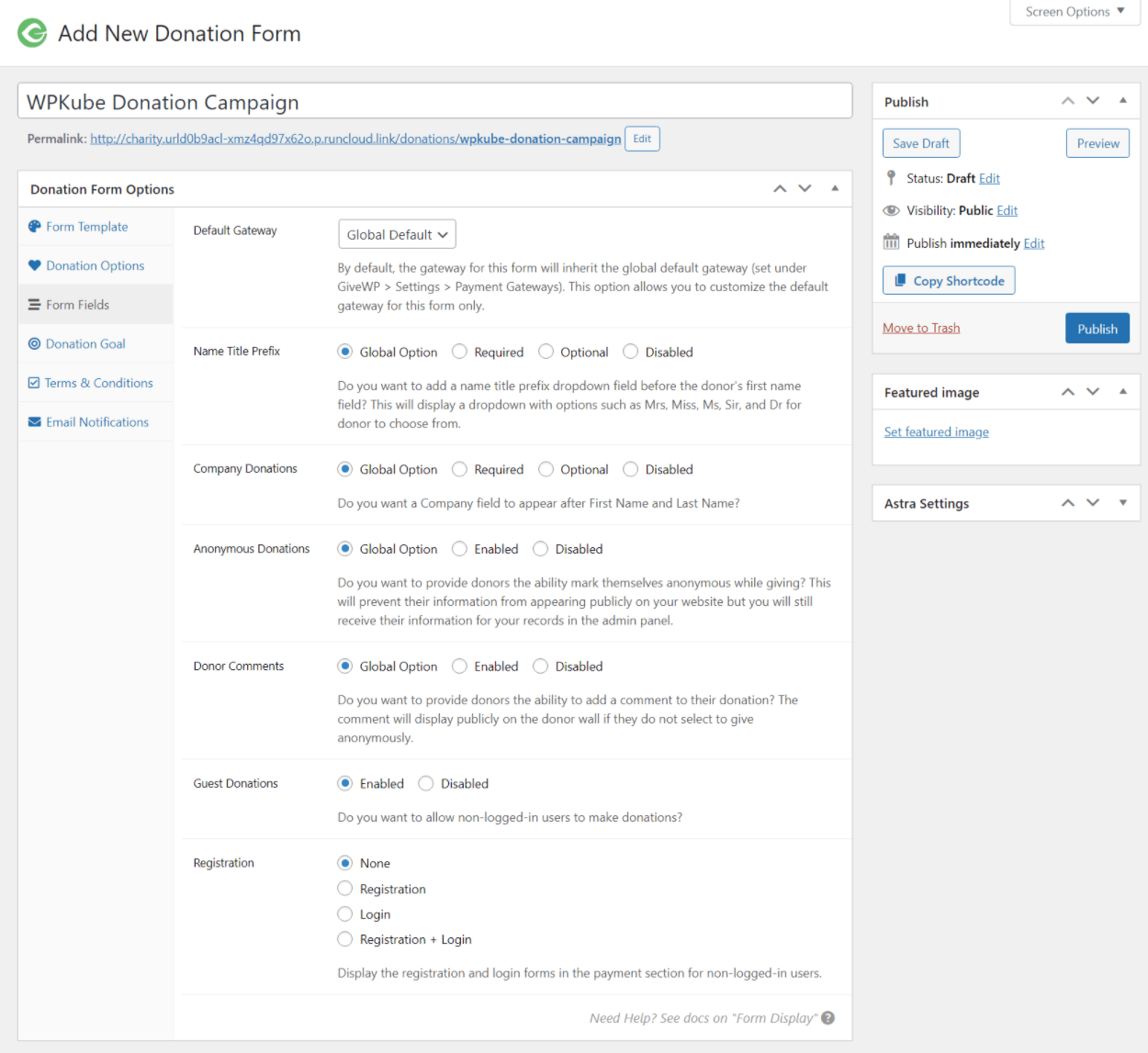 If you want to enable a donation goal, you can set that up along with how to display the data on the frontend: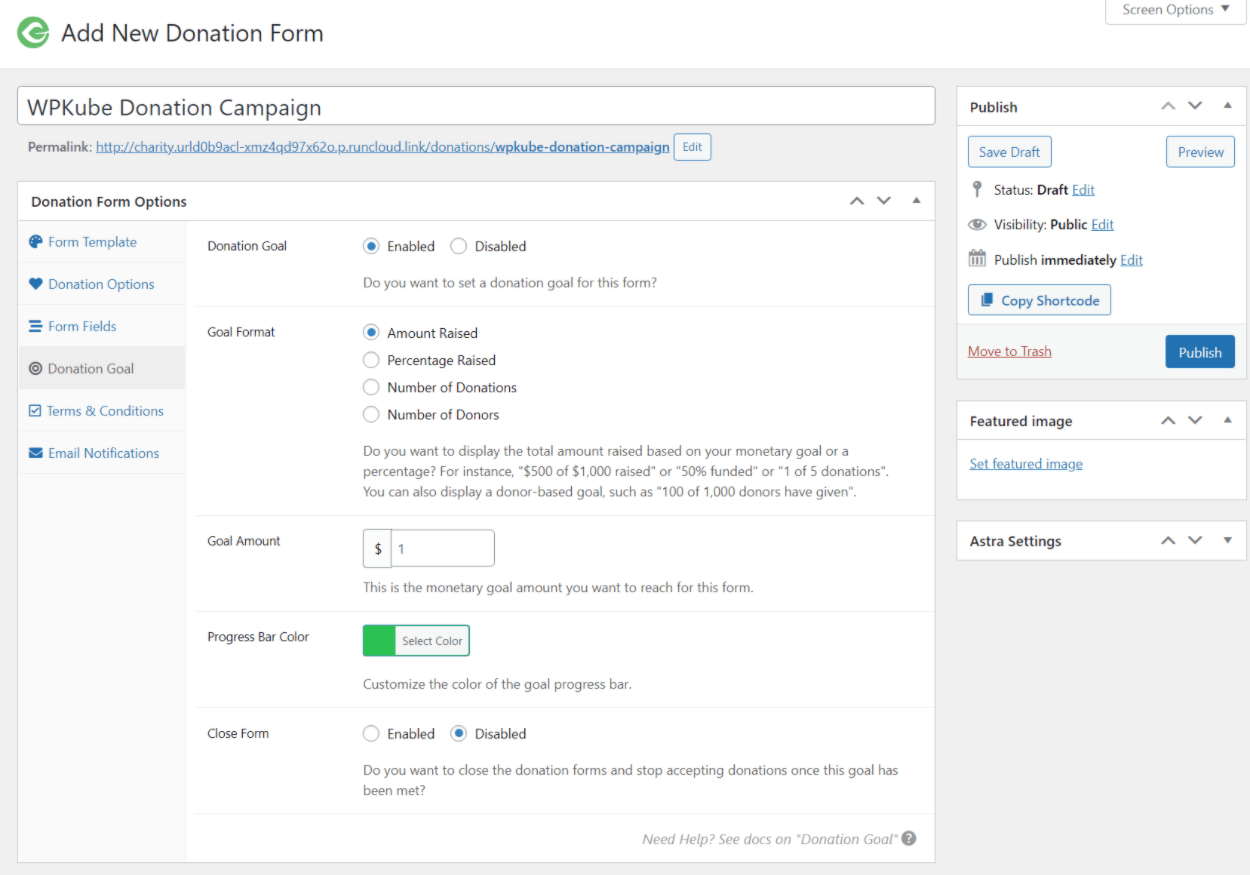 And then the other few tabs deal with terms and conditions and email notifications.
Once you're finished, you can embed the donation form anywhere on your site using dedicated blocks or shortcodes.
GiveWP has really embraced the block editor (AKA Gutenberg), so you'll get several blocks to display content, including a list of donors and all your campaigns.
Charitable
At least with its free version, Charitable doesn't give you quite as many options when you set up a new campaign.
At the top, you can set up the title and description. You also have the option to set a goal and/or an end date for your fundraising efforts: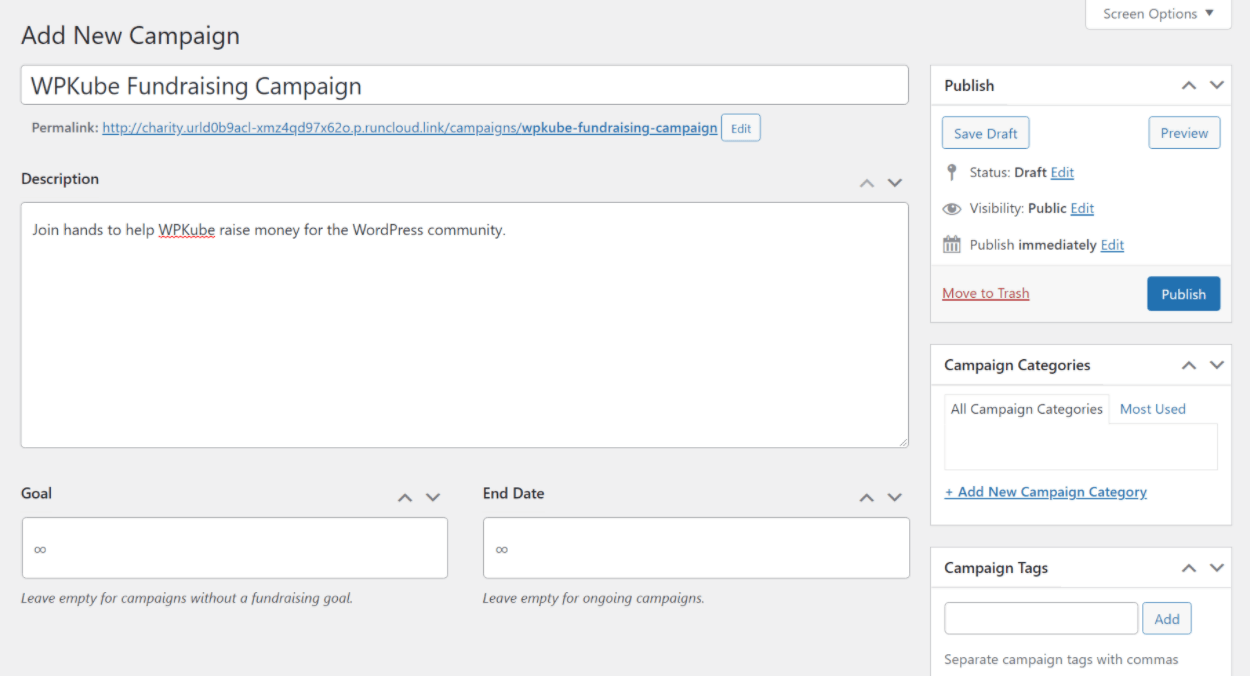 Further down the page, you'll get a Campaign Settings box where you can set up more nitty-gritty details.
First, you can set up your suggested donation amounts, along with enabling custom donation amounts if desired: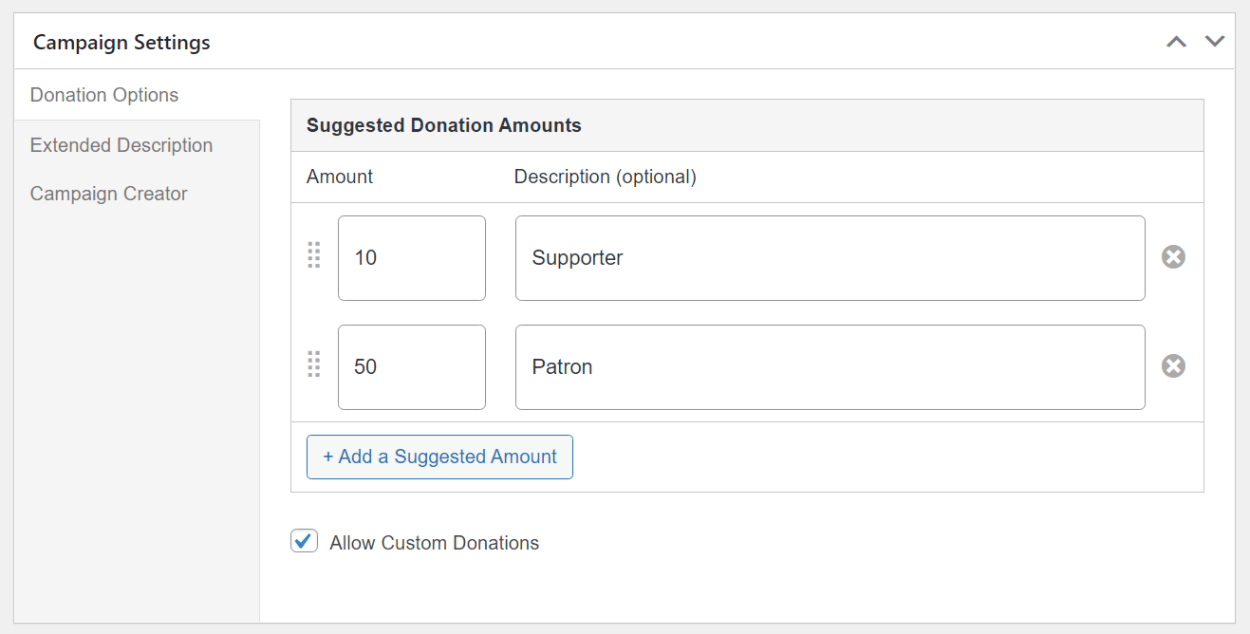 You can also set up an extended description and link the campaign to a public creator (e.g. a WordPress user account).
To control the design of your campaigns, you can use the real-time WordPress Customizer.
Charitable doesn't offer dedicated blocks to embed campaigns, but you can do so using a shortcode.
Payment Collection Options
Both GiveWP and Charitable give you a lot of options for collecting donations.
First off, you can offer pre-set donation amounts and/or you can let donors enter their own custom amounts.
Second, you can accept one-time or recurring donations with both tools. For recurring donations, you'll be able to customize the schedule – e.g. every week, every month, every quarter, and so on.
In terms of payment gateway integrations, here's a table showing they stack up. With the exception of any gateways marked "free", all of the gateways require premium add-ons:
| | | |
| --- | --- | --- |
| Payment Gateway | GiveWP | Charitable |
| PayPal | ✔️ (free) | ✔️ (free) |
| Stripe | ✔️ | ✔️ |
| Authorize.net | ✔️ | ✔️ |
| Offline Payments | ✔️ (free) | ✔️ (free) |
| 2Checkout | ✔️ | ❌ |
| iATS Payment Solutions | ✔️ | ❌ |
| Braintree | ✔️ | ✔️ |
| Square | ✔️ | ❌ |
| Paymill | ✔️ | ❌ |
| PayUmoney | ✔️ | ❌ |
| Razorpay | ✔️ | ❌ |
| CCAvenue | ✔️ | ❌ |
| GoCardless | ✔️ | ❌ |
| Paytm | ✔️ | ❌ |
| AmeriCloud Payments | ✔️ | ❌ |
| PayFast | ✔️ | ✔️ |
| Sofort | ✔️ | ❌ |
| Mollie | ✔️ | ✔️ |
| Moneris | ✔️ | ❌ |
| Paystack | ❌ | ✔️ |
| Windcave | ❌ | ✔️ |

Both plugins support the core payment processors such as PayPal, Stripe, and Authorize.net. However, if you have a more niche need, GiveWP offers a little more coverage.
Additionally, both plugins only allow PayPal or offline payments with their free versions. For more gateways, you'll need to purchase the premium versions – more on pricing later.
Donor Management Features
Next, let's look at the options you get for donor management on the backend.
GiveWP
GiveWP gives you two ways to view donations:
You can view a log of individual donations.
You can pull up a donor's profile to see their past donations.
If you go to Donations → Donations, you'll see a list of individual donations, along with filter options: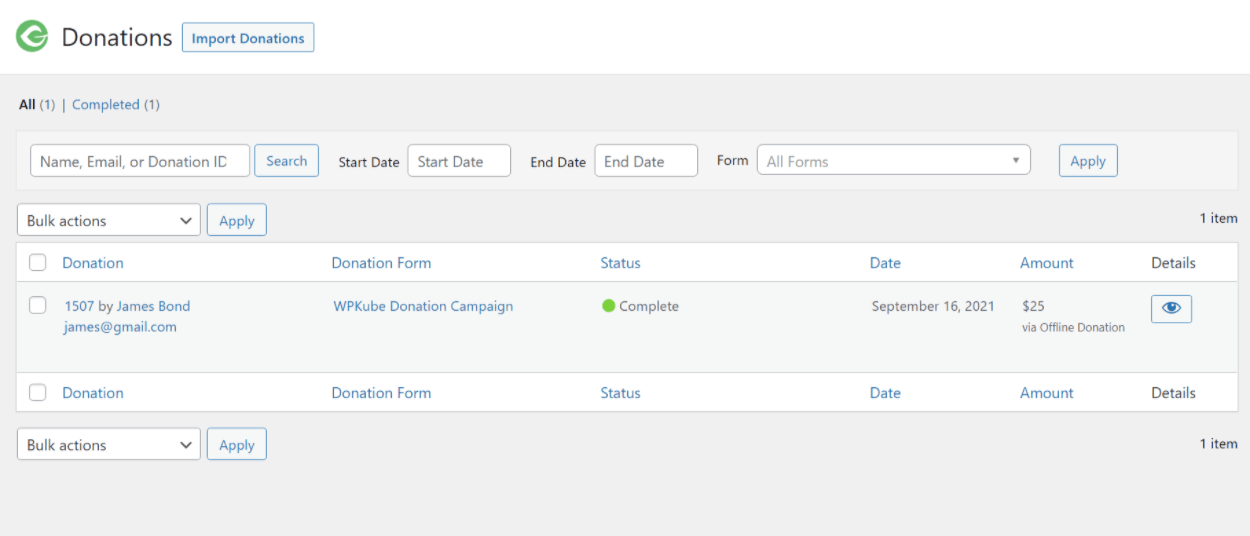 You can export this data as a CSV from a separate interface.
If you click into a donation, you'll get more details, along with the option to resend a receipt if needed: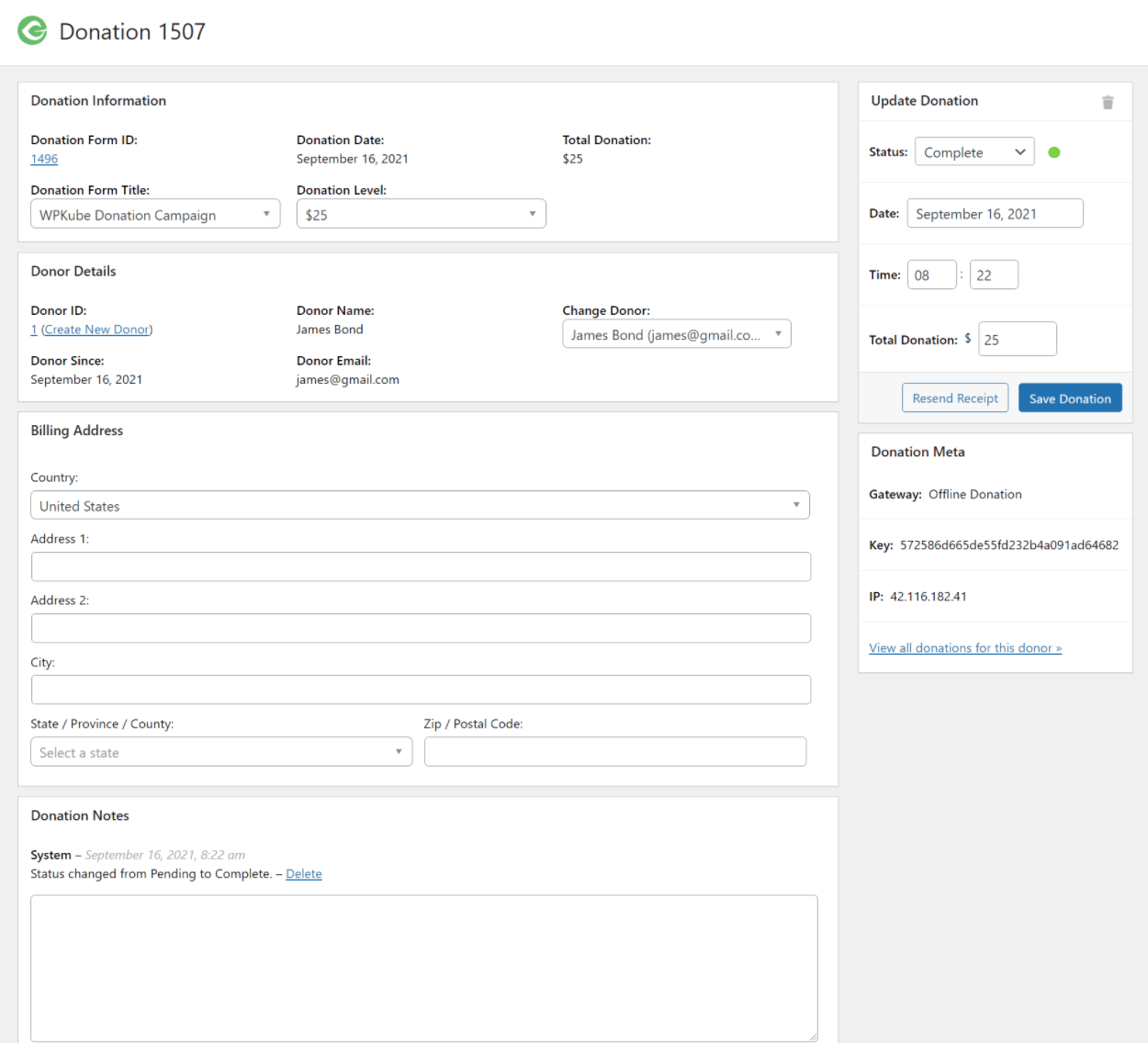 On the other hand, if you go to Donations → Donors, you'll see a list of your individual donors, along with their total number of donations and amount:

If you click on a donor, you'll be able to see all of their details, along with their full donation history. You can also add internal notes if needed: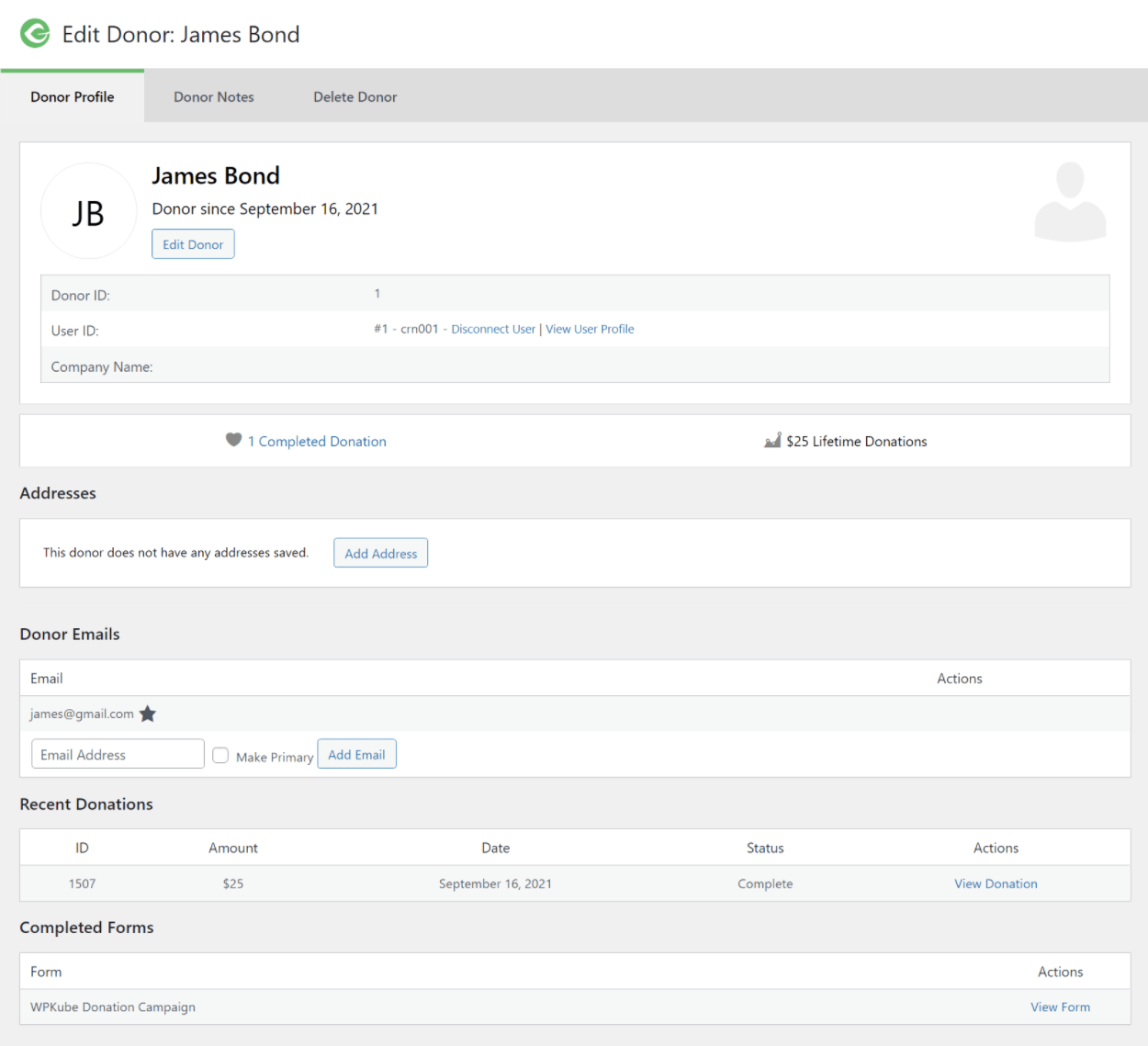 As you'll see in a second, I think that GiveWP definitely offers stronger donor management than Charitable.
Charitable
To view a list of all your donations, you can go to Charitable → Donations: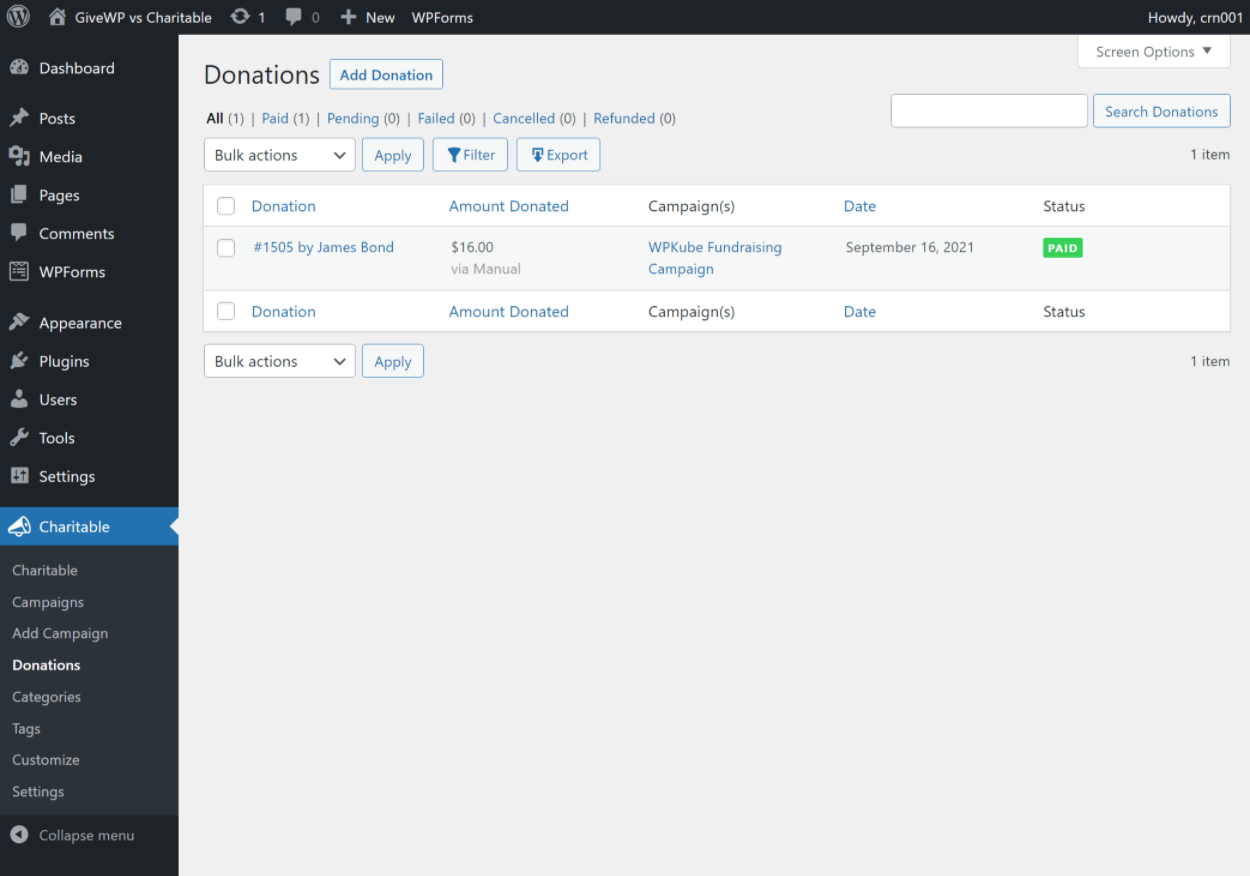 In this list view, you can use filters to find donations from specific dates or campaigns. You can also export all of the data to a CSV if needed.
If you click on a specific donation, you'll see more details. You'll also be able to quickly resend the donation receipt and perform other actions if needed: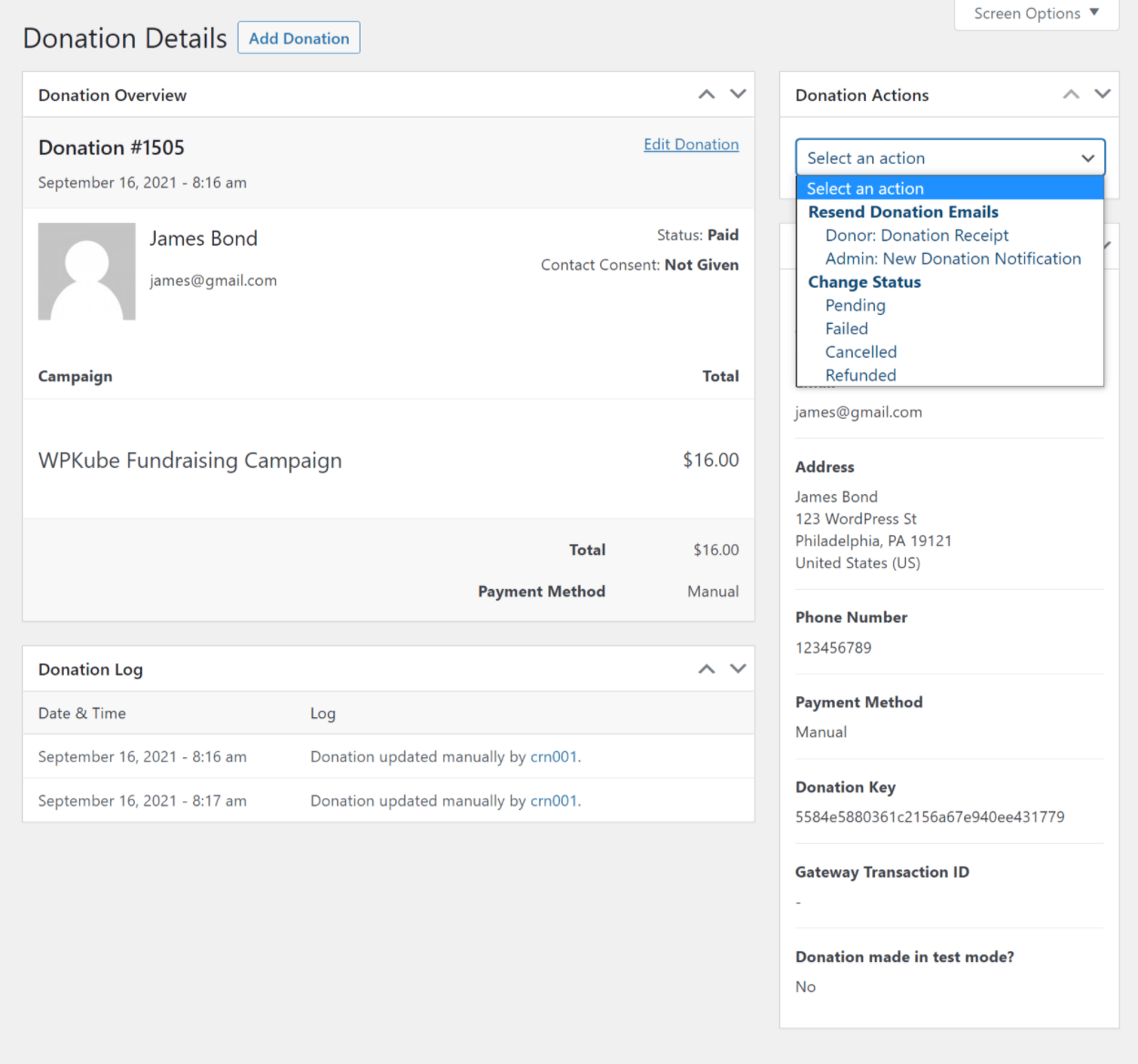 What you don't get, though, is a CRM-like feature where you can pull up a donor's profile and view all of their past donations. This is an area where GiveWP is definitely stronger.
Peer-to-Peer Fundraising Features
If you want to run peer-to-peer fundraising campaigns, Charitable is the clear winner at the time that I'm writing this comparison. Why? Because Charitable is the only one to currently offer support for peer-to-peer fundraising.
I say currently because GiveWP is working on developing a peer-to-peer fundraising feature – it's just not ready quite yet. However, it might be ready by the time you're reading this comparison, so I encourage you to double-check the GiveWP peer-to-peer add-on page.
If you're not sure what peer-to-peer fundraising is, the most common example would be a charity run. Individual participants in the run would do their own fundraising to raise money for the cause.
With Charitable, you could let each individual participant create their own fundraising page on your site.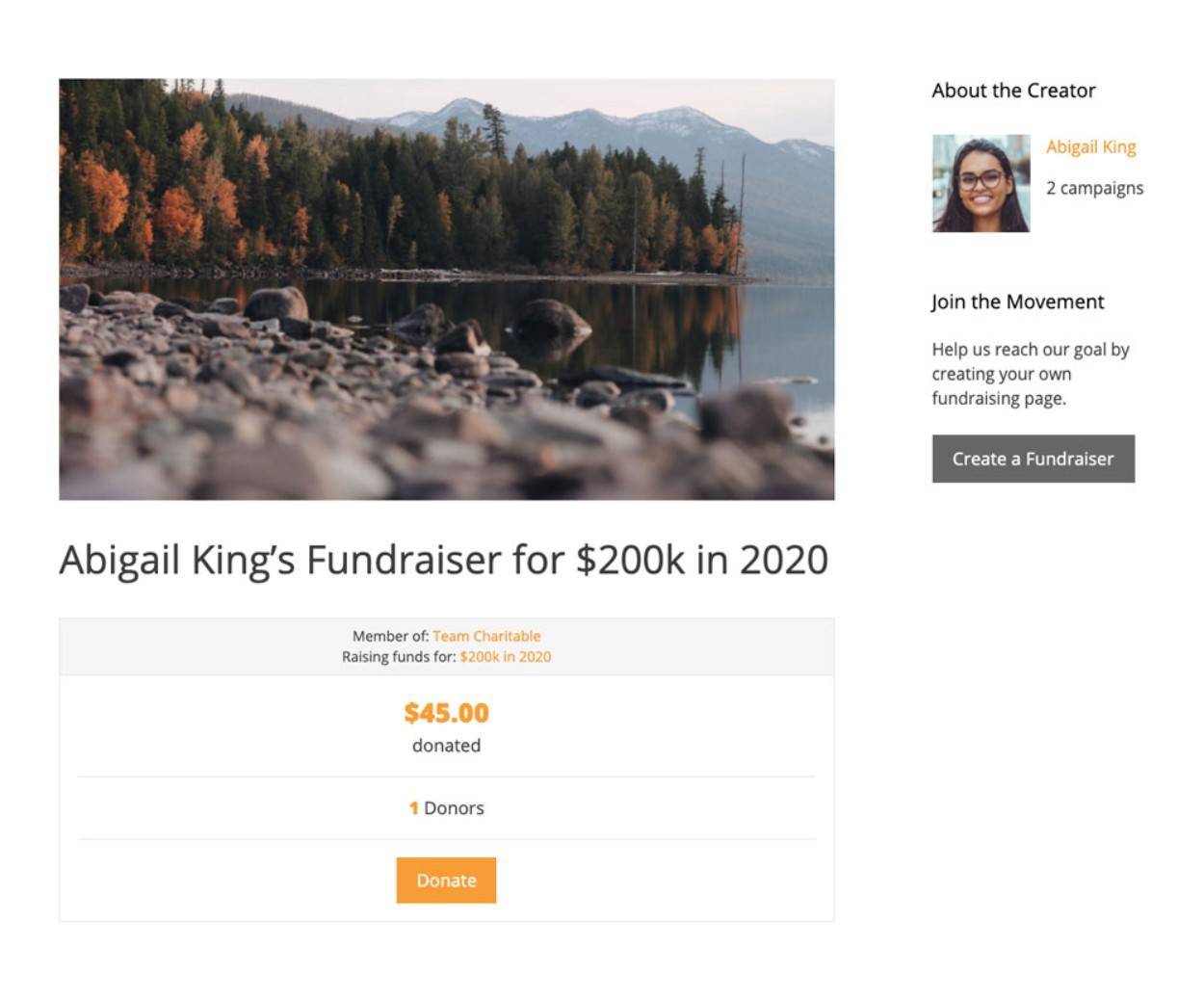 To learn more about this feature, check out Charitable's peer-to-peer fundraising page.
Integrations
In addition to payment gateways, both GiveWP and Charitable can integrate with your email marketing service and other tools that you might be using.
Here's how they stack up:
| | | |
| --- | --- | --- |
| Tool/Plugin Integration | GiveWP | Charitable |
| Zapier | ✔️ | ❌ |
| Mailchimp | ✔️ | ✔️ |
| Campaign Monitor | ❌ | ✔️ |
| MailerLite | ❌ | ✔️ |
| Active Campaign | ✔️ | ✔️ |
| MailPoet | ❌ | ✔️ |
| Mailster | ❌ | ✔️ |
| ConvertKit | ✔️ | ❌ |
| Constant Contact | ✔️ | ❌ |
| AWeber | ✔️ | ❌ |
| WooCommerce | ✔️ | ❌ |
| Easy Digital Downloads | ❌ | ✔️ |
At first glance, it might seem like they're pretty equal. However, I think that GiveWP's Zapier integration gives it a big advantage over Charitable.
With GiveWP's Zapier integration, you can connect to the thousands of apps on Zapier, including tools such as Campaign Monitor and MailerLite that GiveWP doesn't offer direct integrations for.
But beyond that, you can also connect to Salesforce, HubSpot, and other customer relationship management tools (CRM) to manage your donors.
Pricing
Both GiveWP and Charitable operate on the freemium pricing model.
That is, they offer their core versions for free at WordPress.org and then they sell premium add-on bundles that you can purchase to extend the core version with new features.
GiveWP only lets you buy add-ons via a bundle, while Charitable sells add-ons both individually and in bundles. However, purchasing individual Charitable add-ons is prohibitively expensive vs the cost of the bundle, so I'm just going to focus on the bundle pricing.
Let's take a deeper look…
GiveWP Pricing
GiveWP offers three pricing plans:
Basic – $249 – access to a limited set of premium add-ons.
Plus – $360 – access to all add-ons and use on a single site.
Pro – $499 – access to all add-ons plus use on up to five sites. You also get special VIP support.
However, GiveWP regularly runs sales that can get you 25%+ off those list prices. For example, here are the current prices at the time that I'm writing our GiveWP vs Charitable comparison: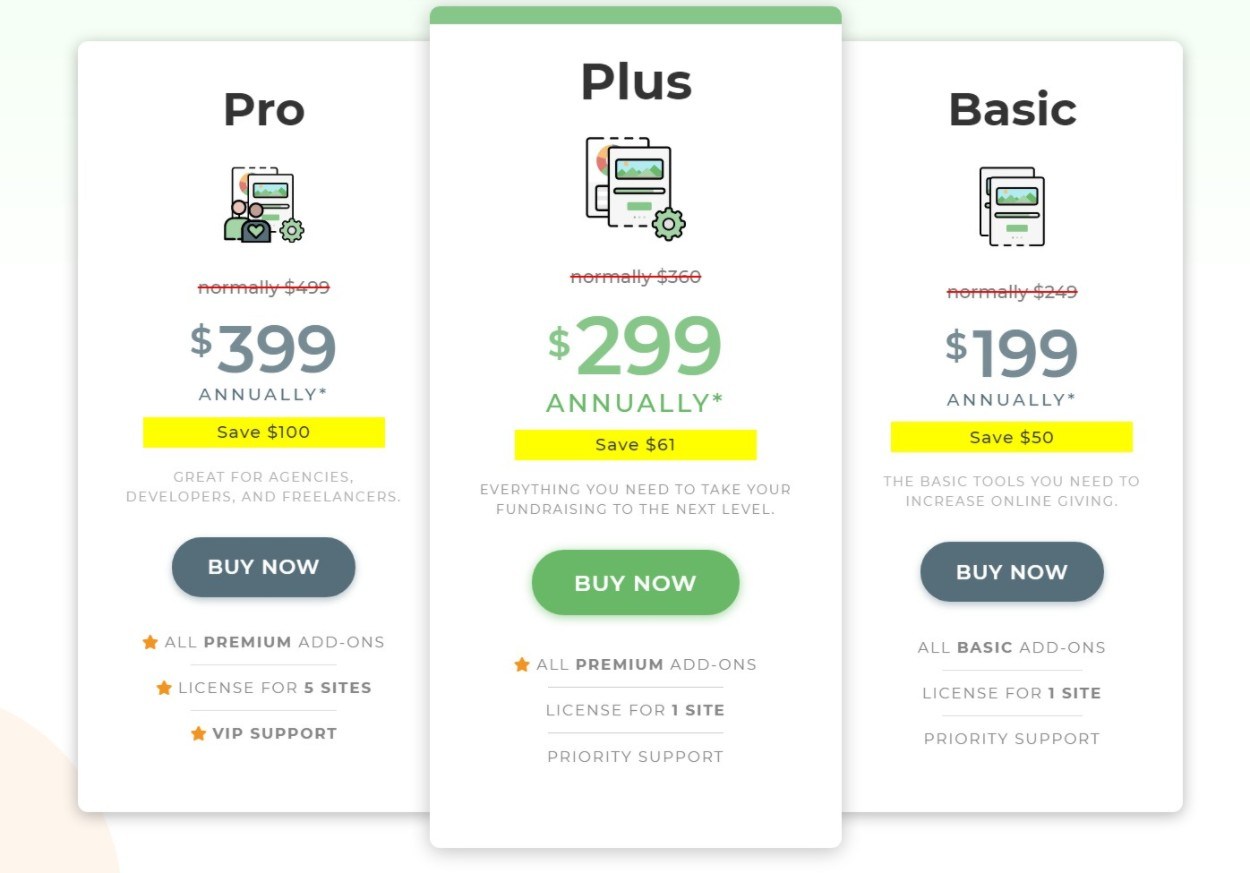 Note that these sale prices only apply to your first year. You'd need to pay full price when you renew.
So – which plan is right for you? Well, here's a partial feature comparison between GiveWP free vs Basic vs Plus vs Pro: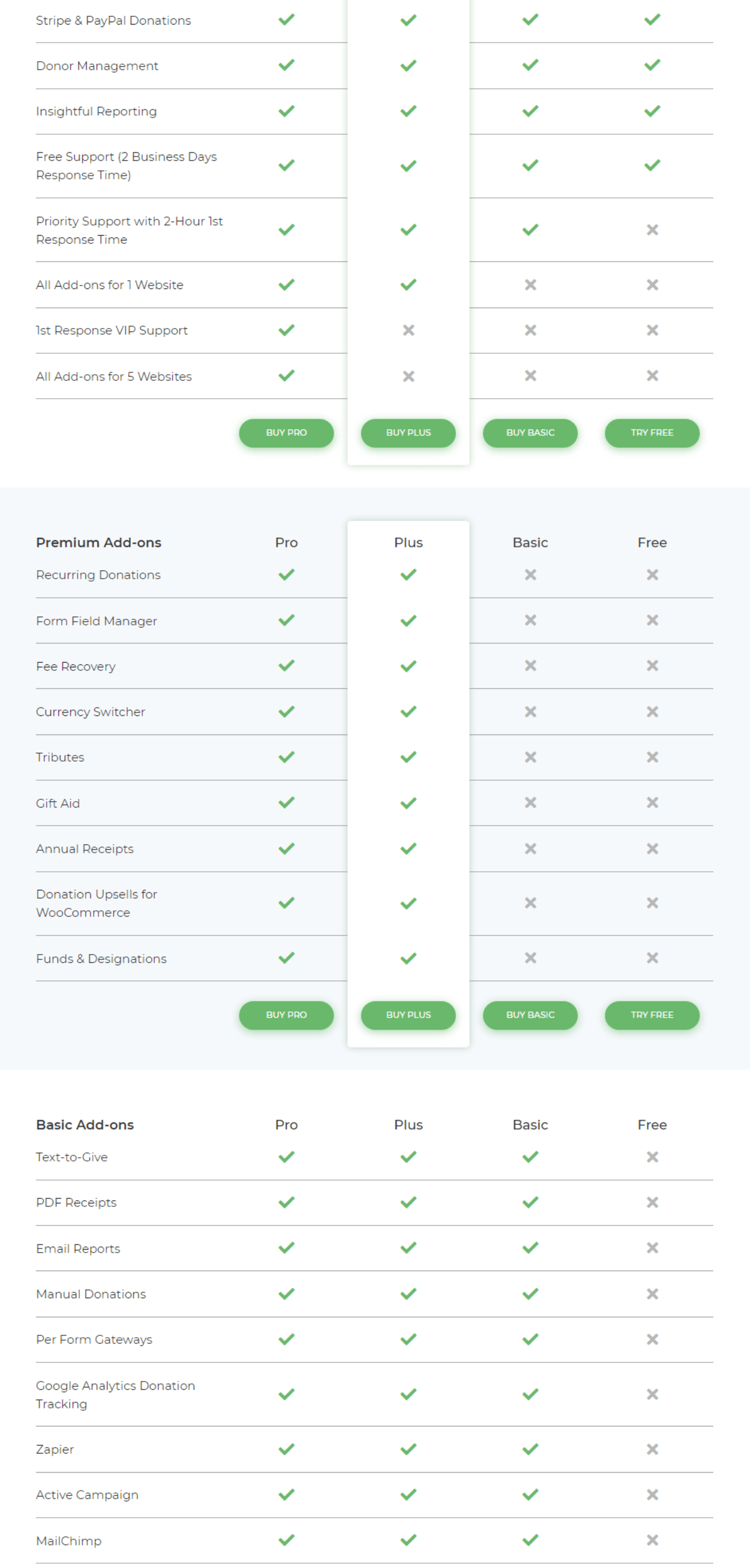 You can see that the main advantage of paying for Plus over Pro is that you get support for:
Recurring donations (one of the biggest new features)
A form field manager
Fee recovery
Tributes
Annual receipts
To see the full comparison table, you can click this link.
Charitable Pricing
Charitable uses the same basic pricing strategy as GiveWP with three main annual plans:
Plus – $129 – access to core add-ons.
Pro – $279 – access to all add-ons and use on a single site.
Agency – $369 – access to all add-ons plus use on up to five sites.
Like GiveWP, Charitable regularly runs promotions that will make these prices cheaper for the first year.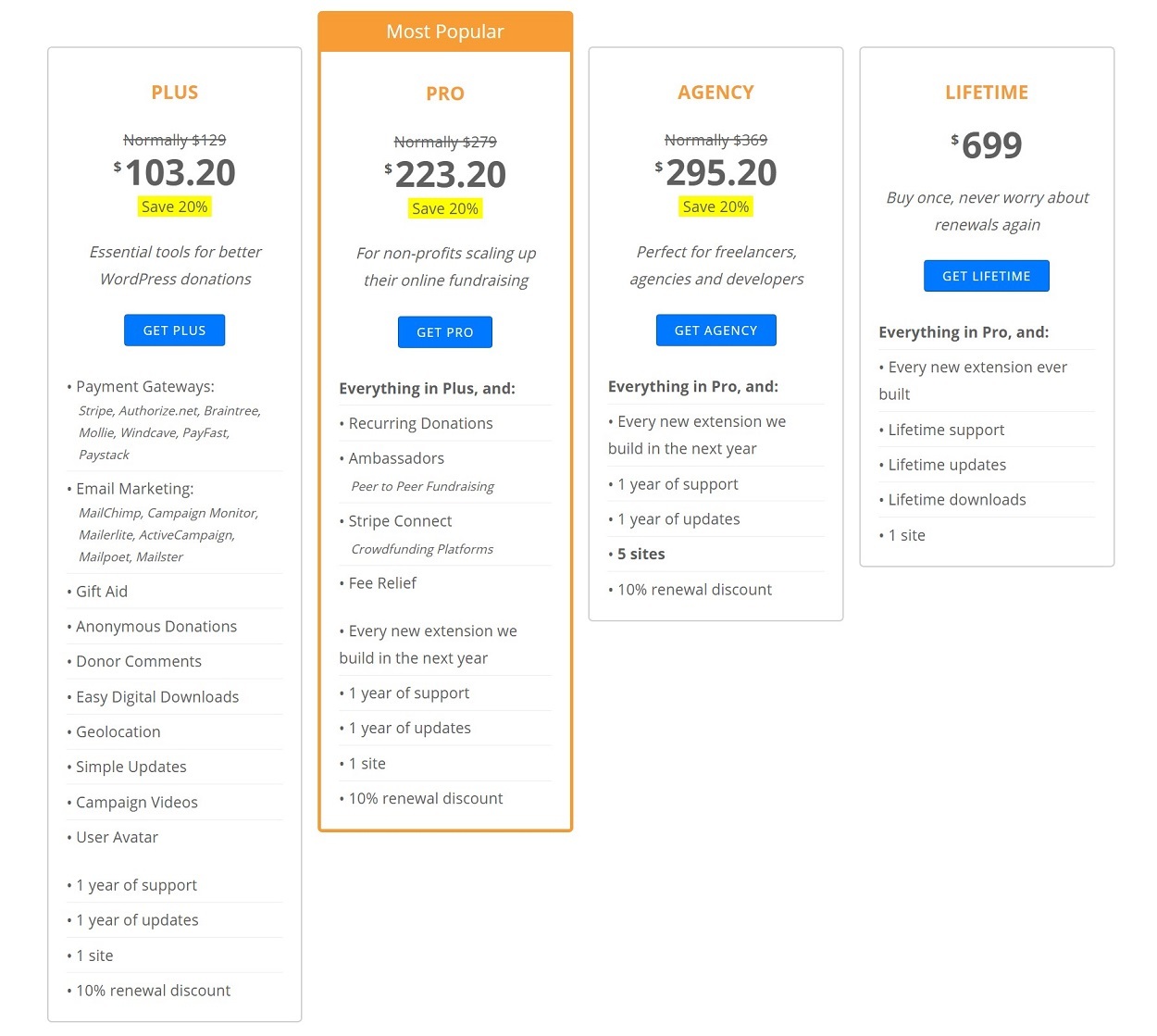 However, Charitable has two key differences vs GiveWP:
Charitable offers a $699 lifetime plan. The breakeven point on the lifetime plan vs the Pro plan is just 2.5 years.
Charitable offers a 10% license renewal discount.
Thoughts on Pricing
Overall, Charitable is a bit cheaper than GiveWP for similar features, which might make it a better option if you're on a tight budget.
For example, here's how much it would cost to access important features with each plugin's regular pricing:
| | | |
| --- | --- | --- |
| Feature | GiveWP Price | Charitable Price |
| Recurring Donations | $360 | $279 |
| Email Marketing Integrations | $249 | $129 |
| Fee Recovery | $360 | $279 |
| Gift Aid | $360 | $129 |
Final Thoughts on GiveWP vs Charitable
As I mentioned in the introduction, I think that GiveWP is the better option for most people.
There are two main reasons why I think that:
At least personally, I think that GiveWP offers a better interface experience on the frontend and backend.
GiveWP offers some key features that Charitable doesn't, such as better donor management, a Zapier integration, and a code-free form field manager.
For most organizations, I think those benefits are worth paying a slight premium.
However, Charitable does have a few advantages that might make it the better choice in some situations:
It's more affordable. If your money is really tight, that might be a deciding factor.
Charitable supports peer-to-peer fundraising, which is something that GiveWP doesn't support at the time that I'm writing this comparison (though they might by the time you're reading this).
To see even more options, check out our full collection of the best WordPress donation plugins.
Have any questions about our Charitable vs GiveWP comparison? Let us know in the comments!