Today we are taking a closer look at a new WordPress theme which has been designed for photographers or photography agencies who want a suitable platform to showcase their work on. The theme has been developed by PixelGrade, an Elite Author team from Theme Forest, where it can be purchased.
If you are looking for a photography theme for your own WordPress site or for a client project you are working on, then read on to find out if this option is worth investing your time and money in.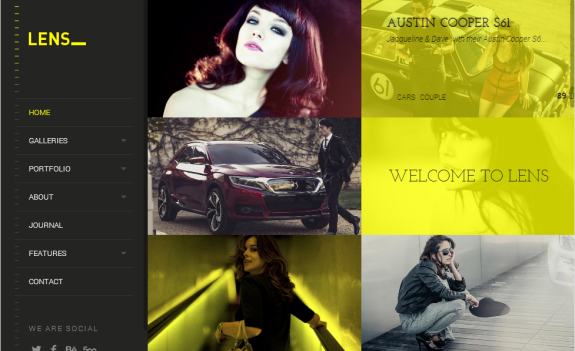 Theme Appearance
The LENS theme is firmly aimed at photographers and those who need a stylish and impressive website to present photos and other images on. While photographers will appreciate this striking theme, graphic designers, illustrators and other visual artists should be equally able to use this theme to enhance their online portfolio.
The theme successfully embraces the latest trends in web design in order to deliver a flat and minimal appearance, which also makes use of popular user interface elements. These include a fixed or floating navigation menu located in the left sidebar and a fully responsive grid layout menu system for the portfolio sections.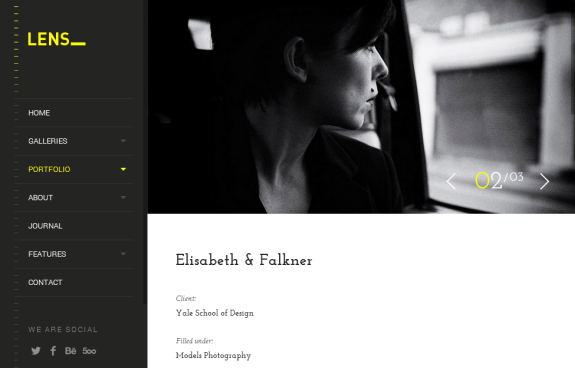 Despite a fair amount of page load animations being present, the flat and minimal design ensures that the screen never feels too crowded or busy, and the artist's work is showcased without being overpowered by coding and design gimmicks.
Thanks to the fixed left sidebar menu, the main content area is allowed to expand as far right as it needs to, within the constraints of the browser window or screen device. This responsive design makes the LENS theme perfect for presenting large works such as high resolution photographs that can be viewed on screens of all sizes.
The artist's work, whether it be photos or other images can be showcased in either galleries or projects which are both custom post types. Galleries are best suited to a collection of photos, whereas the projects option allows a story to be told using the images. With the projects option, text can be combined with single shots or image galleries which can be displayed in grids or by using a slider. As theme is built using the YARPP plugin, it can easily display related images under each portfolio item, increasing the chances of your visitors exploring more of your work.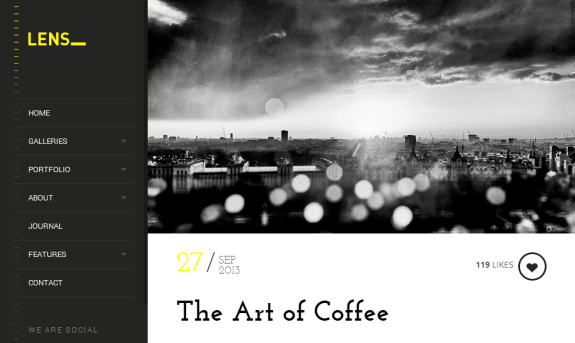 The theme offers a good deal of flexibility for the homepage as no one set option is prescribed. When setting up the site, it is possible to choose a specific gallery or project to be featured on the homepage. Alternatively an individual post can be selected, or a more traditional format such as displaying the latest blog or journal entries can be chosen. Whatever you choose, the fast and smooth animated page transitions will help entice your readers into your site to explore your content further.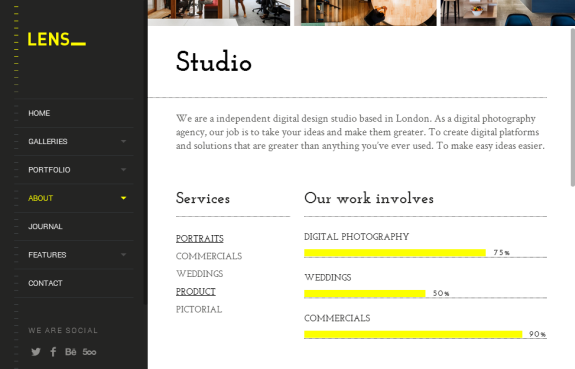 Theme Features
While the LENS theme focusses strongly on delivering a dynamic template for showcasing your work thanks to its bold design, it does not overlook the other features that are required on a modern website.
Amongst the theme features here is the integration with the most popular social networks, which makes it very easy for your readers to like and share your work with their friends and peers.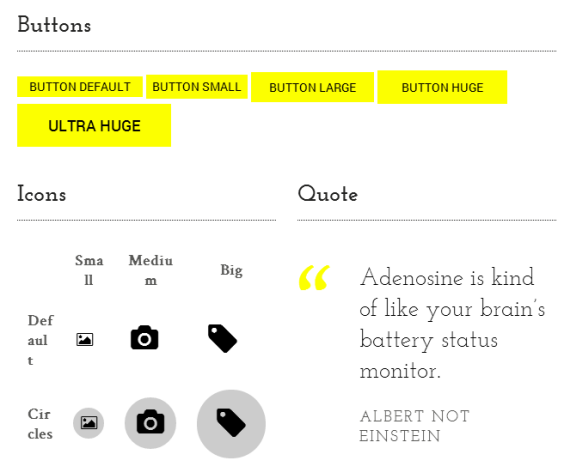 The theme itself is translation ready and supports WPML (.po files). It even includes bonus language files for German Spanish, Italian and Portuguese. There is also support for right to left text.
The colours used on the theme can be customised via the theme options, which provide access to unlimited colour choices, helping to get the right look and feel for your site that best compliments your work.
The LENS theme considerately uses plugins for its gallery and portfolio project creation. This means that should you choose to change themes in the future, you can take your content with you, by continuing to use the bundled templates. Core theme functionality is kept separate thanks to the use of plugins, which doesn't lock you into this theme indefinitely.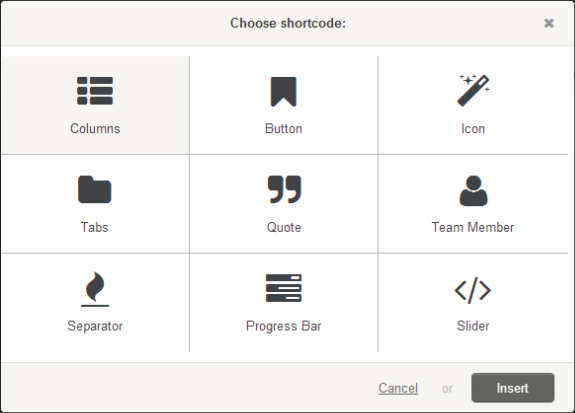 Shortcodes are also delivered via a plugin which means any formatting you insert using the shortcodes won't be lost upon changing themes. There are plenty of different types of content that can be inserted thanks to the bundled shortcodes plugin, which can all be easily accessed via the WordPress post editor icon.
The theme also supports and encourages the use of child themes, allowing you to make customisations to the theme beyond what is possible through the theme options control panel, without actually making changes to the core theme files. The installation files come complete with a child theme version which makes working in this way very easy to get started with.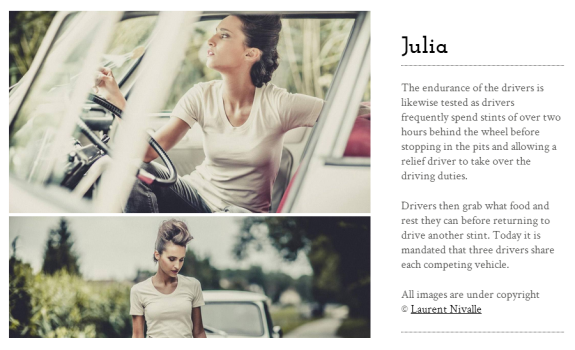 Despite only being recently released, the theme has already gone through a number of revisions to ensure that any issues are ironed out as soon as they are discovered. These early updates have so far included improved IE support, improved full screen sliders, the addition of password protected galleries and new transition effects for sliders. This is a good indication that the theme is being looked after and continually updated as the need arises.
Installation & Setup
Installing and setting up the theme is a simple process. Firstly, upload the installer zip file via your WordPress admin area or by using FTP to upload it directly to your server and then activate it.

After that it is necessary to install the required plugins: PixCodes and PixTypes. There are also recommended plugins for this theme which can too be installed from the theme management page. There is no need to search and locate the individual plugins. Clicking on the 'begin installing plugins' link takes care of all this for you, but don't forget to activate them after installation.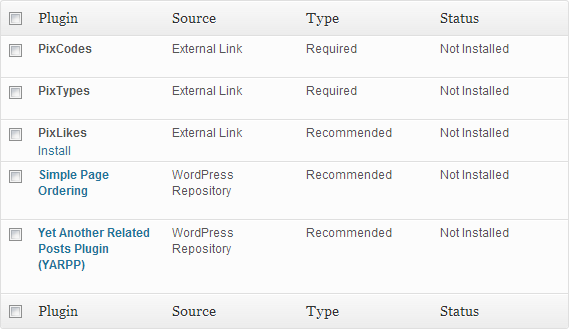 The next step is optional and allows you to import the demo dummy data to make your site look more like the theme demo site, which was more than likely what persuaded you to look further into the theme. Buying a theme based on an impressive demo can sometimes be a bit of an underwhelming experience due to the difficulties in making your site look like the example demo version. However, this isn't the case with the LENS theme from PixelGrade.
Importing the demo data takes a few minutes to process but only requires the click of one button which is found under the General Options page under the Theme Options menu.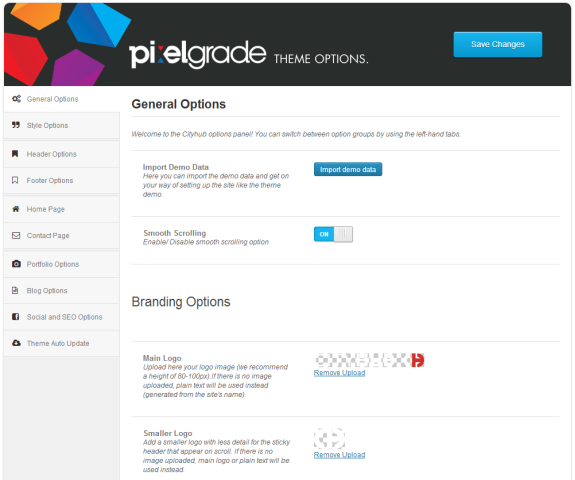 Documentation & Support
The documentation for the LENS WordPress theme is all located online. There are videos and text and image based documentation to help walk you through the setup process for the theme. The theme options are also well documented in the knowledge base making it easy to find out what each menu item is responsible for and how the setup of your site can be modified.
For any problems that are encountered that are not covered by the online documentation, a support ticket can be submitted for personalised assistance. There are also active community forums for the LENS theme.
Conclusion
LENS is a visually striking theme that has the behind the scenes functionality necessary to make it a good choice from both a site visitor and an administration standpoint. It's not uncommon for theme demos to create a great impression that soon wears off once the theme has been purchased and attempts are made to set it up to resemble the demo.
Thanks to the simple import of demo data, getting LENS up and running is very straightforward. From there it's just a case of adding your own content and then delving into the comprehensive theme options to get the look you want.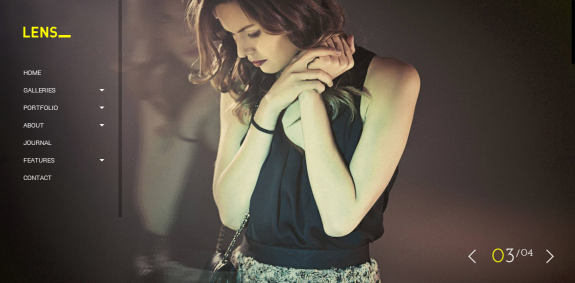 Ultimately, whether you choose this theme or not comes down to whether you appreciate its appearance or not. However, if the visual elements do appeal to you, you can rest assured that the backend of the theme is easy to use and features all of the customization options you would expect from a premium offering of this type.
The fact that the shortcodes and portfolio functionality is delivered by a plugin, rather than as part of the theme itself, also means that you are not unnecessarily tied into this theme should you choose to update your portfolio with a new look in the future.
If you are looking for a visually striking theme that incorporates the latest design elements and is well documented and supported, then the LENS WordPress photography theme is a great option.
To find out more visit the theme page today.