Choosing the right hosting provider is one of the most important decisions you'll make regarding your WordPress site. However, with so many promoting fast performance and unmatched support, how do you decide which will offer you the greatest value?
If you're like many website owners, speed is likely a top priority. So it makes sense to consider two of the popular, reputable managed hosting providers that use it as a selling point: WP Engine and WPX Hosting.
In this comparison post, we put them to the test. We'll start by taking a look at what each has to offer in terms of features, support, and pricing. Then we'll conduct speed tests to see how they stack up. Let's get started!
Our Methods for Evaluating and Comparing WP Engine vs WPX Hosting
We know how helpful it is to have concrete, reliable information to lean on when making decisions. This is why we used a variety of resources and methods to evaluate WP Engine vs WPX Hosting. In addition to collecting information online from the company websites and users, we also used first-hand experience.
First, we created WordPress hosting accounts with each provider and set up new websites. Then we conducted actual speed test experiments to gather performance data to compare WP Engine vs WPX Hosting. Using our new WordPress site and multiple tools, we were able to gauge the loading and response times of each.
Throughout the process, we were also able to interact with both support teams and experiment with the dashboard and control panels to better understand the user experience. Collectively, this information helped inform and position us to give you an idea of what you could expect from each.
An Overview of WP Engine for Managed WordPress Hosting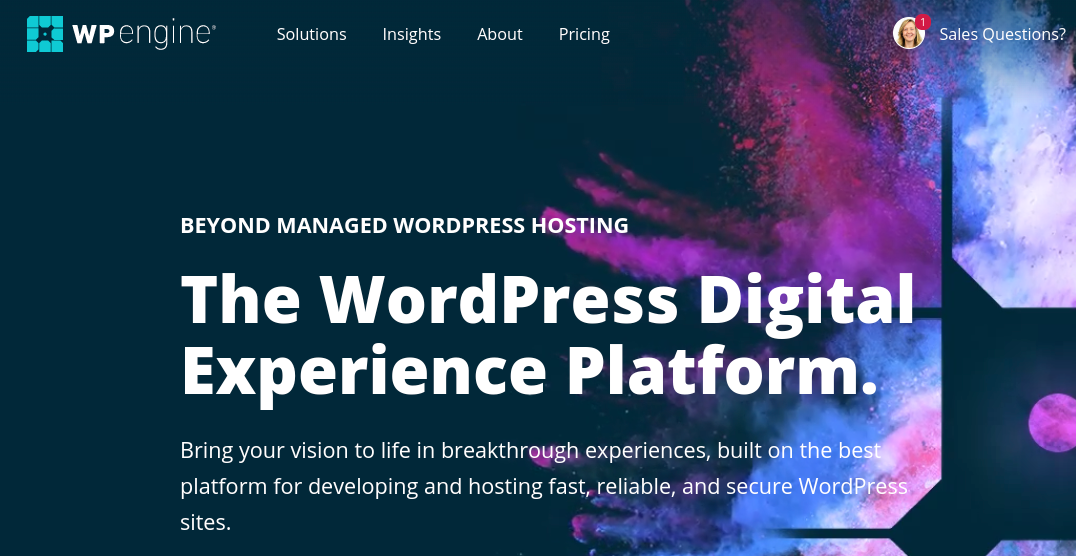 Mostly used by WordPress experts, WP Engine (our review) is one of the most well-known managed hosting providers out there. It's used by a lot of popular brands such as SoundCloud and Foursquare, which speaks to its credibility.
One of the main draws of WP Engine is its advanced security features. It has a proprietary intrusion detection and prevention system that helps keep sites secure from brute-force, SQL injection, and DDoS attacks.
Features include:
One-click backup and restore
Scanning and monitoring for hacking attempts
One-click staging environments
Automated SSL certificates
Custom-built Evercache Technology
Global Content Delivery Network (CDN) included
60 day money-back guarantee
Support and Usability
Installation and setup with WP Engine is simple and straightforward. It includes an installation manager that helps streamline the process of adding and managing your installations.
WP Engine offers a primary control panel where you can manage backup, domain, and security aspects. In addition, it comes with a secondary control panel, or the 'User Portal':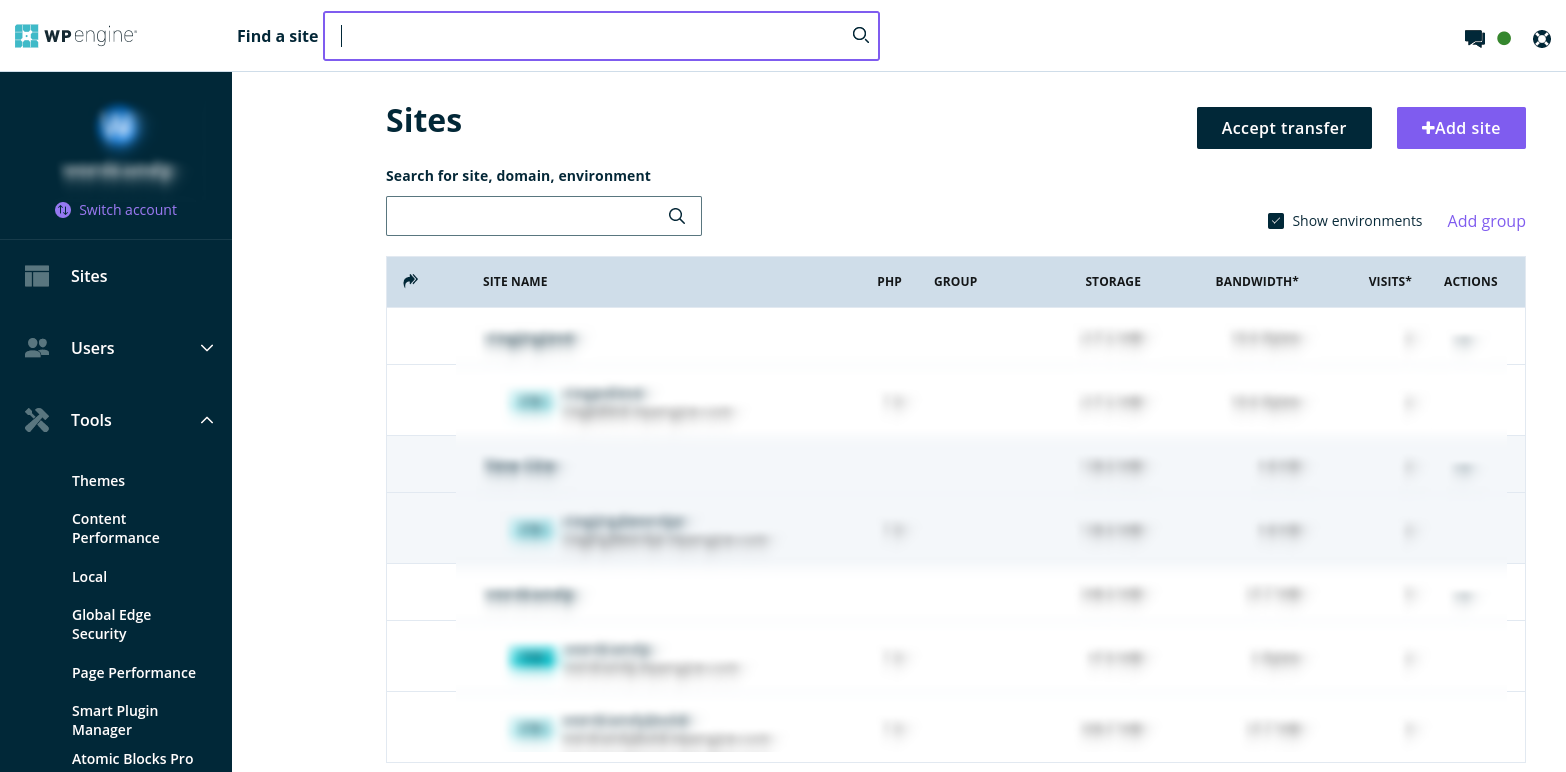 With WP Engine, you also get a premium level of support. You can use the help desk or chat feature 24/7. For higher tier plans, phone support is also included.
Plans and Pricing
The one reservation with WP Engine that gives some people pause is the cost. When it comes to managed WordPress hosting providers, WP Engine tends to be a bit pricier than other options.
Plans range from $30 per month to $240 per month. However, that isn't to say it isn't worth the value. With any product or service, it's important to also consider what's included in the cost. For example, a unique benefit of WP Engine is that if your site is hacked, they will fix it for free.
The three main plans include:
Startup ($30). This plan is for one website and comes with 50 GB bandwidth and 10 GB local storage.
Growth ($115). The growth plan includes 200 GB bandwidth and 20 GB of storage for up to 10 sites.
Scale ($290). With the Scale plan, you can add up to 30 sites and get 500 GB bandwidth and 50 GB local storage.
WP Engine WordPress hosting plans also include the Genesis Framework, over 35 StudioPress themes, and automated SSL certificates for free. , see
👉 If you want to read more about this hosting provider, see our full WPEngine review.
💰 Don't forget to use our WPEngine coupon to get an exclusive 20% OFF.
An Overview of WPX Hosting for Managed WordPress Hosting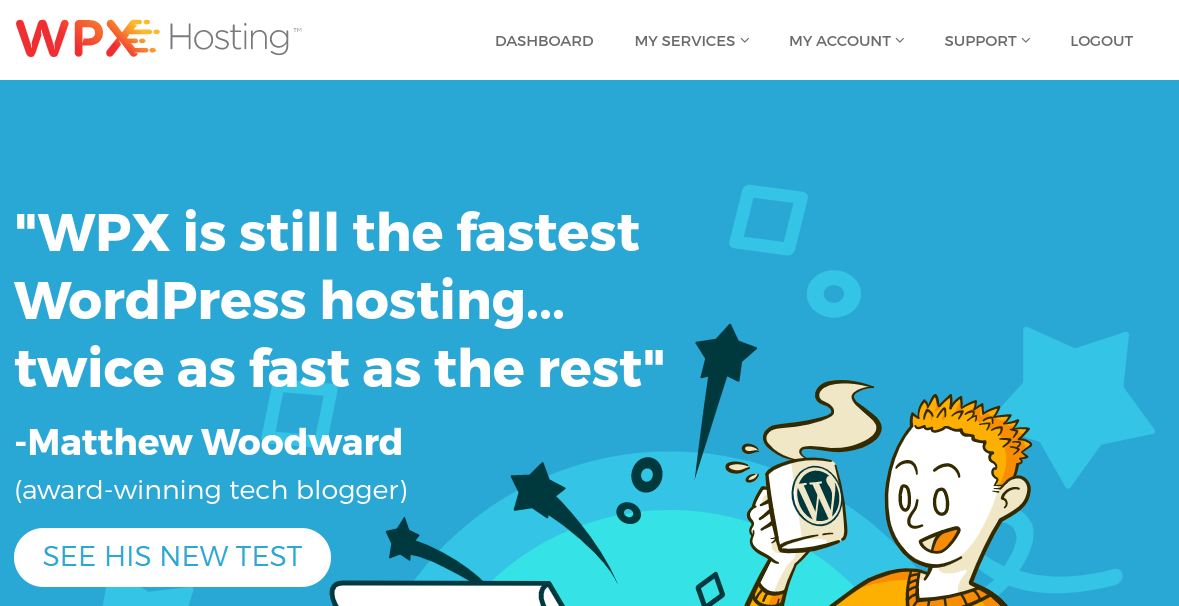 WPX Hosting is another popular choice for managed WordPress hosting. Unlike WP Engine, WPX Hosting offers domain registration, which can make the process of setting up a new domain with your hosting account a bit smoother.
Features include:
Free site migration within 24 hours
24/7 customer support
Daily backups
Free email setup
Daily malware scans
30 days money back guarantee
Unlimited free SSL certificates
Support and Usability
As with WP Engine, WPX Hosting provides a quick and simple setup process. You can get your WordPress installation up and running with just a few clicks.
Although the cPanel interface does not have as many features as WP Engine, for some people this might be considered a benefit. It's clean and easy to navigate: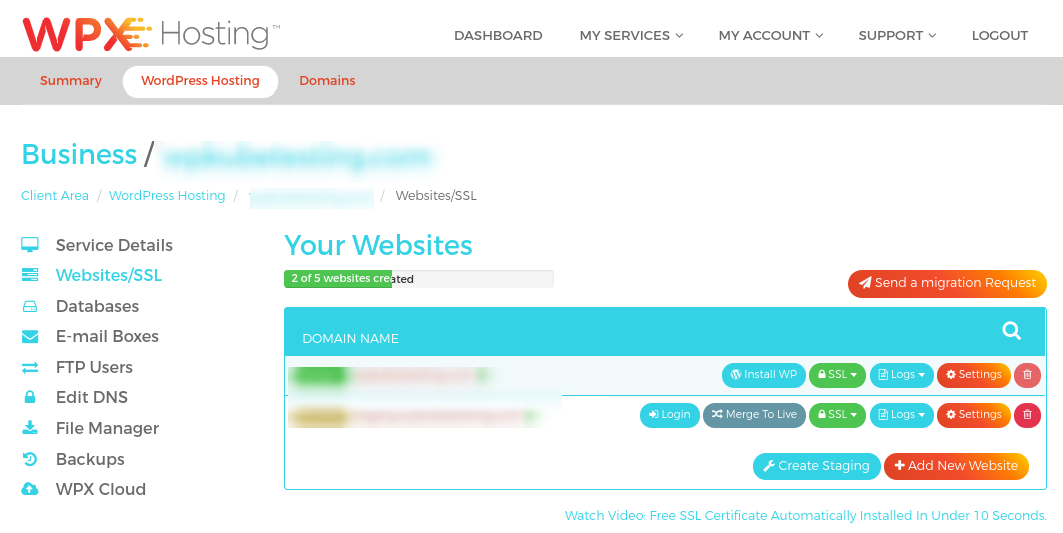 The support with WPX Hosting is excellent. You can contact a support agent via chat on their website. They respond instantly and are helpful with answering questions. The website also has a 'Knowledgebase' section where you can find a plethora of helpful tutorials and guides.
Plans and Pricing
In terms of pricing, WPX Hosting is on-par with a lot of hosting providers out there, and definitely less expensive than WP Engine. The three main plans are:
Business ($24.99). You can host up to five websites with a bandwidth of 100 GB. This plan also includes 10 GB in disk space.
Professional ($49.99). This plan allows up to 15 websites and comes with a bandwidth of 200 GB and 20 GB in disk space.
Elite ($99). Designed for sites that get a lot of traffic, this plan allows up to 35 websites with unlimited bandwidth.
Looking at WP Engine vs WPX Hosting from a cost-perspective, it's impressive what you get with the latter. For example, with the entry-level WPX plan, you get four more websites than you do with the WP Engine plan – and for less money.
👉 You can learn more in our full WPX Hosting review.
💰 Don't forget to use our exclusive coupon to get 50% OFF.
WP Engine vs WPX Hosting: Conducting and Comparing Speed Tests
As you might recall, in preparation for this post, we created WordPress sites with each hosting provider to conduct real speed test experiments. We used two tools to compare the speed and loading times of WP Engine vs WPX Hosting: Pingdom and Load Impact. Let's take a look at the results.
Page Speed Tests With Pingdom
After we created our WordPress site with WP Engine, we input the domain into Pingdom's website speed test tool. We ran multiple tests using three different locations.
The load times for WP Engine were:
London: 0.92 seconds
San Francisco: 0.56 seconds
Sydney: 2.39 seconds
These are impressive results that, with exception of Sydney, stay well under the recommended two-second load time. With all three locations, the site received a performance grade of 92 out of 100.
We conducted the same tests for our WordPress site on WPX Hosting. The load times for WPX Hosting were:
London: 0.74 seconds
San Francisco: 0.46 seconds
Sydney: 1.57 seconds
For all three locations, the load times for WPX Hosting were better (faster) than WP Engine, though only by a few milliseconds. Again, they also stayed under the two-second mark. This could largely be due to the fact that WPX Hosting uses SSD servers. Our WPX Hosting site also scored a higher performance grade, coming in at 95 out of 100.
Page Speed Test With Load Impact
Next, we conducted load testing using Load Impact. This type of performance testing uses stimulations to help determine how a system will perform during typical and peak load times.
For our WP Engine WordPress site, the average response time was 83 milliseconds (ms). The minimum was 59 ms and the maximum was 1.38 seconds:

With the above chart, you'll notice that as the green line (number of active virtual users) increases, the blue line (our test site's page load times) stays relatively consistent. Simply, this means the response time will be the same for two site visitors as it will be for 20.
Next, we conducted the same test for our WPX Hosting website. The average response time was 24 ms, with a minimum of 23 ms and a maximum of 38 ms:

Once again, the response times we see with WPX Hosting are quicker than with WP Engine. In both speed tests, WPX Hosting came out on top.
Conclusion
When you're trying to choose a WordPress hosting provider, there's a variety of factors to consider. Among the most important is speed, as well as unique features, pricing, and support.
As we discussed in this post comparing WP Engine vs WPX Hosting, both providers offer feature-packed WordPress hosting plans, quick customer service, and simple setups.
WPX Hosting is the less expensive option with marginally faster loading times. However, if you're a larger site looking for advanced features and high-level security, it may be worth spending a little extra for WP Engine.
Do you have any questions about either WP Engine or WPX Hosting? Let us know in the comments section below!