Search engines like Google are constantly trying their very best to present their searches with relevant and fresh results. Every day they release various tweaks to amplify the process. The major updates that affect the popular websites are housed under "official updates."
I'm no SEO expert, but the recent series of updates from Google suggest an alarming rise in one ranking factor –the quality of content. A number of sites were affected by this and the number is only going to increase if the webmasters don't make the necessary changes.
This is good news for individual bloggers and small scale businesses. Bad news for plagiarists.
Search Engine Journal, is one of the leading authorities on all things SEO, SEM and Social Media Marketing. Recently they released a one-of-a-kind outgoing link monitoring WordPress plugin called LinkPatrol which essentially monitors all outgoing links present in your WordPress blog.
Why do you need LinkPatrol

Google takes their link policy very seriously and has a couple of strict guidelines for webmasters to follow. If you have spam in the form of comments in your site, the original spammer will get penalized, but you too will get caught in the crossfire. That's one problem.
The second one is outdated outgoing links. Outdated can refer to irrelevant, broken or dead links. If your site is over five years old, chances are that there are quite a few links that are outdated.
And you really don't want outdated links in your site.
As time goes by, the number of posts in your blogs increases progressively. If you employ multiple authors, the number of outgoing links increases by leaps and bounds. After a point, it isn't practically feasible to keep track of each outgoing link.
You need some form of automation – you need a software. Or to be technically specific, you need a WordPress plugin.
Introducing LinkPatrol
Think of it as your personal security team that constantly monitors new and old posts/pages in your site. It then presents all the outgoing links in a highly organized dashboard in your site.
Under the LinkPatrol dashboard you'll find:
All the domains your site link out to
Individual links grouped under their respective domain name
The anchor text used for each link
The keywords and domains that are grouped together, by author
Search results for all of the above factors
With this data you can do one of two things:
You can add or remove the 'rel=nofollow' tag to all the links under a particular domain with the single click of a button
You can delete (strip) all or individual links under a particular domain.
An additional perk for people running multiple author blogs:
Since each outgoing link and domain has an author associated to them, you can actually find out which author is intentionally promoting a particular site. Spying on a spy, if you will.
Installing and Configuring LinkPatrol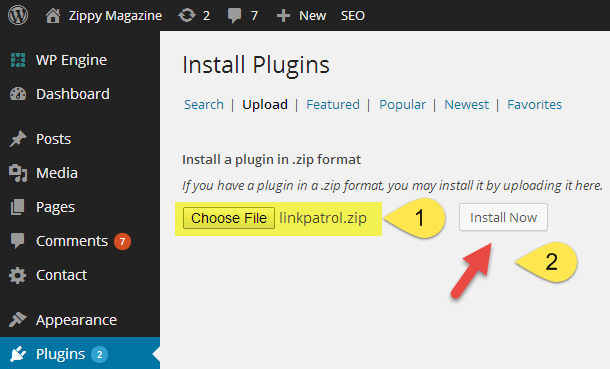 Installing LinkPatrol can be done like any other proprietary WordPress plugin. Since it's not present in the WordPress repository, you need to manually download it from you LinkPatrol account, and upload the plugin via the Plugin manager. This is found under WP Dashboard > Plugins > Add New > Upload
Once the upload is complete, activate it.
Activate LinkPatrol

Next you must activate your LinkPatrol license found under WP Dashboard > LinkPatrol > License
Enter you license and click Activate.
Build the outgoing link index with first scan

LinkPatrol will now need to scan all you posts and pages and other custom post types in your WordPress site and generate the very first version outgoing link database.
Depending on the structure and type of your site, the number of posts, pages and authors that are currently active – the time for the first scan will vary.
ZippyMagazine had around 40 posts, so the scan took some two thousand microseconds.
Once complete, you'll get an incredible view of the number of outgoing links, sorted by domains and author. You can utilize this information to draw useful conclusions to your site. Let's take a quick look at all of them.
Report Dashboard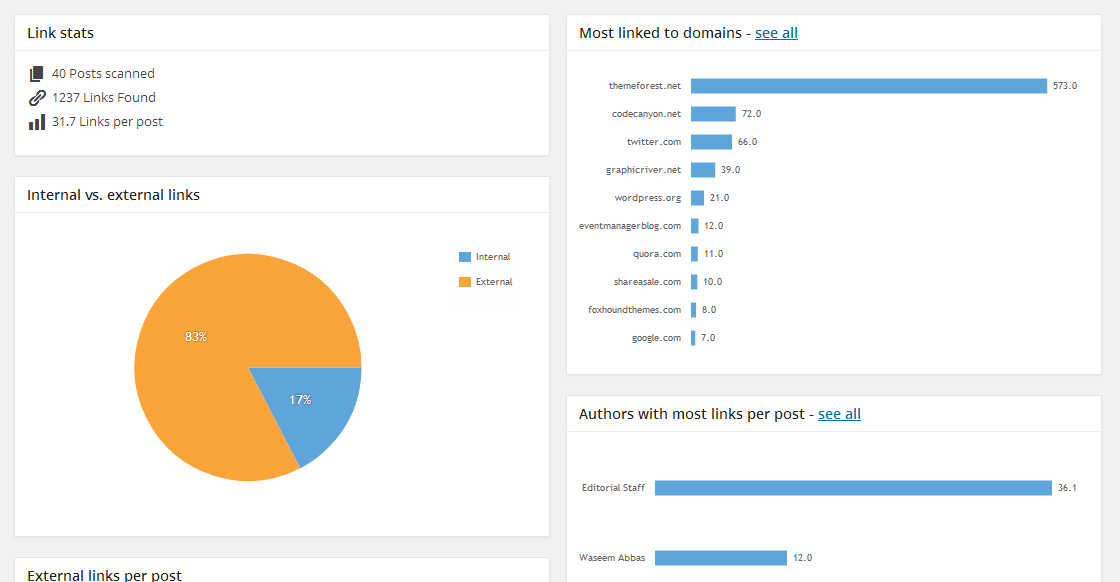 The eagle-eye view of the outgoing link statistics in your site. You get a bar graph and a pie-chart representation of the:
Most linked to domains
Authors with most links per post
Internal vs. external links –  a very important metric
External links per post – another important metric
A well interlinked site is a strong site. Even if spammers scrape your content, a post will a large number of internal links will ultimately drive traffic to your site. The spammers work is put to your profit.
Apart from this, the Link stats provide a small but useful cumulative metric.
Domain Report

LinkPatrol's Domain Report is the standard domain-to-links (one-to-many mapping) reporting tool which gives you a comprehensive view of the total number of domains in your site, with each link categorized under each domain.
In case you want to Nofollow or Strip all the links in that particular domain, simply tick the appropriate checkbox and hit Update.
Author Report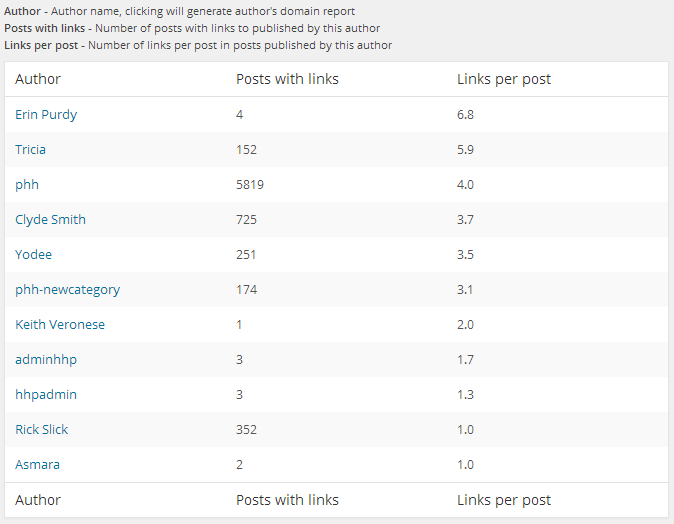 An indispensable tool for multi-author blogs and my personal favorite – the Author Report panel gives me an overview of all the authors who've contributed at least one article to my site and the number of outgoing links by each of them.
When you click on a particular author, you get the domains he/she mostly links to.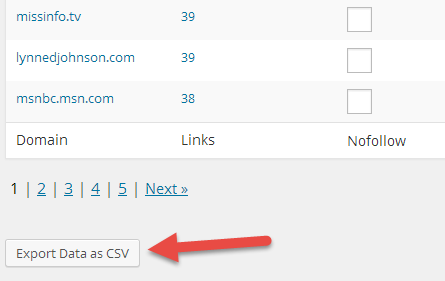 What's more, you can download all this data in a CSV file.
Keyword Search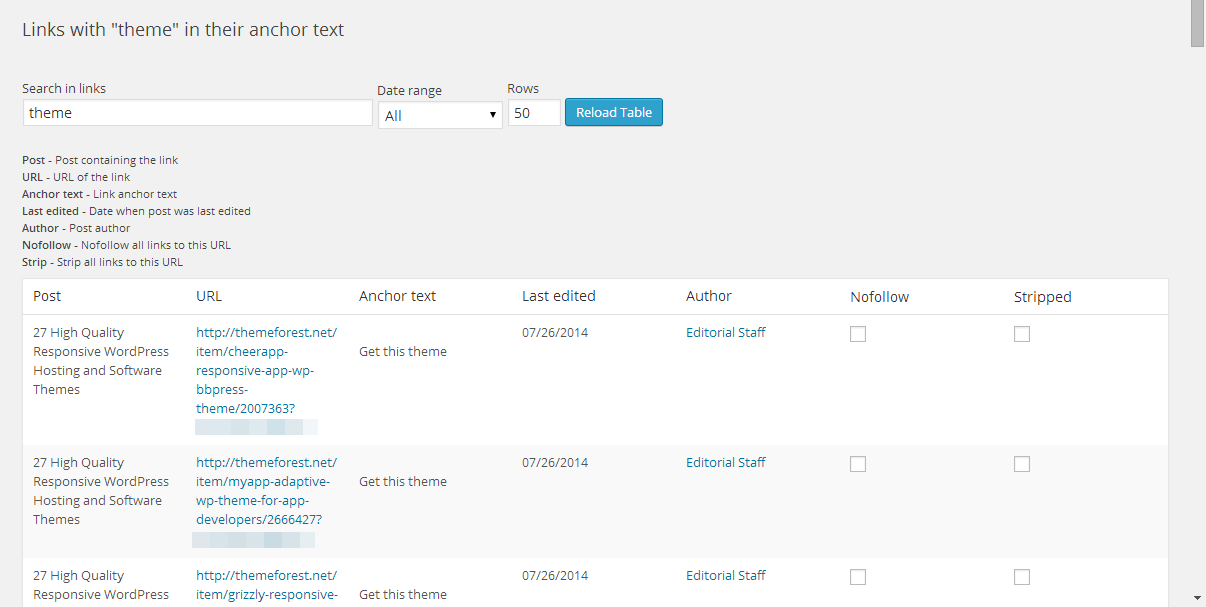 The Keyword Search tool in LinkPatrol gives you a bird's eye view of all the links that use the searched keyword in their anchor text.
Pricing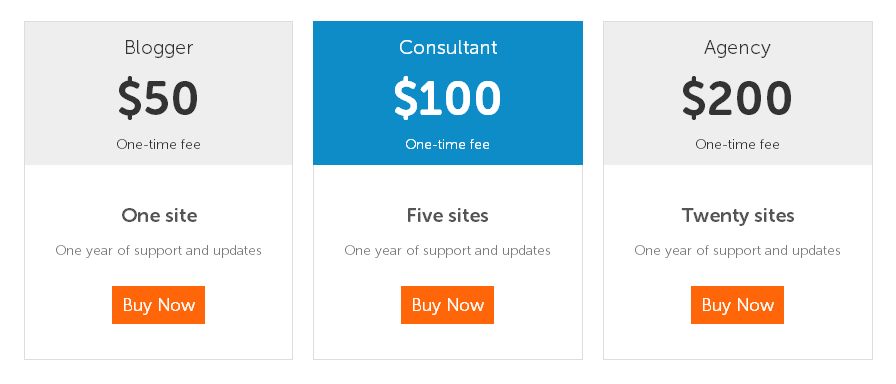 LinkPatrol follows a one-time pricing policy. It starts at $50 for one site, $100 for five and $200 for twenty sites. All plans include one year of support and updates.
Pricing policies for future updates and upgrades or extended support haven't been announced as of yet.
Conclusion
LinkPatrol is in indispensable tool for site owners who are serious about SEO. If you're an SEO analyst, you can conduct amazing audits using the LinkPatrol WordPress plugin and suggest your clients the changes they need to incorporate to improve their search engine rankings.
Use the Linkpatrol coupon code "WPKUBE15" at the time of check out to get a 15% discount.
Cleaning up the outgoing/broken links in your site is part of "maintenance" which is essential for a search engine optimized site. You may also want to see our post on How to Keep WordPress Running Smoothly with these 5 Maintenance Tasks.