Within the world of social media marketing, there is perpetual talk of new platforms to conquer and find potential customers on. TikTok is the latest social media platform that has rocketed to stardom due (in part) to the global COVID-19 pandemic. As such, this has lead many site owners to learn how to display TikTok posts in WordPress.
After all, WordPress can already embed a slew of other social media platforms. The good news TikTok is no different. In fact, there are a few ways to get the job done, both through native functionality and third-party plugins.
In this post, we'll show you a couple of ways to display TikTok posts in WordPress. Before this, let's give you a quick overview of the platform.
A Brief Introduction to TikTok
TikTok itself is only five years old, although the platform has a longer history. It's known as Douyin in China (TikTok's 'home' country), and although both apps share the same functionality and features, they're separate from one another.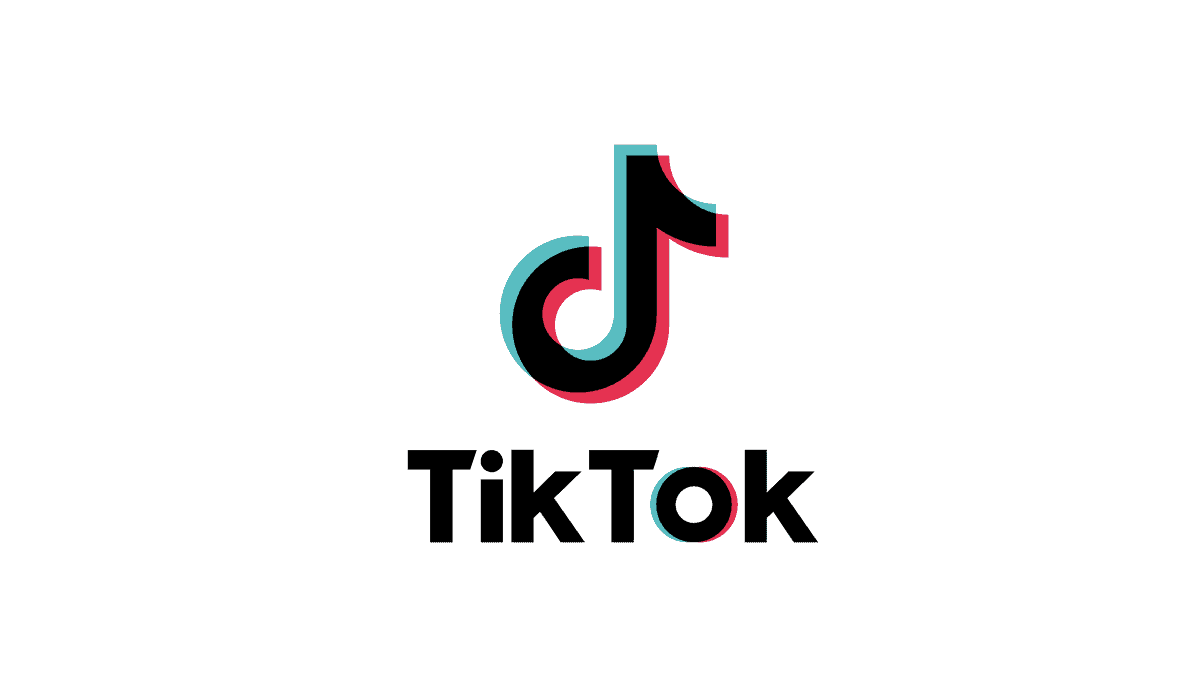 When Douyin's owners sought to go global, they acquired the popular Musical.ly service. This gained popularity through short form lip-synced videos. Once the merger took place, TikTok was born and exploded onto the world stage.
At first, TikTok followed in the footsteps of Musical.ly. Both then and now, lots of viral videos feature lip-syncing and choreographed dance moves. As such, it's been a popular platform for younger demographics. Though, older users have made their way to the platform too, and there's more of a short, 'life-hack' element to TikTok at current writing.
This leads into our next section – all about the benefits of showcasing TikTok posts on your website.
Why You'd Want to Display TikTok Posts On Your WordPress Website
The reasons for you wanting to display TikTok posts are diverse, and dependent on your needs and goals. For example, if you run a WordPress blog, you may want to showcase your favorite 'TikToks' (or your own).
Though, for businesses, there are a swathe of benefits to leverage:
You're able to market to a core younger demographic on a hot new platform.
The user base is massive, and compares in a way to the Snapchat phenomenon a few years ago.
There are more, but in a nutshell, visibility and opportunity are central positives. Also, TikToks are great for embedding in posts because of how short and interesting they are. The great news is it's straightforward to display TikTok posts in WordPress, and we'll show you this next.
How to Display TikTok Posts on Your WordPress Website (In 2 Ways)
While we'll list two ways to display TikTok posts on your WordPress website here, there are a few more of methods to note. In short, we've suggested two possible approaches:
Embed TikToks using WordPress' native functionality.
Install a plugin to display TikTok posts in WordPress.
The plugin approach is simple, although as native methods go, WordPress has a variety of ways to embed social media of all types. We'll cover this in more detail next.
1. Use WordPress' Native Embedding Functionality
First off, WordPress is adept at displaying a multitude of social media posts. In fact, it's long been a Content Management System (CMS) that is good at displaying content from all the major social media networks, and the minor ones.
Even better, it continues to do so regardless of whether you use the Classic Editor or Block Editor. We'll offer you three different ways WordPress can provide native embeds for TikTok posts. Whichever you use is up to you depending on your needs.
Pasting Into the Block Editor
The simple way to embed any content in WordPress is to paste it as text into your desired editor. The CMS has been able to do this almost from the start, and it continues to be a great User Experience (UX) element for users who need it.
To start though, you'll need the link to your TikTok post. There are a couple of ways to do this – either take the URL direct from the browser bar, or open the Share icon for each post and click Copy Link: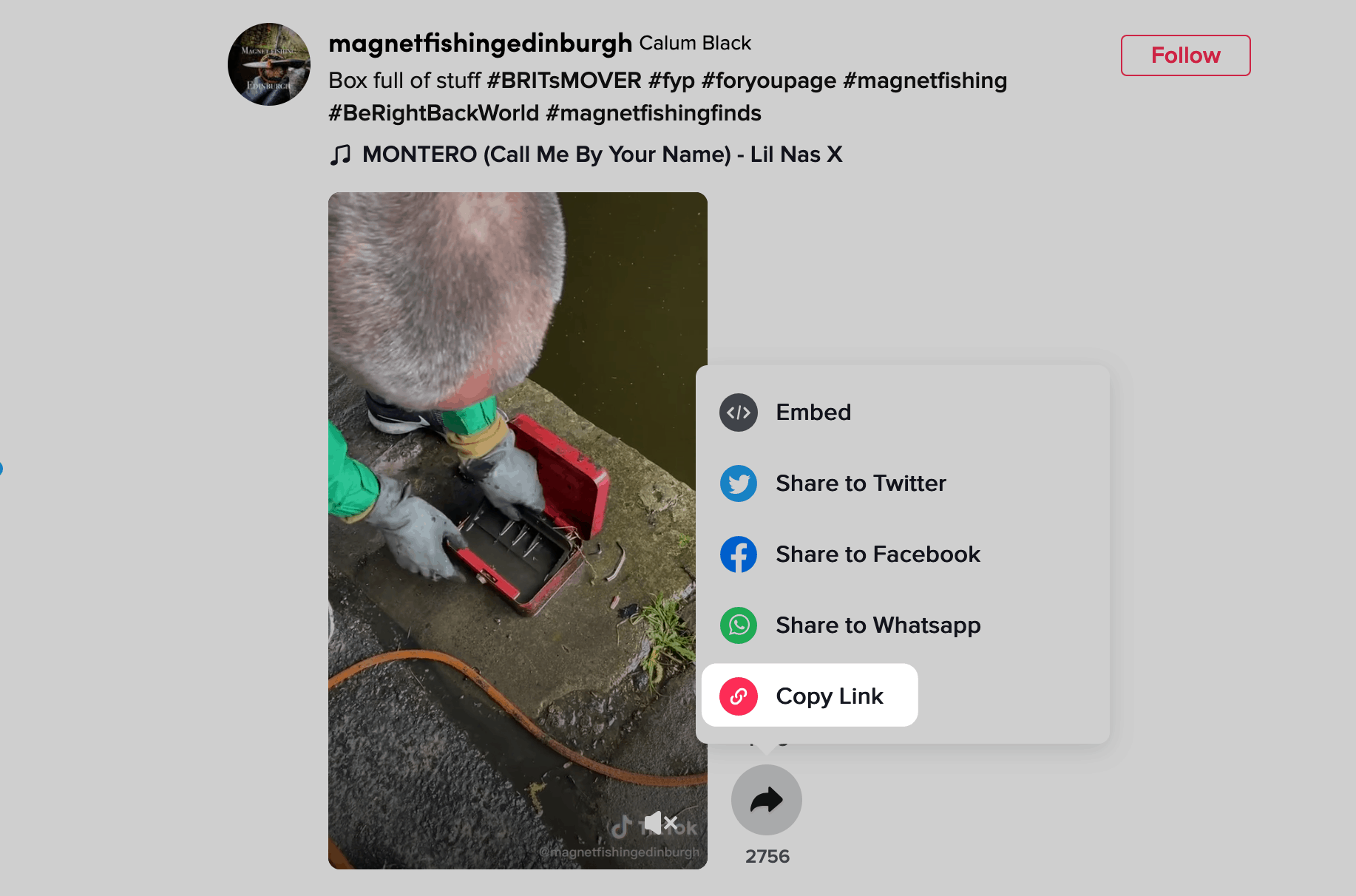 Once you have this, you can jump back to WordPress, and paste the link into your post or page like any other piece of text: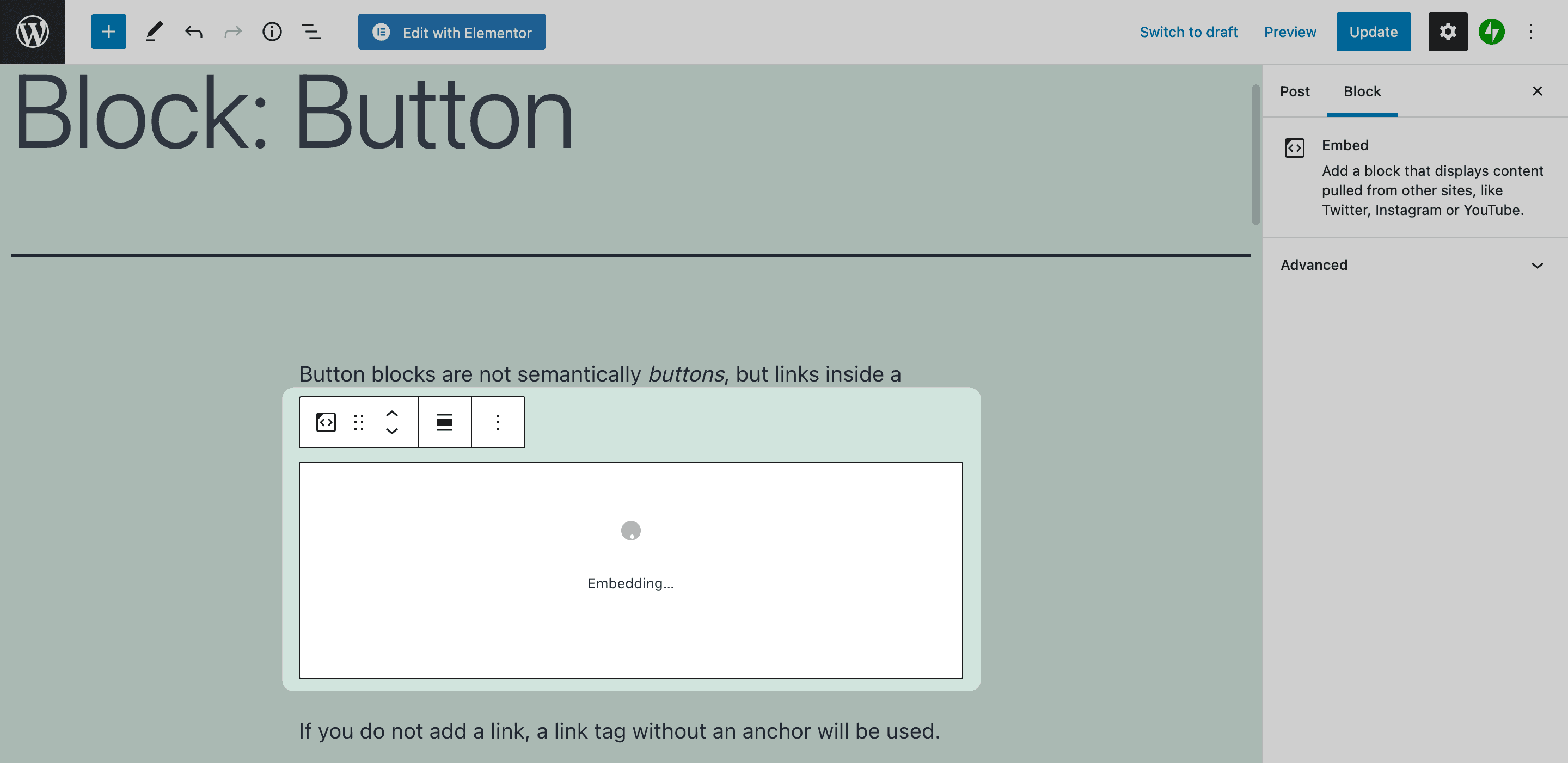 From here, WordPress will convert the link to an Embed Block, then into a dedicated TikTok Block.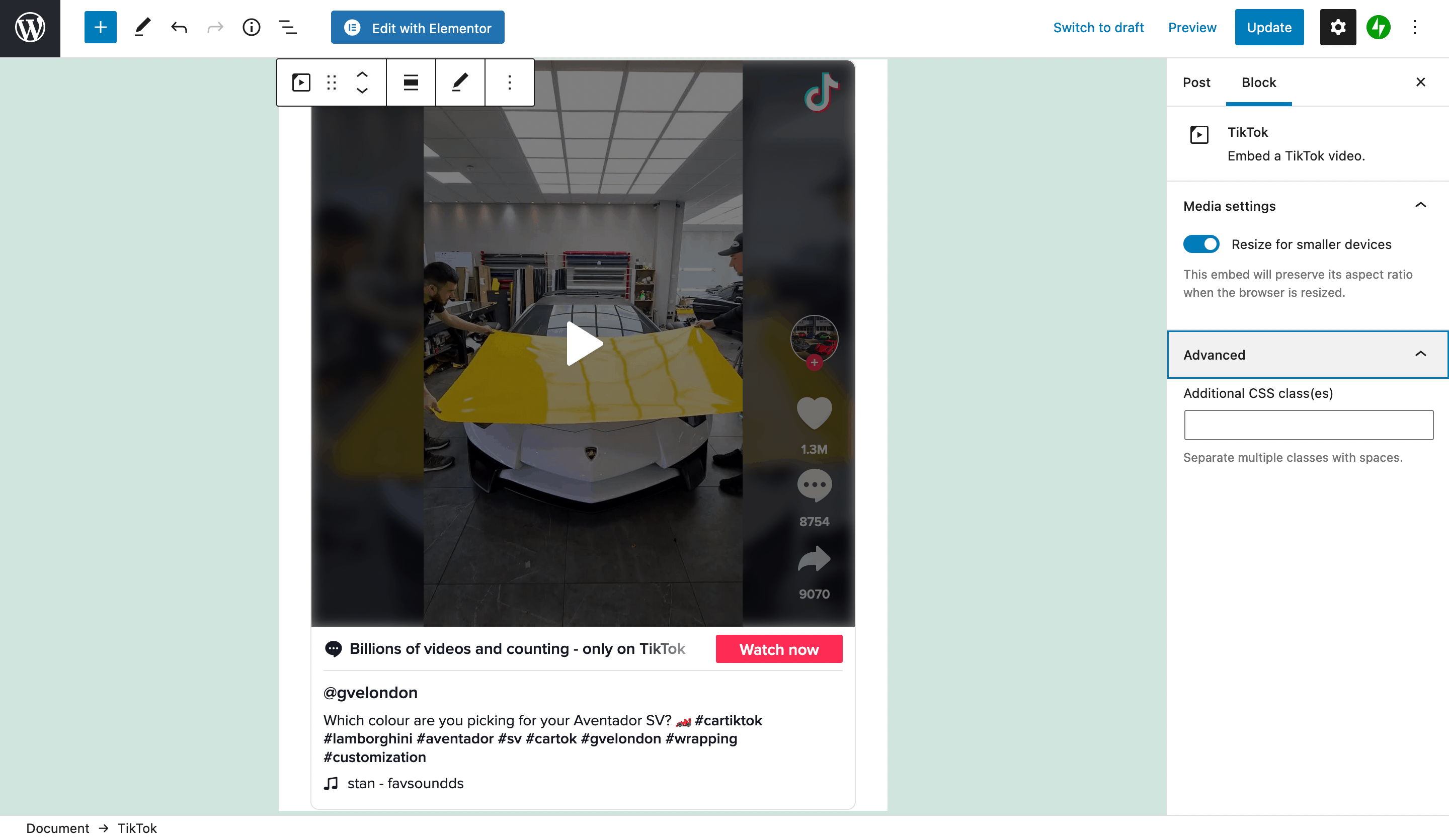 In fact, you may want to go direct to the Block – we'll show you this next.
Adding the TikTok Block to Your Page
In most cases, pasting the link to your TikTok video is perfect. WordPress will do the necessary to convert the link and add a Block to your post or page. Though, adding the Block yourself is a good idea if you're building a layout and don't yet know what TikToks you're going to include.
To add the dedicated TikTok Block, either click the Add Block icon on the editor screen, or pull up the sidebar from the top of the screen:

You may need to search for the Block using the dedicated form here, but regardless of your approach, you should find the right Block.

At this point, you can add the Block, then add the URL to the relevant field.

Once you click the Embed button, WordPress will do its job to display your TikTok post.
Adding a WordPress Widget to Your Page
There's one more way you can display TikTok posts in WordPress, and that's through widgets. It's more of a 'hack' than a dedicated method, but it works as well as the other solutions.
To do this, head to the Appearance > Widgets screen in WordPress, and locate your chosen widget area: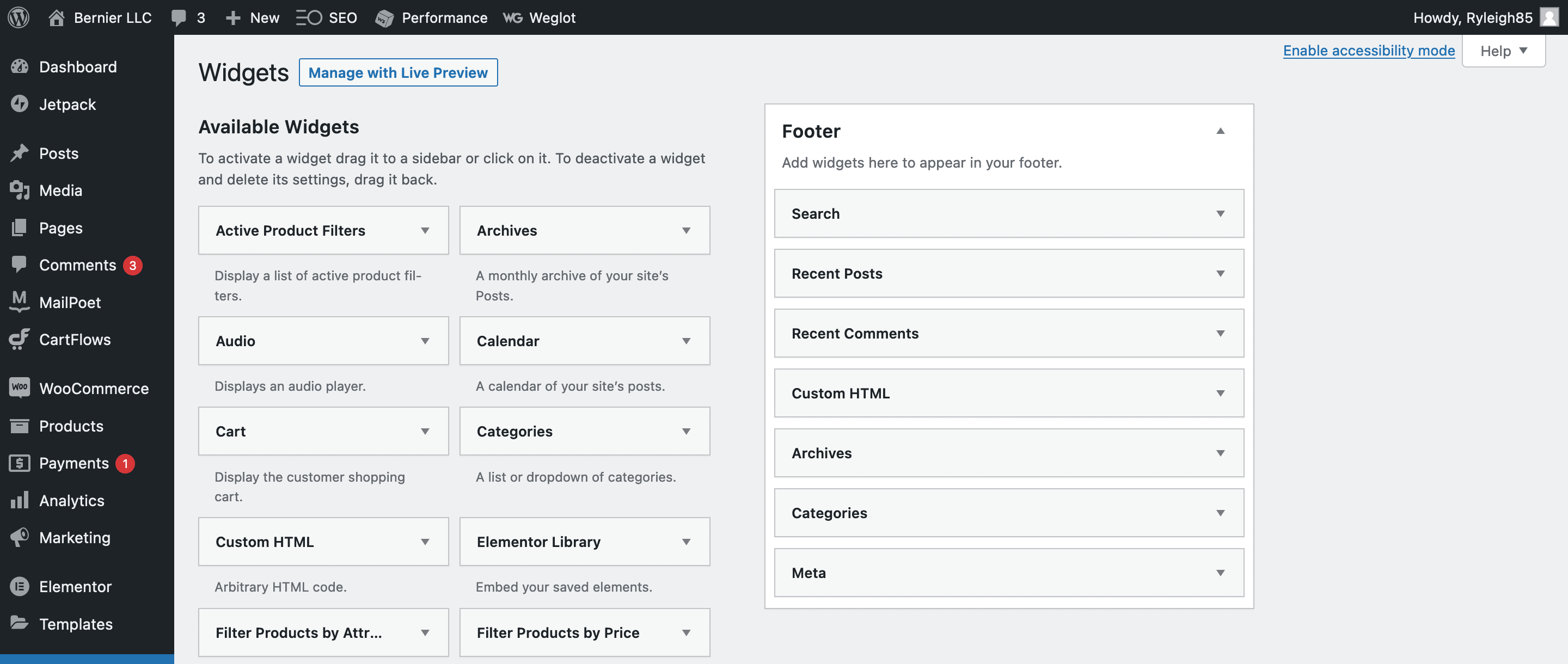 From here, scroll down the list of available widgets, and insert a Text widget into your desired area: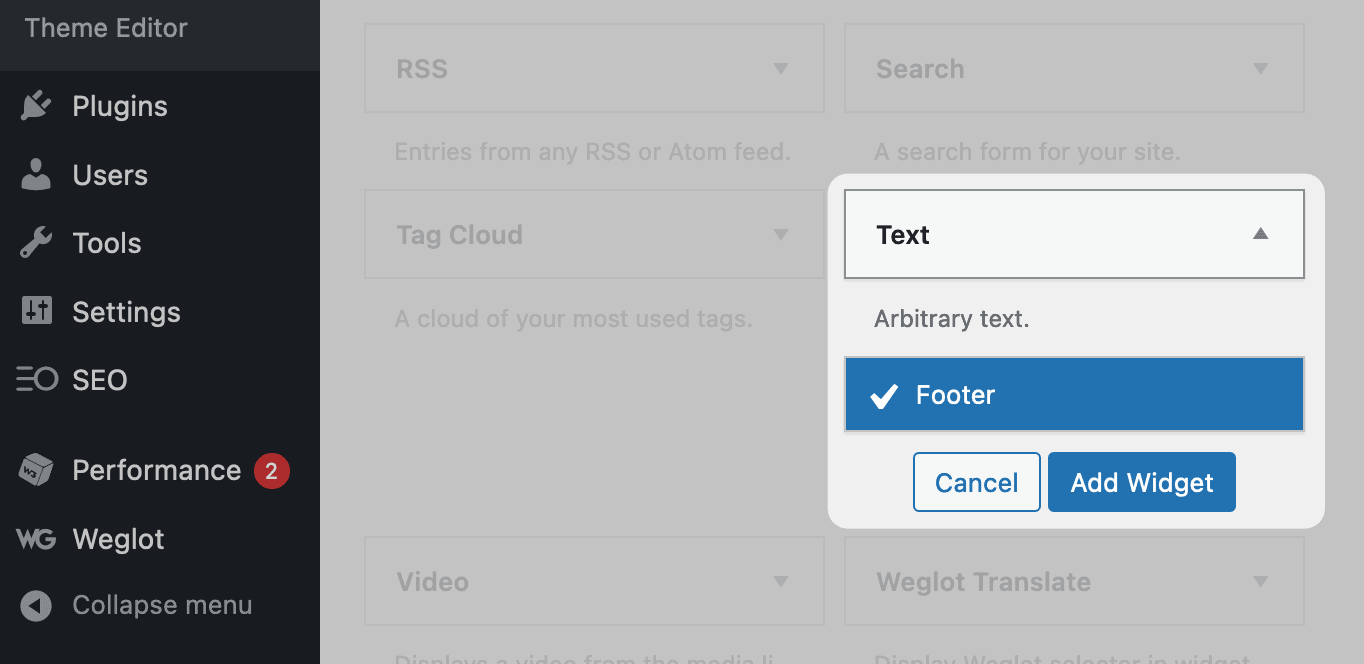 Once you open the widget, you'll see an 'old-school' Classic Editor panel: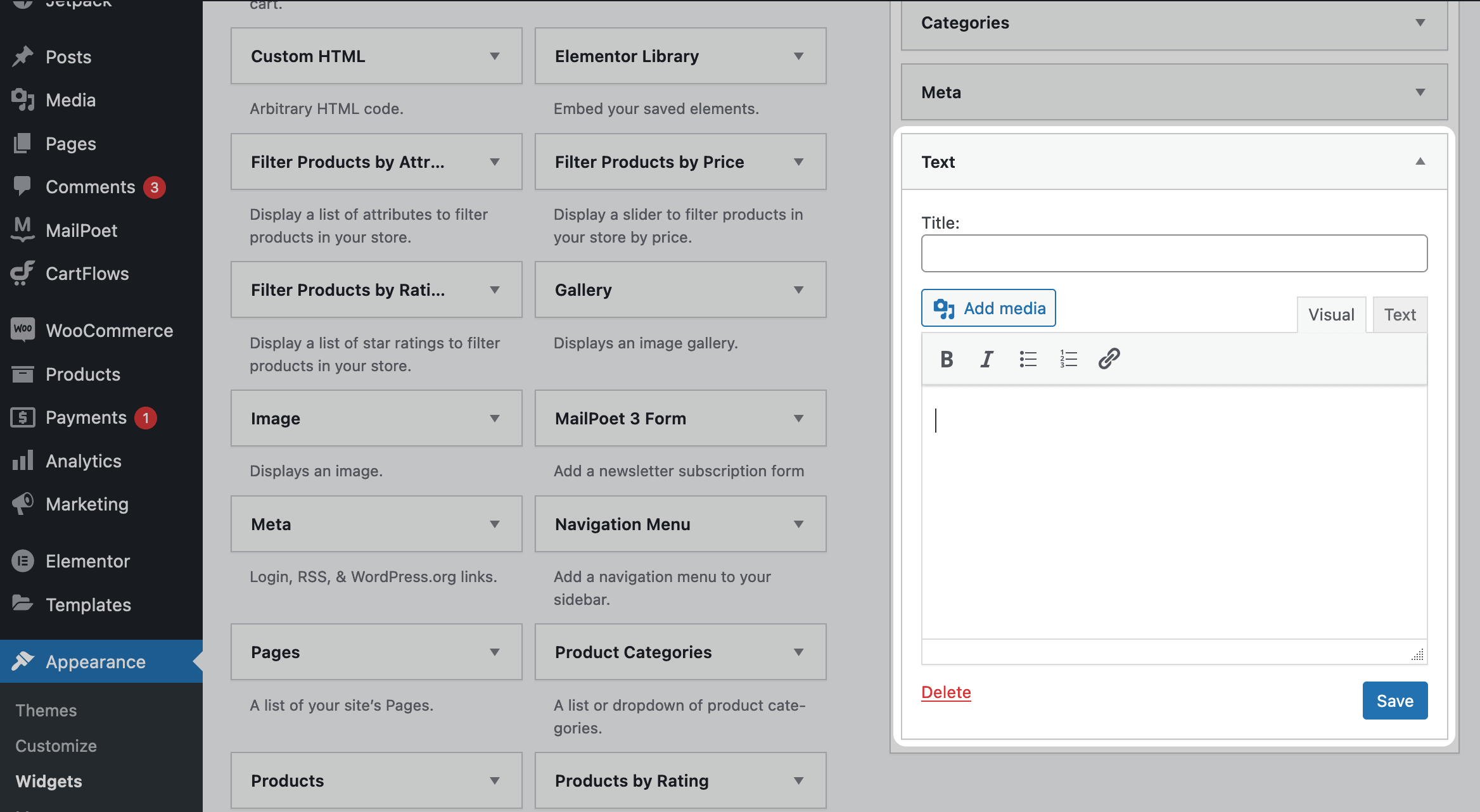 From here, the process is simple – paste the URL into the textarea, and it will embed as you'd expect: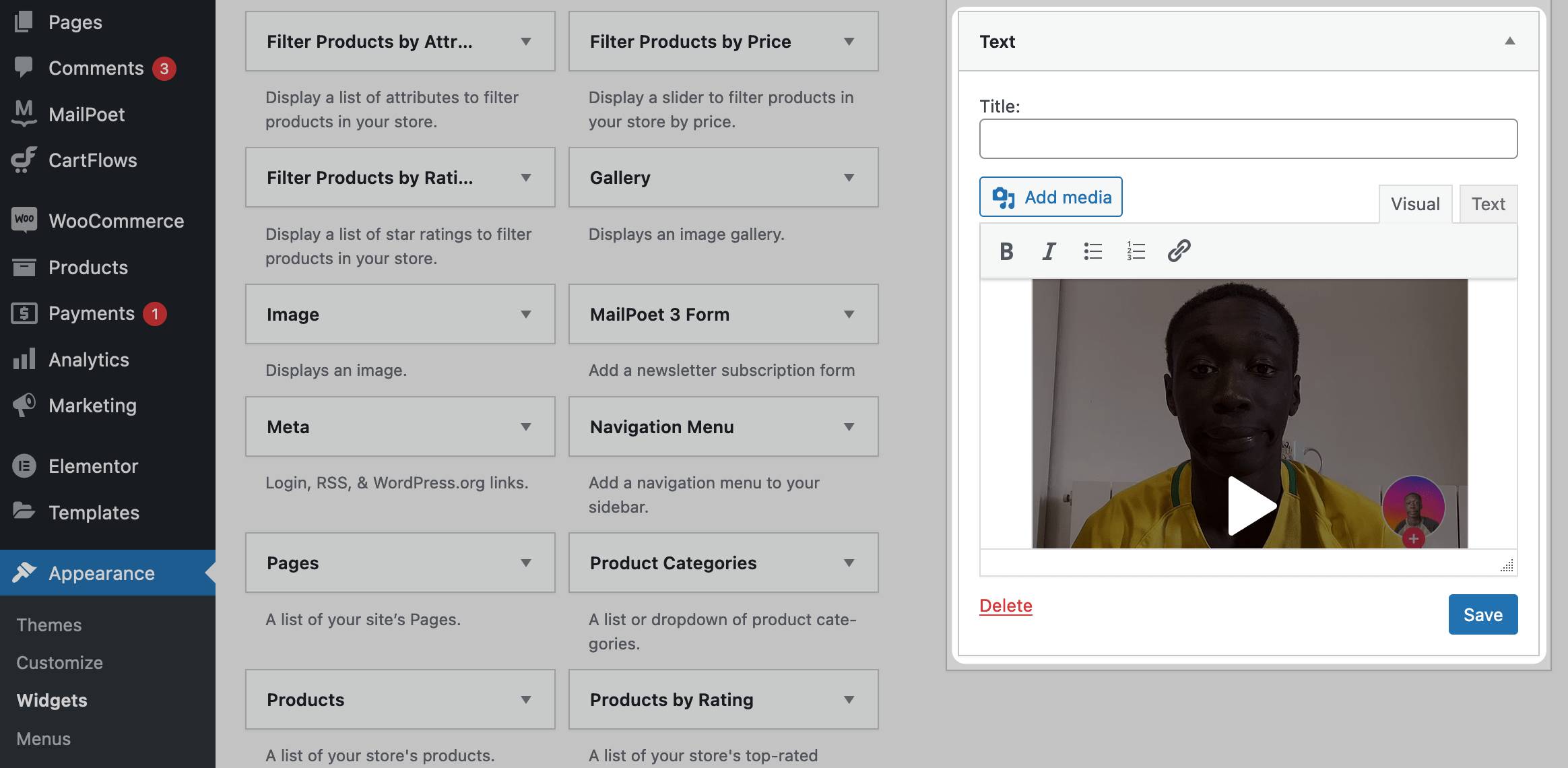 One thing to note with all of these methods is that your ad blockers or privacy browser extensions may restrict access to TikTok. As such, you won't be able to display TikTok posts in WordPress unless you disable it first.
2. Install a Dedicated WordPress Plugin
You'd think that there would be a glut of plugins to help you display a TikTok feed on your WordPress website. Though, if you take a quick look, you'll find few that are up to the job. most have poor reviews and ratings, or haven't been updated in a while.
Even so, QuadLayers' WP TikTok Feed plugin is the best of the bunch:

It uses shortcodes to add a feed to your site, and you add them as any other shortcode. Once you install and activate the plugin, you can go to TikTok Feed > Feeds to add a new feed instance:
If you click the + Feed button, you'll come to a build screen. This will show a number of tabs and options, although a lot aren't accessible unless you purchase a premium plan.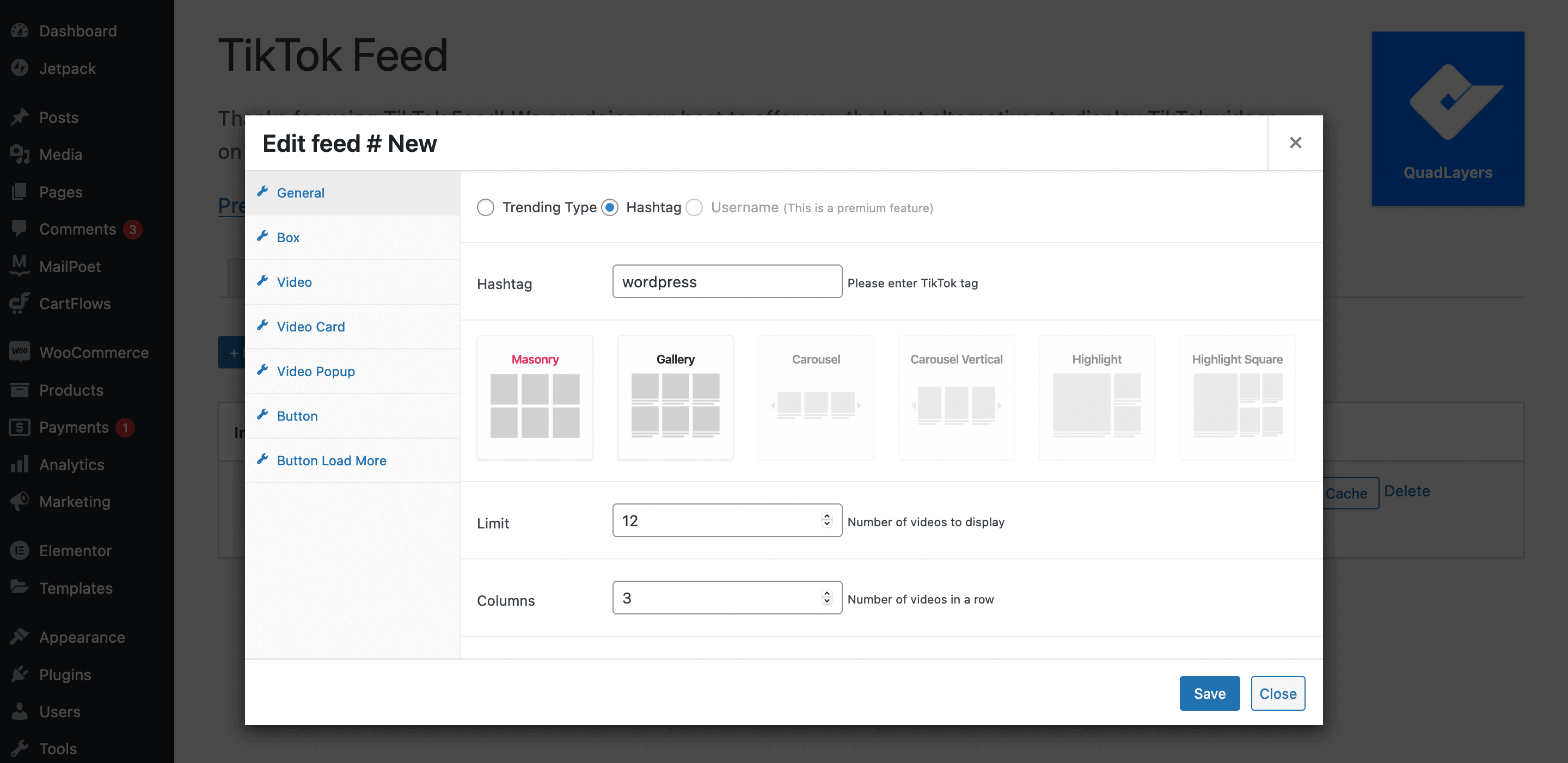 Here, you can choose how your feed displays, the number of TikToks in the feed, the amount of columns the feed uses, and more. You can even choose how much space is used by the embed from the Video tab: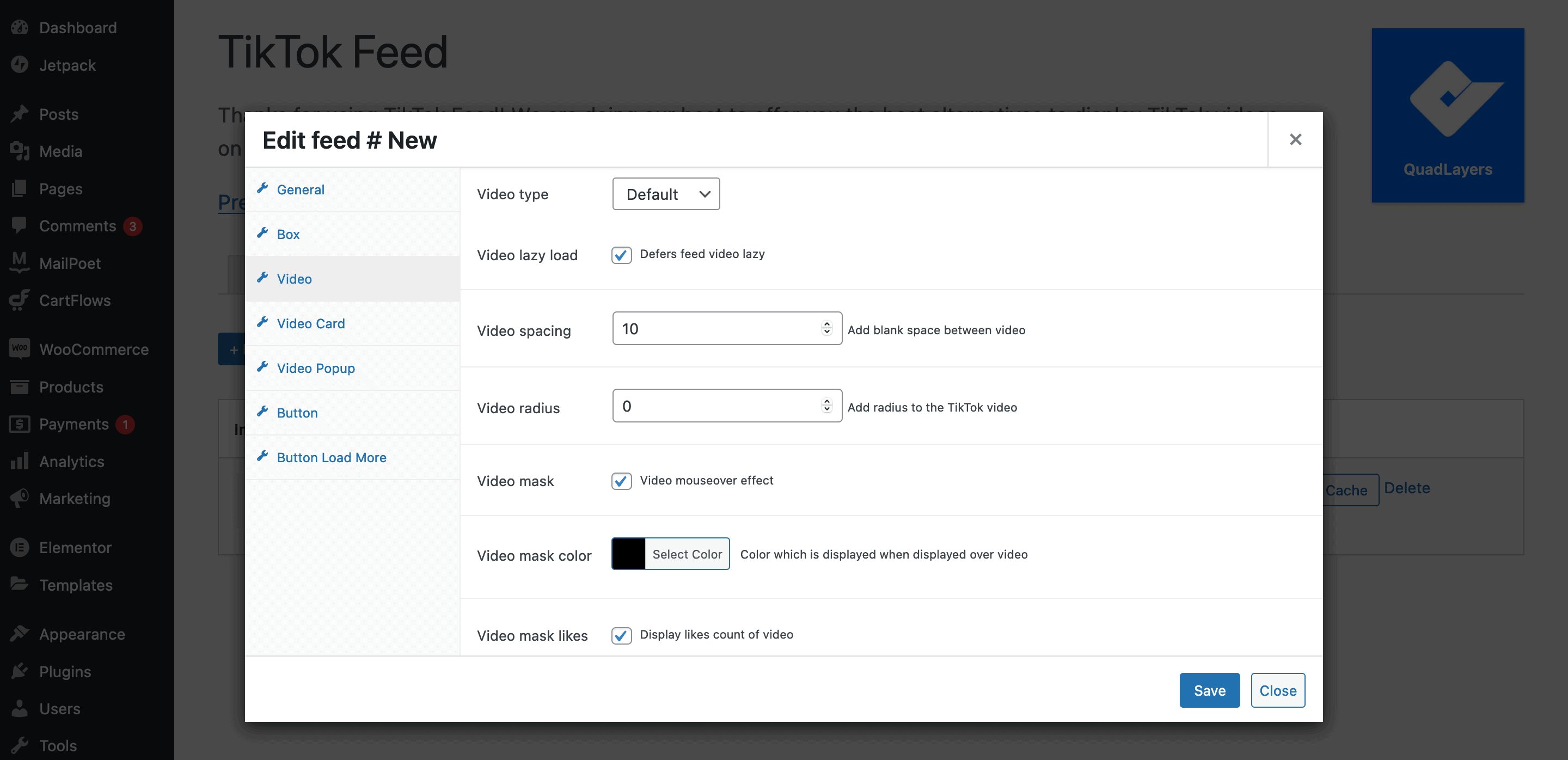 There are also a number of features relating to the pop-up for each video: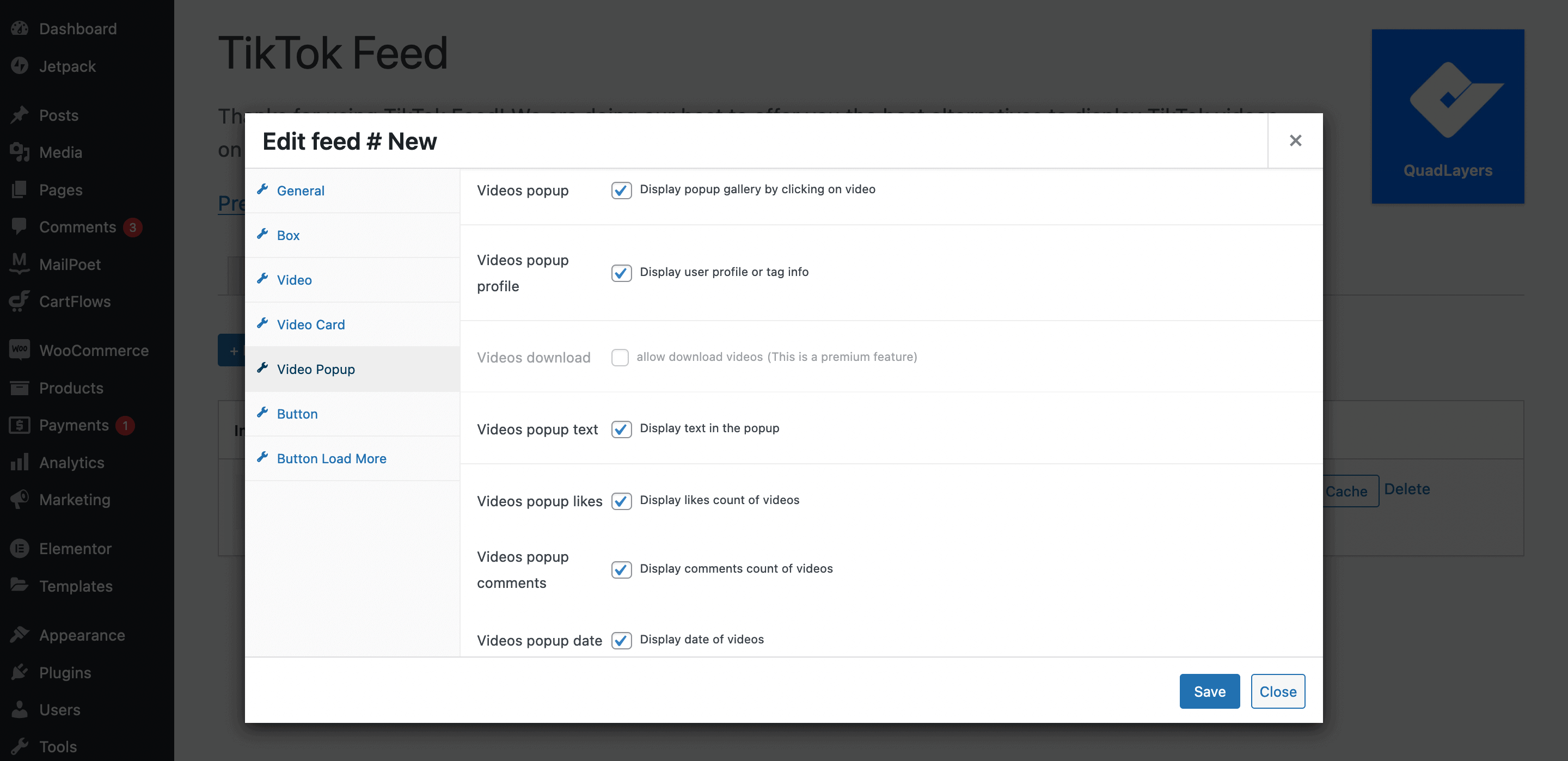 This gives you lots of customization of how you'll view TikToks in a practical sense. You could even strip away every aspect of the TikTok experience to leave the video embed: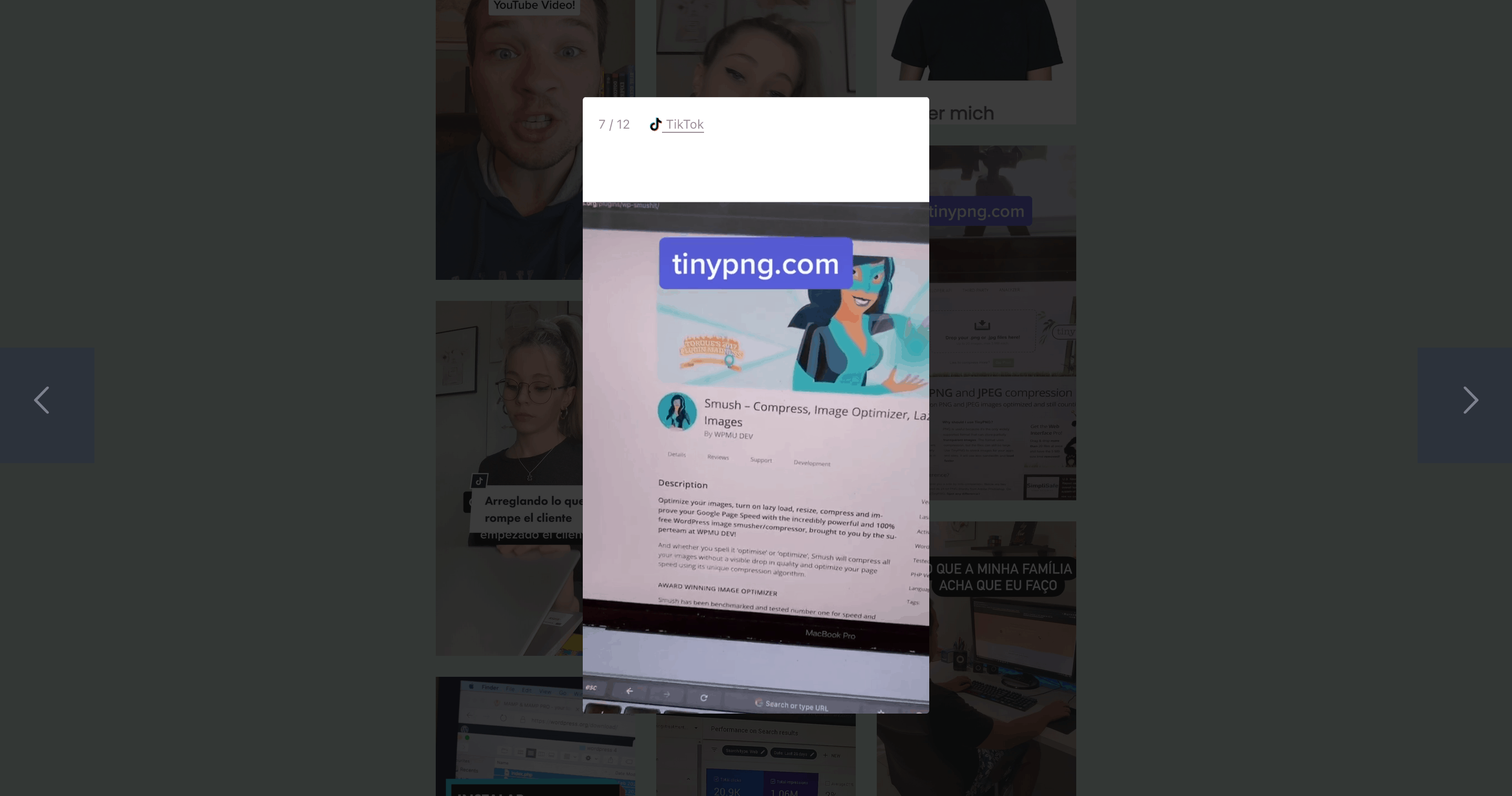 Though, the default embed pop-up looks great, and you could leave everything alone without any issues: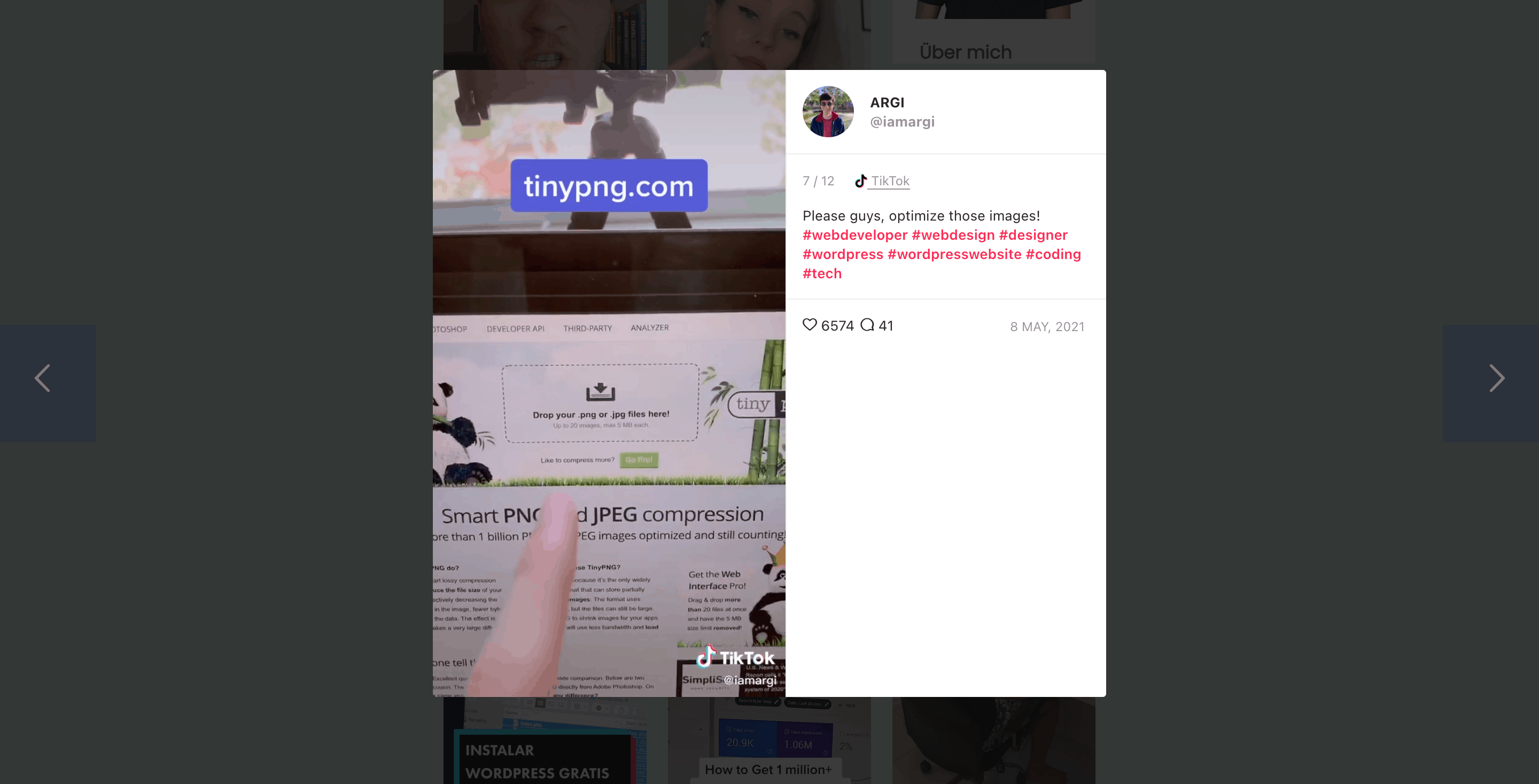 On the whole, the free version of WP TikTok Feed is solid, and packed with good, valuable functionality. Though, it's worth noting that the premium upgrade contains some essential features you may want:
The ability to display user-based feeds.
A greater selection of feed styles.
A way to customize the box that feeds and videos are displayed in.
The ability to downloads TIkToks.
There's more customization too, and if you're a regular TikTok user with a site based around the platform's content, the upgrade will be worth the $19-79 price.
In Summary
The social media boom doesn't look like it's going away any time soon. While we're talking about regulating and clamping down on the powers networks such as Facebook has, eager competitors such as TikTok are rising up. The user base is staggering, and TikTok is a true global brand. This is in no small part to the funny, engaging, and interesting short-form posts the platform has claimed as its own.
In this post, we've looked at how to display TikTok posts in WordPress. There are two approaches, both in keeping with WordPress:
Use the native functionality found within the CMS.
Install a plugin such as WP TikTok Feed to display TikTok posts as a feed on your site.
Are you a fan of short-form content, and will you display TikTok posts on your own website? Share your thoughts with us in the comments section below!