The title of a blog post is the most important aspect of SEO that you should focus on above all else. Because, no matter how many keywords you stuff into a title, all your efforts will go to waste if no one reads the blog post.
What if there's a way you can figure out which titles your readers are most interested in so that you can bring in more traffic to each and every blog post on your website?
This is actually not only possible but you can also do it quite easily and for free using a simple WordPress plugin.
In this guide, we'll show you how to A/B split test your blog post titles to optimize your titles for SEO and reduce bounce rate. Keep reading to find out how.
How CTR & Bounce Rate Affect Website SEO
Click through rate (CTR) is one of the major ranking signals Google uses to rank website pages. It's an important part of optimizing the search results for offering a better user experience. So Google always optimizes search results based on each link's click-through rate (CTR) and bounce rate.
For example, if more people are clicking on a link at the number 9 spot on a search results page than the link on the number 1 spot, then Google will bring the link to the top ranking spot to help people discover it easier.
Google also uses website bounce rate to find out the percentage of people who actually stay on your blog to read an article. Then improves ranking for links based on bounce rate. This system is in place to get rid of scammers and low-quality blogs that use click-bait titles to attract traffic for terrible websites.
For example, if more people click on a link on the search results page but immediate hits the back key on the browser, then Google sees it as a bounce and the link loses its relevance to targeted keywords and search phrases.
As you can imagine, crafting the most effective and attractive title is the key to getting higher rankings on Google and generating the most traffic.
What Is Title Experiments?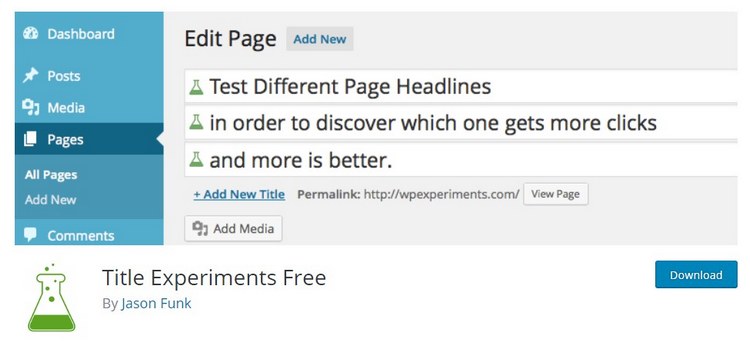 If you're like most bloggers then you probably often struggle to decide what type of a title you're going to use for a blog post. Which is better, a list-type title with numbers or a how-to guide title?
If you've experienced this dilemma, then Title Experiments plugin is for you.
Title Experiments is a WordPress plugin that allows you to A/B split test your blog post titles to find out which titles people are most interested in so that they get excited by the title and read the entire blog post.
How The Plugin Works
Once the plugin is activated, it will allow you to enter multiple titles when creating a new blog post. Then, whenever a visitor comes to read a blog post, the plugin will randomly choose a different title and show it to your audience.
The plugin then takes care of all the heavy work and calculate which titles convinced people to stay on the webpage longer. This helps you figure out which title is the most effective and managed to get people to read the entire post. Then you can make it the default title for the post.
How To Install Title Experiments Plugin
Setting up the Title Experiments plugin is quite easy. Here's how it's done.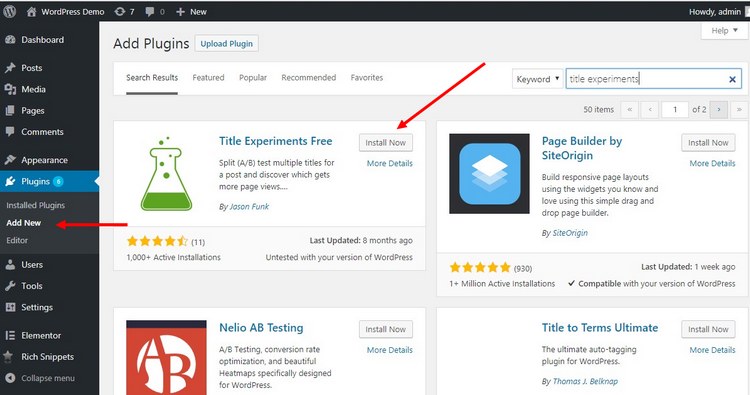 Step 1: Login to your WordPress admin dashboard and go to Plugins >> Add New. Then search for Title Experiments Free. Then click the Install button and Activate the plugin.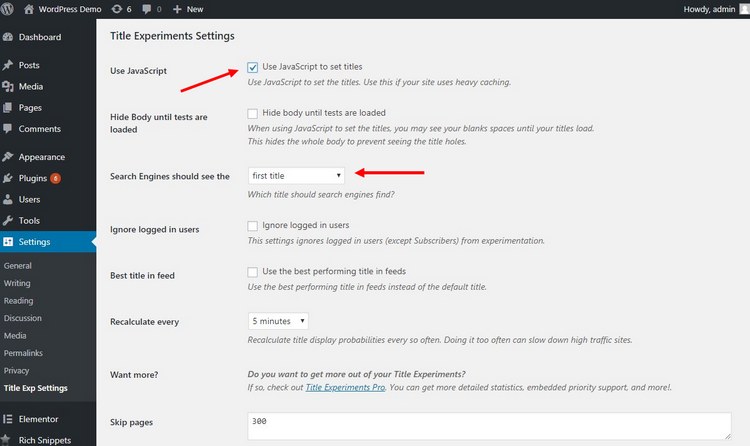 Step 2: After the Installation, go to Settings >> Title Experiments Settings page to customize the settings for the plugin.
Step 3: If you're using a caching plugin on your website, tick the first checkbox on the settings page to use JavaScript to set titles.
Step 4: In the "Search Engines should see" the section, choose First Title. This will ensure that you don't confuse Google by showing different titles every 5 minutes.
Step 5: You can also set a custom time for recalculating. This determines how often a title is recalculated when showing different titles to your audience.
You can leave rest of the settings as it is or change to your preference.
How To A/B Test Blog Post Titles
After customizing the settings, you can start using the Title Experiments plugin.
Now, when you're creating a new blog post or editing an existing post, you'll see an option to add more than one title.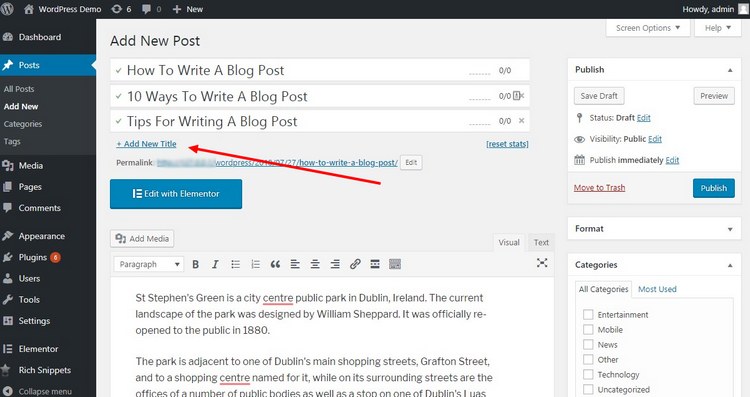 All you have to do to start an A/B split test is to add multiple titles to your blog post. Make sure that you add different types of titles using power words, keywords, and numbers.
Once you've added the titles, publish the blog post to start running the experiment.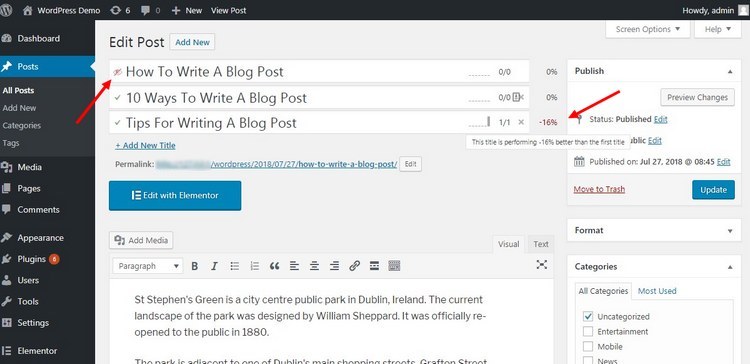 After a while, you can go to the Edit Post page to see how each title is performing.
The plugin will show which titles were shown the most times and which performs better. To disable any low-performing titles, all you have to do is untick the checkmark next to the title.
If you want to see advanced analytics and detailed reports for your title experiments, you can upgrade to the Pro version of the Title Experiments plugin, which comes with lots of advanced features such as the ability to add multiple featured images for a post and get detailed statistics on title performance.
In Conclusion
There you go. Now you know how to A/B test blog post titles and optimize your blog posts for better CTR, conversions, and reduce bounce rate at the same time.
You can further improve your title tags by optimizing each title for maximum effectiveness. This can be accomplished by using a tool like CoSchedule Headline Analyzer, which allows you to test and analyze titles by giving you helpful tips for optimization.
A better alternative is YoRocket, a premium WordPress plugin that lets you optimize blog post titles from your WordPress dashboard.
With the help of a headline analyzer and A/B testing, you'll be able to improve CTR and get your new and old blog posts to rank much higher on Google.