Nobody should design an entire hotel website from scratch. There are so many resources out there (most 100% free) that'll save you time and money in the process.
You just have to know where to look.
In the past we covered a huge list of travel themes and in this guide I want to look into hotel & resort themes for WordPress. You can pick up one of these themes for a brand new site or even for a new redesign if you're moving over to WordPress.
Either way this collection is perfect for hotels that need a strong online presence that won't break the bank.
1. SKT Hotel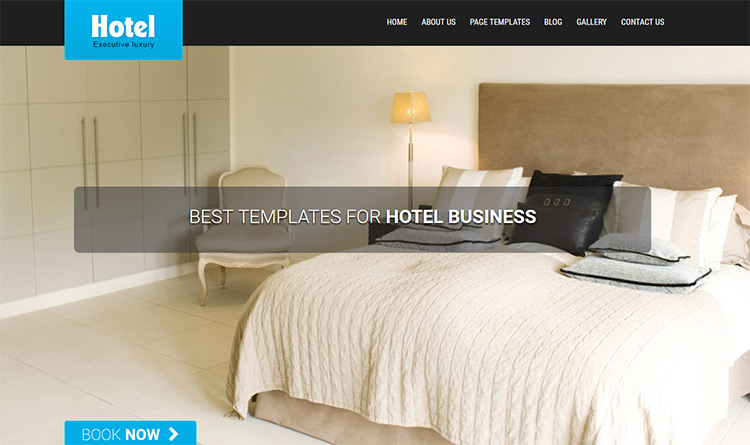 The team at SKTThemes released this SKT Hotel lite theme and it's one of the best you can use. I know some people are put off by "lite" versions of major themes but this one is really great.
SKT Hotel is fully responsive and works for all major types of lodging. Ski resorts, cabin getaways, and beach bungalows can all run on this theme with ease.
Most of the design relies on strong imagery so if you've got some great photos of the hotel then you're all set. And this runs on the Customization API so you don't need to worry about extra settings plugins for those features.
2. Oceanica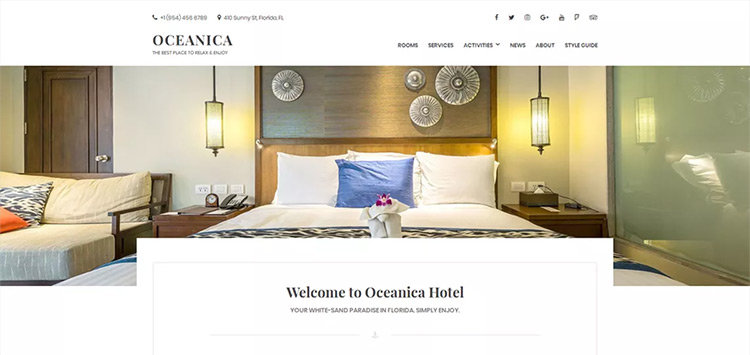 Here's another lite theme that I think works incredibly well for a hotel/resort site. Oceanica is super clean, super minimalist, and also relies primarily on images to sell.
But the typography in this theme is much more profound with headers and page text feeling more crucial to the design.
You can run this theme with the accompanying MotoPress Hotel Booking plugin since it connects seamlessly into the theme's backend. Of course that would be a premium item from the theme designers so it's really not needed.
3. Hotel-Melbourne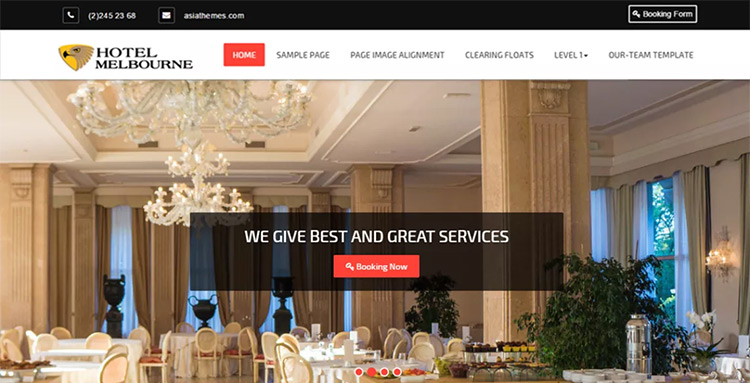 I've seen a lot of these simple hotel theme designs where the hero image overtakes the page. It's not a bad way to design the layout because it draws attention right away & sells the idea of a hotel.
For the Hotel-Melbourne theme you'll find a supersized hero image background along with a strong CTA for the homepage.
This can lead to a contact form or even to a booking page hosted on a 3rd party scheduling tool. But the theme supports integration with lots of plugins including WooCommerce for WP booking.
The default comes with a light theme although if you go premium you can get both a dark & light style plus a few other features like WPML support.
4. Hotel Galaxy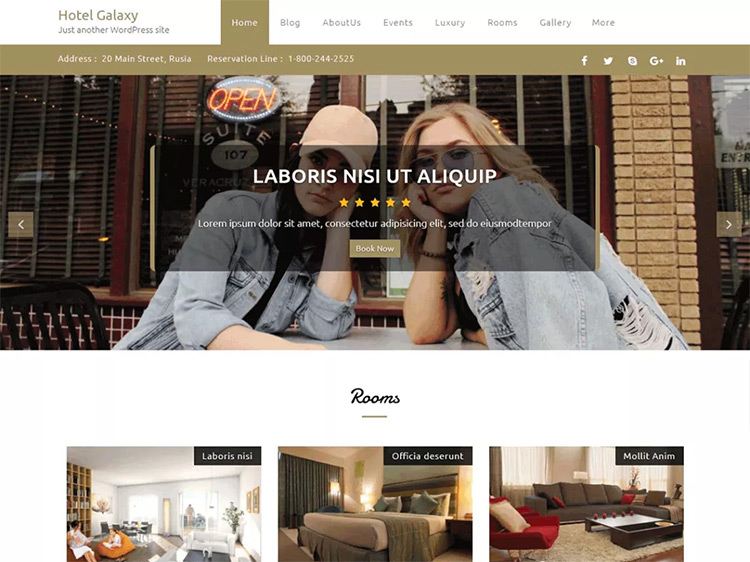 Hotel Galaxy is yet another similar theme focused primarily on a hero header design. The homepage includes the same CTA-style header but offers a gallery feature for showing rooms and upcoming events.
With Hotel Galaxy you can also run a nice blog setup that feels a little more professional than some of the other themes. Once again this is a lite version of the premium theme so it depends how far you wanna take this.
In the premium theme you can setup booking buttons that tie right into an online scheduling form to handle online payments. Plus it lets you customize the color scheme, add image galleries, and setup custom post types for certain "styles" of rooms likes suites.
5. Hotel Hamburg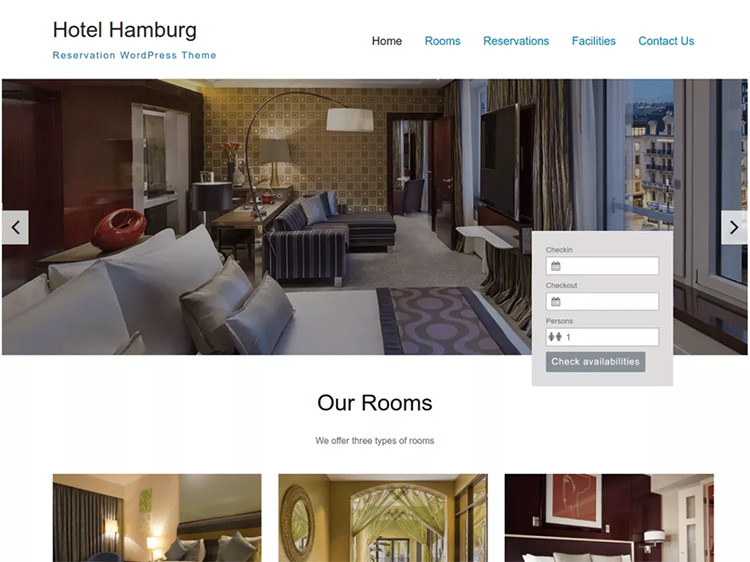 The one thing I really like about Hotel Hamburg is the extra signup form on the homepage. This appears by default once you configure the design so it's a powerful feature to improve leads.
One other cool thing about this theme? It really is totally free with no harsh upsells. Just the free version and that's it.
Granted the theme was created by the team who made the ever-popular WP booking calendar plugin. Naturally it connects right into the theme if you have a copy.
But you certainly don't need it and you can grab this theme for free knowing you aren't missing out on any greater premium version.
6. Hotelica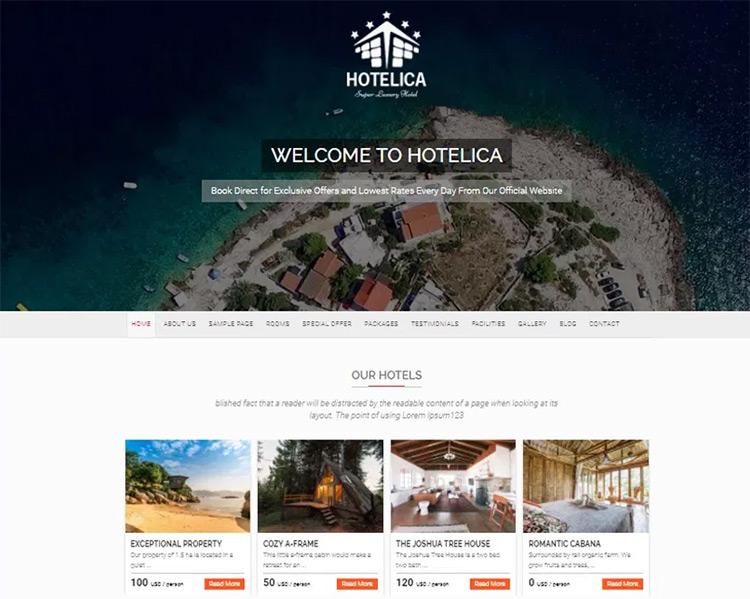 Going back to the freemium themes we've got Hotelica. This one really is unique because it comes with a couple different homepage styles you can work with.
Also I should mention that the premium version is one of the cheapest hotel themes you'll find. It was first released in mid-2017 and gained a decent following since then.
If you go for the premium version you'll get a slew of extra page templates like testimonials and varying blog styles.
But I always recommend testing free themes first just to see if you like the design before upgrading.
7. Resortica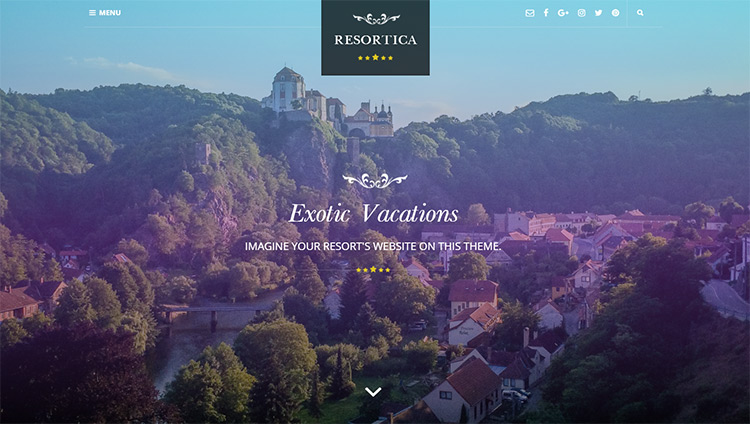 For a tropical yet professional vibe Resortica is really the best pick. It's got one of the strongest headers I've seen with any hotel/resort WP theme.
Granted this mostly comes from imagery so the photos you use will affect the quality of this theme.
But it's also just fantastic for its clear logo section, the strong navigation menu, and its use of elegant typography mostly powered through Google Webfonts.
Take a peek at the live demo to see all the included features. Dynamic slideshows, inline blog posts, and feature listings amenities for restaurants/gyms/spas are just some of the extras you can look forward to with Resortica.
8. Hotel Lux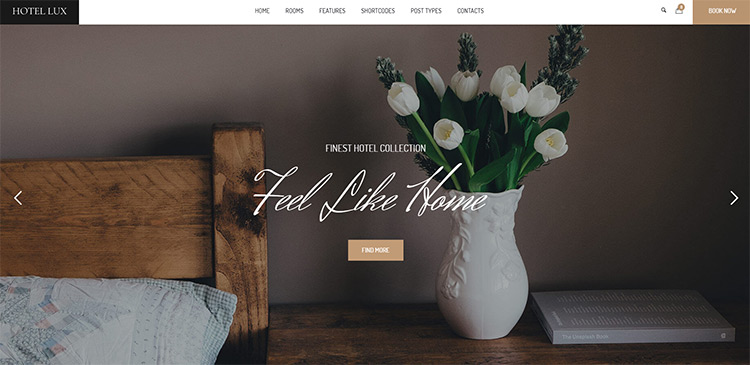 The Hotel Lux theme feels much more like a traditional hotel. It uses a neutral color scheme by default and matches the page with a fixed scrolling navigation.
In the top-right corner of this nav menu there's a little "book now" button. By keeping this visible at all times you can increase total conversions over a large enough audience.
Plus Hotel Lux comes with built-in support for taking these reservations online. It even has its own WooCommerce extension so you can accept payments online too. Pretty cool!
9. Hotel Booking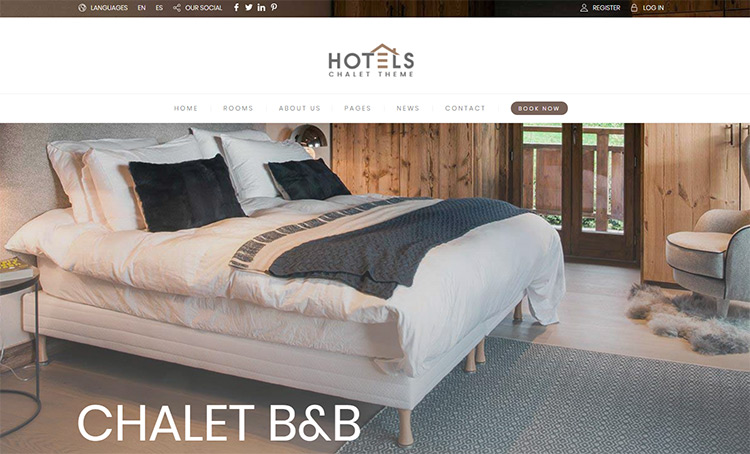 Clean, elegant, and oh-so easy to setup best describes the Hotel Booking WordPress theme. It's also a fairly newer release on ThemeForest so it's guaranteed to work with the latest version of WordPress.
If you check out the demos you'll notice there's a bunch of pre-defined homepages you can pick from. These all work with different features like dynamic Ajax room sorting, custom grid layouts for rooms, and search features based on price range.
Almost none of the free hotel themes will have so much functionality, especially for custom searches & room filters.
If you're going for a strong yet elegant presence on your website definitely consider this theme. It comes as a one-time fee so for everything it's well worth the money.
10. Hotel Master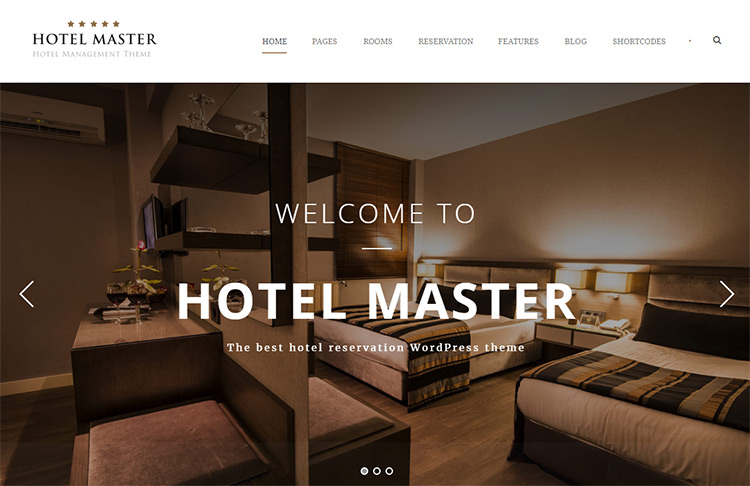 Here's a very simple theme for hotel websites: Hotel Master. It first premiered a few years ago and the developers are still performing active updates so it's a great choice.
But I do feel this theme is much "simpler" than others. Anyone looking for a clear minimalist design should look into Hotel Master.
It can sync with iCal for bookings, supports custom amenities on the rooms pages, and lets you upload as many room preview pics as you want. It really does look fantastic with clean icons & text, even for the strict minimalist approach.
11. Soho Hotel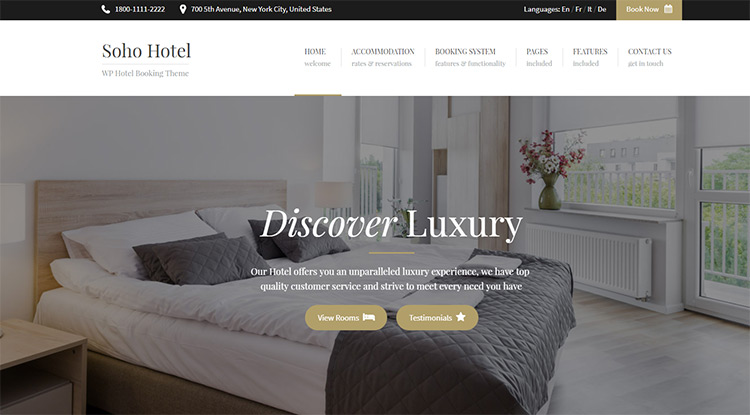 On the homepage of the Soho Hotel theme you'll notice a long horizontal booking form. This is traditional for many large hotel chains because it gets people signing up right after the first pageload.
I can't say every hotel site will want to use that type of signup form. But it's one of my personal favorites and I see it used on many hotel/resort type websites.
You can connect that form into any type of booking plugin or even use it for a personal list of signups. The theme also accepts online payments and auto-updates availability once certain rooms sell out.
In the backend you can even manage multiple hotel locations by adding custom categories for each city.
12. Mykonos Resort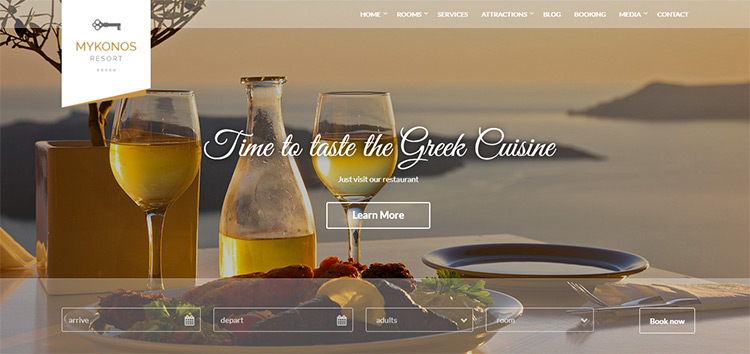 When it comes to resorts you can't do much better than Mykonos in Greece. And this aptly named Mykonos Resort theme should get you excited for that type of laid-back vacation.
Naturally the theme is fully responsive and it uses custom widgets on the homepage. This way you can setup your own forms, room previews, image galleries, testimonials, whatever you want.
By default it comes with a custom post type for rooms and slideshows to help manage all your content. This way you can easily add rooms into your site, embed photos, and still write blog posts without mixing it all up.
13. Colosseum Hotel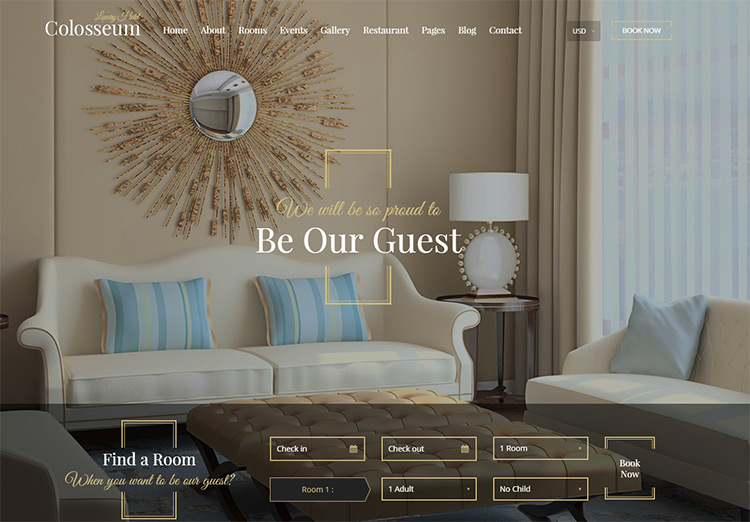 Looking for a darker theme for your hotel site? Then check out Colosseum Hotel which is one of the very few all-dark WP hotel themes.
It uses custom loading animations to add classy aesthetics into the page while you scroll. And the aesthetic is really what sells this design with its strong dark backgrounds and gold highlights.
Text is easy to read but you can alter colors in the WP admin panel if you need more contrast. And while the default version is dark you also have two other styles to pick from: white or slate blue.
With a retina design, fully responsive layout, and support for most booking plugins, this rich theme should fit the bill if it can match with your hotel's brand.
14. Xenia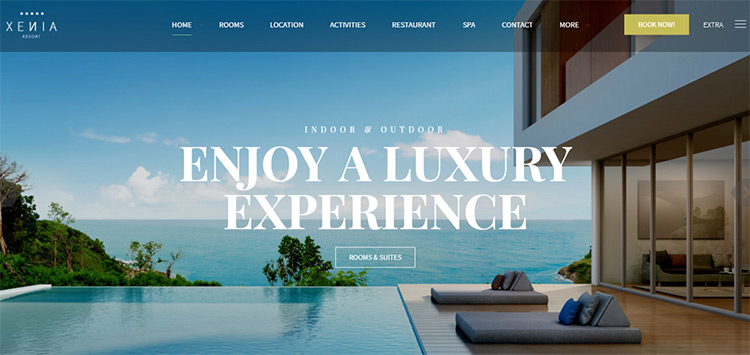 Large homepage typography grabs attention and tells visitors exactly what you offer. That's what you'll find in the Xenia theme with a huge background image and strong heading text.
I especially like the check-in form on the homepage which uses custom date pickers tied to a signup form. This lets the user select their check-in date, check-out date, and register a room with just a few clicks.
You also have full control over each page with unique elements like testimonial widgets and photo sliders with captions. Plenty of customizable options if you want a hotel theme that pops.
15. Hotel Leisure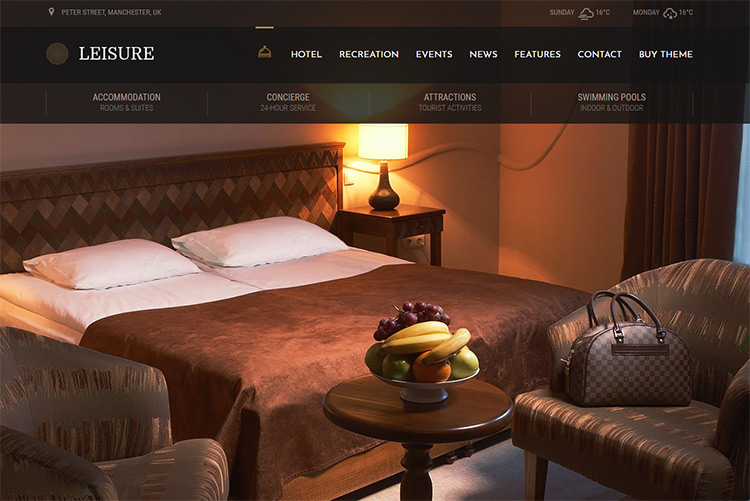 Last in my list is the somewhat older Hotel Leisure theme first released in 2015. The author still updates this theme and as of this writing the most recent update was just three days ago!
With this theme you can pick from a dark or light design that both feature very similar layouts.
You can quickly add custom toolbars into the top of the page for capturing emails, or sharing seasonal discounts, or even pushing news about the company.
There's also a massive default navigation with dropdowns and a clear booking form right on the homepage. I recommend this mostly for existing businesses that want to revamp their website to look not just professional, but also trustworthy and easy to use.
16. Nexa Joy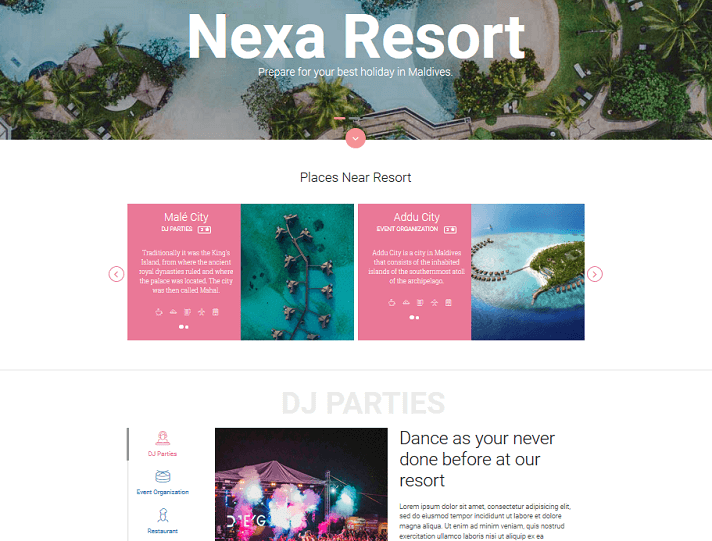 Nexa Joy is a hotel and resort WordPress theme that has all the standard features you'd expect from a high-quality theme. For example, it's cross-browser compatible, comes with Visual Composer support, and is mobile-friendly for those using small devices on the go.
But more than that, Nexa Joy comes with a versatile number of homepage variations for making your site stand out – onepage, multi-page, or even single page parallax. It's also WP Hotel Booking ready so you can start taking reservations from travelers right away and generate the revenue you always hoped you would.
Lastly, create a dynamic Google Map to help visitors find their way, make use of multiple shortcodes for faster site creation, and brand your website the way you want using the unlimited Google web fonts and colors available. Expecting international travelers? Don't worry, Nexa Joy is compatible with WPML and Polylang and is RTL ready so you can translate your hotel and resort site into any language you want
Launching Your Hotel
Once you've found the right theme it should be no trouble installing the theme and getting it running.
The hardest part is matching a theme to your brand to make sure your site looks good. But this gallery should offer more than enough to get you moving in the right direction with your WP-powered hotel website.