Choosing your domain name is important. Without the perfect .com, traffic will be hard to come by. Though, it's just as vital to choose the right domain registrar. While there are lots of services available, there's one that on paper has a big edge – Google Domains.
Of course, the registrar has a big tech company at the head – the biggest priority for Alphabet Inc., Google. As such, there's a tempting lure for the registrar. After all, who better than Google to provide you with your own domain name? The answer is complex though, and there is tough competition within the marketplace.
Over the next few sections, we're going to look at Google Domains, and find out how it works. We're also going to look at where it sits compared to other registrars, and sum up to give up a definitive answer.
Introducing Google Domains
The concept of Google Domains is straightforward. It's a domain registrar much like any other service, such as Namecheap, GoDaddy, and more.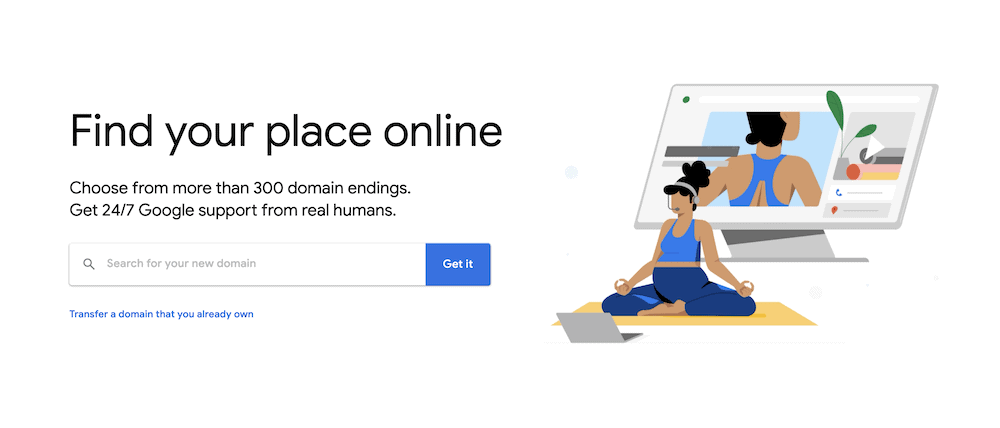 The core offering is – of course – domain names. There are a few reasons to opt for Google Domains in this instance:
There are 300 Top-Level Domain (TLD) extensions available, some exclusive to Google.
Your chosen domains will run within Google's infrastructure.
You'll find some nice extras included, such as privacy protection, Two-Factor Authentication (2FA), and more.
Domains will use state-of-the-art data security technology, such as Domain Name System Security Extensions (DNSSEC).
In the same way other registrars offer related services, so does Google Domains. Though, because your domain comes from the search giant, you have more analytics and data to play with. For example, you can configure your Time-To-Live (TTL) settings, alongside other tools.
You will also find a bunch of integrated solutions for email registration, picking a domain name, Google Ads, and plenty more. In fact, the entire Google Workspace ecosystem is at your fingertips through using the domain registrar.
How Google Domains Works
If you're new to choosing a domain name, it's good to know that the process is straightforward. Type your desired domain name into the large search box, and click through to see your results: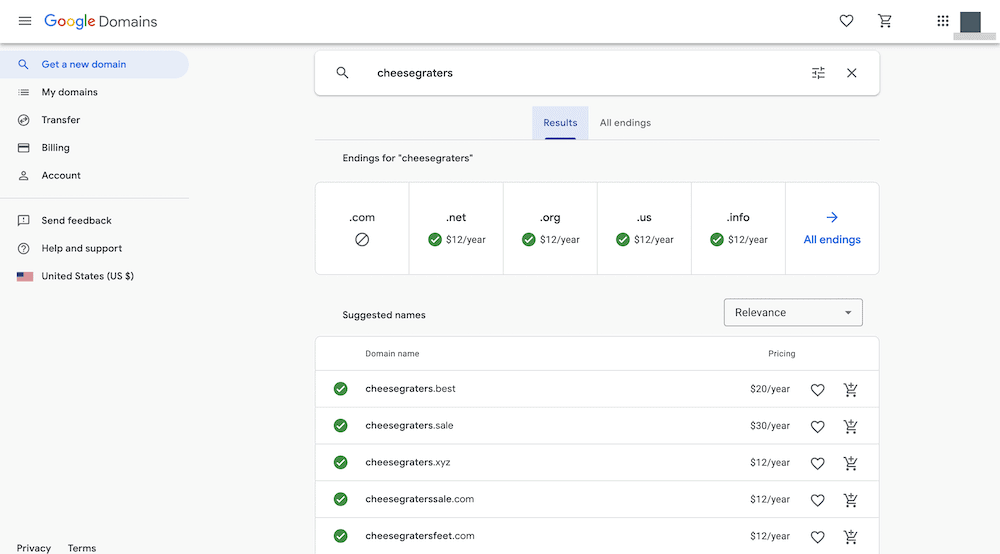 There are a couple of tabs here – Results and All Endings – that do the same thing, but the former gives you some suggested popular extensions to choose from.
You can sort the list by a few different attributes, and use the icons next to the list to perform various actions, including adding the domain name to your cart.
One fantastic feature here is the Insights panel for each domain in the list. If you click on one, you'll see a some advantages and considerations for your potential domain:

We like this a lot, and it's not something you see with many other registrars. It's also nice that you can type a keyword into the search field and return a whole bunch of varied domain names that might suit you: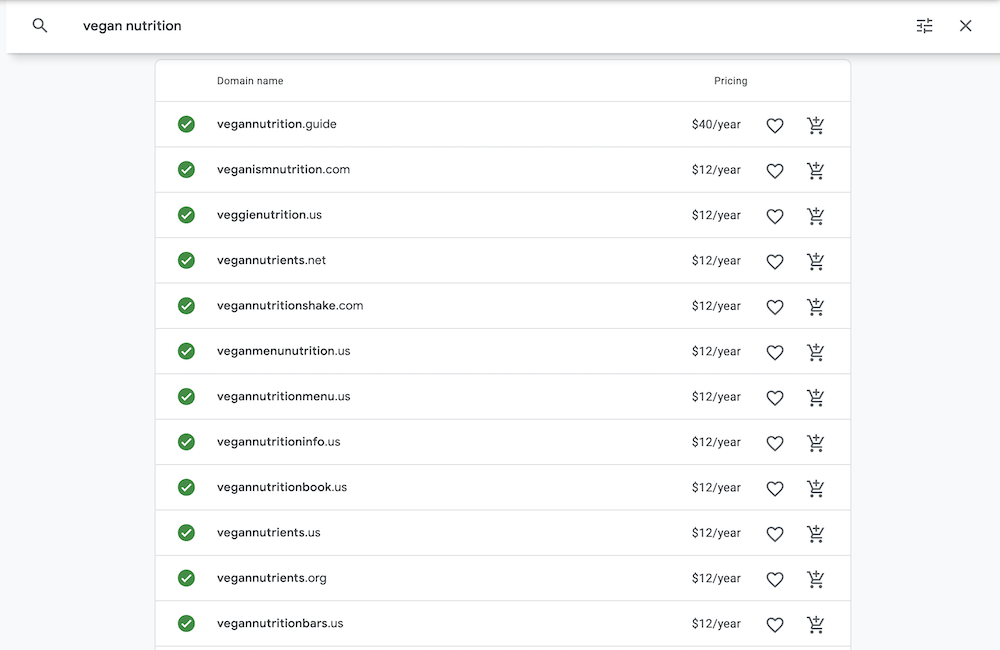 We're going to look later at how to register and transfer domains. First, let's look to give you some pros and cons of using Google Domains.
The Pros and Cons of Google Domains
As you can tell, there are lots of advantages of using Google Domains as a registrar. While we've covered some already, here are a few more:
You can get automatic verification across Google's product range. For example, you will often need to verify your domain with Google Search Console, but there are other situations where this comes in handy too.
Google uses its Domain Name System (DNS) servers, which helps your page load times compared to other similar solutions.
There are some free security and privacy tools in the box, such as domain privacy protection and 2FA for your account.
If you have a Google account, your domains link with the entire ecosystem. This is a way to purchase and manage domains through a familiar (and clutter-free) interface.
We could also mention the pricing here, as Google's approach is straight down the middle, without hidden extras or discounts for the first year. As such, you'll know what the cost is when you register. Though, this also brings us onto the drawbacks:
We'll get onto the competition later, but for now, know that Google Domains is more expensive than other registrars. Though, as we've already mentioned, there's a trade-off here with the flat and transparent pricing.
While there are 300 domain extensions to choose from, you may not find your exact TLD. This is common for all registrars, but it's still a drawback to mention.
You have to invest yourself into the Google ecosystem to get the full benefit out of the registrar. This isn't a problem if you're already using other Google services. In contrast, those who think a domain purchase from Google will shoot them to the top of the search rankings won't be happy.
On the whole, if you like the idea of what Google Domains offers, you'll want to investigate the registration process. Let's get into this next.
How to Use Google Domains
Over the next couple of sections, we're going to show you how Google Domains works with regard to registering a domain name.
It won't take long, and by the end you'll have the skills you need to grab your own domain from Google. After, we'll also look at how Google Domains stacks up against other registrars, and give you the scoop on whether the service is worth using.
Registering a Domain
First off, you'll want to learn how to register your domain. We went through the initial process of finding a suitable domain name earlier. Once you've got your eye on a domain, it's time to look closer at the insights: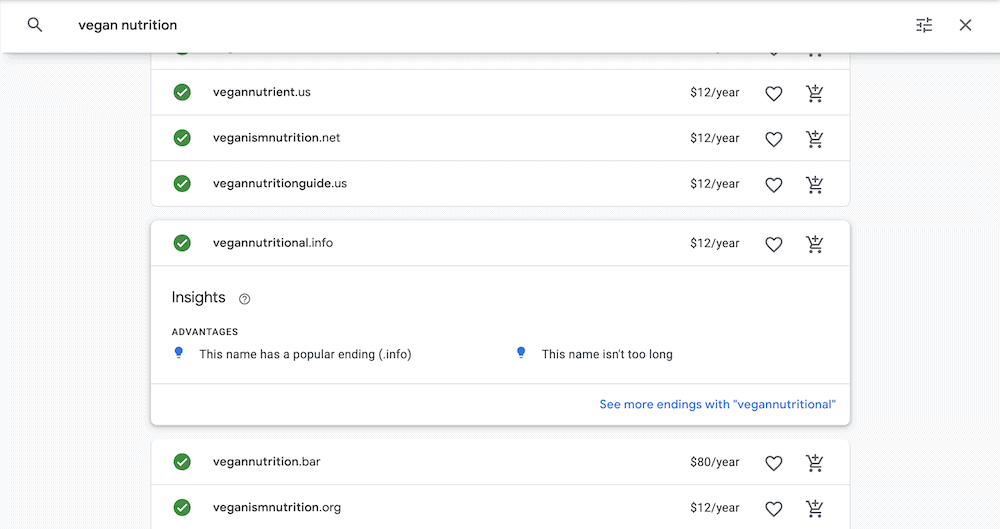 If you're happy, double-check the price per year, and click the Add to Cart button. Once you've done this, the checkout process is just like any other. You'll see a summary screen where you can choose the length of your registration, whether you use privacy protection, and whether you set auto-renew billing on: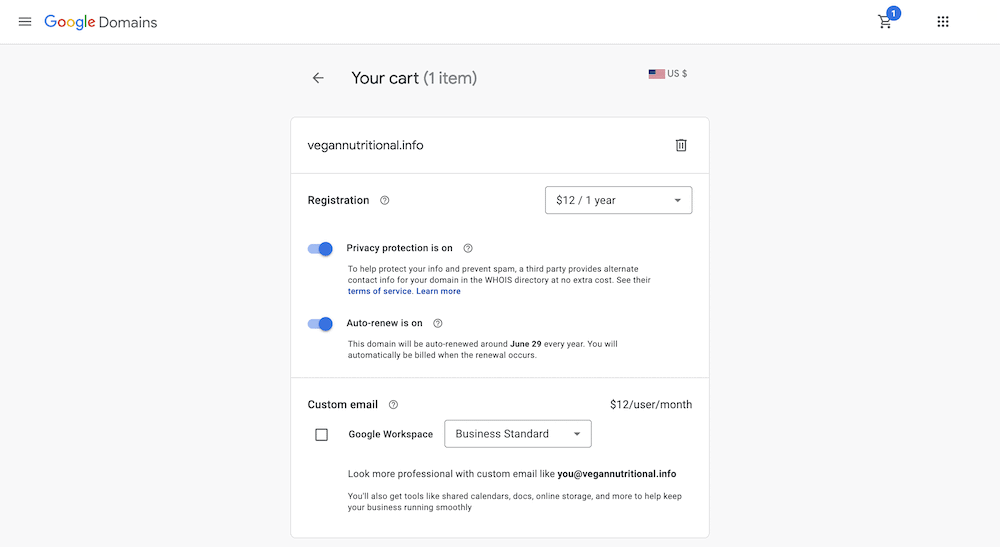 These both default to On, and we'd leave them there in most cases. From there, choose whether you want to go with a custom email address with Google Workspace integration. When you've made this decision, you can click the Check out button.
Before you finalize the payment, you'll need to fill in your personal information. Though, if you opted for privacy protection, this won't show in the public WHOIS database: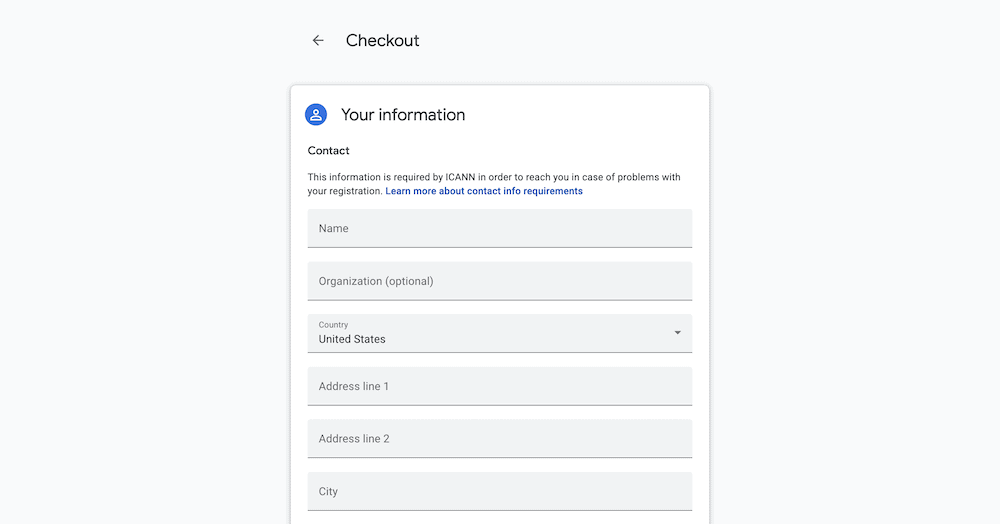 When you're ready, click Save & Continue, then look over the summary screen once more. This is where you need to fill in your bank details, then click the Buy button to confirm.
Touring the Dashboard
The Google Domains dashboard is as intuitive as you'd expect from a Google entity. When you login, you'll come to the Domain overview screen. This also does what you'd expect to – it provides bite-sized information on your domains, and will also give you a checklist of other tasks you may want to carry out: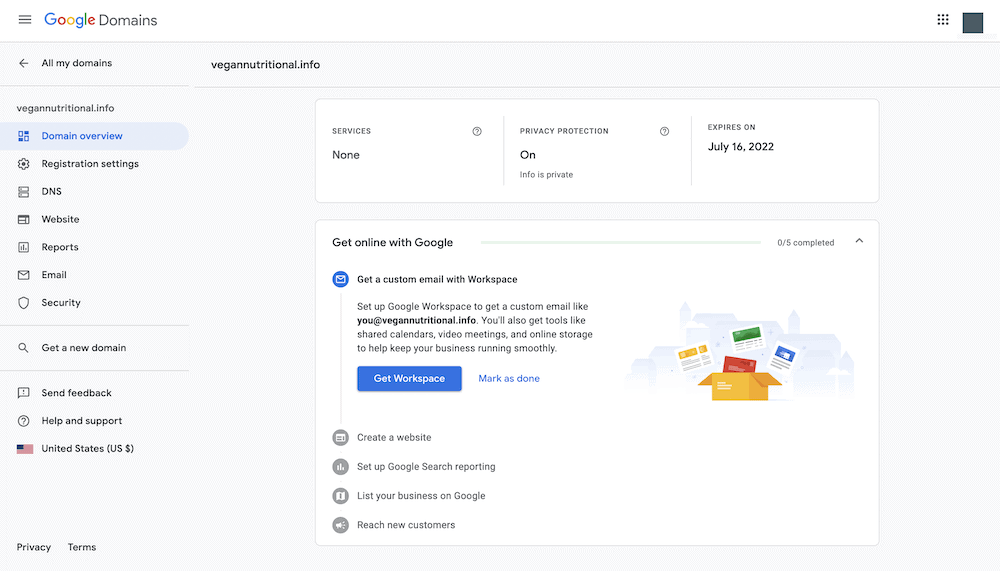 The Registration settings page includes sections for privacy protection, and your general registration options. For example, you can unlock your domain here, toggle the auto-renew, transfer your domain, and delete it: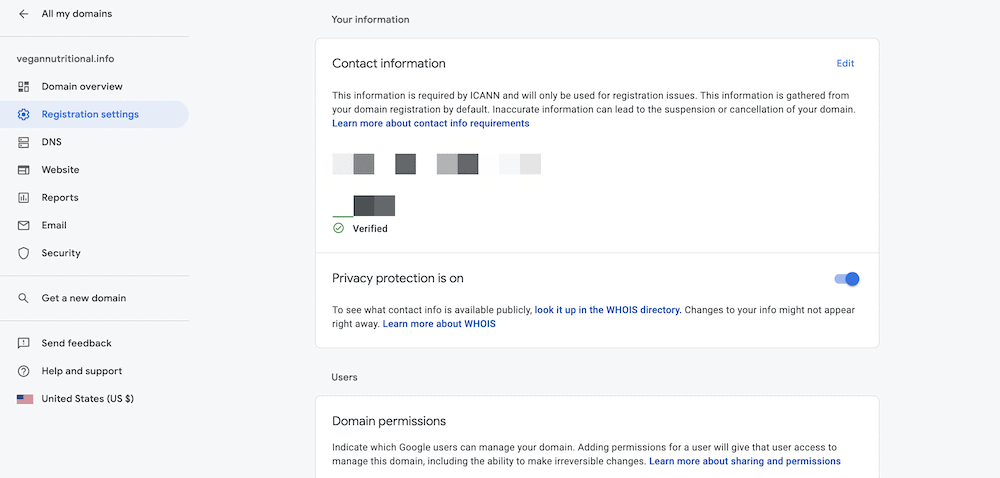 The DNS page offers you the ability to change nameservers, but there's more here. You'll use this screen to manage subdomains, redirects, and more: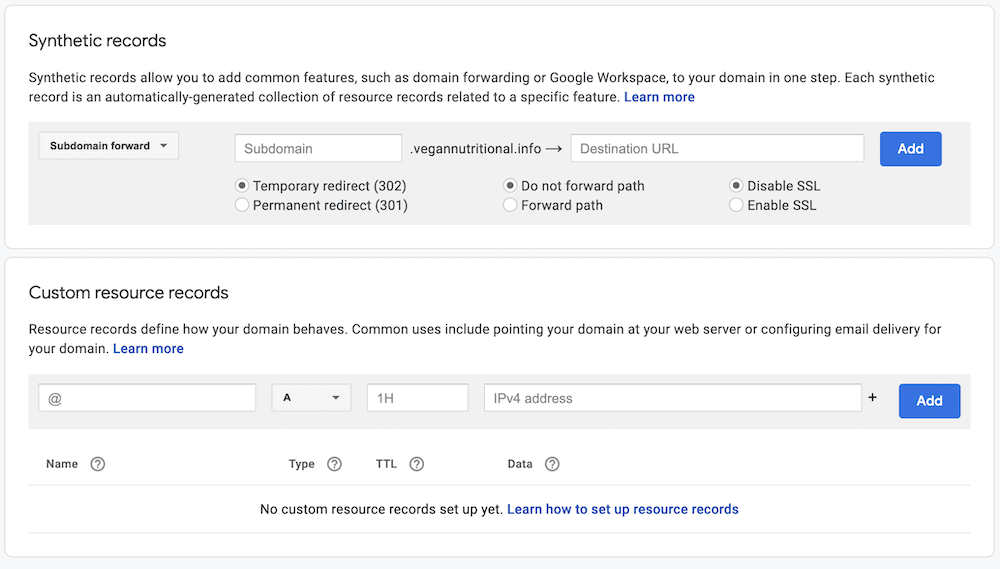 You'll also be able to set up a Website through the dedicated page, and once it's live, the Reports screen gives you performance analytics. The Email and Security screens are sparse, with options for email forwarding, Two-Factor Authentication (2FA), and setting up a Secure Sockets Layers (SSL) certificate.
On the whole, you have a nice dashboard here, that isn't too packed yet includes almost everything you need. It's familiar, much like Google's other services, and it will appeal to users of all stripes, especially new ones.
How to Transfer Domains
You may want to transfer domains to and from Google, depending on the TLDs you access, and the overall experience. In Google Domains, you can do this from the Transfer screen: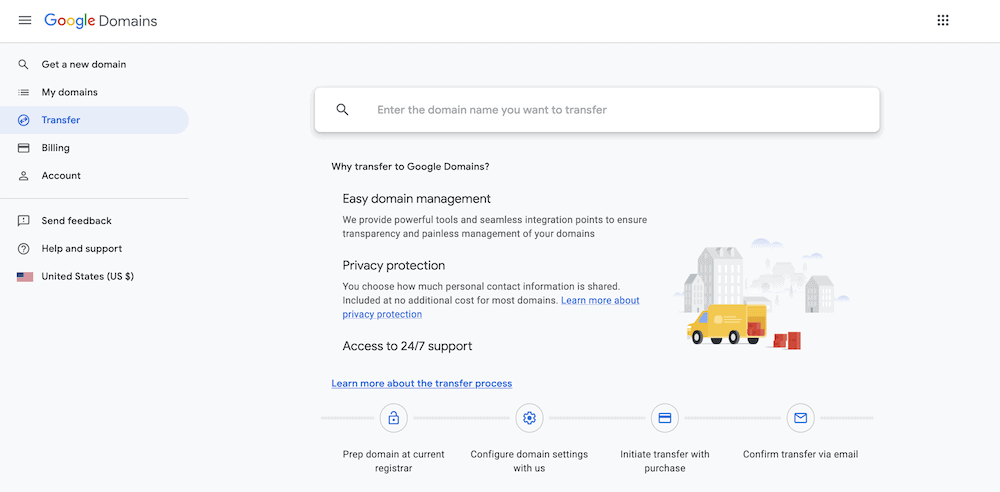 Your first step here is to enter your domain into the search bar. When you confirm, this will start the transfer process. You'll see a three-step screen that will first ask you to 'prepare' the domain: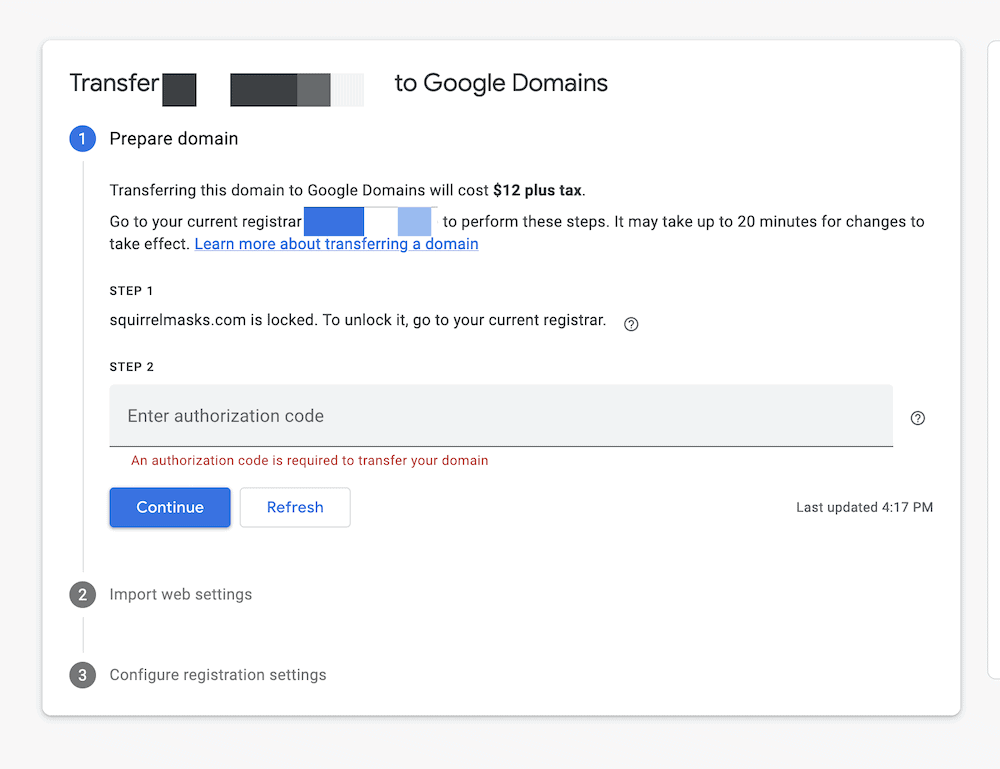 You might need to unlock this at your current registrar, but regardless, you'll need an authorization code (sometimes called an EPP code) to continue the transfer.
The second-step is a cool feature that doesn't appear in many other registrars. Google Domains will import your DNS settings from your current registrar, although you don't need carry this out if you don't want to: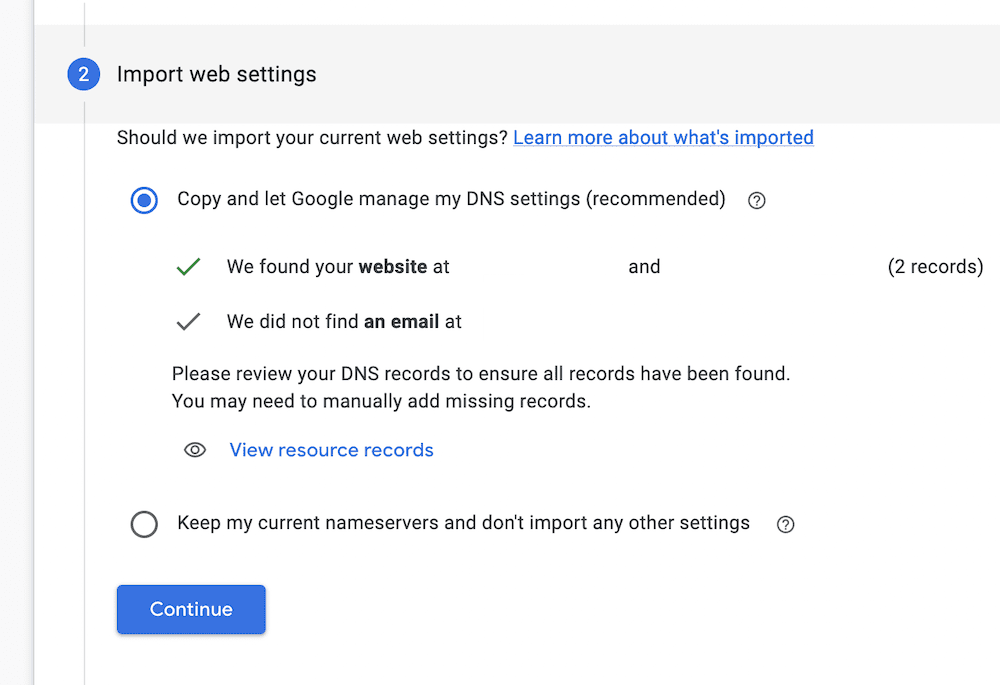 The third step is to configure your registration settings and confirm the details you see: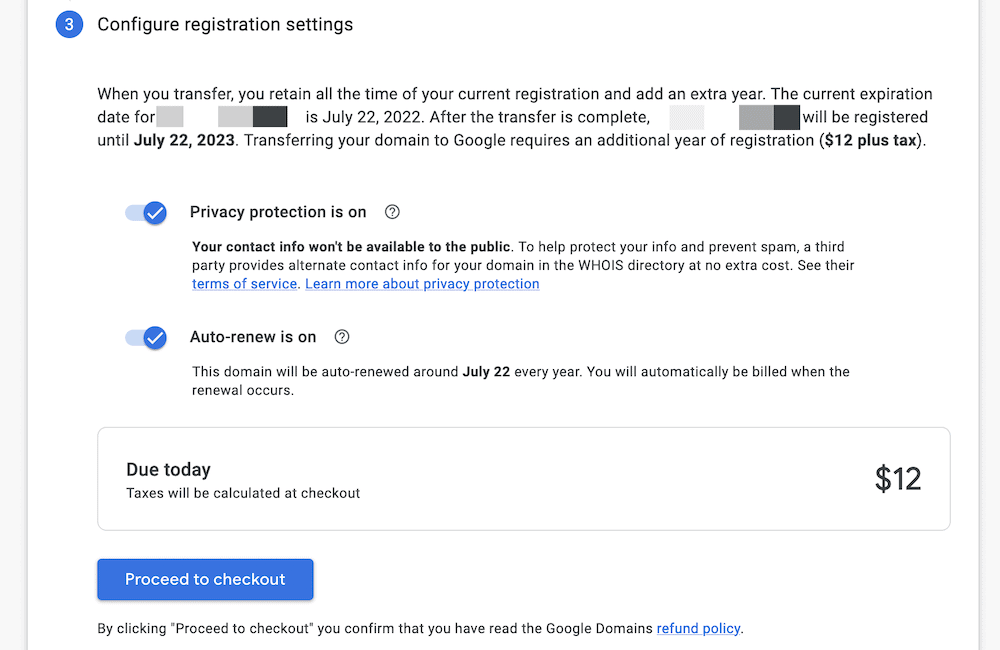 At this point, you can run through the checkout process. This will follow the standard Google checkout procedure. Once this is complete, you can work with your domain within the Google Domains dashboard like any other.
Whether Google Domains Is Relevant In the Marketplace
It will come as no surprise that Google Domains has a lot of relevance among domain registrars. There's plenty on offer to like about the service, and it holds its own (as expected) against the major registrars GoDaddy and Namecheap.
In fact, we'd say that Google Domains beats GoDaddy hands down in every area. Although you might find GoDaddy to be cheaper upfront, the renewal price is astronomical compared to Google:

GoDaddy can't offer the same ecosystem and infrastructure as Google – though neither can anyone else. Even on this basis, Google Domains is relevant. Though, compared to Namecheap, the battle runs much closer.

There's still the tempting lure of the introductory pricing, but the renewal price is closer to Google. Also, you get free domain privacy protection, and other useful and relevant premium extras, such as hosting. This brings us to the point where we have to make a decision, and we'll look at this now.
How to Decide Whether Google Domains Is Worth Using
As with similar questions, the choice isn't clear. If you have a domain registrar you like, it's hard to pull away from them and up sticks. This is especially relevant when it comes to Google's habit of shuttering services that don't align with their goals.
Of course, you have to decide whether this matters to you. If you'd like a long-term domain registrar to host a number of different domains, this might not be the best option. What's more, if you don't need or want the functionality Google Domains offers, it's a no-brainer to go somewhere else, such as Namecheap.
Though, if you do like the integration, and you have no qualms about the longevity of Google Domains, it's a recommended and relevant service. We'd offer that the more custom comes its way, the greater the focus will be, and the more relevance it will have in the future.
Wrapping Up
Once you have the perfect domain name, you have to choose the right registrar. This is an important step for lots of reasons based on cost, security and privacy provisions, additional features, and more. While there are lots of good providers on the market, Google Domains is a tempting proposition.
After all, the search giant integrates its whole ecosystem into the platform, and has a set of features that could help you reach the top of the search rankings. Though, this isn't to say the likes of Namecheap and GoDaddy Domains are poor runners up. Regardless of your domain registrar, you'll get a quality service. The decision for you is whether Google's solution providers the right blend of features, functionality, price, and edge in the market.
Will you investigate Google Domains more, or will you stick with your current registrar? Share your thoughts in the comments section below!