If you're on the hunt for the best WordPress gallery plugin, Envira Gallery is probably a name that you've come across.
There's a reason for that – Envira Gallery is definitely one of the top WordPress gallery plugins. One of the reasons it's so popular is that it offers an easy way for casual users to create great-looking galleries, while at the same time also offering features for advanced users and power users like dynamic galleries, client proofing, and even eCommerce sales via WooCommerce.
In our hands-on Envira Gallery review, we'll take a deeper look at this plugin and show you everything that it can do.
Envira Gallery Review: Introduction and Feature Overview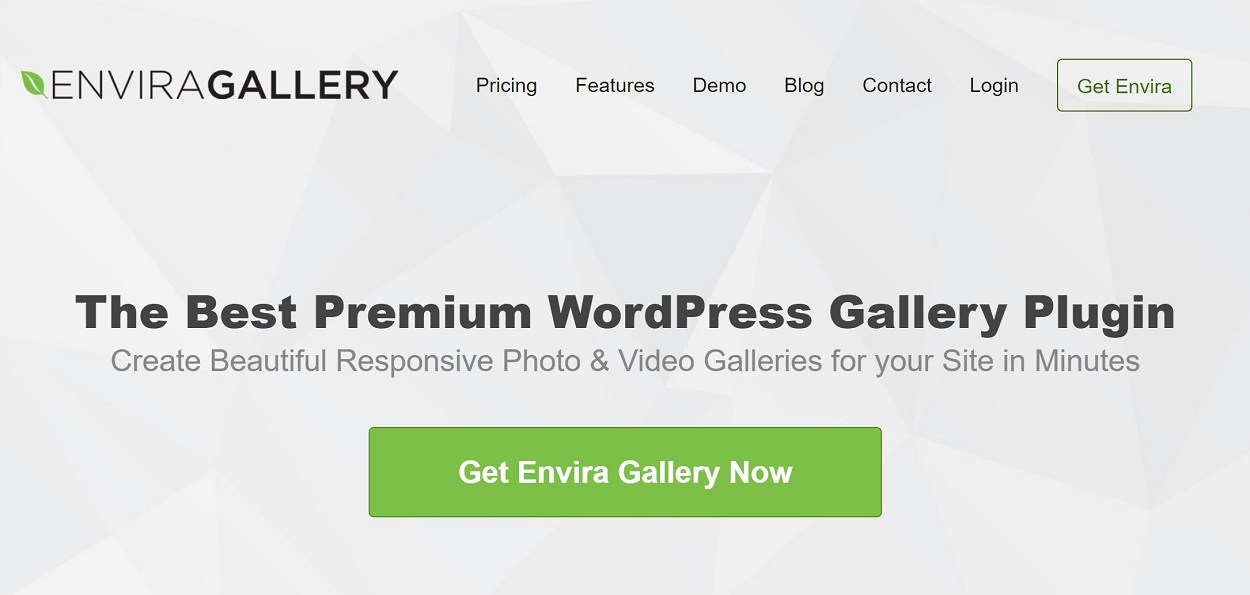 Envira Gallery is one of the most popular plugins in the WordPress gallery space. According to WordPress.org, it's active on over 100,000 sites with a near-perfect 4.8-star rating on over 1,350 reviews.
Envira Gallery used to be part of the WPBeginner family of plugins, which includes other popular tools like WPForms and MonsterInsights. However, in 2018, the plugin was sold to Nathan Singh, who has been running it since then with no drop in quality.
Nathan also acquired the popular NextGEN Gallery plugin in 2020 (the most popular gallery plugin at WordPress.org), so Envira Gallery and NextGEN Gallery are now under the same parent company.
All that to say, Envira Gallery comes from a team that's heavily invested in the WordPress gallery space, which is a good indicator of its long-term longevity.
In terms of features, Envira Gallery provides a good mix of basic features for casual users as well as advanced features for photographers and power users.
Types of Galleries That You Can Create
Envira Gallery is quite flexible in the types of galleries that it lets you create.
At a basic level, the free version lets you create image galleries. But if you upgrade, you can also create video galleries.
Where the premium version really gets fun, though, is in its dynamic gallery features. You can create galleries from blog posts, WooCommerce products, or other custom post types. Or, you can automatically create galleries from the images that are attached to a post.
You can also create galleries from external sources such as:
Instagram
Dropbox folders
Finally, there's also an Adobe Lightroom integration so that you can sync your galleries with your Lightroom collections (great for photographers)
Gallery Layouts
With the premium version, Envira Gallery gives you five different layouts:
Automatic – uses a justified image grid.
Mason – a straightforward masonry gallery.
Grid – a basic column gallery with equal-height rows.
Square – an Instagram-style gallery.
Blogroll – lets you list your images one-by-one.
You can view some demos of the various layouts here.
You also get lots of options when it comes to height, width, and other spacing/alignment stuff.
Plus, you can also show images in a lightbox popup and you'll also get album support.
There's also a slideshow add-on that lets you create slideshows in the lightbox.
Advanced Features
For advanced users and photographers, Envira Gallery has a few other useful tricks up its sleeve including:
Client proofing to let clients order individual images from the overall gallery.
eCommerce support via a WooCommerce integration.
Image download management.
Right-click protection.
Lazy loading for performance.
Scheduling.
Password-protected galleries.
Automatic watermarking.
Let's go more in-depth and I'll show you how these features work.
How to Create a Gallery With Envira Gallery
To kick off the hands-on section of our Envira Gallery review, I want to quickly run over what it's like to create a gallery using Envira Gallery. This should give you a good understanding of how the plugin functions and it will set up some basic understanding for when I take a deeper look at some specific features in Envira Gallery.
Choose Your Gallery Source
When you create a gallery, your first choice is your content source. At a basic level, you can upload new files or choose existing files in your Media Library.
For more advanced galleries, you can choose Galleries from other sources and create dynamic content galleries (e.g. WooCommerce products or blog posts), Instagram galleries, and more.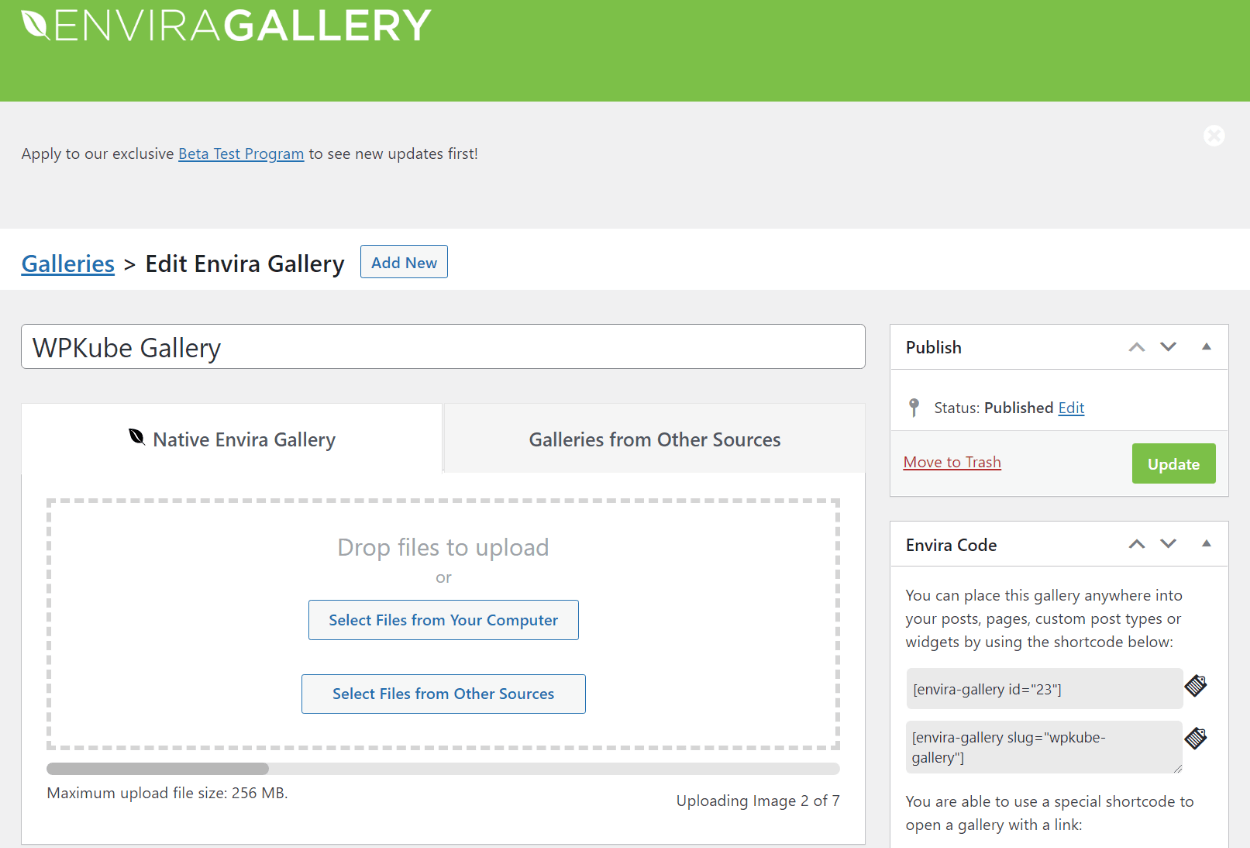 Once you upload the content, you'll see it appear in the editor box below. You can use drag-and-drop to change the order of the content or edit/hide an image by using the icon: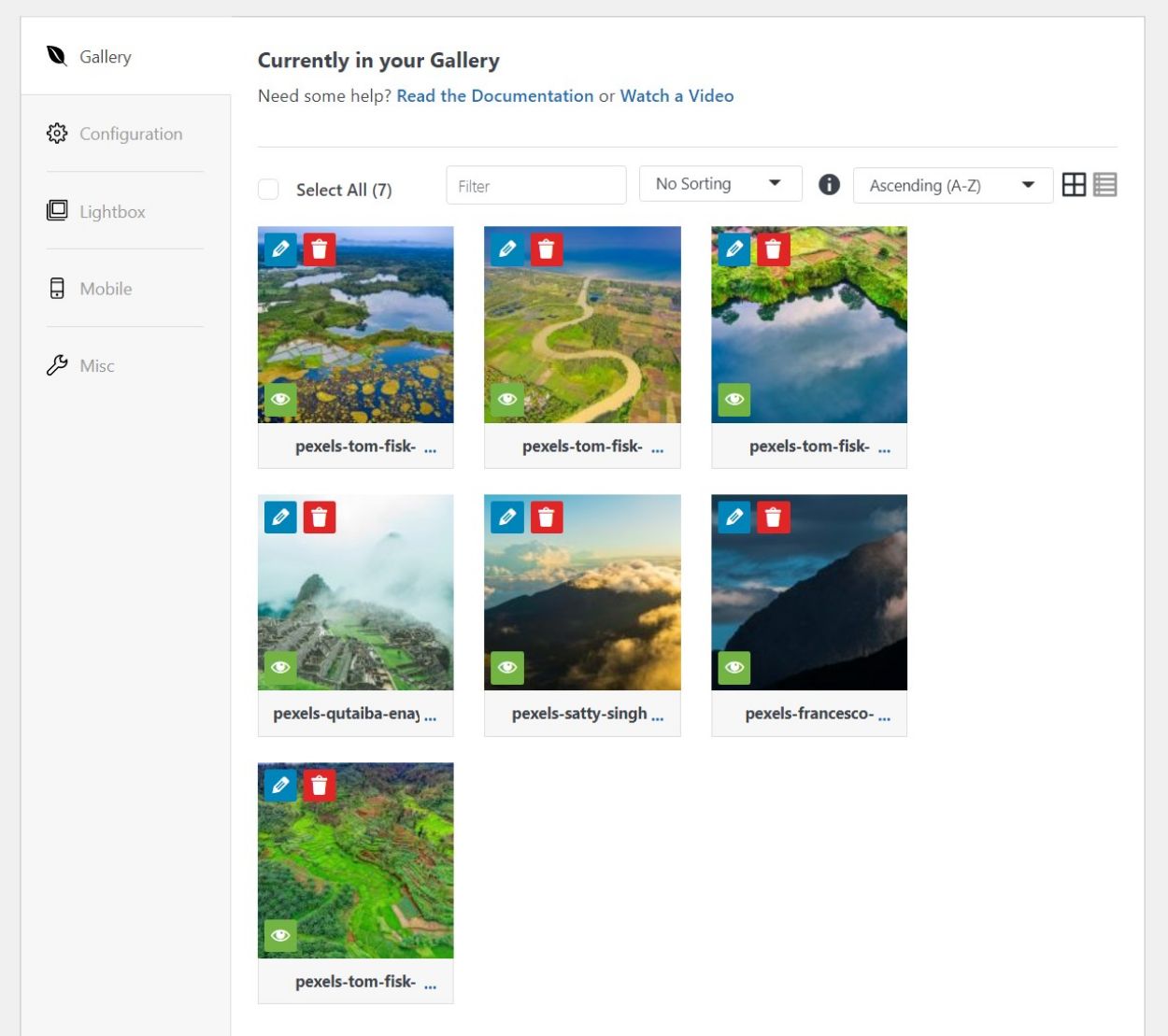 Configure Your Gallery
To configure your gallery, you can use the options in the sidebar of the settings meta box. The Configuration tab lets you choose the layout and configure other settings, like heights, margins, captions, image sizes, etc: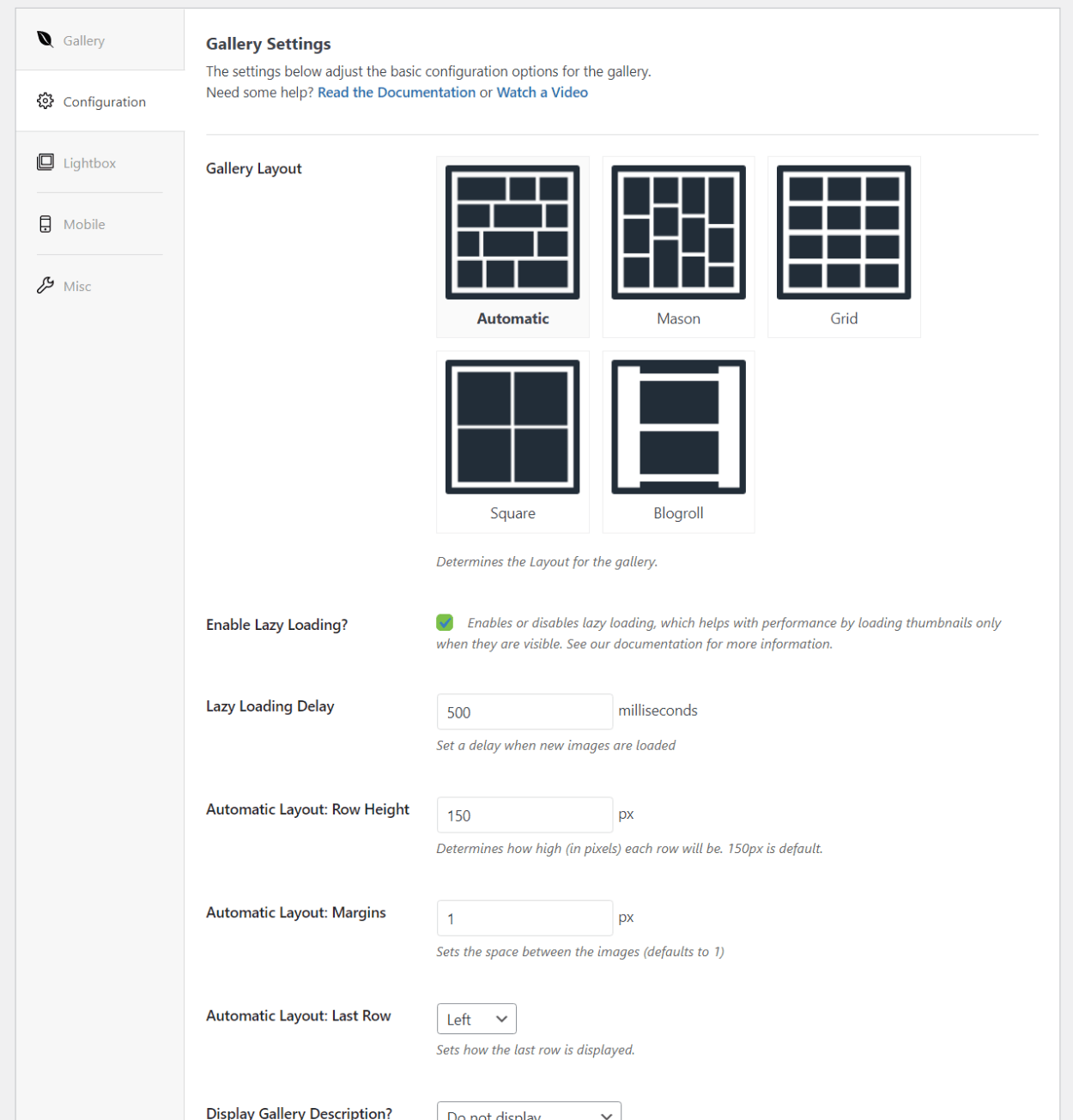 The Lightbox tab lets you configure the lightbox gallery: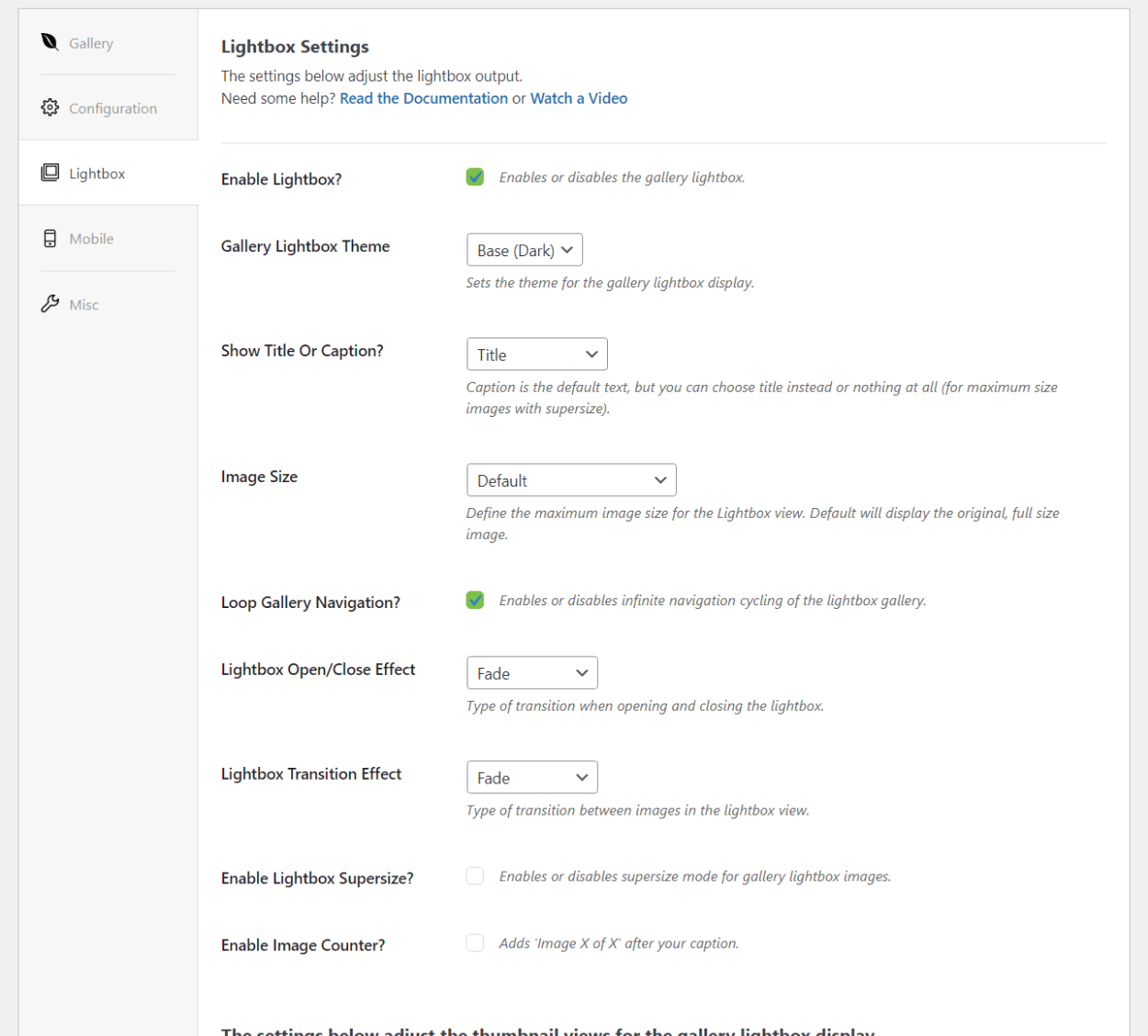 The Mobile tab lets you configure responsive mobile settings, including creating smaller image dimensions on mobile (which will help with performance):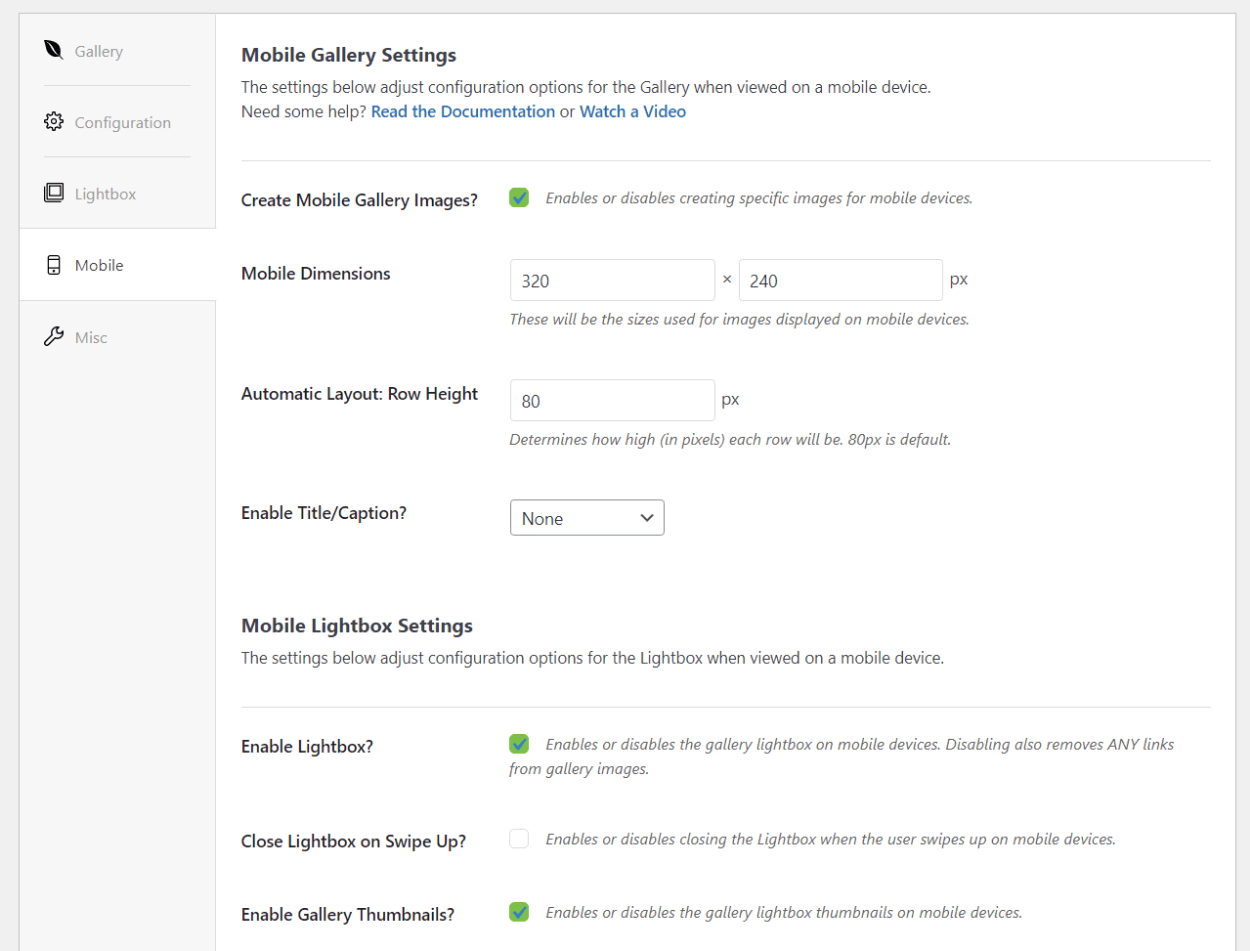 Finally, the Misc tab holds a few random settings, like letting you add your own custom CSS gallery classes.
And that's it for configuration (with the core Pro version).
Embed Your Gallery
To embed your gallery, you have a few different options:
Shortcode
Block
PHP function
I like using the dedicated block as it lets you see a live preview of your gallery in the block editor. It also lets you configure a few different settings from the block's setting, which is convenient for making quick edits (like changing a gallery's layout based on the preview).
You can also add new images via the block, which adds another level of convenience: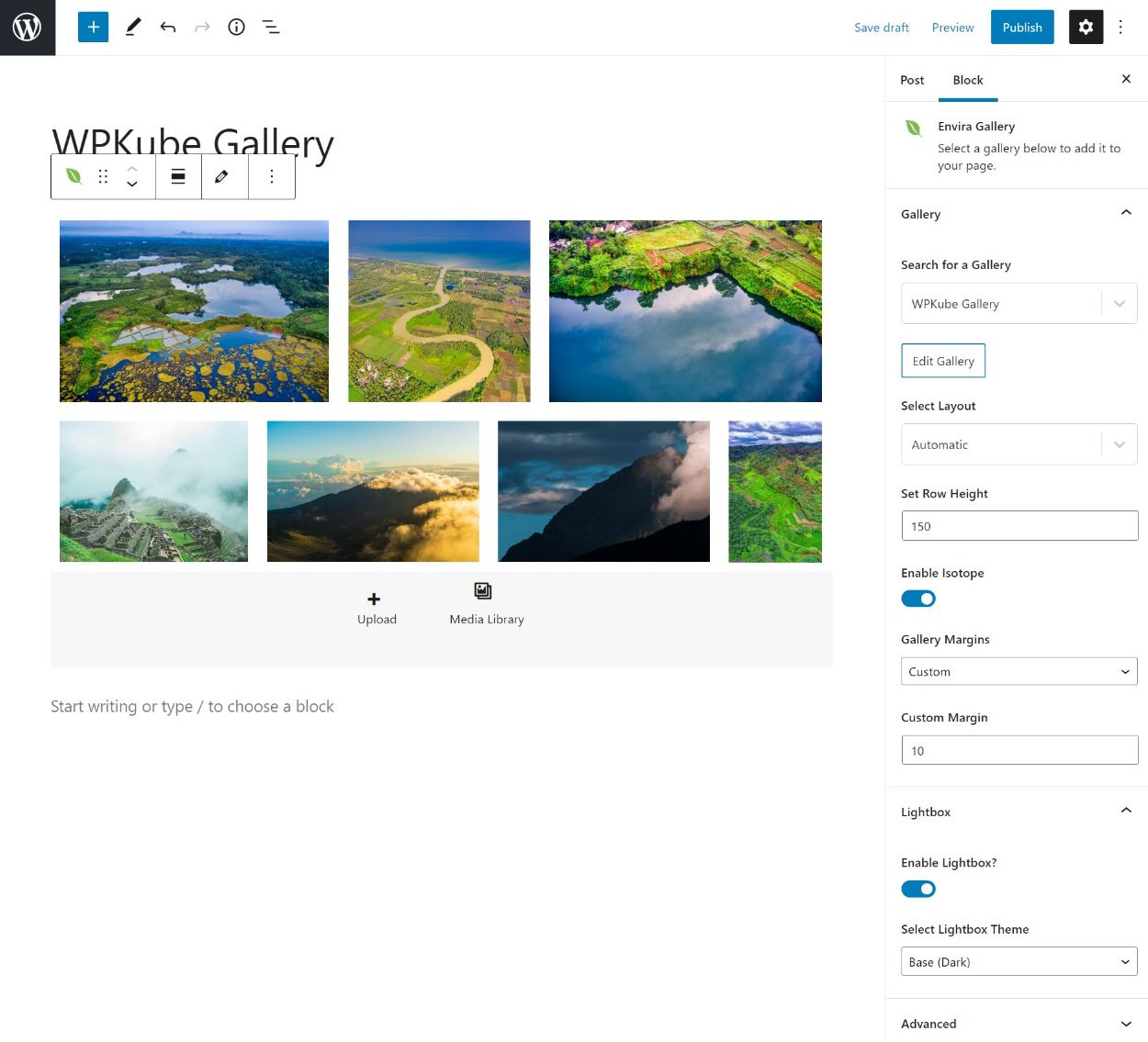 And that's it for the basic gallery process – as you can see, it's pretty beginner-friendly.
Now, let's look at some of the advanced features.
Exploring Some of the Advanced Features
Envira Gallery's advanced premium features are available in modular plugin add-ons – so you can just install the add-ons for the features that you want to use to keep things lightweight.
As you install new add-ons, you'll typically get new options in the gallery editor. This is just a small sampling of some of the features that I find to be most interesting – there are lots of other premium features beyond this.
eCommerce Functionality
If you want to sell stuff, Envira Gallery integrates with WooCommerce to add eCommerce functionality to your galleries.
With this enabled, you can have Envira Gallery automatically create a new WooCommerce product for each gallery item that you add: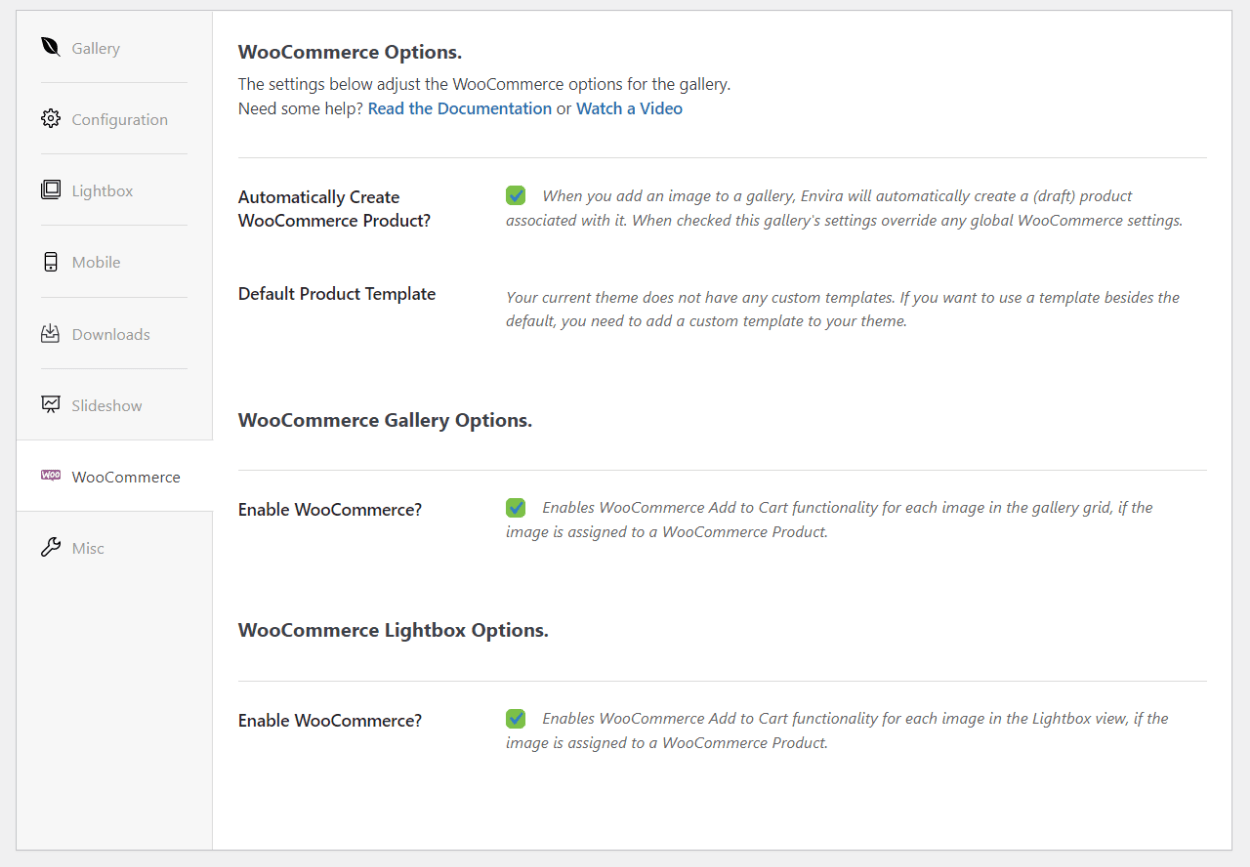 Or, you can also manually link a gallery item to a WooCommerce product by editing it: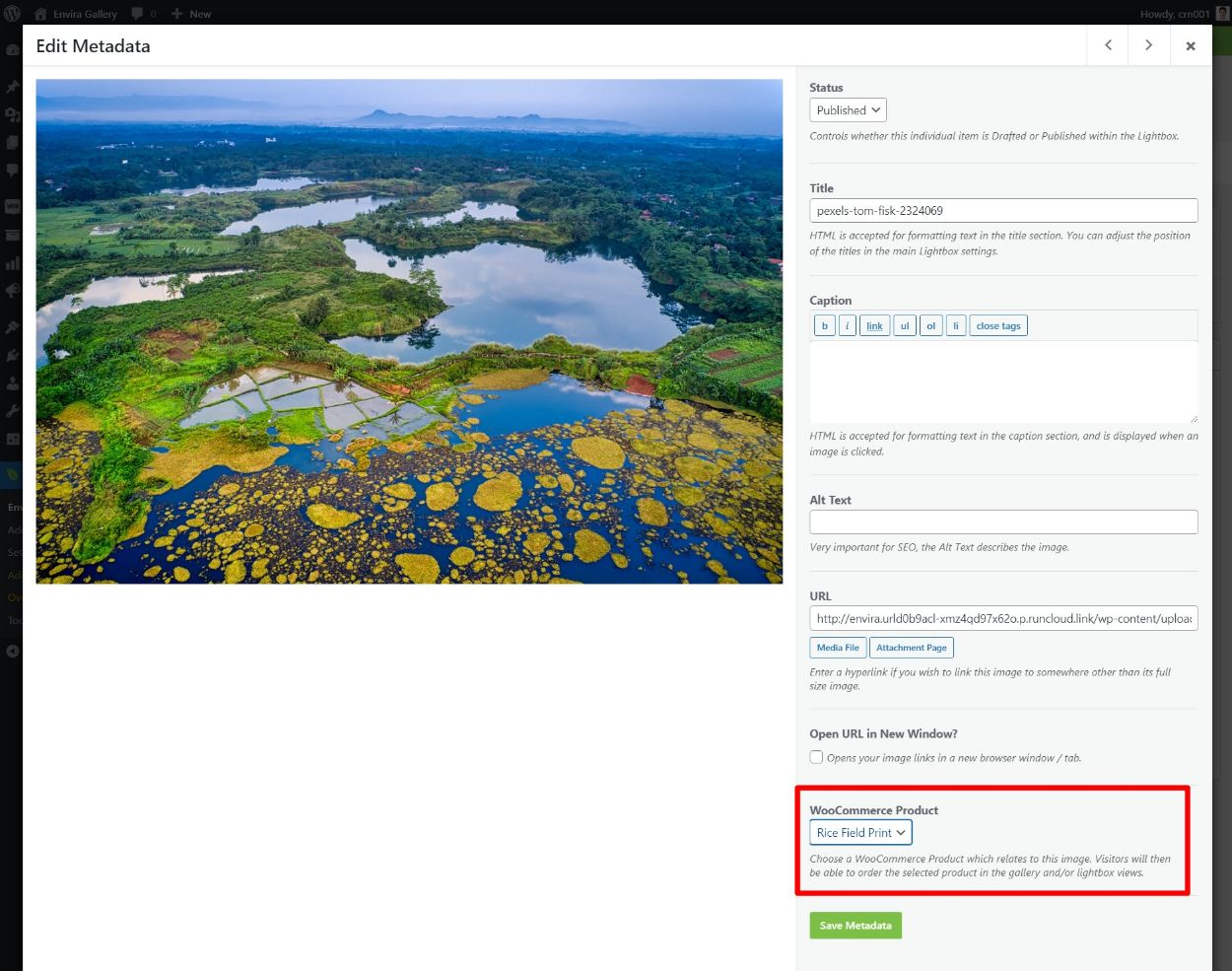 You can then edit the product via the normal WooCommerce product interface and your visitors will see an "Add to Cart" button when they browse the gallery.
Downloads
If you don't want to sell images, the Downloads add-on provides an alternative to give you a way to let people download individual images or the entire gallery just by clicking a button: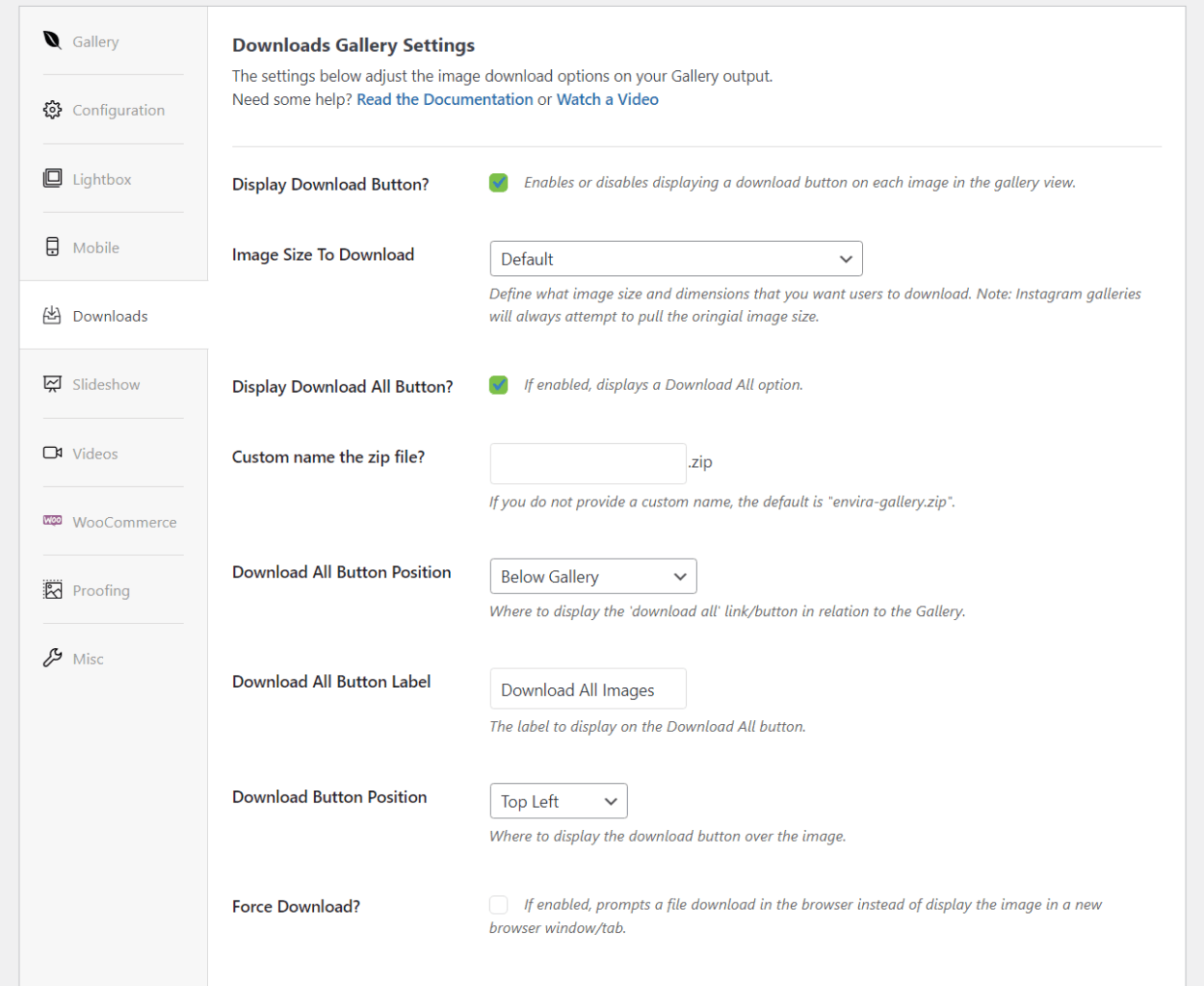 Featured Content Galleries
With the Featured Content add-on, you can create galleries of your latest blog posts, WooCommerce products, or other custom post types.
You can enable Featured Content as a gallery source and then you'll be able to query specific post types (blog posts, WooCommerce products, custom post types), taxonomies (categories, tags, custom taxonomies), and other options to include/exclude certain content: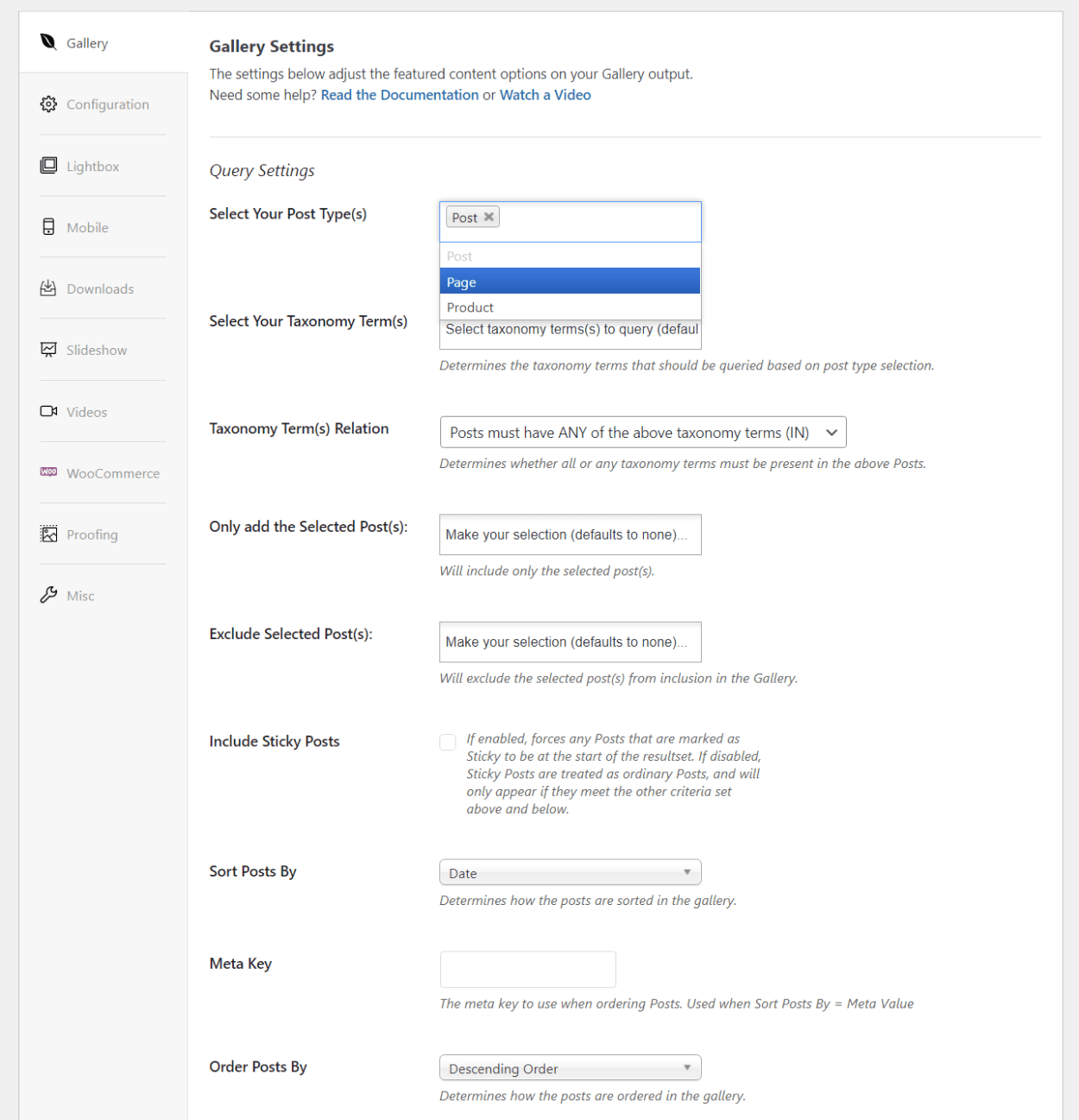 Proofing
If you're a photographer or someone else who works with clients, the Proofing add-on is a really useful tool that lets you use Envira Gallery for client proofing.
You can enable client proofing to get started, with lots of options to customize how it works: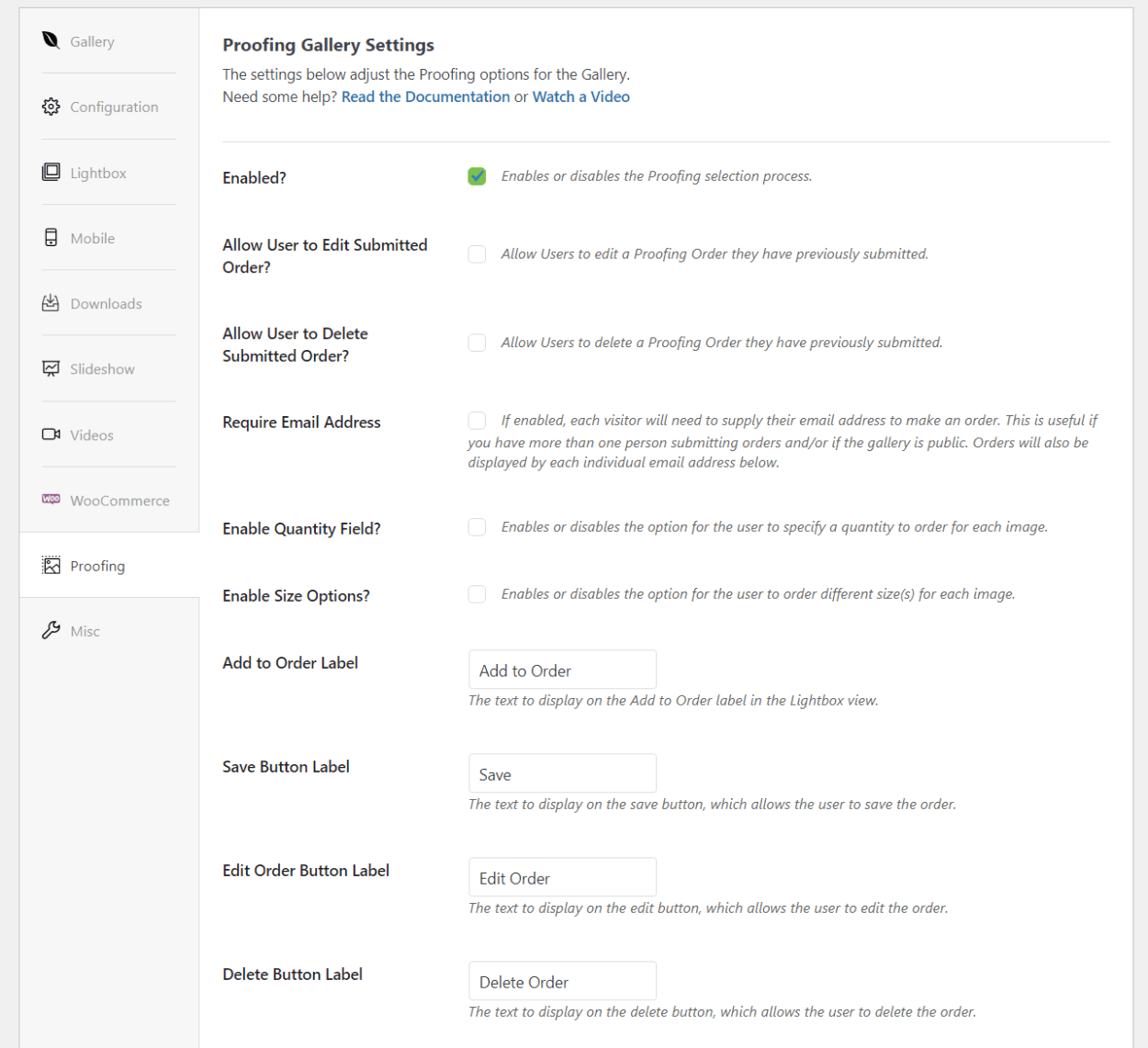 Then, you can share the gallery with your clients and they can go through and pick the images that they want to order: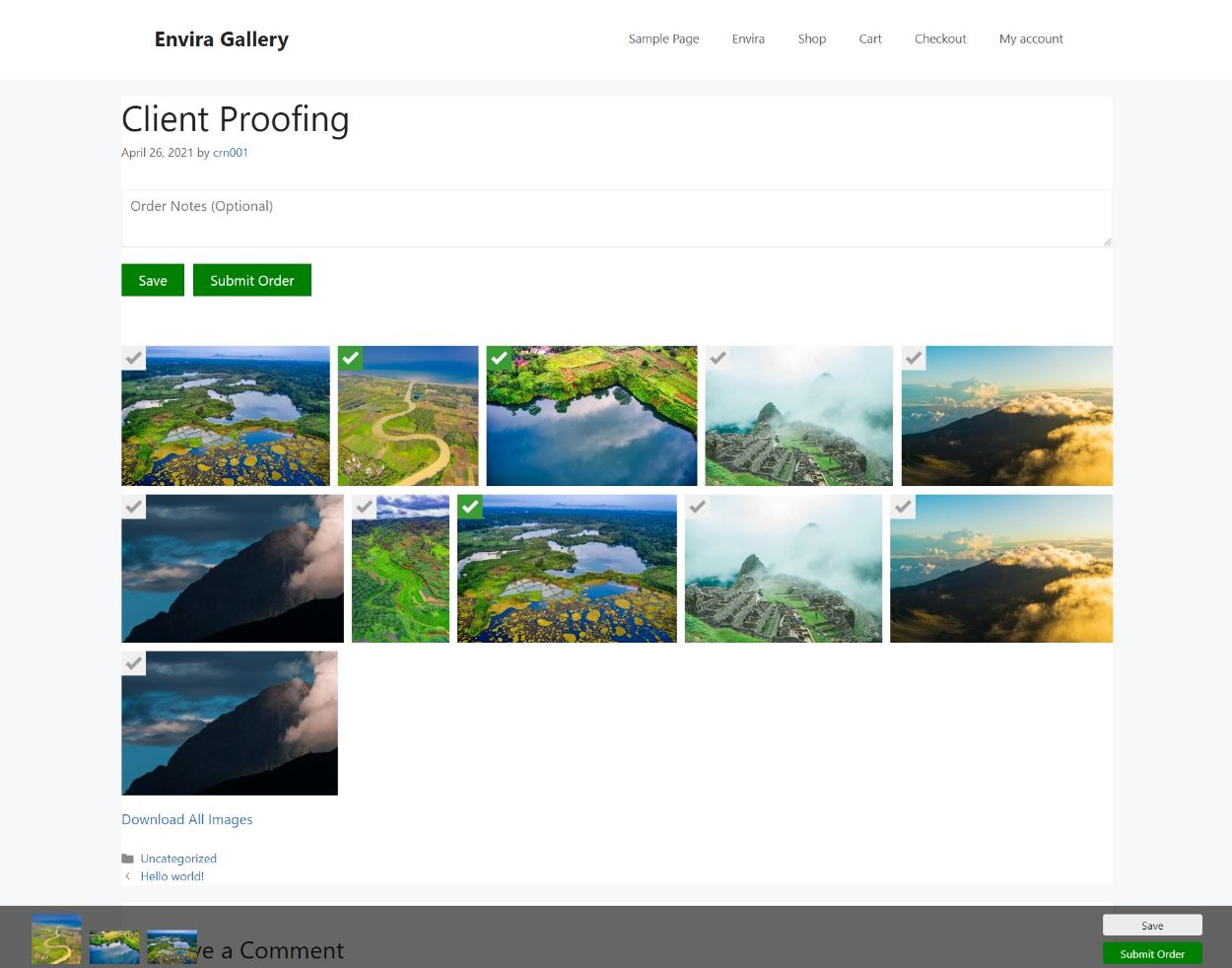 Videos
With the Videos add-on, you get the ability to create galleries from self-hosted videos or external video sources such as YouTube, Vimeo, Wistia, and more: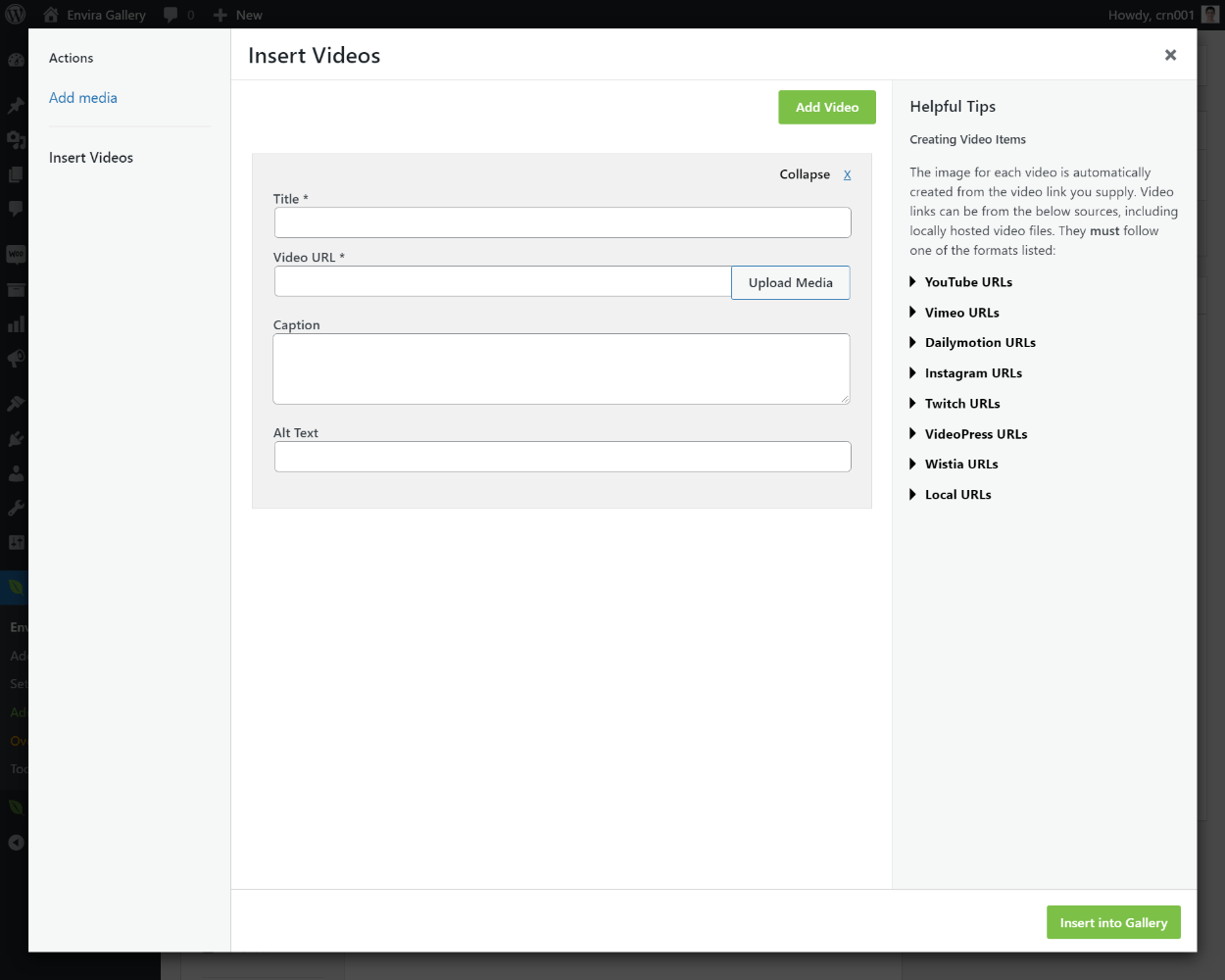 You can also link static gallery images to a video so that you can play the video in the lightbox popup, which is a cool feature.
Envira Gallery Pricing
Envira Gallery comes in both a free version at WordPress.org as well as several premium options.
The cheapest tier includes just the premium version of the core plugin but lacks the advanced add-ons. The other tiers give you access to some or all of the 32 pro add-ons.
You can view the current pricing below: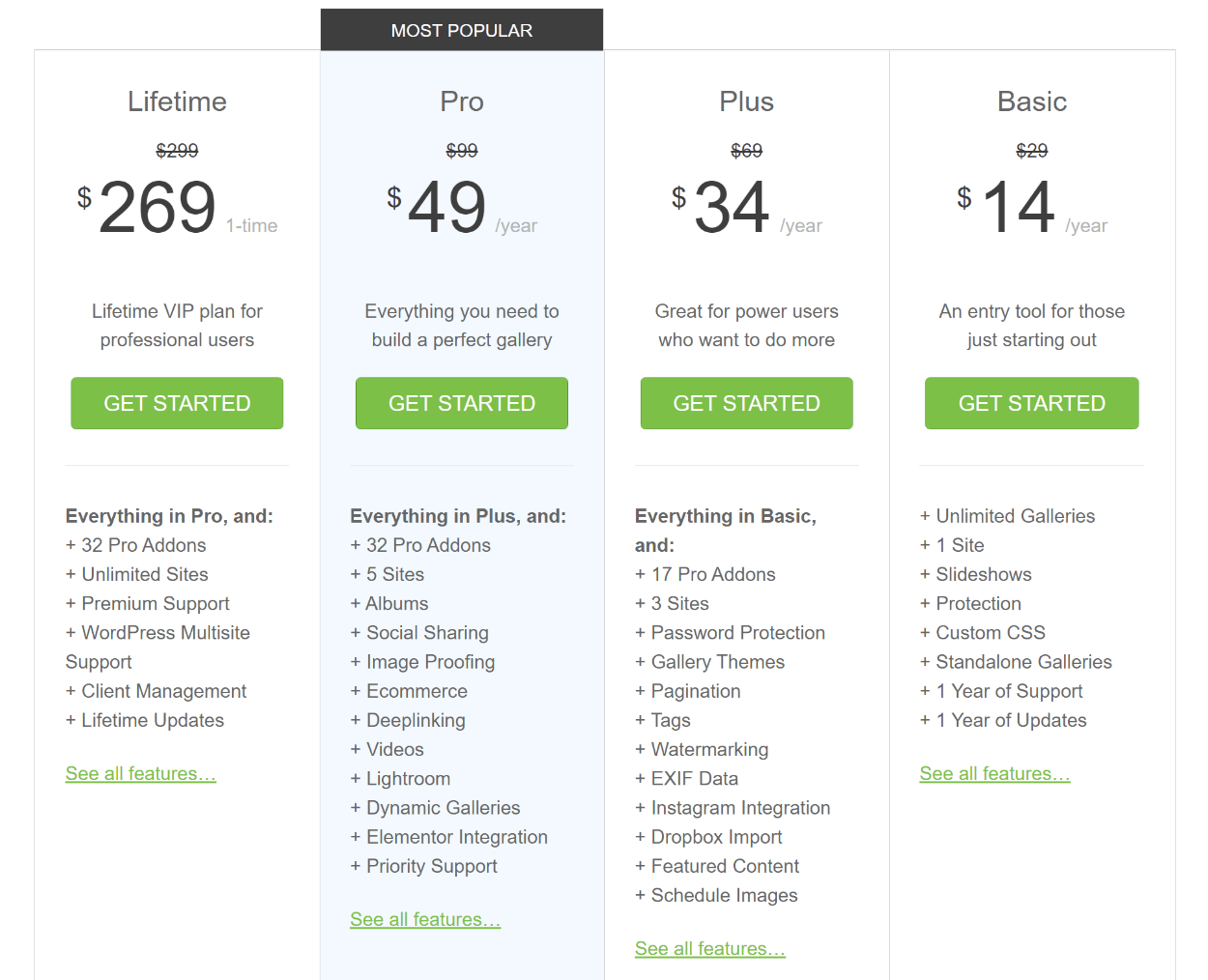 Overall, it's pretty affordably priced, with even the full-featured tier coming in at just $49, though it only lets you use the plugin on five websites.
One thing to keep in mind is that the licenses renew at full price after the first year (the crossed-out number). So if you renew after the first year, the price will be higher, which isn't very common with WordPress plugins.
To save some money, you can use our exclusive Envira Gallery coupon code.
Envira Gallery Pros and Cons
As we start to close out our review, let's quickly run over the pros and cons of using Envira Gallery.
Pros
There's a free version that works for simple galleries.
The interface is easy to use and includes nice features like a dedicated block.
You get lots of gallery source options, including images, videos, WordPress content (e.g. blog posts), and external sources such as Instagram and Dropbox.
You get lots of advanced features such as eCommerce, client proofing, downloads, and more.
All the premium features are modular, so you can keep things lightweight by only installing the add-ons that you need.
Cons
Envira Gallery's prices jump when you renew and it enables auto-renewal by default. The price jump isn't normal for plugins, so it might catch you by surprise.
Envira Gallery FAQs
To finish out our Envira Gallery review, let's go over a few common questions…
Is Envira Gallery free?
Yes! Envira Gallery has a free version at WordPress.org that works for basic galleries. You'll need the premium version to unlock more advanced features, though.
Can Envira Gallery create video galleries?
Yes! You can use Envira Gallery to create both image and video galleries, including videos from third-party sources like YouTube.
Can I create a gallery of blog posts?
Yes! One of the cool things about Envira Gallery is that it lets you create dynamic galleries from any WordPress content, including blog posts, WooCommerce products, and other post types.
How can I embed galleries from Envira Gallery?
You can use a dedicated block, shortcode, or PHP function.
Final Thoughts on Our Envira Gallery Review
Overall, I think that Envira Gallery is definitely one of the top WordPress gallery plugins. My main reasoning is that it manages to do a good job of being both user-friendly and easy to use for casual users, while still offering lots of advanced features for photographers or other types of power users.
For Casual Users…
If you're a casual user just looking to create some simple photo or video galleries, Envira Gallery is still one of the top options thanks to its simple setup process and user-friendly interface. However, I would say this is the weakest use case as there are several other quality image gallery plugins for beginners.
Personally, I like Modula because it includes a drag-and-drop grid builder that gives you full control over the grid for your gallery – a really neat tool. You can learn more about it in our Modula review. However, Modula doesn't offer nearly as many advanced features, so it's not a good choice if you think you might go beyond basic image galleries at some point in the future.
For Photographers…
If you're a photographer, Envira Gallery is also a great option here thanks to its features like client proofing, Adobe Lightroom integration, WooCommerce integration, etc. The only other option I would recommend for photographers is NextGEN Gallery…which is now owned by the same team behind Envira Gallery! So either way, you'd be staying in the Envira Gallery family.
For Advanced/Power Users…
Finally, if you're an advanced/power user, Envira Gallery provides some really useful options to go beyond static image or video galleries. For example, you can create a "gallery" of your blog posts or products. You could use this to create a gallery of WooCommerce products in a certain category to promote those products.
Or, you can also pull in content from external sources, like using it as an Instagram feed plugin to create a gallery of your Instagram posts.
The prices are quite affordable and come with a 14-day money-back guarantee, so you're not risking anything to try it out. Make sure to use our Envira Gallery discount code to save some money: