In our recent review of the Elegant Themes service, a few readers commented that the support provided was lacking. Being the investigative reporters that we are, we decided to do some research and find out if there was any substance to the claims.
In fact it is quite common for blog posts reviewing the Elegant Themes service to receive many comments from members praising the themes on offer, but also criticizing the quality of the support provided.

The main complaints seem to be slow response times on the support forums and when the responses are given, they are insufficient to solve the problem. There were also reports of upselling for customization services occurring during the communication.
While $39 for access to over 80 themes appears to offer great value for money, if the company doesn't support their service adequately, it's not so much of a good deal.   This situation can be worsened if you are building sites for clients using the themes, and are caught in the middle between unsatisfied clients and unresponsive support.
As non-members cannot view the Elegant Themes support forums, and with claims of forum posts going unanswered or not being resolved to a satisfactory level, we decided investigate the level of service offered ourselves, and report on our findings.
First Some Information About Elegant Themes Support Channels
Once you sign up to the Elegant Themes service, choosing either the Personal or Developer plans, you get one year of access to the service for $39 and $89 respectively. This gives you access to all the themes and perpetual updates, as well as access to 'premium technical support' for one year.
There is also a Lifetime Access pricing plan which gives you access to everything for ever, for a one off payment of $249.
So in order to receive support for your themes, you need to have a live or active plan.
While the support documents for each theme are substantial and cover using the theme in detail. The main areas of the support that drew criticism were the forums and ticketing system.
When it comes to the support channels available, there is only the forum. There is no telephone or email support. When you open a new ticket, you are in fact posting to a forum (that all members have access to).
I found this a little confusing at first, as most support desks I've used in the past had a private ticketing system where tickets were created, and then were only accessible by the user and the support staff.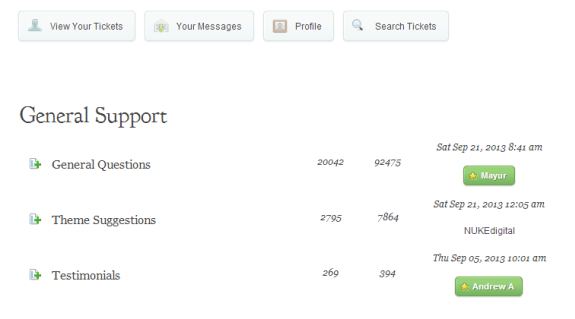 At Elegant Themes I saw the buttons to 'View Your Tickets' and to 'Search Tickets'. However I couldn't see how to create a ticket. Turns out you have to go into the forums and create a 'New Topic'. I think the terminology could be made more consistent here, but once you've understood it, it's easy enough to use.
The Elegant Themes approach of using a forum has its advantages, as other members can respond to your issue with their hopefully helpful advice. Plus users can easily search through previous tickets, which have already been resolved for answers to their problems.
Using a forum also has its negative aspects. As you are requested to post the URL of the site you are experiencing problems with, you will be making public (to members) any work in progress sites.  I'm not sure how this would work with sites being built locally on your own computer.
The forums themselves are divided into four main sub-forums:
General Support
Theme Support
Plugin Support
Theme Customization
General support covers things like general questions, themes suggestions and testimonial. The Theme Support forum contains a sub forum for each theme where theme-specific issues can be raised. The Theme Customization forum includes a showcase sub-forum and a help section where support is not guaranteed as Elegant Themes do not officially support requests for customization.
When posting a new topic in the theme specific support forums, you are required to disable all of your plugins. I found this requirement a bit draconian. Although I can understand why they require this (to identify plugin conflicts), it's not very practical for someone running a live site that is dependent on plugins for its functionality.
Is the Elegant Themes Support Any Good?
While I've not had any real call to use the Elegant Themes support in the past, for this case review I installed a few themes and set about giving them a good tweak. I dove into the settings and pushed the themes to their limits.
While doing so, a few things caught my attention. While the themes weren't broken, I did have some questions about why they were behaving as they did. Rather than persevere with trying to understand their inner workings, as I would normally, I opened a few tickets for my queries, (i.e. posted to the forum).
To test the quality of the Elegant Themes support I opened three tickets.
Ticket One
Ticket one was regarding the appearance of a specific theme. It turns out my issue was not something that could be modified through the themes settings. This made it a customization issue which Elegant Themes don't officially support.
However, one of the support team responded to my request within 7 minutes with some custom CSS code to solve my issue.
I was very impressed with this quick response, and the fact that the support staff member helped me out when he wasn't obliged to, due to the nature of my request.
Ticket Two
Ticket two was responded to in about 24 hours and the respondent pointed me in the direction of a help file which covered my problem.
Ticket Three
Ticket three was also responded to in about 24 hours. The respondent this time asked me a question about how I setup the theme.
From this small sample it appears that the Elegant Themes support team do a good job of responding to tickets in a 24 hour period.
Other User's Tickets
Browsing the support forums, it was possible to find a very small number of tickets that were not resolved to the satisfaction of the customer. But by and large, the vast majority of tickets looked to be closed with the problem being marked as solved.
With so many themes to support and so many users opening tickets, it is understandable that some tickets slip through the cracks. If you happen to be one of the unlucky ones whose issue is not resolved then it is likely you will be left with doubts about your investment. However for the vast majority who never raise a ticket, or those who have their issues resolved, I expect they will be happy with their decision to sign up with Elegant Themes
Main Problems with Support
The main problem with the Elegant Themes support seems to be its inconsistency. Some tickets are responded to quickly, while others are reportedly left to languish. Some commenters on other blogs have spoken of favoritism, and those who are too demanding being ignored by the support team whenever they open a new ticket. I found no evidence of this either way.
It would be interesting to know how the tickets are managed. When I've worked on a helpdesk in the past, tickets were often assigned to people, or to a sub team of people. This meant that everyone on the team could see which tickets they were supposed to be dealing with.
I'm not sure how this would work when using a forum. Can the forum posts be, and are they, assigned to a particular support member, and put in their queue? Or are the staff free to pick and choose the forum posts, and customers they want to respond to?
Using a ticketing system that the customer could access, would also allow them to request that their ticket be escalated or assigned to a different member of the support team, if their experiences were unsatisfactory.
I couldn't find a published Service Level Agreement (SLA) anywhere that defined the response times for support. Creating or sharing such a document could perhaps help customers feeling frustrated with support, as they would know how to long expect to wait for a response to their query. It could also help the support team deal with tickets more consistently, at least in the eyes of the customers.
While the quality of their themes is subjective: you either like their designs or you don't. Defining the level of support on offer with an SLA could help take some of the subjectivity out of the customer feedback on support: do they respond to, and resolve tickets in the agreed time or not?
Is the Elegant Themes support bad? No. Is it perfect? No.
By managing user expectations a little better, and making it clear what is and isn't on offer under the term 'Premium Support', as well as introducing a more effective or transparent way of managing tickets, they could go a long way towards dealing with the main area of dissatisfaction a vocal minority of their customers feel they experience with the service.
If you've got any specific tickets that you feel have been satisfactorily dealt with, please get in touch.