Once you've set out to launch a website, finding a decent hosting solution can be a daunting task.
Competitive monthly fees and incredible, free add-ons make it both enticing and difficult to decide which hosting provider to go with. Though just about every hosting provider claims to offer services tailored to WordPress sites, few deliver on their promise.
In this article, we'll review one of the top hosting providers out there, discuss the top features it has to offer, and test it out in a real-world scenario to evaluate its performance. Hopefully, by the time you're through with this post you'll have deeper insight into the services DreamHost provides.
Let's go over some background information before we delve into the benchmarks.
DreamHost Review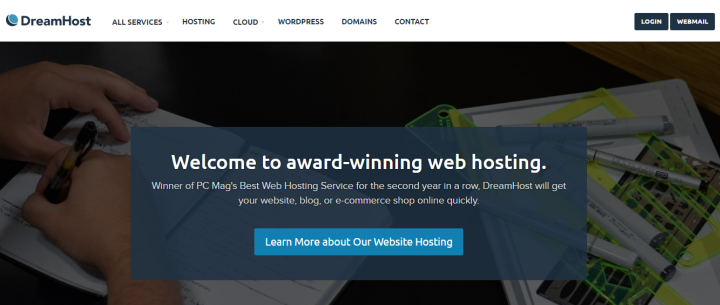 DreamHost was founded back in 1997 in a college dorm room by a group of four friends. The service is built on top of open-source technology and the company's commitment to customer success is worthy of praise. As of this writing, DreamHost offers web hosting, cloud, and domain registration services to over 1.5 million websites all across the world. The company supports over 400,000 web designers, content creators, web developers, entrepreneurs, and small businesses with the power of the Open Web.
Winner of PC Mag's Best Web Hosting Service for the third year in a row, DreamHost will get your website, blog, or e-commerce shop online quickly. – DreamHost
One of the best features DreamHost has to offer WordPress webmasters is that their staff is full of professional WordPress experts that can help out with issues that might be specific to their content management system (CMS). In fact, the company is currently powering 750,000 WordPress installations!
DreamHost's commitment to embracing open-source technology and providing unparalleled service to all of their customers makes the company stand out in the crowd. A solid background raises the bar even further and with DreamHost we expect nothing but the best in terms of reliability, speed, performance, customer service, and ease of use.
DreamHost Review: It's All About the Speed
DreamHost's WordPress plans are tailored to deliver optimal performance with the DreamPress 2 feature that offers multiple layers of caching, isolated server resources, and a highly tuned version of PHP. In this section, we'll put this feature to the test and see how well it stacks up.
Our Testing Strategy
The only question left is how DreamHost's WordPress hosting actually performs in a real-world scenario? As it so happens, it performs remarkably. For our speed tests, we used a test site with the default Twenty Sixteen theme installed and no plugins. The test site also didn't have any caching solutions installed or activated on it that would otherwise stop us from getting real numbers.
With that out of the way, let's check out the results!
GTMetrix Results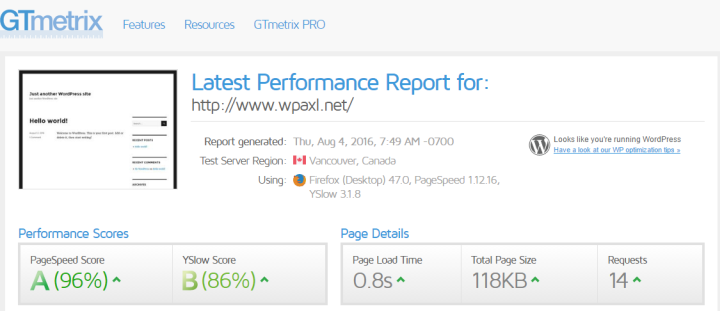 The GTMetrix test server, located in Vancouver, Canada, reported the 118 KB page loaded in an impressive 0.8 seconds!
Here's a quick peek at the history report generated by GT Metrix which shows the page load times varying between 0.8 seconds and 1.2 seconds: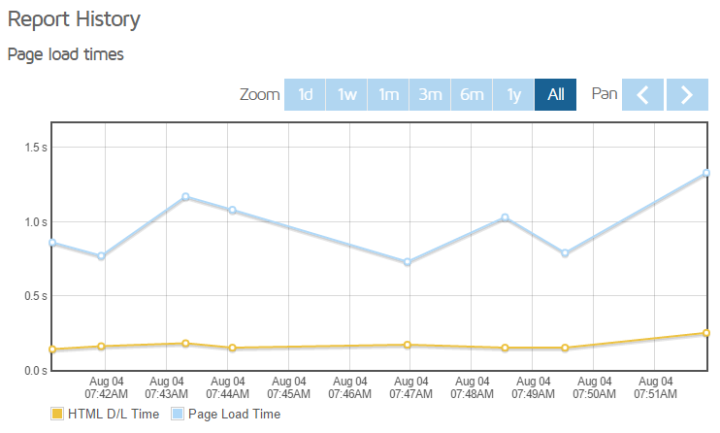 Pingdom Results

According to the Pingdom test results, the 143 KB page size loaded in a mere 246 ms. The test server was located in New York City. Our website loaded faster than 99% of the tested sites!
DreamHost's Customer Service Is Definitely Something to Rave About
DreamHost is backed by a team of professionals and WordPress experts that provide dedicated support to all of their customers. The company's in-house Sales and Support team is available around the clock to help you out whenever you need it. Existing customers simply login to their site's control panel and send in a ticket with their query.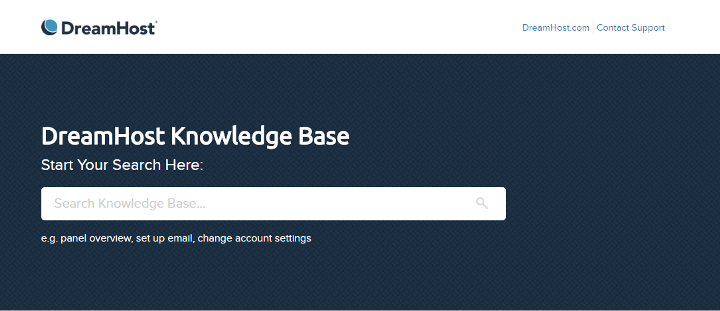 In addition to their ticketing system, DreamHost also has a full-on Knowledge Base that webmasters can use to troubleshoot any issues they might encounter. And if that wasn't enough, a dedicated Discussion Forum is also available where you can access helpful solutions posted by community members.
If the service ever encounters issues or upcoming maintenance windows then they promptly post it in their dedicated System Status site which not only increases transparency with the service but lets webmasters know ahead of time when they can expect scheduled maintenance and get access to special announcements.
While there is definitely a wealth of information available on their website, DreamHost doesn't offer live chat functionality which negatively affects its overall grade.
DreamHost's WordPress-Specific Features
DreamHost currently offers both shared and managed hosting for WordPress websites. Depending upon your site's hosting needs, you can go for any one of these fully rest assured that they won't be heavy on your wallet.
One-Click WordPress Install
To start things off, DreamHost goes the extra mile by installing WordPress for you once you sign up with either one of their plans. Those of you who aren't as tech savvy as other can make the most of this service by having them take care of everything from installation to hosting – even on a shared hosting plan.
DreamHost's award-winning shared hosting plan is a great option for webmasters who are just starting out and would like to test out the hosting waters. This cost-effective solution offers one-click WordPress install on multiple domains and a free domain for the first year.
On the managed hosting plan with DreamPress, DreamHost pre-installs and pre-configures everything for you ahead of time so you can get started with running your business right away. Layered caching and isolated server resources make this service all the more better. The service also offers solid state drives (SSDs) which are guaranteed to load your site up to 200% faster. Now that's true managed hosting!
Complete Set Of Features
Both shared hosting and managed hosting come with this basic set of features:
Plenty of email.
Easy to navigate the control panel.
Fully automatic updates.
Excellent bandwidth.
30 GB SSD.
PHP 5.6 with OPcache.
Unlimited domains, sub-domains, and parked domains.
DreamPress 2 Features (Managed Hosting)
When you're ready to take things to the next level then DreamPress 2 offers:
Dual VPS servers.
Rock-solid security.
Auto-scaling RAM.
Multi-layer caching.
Optional PHP 7 or HHVM.
WP-CLI.
Ready for e-commerce.
Pricing Plans
Shared WordPress hosting comes with a price tag of $10.95 per month ($9.95 if billed annually; $7.95 if billed for a term of 3 years) and offers an affordable plan for webmasters who are kicking things off or for sites that receive low incoming traffic.
Managed WordPress hosting with DreamPress is available for $19.95 per month ($16.95 if billed annually) and comes with all of the basic functionality in addition to the advanced DreamPress 2 features.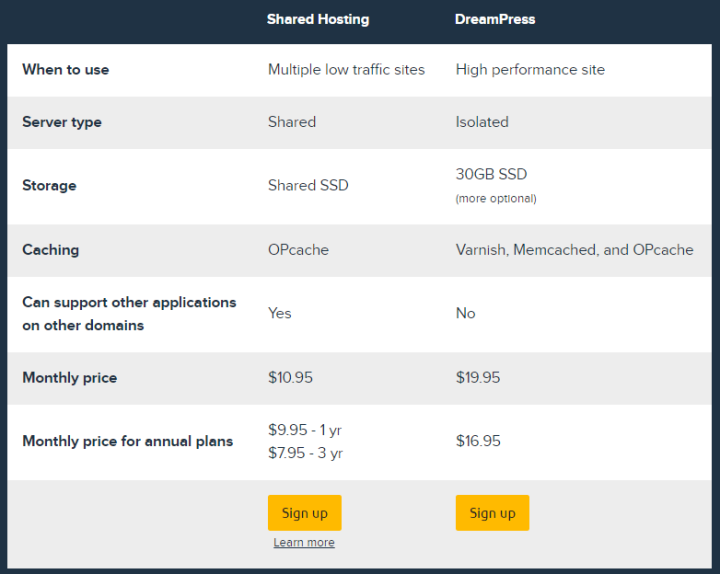 If you're not satisfied with the service, you can take them up on their 97-day money back guarantee!
Is DreamHost Right for You?
At the end of the day, selecting a hosting provider depends on a few different factors such as the features on offer, speed, security, customer support, and your budget.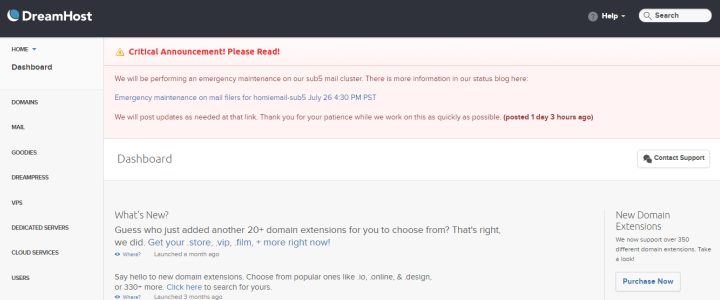 Speed. As we saw from the page speed test results, DreamHost's hosting plan performs incredibly well with impressive page load times. However, the test results also showed a significant amount of variance in page speed ranging from 0.8 seconds to 1.2 seconds.
Security. When it comes to security, DreamHost offers WordPress-specific firewall on their managed hosting plan that is tuned to block out any vulnerabilities and offers brute-force attack mitigation. However, the shared hosting solution doesn't offer this feature.
Customer Support. With a ticketing based customer support module, comprehensive knowledge base, and a dedicated forum, DreamHost goes all out when it comes to delivering premium quality support to all of their customers. Although a live chat facility isn't available , the support staff is available around the clock to help you with your ticketed queries. DreamHost does a live chat support.
Budget. As far as shared hosting and managed hosting go, DreamHost offers a cost effective hosting package that gives webmasters all the right features in a bundle that won't break the bank.
As a bonus, DreamHost offers hosting plans that are fine-tuned for your WordPress site. WordPress does, in fact, have its own set of requirements intact that are recommended for hosting solutions to adhere with and DreamHost does just that.
Wrapping It Up
On the whole, DreamHost is a great hosting solution for webmasters who are looking to test out the waters with shared hosting or pawn off their site's maintenance to a managed hosting provider.
Not only do you get great value for money but the service also guarantees stability, excellent bandwidth, and ease of use. The service does fall short on two points – it doesn't offer live chat/telephonic customer support and the security features aren't on par with what other leading hosting providers are offering.
Have you tried out any of DreamHost's hosting plans on your WordPress site? Were you satisfied with your experience with DreamHost? We'd love to hear from you so let us know by commenting below!