If you don't have a relationship with your customers, you can't expect to make an optimal number of sales. Customer Lifetime Value (CLV) is so important that you'll want to consider as many ways to develop the relationship as you can. Live chat is a direct, conversational, equal partnership that can bolster happiness, brand loyalty, and CLV in one fell swoop. Our Tidio coupon can help, as the solution is top-notch.
For WordPress users, you'll want to integrate live chat using a plugin, but only one that can meet your requirements. Tidio is a near-perfect solution for many businesses that focus on customers. Even so, its offering could be out of the range of many budgets. This is a shame, because it provides almost everything you need in a WordPress live chat plugin.
This is why WPKube and Tidio can offer you an exclusive deal: money off of a subscription using our Tidio coupon. We'll have full details of this later on in the article. For now, let's look at the feature set of Tidio.
How Tidio Can Help You Have a Better Relationship With Your Customers
You might come across Tidio elsewhere on the WPKube blog. It gets some column inches in our round up of WordPress live chat plugins, and in an older piece on how to run an eCommerce store. As such, Tidio has a long-standing pedigree for live chat, which means you'll want to investigate it further.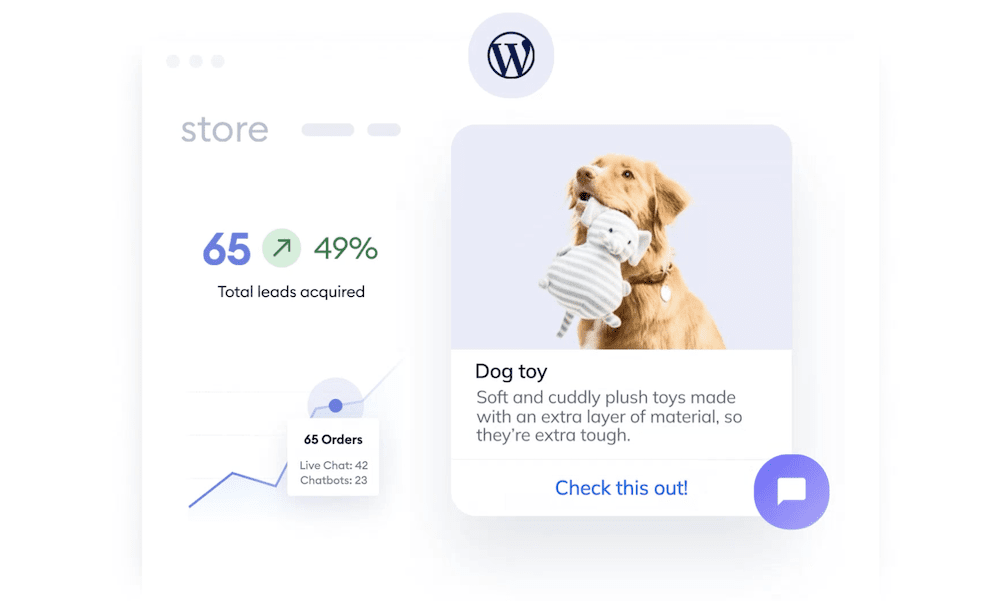 In fact, in our round up piece, we call Tidio "…the best all-around live chat plugin for WordPress," and it packs a punch across the board. Here's what it can do in a nutshell:
It offers multilingual support for up to 200 languages out of the box.
You have tools to automate sales from the live chat window.
You're able to set up multiple chat windows across your site, and deploy them where you need.
There are intricate customization options available, that will help you match the chat window to your site's branding.
You'll find that the integration with email marketing is stellar, and lets you build your e-commerce experience around Tidio, rather than attempt to shoehorn it into your setup.
There is much more we can mention about Tidio, such as the abandoned cart saver, and its personalized discounting functionality. However, we encourage you to take a look for yourself, and install the plugin on your site for a test drive.
Tidio's Pricing
Before we begin to talk about the premium tiers, let's first mention that there is a free version of Tidio to use. This gives you the core functionality of the service, at no cost for however long you want to use it. However, there are a few limitations to note:
You get two operator seats, and can't expand on this.
There is a severe restriction on the number of chatbots you can use per month. Again, you can't expand on this number.
You're not able to see live lists of visitors on your site, not viewed pages.
Operators can't make notes on customers, and send quick responses to them.
There are no advanced Shopify integrations on the free plan.
Even so, there is enough to at least trial the live chat service at your convenience. When you want to upgrade, we'd recommend the Team plan or higher. While the Starter tier is okay, it doesn't give you much extra compared to the approximate $35 per month you'll spend.
The main differences between each tier is the ability to access more operators, and add extra ones. You'll also find the chatbot monthly limit rises between tiers. Furthermore, you'll be able to pay around $17 per month to remove the branding. Here are the approximate prices per month:
Starter: $35 per month.
Team: $70 per month.
Scale: $360 per month.
Note that all of these rely on you taking out (and paying for) an annual subscription. However, WPKube can offer a sweet discount on any of these plans, which makes Tidio's Team tier even greater value.
Save Money With a Tidio Coupon Courtesy of WPKube!
Implementing live chat on your WordPress website can give your site and its customer base a huge boost. However, you'll want to find the right solution for the job. Tidio is one of many live chat plugins for WordPress, but it leads the pack in many ways. As a full-featured solution, it can fit the job almost regardless of the application. What's more, you don't have to pay full price for it.
Our Tidio coupon can help net you access to the front-running live chat plugin for a knock-down price. Simply enter "wpkube" at the checkout, and you'll have money off of the cost of the subscription!