Let's be real. Managing your website can be a bore. There are lots of tedious tasks, but also some crucial ones.
This means site maintenance is a necessary evil, but one that still might not offer enough motivation for you to carry out regular tweaks to your site. Enter dedicated companies that will take this workload off of your hands, so you can run a ship shape website without the tedium. Our FalconStack coupon gives you access to one of the best services on the market.
We're going to show you how to use your FalconStack coupon shortly. First, let's tell you what the site maintenance service can offer you.
Introducing FalconStack
It would be nice to have a 'right-hand' person handle all of the tasks you don't want to do. This is especially true for the typical WordPress website, as there are a lot of tedious tasks that you'll have to tend to. However, FalconStack is here to help. It will take site maintenance off of your hands, to leave you looking after the fun stuff (such as selling products, blogging, or making money!)
Here's what FalconStack gives you:
It will look after general maintenance tasks, such as managed updates, backups, and more.
The service provides a performance audit, which will implement caching, GZIP compression, image compression, code minification, and much more.
You can host your site on FalconStack's servers, which includes site migration too.
There's a full 'round-the-clock' security monitoring. This includes implementing a Secure Sockets Layer (SSL) certificate on your site, bot protection, and various resource monitoring checks.
If your site goes down, FalconStack will send in the emergency team to fix it. You get an hour as part of your subscription, but will have to pay if they work overtime.
Speaking of payment, let's look at how FalconStack will impact your budget in the next section.
How Much FalconStack Costs
The main plan is the Single tier. This includes all of the basics we outline here, and will cost $39 per month. However, there is also the Multiple plan. This costs $29 per month, per site and includes more in the box:
You'll see more backups for each site.
If the team has to work overtime for you, you'll pay a reduced rate per hour.
The team can undertake custom development work at a standard rate per hour.
You have a unified dashboard for all of your sites.
You'll also receive priority support, and faster response and resolution times.
It's good to know that there's also a Custom plan too, which gives you the opportunity to tailor your experience to your needs. However, regardless of your choice of tier, you'll always appreciate a discount. Next, we can reveal our exclusive FalconStack coupon code.
How WPKube Can Help You Save On a FalconStack Purchase
WPKube works with a lot of WordPress businesses to provide great discounts on top-notch products. Here's another good example: You can net 10 percent off of any FalconStack subscription using our unique coupon code. Here's how to use it.
First, head to the FalconStack site using our dedicated link, and click on the Get Started button: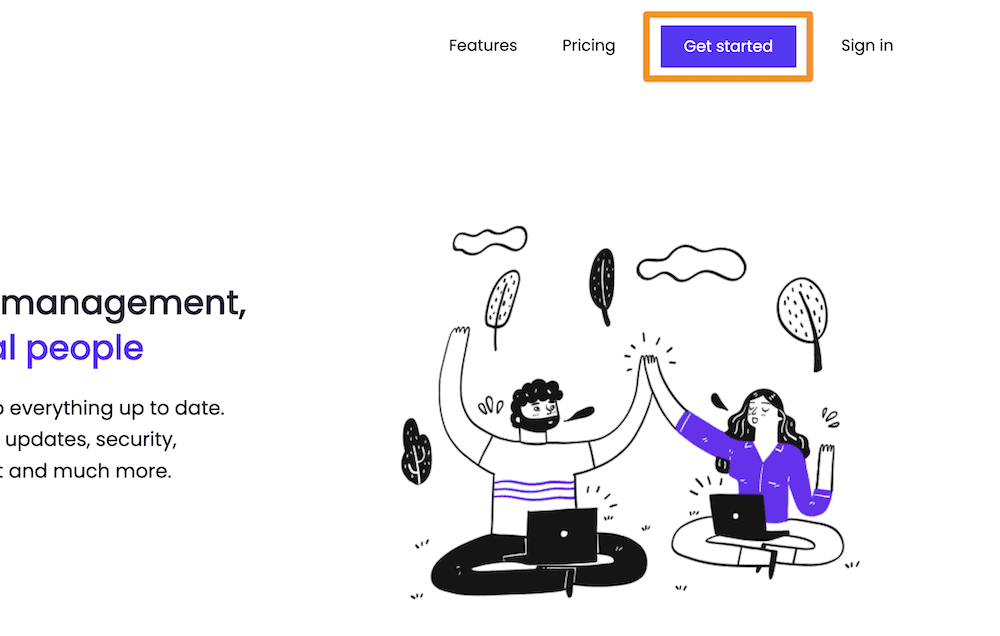 From here, register a new account using the form:
This will send a link to your email inbox, which you'll need to click to set your password: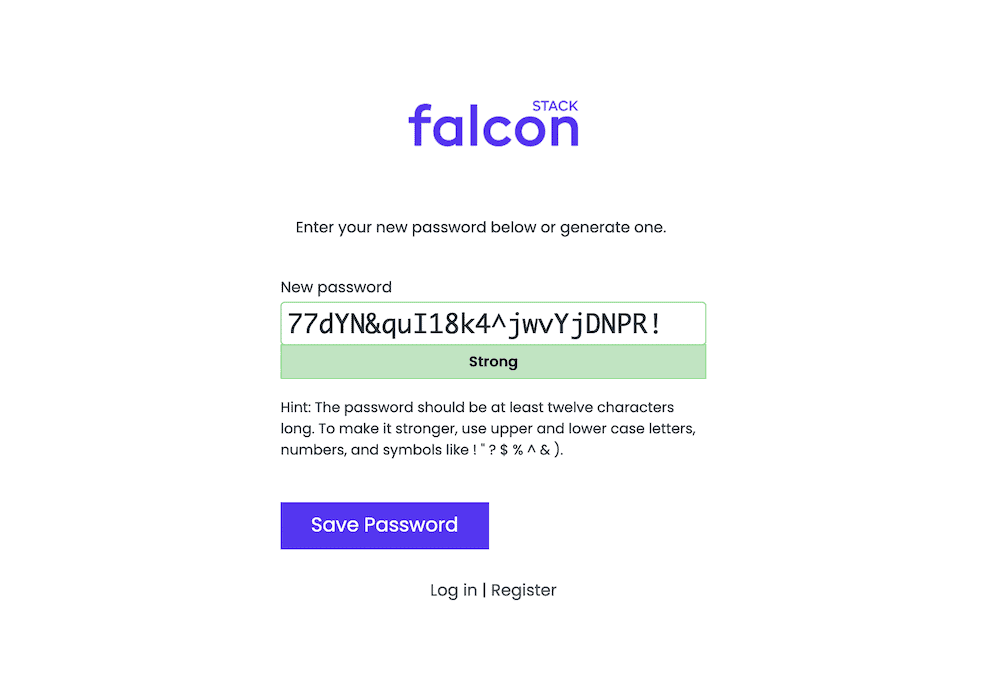 Next, log into FalconStack and you'll see your dashboard: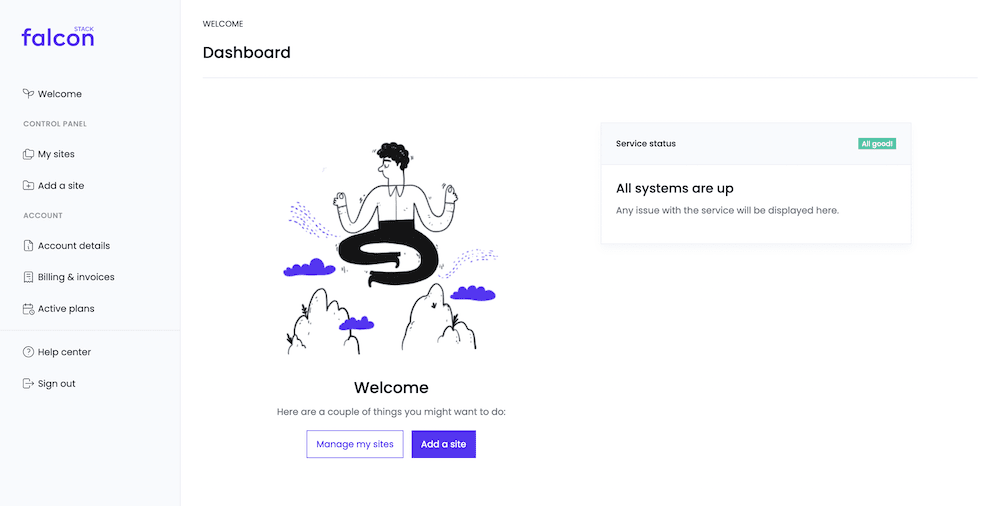 In order to choose the a plan, you'll first need to click the Add a Site button on the Welcome screen. This will bring you to the start of a wizard screen: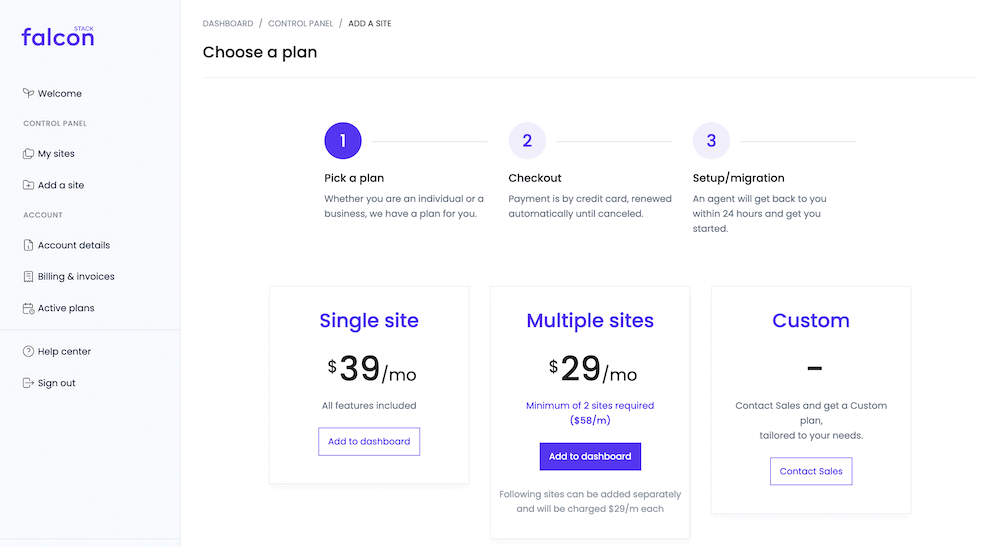 At this point, click the Add to Dashboard button for your chosen plan, and take a look at the payment summary screen. You'll want to look over the current price, then enter wpkubefalcon10 into the coupon code field: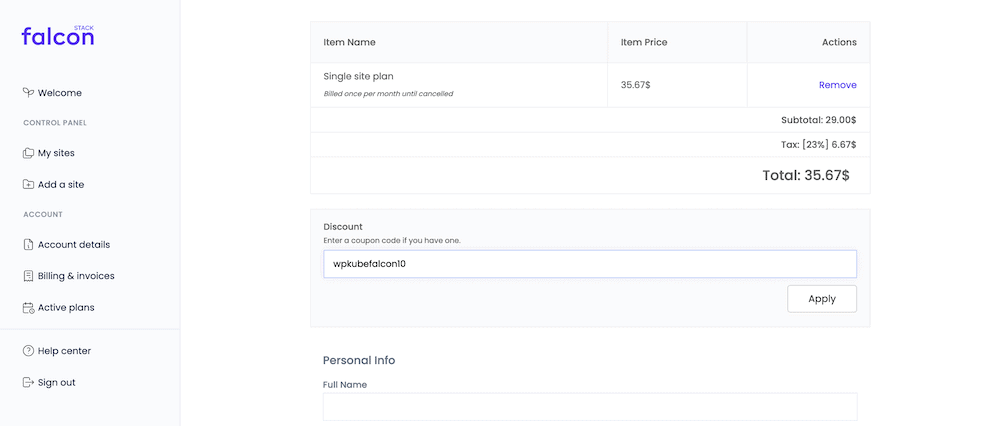 The final step to apply your FalconStack coupon code is to click the Apply button. From here, you can enter in all of your other details and complete the payment process.
Frequently Asked Questions (FAQ)
While using your FalconStack coupon code might not be a problem, you could have some more questions about what the service offers. Here are the answers on frequent questions about FalconStack and using your coupon.
Can I Get a Bulk Discount On My Purchase With This FalconStack Coupon?
Yes, you can! There is a dedicated tier for more than a single site, but if you want to bring lots of sites to the service, we recommend you contact FalconStack's customer service team to see what kind of discount you'd get.
Is FalconStack a Service I Can Use With My Clients?
This is one of the core features of FalconStack. You're welcome to sign up on your client's behalf, and FalconStack will take care of all associated maintenance for them (and you!)
Can FalconStack Migrate My Site For Me?
Yes, and this is another core feature of FalconStack. They will migrate your site for free if you use its dedicated hosting.
Does This FalconStack Coupon Ever Expire?
As with all WPKube coupons, this one is not slated to expire at any point. This means you can come back any time and apply your FalconStack coupon to get a discount.
Save 10 Percent Using WPKube's FalconStack Coupon Code!
Running a website is full of tasks that can take you away from your day-to-day business. However, it's also necessary. As such, you'll want to make sure you have this covered. FalconStack is one of the best services available to cover all aspects of site maintenance. You can hand off your site tasks, and get on with managing your customers.
Even better, you can use wpkubefalcon10 to get a 10 percent discount on any FalconStack plan. Simply apply the code at the checkout, and save!