Maintaining your WordPress website is one of the most important recurring tasks you can carry out. However, it's not a task that many site owners have as a priority. There are lots of reasons for this, such as time-constraints and technical knowledge. WP Maintainer is a company that can take these heavy tasks and handle them for you. With our WP Maintainer coupon, you can also grab yourself a big discount!
You'll find your WP Maintainer coupon at the end of post, but for now, let's explain what's on offer.
What WP Maintainer Offers
WP Maintainer does something simple at its core – it helps you to stay away from repetitive and mundane tasks that are nonetheless essential. It achieves this through a host of complex and integrated tasks. It's an all-in-one maintenance package that lets you access the following:
You're able to update your themes, plugins, and WordPress core code in a snap.
There's a flexible backup scheduler that lets you decide when and where you store those backups.
WP Maintainer includes built-in malware and security maintenance. You also get clean-up if your have a breach on your site.
WP Maintainer works with Sucuri for any security and malware provisions, which means you get high quality monitoring and tools. However, this isn't all you get in the box. For example, if you want to change hosting, WP Maintainer will do so for free when you set up the tool.
You also get lots of support, such as a one-hour compatibility slot, and access to the development team once per month. This lets you pass off tasks you'd like an expert to look at, such as installing plugins, styling elements of your site, or something else entirely.
Pricing
Unlike other competing services, WP Maintainer has the most straightforward pricing available. To access the service, you'll pay $99 per month – that's it. You'll get the full experience of WP Maintainer, without any hidden charges or add-ons.
However, with WPKube, you have more value at hand. We have a 20 percent coupon to offer, and next, we'll show you how to use it!
How to Use Your WP Maintainer Coupon
Your first step involves signing up for a WP Maintainer account. You'll want to head to the WP Maintainer site and fill out both the account information fields, and the section for payment details: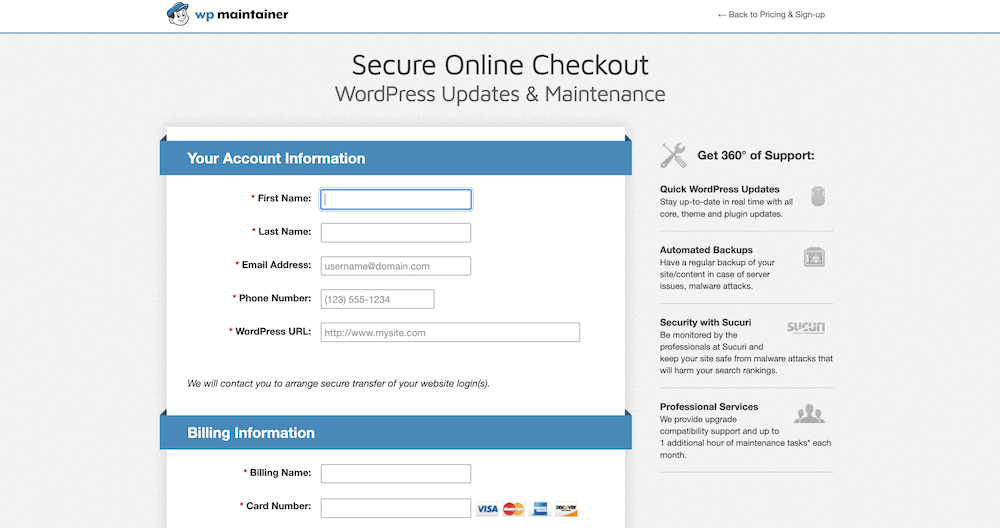 Once you do this, take a look at the Promo Code section within the Billing Information. Here, enter "wpkube20":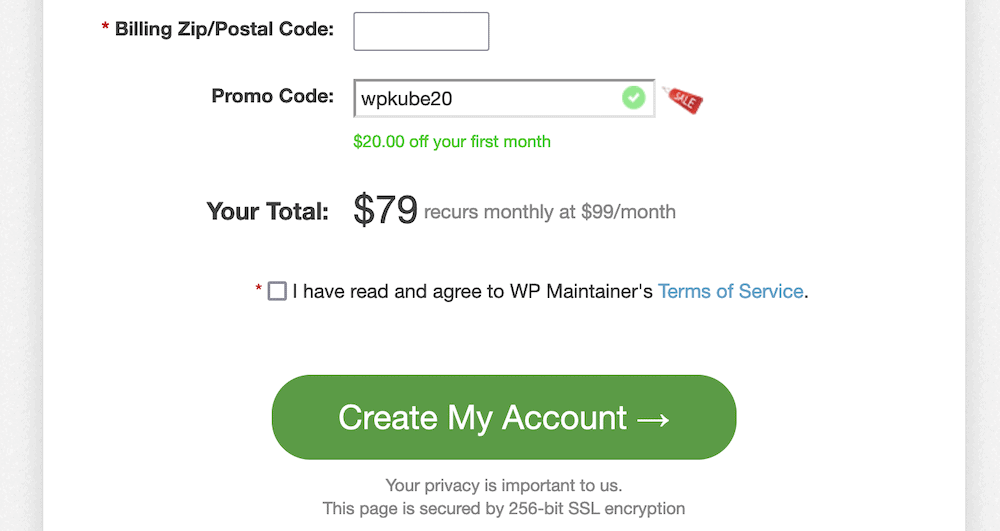 Once you tab out of the field, you'll see the WP Maintainer coupon apply, and you can complete the transaction!
Net a 20 Percent Discount Using Your WP Maintainer Coupon!
We all know how vital it is to carry out site maintenance. However, we also know how time-consuming it can be, as well as mundane and boring at times. For this, you'll need a helping hand.
WP Maintainer is an all-in-one solution to help you track malware, make backups, and carry out updates without a hitch. Also, you can call on the development team to help out from time to time. This is going to be fantastic for tasks that stretch your abilities – adding code to your site, for example.
While the pricing is a steal already, we can do better than that! WPKube has a 20 percent discount on your first month with WP Maintainer. Once you enter the code "wpkube20" at checkout, the discount will apply!