Your site's Search Engine Optimization (SEO) should be one of your key cornerstones.
While there are lots of facets to consider, the focus keywords you use will be a part of the foundations upon which everything else sits. Because of this, you'll need the right tool to help you find the right keywords for your content. With our KWFinder coupon, you'll have the right tool in place, at a supreme discount.
You'll find out exactly how to net a 35 percent discount on KWFinder soon. First, let's tell you about what this app does, and how much it would normally cost.
Introducing KWFinder
KWFinder is one of many products from developer Mangools. The whole suite of apps gives you a bunch of fantastic ways to analyze backlinks, Search Engine Results Page (SERP) rankings, and much more. However, it's the keyword finder that offers the greatest value in our opinion.
It's a similar proposition to other keyword search tools, such as Semrush or Ahrefs. You'll use the interface to search for a keyword, and even choose from location and language filters: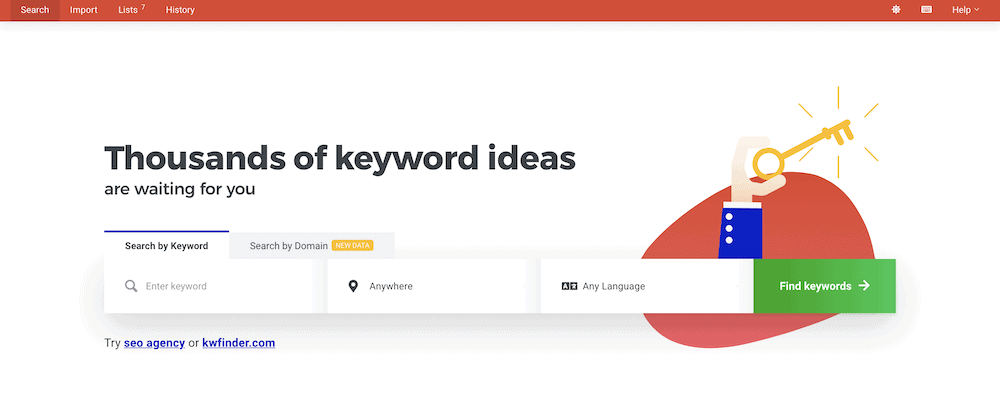 From there, you'll come to a results screen where you'll see not only the exact keyword match, but other relevant matches too: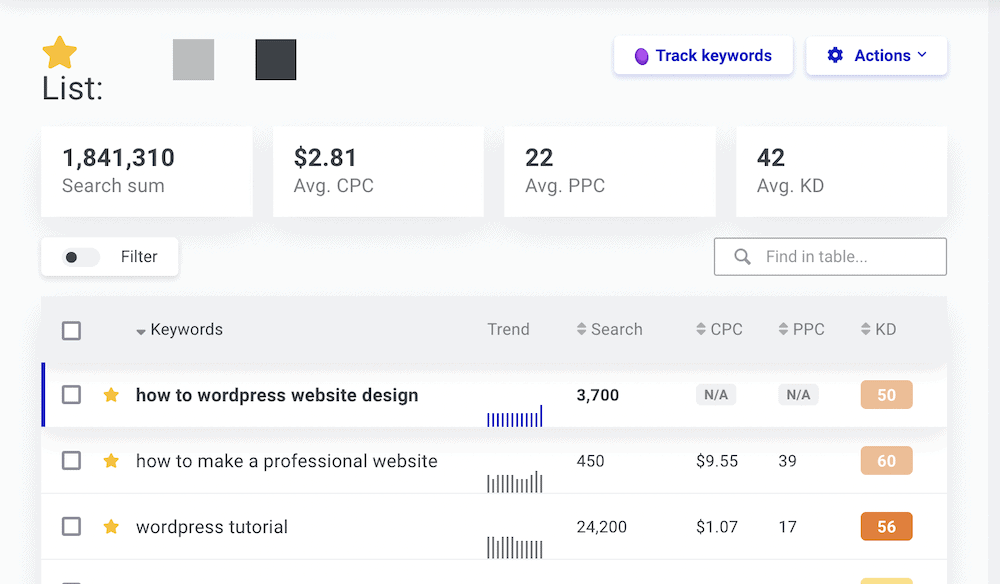 From there, you can look at each individual keyword, view all of the sites that reference it (along with ratings,) and also view the keyword difficulty and search volumes across a chosen period: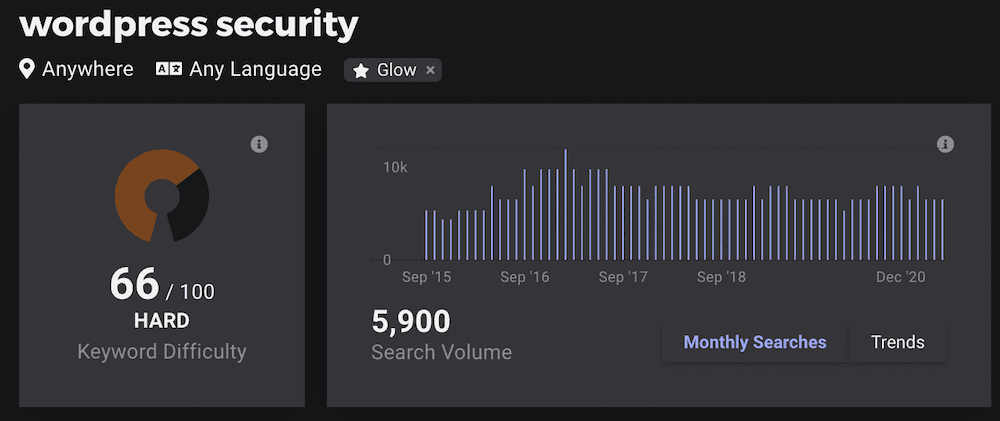 For users with ad strategies, you can also view the Cost Per Click (CPC) and Pay Per Click (PPC) rates. On the whole, this is a fantastic app that can more than match the other contenders in the field. Even better, the cost of KWFinder is competitive too.
KWFinder's Pricing
There are three KWFinder plans to choose from, but with each one almost customized to a target user base. You'll find each tier offers more than the last:
Basic ($29.90 per month.) You'll get 100 keyword lookups per 24 hours, 200 keyword suggestions per search, 100 SERP lookups in 24 hours, and 20 full site lookups across 24 hours. However, you don't get any extra 'seats' and also don't have the ability to add them either.
Premium ($44.90 per month.) On this plan, you get 500 keyword and SERP lookups each over 24 hours. You also get 70 site lookups here. This time, you have an "unlimited" number of keyword suggestions per search, which is the same for competitor keyword lookups too. What's more, you have three seats to use, and can add extra ones for $12 per month.
Agency ($89.90 per month.) The difference between this and the Premium plan lies in the number of seats you have (five,) a greater number of full site lookups (150,) and a higher number of both SERP and keyword lookups (1,200.)
Most users won't need the Agency plan, and we think the Basic tier gives you a lot for your money. It would suit a small to medium blog with room to spare. However, the Premium plan is excellent value too. The Agency plan would best suit those types of businesses.
How to Get a Discount With KWFinder and WPKube
Most of our coupon codes require you to head to the website in question, run through the payment process, then add a discount code into a field to net a bargain. However, our discount with KWFinder is different.
Instead, you'll only need to head to the website using our dedicated link. From here, select the Pricing link to head to a section that outlines each plan: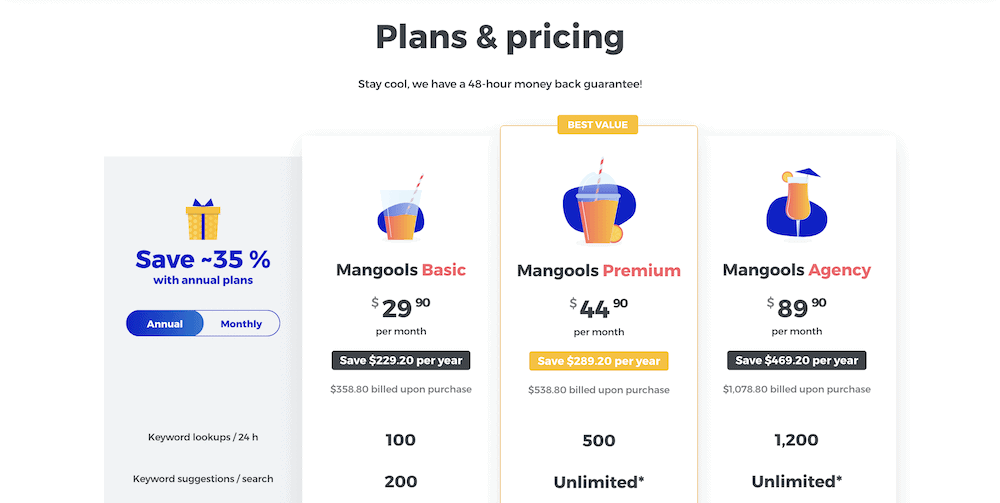 From there, choose your tier and create your account credentials: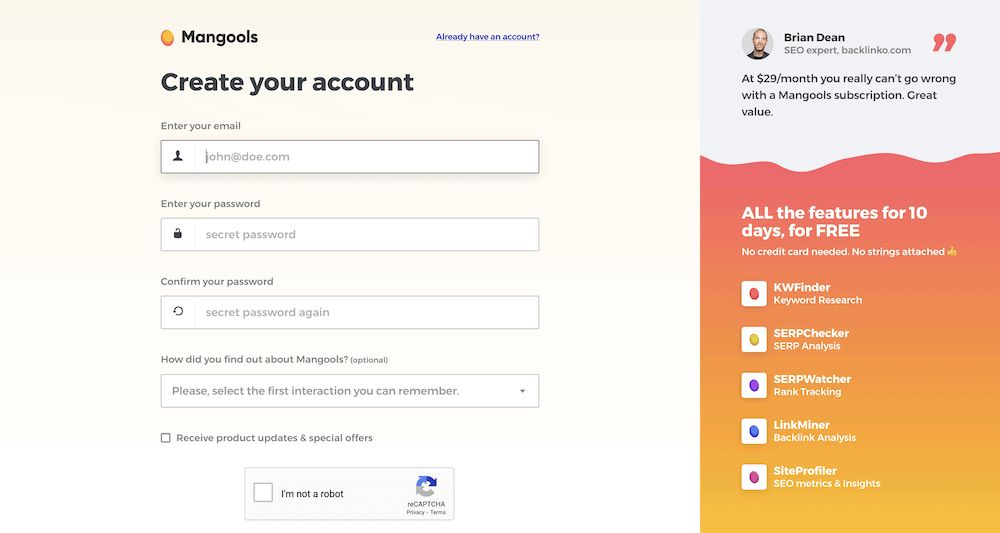 Once you confirm, you'll come to the payment screen. Here, fill in your details, but note the total price. You'll spot that you'll get a discount of up to 35 percent without the need to lift a finger!
Frequently Asked Questions (FAQ)
Without the need for a KWFinder coupon code, you'll have plenty of reasons to choose the app as your primary keyword research tool. However, this doesn't mean you won't have questions.
Here are some of the questions we hear the most, and our answers.
Why Do I Not Need a KWFinder Coupon Code to Get My Discount?
Simply because Mangools doesn't require one! Our unique offering gives you up to 35 percent off, without the need to enter in discount codes. As such, you have a clearer path to grab yourself one of the best keyword research tools on the market, for a cheap price.
Does This Offer Ever Expire?
While the offer doesn't expire, you may see different discounts in place throughout its lifetime. As such, we can't always guarantee the top rate of 35 percent, but you'll save money regardless.
Is There a Money-Back Guarantee If KWFinder Isn't For Me?
There is a money-back guarantee of 48 hours. However, we'd suggest using the free trial to test KWFinder out for a lengthier period.
Is There a Free Trial I Can Use Before Payment Is Due?
There is! You get a ten-day free trial that includes five keyword lookups per 24 hours, 25 related keyword lookups, and ten competitor keywords per lookup.
Does My Purchase of KWFinder Also Give Me Access to Mangool's Other Apps?
Even though you'll come for KWFinder, you'll also get the other tools within the suite too. This includes SERPChecker, SERPWatcher, LinkMiner, and SiteProfiler. You'll also find that there is deep integration between the apps. In lots of cases, you won't realize you're using multiple apps given the stellar interface.
Nab a Whopping 35 Percent Off Of KWFinder – No Coupon Required!
Keyword research should be something you tackle on a regular basis in order to keep content relevant to your readership, and posts at the top of search rankings. For this, you'll need a solid research tool. KWFinder is one the best – on a par with Ahrefs and Semrush – and comes with an entire suite of tools to help you manage your SEO strategy.
Even better, you won't need a KWFinder coupon code for this one. Simply head to the site using our dedicated link below and save up to 35 percent on any annual plan!