ClassifiedEngine is a premium WordPress theme from EngineThemes. The theme is well designed and comes with all the essential features that you will need to create a classified listings site with WordPress.
Over the last few years, they have released some awesome products including Job Engine, Forum Engine, HotelEngine, and BookingEngine, and so far each of their themes has been created for building a specific type of WordPress website and this theme is no different.
Today, I will be doing a review of ClassifiedEngine theme along with all the add-ons it comes with.
ClassifiedEngine theme is priced at $89 and comes with futuristic designed to monetize ads. The theme also includes user experience and powerful built-in design tools for creating a content-focused site.
ClassifiedEngine Features
ClassifiedEngine theme comes with a variety of features such as Easy Ad Searches, flexible payments, slider in ads, seller dashboard, support for many payment gateways, simple interface, front-end controls, and much more.
The theme comes with a number of premium extensions which can be purchased via Extensions page. Each extension costs around $19 and adds a new feature to the theme. For Example – CE PayPal Express, it lets you accept payments directly on the website without any hassle. Slider Revolution, another great extension which lets you add a slider to the site.
Download the ClassifiedEngine Theme  »
Installation and Setup
Once you have made the purchase, you will be redirected to the downloads page, where you can download the ClassifiedEnginet them along with addons. Download the zip file and install the theme via your WordPress admin area (Appearance > Themes > Add New > Upload).
Once you click the activate button, a status message will appear offering you the opportunity to configure your site through a setup wizard. The Setup Wizard will guide you through the setup process, ensuring you can get started as quickly as possible.
Overview
Upon starting the setup wizard, you will be taken to the theme settings panel, where you will get an option to install the sample data. This is a great feature as it will help you see how it handles the different settings. The Sample data can easily be removed at later date, so you're not left with a lot of dummy content when your site goes live.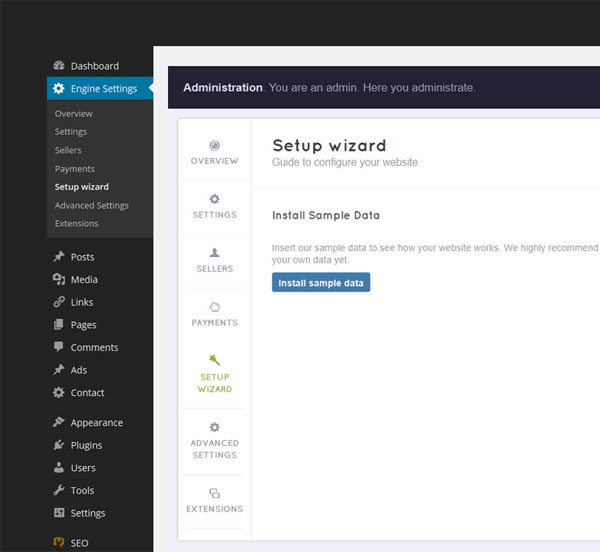 To start configuring theme, the best place to start with is Overview dashboard. Here you can get quick information on how much revenue your site has earned and how many ads have been posted. The Dashboard also shows a short list of latest sellers, as well as the latest ad spots that are sold.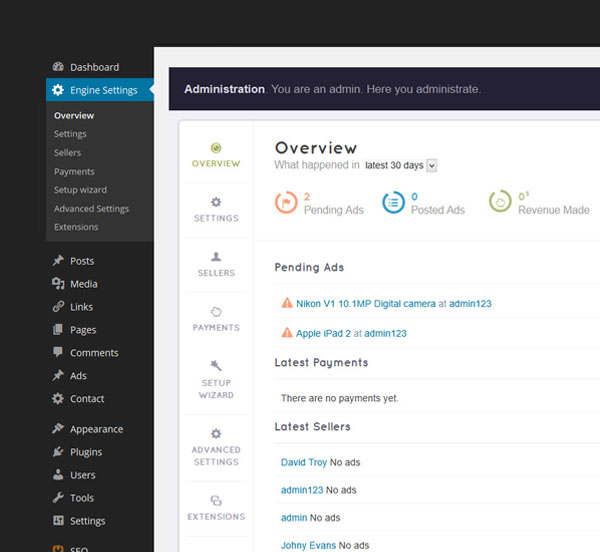 Settings Page
General: The settings are will give you access to all the options that will affect how your classifieds site looks and feels. From the ClassifiedEngine control panel you can add the site title and description, along with copyright information and Google Analytics code. You can also upload your logo from this page, along with a small thumbnail which will be used as a launcher icon for iPhone and Android smartphones and also as the website favicon.
Branding: The theme adds its a new category section for categorizing the adverts by type of listening and their location, via taxonomies. One of the great things about the categories in the theme, is that it can be created in a hierarchical structure and goes many levels deep.
Ads: It gives ability to site owners to set the ads to either be auto-approved or put in the moderation queue. You can easily enable or disable the pending ads feature, depending on what type of site you're running. My advice – enable the pending ads option as it will help you from spammy or non-relevant content being posted on your website.

Payment: Payment Settings page, lets you choose payment gateways to use for accepting payments from publishers. The theme comes with three built-in payment gateways – PayPal, 2checkout, and Cash, which makes the process of accepting payments for ads, super easy.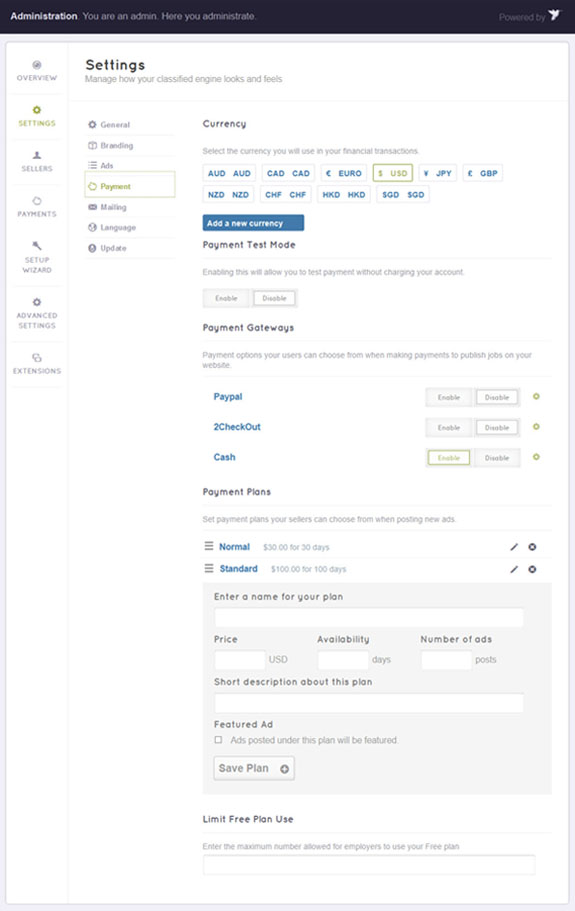 Apart from that, you can choose the currency you want to use for the site. The theme supports all major currencies and gives you an option to add your own currency, in case your country's currency is not listed on the payments page. You can also active that payment test mode, which allows you to test payment gateways without charging your account.
Mailing: Authentication is another great feature that comes included in the ClassifiedEngine Site Builder. The theme comes with three authentication templates and six ad-related templates.
One big advantage – these templates can easily be modified directly within the WordPress dashboard to match your website.
Language: From language section, you can add new language to your site. If you are planning to start a native classified site, this feature can be pretty useful.
Update: This is where you will add your license key, so you can get regular updates for the classified theme and extensions.
Sellers
The theme requires new users to register for an account before they can post ads on the site. The sellers are registered as regular WordPress users and you can manage their profiles via your WordPress admin area (Dashboard > Users).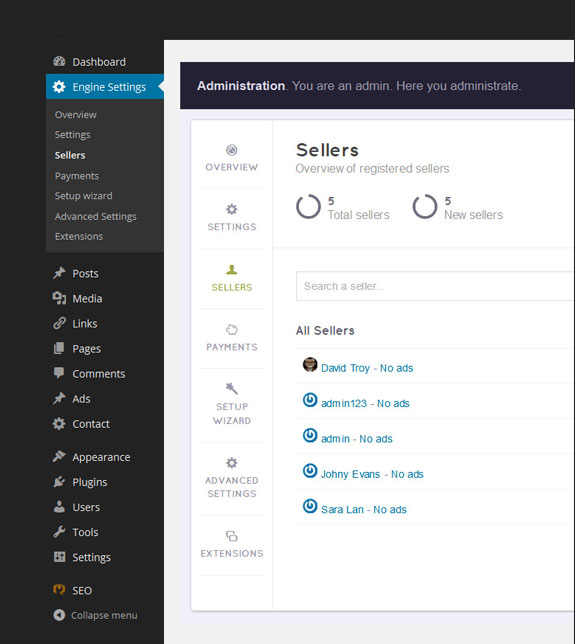 From the sellers page, you can see all the latest users who have registered on your site within last few days. You can also search for users by their username or real name directly from the Sellers page.
Payments
The theme keeps a record of all the transactions made by the sellers and it also gives you information on how much revenue you have made since you started the site. You can also filter the payments by which currency and payment gateway they used to make the make the payment.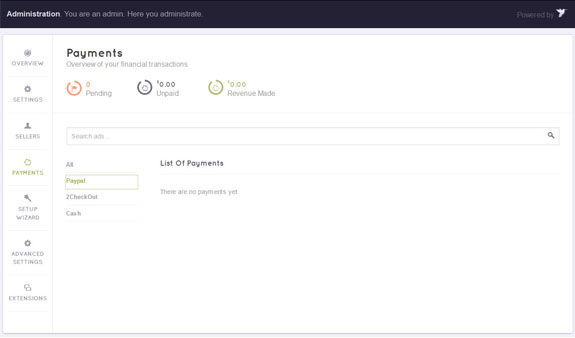 Advanced Settings
The Advanced settings page lets you change the ad slug, ad archives slug, category slug, and ad location slug. Remember, these slugs are added via custom post types and taxonomies, so it may not be a good idea to change it. From here you can set infinite scroll, minify script and css to reduce the loading time, and set the number of ad images a seller can upload for an ad.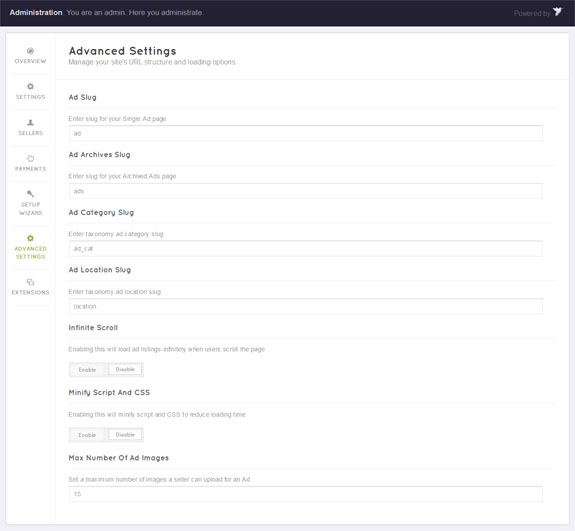 Extensions
These Extensions can add extra functionality to your site and each one costs around $19. From here you can choose the extensions that you would like to use on the site. There are currently eight extensions ranging from PayPal Express for accepting payments directly on the site to eBay for monetizing your classified ads by joining eBay partner network.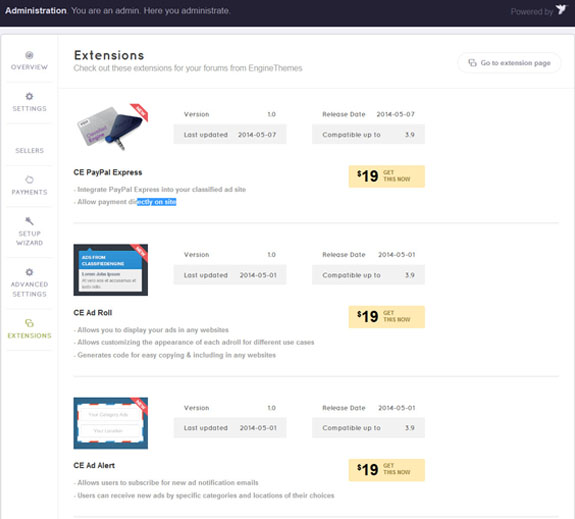 Once you are finished with configuring the site, head over to setup wizard page to delete the sample data that you installed earlier.
Post an Ad
The ads used for the classified theme are created via custom post types. These means, managing ads is very similar to how you work with regular WordPress posts.
For users looking to post an ad on the site via front-end, the process is very straight forward and takes less then five minutes.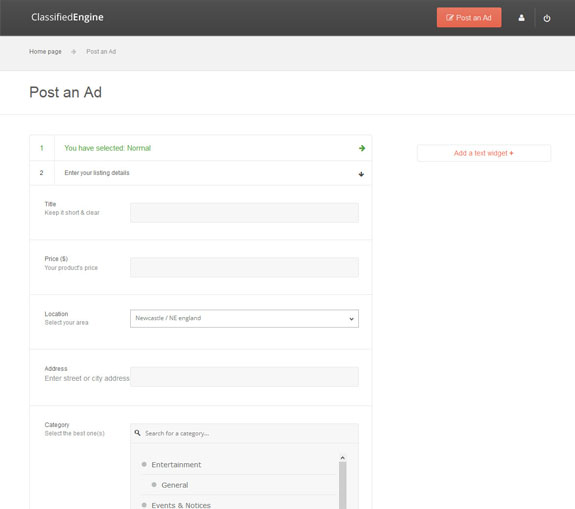 Over To You
This could easily be best classified theme available for WordPress. The options panel looks good and easy to navigate, despite not using the native WordPress interface. There are few minor errors in the back-end area, but none of them are visible on homepage so it's not a big deal.
Apart from that, both the frontend and backend are well designed and easy to use. If you want to create a site where users can post listening for a small price, it's a great choice.
Download the ClassifiedEngine Theme
By default, the theme doesn't come with any blogging capabilities, so if you are planning to maintain a blog along with the directory site, this theme may not be a great choice.
But if you still want to use this theme and maintain a blog at the same time, you can do so by doing a separate installation of WordPress on sub-domain. See our step by step guide on how to install WordPress to get started. You may also want to see our post on best blogging & magazine WordPress themes.