Searching for a WordPress advertising plugin to help with ad management on your site?
Whether you want to manually place ads or you want a plugin to automatically inject ads in your content, you can find some excellent ad management plugins to help.
In this post, we've curated our picks for the five best WordPress advertising plugins based on our own personal experience of using these plugins for ad management.
This list includes both free and paid options that cover a range of use cases, even including letting you sell ads directly to advertisers.
For most people, you'll probably be totally fine with one of the free advertising plugins on this list.
Let's dig in so that you can start making money.
Five Best WordPress Advertising Plugins Compared
Here are the top WordPress ad management plugins – I've roughly ordered these by my personal preference, but these aren't specific rankings as the best plugin for you will depend on your specific needs.

Ad Inserter is the most popular advertising plugin at WordPress.org.
There's a good reason for that – even with the free version, this plugin is incredibly flexible when it comes to automatically inserting ads in your content.
Overall, if you want the most flexibility for automatically injecting ads and targeting them to specific users/content, I think Ad Inserter should be at the top of your list.
The one downside of Ad Inserter is the interface. While it's totally functional, it's pretty barebones and not super beginner-friendly (at least in my opinion – you might disagree). Personally, I find some of the interface details a bit unintuitive.
With that being said, once you figure out how the interface works, you get a lot of powerful functionality at no cost, so I think the advantages definitely outweigh any disadvantages of the UI.
Key Features
Automatic ad insertion – you get tons of options (detailed below).
Any ad – insert AdSense and other ad platforms or create your own custom ads. For custom ads, you can use images, JavaScript, HTML, and more.
Ad rotation
Detailed targeting rules – target by content, user type, device, and lots more.
Ad impression and click statistics – you can also create PDF reports to deliver to clients. Beyond impressions/clicks, you can also track adblock usage of your visitors.
A/B testing
Frequency capping – limit how many impressions/clicks an ad receives.
Lazy loading – improve ad performance and Core Web Vitals.
Sticky ads
Ad Insertion Options
Ad Inserter is very flexible when it comes to inserting your ads, which is one of its strong points. This includes both manual insertion or automatic insertion.
If you want to manually place ads, you get the following options:
Shortcode
Widget
PHP function
But then you also get tons of options to automatically inject ads in your content. Here's a partial list of the conditions that you can automatically inject ads before or after:
Post content
Specific paragraph number (e.g. after the third paragraph)
Random paragraph
Image
Comments
Excerpts
CSS selector – there's also a visual element selector that makes it really easy to choose specific placements
Header
Footer
You can also insert ads between posts (on the post list) and comments. The premium version adds some unique options like background skin ads and sticky floating ads.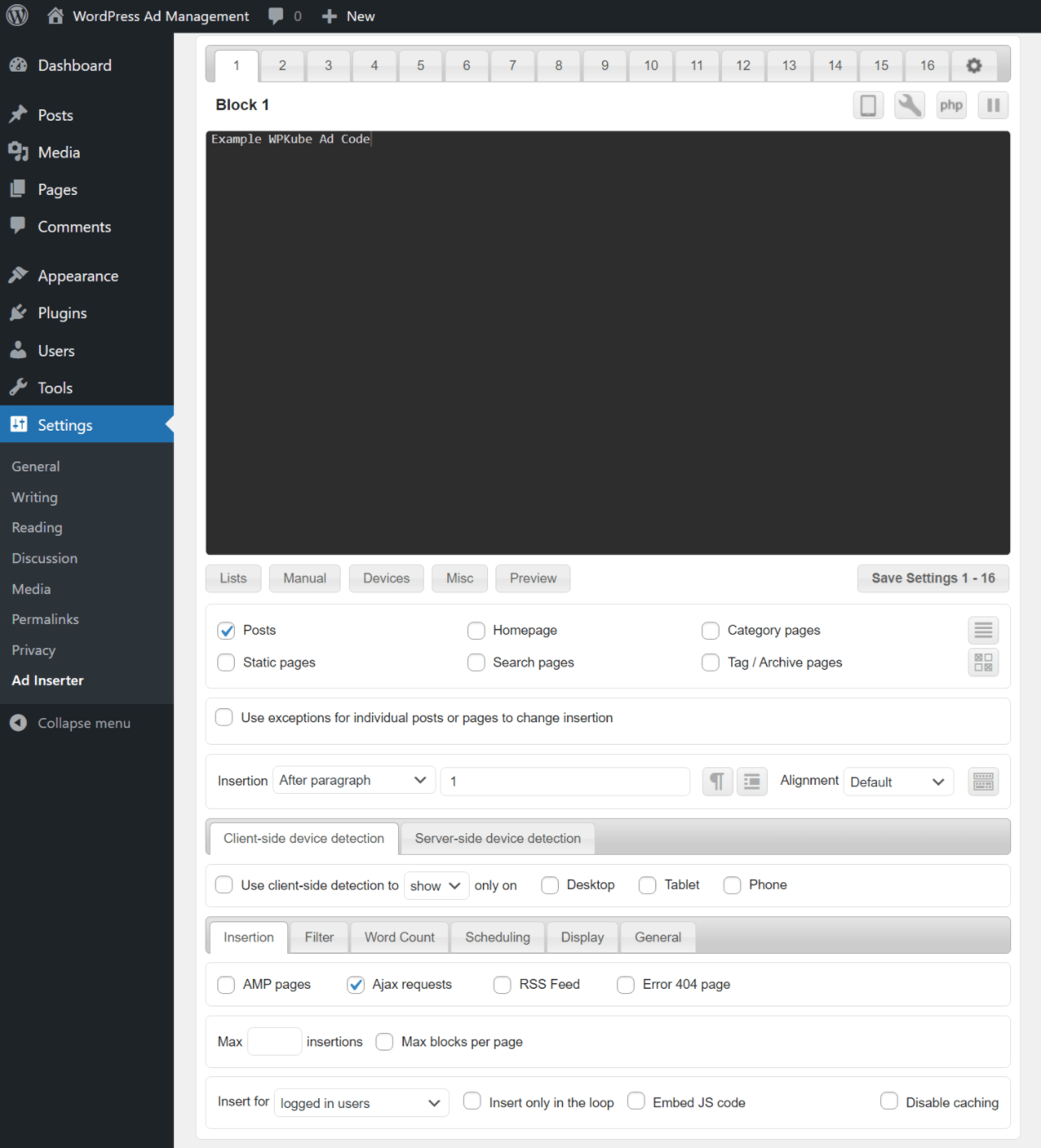 You can also whitelist/blacklist your ads from displaying on certain content by targeting certain categories, tags, taxonomies, referrers, and more. For even more flexibility, you get user-specific targeting rules like logged-in status, user role, geolocation, and more.
Overall, you just generally get a ton of options for automatically inserting ads, which is one of the best things about Ad Inserter.
Pricing
Ad Inserter has a free version at WordPress.org that should work for most sites.
The premium version is also quite affordable. It ranges from €20 to €100 depending on the features you need and how many sites you have.

Advanced Ads is another popular WordPress ad management plugin listed at WordPress.org.
Like Ad Inserter, it's packed with tons of features to help you manage your ads. It's also very strong when it comes to automatically inserting ads and targeting them to specific details.
Overall, I would say that Advanced Ads' interface is nicer and more user-friendly than the Ad Inserter plugin above, but that the Ad Inserter plugin has a more generous free version and is slightly more affordable.
Overall, it's another top-notch solution for WordPress ad management – it really depends on what you value the most between it and Ad Inserter.
Key Features
Supports all ads – you can use AdSense, Media.net, Amazon, and other ad platforms. Or, you can create your own custom ads (you can even use the TinyMCE editor to create ads).
Automatic insertion – you get flexible rules to automatically insert ads at different parts of your site.
Detailed targeting – target your ads to specific types of users (e.g. hide ads for logged-in users), devices, geolocations, and so on.
Ad rotation and A/B testing – rotate your ads and track statistics to see which perform the best.
Ad scheduling
Lazy loading – lazy load your ads to improve performance.
Sticky ads
Ad selling – sell ads directly to businesses with a fully automated solution. You can accept payment via Advanced Ads (processed by WooCommerce) and advertisers can have their own account to view stats on the frontend. Use different billing models such as day rate, CPC, CPM, or custom conditions.
Ad Insertion Options
Like Ad Inserter, Advanced Ads gives you a lot of different ad insertion options including the following:
Top/bottom of post content
After any paragraph or headline (including randomization)
At a specific HTML element
Sidebars/widgets
Manual placement with shortcodes or PHP functions
Footer
There are also bbPress, BuddyBoss, and BuddyPress integrations so that you can easily insert ads at specific locations in your community.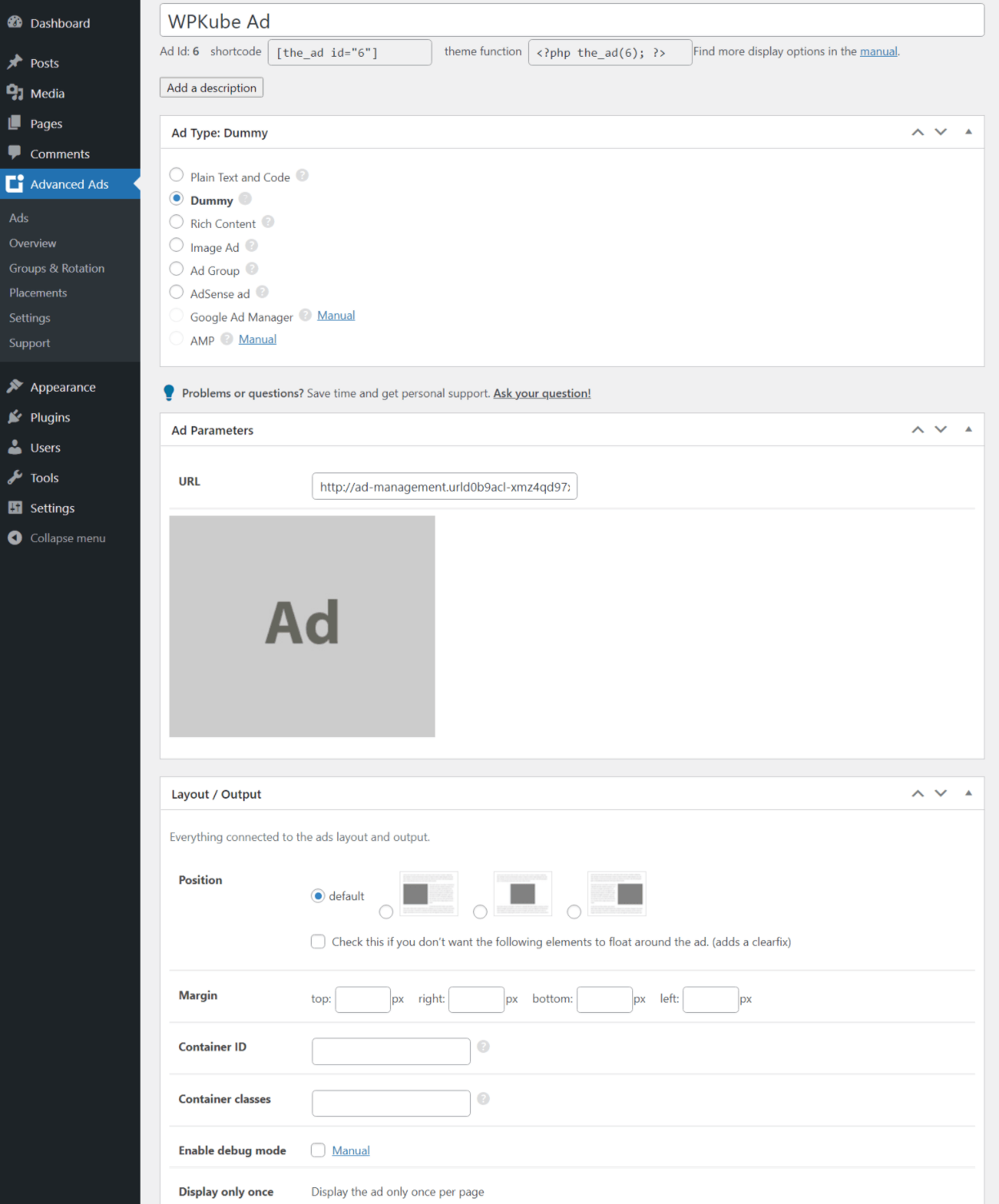 You can also show/hide ads based on different criteria including:
Content (categories, tags, post types, specific content, authors, and more)
Visitor device
Visitor user role
Previously visited URL
Geolocation
Browser width
Pricing
Advanced Ads has a limited free version at WordPress.org that works fine for simple WordPress ad management.
If you want more features, the developer sells both a core Pro version as well as a number of premium add-ons.
Advanced Ads Pro by itself starts at €49 and the All Access pass starts at €89.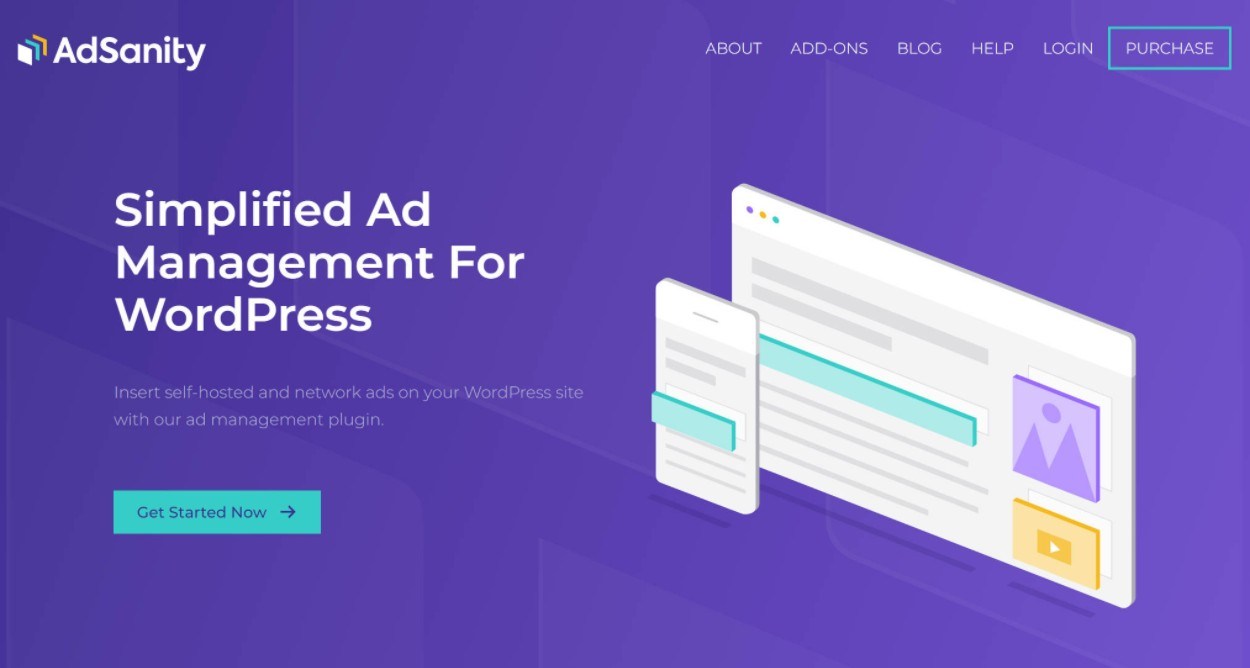 AdSanity is a premium WordPress ad management plugin from Pixel Jar, a WordPress development agency.
It can be a good option to consider if you're primarily interested in an ad management plugin for manual ad placement. That is, you're planning to manually control the ad placements but you want a tool to let you easily manage which ads appear in those slots.
It gives you useful features like ad rotation, weighting, scheduling, and more so that you can maximize the use of your ad spaces.
Key Features
Supports all ads – you can add your own custom ads or insert ads from ad networks like AdSense or Media.net.
Ad scheduling – schedule ads to only run during certain times.
Rotate ads – you can rotate multiple ads in the same position.
Ad weighting – make some ads show up more often than others.
Conditional user role display – you can hide ads based on the user role of a site visitor. For example, you could display ads to anonymous visitors but hide ads for paying members.
Adblock detection – show a special message asking people to disable their adblock.
Sell ads – you can use Gravity Forms to sell ads directly to advertisers, including collecting payments via the form.
Advertiser reporting – people who are advertising on your site get a self-service dashboard to view stats for their ads.
Ad Insertion Options
AdSanity is primarily focused on manual placement. You can place ads using shortcodes, widgets, or directly in your site's code with PHP template tags.
You can also show/hide ads based on a user's role, as I mentioned above.
Overall, if you're focused on manual placement, this is a good one to consider. But if you want automatic ad injection, you'll want a different ad management plugin.
Pricing
AdSanity only comes in a premium version, but it's pretty affordable for what you get.
Prices start at just $49.
Ads Pro is the most popular WordPress ad plugin at Envato's CodeCanyon marketplace, where it's been purchased over 9,000 times with a solid 4.48-star rating on almost 400 reviews.
Overall, this plugin excels if you want to sell ads directly to advertisers because it supports different billing models including CPM (cost per 1,000 views), CPC (cost per click), and CPD (cost per day).
It also has some unique ad placement options, which is another standout feature of this plugin.
However, if you just want a plugin to insert "standard" ads from AdSense or another platform, I'd recommend choosing a different option. Ads Pro certainly can do that, but there are solid free plugins that work just as well (if not better), such as Ad Inserter and Advanced Ads.
Key Features
Flexible ad insertion – beyond in-content ads, you get some unique placement options that I'll detail below.
Ad space management – manage both ad spaces and individual ads.
Show/hide ads on time delay – e.g. show ads after the user has spent 10 seconds on the page.
Ad capping – set a maximum number of ads to display per user session. E.g. make it so that a user won't see more than 20 ads during their visit.
Ad scheduling
A/B testing and ad rotation
Flexible targeting rules – includes device detection, geotargeting, content targeting, and more.
Direct ad sales – sell ads directly with a lot of flexibility. It has built-in payment support (via WooCommerce) and advertisers get their own frontend dashboard to view stats.
Loyal customer discounts – offer discounts for ad buyers who purchase multiple times.
Detailed dashboard – get an overall look at all of your ad spaces, ad sales, impressions, clicks, and more.
Ad Insertion Options
With Ads Pro, you'll first need to create an ad space. When you do, you can define the billing model for that space: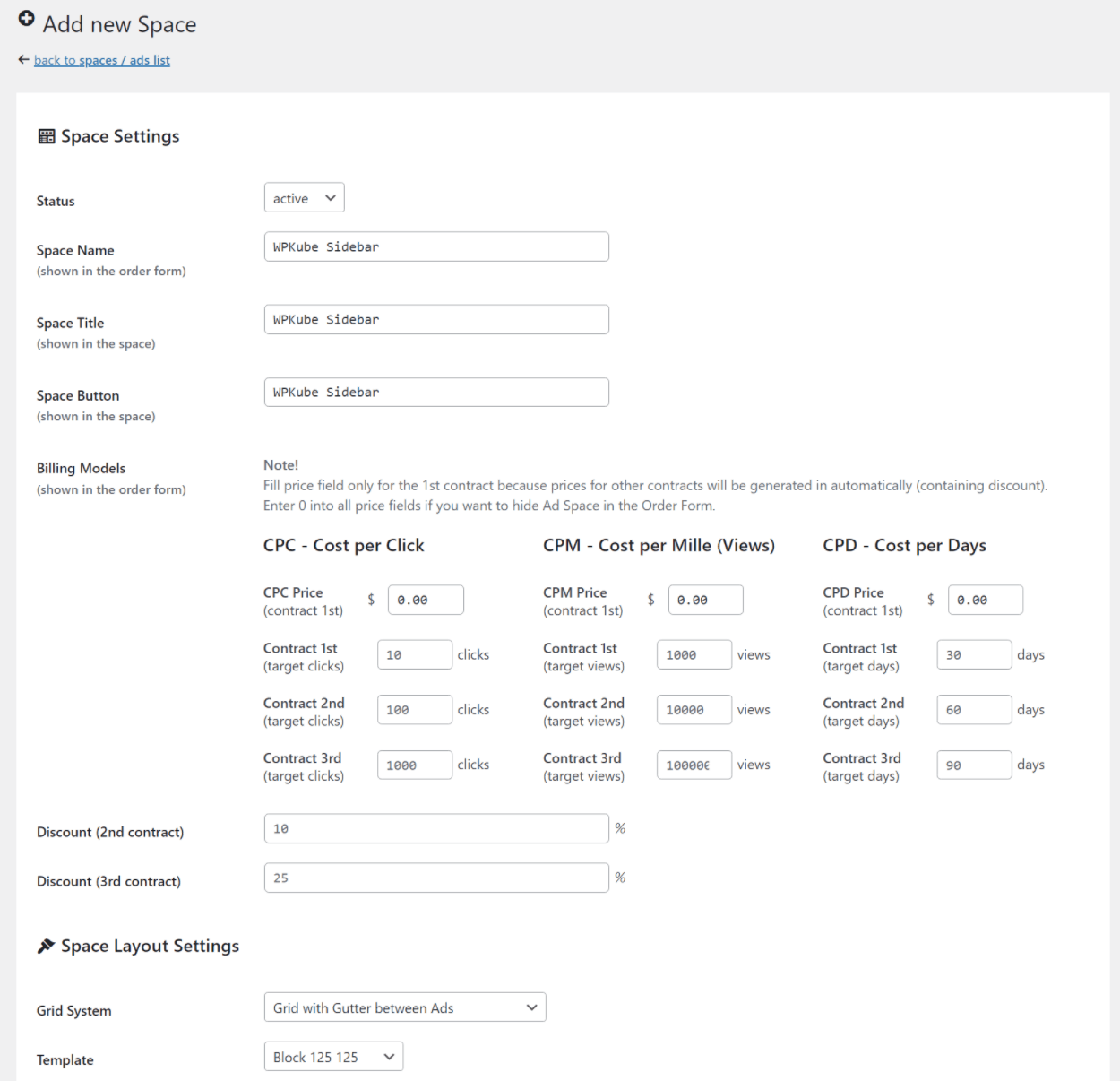 To place an ad space, you can use shortcodes and widgets. You can automatically inject an ad space in your content, but you need to do so in a separate interface and it's not as flexible as some other plugins because you can only use the preset options and there's no randomization: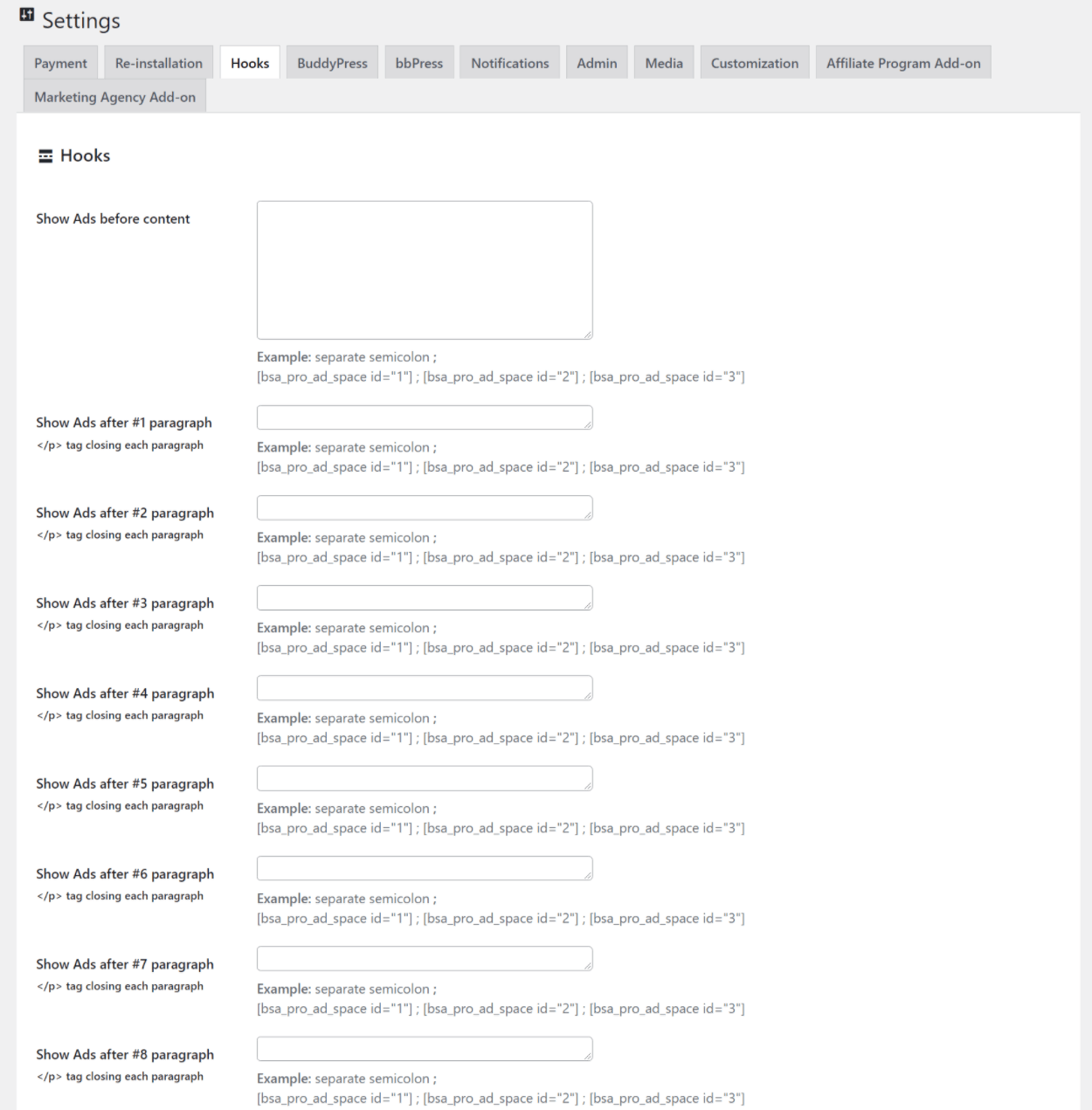 One nice thing, though, is that Ads Pro also gives you some unique placement options such as the following:
Floating ads in any corner.
Ads that appear on link hover.
Full-screen layer ads.
Background ads (appear outside the site container).
Popup ads, including an exit-intent popup.
Pricing
Ads Pro only comes in a premium version. The core premium plugin costs $57 and is sold through CodeCanyon, which means you get six months of support and lifetime updates for a single site.
The developer also sells a few add-ons for things like an affiliate program or marketing agency. These cost $17-$27 each.

WP QUADS got its start as a WordPress AdSense plugin, but it's since morphed into a full-service WordPress ad management plugin that supports all types of ad vendors as well as your own custom ads.
It offers a modern, user-friendly dashboard and lots of options for choosing where and when to display ads.
It doesn't offer features to sell ads directly, but it's another great option if you're inserting ads from networks like AdSense and Media.net and/or running your own custom ads.
Key Features
Automatic ad insertion – easily inject ads at different spots on your site.
Supports any type of ads – it offers dedicated integrations for 8+ popular ad networks including AdSense, Media.net, Mediavine, and more. You can also add your own custom ads or ad codes.
Adblocker support – if a person is using an adblocker, you can redirect them, show a popup, show a custom message, or show a bar.
Targeting rules – target ads to specific content on your site, user role/logged-in status, device, referring URL, geolocation, and more.
Lazy loading – improve ad performance (it even works with AdSense ads).
Unique options in pro version – the Pro version adds unique features for ad blindness or ad skipping.
Ad rotation
Statistics – view reports to see your top-performing ads.
WP QUADS doesn't currently support A/B testing when I'm writing this post but the developer is working on adding that feature.
Ad Insertion Options
Here are some of the options WP QUADS gives you for automatically injecting ads:
Beginning/middle/end of a post.
After a certain paragraph.
After an image.
By word count.
After a percentage – e.g. 25% down the page.
After any HTML tag.
Between the "loop" (WordPress post list page).
You can also manually place ads via shortcode or PHP function.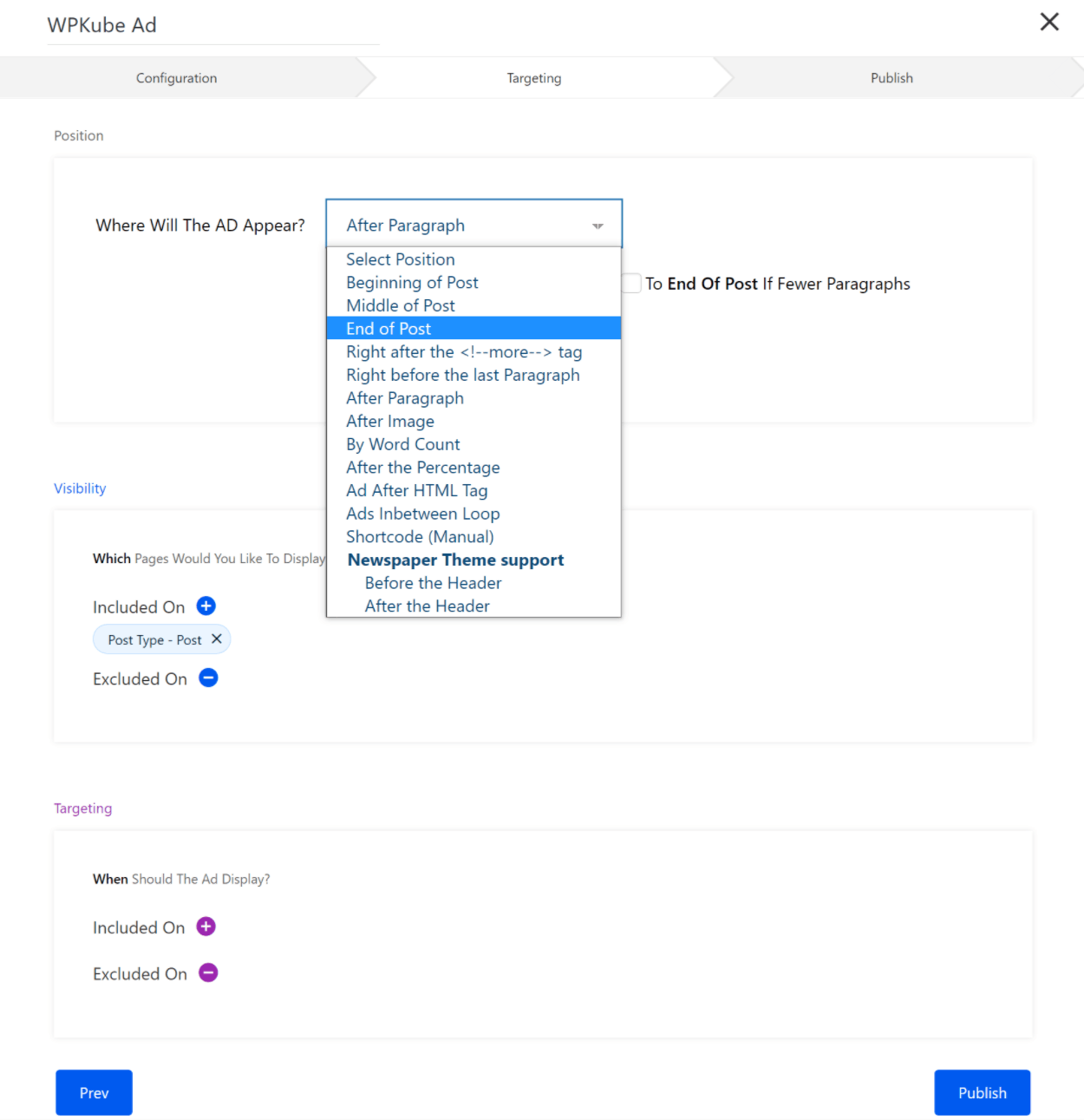 Beyond that, you get plenty of targeting rules including the following:
Specific content – post type, category, tag, and more
User logged-in status or role
Device
Referring URL
Browser width
Pricing
The core WP QUADS plugin is available for free at WordPress.org.
The free version should work for most sites, but the Pro version adds support for features such as ad rotations, group insertion, geolocation, unlimited ads, AMP integration.
The Pro version starts at $89.
Which Is the Best WordPress Ad Management Plugin?
The best WordPress advertising plugin really depends on your specific needs. In order to choose the proper plugin, you'll want to think about the following questions:
Are you willing to pay for a premium ad management plugin or do you need to keep things free?
How do you want to inject ads in your content? Will you manually place all of your ad slots or do you want a plugin that supports automatic ad injection?
Are your ads already responsive (e.g. AdSense responsive ads) or do you need a plugin that will let you serve different ads based on a user's device?
Do you need special features like geotargeting or user role targeting? Or will you be displaying the same ads to everyone?
Will you sell ads directly to advertisers or just use your own display ads or networks like AdSense? If you are selling directly, do you need your plugin to handle the payments for you and give advertisers their own frontend self-service dashboard?
If you're specifically looking for a free WordPress ad plugin, I think your two best options are Ad Inserter and Advanced Ads. Of the two, Advanced Ads has a more user-friendly interface but Ad Inserter has a more feature-rich free version. You can choose one or the other based on what you value the most.
WP QUADS is also a solid free ad management plugin. The nice things about this plugin are its slick interface and its dedicated integrations with some unique ad platforms including Mediavine.
If you're willing to pay, the premium versions of those plugins are all still solid options. Or, AdSanity makes another good option here.
If you want to sell ads directly, give Ads Pro a look. It's a little more flexible in that respect because it has unique features such as CPM and CPC bidding, rather than just flat-rate ad rates. Or, Advanced Ads also has a good add-on that supports different billing models.
For some other ways to monetize your site, check out our post on proven ways to make money from a WordPress site.
We also have a guide on how to detect and handle adblock users to maximize your advertising revenue.
WordPress Advertising FAQs
To finish out, let's run over a few common questions.
Can I put advertisements on WordPress?
Yes of course! As long as you're using self-hosted WordPress, you can place whatever ads you want on your site.
How do I put an advertisement in my WordPress article?
All ad management plugins let you manually place ads using shortcodes or blocks. All you do is add your advertisement to the plugin and then include that ad's shortcode or block in the post where you want to display the ad.
How do I put ads between posts on WordPress?
You can use an ad inserter plugin that lets you inject ads in the WordPress "loop". Ad Inserter, Advanced Ads, and WP QUADS make this easy.
Do you still have any questions about picking the best WordPress advertising plugin for your site? Let us know in the comments!