Are you preparing to walk down that aisle and spend the rest of your life with the person of your dreams? Do you have a few clients that are asking for you to build a wedding website for them to share photos of the flower girl, people dancing at night, and the striking dresses?
Over 2 million marriages happen every year in the US, so how can you make yours stand out? You want to remember the happiest day of your life, but why wait to share the joy by sending out your photos through the mail?
Why not post immediate images to a website? Why not send out your wedding schedule and "save the date" announcements through a site? You can even include an RSVP page so your friends and family can just click a button to let you know that they are coming to the party.
With wedding WordPress themes you can save money and share your fondest memories with everyone you hold dear in your life. All you need to do is grab some WordPress hosting for your site then upload one of the best wedding WordPress themes below.
Meridian Wedding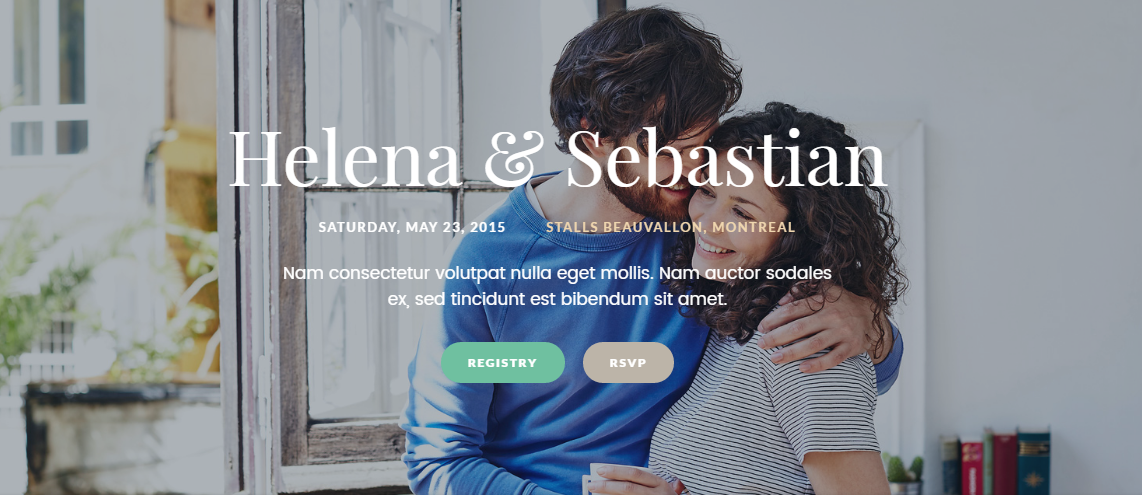 Meridian Wedding is a lightweight, one-page WordPress theme that's ideal for a wedding website. The theme features everything you need for the big day including custom scheduling system, bridesmaids, groomsmen, registry, RSVP module, and tons of customization options. Meridian Wedding enables users to add wedding details and full schedules directly onto the website using the pre-designed templates.
With Meridian Wedding theme, you can easily redirect your family and friends to any third-party registry service and share moments from your big day. The theme ships with an integrated wedding-style image gallery that allows you to add as many photos as you'd like. The theme also features individual sections for you to introduce the bridesmaids and groomsmen to everyone who will be attending the wedding ahead of time.
View Demo Download & More Info
Merit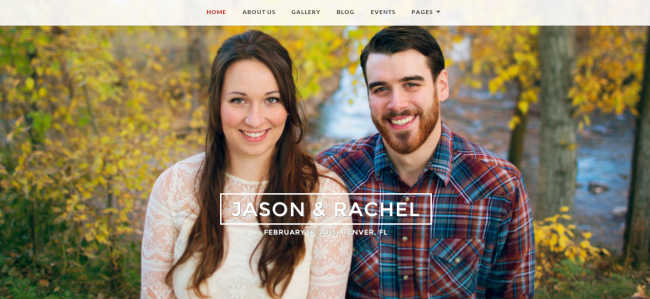 Merit is a rather sleek wedding WordPress theme that features a huge scrolling image slider to place your best pre-wedding photos. The homepage is for announcing when the wedding is being held, and you can also include various other pages such as an About Us page, gallery, events, and a blog to document your wedding process.
My favorite part about this theme is that you receive a drag and drop editor for the homepage, so you don't need any design or programming knowledge to make your site look wonderful. It also comes with an RSVP form so you can track which of your friends and family plan on joining you for the special day.
Price: $48
View Demo Download & More Info
Qaween Theme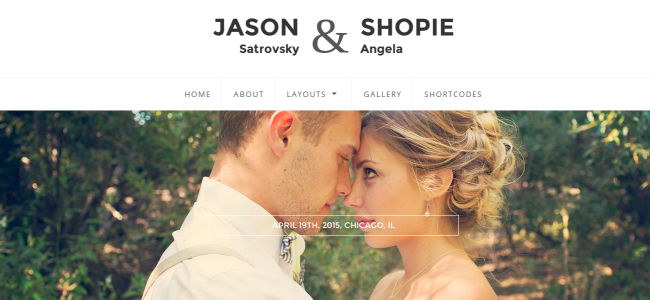 The Qaween wedding theme has a certain elegance to it, with a simple menu at the top and a large slider to feature your favorite wedding and pre-wedding photos. There's a little text area in the middle of the homepage to change the date and location of your wedding, and the color variations are unlimited to fit your own design preferences.
The drag and drop editor is a nice touch, and you can include a little wedding day counter to show people how much longer they have to prepare. You can include a gallery on your wedding website and receive RSVPs directly from the site, too.
Price: $48
View Demo Download & More Info
The Wedding
The Wedding theme has a slim, responsive design, with five color schemes to pick and choose from. The shortcodes that come with the theme make it a little easier to incorporate more advanced design options without knowing much about it.
I really like this theme because you can include a countdown ticker leading up to the wedding. Once the wedding is over you can document your life together and show people how long you have been married. Use this to remember your anniversary in the future!
Price: $43
View Demo Download & More Info
Just Married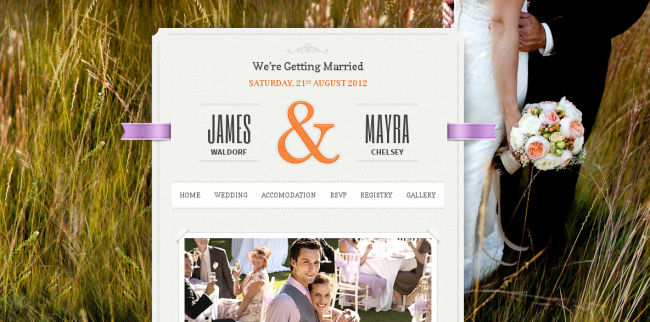 The Just Married theme includes a stunning background to include one of your own wedding photos. You can change the backgrounds, colors, and layouts with just a few simple clicks in the WordPress dashboard.
Tell people when you're getting married at the top of the page, and display your two names with some pretty cool fonts. This is one of the more simple wedding themes on this list, and that is often the best way to get people engaged with your wedding.
Place social media links at the bottom of the page and include registry, RSVP, gallery, and event information.
Price: $45
View Demo Download & More Info
TieTheKnot – Responsive Wedding Theme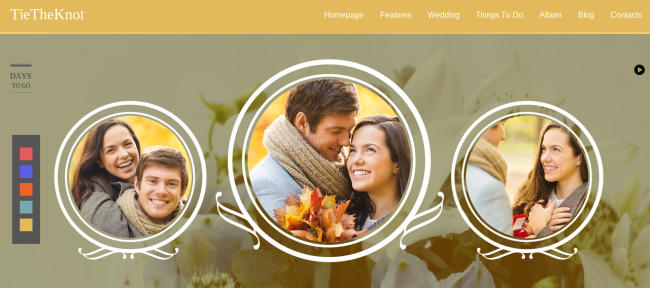 TieTheKnot is a unique take on the wedding theme since it lets you include three circular photos on the homepage, creating somewhat of a gallery right from the start.
The theme is responsive so you won't have to worry about people checking out the website on their phones, and the drag and drop page builder is essential if you don't have any website design experience. What's the best part about this theme? It comes with a bonus print-ready invitation card. This way you can send out a digital card or simply print it out for those less technologically advanced relatives.
Use the wedding countdown area, and place the different music you plan on playing during your wedding to give people a sneak preview of what they can expect when they arrive.
Price: $43
View Demo Download & More Info
Wedding Vow – Responsive WordPress Theme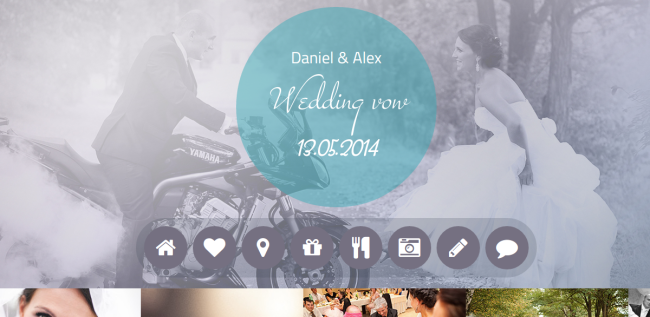 The Wedding Vow theme has an interface that supports ultra high-resolution graphics, so when you snap those professional photos you won't lose any quality. It also comes with over 600 Google fonts, so you can change the look and feel of your website however you want.
The full-width gallery is ideal for showcasing your bridesmaids, groomsmen, and pictures of the couple.
Price: $38
View Demo Download & More Info
GeekLove – A Responsive WordPress Wedding Theme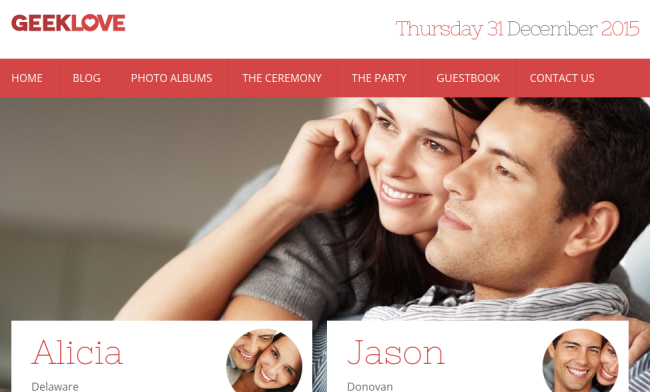 The GeekLove wedding theme has a guestbook area for your wedding visitors to jot down messages to the couple. A Wedding Events page provides you a chance to show detailed descriptions of everything that is going to happen through the wedding.
Include an RSVP page and even two About pages to showcase each of the engaged people individually. The theme has a long homepage for featuring everything you need to on one-page, but you can also incorporate other tabs in your menu to send people elsewhere.
Price: $43
View Demo Download & More Info
Eternity – Responsive Wedding WordPress Theme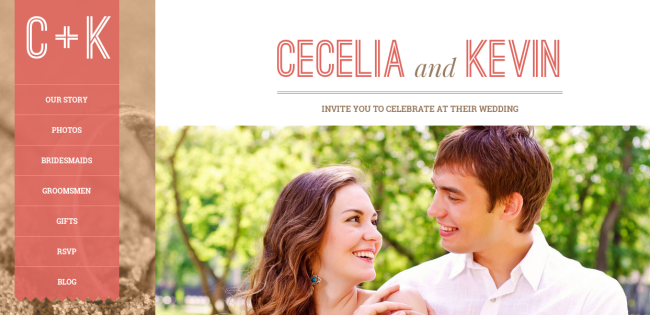 Eternity is a theme that shows the everlasting love between two people. The menu shows up on the left hand side, so your guests can quickly see wherever they might want to navigate to. It's a one-page theme, so whenever you click on one of the menu items, the theme automatically scrolls down to the the relevant area.
Throw a blog at the end of your page, and include striking photos of all your bridesmaids and groomsmen. The Gifts area is a nice way to ask people to contribute through your wedding registries. It basically just shows logos for each registry and a link for them to click through.
Price: $43
View Demo Download & More Info
CuckooLove – Wedding WordPress Theme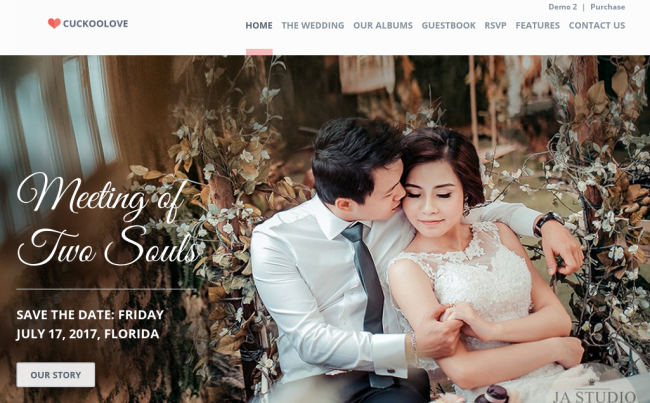 The CukooLove wedding theme is completely responsive, so everyone can view the website on tablets and smartphones. A guest album is included for other people to upload their own photos. The theme is even ready to integrate with WooCommerce if you plan on selling items for your wedding.
The Revolution Slider is one of the best ways to feature your high-resolution photos, and the countdown timer gives people a way to quickly check in on how much longer they have until the wedding.
The theme is a one-page interface, so if someone clicks on the RSVP button in the menu they are immediately shot down to the appropriate area.
Price: $55
View Demo Download & More Info
My Wedding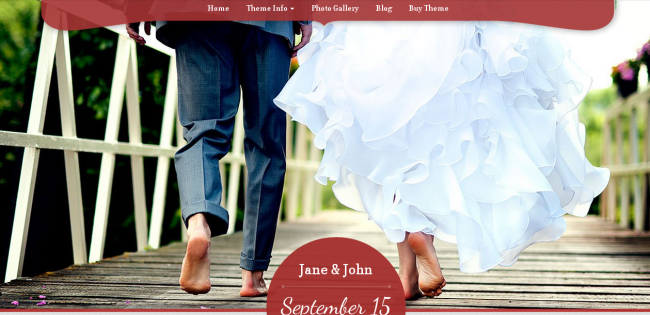 The My Wedding theme features a custom photo gallery to include as many posts and images as you want. The blog comes in a classic format to document every step of the way leading up to your big day.
The full-screen banner and announcement area are prominent right when someone lands on the site. It even has a nice little RSVP widget that you can include on every page. This is one of the more simple themes on the list, so if you just want to get up-and-running in a few minutes, this is a nice choice.
Not to mention, the My Wedding theme comes with various shortcodes so you don't really have to know any programming language to make the site look professionally designed.
Price: $39
View Demo Download & More Info
Share your thoughts in the comments section below if you have stumbled upon any other awesome wedding WordPress themes. Are you planning on getting hitched anytime soon? Share your wedding sites below if you want to inspire some other people out there.
Featured Image Credit: friendofdurutti