The default WordPress dashboard is pretty bland with only a few widgets that aren't super helpful. Thankfully with all the free plugins out there you can liven up your dashboard in a jiffy.
These are some of my personal favorites that I run on many of my WordPress websites. You probably won't want all of them but if you do wanna jazz up your admin dashboard then check out this list and see which plugins stand out.
1. Right Now Reloaded

One of the best WordPress dashboard plugins you can get is Right Now Reloaded. This takes your WordPress "right now" widget and buffs it up with some extra info.
After installing this plugin you can see your theme's name, version, and total number of posts/pages along with drafts for everything. Plus it adds a section for all custom post types if you have any of those.
These new links grant quick access to your drafts page where you can edit drafts for posts, pages, or even user comments.
Note this plugin has not been updated in a few years but I still run this on a few websites with no trouble. It's one of the fastest ways to add some spice into your dashboard.
2. Dashboard Widgets Suite

If you wanna go all-out with tons of new dashboard widgets then the Dashboard Widgets Suite is perfect. It's totally free and should work for all versions of WordPress(with infrequent updates too).
This thing is a beast and it displays a ton of related information about your site. Server info, database info, custom notes, social buttons, and even a debug log for your server.
Plus you have full control over all of these widgets. You decide which ones are visible and where you want them placed on the screen. This is perfect for WordPress users who aren't much into the technical stuff but still want access in the dashboard when needed.
I haven't found many other plugins with this level of detail so if you really wanna beef up your dashboard this is a great resource.
3. Dashboard Wordcount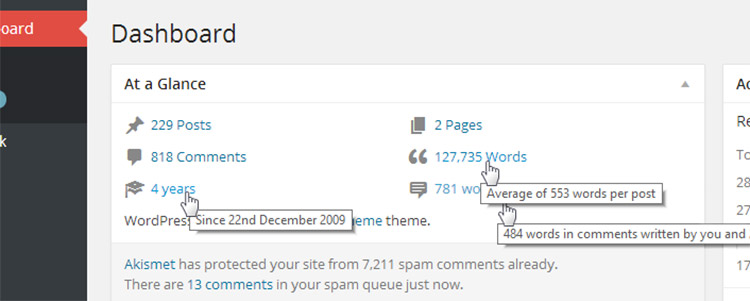 Here's a real small plugin that I recently picked up while searching Google.
Dashboard Wordcount lets you see the total word count over all your posts and gives you an estimate for your average word count per post.
It's 100% free and it's a one-click install. Once it's setup you'll instantly find this data in your "right now" widget on the dashboard page.
If you hover the total word count section you'll get a tooltip with the average word count across all posts. And you can even see when you website was first put online based on the earliest post in your archive, which you can also see by hovering the "total years" section.
Not a game changer but certainly helpful if you keep tabs on average post length.
4. WP Dashboard Notes
The idea of a dashboard note system probably sounds awesome. You can use it for both personal and professional tasks like managing your blog's content schedule and organizing your writers.
With the free WP Dashboard Notes plugin you can add bright colorful post-it styled notes to your admin screen. Each note can be made public for all users or private just for you.
The interface is made for drag & drop so it's super easy to use. And you can add new notes as needed at the click of a button. Updated content saves instantly through Ajax making this even easier to use.
I use this plugin for managing post ideas but there's so much you can do with these dashboard notes making them extremely versatile.
5. SO Dashboard Feed Widget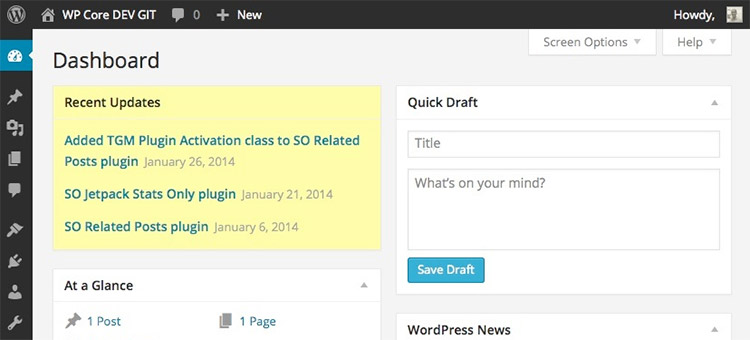 Looking to add custom feed widgets onto your dashboard? The SO Dashboard Feed Widget is perfect for exactly this task.
By default WordPress installs a small feed from its own blog with updates concerning the WordPress core. But if your industry tracks news from other websites you might wanna include other RSS feeds on your dashboard.
With this plugin you can define how many total items to show and which feed(s) you want included. And you can even alter the widget title to make it easier for clients to browse their dashboard without confusion.
Bottom line: if you need RSS feeds right in your dashboard this is the plugin to do it.
6. Dashboard Directory Size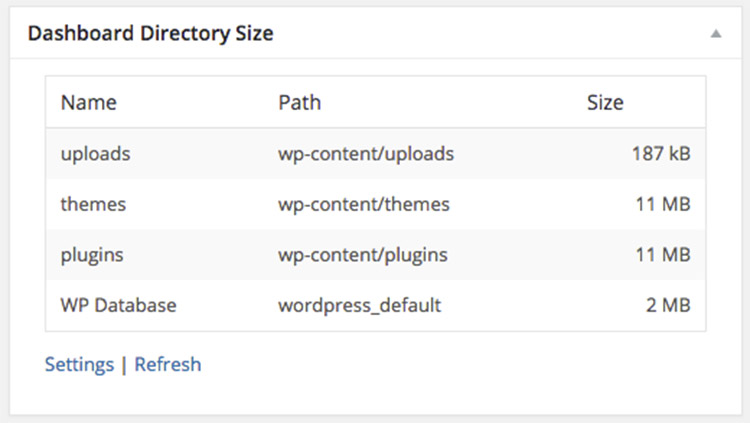 Here's something I've found incredibly useful since I'm both managing my sites and my servers. I always want to know how large my websites are to gauge total backup size.
It's not hard to log into your server and check the used disk space. But why not get all that information right from your dashboard? Dashboard Directory Size makes this super easy with a new widget that displays info on your server stats.
By default it catalogs all the main WordPress folders where you'd add content:
Uploads
Themes
Plugins
Database size
You can even see the full URL path such as wp-content/uploads. It's pretty easy to change this location along with your themes/plugins folders too. But this plugin gets it all right and makes it easy to track your website's total size.
I also recommend this plugin for web designers who take on WordPress clients. This way you can manage their site at a glance to see if they're uploading massive image files that could be reduced.
7. Google Analytics Dashboard Widget

This is one of the most complex widgets you can add to your dashboard and it's bound to make a big difference in your workflow.
If you're constantly checking traffic stats save yourself an extra browser tab with the Google Analytics Dashboard Widget. This free plugin displays common features from your G Analytics account all in one handy widget.
You can see referring sites, social media, user stats and top pages(among other data).
Surprisingly this is a free plugin and really easy to setup. There is a pro version but this isn't a full dashboard feature, instead it's a completely new item in the menu.
I think the free version should suit most people just fine so it's worth adding if you want quick stats every time you log in.
8. Dashboard Commander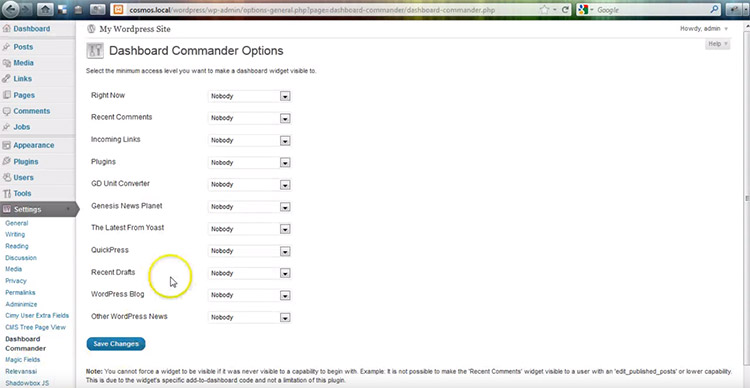 The default WordPress dashboard is pretty much untouchable without hiding everything from the "screen options" menu.
But you can take the nuclear option and hide everything at once with the Dashboard Commander plugin. This not only gives you a completely clean dashboard, it also gives you full control over the widgets you choose to display(and where).
It has a ton of configuration settings that you can mess with to add recent comments, WP news, Right Now info, and other similar widgets. This is cool because it grants you control over the entire site including all other users who log into your WP admin panel.
So if you want to hide widgets for everyone this plugin has you covered. Or if you want to force certain widgets for everyone this is also what you need.
9. f(x) Profile Dashboard Widget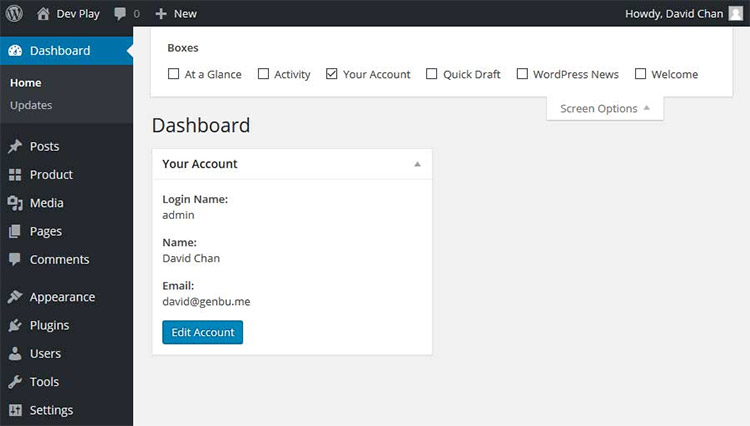 Editing your WP profile isn't too tough. There's a lot you can do with WP profile plugins to add even more features there.
But if you're hoping to just make some quick edits then check out the f(x) Profile Dashboard plugin. This is totally free and it lets you edit your user profile data right from the dashboard page.
It's a real simple widget so it offers three specific pieces:
Display Name
Email
Password
You can also see your username but this cannot be changed once the account is created.
The widget connects through WordPress' hooks & filters so it behaves exactly like updating your profile on the "profile edit" page.
10. Client Dash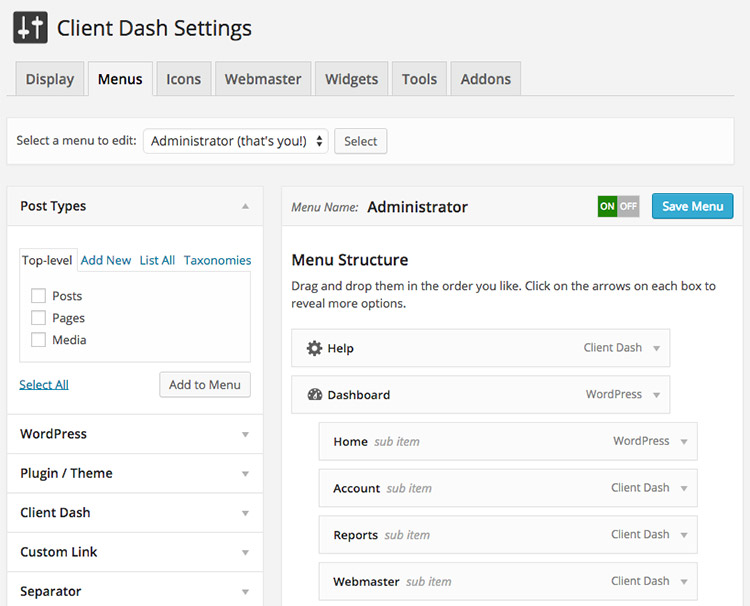 Freelance clients can be finicky with their websites and often want more control over their content. If you setup a client on WordPress then the Client Dash plugin is a powerful addition to the project.
This adds a unique settings menu to customize what the dashboard screen looks like & what sort of information is displayed. Clients can pick from custom icons, button text, and even custom menu items.
Everything can be rearranged with just a few clicks and the GUI is very newbie-friendly.
After visiting the Client Dash homepage I can't find a price anywhere so I think this plugin is 100% free for life. There are some add-on features but I don't know if those cost extra or just come packaged with the plugin.
Either way this Client Dash plugin is a godsend for webmasters. It offers more than a simple dashboard widget and it's more than just a dashboard control system.
It's a fully-featured custom UI with options for everything in the WP admin panel dashboard. You might even try this on your own site if you want more control over the dash design.
11. Wider Admin Menu

Wider Admin Menu does exactly as the name says.
With this free plugin you can adjust the vertical admin nav menu to make it even wider than the default. This way links are easier to click and you have more room to read the more lengthy plugin links that add their own menu items.
This runs with its own settings data so if you uninstall the plugin it'll leave no trace. A perfect add-on for any WP user who wants a little more room in the admin menu.
Moving Forward
It doesn't take much to liven up the WP dashboard. These minor additions can make a big impact on the backend for checking stats or checking news with custom RSS feeds.
A good first step is deciding what kind of features & widgets you want. From there it's much easier choosing plugins that most interest you. And you can take your customizations a step further with expanded admin features like custom login pages.
On WordPress the world is your oyster and you're only limited by the thousands of plugins at your fingertips.