If you're fed up of storing the files you are working on in your inbox, treating your email account like some kind of file repository, and you don't want to entrust your files with, or push your collaborators onto, another cloud storage service then a BuddyPress site and a newly released plugin called BuddyDrive might just be the answer.
Of course, if you and your fellow collaborators aren't already using a BuddyPress space then this might not be the right solution for you; unless they don't mind signing up to another website to join you. However, but if you are connected on a BuddyPress site and are working together or want to share files with your fellow members then read on.
Introducing BuddyDrive
BuddyDrive is a free plugin for WordPress developed by imath that requires an installation of version 1.7 of BuddyPress in order to run.
Once installed, the plugin allows the members of a BuddyPress site to upload files and manage folders in a newly created BuddyDrive area, located on their member profile.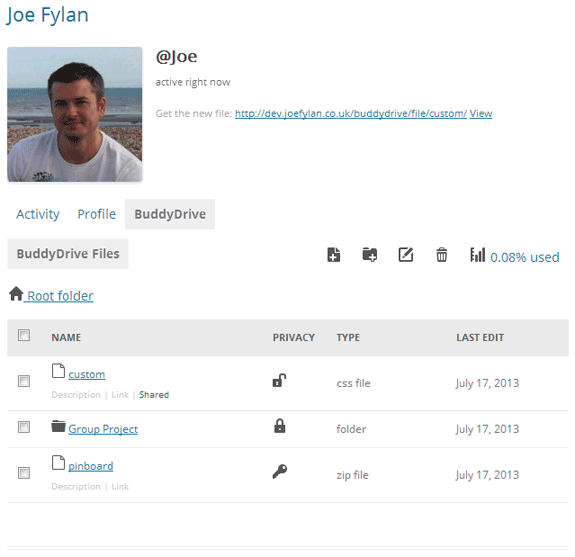 By using this plugin, you can go a long way towards creating a collaborative working environment for the members of your BuddyPress network. Members can create files which they can make visible to the other members of the network, or selectively share with their collaborators by either giving them access to their folders or sharing the link to the file.
There are multiple levels of privacy to ensure members can retain as much control over who can access their content as possible. Admin users need not worry about opening up their network to be used as a file repository and sharing area as they have access to, and control over, all the files that are in the members' BuddyDrives on their site.
If these features and functionality sounds like something you or your BuddyPress administrators would be interested in, keep reading to find out more about how this plugin works and what it can do for your BuddyPress site.
File Management
If you and your members are familiar with WordPress and the process for uploading files then adding items to their BuddyDrive areas will be second nature as it uses the same HTML5 uploader as WordPress.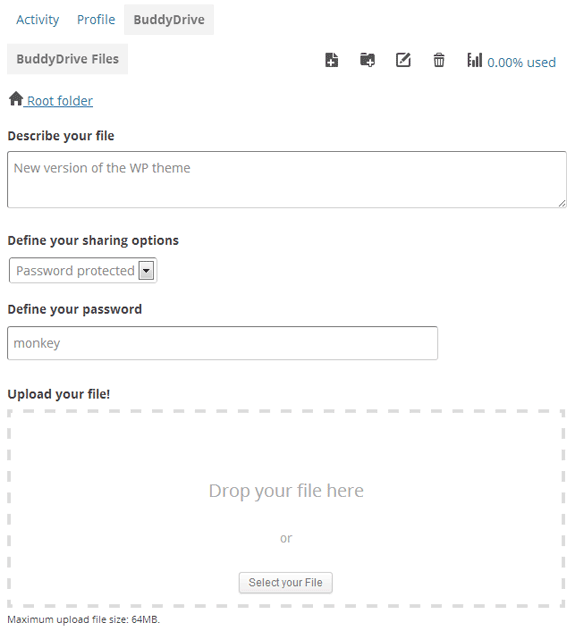 As the plugin allows users to create folders as well as simply uploading files, it's great for keeping uploaded items organised. Using the folder functionality is an ideal way to share a group of files as the contents of a folder can be set to be visible to a group of members, who are perhaps a working group or a project team collaborating on a task.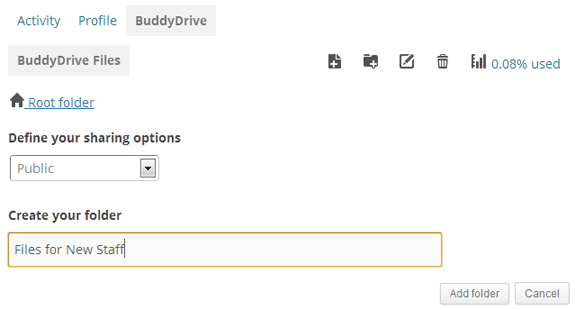 Privacy Settings
When it comes to privacy, BuddyDrive has five levels which can be set by the user, depending on the BuddyPress settings. The member who uploads a file can make their content private and visible to them only, password protect it or make it accessible to different groups they are part of, grant access to friends or make it public to all.
BuddyPress Admin Powers
For BuddyPress admins, the ability to manage all content in the BuddyDrives of their members is provided from within the WordPress admin dashboard. This allows the administrators to view, edit and delete any files or folders, as well as edit their privacy settings. This gives the admin users easy access to all the content that is uploaded to their community via the BuddyDrive functionality.
This level of access should help reassure administrators who are wary of giving their members the ability to upload and share files for which the admin will be responsible for ensuring the content is suitable for the network. While there isn't the ability to be notified when new files are uploaded, the contents of all the BuddyDrives on the site can be viewed on one page within the WordPress admin dashboard making it very easy to see just what has been uploaded and by whom.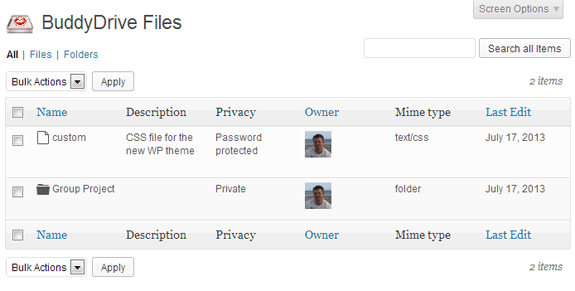 As well as having total access and control over the contents of the members' BuddyDrives, the BuddyDrive administrator can also set the space available for each user, as well as set the maximum upload size for files. The mime types allowed can be easily edited using the extensive checkbox list which can prevent certain types of file from being able to be stored in a member's BuddyDrive. This is great for keeping out potentially inappropriate file types, as well as ensuring collaborative spaces stay on topic and are used to store relevant files.
Sharing with Members
When it comes to letting your collaborative partners know when a new file had been uploaded and made available, or changes have been made to an existing file, BuddyPress allows you to easily share the files in a number of ways. These include:
Display a link to file in your activity stream
Use the private messaging component of BuddyPress to share an file
Share a file in a group activity to notify all the members of a group you are part of
Copy the link to the file or folder and paste it elsewhere in the site for others to follow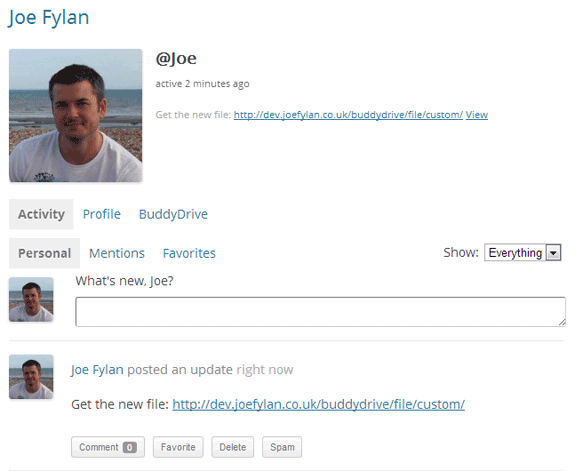 Conclusion
While BuddyDrive is no replacement for cloud storage services like Dropbox and Google Drive it does give impressive additional functionality to BuddyPress in the form of turning it into a file storage facility with the ability to share those files with other members of a site.
While BuddyDrive can't be compared with the collaborative working features of a professional document management system, such as checking out files, version control and managing access to files at a user level, it does provide an online space for storing and sharing files.
Also, if you have your own self-hosted WordPress site with BuddyPress installed then by using this plugin, you can now store your files online, ensuring they remain in your hands rather than being entrusted to a third party cloud storage service.
However, the main 'selling' point of this free plugin is that it brings effective, easy to use and administrate file storage and sharing to any BuddyPress site. This should be invaluable to most networks using this platform.
To find out more and download this free plugin visit the BuddyDrive page.