You have an idea for a website, but you haven't decided where to host your website. In fact, you are facing a problem: There are too many web hosting companies to choose from, and they all promise the moon from the sky.
But now, you can put your worries aside and stop reading yet another hosting review. We have picked an exciting candidate you should consider for your website: HostArmada.
Even better, read further and learn how to get a hefty -75% one-time discount on the WordPress Hosting / SSD Shared Hosting on the Cloud plans.
Please note: The WordPress Hosting and SSD Shared Hosting on the Cloud are essentially the same plans. From here on, I treat them as WordPress plans when I refer to them.
Key Features of the WordPress Hosting Plans
HostArmada is a high-quality web host that provides a stable, secure, and fast platform for your WordPress website. These cool features will give your website a rock-solid foundation:
Lighting loading speeds, cloud SSD storage, Cloudflare CDN, Brottli compression, and various caching techniques.
Increased security with connection-level limits, Web Application Firewall, DDoS Protection Service, free SSL for all sites, and several other security measures.
24/7/365 customer support via ticketing system, live chat, or phone. The customer support will answer every ticket within 10 minutes, with 99% support case resolution and helpful, detailed answers.
But this list is just the tip of the iceberg.
If you'd like to learn more about the other HostArmada features, continue reading the next section for more detail.
How Much Does HostArmada Hosting Cost?
Shared WordPress hosting comes with three plans.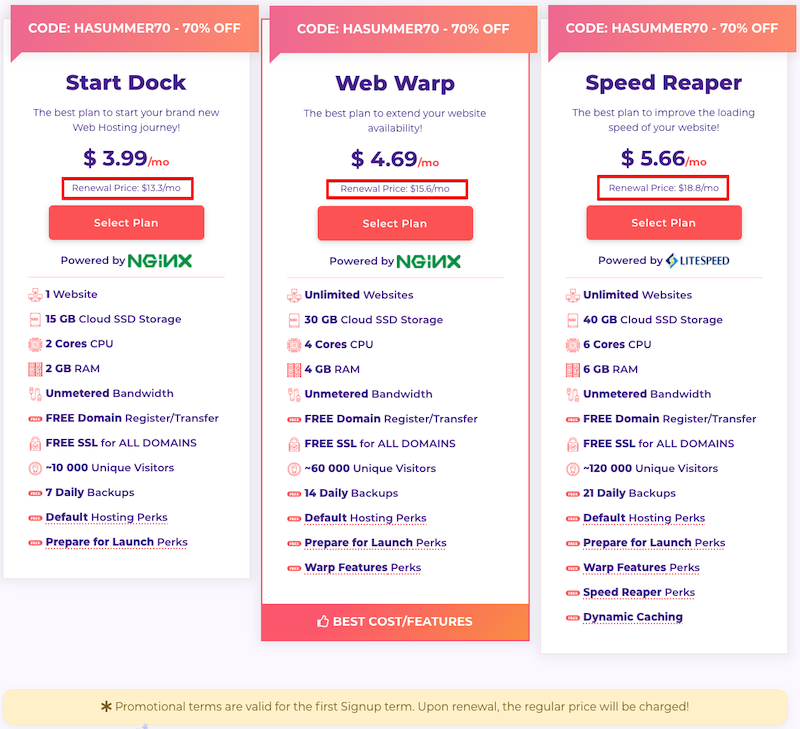 Start Dock
The Start Dock is the least expensive one, and it costs $13.30/month. You can run one website, have unmetered bandwidth with ˜10,000 unique visitors and seven daily backups.
You also get equipped with Default Hosting Perks and Prepare for Launch Perks. These perks add something extra to your hosting plan.
For instance, with Default Hosting Perks, you get unlimited email accounts and free website transfer, while the Prepare for Launch Perks adds a free drag and drop builder or free loading speed optimization.
Web Warp
When you step up to a higher hosting level, you land on the Web Warp plan. It costs $15.60/month.
This particular plan gives you better processing power and a more efficient platform, including 4 Cores CPU and 4GB RAM. In addition, you get unlimited websites, 14 daily backups, and ˜60,000 unique visitors.
You also get the same perks as in the Start Dock, supplemented with an additional bonus, Warp Features. This package includes features like unlimited add-on domains, 1-Click Restore Manager, and free private DNS.
Speed Reaper
Finally, we have the Speed Reaper, the best plan to improve your site loading speed. This plan costs $18.80/month.
Speed Reaper adds more power to your platform with 40GB of SSD storage, 6 Cores CPU, and ˜120,000 unique visitors.
You also get the same perks as in the Web Warp, supplemented with Speed Reaper Perks and Dynamic Caching.
The Speed Reaper gives you features like 3x fewer clients per server and HTTP/3 support. Dynamic Caching gives you various caching options, including MemCache or LS Cache.
If you think that the HostArmada pricing is on the higher end, you are correct. But if you use our discount code, you can get a whopping -75% off for the first billing period (one year, two years, three years).
Please note that there are two things you should know about the HostArmada pricing. 
First, during the time of writing the article, HostArmada was running a Summer Sale. Therefore, you can see lower prices in the screenshot above. I have highlighted the regular prices in the screenshot with a red rectangle.
Second, after your contract renews, you will hop on to the normal pricing level. For instance, the price on the Start Dock plan will bump up to $13.30/month after your billing period ends.
How to Use the HostArmada Coupon?
This section shows you how to use the discount code.
1. Go to the HostArmada website and pick either one of the WordPress plans (WordPress Hosting or SSD Shared Hosting on the Cloud).
2. Click on the Get Started button: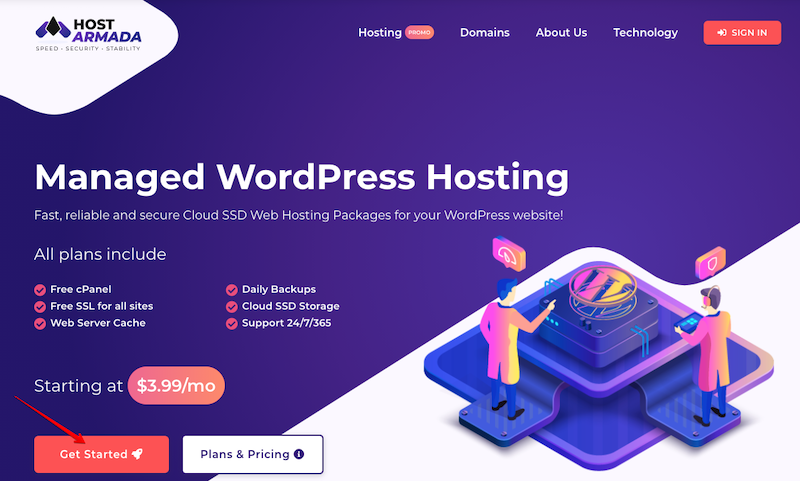 3. Choose your plan and click the Order Now button: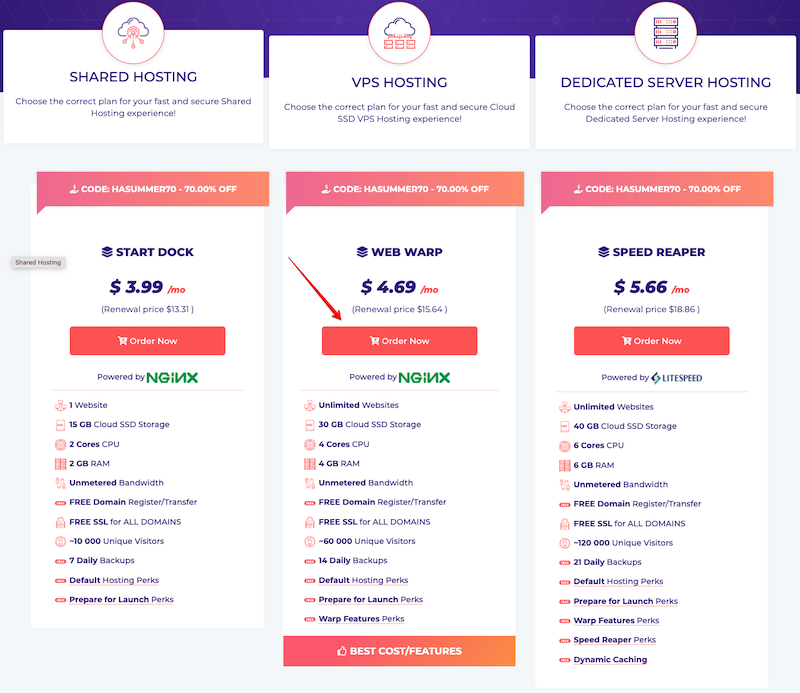 4. On the next view, decide how you want to deal with your domain name. In this example, I chose to register a new one. After entering the desired domain name on the form field, click the Check Domain button: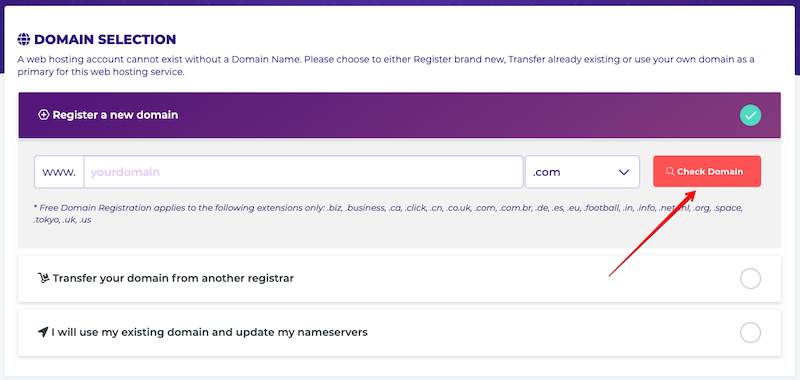 5. If the domain is available, choose the registration period and click the Continue button:

6. Next, it's time to configure your plan. Here you can choose a billing cycle, a data center location, and optional add-on boosters.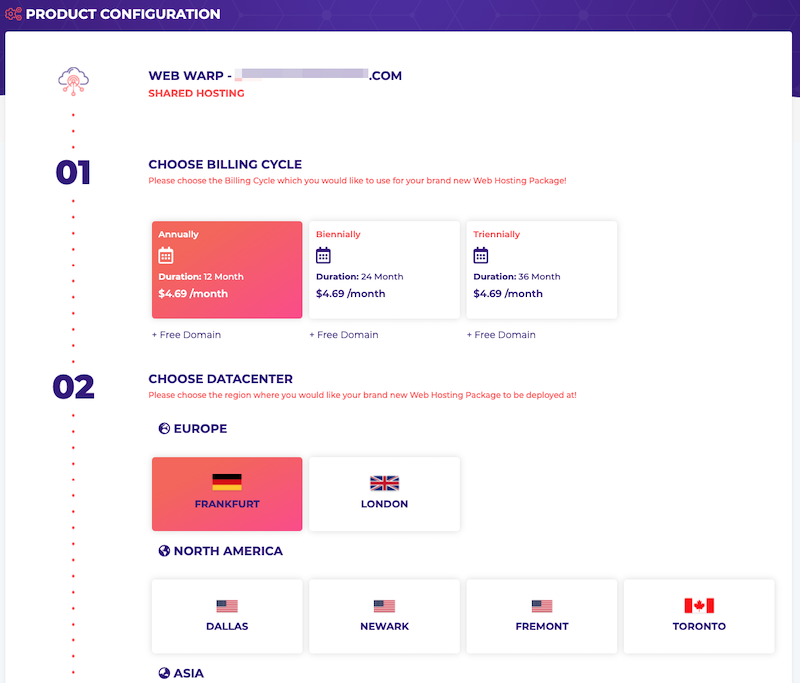 Once you have made your selections, click the Preview Order button at the bottom.
7. On the next view, confirm your domain settings and select the privacy protection option if you want:
If everything looks good, click the Continue button.
8. Finally, on the Order Summary page, you can apply our coupon to get a discounted price on the selected plan.
If there is already a promotion code applied to your order, you need to remove it first. You do that by clicking on the Remove Promotion Code link: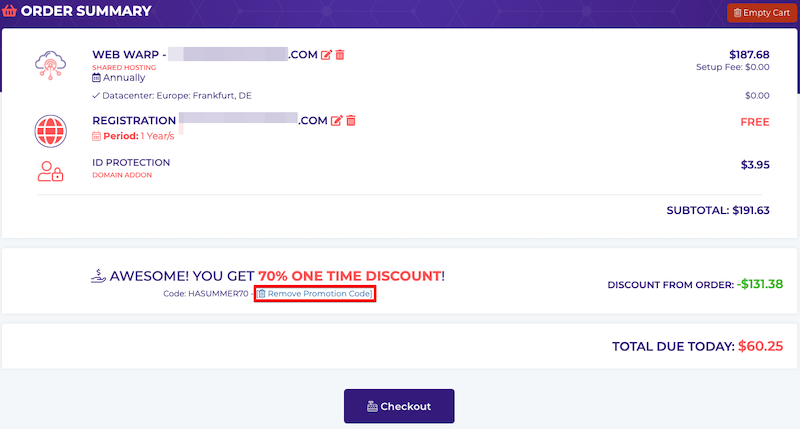 9. Got Promocode text appears and enter WPKUBE75 into the field. Then click the Validate button:

10. You can now see the discounted price: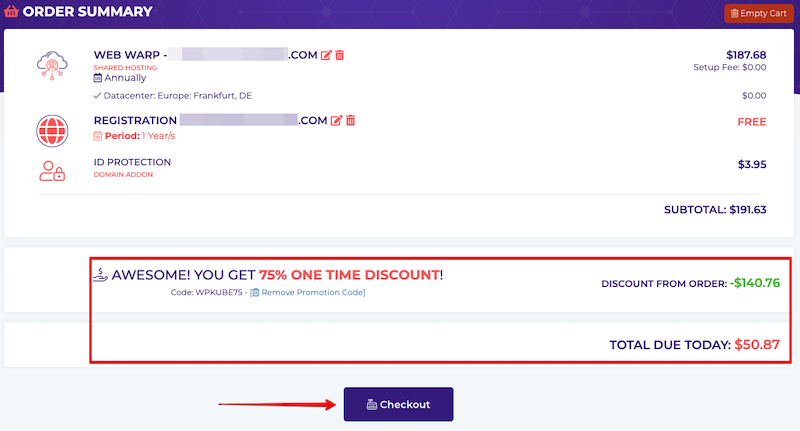 If everything looks good, click the Checkout button.
11. Finally, enter your contact and billing information to finish the order from HostArmada.
HostArmada Coupon FAQ
What is the difference between shared hosting, VPS hosting, and dedicated hosting?
A shared hosting solution is often the least expensive way to host a website, but it also means that multiple clients use the same web server resources to host their sites. In the worst-case scenario, this may affect your website performance.
VPS (Virtual Private Hosting) hosting uses various virtualization technologies to give you dedicated server resources in a shared hosting environment.
In simple terms, VPS hosting means that you have much more processing power on your website than on the shared plan, as there is less competition over the resources. The VPS plan is also scalable in terms of CPU, memory, and disk size.
The dedicated hosting plan is the most expensive option you can have.
In this case, the physical machine is dedicated to your website only, which gives you superior performance. This arrangement also ensures that you are not getting any performance hits, as your server doesn't have other clients' websites on it.
The WordPress plans I have covered in this article are shared hosting plans. However, HostArmada promises a low number of clients per server.
With this arrangement, the server load is lower, and your website performance does not suffer.
How many data centers does HostArmada have?
They have nine data centers around the globe.
In Europe, they have locations in Germany (Frankfurt) and in Great Britain (London).
In North America, they serve their customers in the United States (Dallas, Newark, Fremont) and Canada (Toronto).
In Asia, they have locations in India (Mumbai) and Singapore.
And in Australia, they serve in Sydney.
Is HostArmada secure?
HostArmada provides plenty of features that secure your website.
With every plan, you get firewall protection (Network Firewall and Web Application Firewall). You also get the proactive defense to guard against 0-day attacks.
Virus/malware scanning, with malware protection, will give you an extra layer of security for your website.
You have plenty of other security measures at your disposal, and you can find them here (under the Security Features section).
Can I transfer my existing website to HostArmada?
Yes, you can.
Just send a support ticket to the HostArmada crew, and they can do the transfer without charge.
The number of free transfers is dependent on the plan.
For instance, with the Start Dock, only one website transfer is included in the plan. However, with the Web Warp plan, the number increases to three website transfers, and in the Speed Reaper plan, you have five free website transfers.
You can also do the transfer manually, but this option is naturally more laborious.
Sign up with HostArmada Now!
As you can see, with these web hosting features and with our discount code, this fantastic web host becomes too lucrative! So grab the code, pick your plan, and give your website a new home today!