Every good WordPress site needs a solid and stable host to underpin it.
There are lots of hosting providers that focus on WordPress, and the WPKube blog covers many of them. However, not every host can offer a good technical package and marry it up to fast performance. With our Rocket.net coupon, you'll be able to use one of the speediest and sturdiest managed WordPress hosts, for a low price!
We're going to show you how to access and use your Rocket.net coupon in a while. First, let's talk about the benefits the host can give you.
What Rocket.net Is
Rocket.net is a WordPress host that provides rock-solid stability, fantastic customer support, and a wealth of functionality.

You'll find it offers some of the same features as other hosts, but with an edge that comes with being one of the best hosting providers on the market:
Because Rocket.net is a dedicated WordPress host, you have the ability to deploy a new site in seconds.
You're able to create and manage servers backups directly from the Rocket.net dashboard.
There's a one-click staging option to help you develop your site away from visitors, then push it live when you're ready.
Rocket.net offers unbeatable security. For instance, it gives you typical features such as Two-Factor Authentication (2FA.) However, it also provides a dedicated firewall to help mitigate and stop SQL injections, brute force attacks, Cross-Site Scripting (XSS,) and more. In addition, Rocket.net look to protect all sites and servers as per the OWASP 'Top 10' – a list of the most common vulnerabilities on the web.
The Rocket.net architecture runs on Cloudflare servers. This means you also get access to the Content Delivery Network (CDN) and use its server space. Given that Cloudflare is one of the best CDNs on the market – and with a huge market share – this is a big plus point.
It also brings up another key aspect of Rocket.net's service – it utilizes 'Cloud at the Edge' technology. While this can be complex to understand, all you'll need to know is that it brings your site closer to where your traffic comes from. This is going to be a benefit with regards to speed and performance, but means nothing if you can't afford the service in the first place.
How Much Rocket.net Costs
Rocket.net keeps its plans simple, which lets you better choose the right one for your needs. There are four different tiers to choose from:
Starter. $30 per month will give you a single WordPress install, a free Secure Sockets Layer (SSL) certificate, access to the Cloudflare Enterprise CDN, the Web Application Firewall (WAF,) and enough bandwidth for around 250,000 visits.
Pro. Double the price – $60 – gives you three WordPress installs and resources for up to one million visits. This is in addition to everything else on the lower tier.
Business. For $100 per month, you have the CDN, WAF, and SSL, along with the bandwidth to handle up to 2.5 million visitors across your sites. You can also host up to ten WordPress websites on your plan.
Enterprise. For power users, $200 per month for 25 WordPress installs and five million visits seems like a steal. Remember, you also get all of the goodies you can find in the lower tiers too.
Each of these pricing tiers have ample 'grunt' to help you create and manage a website, regardless of whether this is site number one, or you have lots of experience. Regardless, you'll have best-in-class server architecture and customer support on hand if you need it. However, WPKube can do much better than these prices!
How to Save Money on Your First Month of Rocket.net Through WPKube
In order to save with a specific WordPress product or service, you'll have to use a dedicated coupon code, and fill out fields as part of the billing process. However, Rocket.net takes all this out of your hands. In order to get your first month of Rocket.net for $1, simply head to the dedicated page: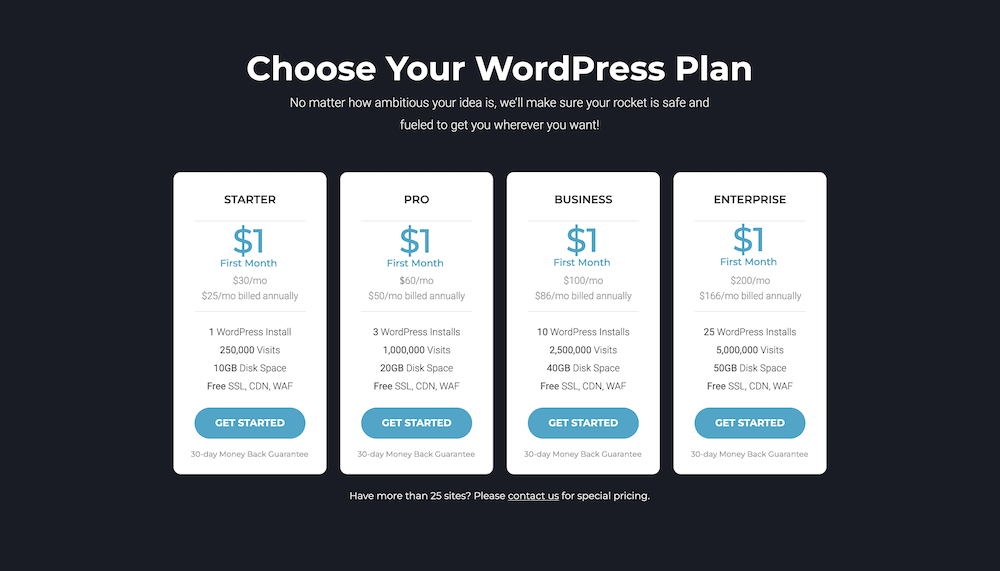 Next, click the Get Started button for any plan you like the look of. This will bring you to a screen where you'll need to set up an account: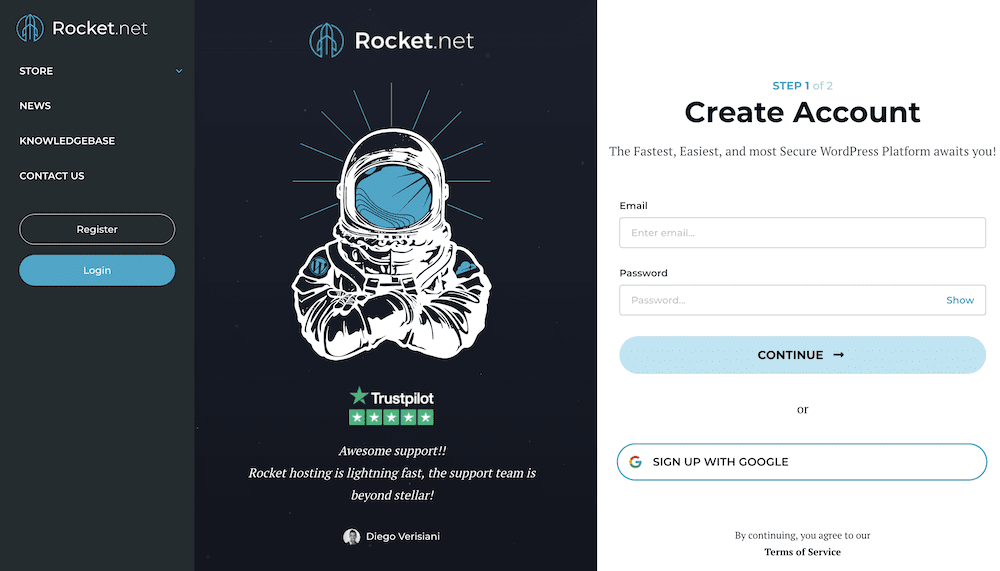 The screen will update to show you the discount: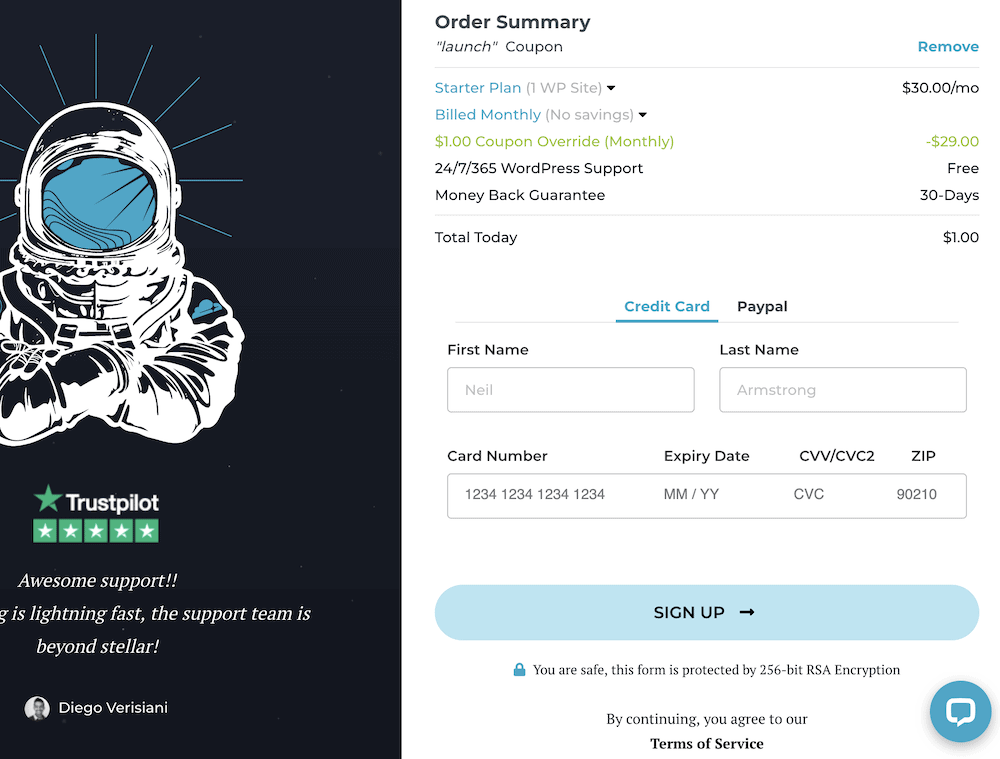 From here, you can fill in the payments details, and get to work on your new site.
Frequently Asked Questions (FAQ)
Given that you only need to spend $1 for a month's access to Rocket.net, you can take it for a test drive and try the service out for yourself. However, you might still have questions, which is understandable. Let's clear up some of the answers to more common questions we get about Rocket.net.
Is There a Rocket.net Free Trial?
Unlike some other WordPress products, there is no free trial available for Rocket.net. However, you can contact them for a dedicated 'test-drive' account. Using our $1 Rocket.net coupon though, you can demo the real thing.
Can I Migrate My Website Using Rocket.net?
You can! You'll want to create your account, then use the Mission Control dashboard to raise a ticket request. From there, you have the ability to hand off site migration to Rocket.net, and this is for a "unlimited" number of migrations.
What Plans Can I Sign Up for With My Rocket.net Coupon?
You can use your Rocket.net coupon on all plans the host offers. This means if you want to test out the Enterprise package for $1 for the first month, you can do so.
Does This Rocket.net Coupon Offer Ever Expire?
Never say never, but you will always be able to access the first month of Rocket.net for $1 thanks to WPKube.
Is There a Money-Back Guarantee For My Rocket.net Coupon?
While there is no free trial, you do have a 30-day money-back guarantee on all purchases with Rocket.net. This also applies to the Rocket.net coupon too.
Save Money With WPKube and Rocket.net!
If your host can't protect your site and its visitors, you'll suffer in more ways than one. The good news is that some WordPress hosting providers give you all of the infrastructure and tools you need to lock down your website. Rocket.net is one of the best managed hosts on the market, for lots of reasons. For example, it gives you a whole host of security tools to protect your site. What's more, you have the best customer support available to you, all for a low price.
Even better, you don't have to enter in any codes to use your Rocket.net coupon. Once you head to the dedicated page, you can take advantage of $1 only for your first month using the managed WordPress host!